It's Monday again! I think I've reached a point in my life I kind of like Monday's. It's a fresh start I look forward to the possibilities. A chance to start a new check off list and get things done
!So let's do Menu Plan Monday shall we?
Here's a look at this week's menu board. I'm kind of thinking I might be giving the old chalk board a fresh coat of paint to go with the new kitchen that is almost done!




Monday: Grilled Shrimp and Ricotta pasta

Creating a new recipe kind of inspired by this one, but with some bacon and the shrimp tossed in.
Tuesday: Pulled Pork Chili


I love this recipe!


Wednesday: Shepherd's Pie




Turns out that the last time it was on the menu I accidentally took out frozen chicken instead of ground beef. (I buy my meats at an organic grocery and they bag them in plastic and then wrap with paper so unless I read the printed label closely it's easy to mix them up.)
I didn't get to take a new photograph and the family still would like to have this recipe!

Thursday: Leftovers

Friday: Grilled Mustard Chicken, Grilled Green Beans and Gluten Free Cornbread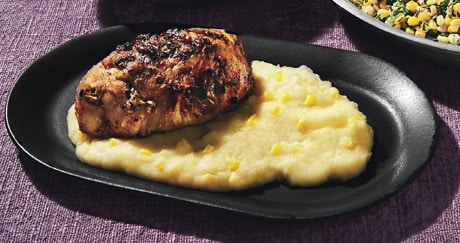 Epicurious
While this is really great with the polenta, I'll be serving it with cornbread so that I have leftovers for the next night's meal.

Saturday: Chicken Cornbread Casserole

I'll be grilling some extra chicken on Friday to toss into the casserole and will be adapting this recipe to be gluten free. I'll share next week.
Sunday: Leftovers
This week some key pieces I've been waiting on will be in for the kitchen and I still need to build that special little spice cabinet addition I mentioned. I hope to get the plans drawn up and shared for the kitchen Island cart as well.
So stay tuned and have a great week! Be sure to follow me on Instagram and Facebook!
Thank you for subscribing to Paper Daisy Designs. Please continue reading on the blog. I appreciate having you as a reader.