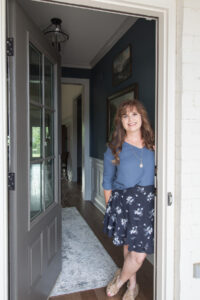 After leaving her job as a graphic designer, Leslie Davis dedicated her time to raising her two children. Never to be without a creative pursuit, Leslie honed and flexed her creative muscles through various artistic hobbies.
In 2011, she turned her talents to furnishing her new home with inexpensive furniture makeovers. Once dedicated to teaching and sharing about scrapbooking, her blog Paper Daisy Design transitioned into a home decor and DIY blog. Since then, she moved and fully renovated two more homes selling each for a substantial profit and building a new construction home. All the while, her rebranded blog, Deeply Southern Home, became a resource for DIYers and home improvement readers through the popularity of Pinterest.
Leslie began taking on client work after numerous requests for Leslie to share her design talents and extensive renovation knowledge with friends and acquaintances as they remodeled and redecorated their homes.
Deeply Southern Home is now a full-service decorating, design and renovation consulting company. Leslie keenly sees the potential for a room or home and shares her creative energy, transforming the vision into a beautiful and functional design. One-on-one client interaction ensures a successful project that is elevated beyond what the client can imagine and yet feels personal.
As her business name suggests, Leslie's design style is deeply rooted in traditional Southern timeless interiors with a nod to modern touches. Her goal is always to create comfortable, livable rooms with beautiful finishes and details. In her work with clients, she also seeks to reflect their lives and preferences and personal design style whether that is traditional, transitional or modern.
In the spring of 2020, Leslie was chosen as a Featured Designer in the coveted online design event, the One Room Challenge. In 2019 Leslie was selected as a Designer for the Birmingham Symphony Designer ShowHouse, transforming a dated powder room with great success. Her interiors have been featured online nationally on Domino, HGTV.com, Apartment Therapy, and The Spruce. Locally, she had been featured in print at Birmingham Home and Gardens and on the cover of Hoover Magazine.
Working closely with brands like Home Depot, Metrie Interior Finishings, Empire Moulding & Millwork, Loloi Rugs, Calico Fabrics, Overstock, Kilz and others, Leslie has authentically shared her marketing and social media campaigns with her growing audience.
Leslie holds a BA in Advertising from Louisiana State University and relies on that foundational design education to shape her interior design decisions with color, scale and a discerning eye for details.
I'd love to keep you up to date on the latest projects and ideas here at Deeply Southern Home. I update as often as I can, but the best way to follow along is by getting new posts via email. You can sign up here.