I'm very happy to finally share my progress, slow as it may be, on
Project Life
. Admittedly, I joined the band wagon late, so I started out "behind". It has also taken me a while to figure out what my design approach was going to be and finding my way in this process.
Here's the first page. It's kind of a title page and the first couple days of the month.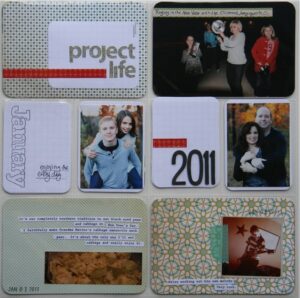 When I took the plunge for Project Life, the kit was sold out, so I just ordered the page protectors and the journaling cards. Then I had to decide on elements and color palette I was going to work with, having no kit. I'm sure it will evolve, but I wanted consistency through the pages by repeating elements.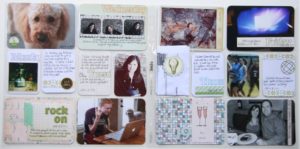 Another thing delaying my progress is I'm refusing to use my color printer on this project. It's such an ink hog. I've been printing my photos at various places, depending on who had prints on sale. I think if I'm going to be successful with this project, I'm going to need to pick a day of the week to upload my photos, print them and then get busy with that week. It's a learn as you go kind of thing. 🙂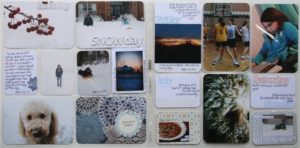 In the above pages you can see that I'm also using the "Design B" page protectors. I ordered them on a whim knowing how many photos I take vertically. I'm not sure I like this layout as well, but I'll keep working with it.
I have a few more page spreads started, but I need to reprint some of the photos smaller so that I can fit them in the little rectangles.
Thank you for subscribing to Paper Daisy Designs. Please continue reading on the blog. I appreciate having you as a reader.