*This post is sponsored by The Home Depot
Today, I'm super excited to reveal our latest bathroom makeover!  If I were a student again, writing a paper on how I spent my Christmas vacation, I could honestly say I remodeled a bathroom!  While it's not a typical way to spend a holiday, I'd say it was time well spent.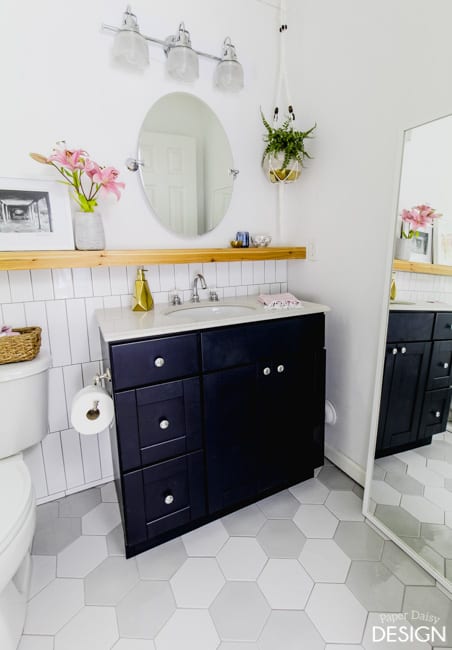 The lucky recipient of this remodel happens to be our teenage daughter.  It is safe to say that despite the holiday inconveniences this seventeen year old ended up on the right side of this deal. And a huge thank you to my friends at The Home Depot for helping to make this transformation a reality.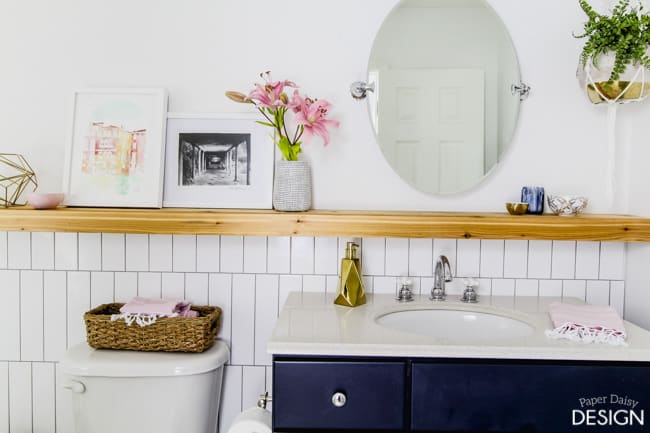 When we first moved here, her bathroom was fairly dysfunctional. While not a tiny bathroom by most standards, it had absolutely no storage and certainly wasn't living up to it's potential.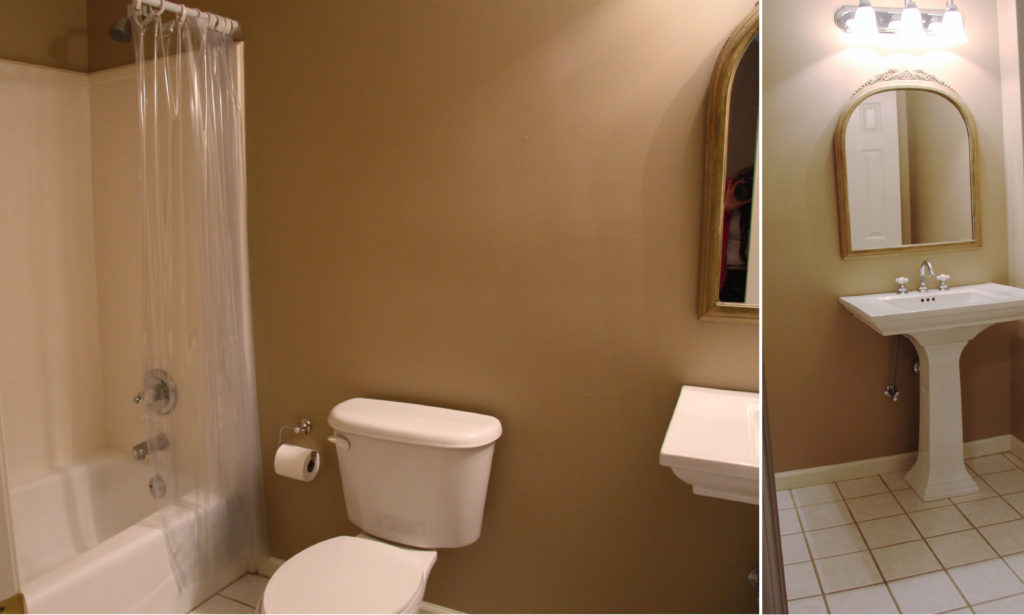 Soon after we moved in we installed a proper vanity for her to use and lightened the space with a bright white paint. And that is where her makeover ended, until recently.
For the walls and tub surround, I wanted to play around with the idea of setting subway tiles vertically. These extra long subway tiles from Jeffery Court Inc. were the perfect tile choice for this application. Choosing the right shade of light grey grout was important. I was going for an edgy and modern look, yet wanted the overall feel of the design to be subtle enough to create a room that was inviting, even relaxing. The color grout I used was Delorean Gray from Fusion Pro. I used this premixed, single component grout for our marble master bathroom last year and I vowed never to use anything else after that. It's that good.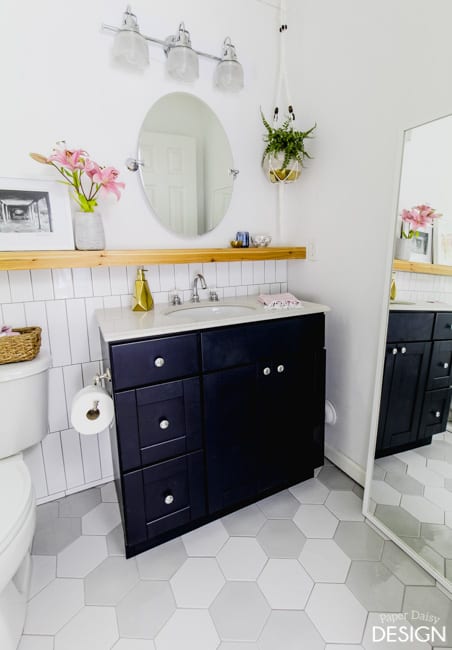 While the hexagon tiles seem very contemporary, the tile pattern was actually inspired by a photo I found from a historic restoration of a villa in the Netherlands. To create the pattern I used a soft grey matte and a glossy grey hexatile both from Merola tile.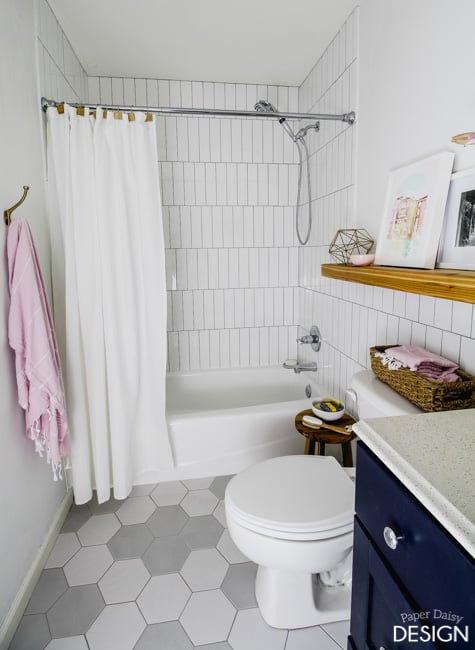 Isn't it amazing how simple tiles and the right grout color can transform a space?
Because the vanity mirror is mounted above the cedar shelf, using a pivoting mirror brought function as well as style. And the the new chrome lighting, with sublte industrial details further elevates the space.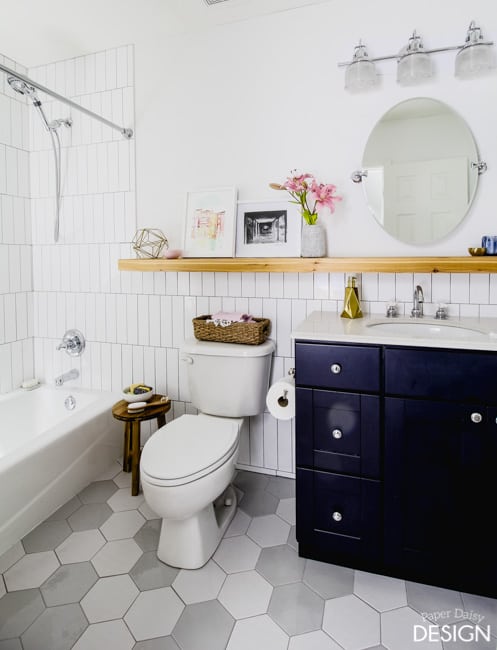 The floating cedar shelf brought in some warmth and provides a soft contrast to the harder tile surfaces. It also creates space to display art, favorite objects and a bowl or two for little odds and ends.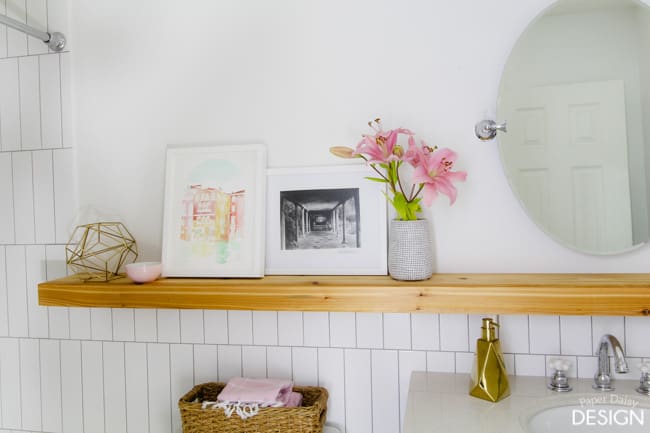 For the complete installation process and a full tutorial on how to tile a tub surround and the techniques for using Fusion Pro Grout, please visit The Home Depot blog here. Yes, everything you need for this makeover is available at The Home Depot!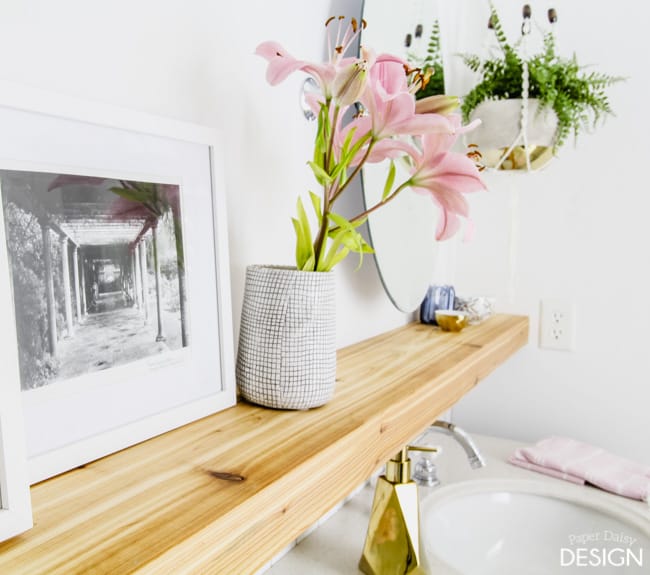 For the tutorial on how to build the Seamless Floating Shelf click here. Did you notice there are no visible seams?
Be sure to not miss the posts in this series by subscribing here.
*I acknowledge that The Home Depot is partnering with me to participate in this Grout Program (the "Program"). As a part of the Program, I am receiving compensation in the form of products and services, for the purpose of promoting The Home Depot. All expressed opinions and experiences are my own words. My post complies with the Word Of Mouth Marketing Association (WOMMA) Ethics Code and applicable Federal Trade Commission guidelines.