I'm sorry it's taken me so long to finally make the promised reveal. I think I mentioned the dinning room enough times recently without actually sharing it, don't you think?!
Let's start with the obligatory before. It was really hard for me to find a photo of the room without people sitting around it for a meal. 🙂
This photo was taken soon after we moved in and basically, besides the addition of brown silk curtains this is how it stayed for several years.
When I first considered updating the look in our house, my friend and decorator, Sherry came for a consultation and we switched the brown rug above for the gold one from the living room. And while it made the room brighter, these dark brown curtains didn't seem to work anymore.
After I acquired this buffet and these lamps at an auction, which I talked about here the wheels were in motion to do some real decorating in this room. The room had been in serious need of more furniture.
Here is the room set for Thanksgiving dessert, my self-imposed decorating deadline, on a very rainy day. (Thank goodness for a flash you can bounce off the ceiling.)
And now decked out for Christmas, on a brighter day.
Over the next few blog posts this week, I'll break down some of the things I created on a budget for the room, including the curtains and the paintings.
I will share a little about this corner hutch. It was a lucky, inexpensive find on Craig's List. I got if for $60 and painted it to match the buffet. I now have a place to display our wedding china, which just happens to have a shell pattern on it!
Of course the colors are a lovely mauve and grey from the early 90's, but that's okay. I didn't even remember this when I stumbled into a "beachy" theme by using the decorative paper I found in my studio and framed it for the top of the buffet.
The only thing left to do with this room is to refinish the dining table top and paint the bottom half Annie Sloan Chalk paint, Old White like the chairs. That will have to wait for the spring. My garage is too cold now for painting and refinishing. 🙁
I love that it is so fresh and bright. It's like a ray of sunshine and just a little whiff of the beach when you enter the house. Who cares if I live in the middle of Missouri, right?
Linking up to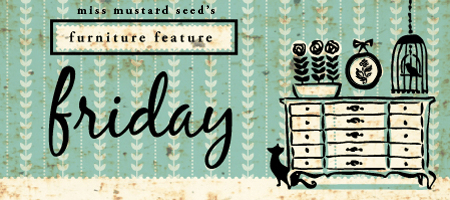 Thank you for subscribing to Paper Daisy Designs. Please continue reading on the blog. I appreciate having you as a reader.