Life just happens and keeps coming. I do have the excuse of being out of town for a couple days. Then, of course, there is all the things you have to do to catch up because you were gone. Obviously, the blog was not one of them.
Lots to share on this Monday. 🙂
My friend and I had a super, wonderful time in St. Louis. What a great girlfriend getaway!! Lots of shopping, good food and lots of laughs!
The Pioneer Woman book signing blew my friend away. I think she had no idea how many people would be there. We waited quite a while, but it wasn't too bad because we got to sit in the pews of the most beautiful church and just chat away while we waited for our row to be called.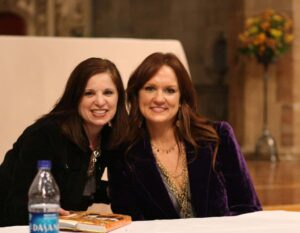 Going on a trip during the week is highly recommended, because when I got back the weekend was quickly approaching.
Friday night we went to the most awesome pizza joint in town with a group of friends. I love that the kids are old enough to set up at one table and the grown-ups at another table. Everyone seems to like that plan.
Saturday, Emily and I went to Jefferson City with friends so she could go ice skating. So funny that this little girl from Louisiana would love ice skating as much as she does.
The boys went to the movies to see "
The Blind Side
". They really liked it and I was slightly jealous! It does look like an awesome movie.
After church on Sunday, I finally made time to make one of my favorite soups, Pasta Ceci. (I just realized it's not on my recipe blog. I'll do that soon.) So delicious!! It took half the afternoon because I started with dried beans, but it was worth it!
I did finally start a scrapbook page last night. It's almost done. Hopefully, I can share it tomorrow.
Thank you for subscribing to Paper Daisy Designs. Please continue reading on the blog. I appreciate having you as a reader.