Are cabbage and black-eyed peas on your New Year's day menu?  Well, they are at our house and always have been.  Being from South Louisiana, both are a requirement for good health and good fortune. There was even a time, early in our marriage, that my mother-in-law would call to be sure we ate our required New Year's foods.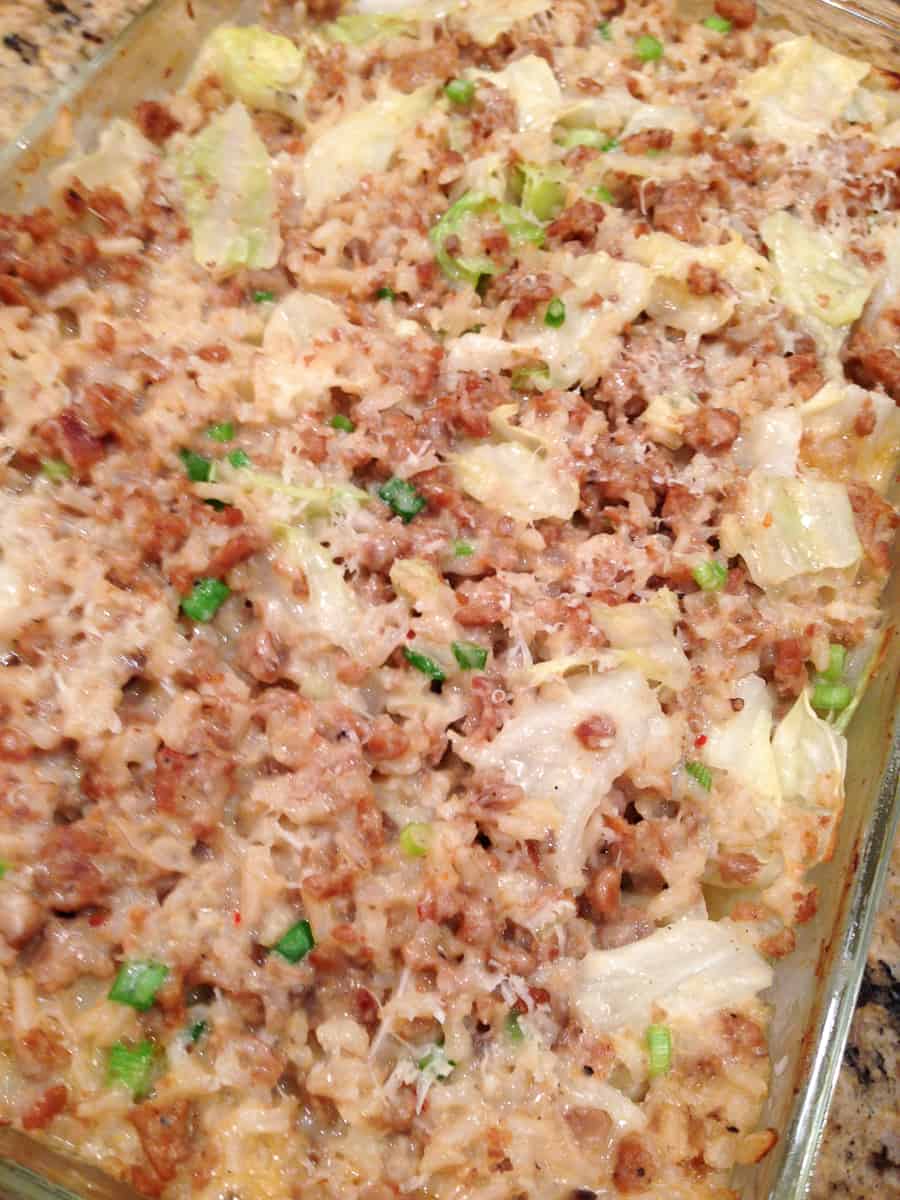 Getting your black-eyed peas in is pretty easy, you can open a can and heat it up or I've found frozen peas with a little onion and bacon to be even better!
And while I like cabbage okay, it's not a vegetable I seek out on a regular basis, besides the occasional summer coleslaw.  Thankfully though, I have a recipe that makes me excited to eat cabbage each year.
It's one of my Grandmother's recipes.  She made it every New Year's as well because the Marino family wasn't all that fond of cabbage either.  It's basically a rice casserole, kind of like stuffed cabbage… unstuffed. 😉
As proof of how important this recipe was to me, I wrote it in the back of one of my very first cookbooks.
Over the years, I've made a few slight modifications. This year's modifications included making homemade cream of mushroom. using hot Italian turkey sausage and finishing the dish in the oven instead of the microwave.  I can't tell you how delicious this is!!
How to Cook the Cabbage
Start with cooking your cabbage in the microwave. This is one of the clues that the recipe was developed in the 80's. The whole casserole was made in the microwave. 😉 But what I really like about this part of the recipe is that it smells less than cooking it on the stove and I like it tender-crisp. 
Cut about 1/2 to 1/4 head of cabbage, depending on the size of the cabbage, into small chunks. Enough to cover the bottom of the 9×12 dish.  Microwave for 4 minutes.  Shuffle around and cook for 2 minutes more.  (I don't like the cabbage overcooked, so just use your judgment here.)
If needed cut the Italian sausage from the casing and brown with 3/4 cup chopped onion.
Meanwhile, make some rice.  I have been using Minute brown rice for the last few years. One bag is the perfect amount.
Once rice and sausage are cooked, combine in a bowl with cream of mushroom soup and green onions. (I'll include the mushroom soup recipe below.)
Add rice mixture on top of the cabbage, top with grated Parmesan cheese, and cook in a 400-degree oven for 20 minutes. (The recipe called for bread crumbs, but again trying to remove gluten and carbs I've replaced it with Parmesan cheese over the years.)
Eat and enjoy a year's worth of good fortune!
Grandma's Cabbage Casserole 
Ingredients
1 lb hot Italian sausage
1/4 to 1/2 head of cabbage
3/4 cup onion, chopped
1/4 cup green onions, chopped
1 clove garlic or garlic powder
1 can of cream of mushroom soup or equivalent
1 1/2 cup cooked rice, 1 bag of Minute brown rice
2 tsp Tony's seasoning (because I used hot sausage, I omitted most of this)
1/4 cup Parmesan cheese and/or bread crumbs
Directions
Cut cabbage into chunks, add to a casserole dish and cover with plastic wrap.  Microwave for 4 minutes, shuffle cabbage around and microwave for 2-4 minutes more.
Cut sausage from casing and cook in a skillet with onions and garlic.
Meanwhile, cook rice according to directions and mushroom soup if desired.
Preheat oven to 400 degrees.
Combine soup, rice, meat and green onions.
Top cabbage with rice mixture and Parmesan cheese and cook for 20 minutes.
Homemade Cream of Mushroom
Modified from http://glutenfreecooking.about.com/od/soupsandsalads/r/Gluten-Free-Cream-Of-Mushroom-Soup.htm
 4 ounces fresh finely chopped portobello mushrooms
1/4 cup finely diced sweet onions, or onion powder
2 minced garlic cloves
3 tablespoons butter
2 tablespoons cornstarch
1 cup low sodium gluten-free chicken broth
1 cup light cream or whole milk
1/2 teaspoon salt or to taste
1/4 teaspoon pepper or to taste
Garnish with fresh sliced basil (optional)
Directions