Pizza Supreme Soup is like a warm, zesty pizza in a bowl. Customize this recipe to create your perfect pizza soup.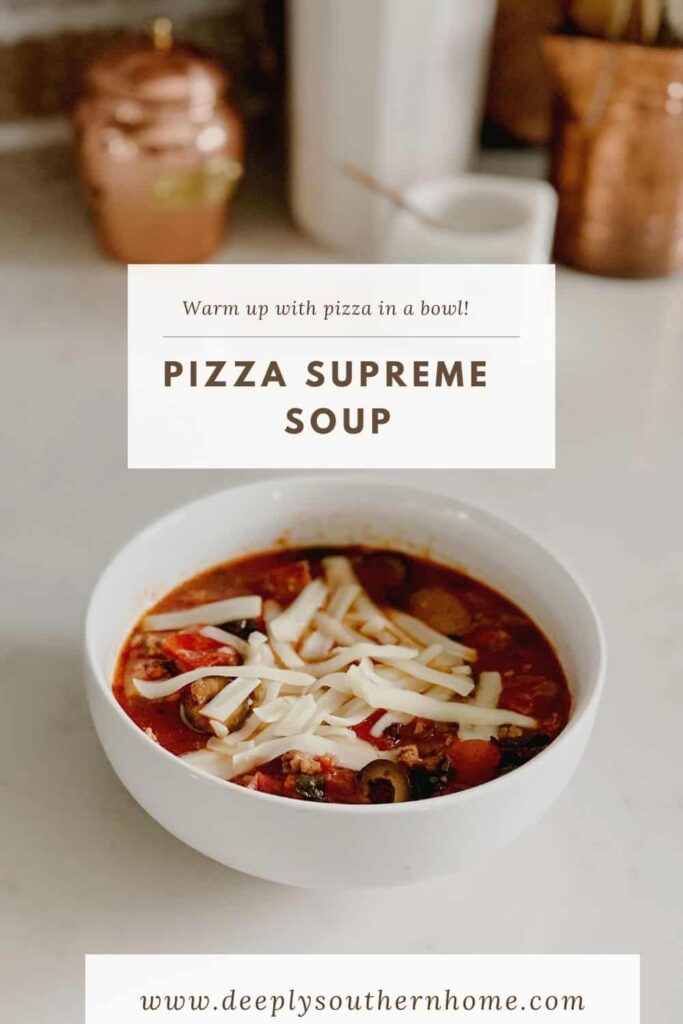 I have been making this soup for at least 6 years. I know this because I found an old archived version of it on my once upon a time cooking blog, Paper Daisy Kitchen.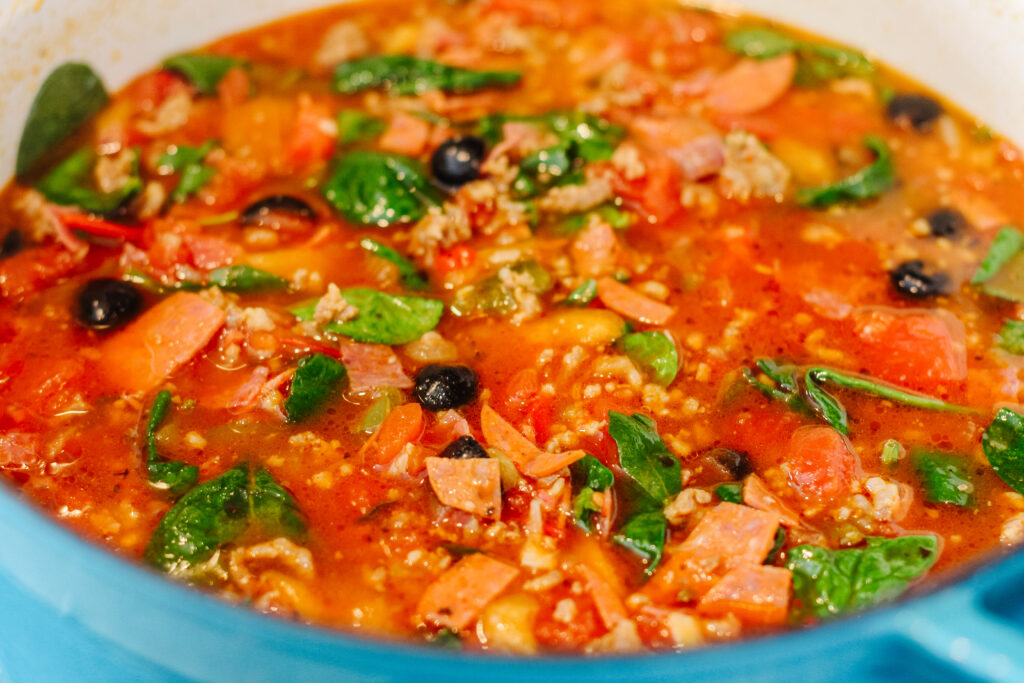 With the popularity of low carb eating this soup fits right into today's weeknight dinners! Here's what I said about the soup in 2014.
Nothing beats a warm bowl of soup in the winter. Especially if said soup tastes just like a slice of supreme pizza!  This is no wimpy, frilly "girl soup" either.  This one is hearty and definitely one that will keep you full and appeal to the boys in your life.  Well, my boys still didn't touch it but only because they wouldn't touch a piece of supreme pizza either. They stick to Italian Sausage!
Pizza Supreme Soup
INGREDIENTS
1 pound Italian sausage
1 bag of frozen mixed peppers and onions
 or 1 cup red and yellow peppers, sliced and one cup of onions
2 cans petite diced tomatoes
3 cloves of garlic
2 pinches of red pepper flakes 
3 oz chopped turkey pepperoni
1 teaspoon Italian Seasoning
4-6 cups chicken stock/broth
2-3 tablespoons of tomato paste
2 large handfuls of Spinach, is a good sub
3/4 cup sliced olives
1/2 cup sliced mushrooms, optional 
Mozzarella cheese, grated for topping
INSTRUCTIONS
Brown Italian sausage. After a few minutes, add the onion, green pepper, garlic, red pepper flakes, salt, pepper, basil and oregano. (I used Tuscan Sunset from Penzey's).
When the onions are translucent, add pepperoni.  Cook for a few minutes.
Then add the stock, tomatoes and cook for 20 minutes.
Finally add spinach and olives. (If you are adding mushrooms add those now.)
Once spinach has wilted to your liking, garnish with mozzarella cheese.
I hope you enjoy this recipe as much as I do!