Along with the 9 essentials for creating the perfectly styled and cozy porch, I thought it would be interesting and hopefully inspirational to look back at our screened porch. This will be our last spring and summer here at #theTrailHouseReno. We anticipate making the most of time left here and hope you enjoy this look back. (If you want to hear more about what is next for us visit this post here.)
This post is sponsored by Wovenly Rugs. All thoughts, designs and opinions expressed here are my own.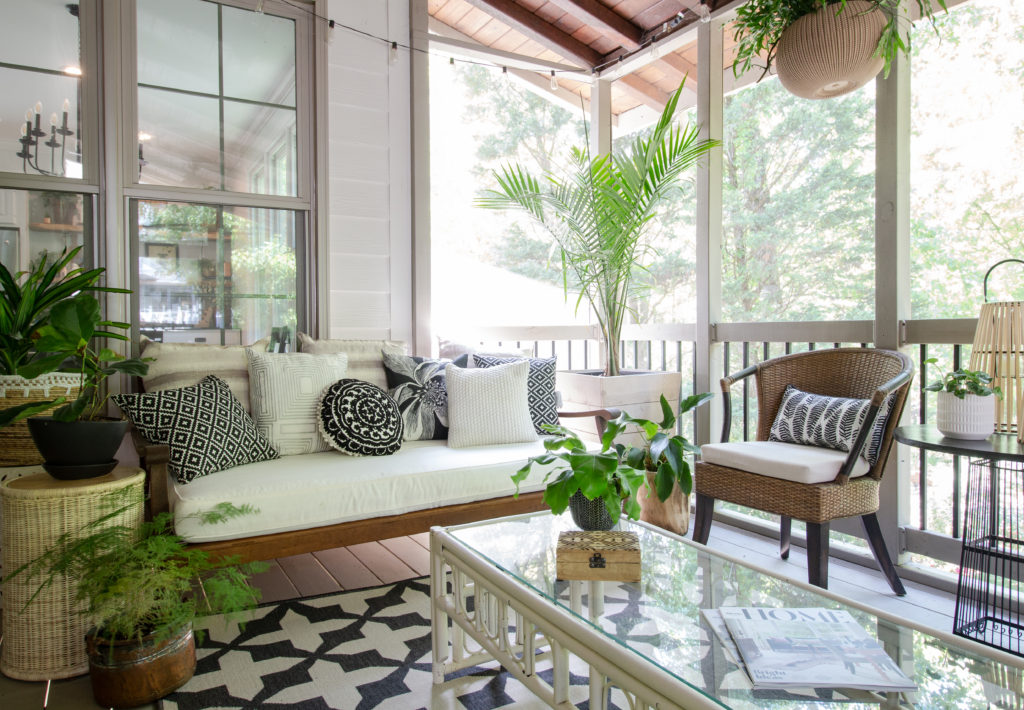 Of course, if you don't have a screened porch these essentials would work great for a sun room, a patio or even a relaxed keeping room.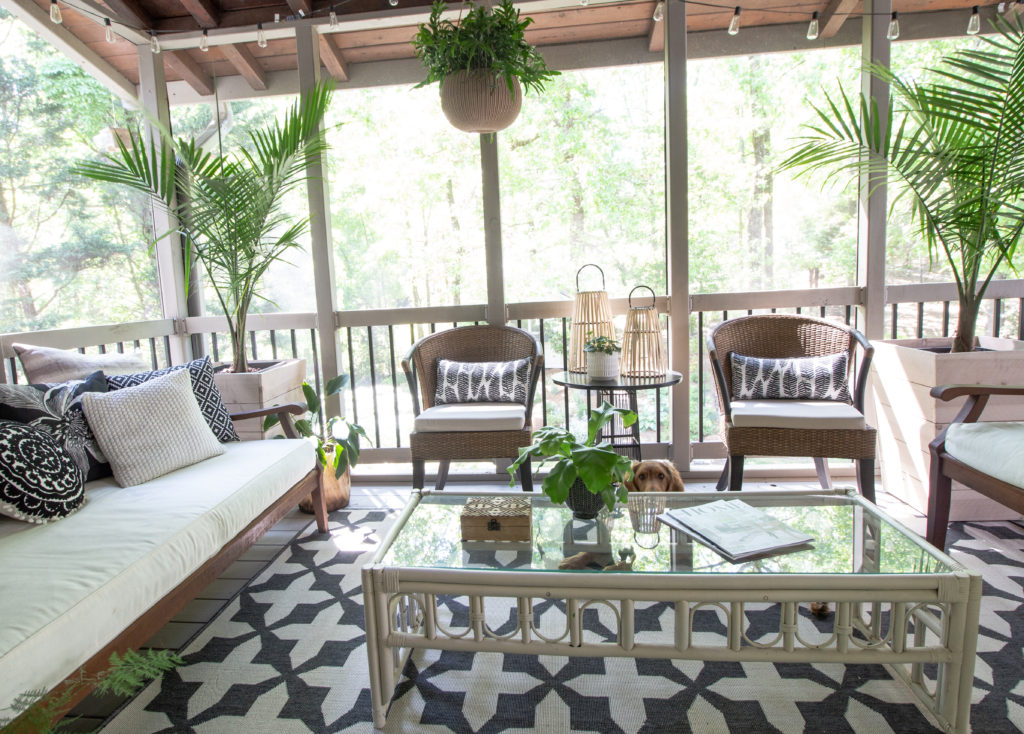 You probably won't be surprised if I tell you that this year's refreshed screened porch happens to be my favorite look. Don't we always like our latest redesigned spaces the best?? If the image is not from this year, I indicated which year in the caption.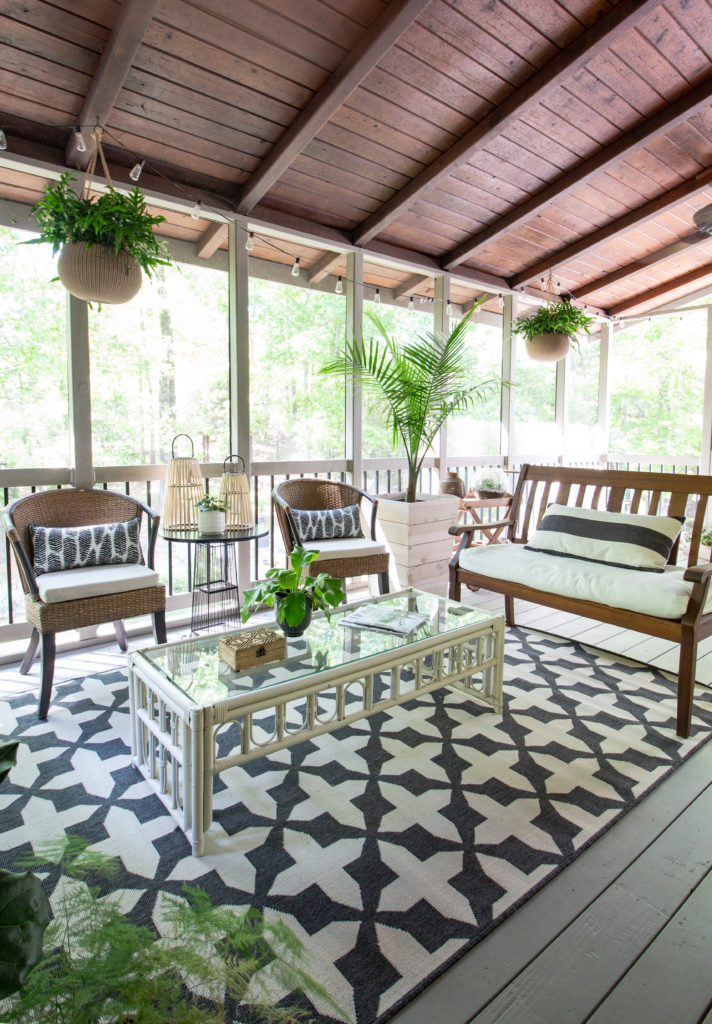 The key change this year was the new outdoor rug from Wovenly. The bold pattern makes a statement while being super soft under the foot. I can honestly say Wovenly has a beautiful selection of high quality outdoor rugs that could easily be appreciated in any space indoors too. The quality is that good.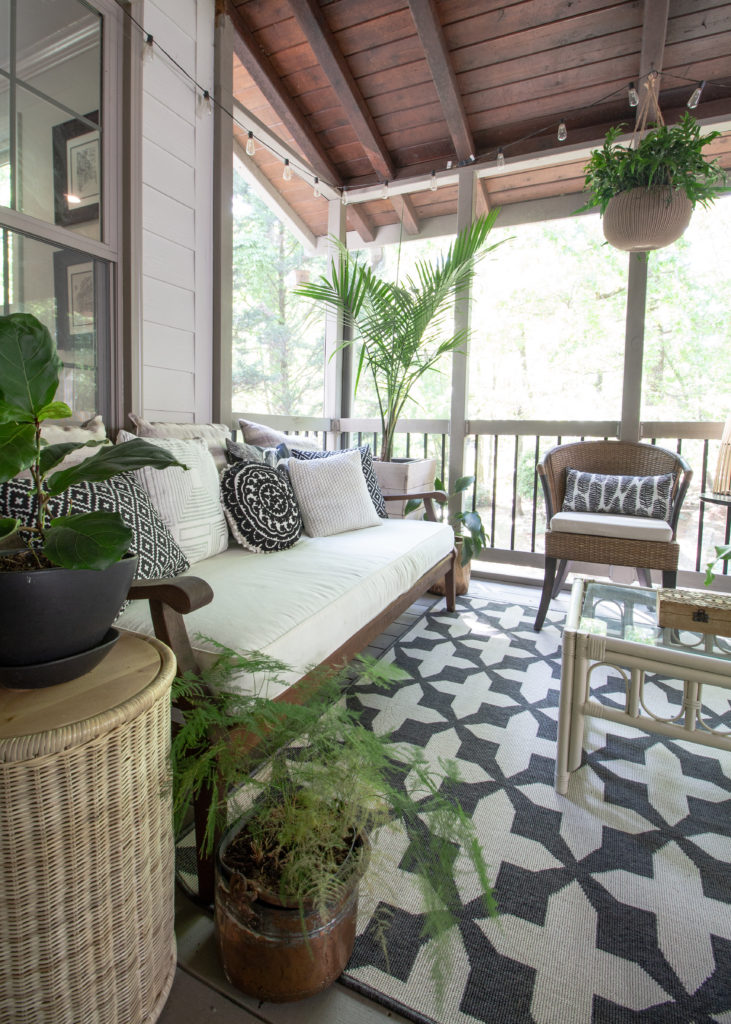 With the addition of the striking pattern on the floor I scaled back the number of patterns on the daybed.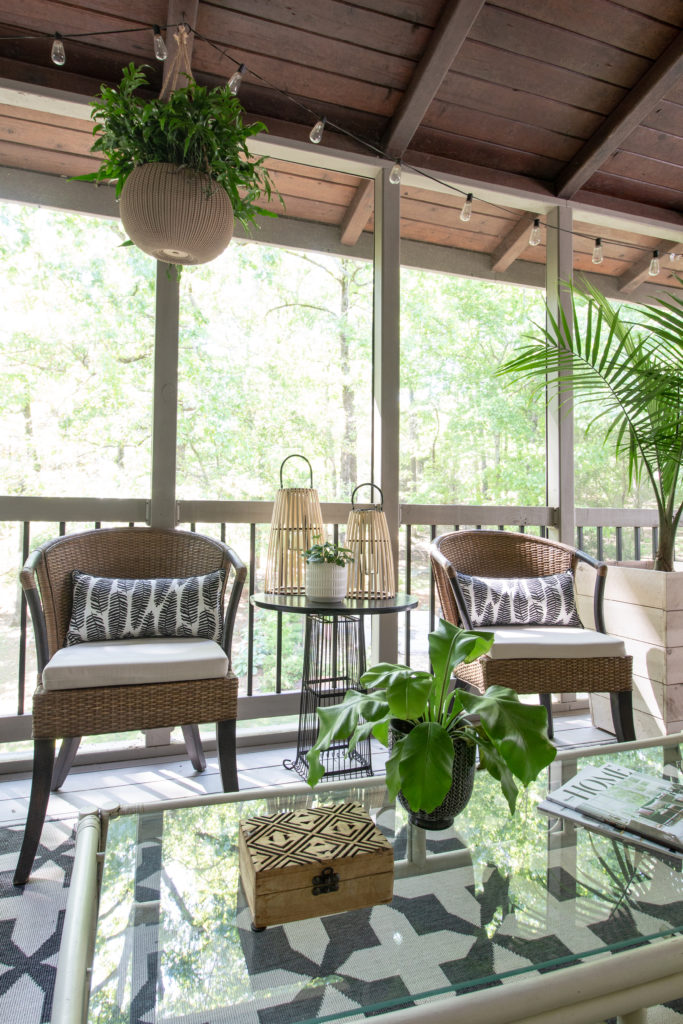 The glass topped vintage bamboo table feels even more prefect for this space now that there is a bold pattern underneath.
Shop this post
Most of the items you see on our porch are no longer available or vintage. I've rounded up a few similarities or what I'd purchase today! Each image is a clickable affilate link. At no cost to you I recieve a small commission for purchases at these sites.
Now for those 9 essentials for a relaxing, stylish porch.
1.Plenty of comfy seating.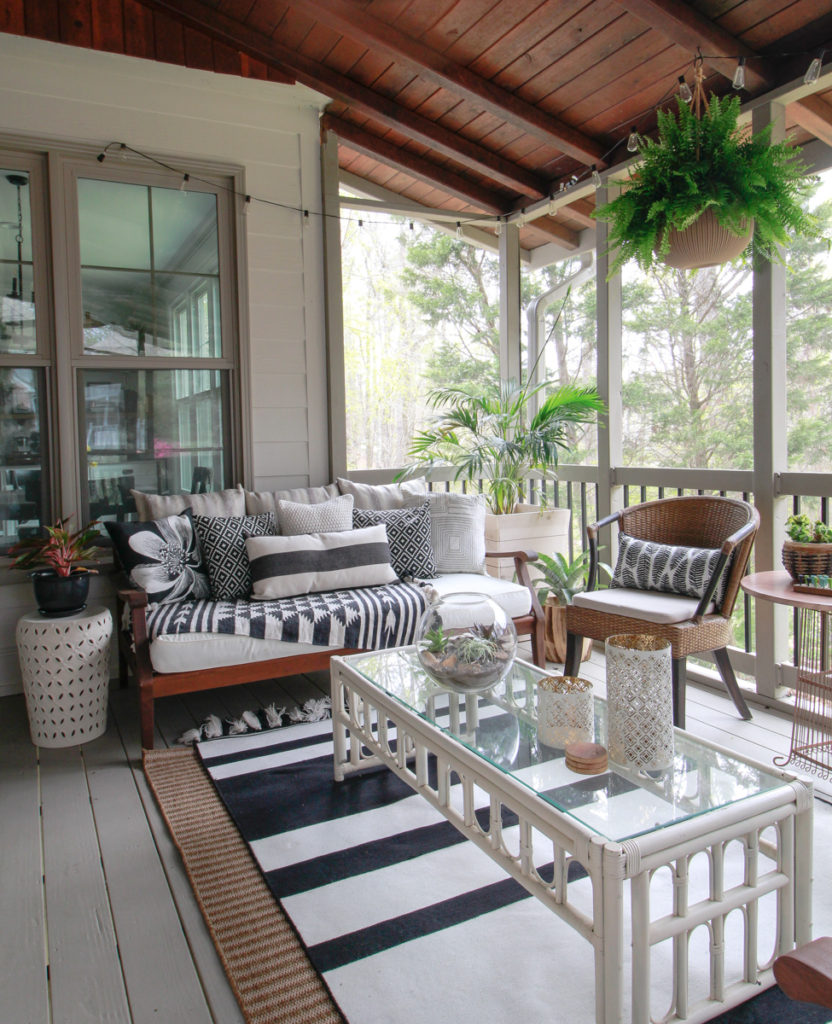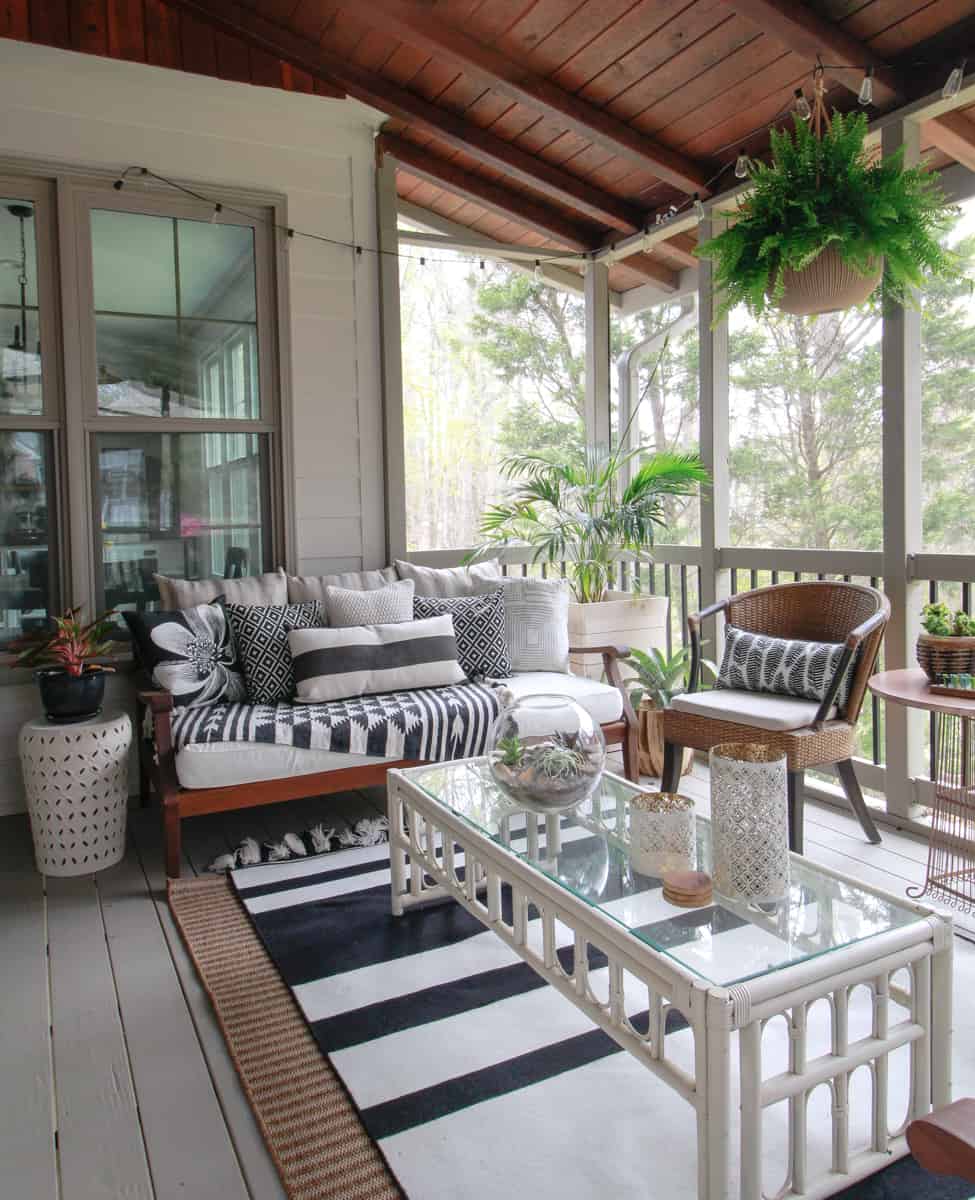 It might seem obvious, but cozy seating is the most important element for a outdoor living room. Creating a place where you can be as comfortable outdoors as you would be indoors is the ultimate goal.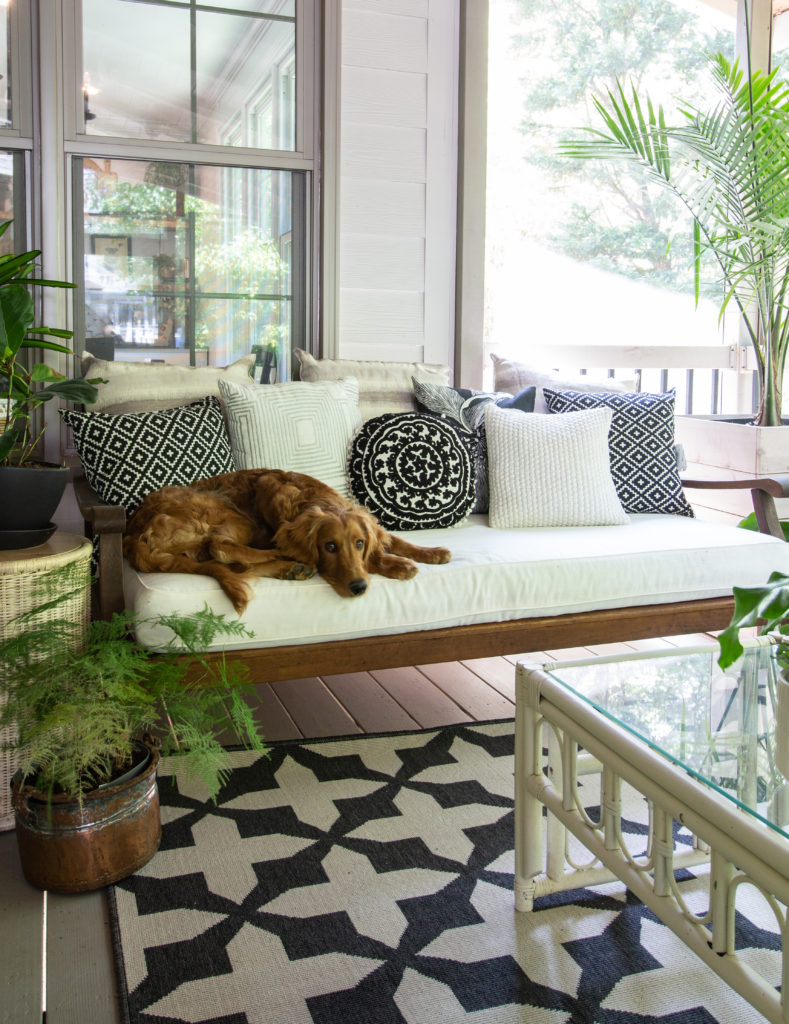 This is the most coveted spot on the porch! The chairs are very pleasant to sit in but the daybed is the best place to stretch out with a book or snuggle into with someone furry or not.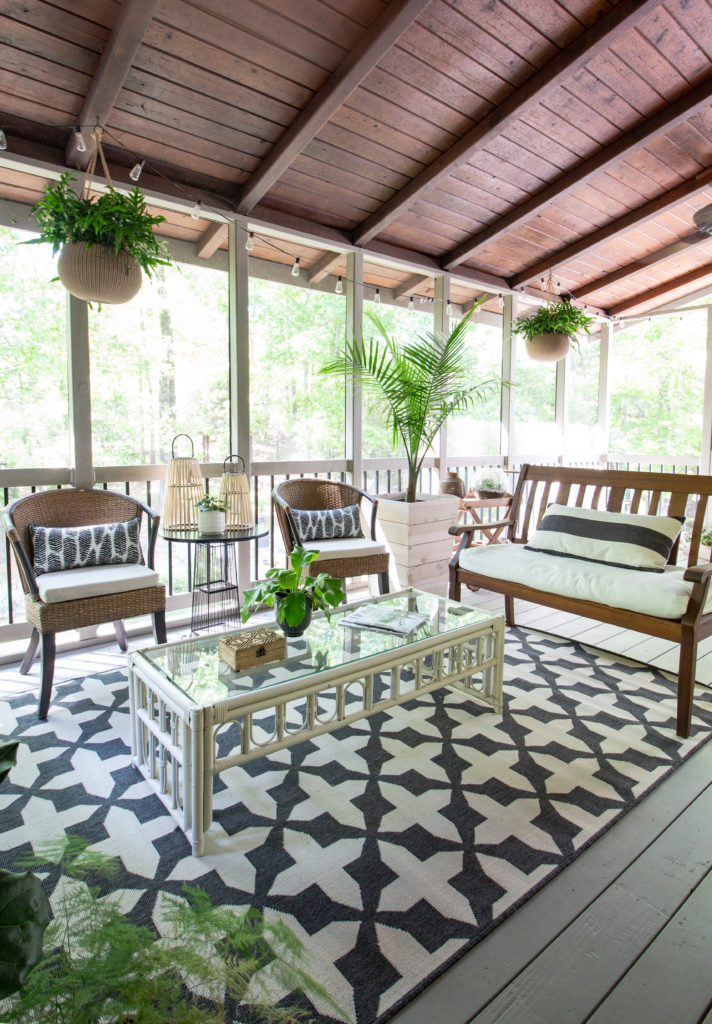 I know you are going to ask where it is from and sadly it has been discontinued. BUT, I plan to purchase 2 of these for the patio at the new house because I love them so much and want the whole family to get to enjoy them together instead of just one or two of us. Or one of us and a dog. If I am being totally honest, no one really likes sitting on the other bench. It is probably because we all know how much more comfortable the other spots are.
Shop the post

The new deep benches are the exact scale and size as the old ones. They just updated the style of the arms and the color. I also like that it now come with back cushions to match, sold separately.
2. Pile on the Pillows
Just because it's outdoors doesn't mean you can't have all the pillows to sink into.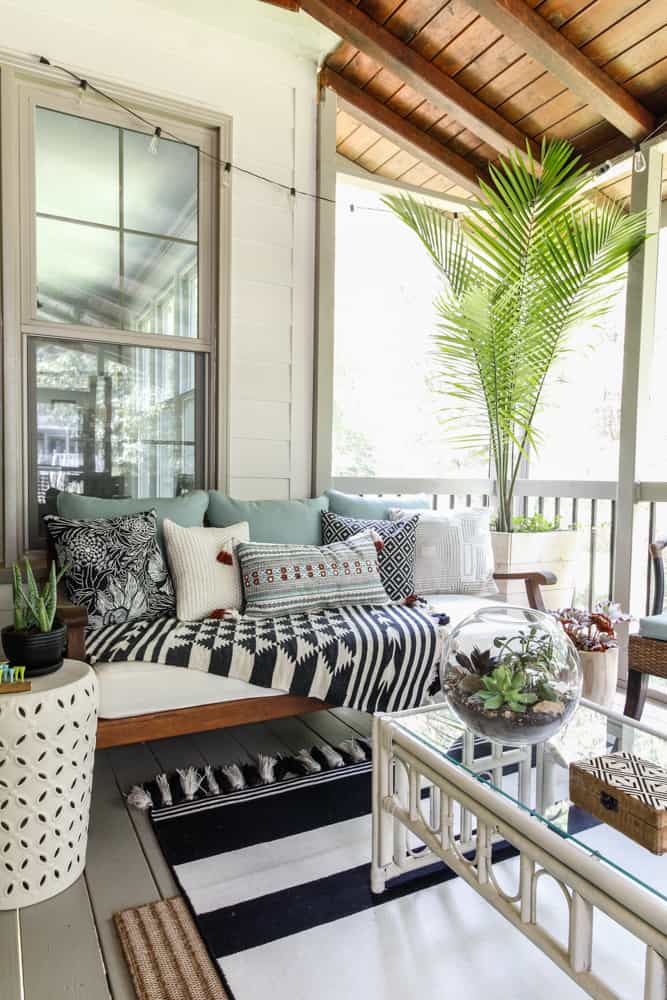 Shop the post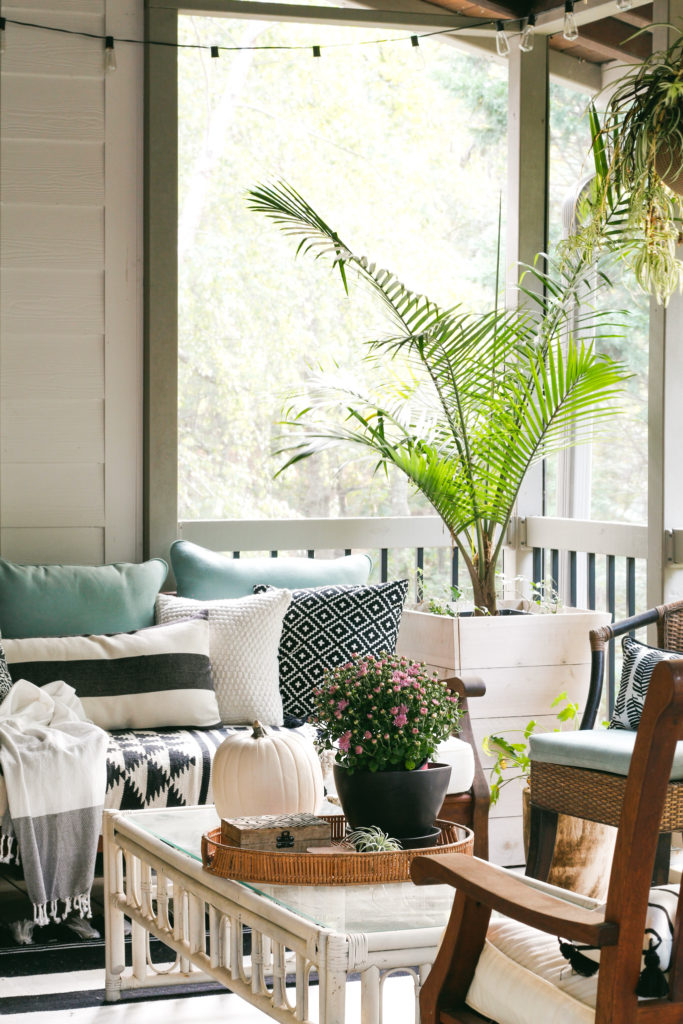 If your outdoor space is completely covered, don't be afraid to use pillows made from traditional cotton fabric. The back three cushions are just pillows I found in the right color palette. I treated them with Thomposon's Water Seal for fabric. It helps repel water and is especially good at reduction the absorption of the humidity in the air. I had one pillow that wasn't treated last year and I could always tell which one it was.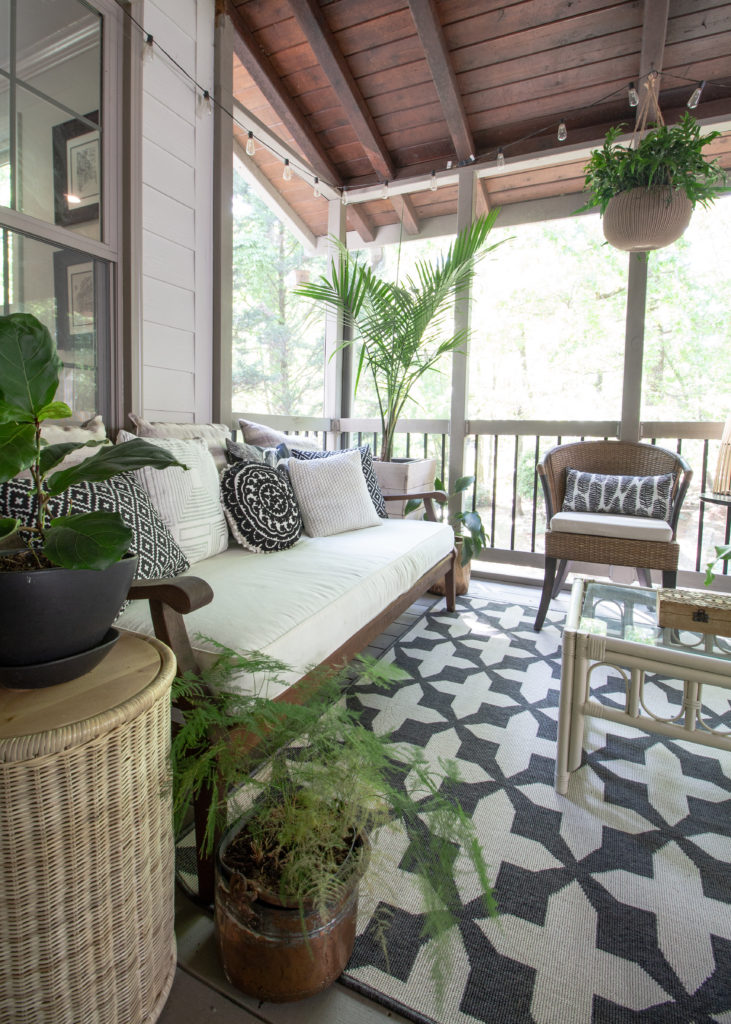 I washed all the pillows at the start of spring so I treated them again with the Water Seal.
3. Rugs- Something soft underfoot to ground a grouping of furniture.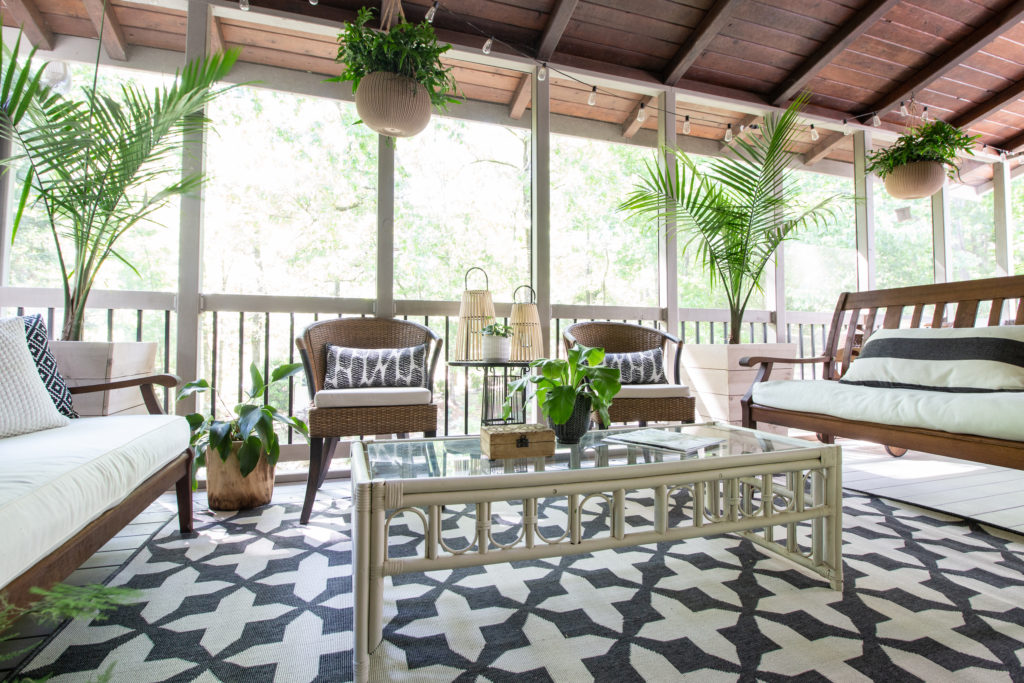 Like I mentioned earlier this rug from Wovenly is a vast improvement in softness from the previous years.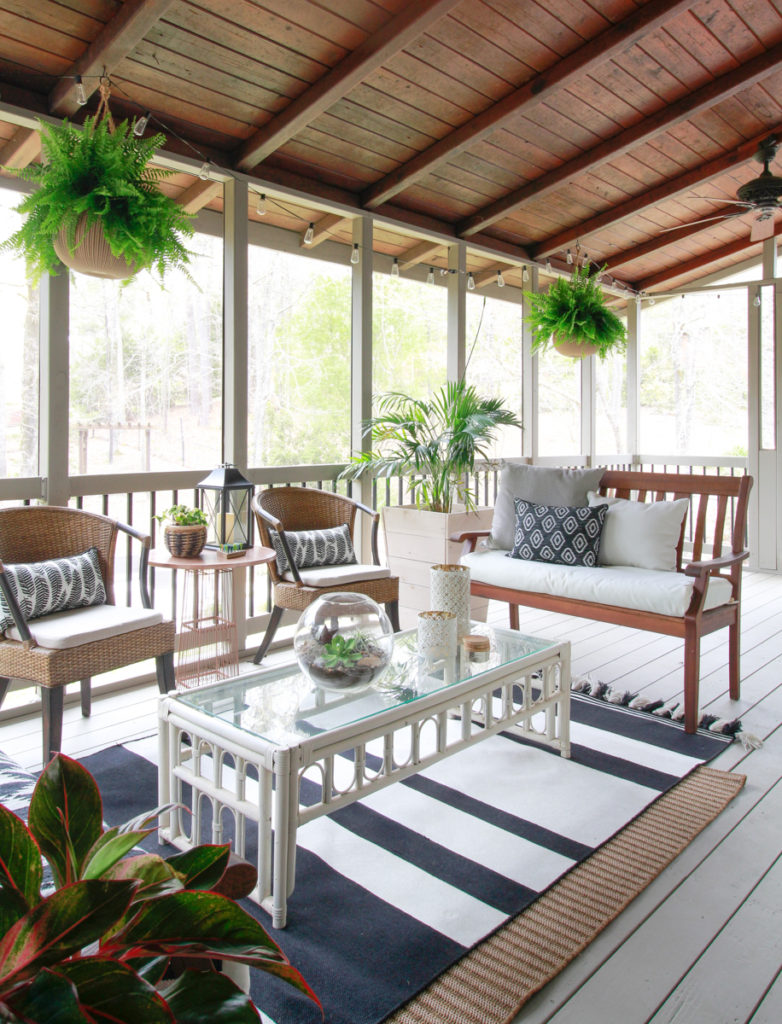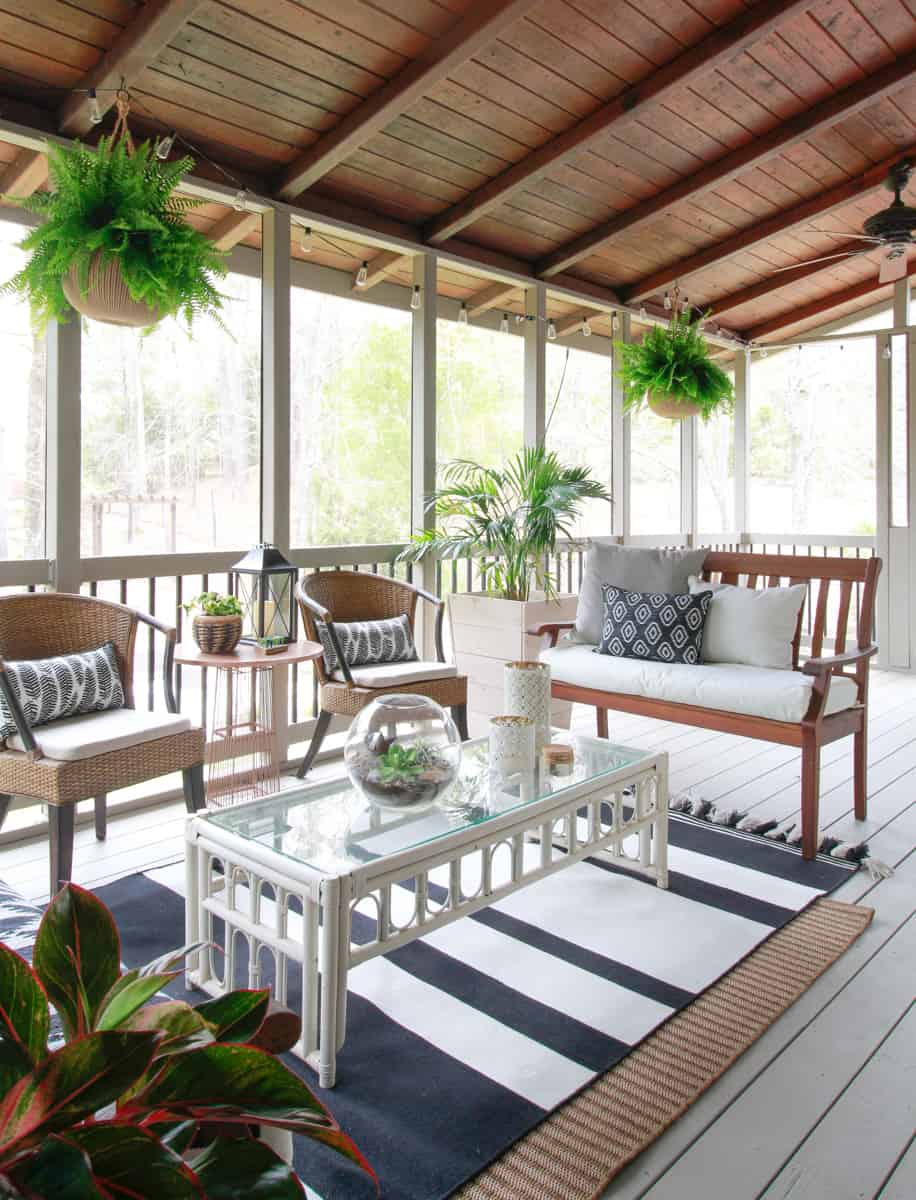 Don't be afraid to layer rugs too. I wanted to add this bold stripe when we moved here but I knew it was not big enough for the space. The sisal look rug grounds the smaller rug and makes it work.
Shop the post
4. Tables, Gardening stools and ottomans, oh my!
On a warm summer day or when it is time to unwind in the evening, you will need a place to set a cool beverage or a snack.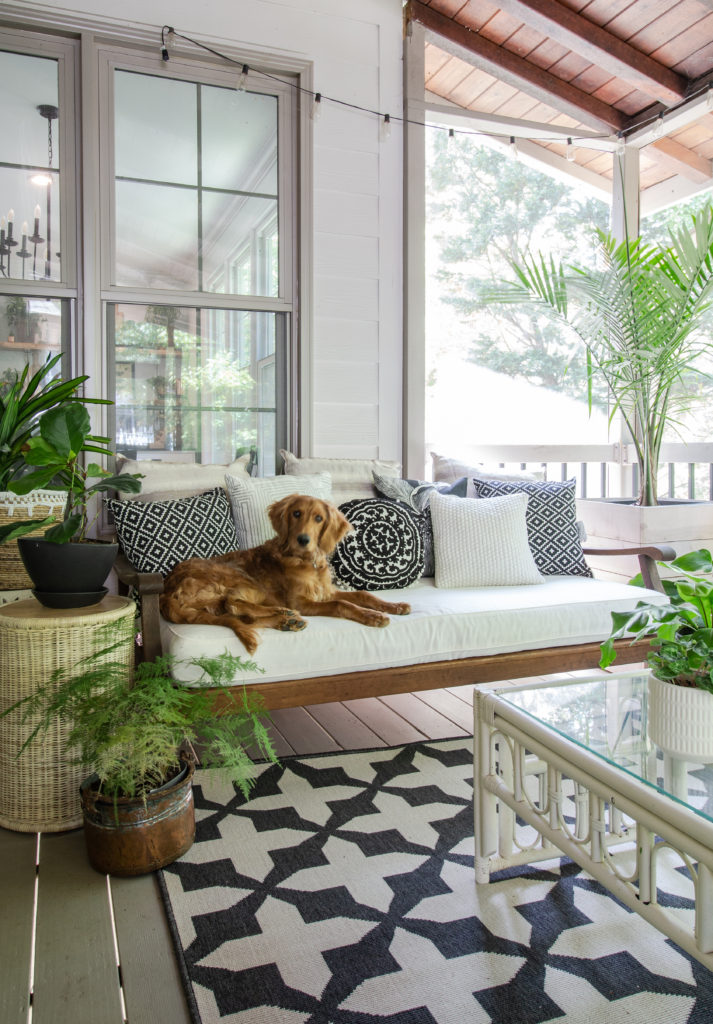 Look for a variety of textures and patterns to enliven the space. This new rattan side table perfectly illustrates that point. Combined with a large table in the center of your grouping, make sure there is a surface near every seat.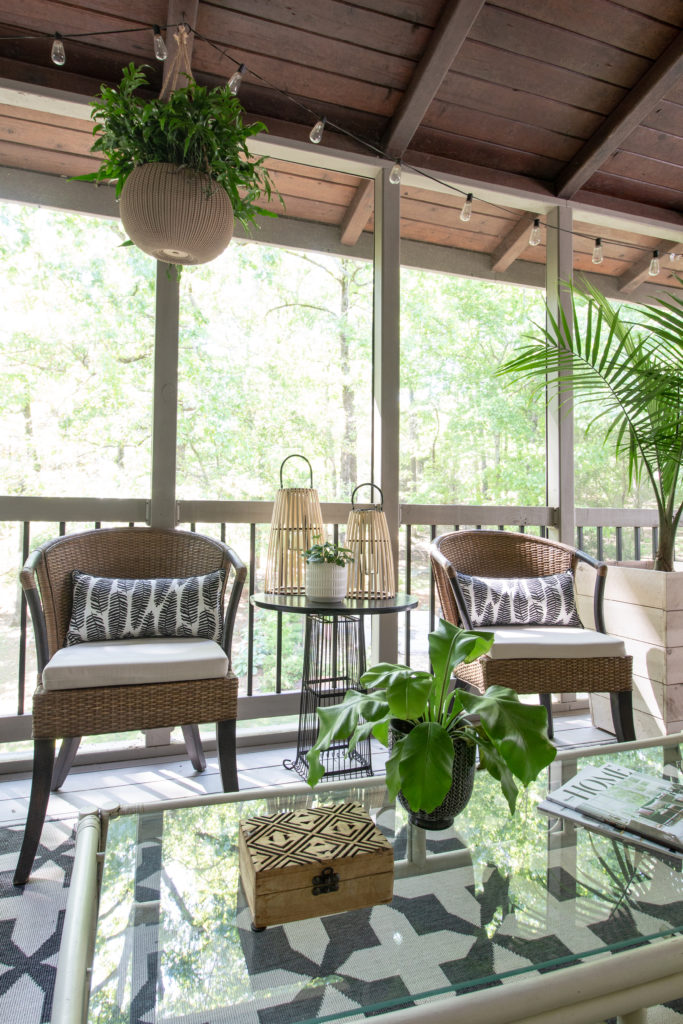 Not pictured is a bamboo stool I picked up at a garage sale. I added it to the mix last year, but I am still on the hunt for the perfect cushion to go on top! Maybe next year I'll add one of these outdoor poofs too. They make a perfect accompaniment to the deep bench, especially if you are sharing the spot with your sweetheart.
5. Use plants to create a tropical oasis.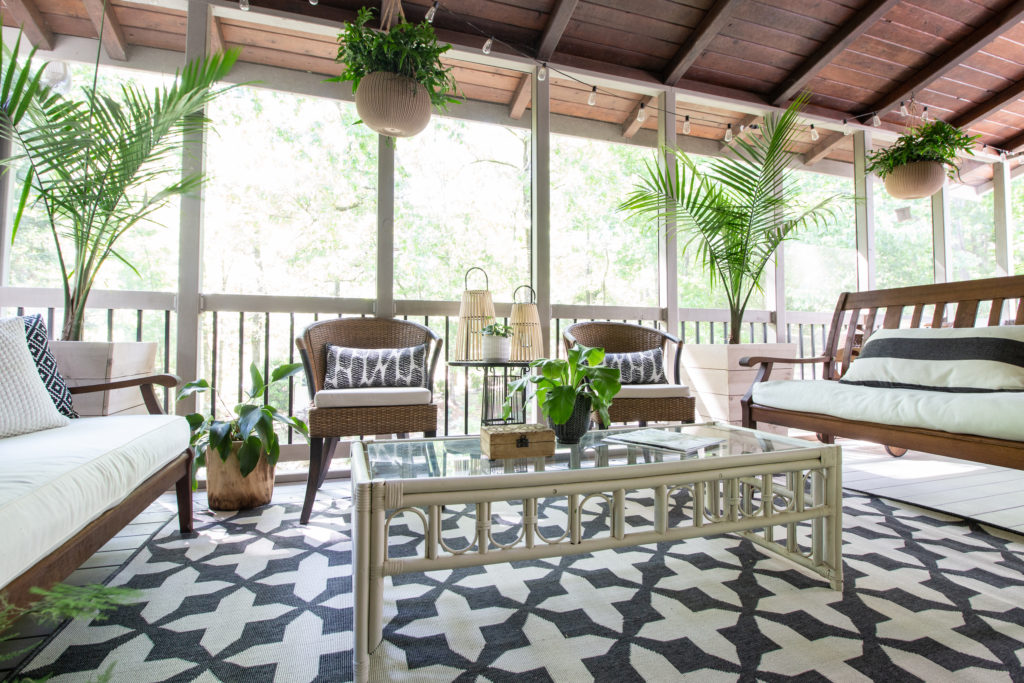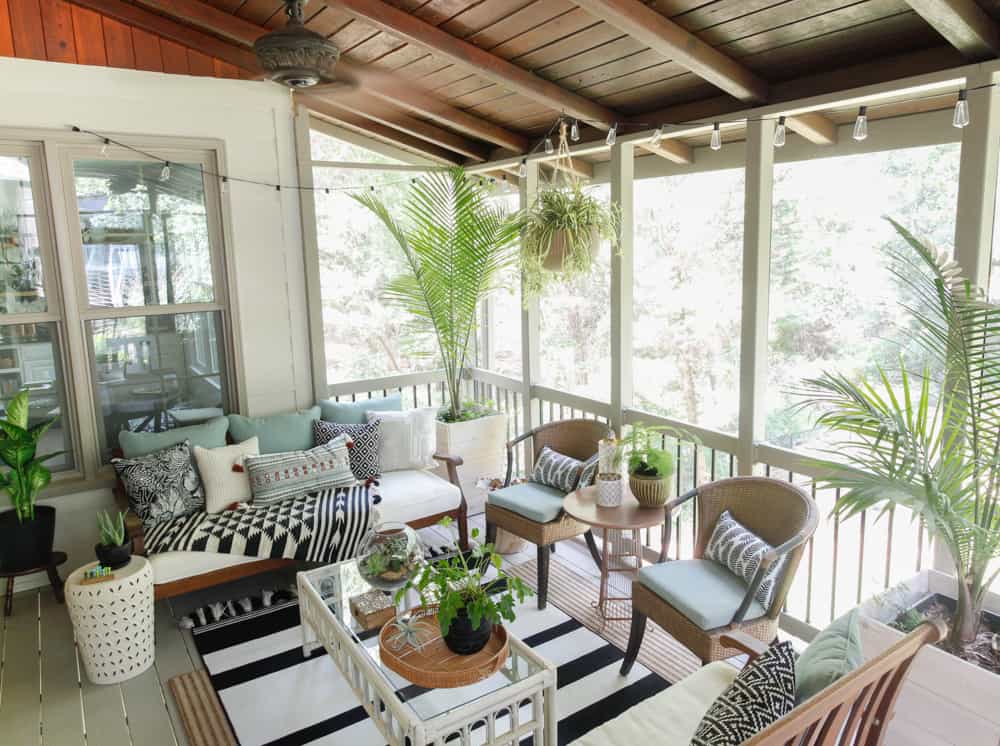 Each year I have used palms in the large DIY planters. I love these because they have a built in shelf that lifts the plant higher making it seem much more grand, creating a canopy of palms overhead. Here is a link to build your own for less than $20 a piece!!
Add in a variety of tropical plants. Be mindful of how much light each plant needs and move them in closer to the house if they are very delicate.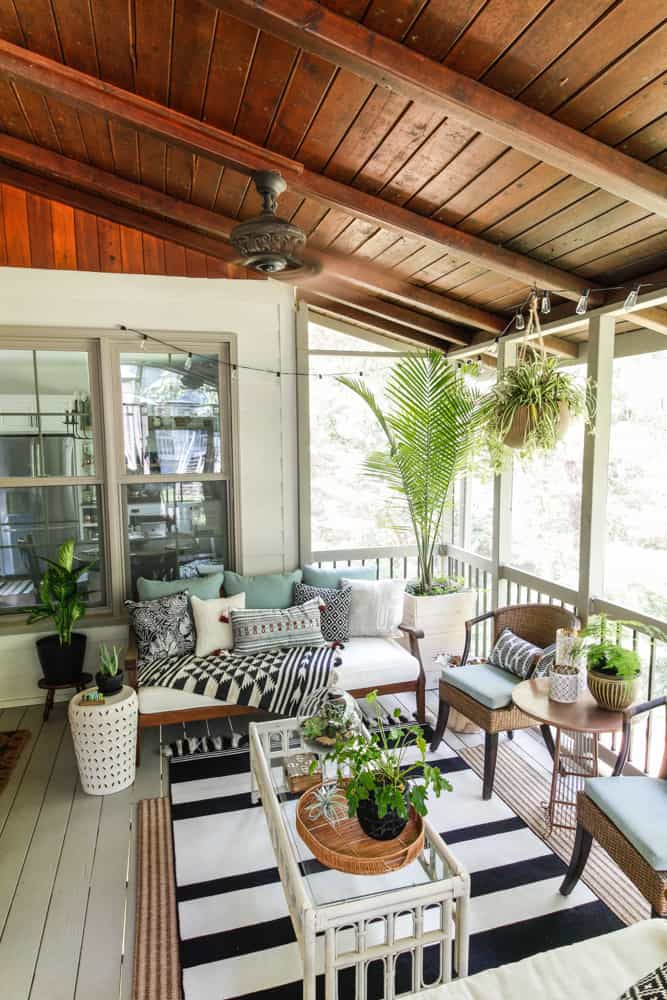 Hanging plants are essential for every screen porch. My top picks are a spider plant like the one above. They don't shed and need only regular watering when the other plants require more frequent watering.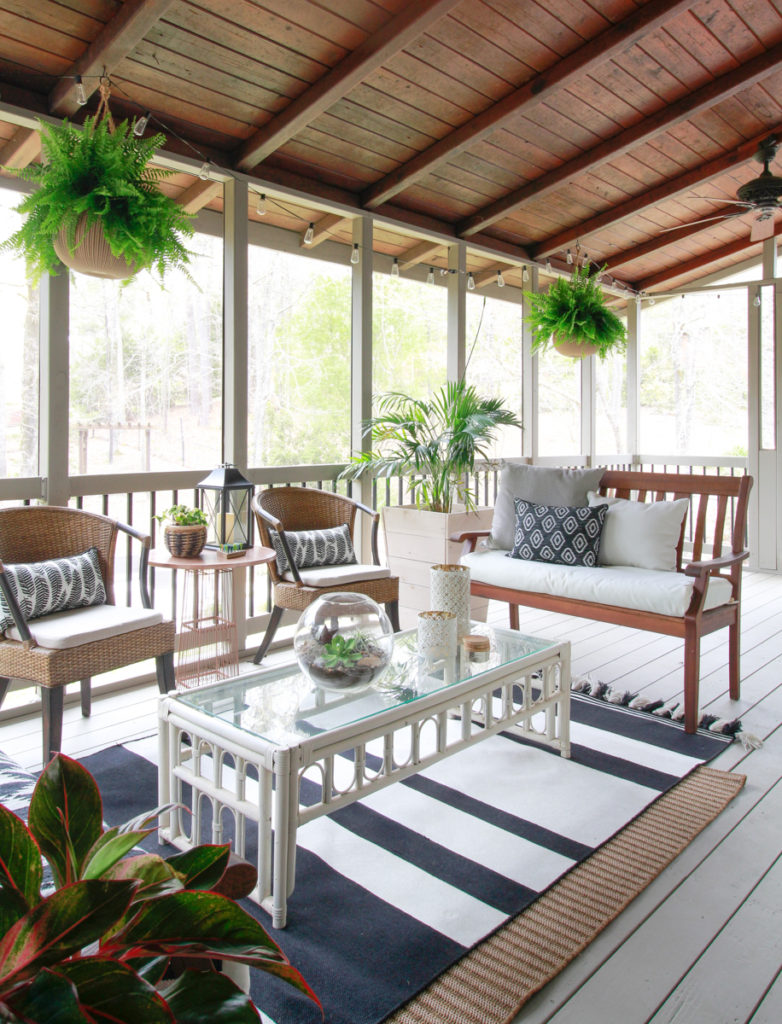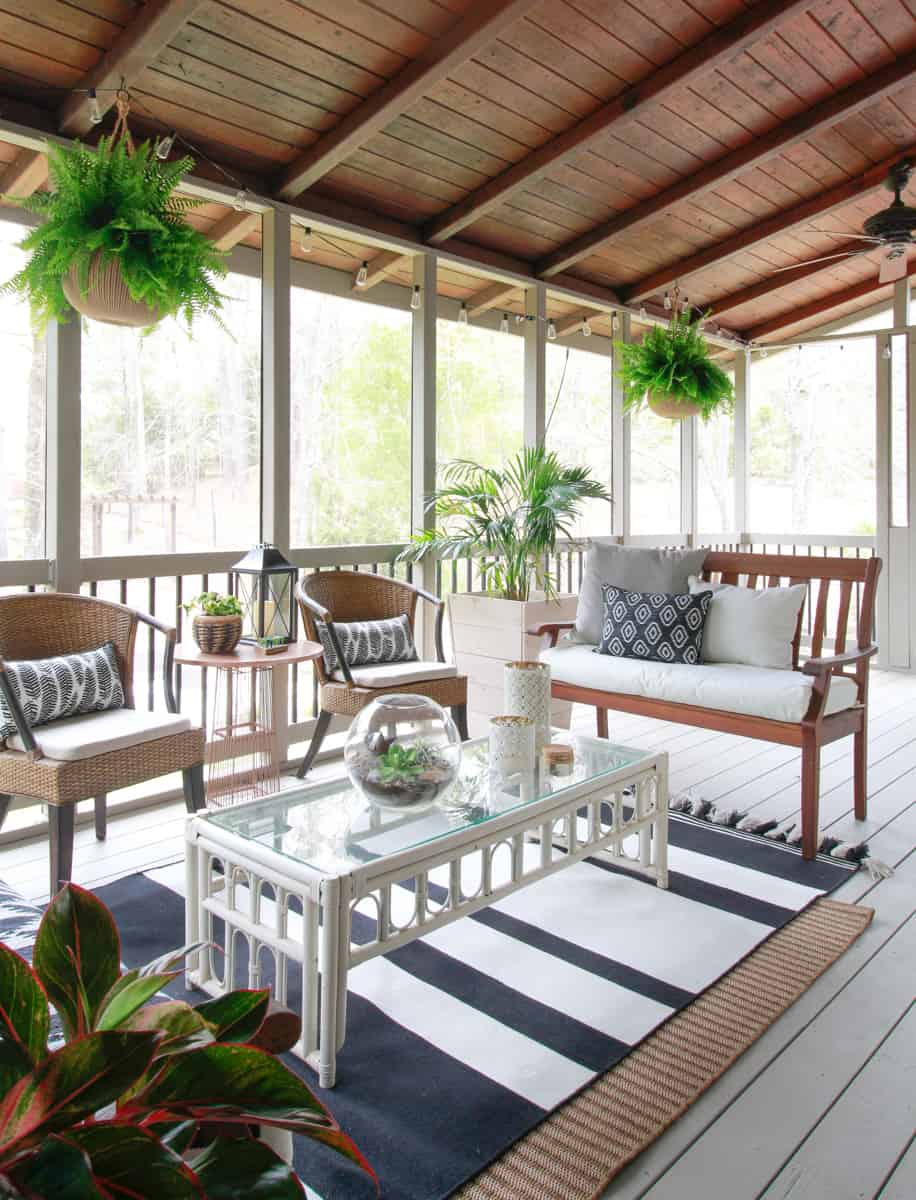 Last year, I purchased Boston ferns and they did not fare as well. I was able to keep them alive but they needed to be watered much more often and eventually they began to shed. Not at all desirable if your goal is to create a low maintenance, always ready, outdoor retreat.
This year, I found Kangaroo ferns at my local Wal-Mart. I can already tell they are going to be a great easy-to-care, no mess choice.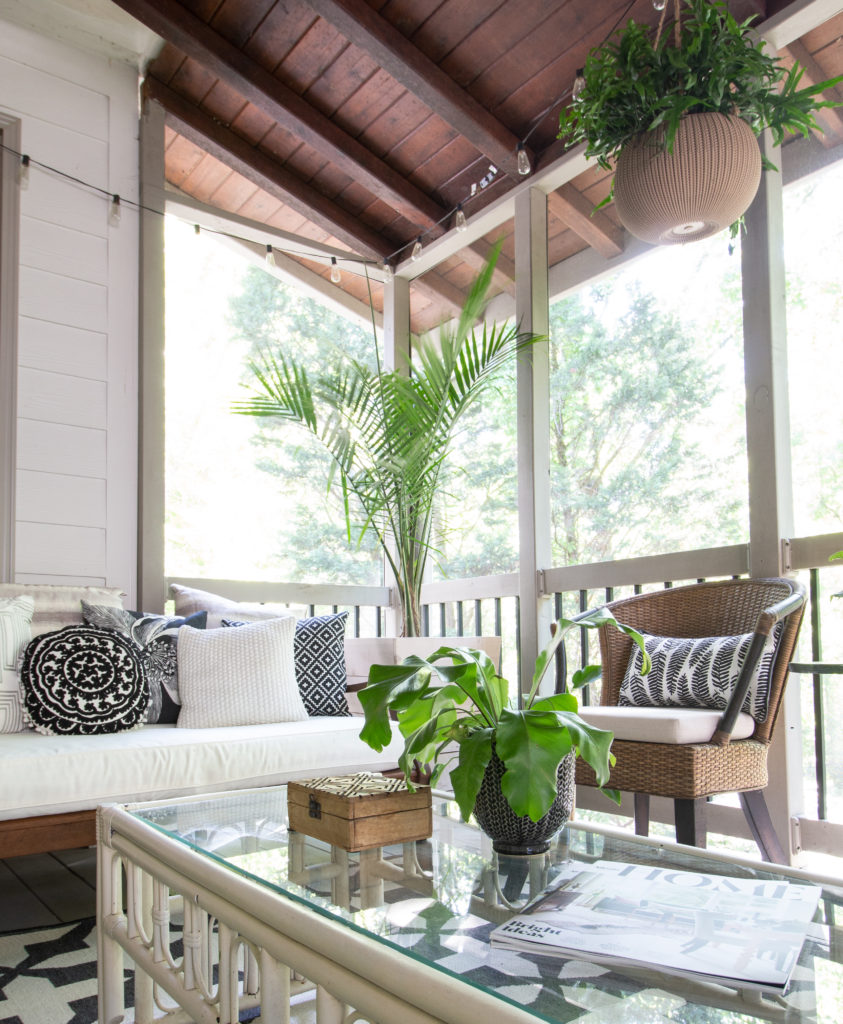 It seems like as the summer progresses the fern will grow to hang over the pot more. They were fairly tight together on the shelf so I feel like they are just starting to spread back out.
6. Bistro sets and Bar carts
If your space allows, add a bar cart for corralling your entertaining beverages and needs.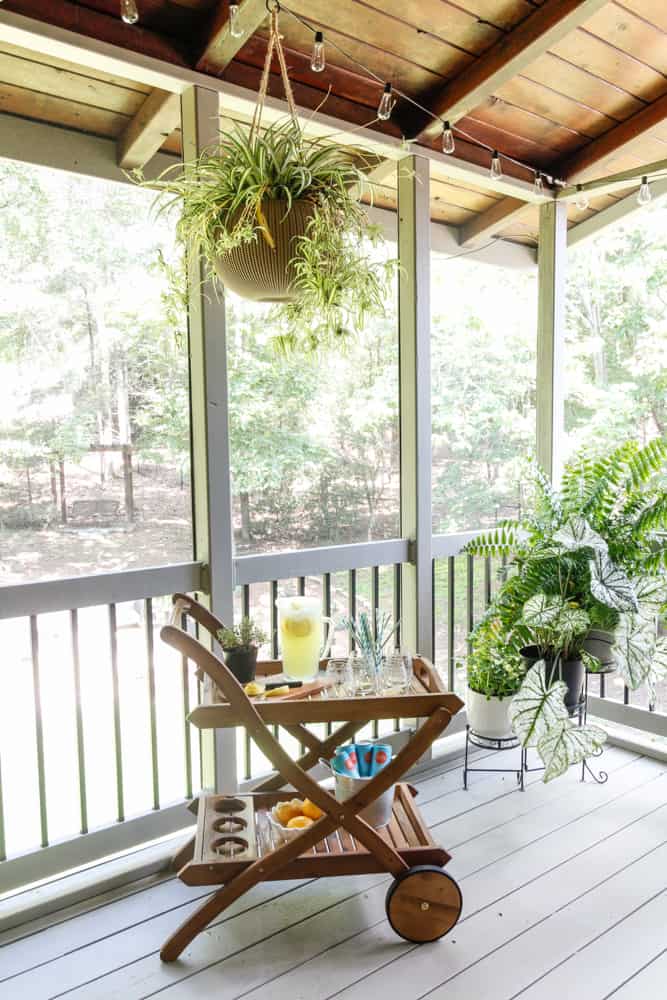 We also have room for a small bistro set in front of the table and it is the perfect place to enjoy a cup of tea or coffee in the morning with a light breakfast.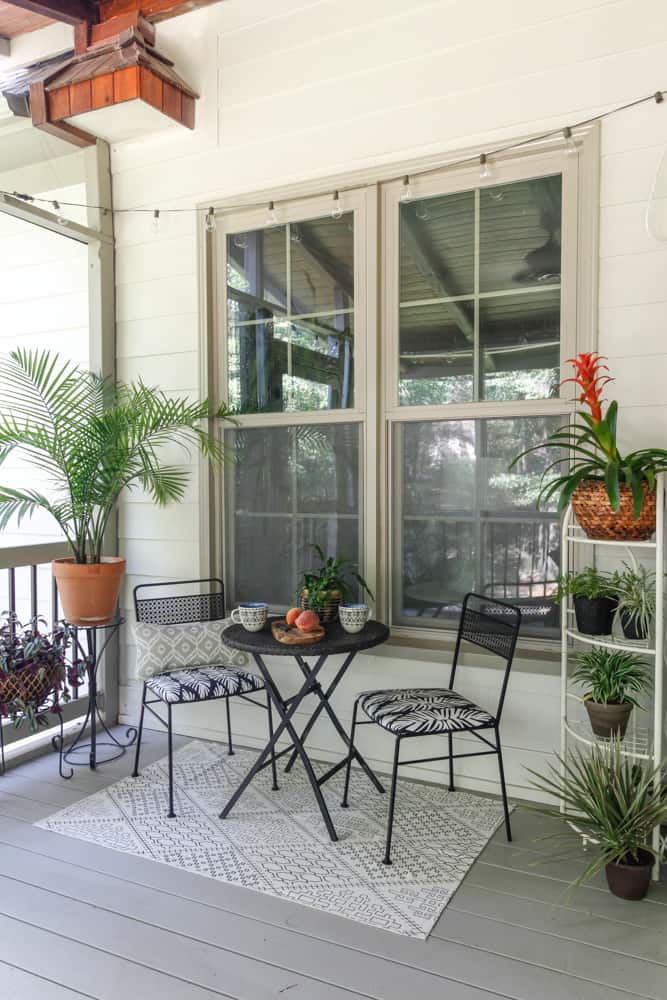 I love this little set of vintage metal chairs I found at a local thrift store. I paired it with a simple table and of course loaded the corner with plenty of plants.
Shop the post

7. Light it up!
Make the space even more cozy for the cool evenings by stringing up bistro lights.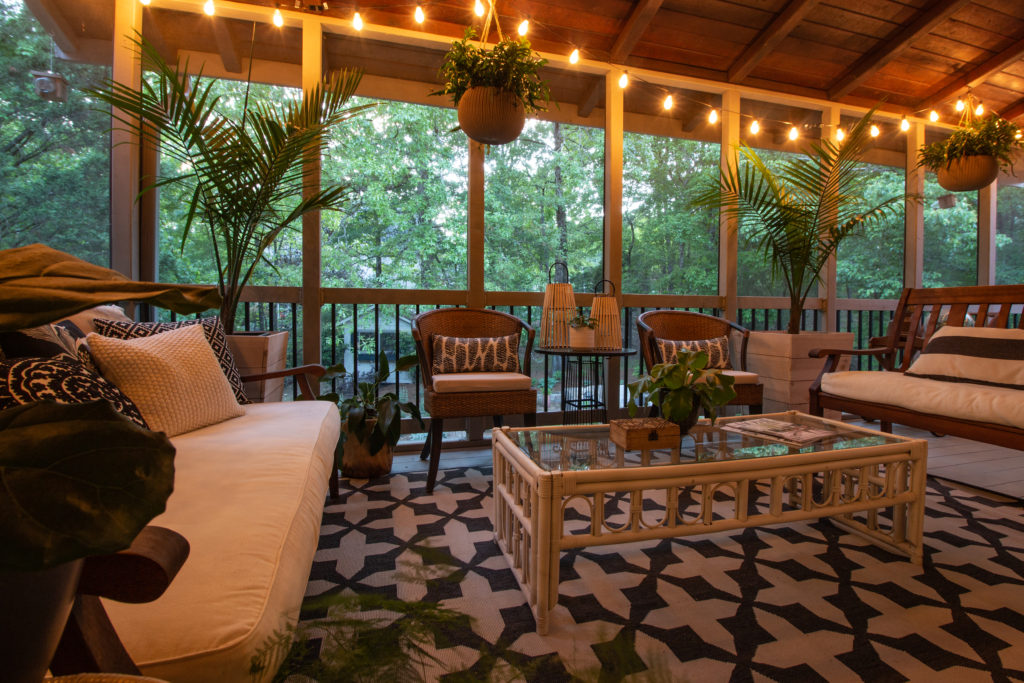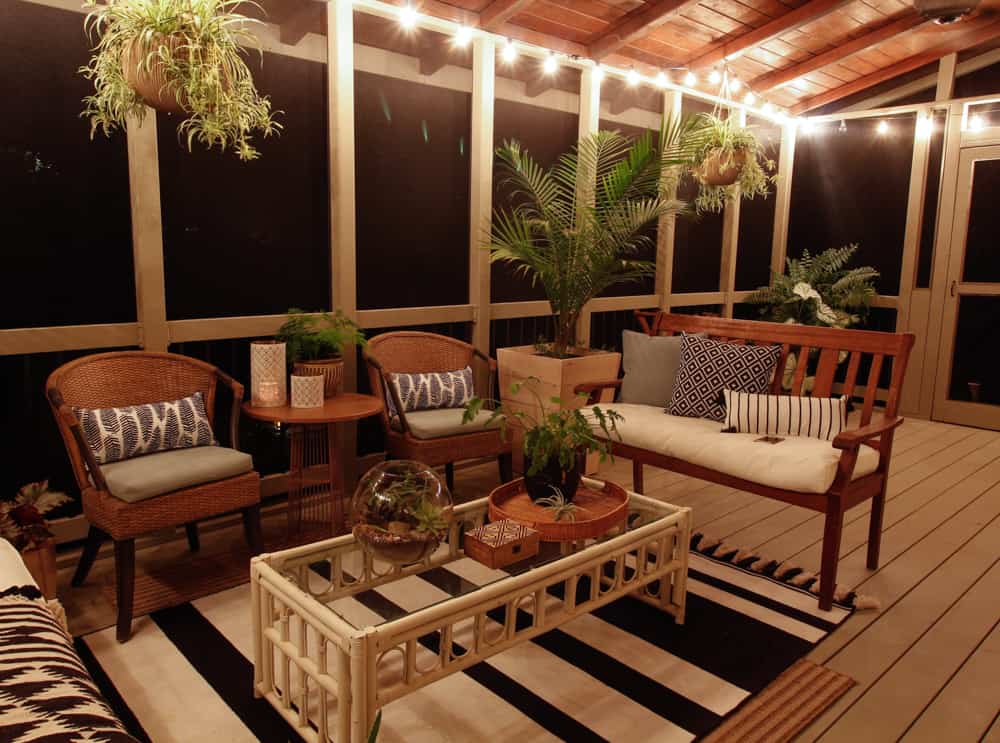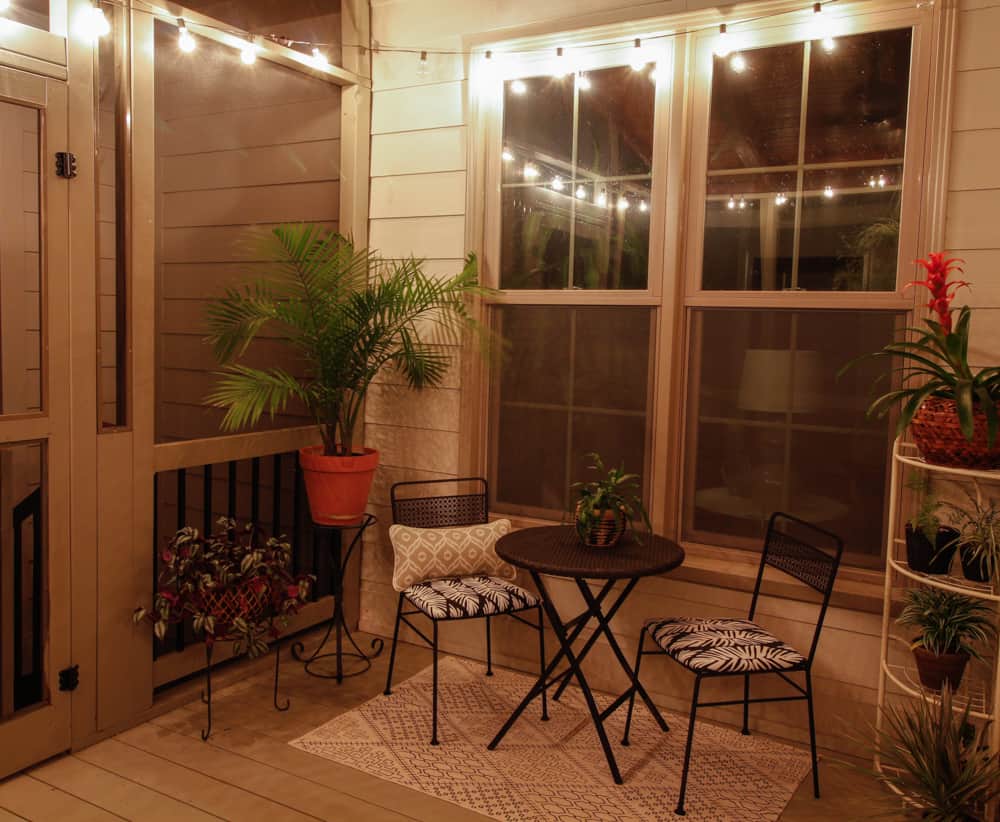 And even though it's a screened porch with fans I still like to light a few citronella candles. Our screened porch is actually not screened on the floor so I just like that extra deterrent just to be safe.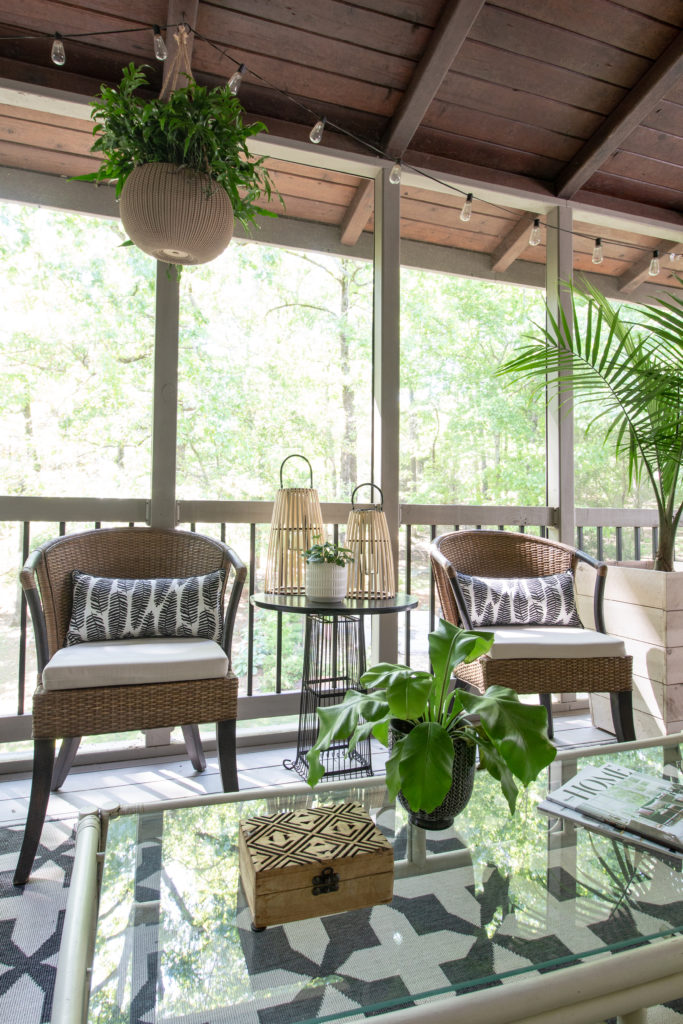 I use a variety of lanterns to hold my candles. They also add another layer of practical decor and are available in so many styles. You are sure to find one that suits you.

8. Privacy
Our porch is up high and is surrounded by lots of mature trees. But many years ago we had a patio, covered only by a pergola and open to the neighborhood. I added drop cloth curtains suspended from aluminum piping. Whenever we wanted to enjoy the patio for an extended period of time we would draw the curtains. They also helped block the glare from the setting sun.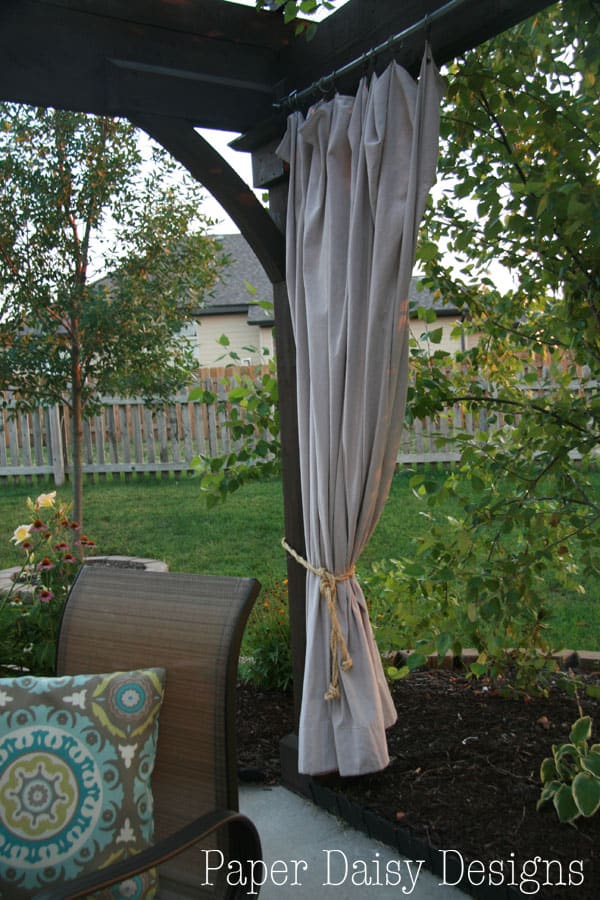 In hindsight, if I had painted the aluminum no one would have known I used inexpensive materials and would have looked a bit more polished.
Sadly, at our new house we will no longer have a screened porch. But we will add fans and I plan to find some mosquito netting to use as curtains around the perimeter. I'll revisit my aluminum pipe as rods and I'm positive I will give them a coat of paint to match the trim of the house this time.
9. Make the space pet friendly too!
You may have noticed in the first two years of the screened porch, there was an addition of a throw rug on the deep seated bench.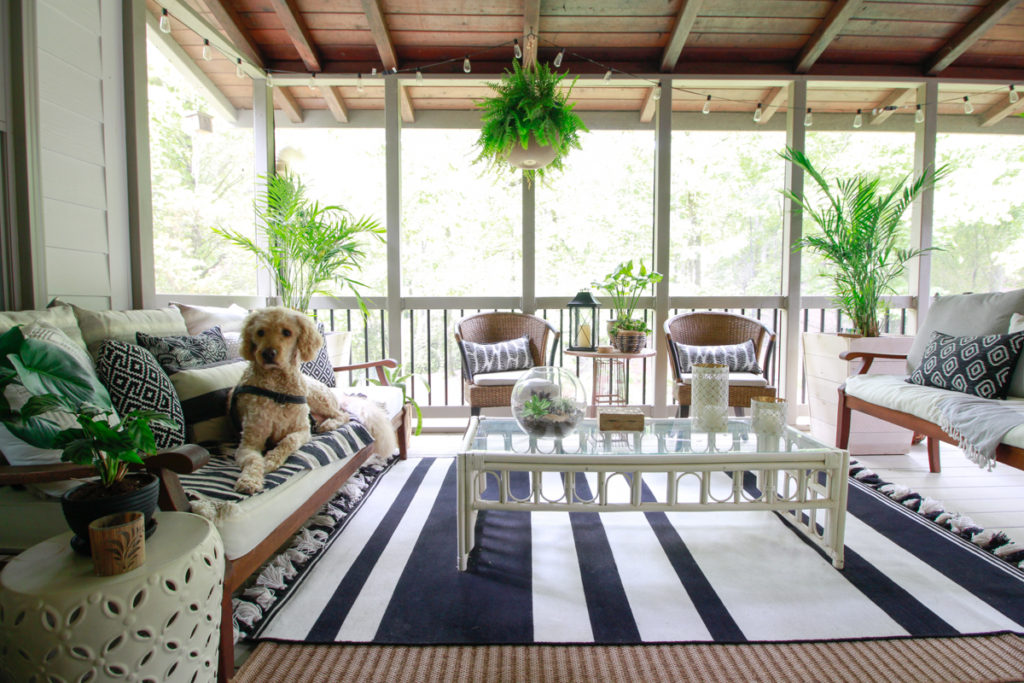 Our sweet Golden Doodle, Tucker claimed this as his most favorite spot through every season. Because he had full range of the backyard and regularly came up and plopped himself in this spot, I added this small throw rug to keep the cushion cleaner. (The cover is completely removable and washable but it is much easier to throw a small rug into the wash than to take apart the bench and pillows.)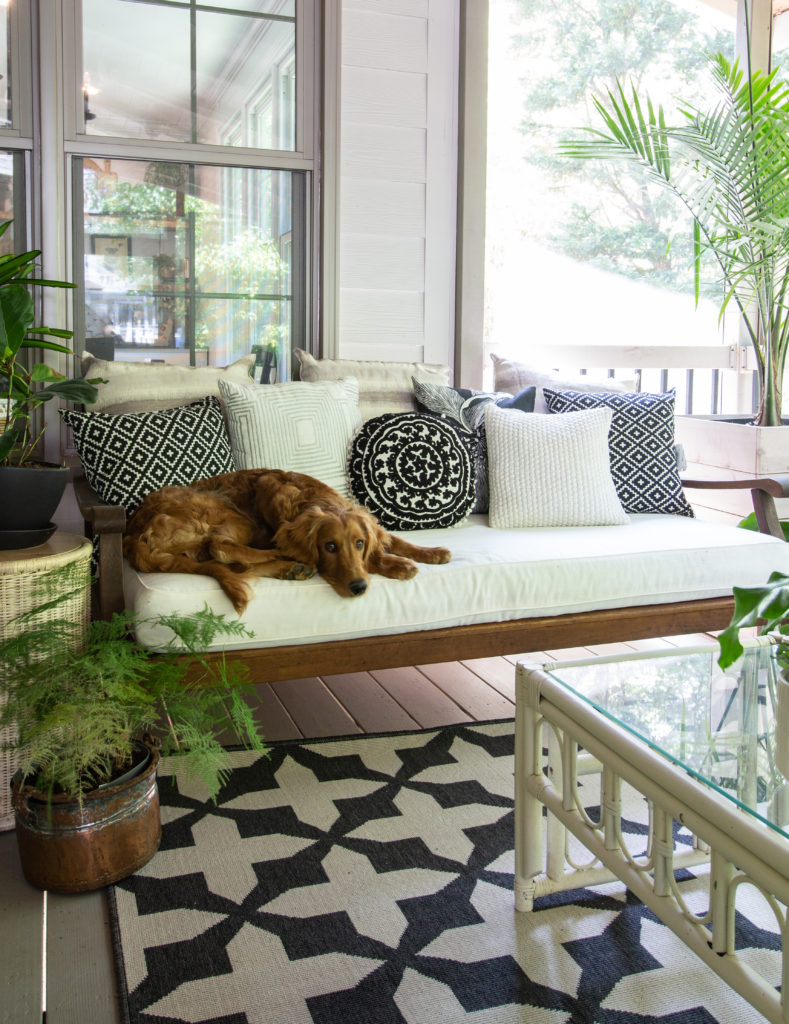 Our new little man, Freddie, an Irish Doodle, is not yet allowed to roam the yard freely nor come inside through the porch door. He's just now learning this is a nice place to sit. If he matures enough to have the freedoms Tucker did before we move, I will find a more subtle rug to throw on the bench. He is equally fond of finding the coziest spot. I think Tucker would be proud of the little fella on that account.
A space like this is meant to be shared, even if it's just with our furry companions.
Shop the post favorites