Use art, florals and plants to easily bring that fresh spring look to your home.
In this Season's Simplicity Home tour, I invite you in for a look around our home and show you how I made subtle changes in my decor to welcome Spring indoors.
Joining me are 30 other bloggers sharing their homes decorated for spring! Nothing like virtual home tours to get you in the mood to refresh and celebrate the season! If you are joining me from the beauiful home of Jennifer Maune, welcome! Please come in.
Let's Welcome Spring!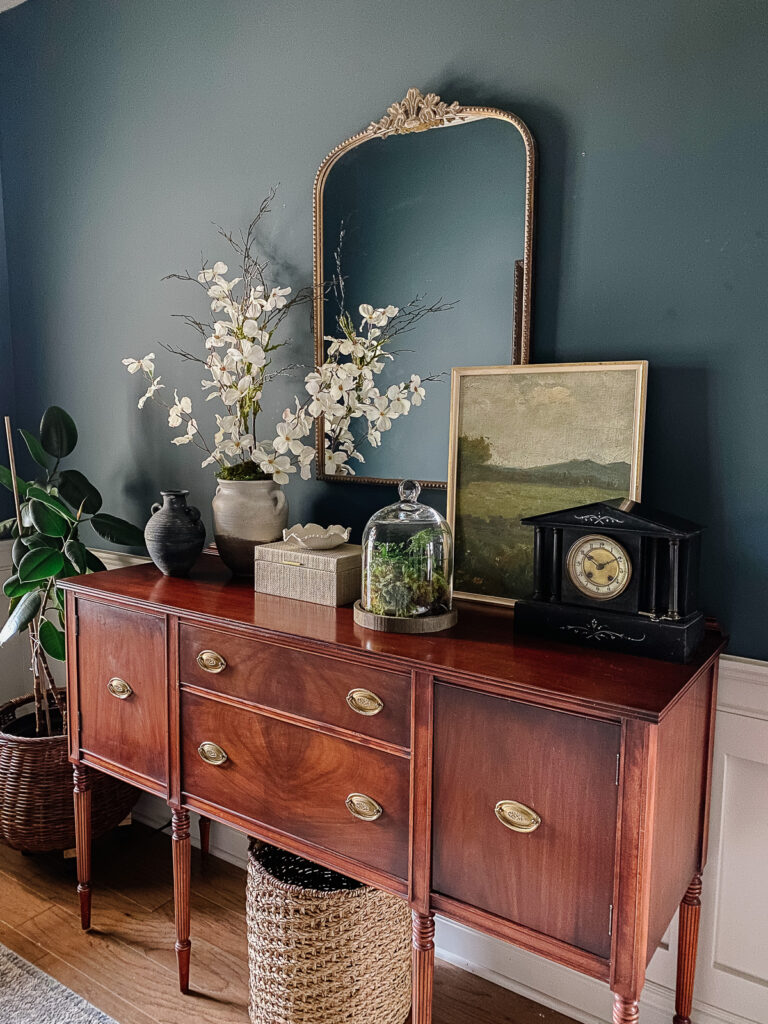 I'll start our tour spacially, in the foyer. I love restyling this buffet seasonaly.
It became clear to me this season that the biggest shifts in my seasonal decor has come to revolve around transitions in florals and art.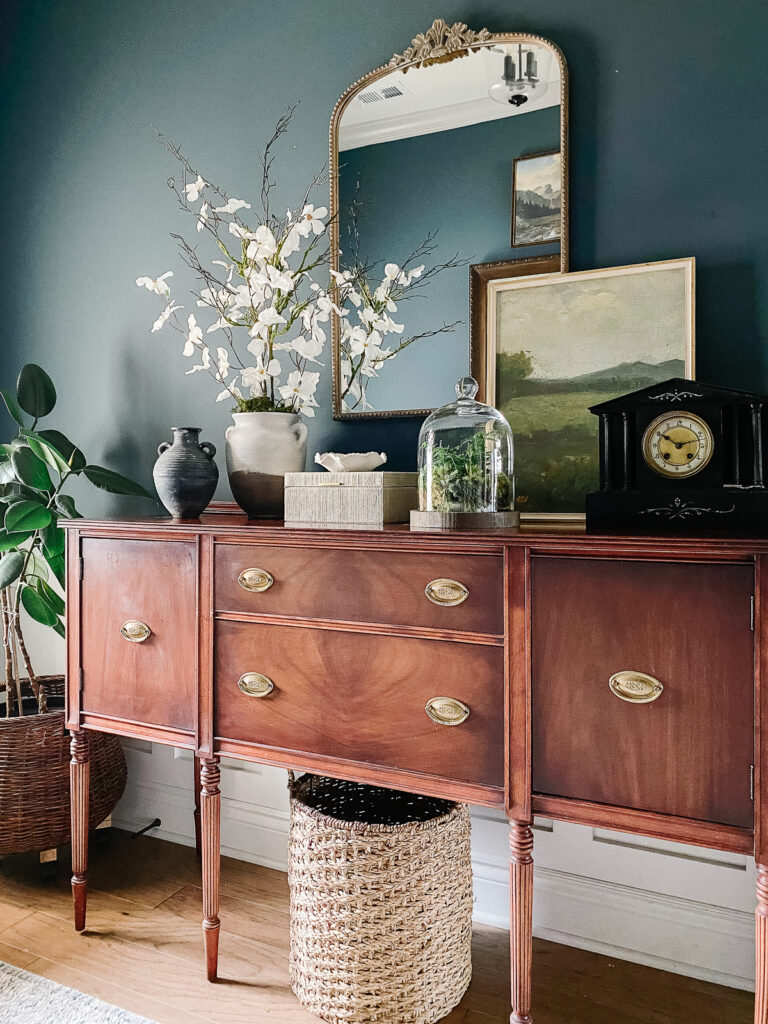 In the foyer I began with a terrarium filled with a small fern and fresh moss I picked up at al local nursery. I have long had a fascination with terrariums. While this fern is real, several years ago I created faux terrairums for my spring mantel. My mantel didn't recieve enough sunlight to allow the real ferns to stay alive, so I made faux greenery work. You can read about how I made them here.
The artwork propped behind my great grandmother's clock, is actually a portion of canvas I had printed for another frame. It is from Vintage Supply, called Good Evening.
I added faux dogwood and mossy branches to an up-cycled, painted urn. I have a tutorial saved in my Highlights in Instagram, if you are interested. It was one of three old, red painted Pottery Barn urns I bought from Facebook Marketplace for $15.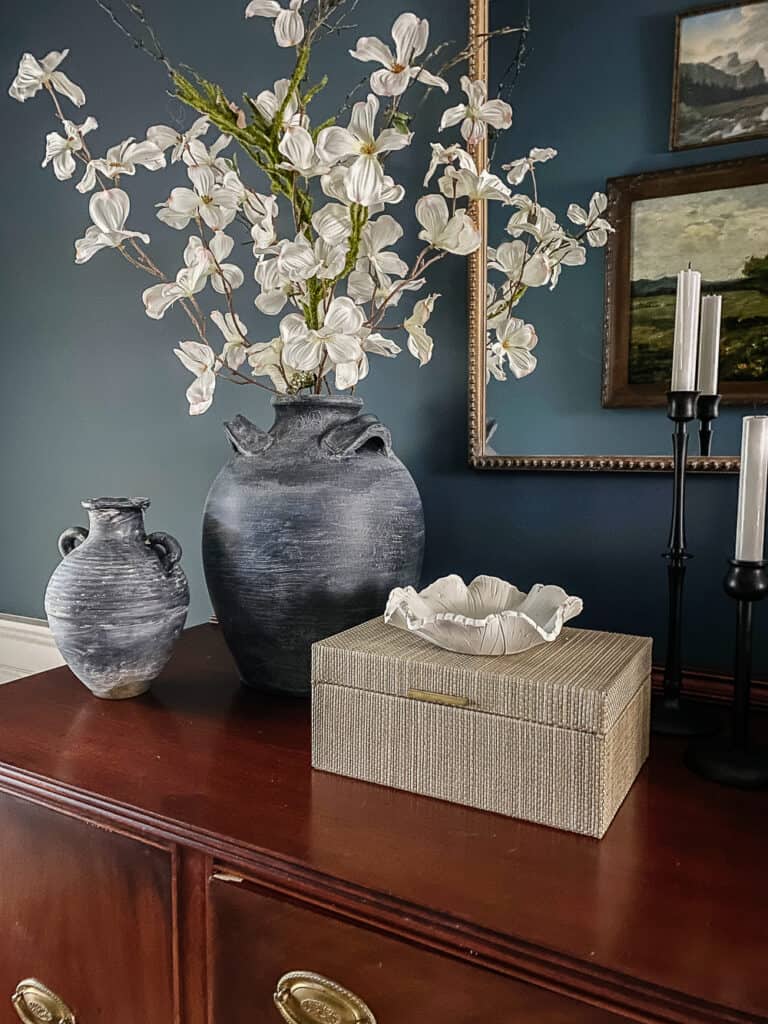 The ruffled, poppy flower bowl is a DIY clay project I created for spring. I really love it! It's so much easier than it seems. Even a beginner in clay can do it! I have templates for cutting and tracing the design onto the clay in this tutorial.
Dramatic Branches in the Dining Room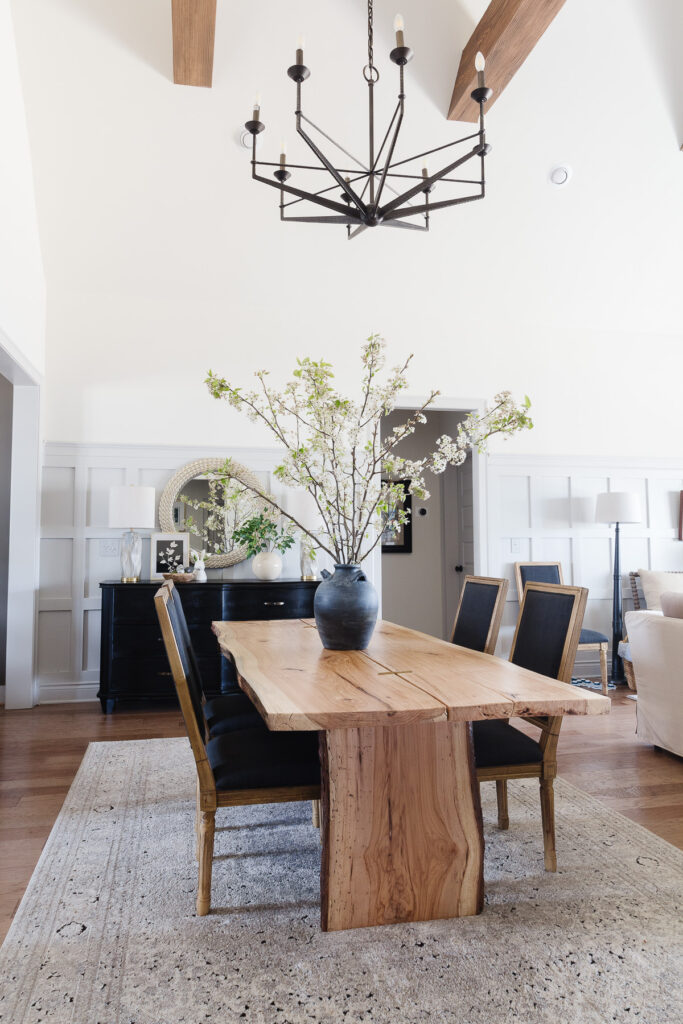 I knew I wanted to use oversized, live branches on my dining room table this year. I did not know exactly how I was going to acquire them though. As luck would have it I drove past some young men trimming Bradford pear trees and asked if I could have some of the branches. Score! (My alternate plan was to cut some out of the woods near my house. )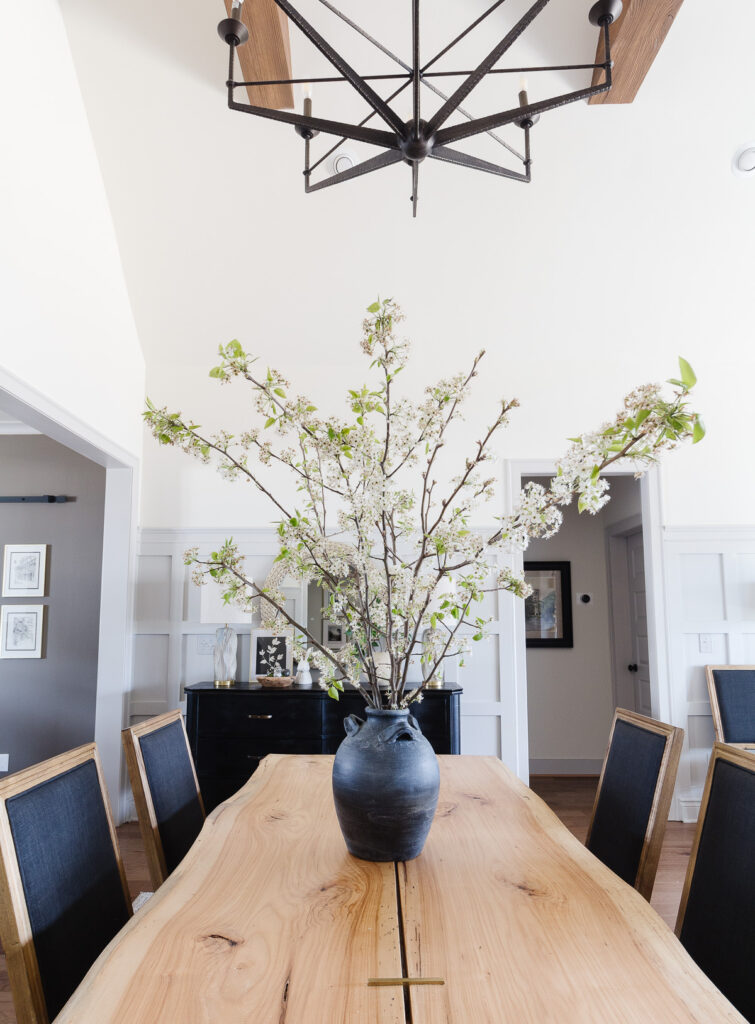 You might have noticed, I had to borrow this black urn from the foyer to hold the branches. I hope you stick around over the next week or so because I have a plan for how to keep this look going after the blossoms fade. You can follow me on Instagram for all the latest happenings.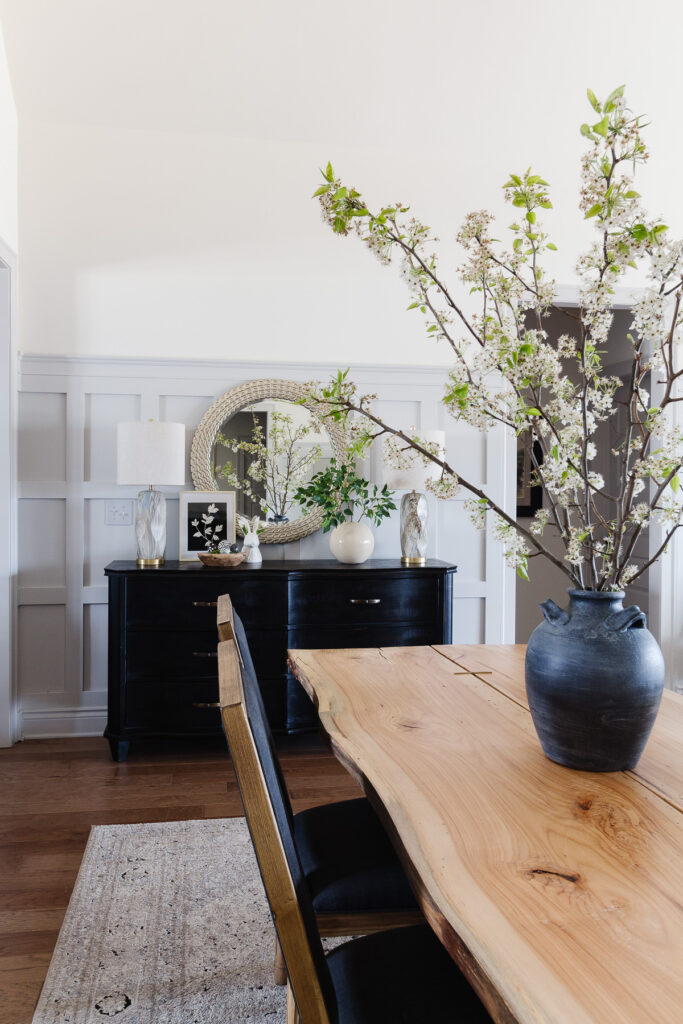 As hard as it is for me to admit, our children are grown adults now so the way I decorate for spring has evolved. But trust me when I say I have giant bin of the fun Easter bunnies and baskets to pull out in the advent of grandchildren. We are likely more than several years away from that.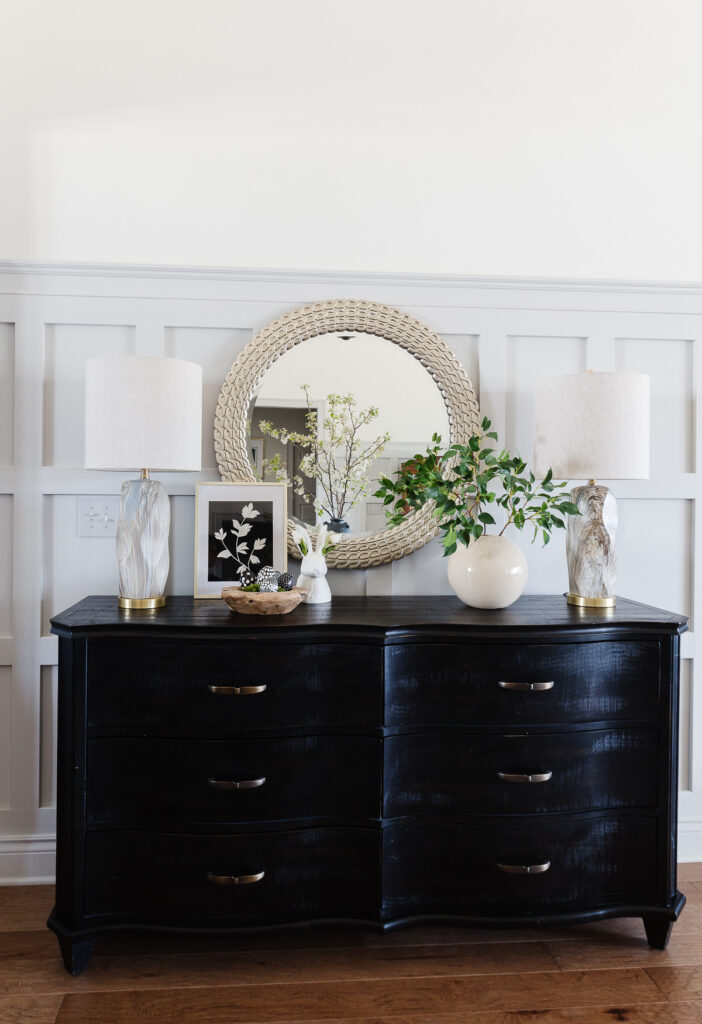 In the meantime, I love finding more sophisticated ways to reference Easter.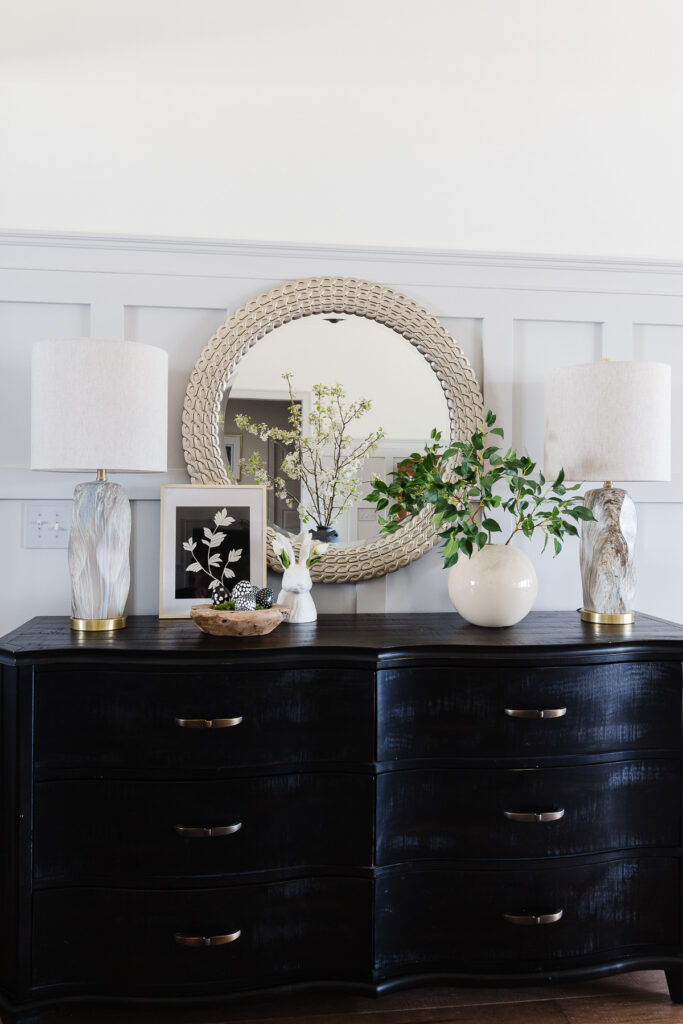 The ceramic bunny vase is from Anthropolgie several years ago but I found one just like it here. The black marble eggs were a lucky find at Home Goods a few years back as well.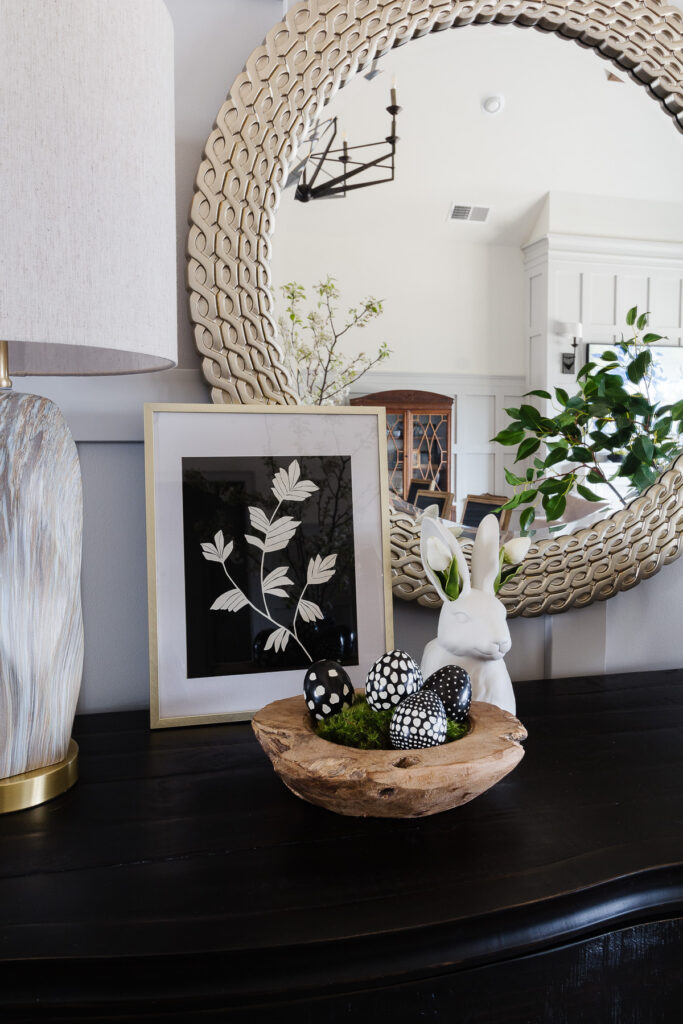 This art, which seems to migrate around the house, offers a subtle nod to spring. I find the high contrast black and cream to be the perfect compliment to so many areas, but especially this dresser in the dining room. It is from Juniper Print Shop and is called, Botanical IV. It is available as a digital download or a print.
As you look toward the living room, the vaulted ceiling and the related height of the chandelier comfortably allows for ample visual room for the long branches.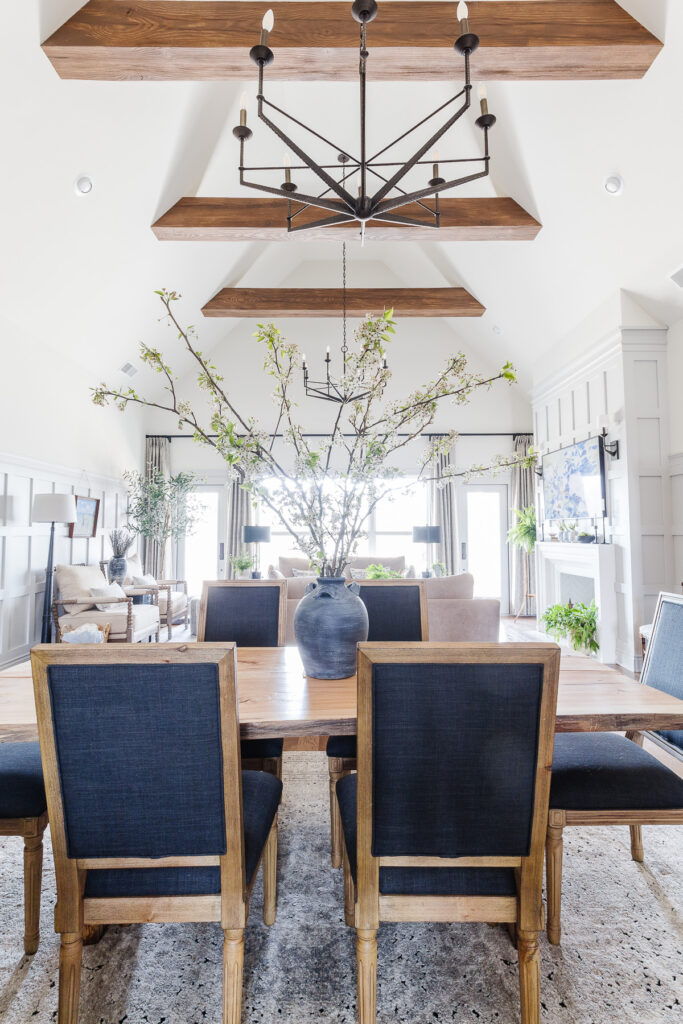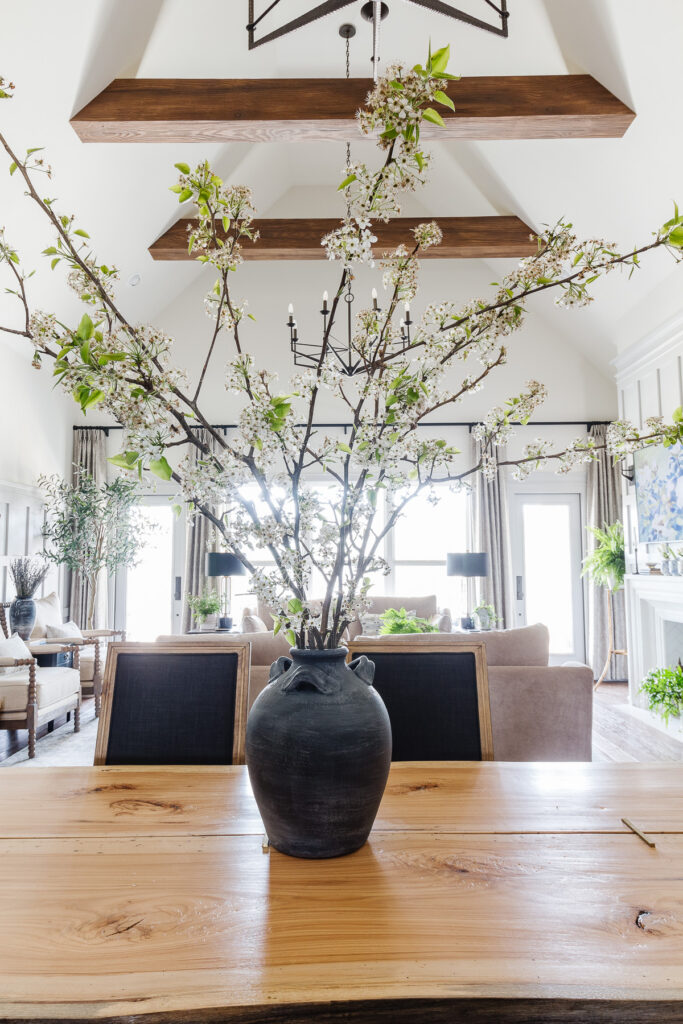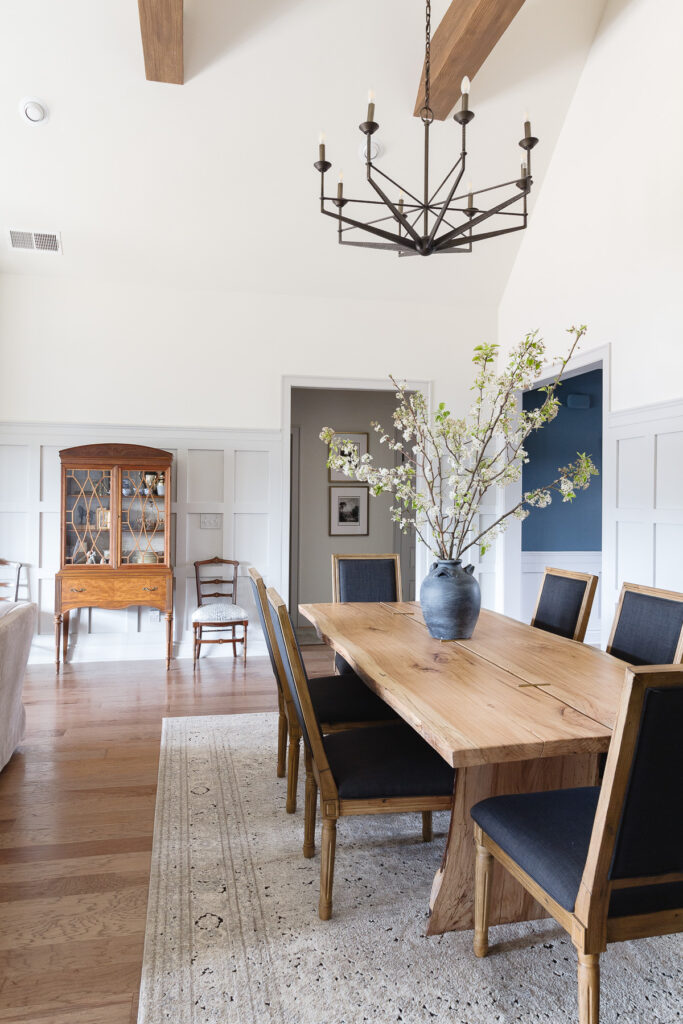 Playing with Blues in the Living Room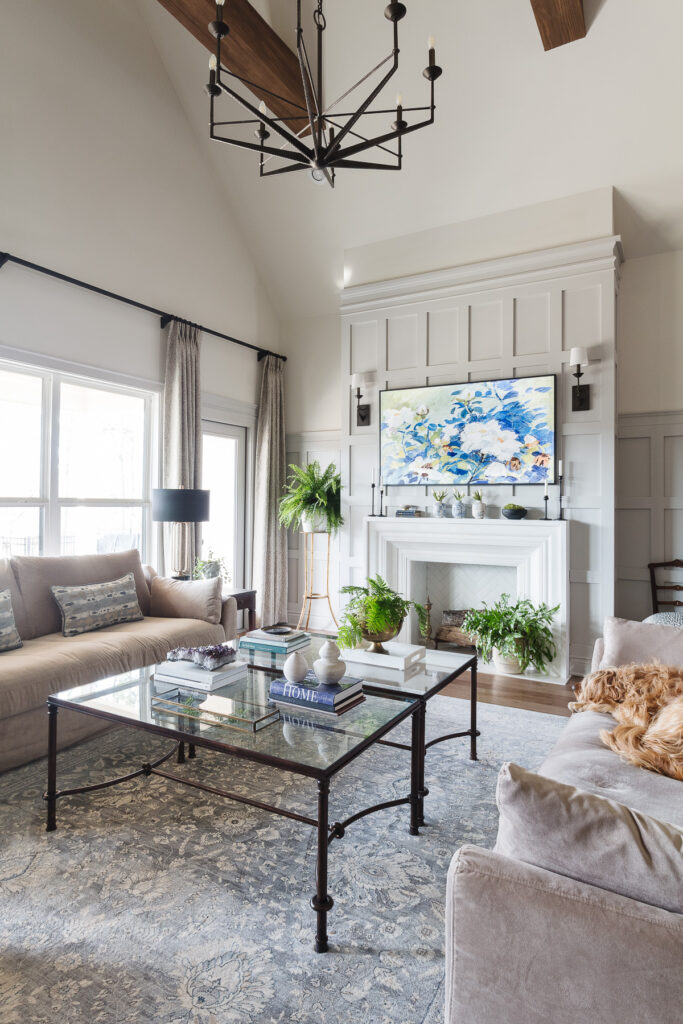 While the accent color in this neutral room has always been a soft, slate blue found in the rug and custom pillows, the shift in the art above the TV brought the blues to the forefront.
Shop the look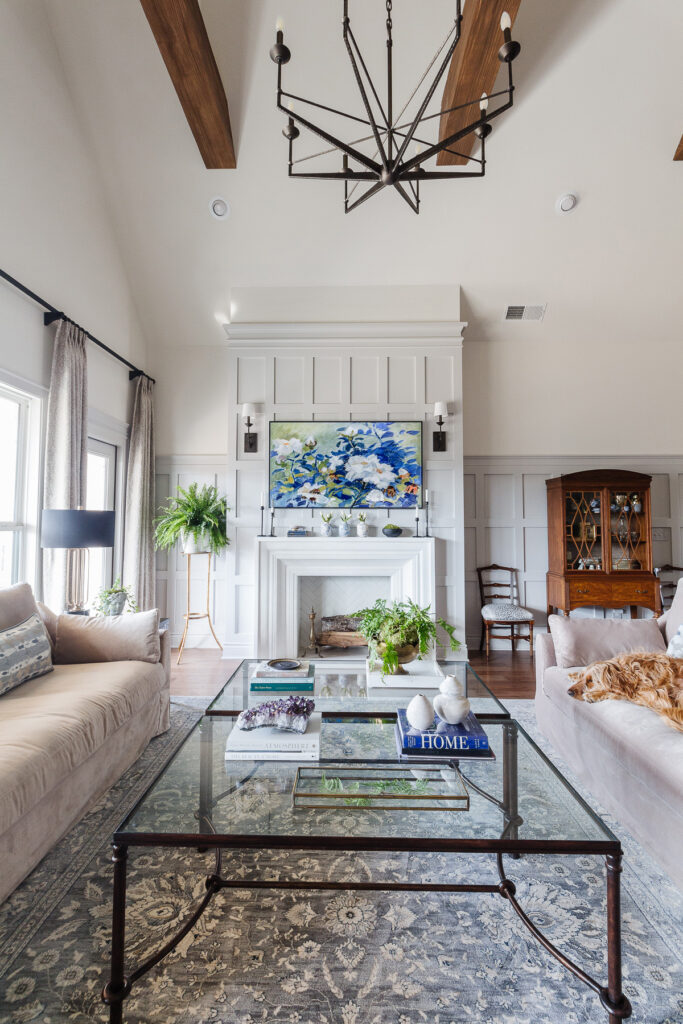 The one investment piece I felt the strongest about when we decided to build a fireplace here, was the Frame TV. The beauty of this design truly pivots on the TV becoming art in this room.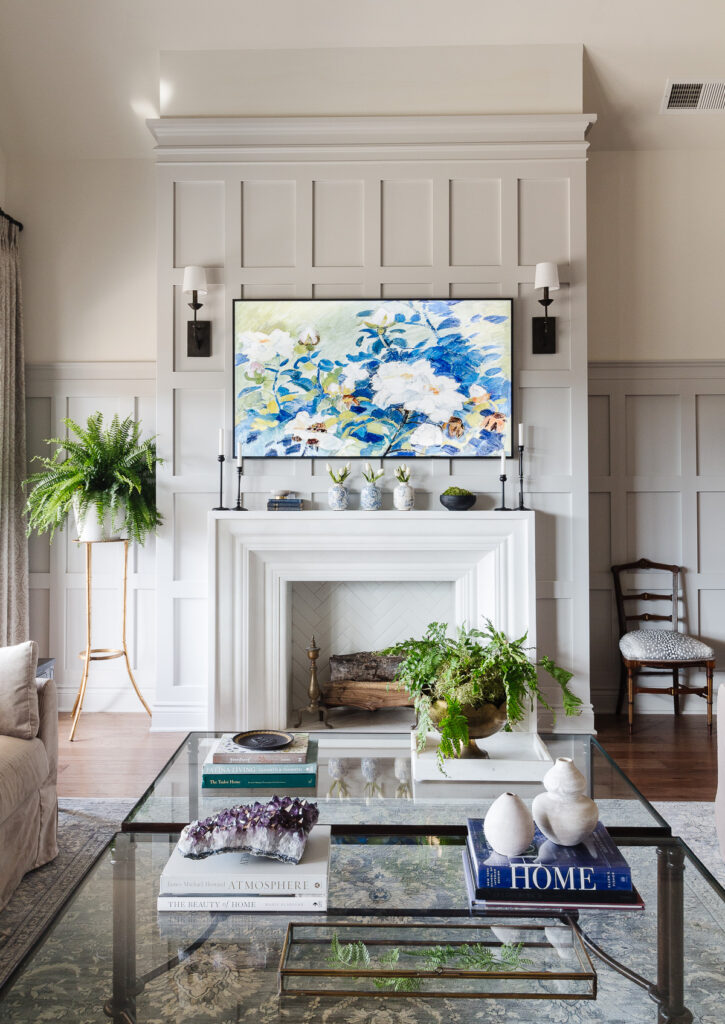 This season I moved away from the landscapes I have used in the past and added this digital copy of Bramble, also from Juniper Print Shop.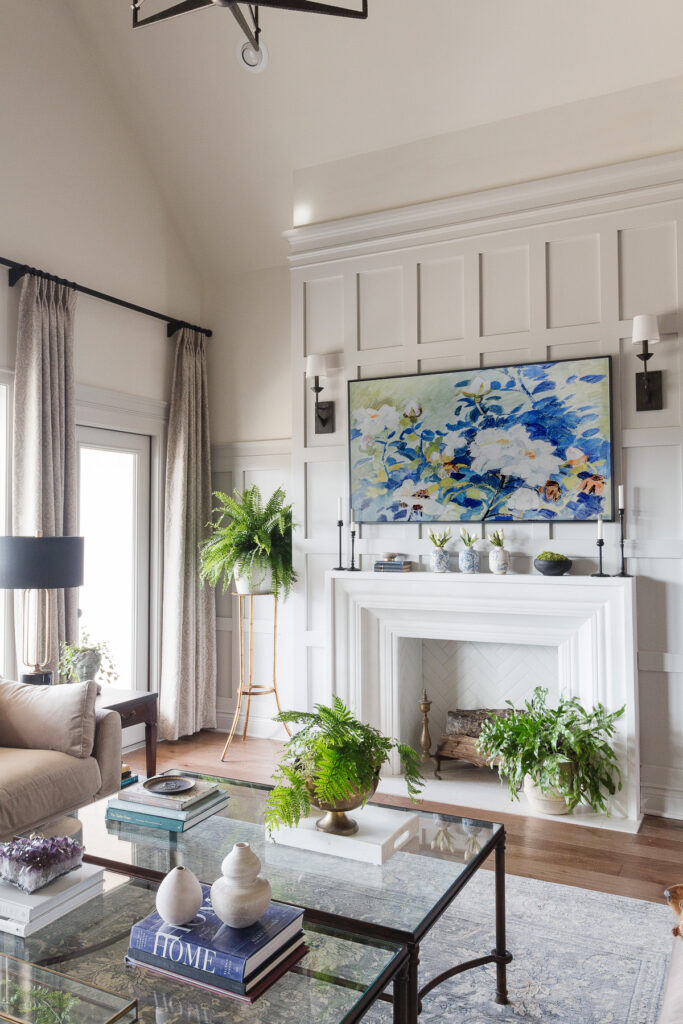 To further bring a lively, fresh look to the fireplace area, I tucked a kangaroo fern on the hearth. I also brought in a gold leafed plant stand and boston fern. Nothing says spring has arrived more blatantly, to me, than when the ferns show up at my local garden center!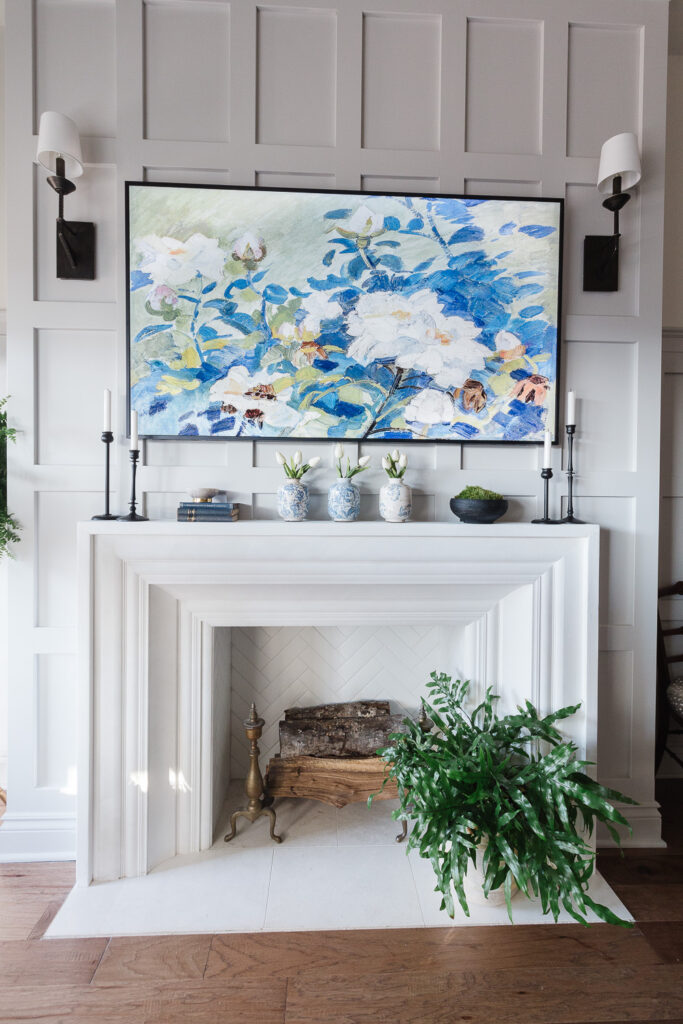 I shared the details about this spring's mantel more in this recent blog post, but I will share the resources below.
Shop the Look
xx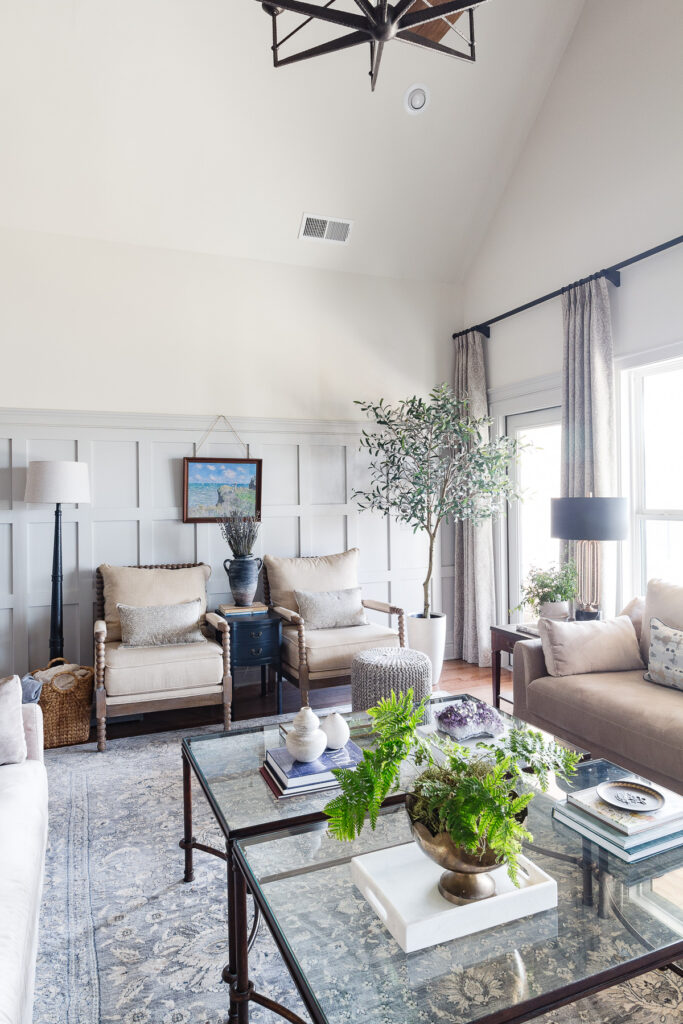 Opposite the fireplace, I added dried lavender in an up-cycled olive jar and a new canvas print.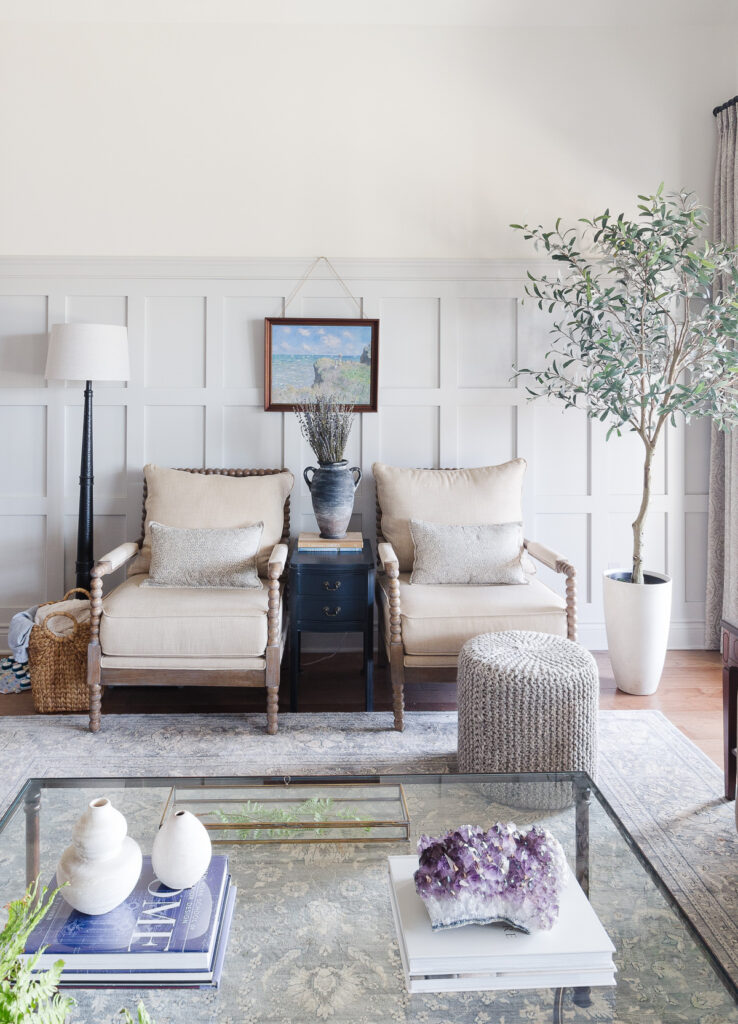 This art, I had printed on a canvas at my local Office Depot, is a Claude Monet. I downloaded it for free from the Art Institute of Chicago. It is called the Cliff Walk at Pourville.
I do find canvas prints come out a bit underexposed, per se. If I were to do it again, I think I would bump up the contrast and saturation to emulate the original art more accurately. Regardless, the canvas texture means it doesn't have to be framed with glass and looks more authentic.
Turning around from this spot, you can view the kitchen through the dining area.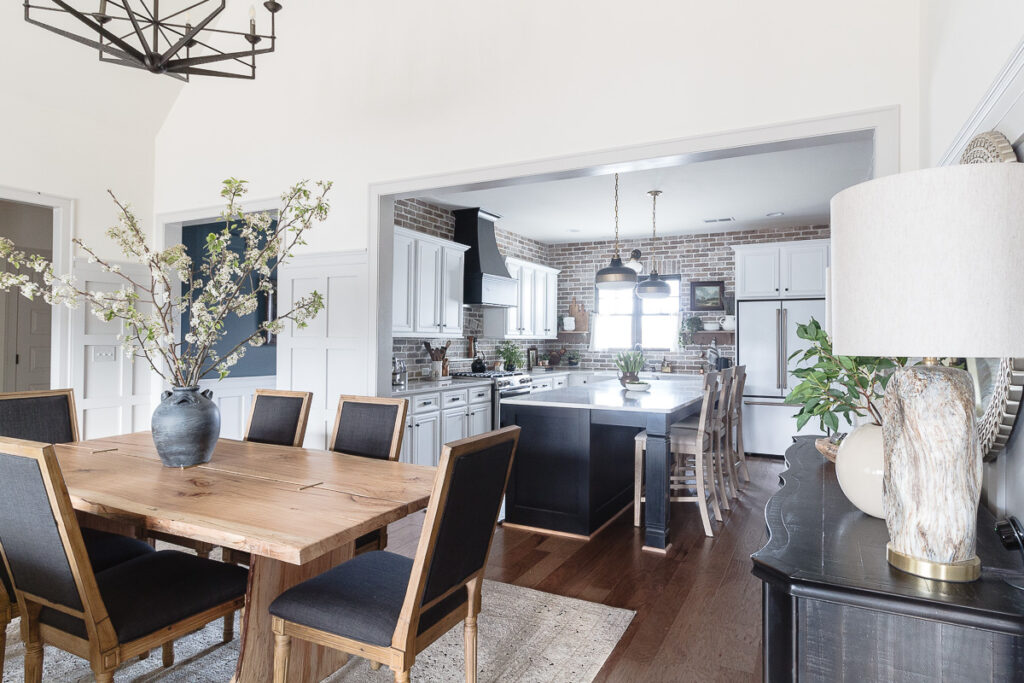 Spring Touches in the Kitchen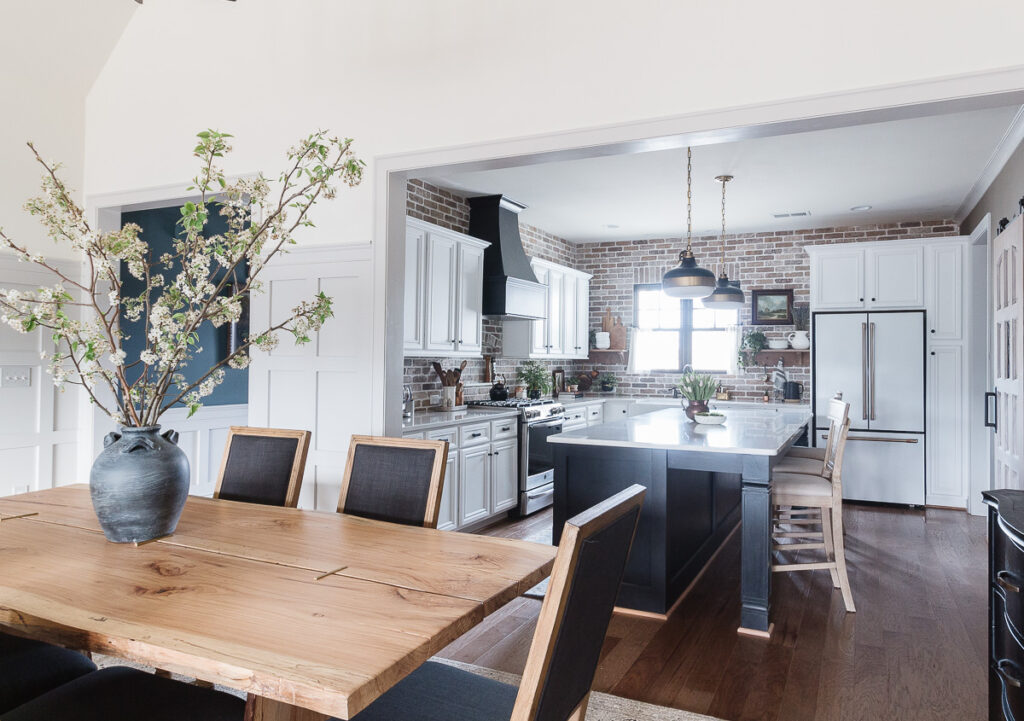 Again you will see the repeated use of florals, art that nods to brighter notions of spring and of course light and airy plants.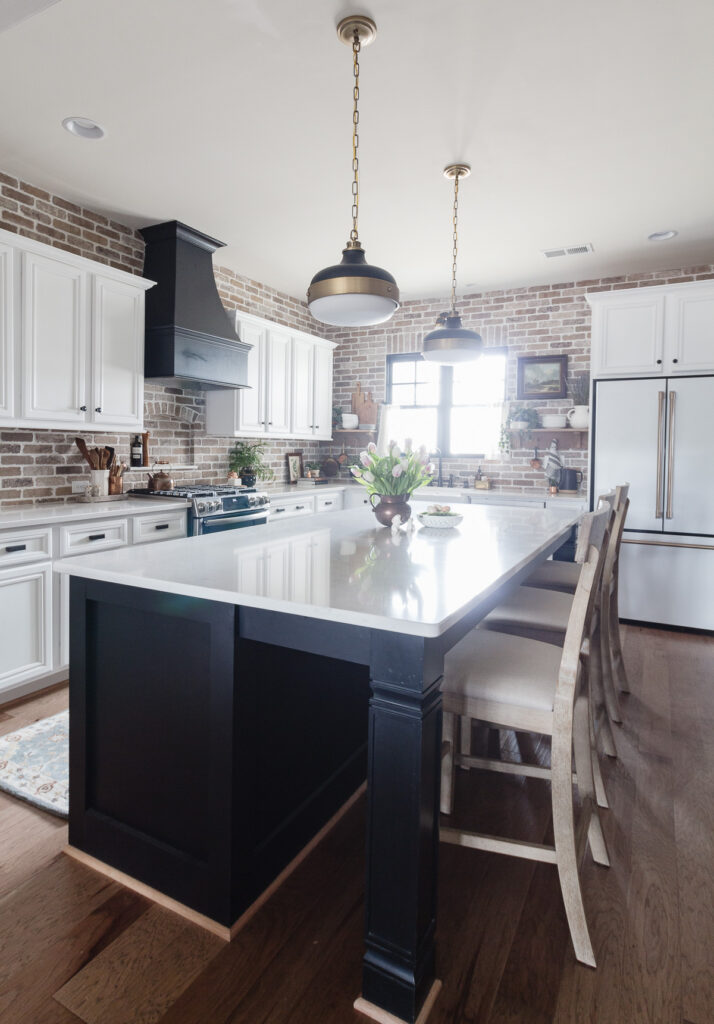 I began with an arrangement of tulips, the quintessential spring flower in an antique copper kettle. If the notion of a penny helps tulips last longer, then I figured a copper kettle would be even better!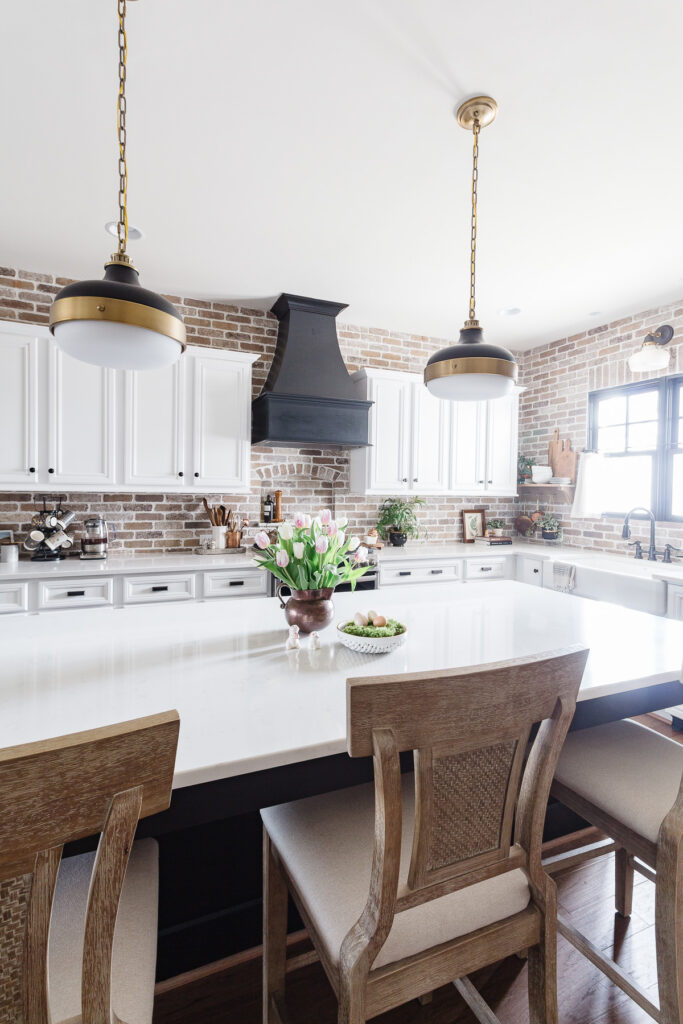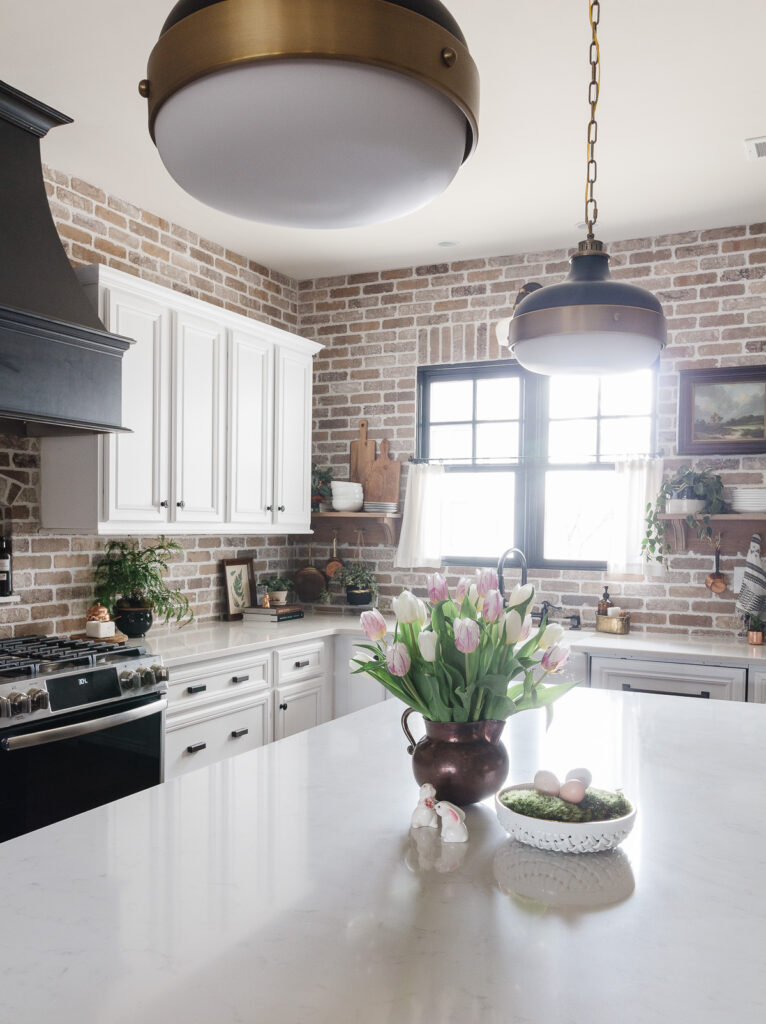 I balanced the smaller arrangement with a basketweave ceramic bowl filled with fresh moss from my local garden center and a few eggs. I love that one half crate of moss was able to make a few arrangements around the house.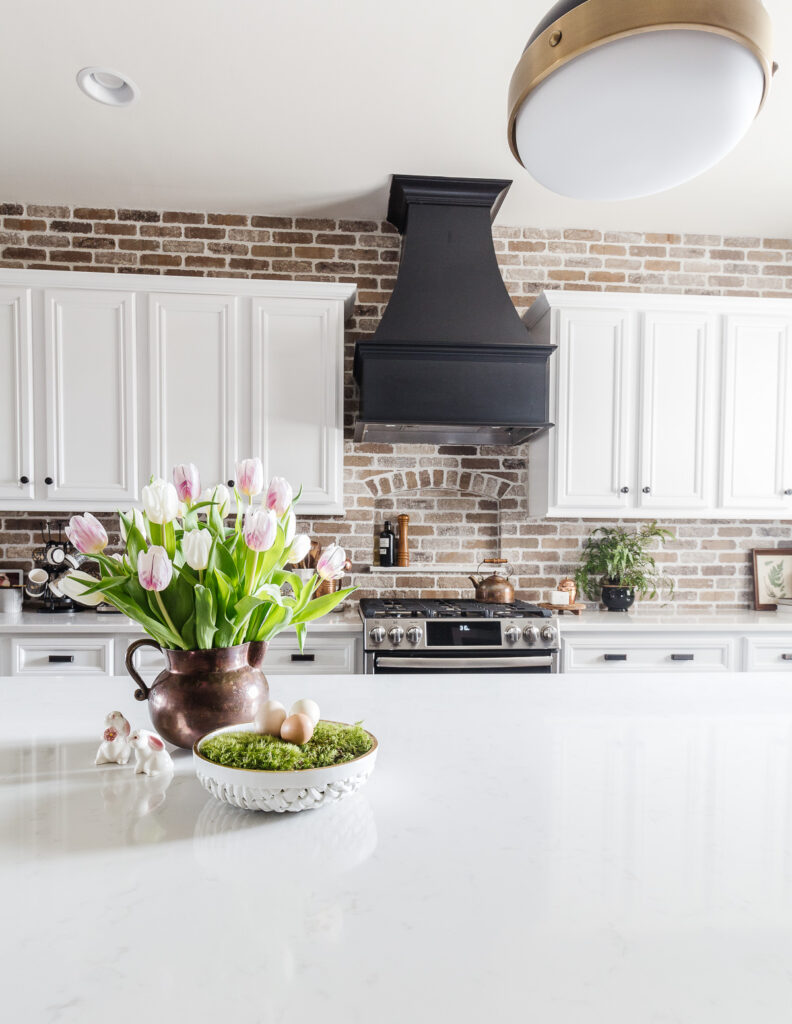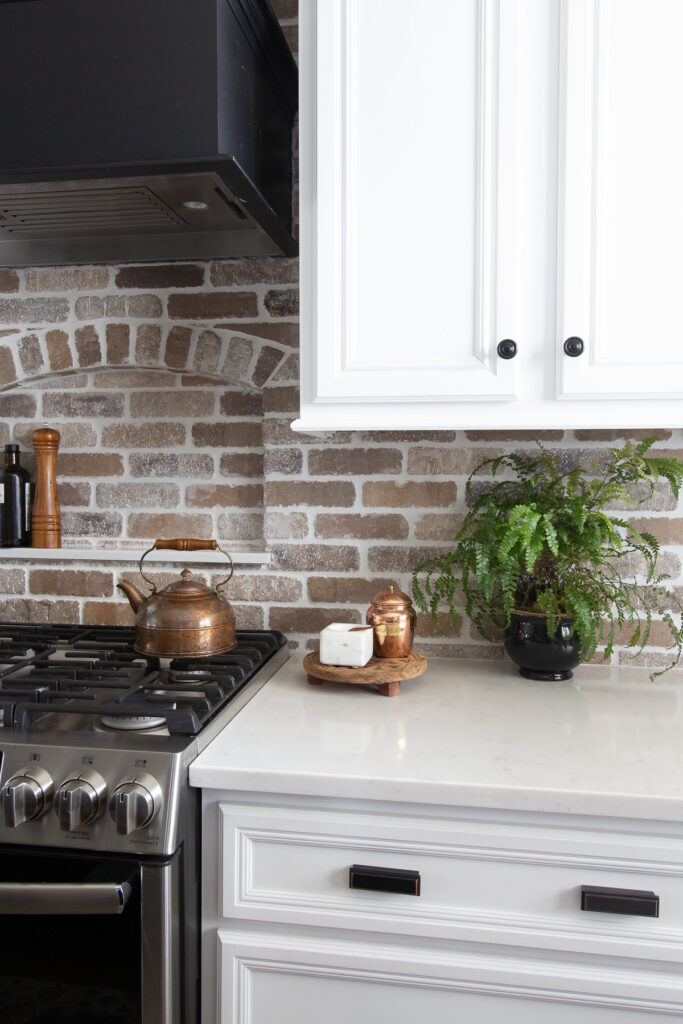 In a kitchen especially, I like to group functional, yet useful items together. I recently found this vintage architectural piece that was made into a trivet.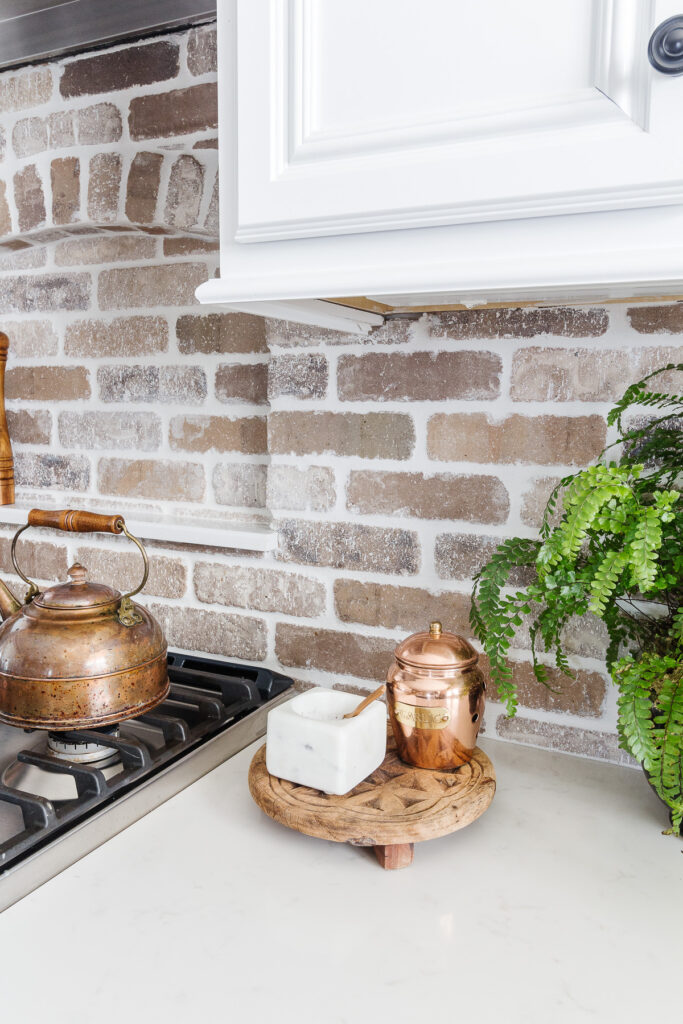 The fern next to it is thriving in this double layered planter.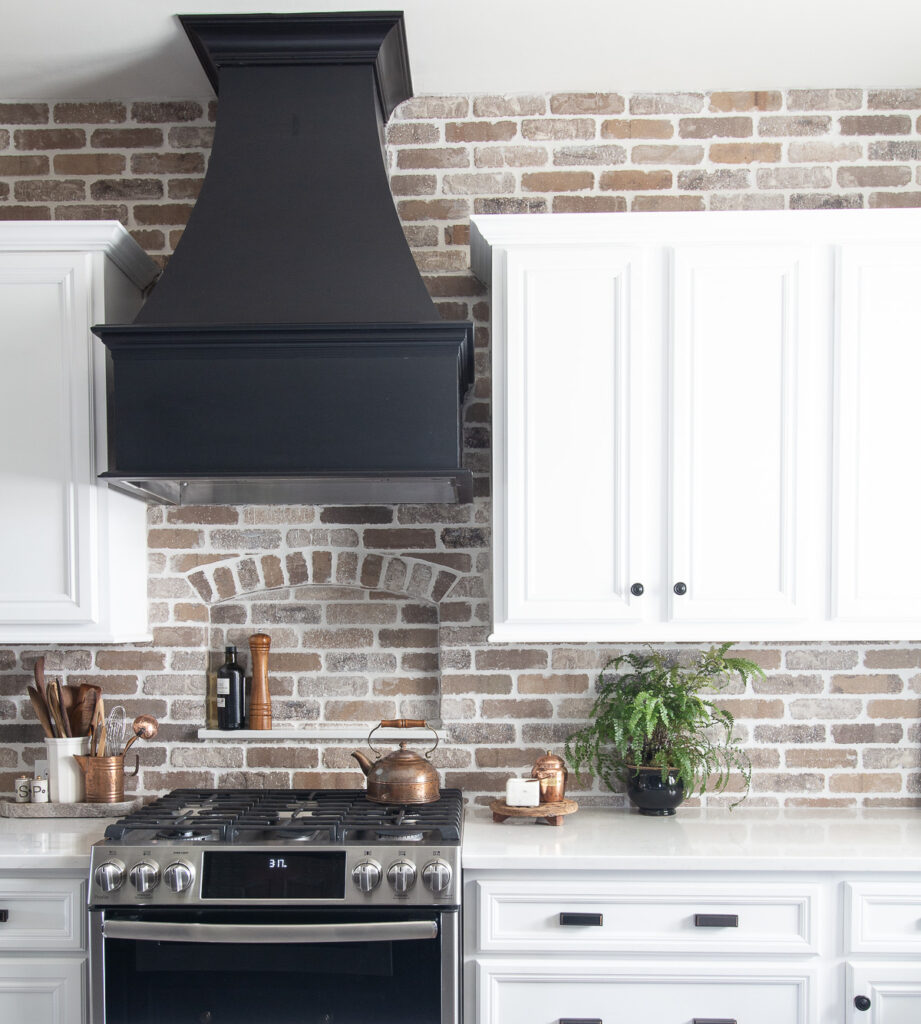 To echo the fresh look of ferns, one of my favorite varieties of plants, I incorporated a vintage print propped up behind a few of my favorite cookbooks.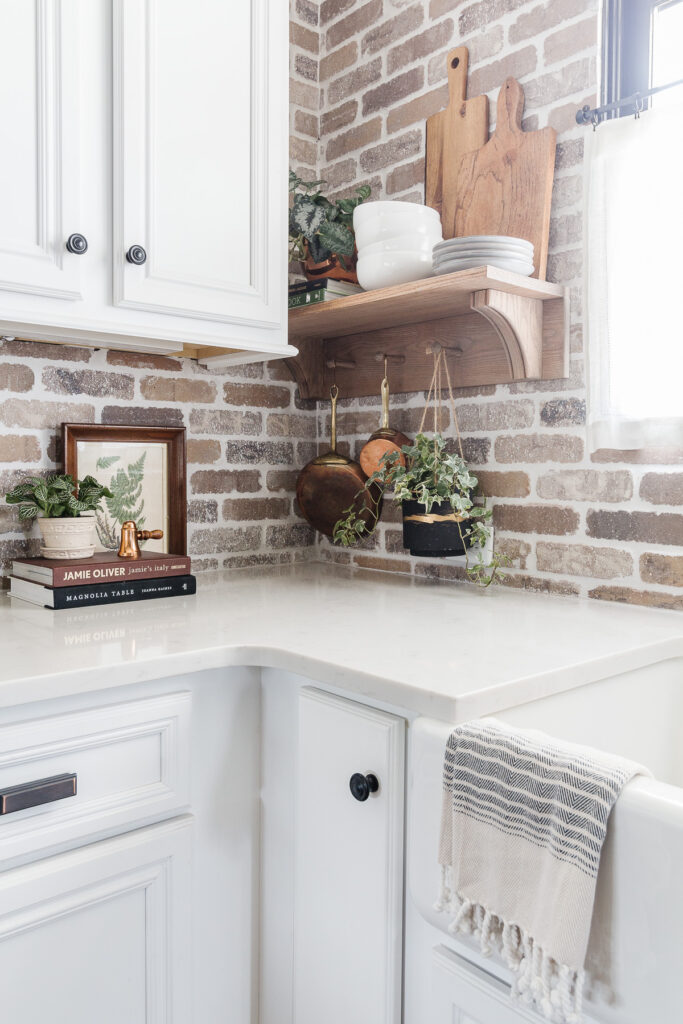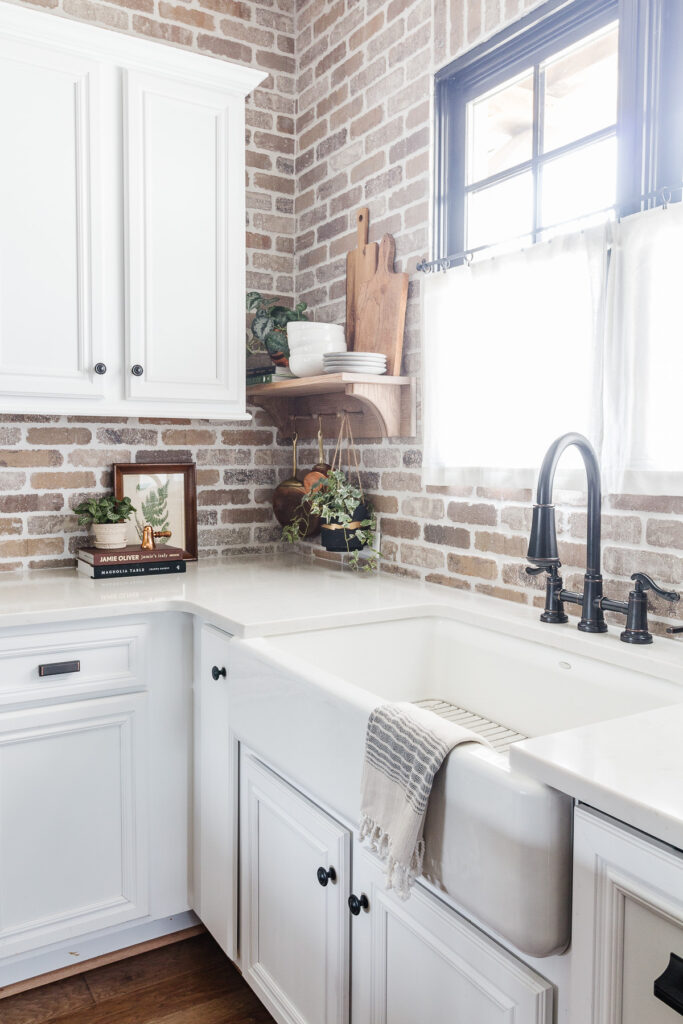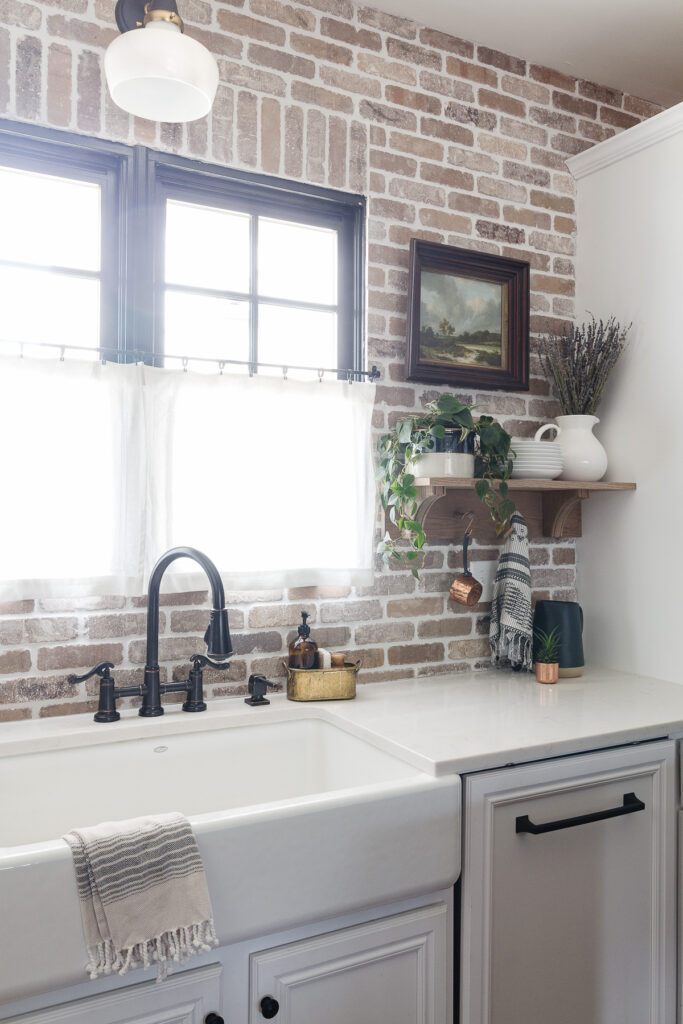 On the brick above the opposite shelf, is another place I rotate art seasonally. I can't find the source of this canvas print, but the bright blues and greens create such an ideal image of the season to come.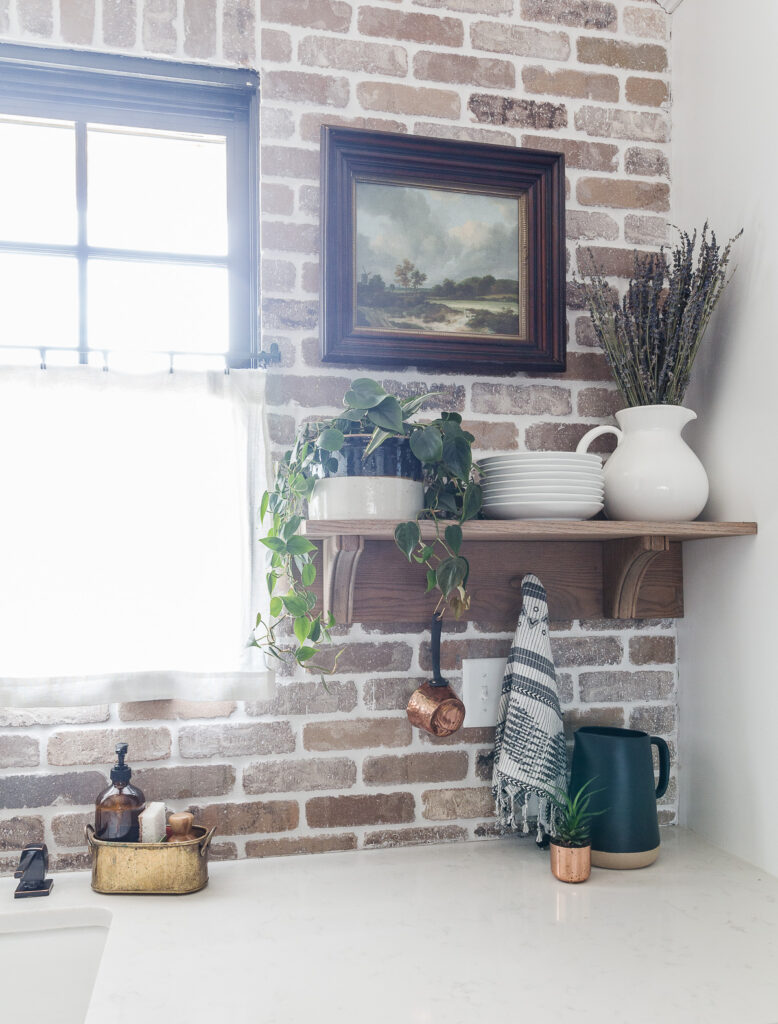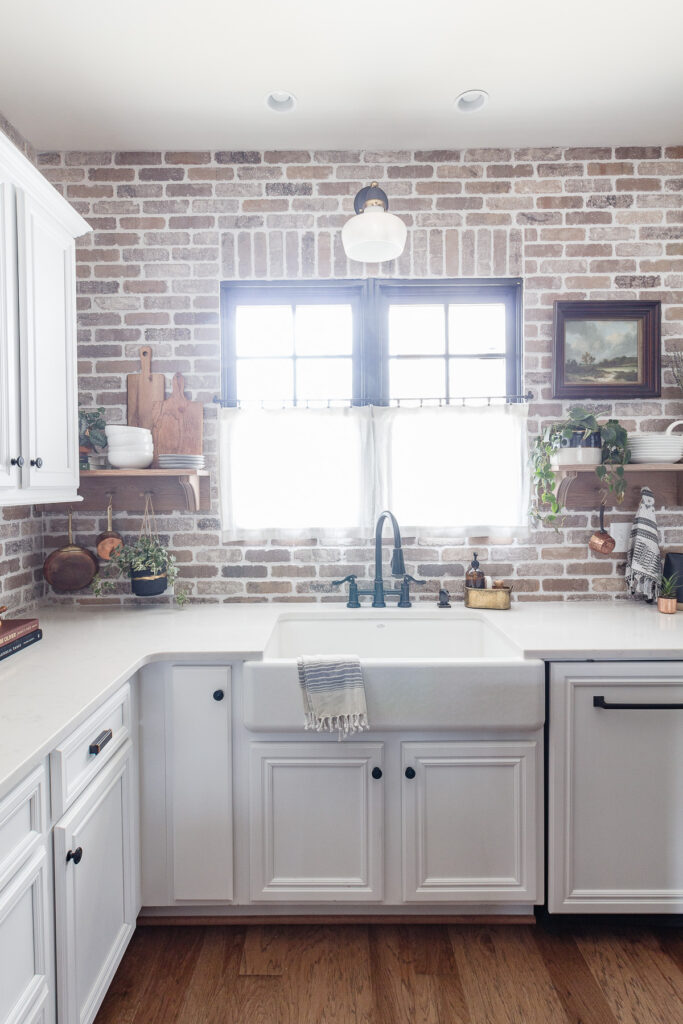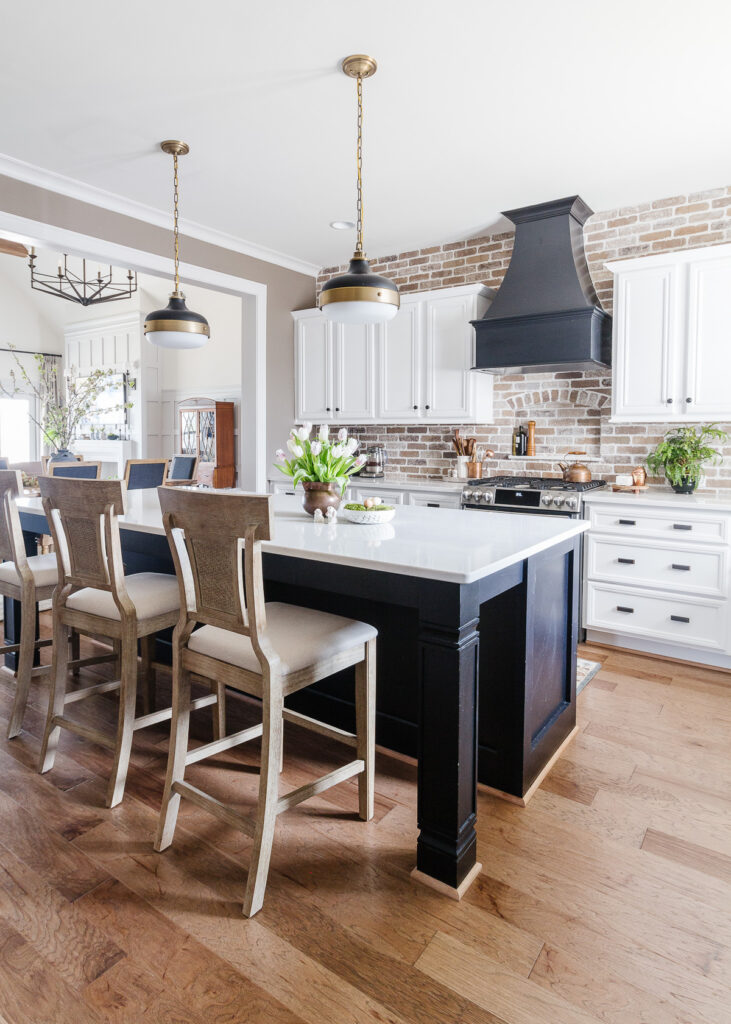 I love looking back into the dining room to see the dramatic branches. This is definitely a look I will repeat. I initially wanted to bring the large branches into the kitchen, but the vaulted space seemed more conducive visually. But don't let having lower ceilings stop you from embracing that dramatic look!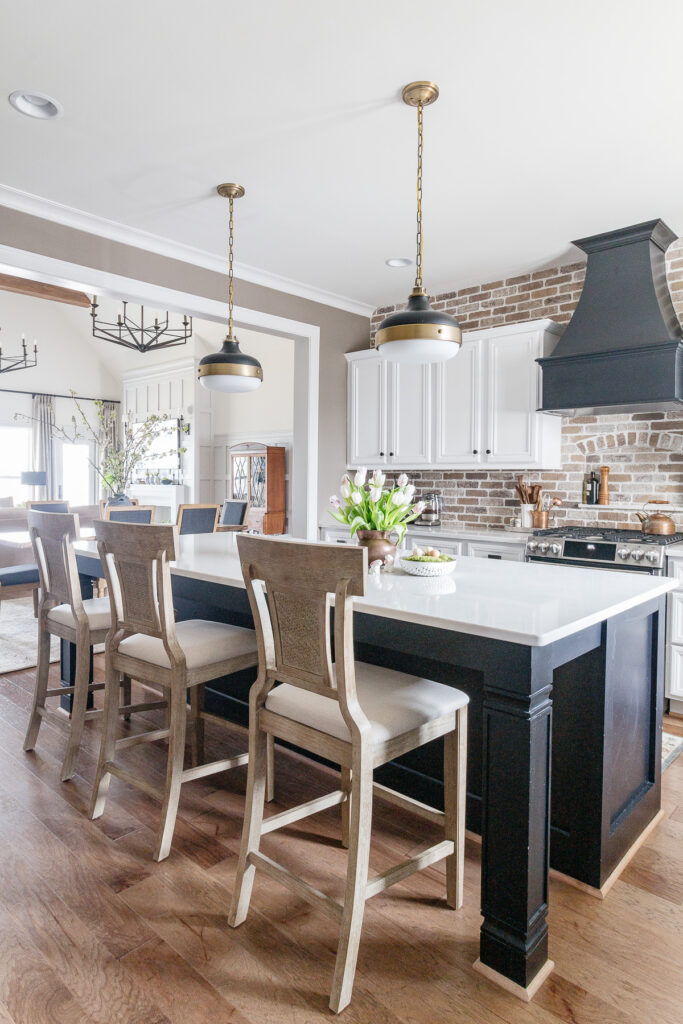 I hope you enjoyed this tour around our home, next stop on the tour is my friend, Shannon. She shares her lovely home and talents on her blog, Home Made Lovely.

This week I'm joining some of my talented blogging friends for the Spring Seasonal Simplicity Series! All week long we are sharing our homes decorated for spring and our best tips and ideas for bringing a spring feel into your home. You can visit each tour by clicking on the links below the images!
Sharing with me today….
Friday
Tatertots & Jello // Jennifer Maune // Deeply Southern Home
Homemade Lovely // The DIY Mommy
And sharing the rest of this week…
Monday
The Happy Housie // Inspiration for Moms // This is Simplicite
Grace In My Space // Cherished Bliss // Modern Glam
Tuesday
Cassie Bustamante // A Pretty Life // Lemon Thistle
Rambling Renovators // Maison de Cinq
Wednesday
Dans le Lakehouse // Life is a Party
She Gave it a Go // The Tattered Pew // Joanna Anastasia
Thursday
Life is Better at Home // Taryn Whiteaker Designs // Clean & Scentsible
Craftberry Bush // My Sweet Savannah // Zevy Joy