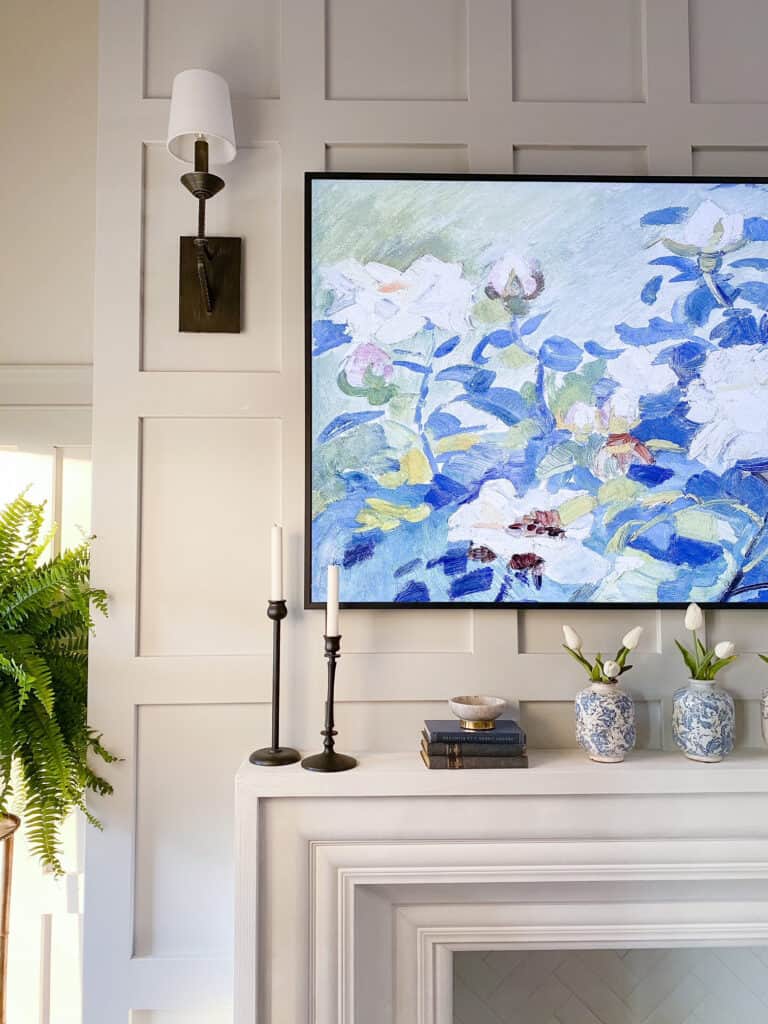 I am especially happy to share my Spring Mantel with you as part of the Spring Seasonal Simplicity Series. For starters, this time last year our mantle was not even built. We finished the fireplace and the installation of the moulding for the Spring One Room Challenge. The start of the challenge was delayed due to COVID19 so even though it was a spring event, the reveal actually happened in June! You can see that room reveal here.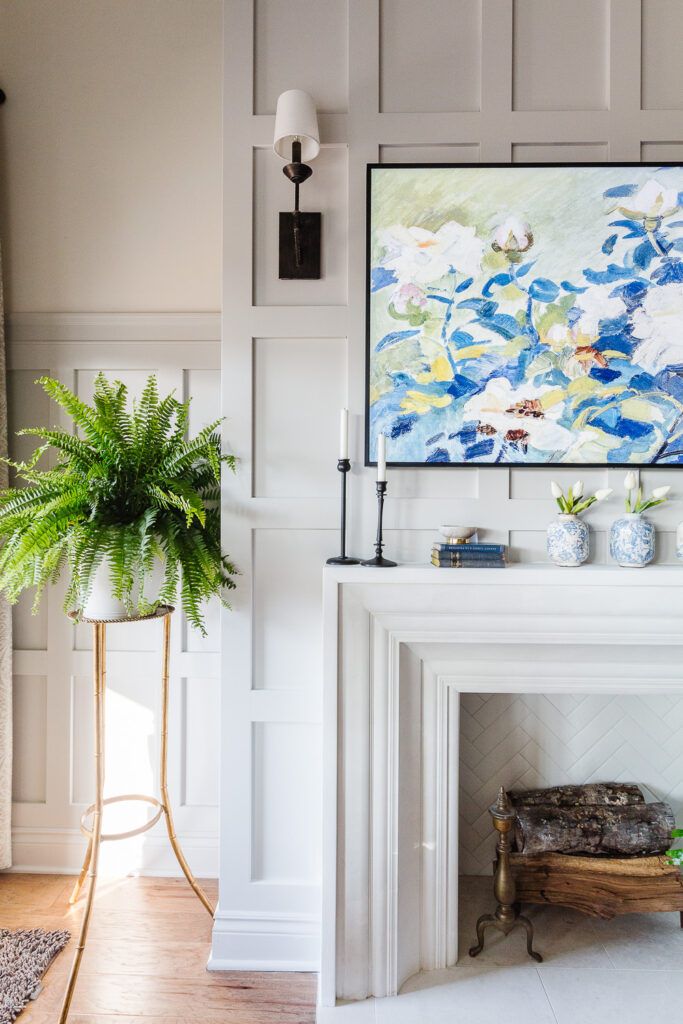 The other reason I am thrilled to share this mantel is because I just finished adding one more layer of wood around the mantel to make it a little wider and a little deeper. I had been contemplating this addition for several months and finally decided to make it happen. Seems like a simple thing, but all of the boards surrounding the mantel had to be cut to allow for the extra wood. The limewash finish also had to be replicated from the previous faux finish. (That part is not exactly finished, but it's a tiny detail that really can't be appreciated in photos.
Even with those changes, the mantle depth is only 6 1/2″ at the widest point. The extra 1″ added depth makes a huge difference, but I still would consider it a narrow mantel.
Blue and White for a Spring Mantel
The soft blue and white color scheme with accents of black work seamlessly with our existing decor. This is the first time I have used a floral print on our FrameTV. It's from Juniper Print Shop, called Bramble, and can be purchased here.
I actually purchased this set of three vases for the reveal last year but ended up not using them on the mantel. (They appear to be out of stock right now but you can always add yourself to a list.)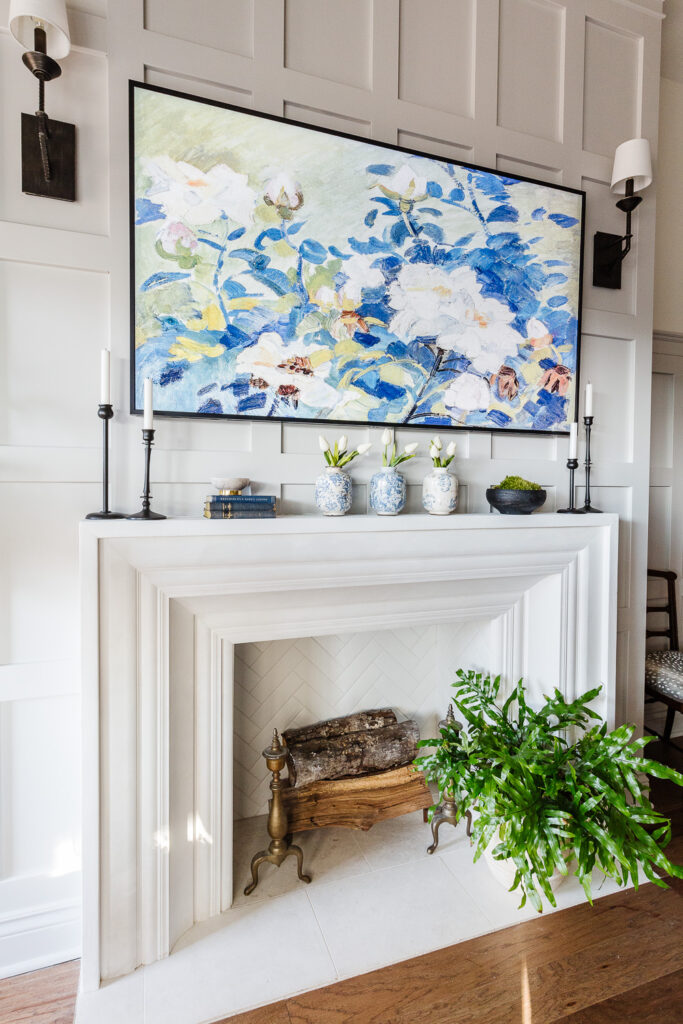 While the candlesticks have a fairly large round base, the footprint is still rather small and they can be tucked on either side comfortably now that the mantle is about 3″ wider overall.
Shop the Look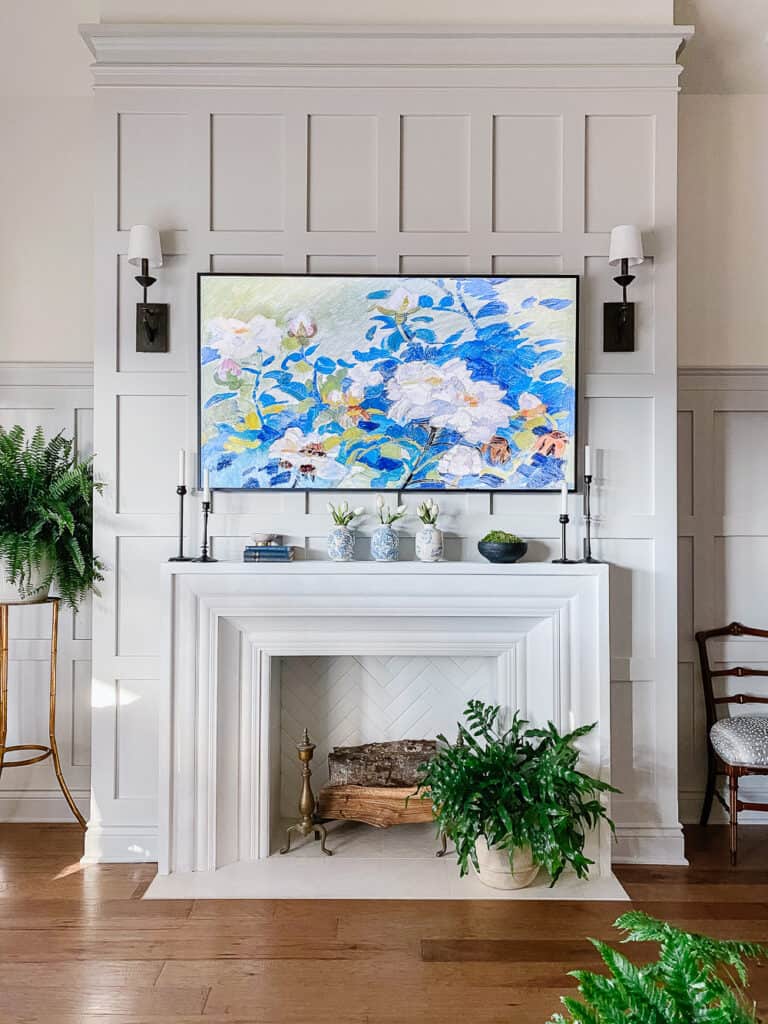 To balance the grouping of vases, I added a small collection of blue-bound antique books and a black bowl filled with live moss I purchased from a local garden center.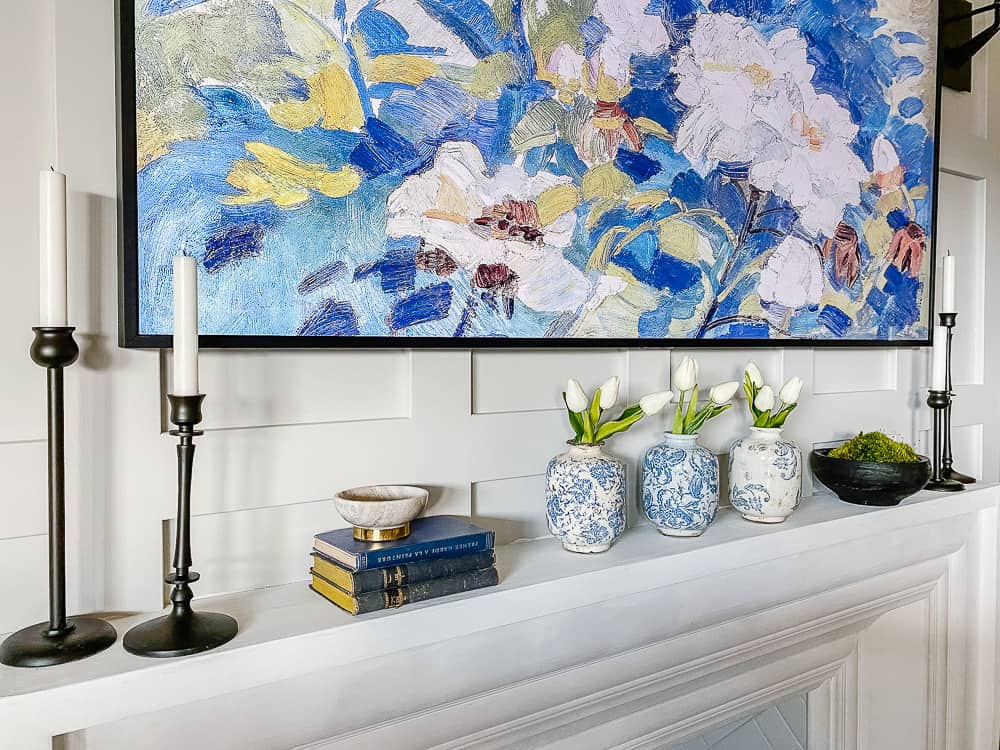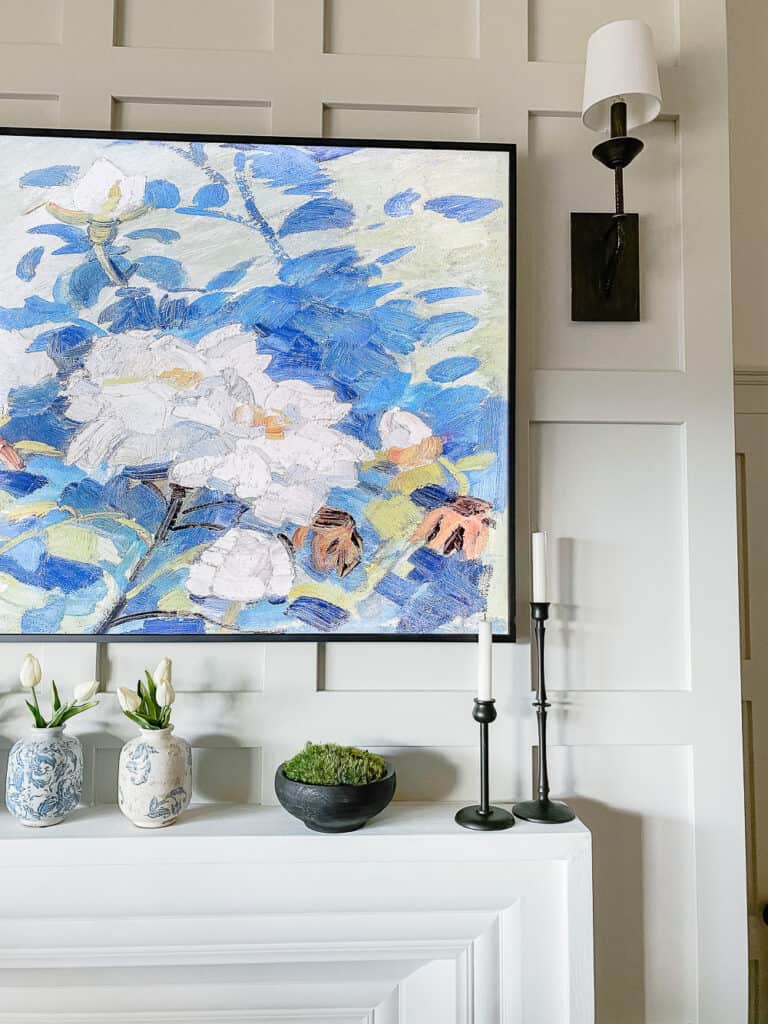 The tulips are lovely "real touch" faux flowers that I have used year after year in my spring decor. I purchased them at a local store but I found them here too!
To really bring in bigger punches of spring, I focused on the area around the mantel too.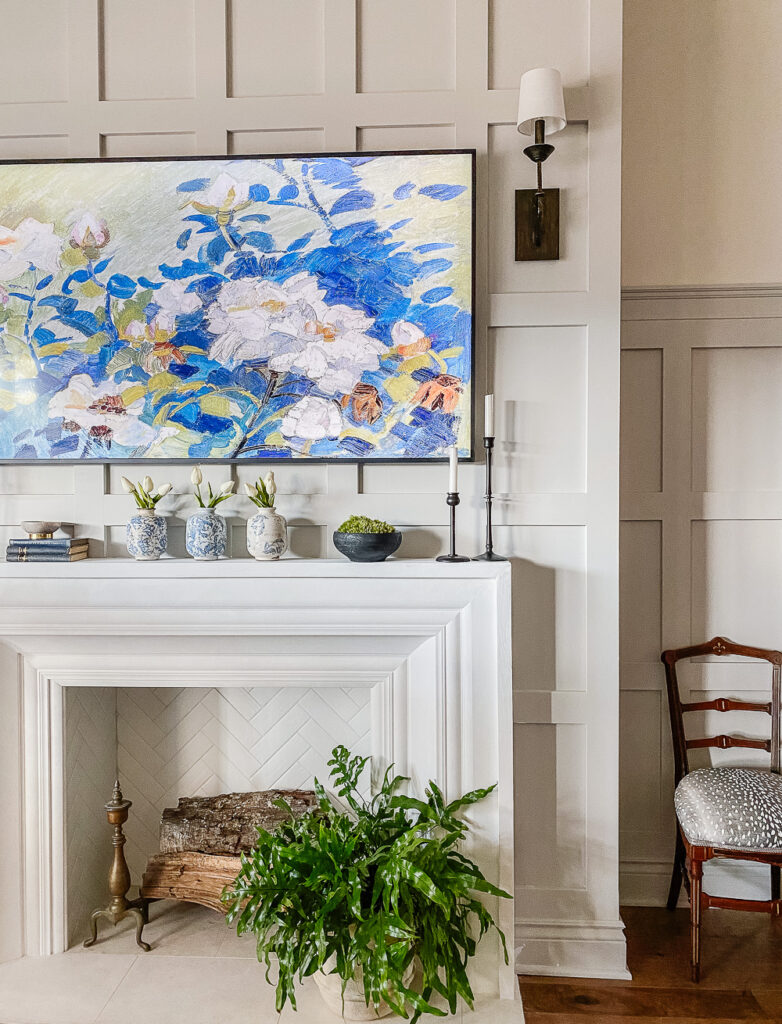 Tucked on the side of the marble hearth, the kangaroo fern injects the live greenery I generally gravitate toward and accessorize with in the spring and summer.
Shop the Look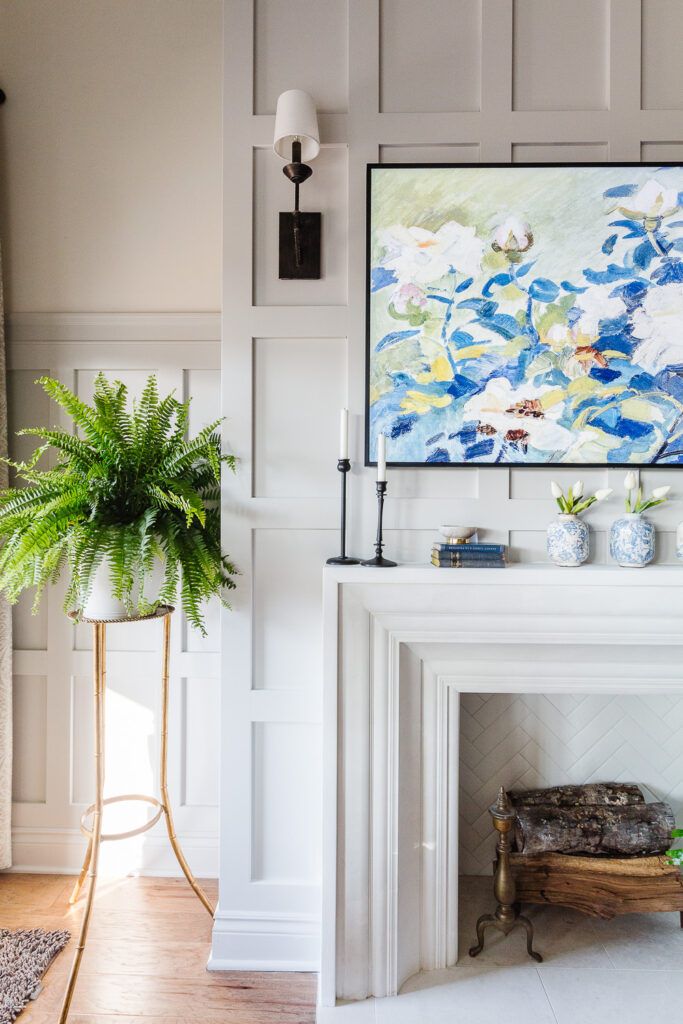 And nothing quite says spring than the soft green fronds of a freshly potted fern. I am completely in love with this gilded plant stand I picked up at an estate sale a few weeks ago.

This week I'm joining some of my talented blogging friends for the Spring Seasonal Simplicity Series! We're all sharing some inspiring mantel decorating ideas with you! You can see each mantel in more detail by clicking on the links below each image.