Here we are! Week 6 of the One Room Challenge and the big reveal of our new library home office space. I am most excited that the room looks almost exactly as I envisioned it 6 weeks ago. It was actually two years in the making for this room to have it's day in the spotlight.
If this is your first time here, welcome! I'm Leslie. A full time blogger, designer and renovation junkie. This is my fifth One Room Challenge so I might could say I'm a certified ORC junkie too!
So without any more delay, the library is open come have a look around!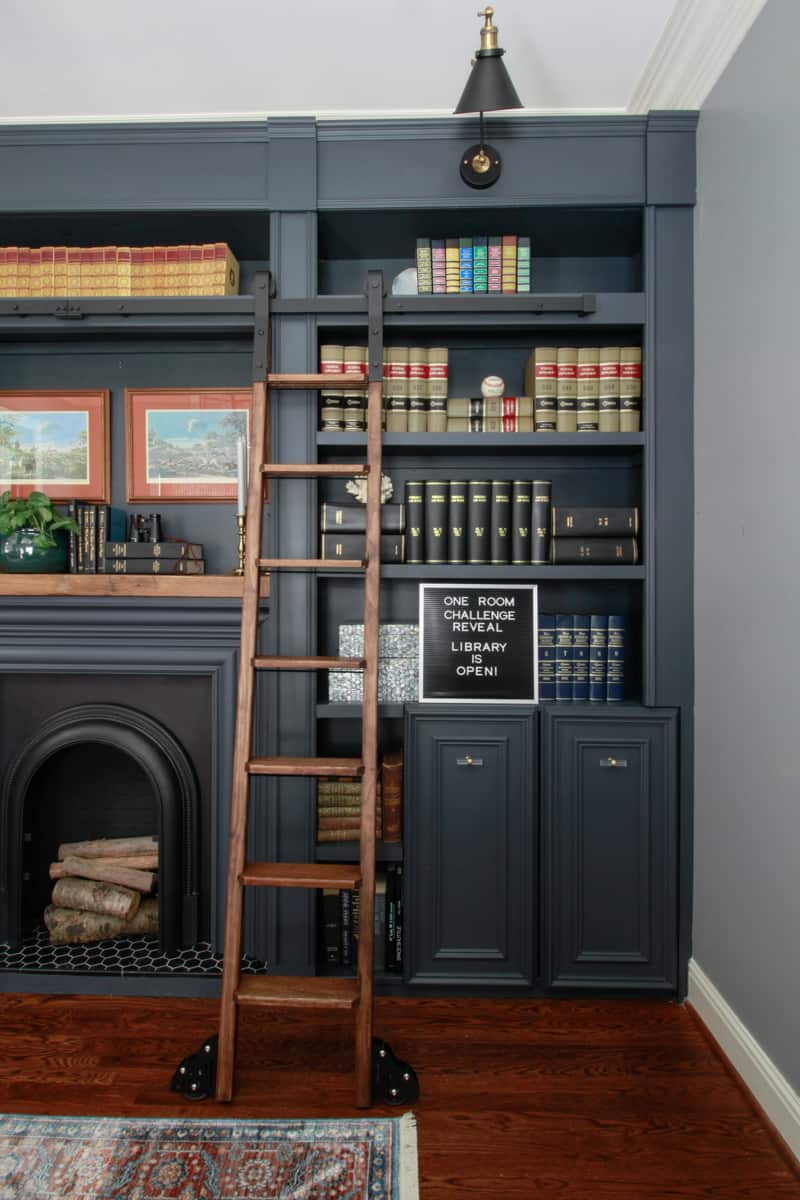 Antique Doors
One of the longstanding visions and purchases we made for this room took place before we even moved into the home we call #theTrailHouseReno. It was this stunning pair of antique doors I painted black to create a cohesive look in the foyer.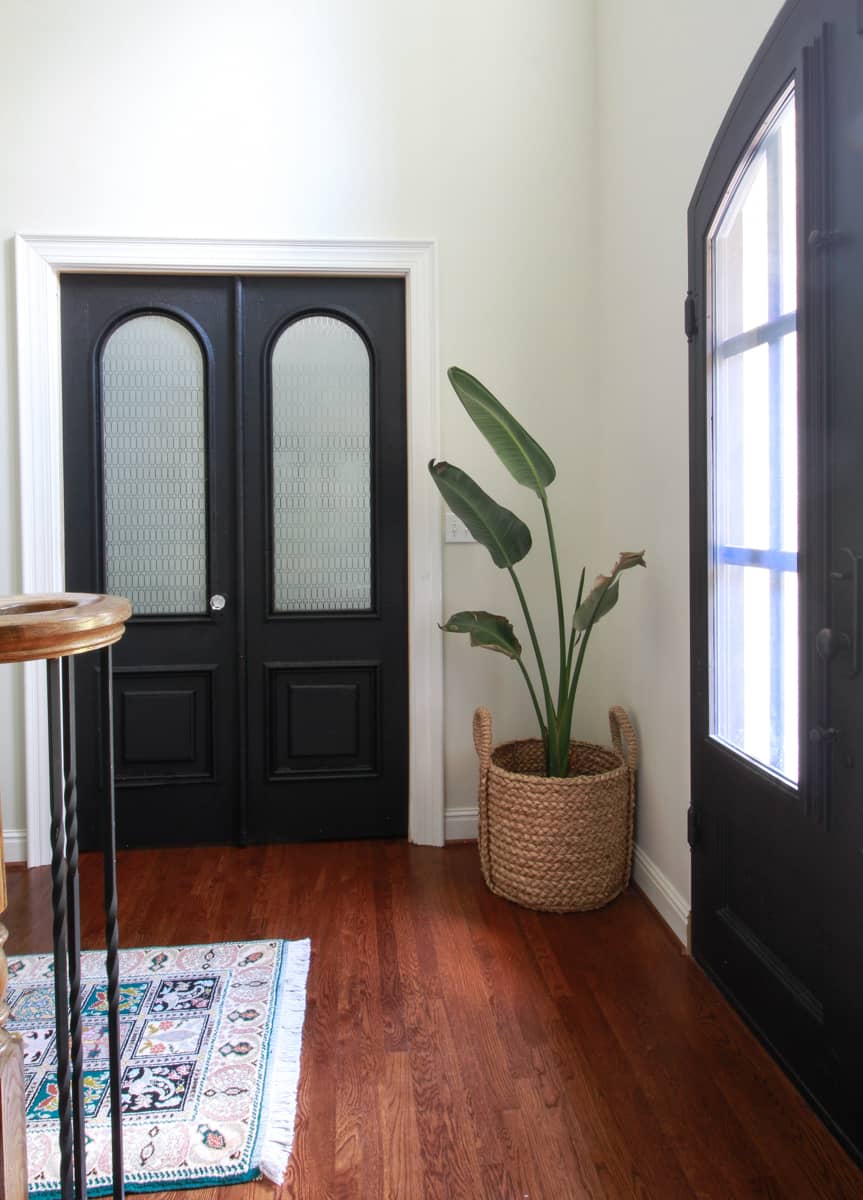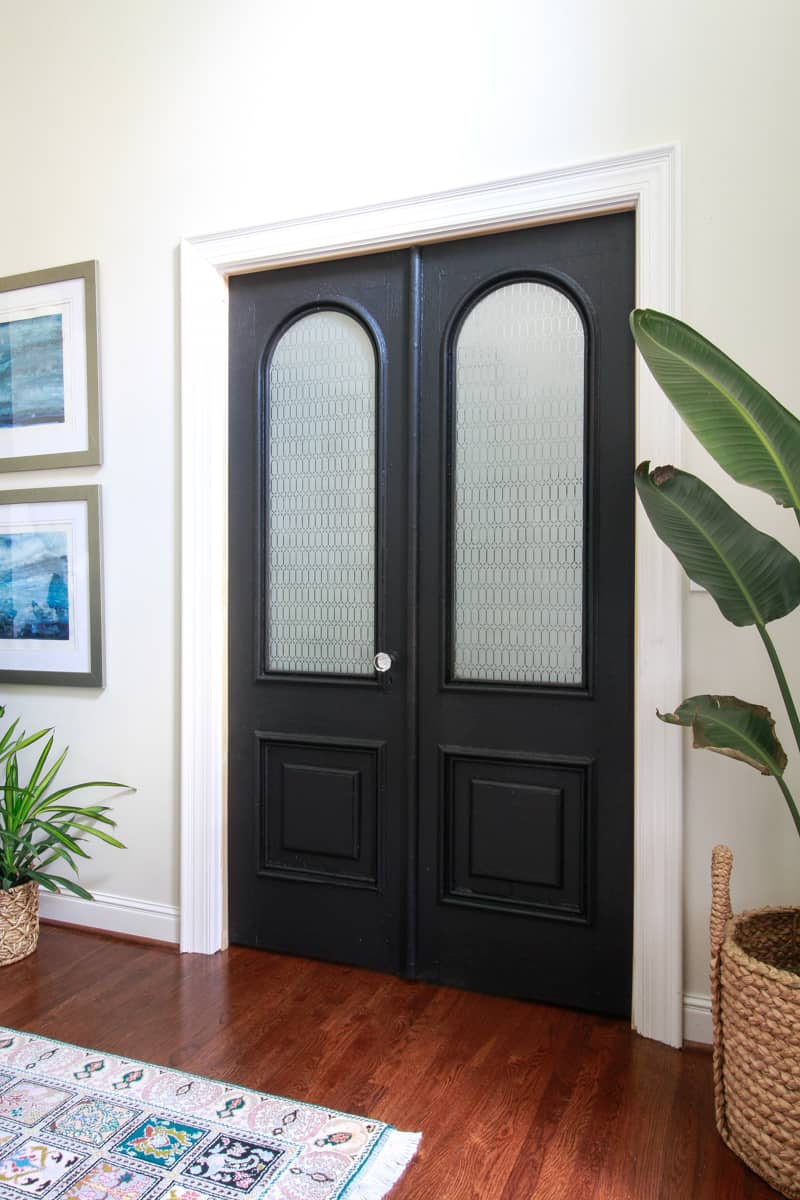 These french doors were from an old building in Nashville. I acquired them from Southern Accents Architectural Antiques in Cullman Alabama.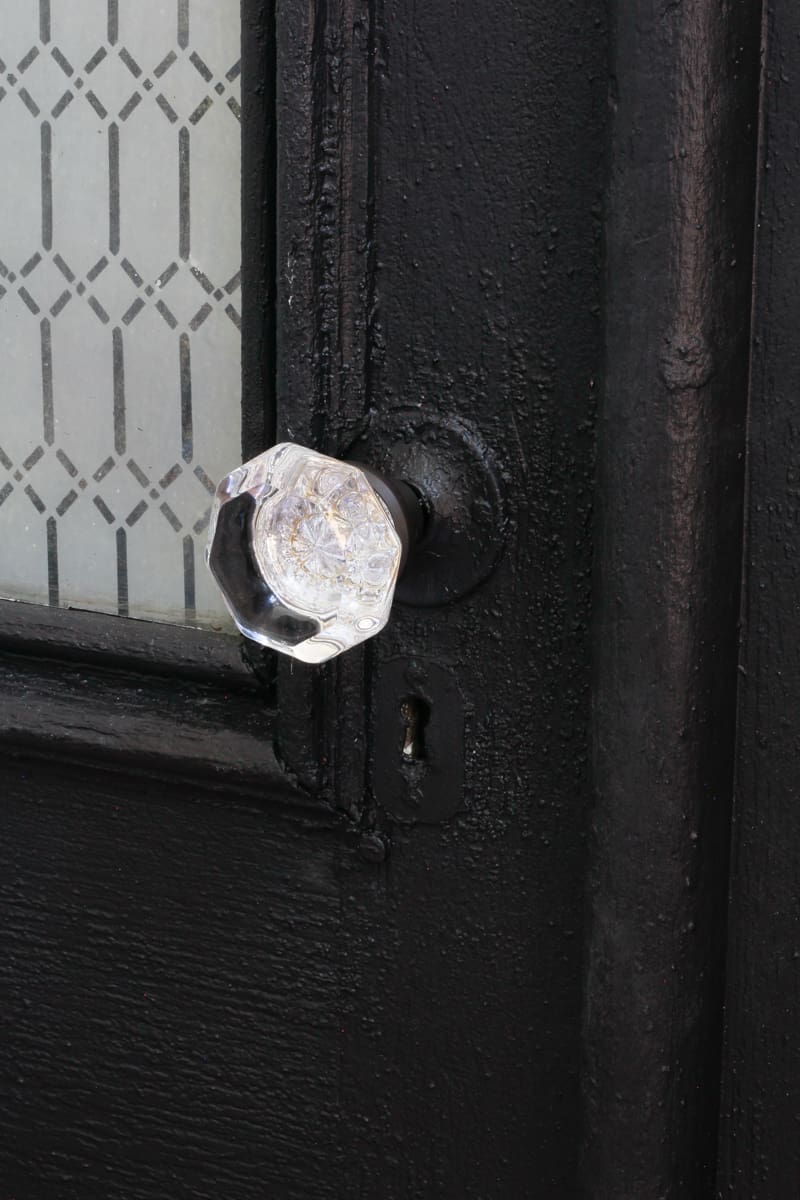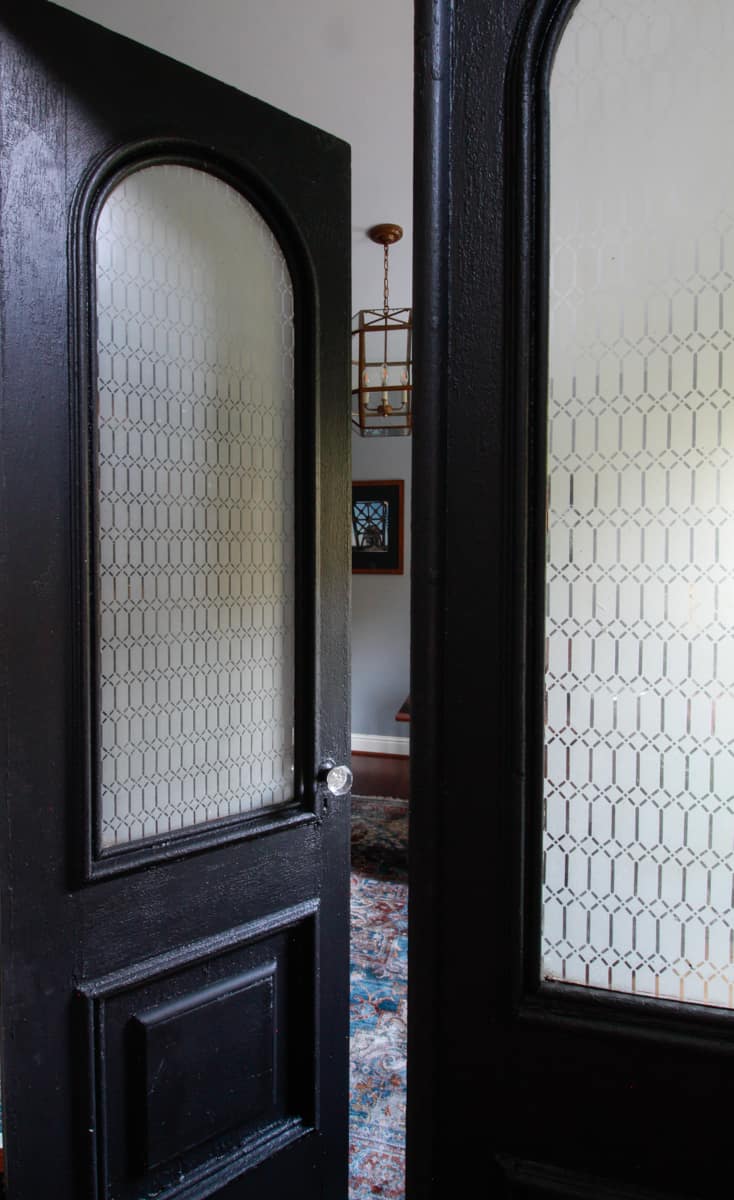 When you come in close, you can see I left all of the history and charm of the original, crusty layers of paint on the outside. Just a coat of stain blocker and a black matte paint with red undertones Caviar by Sherwin Williams.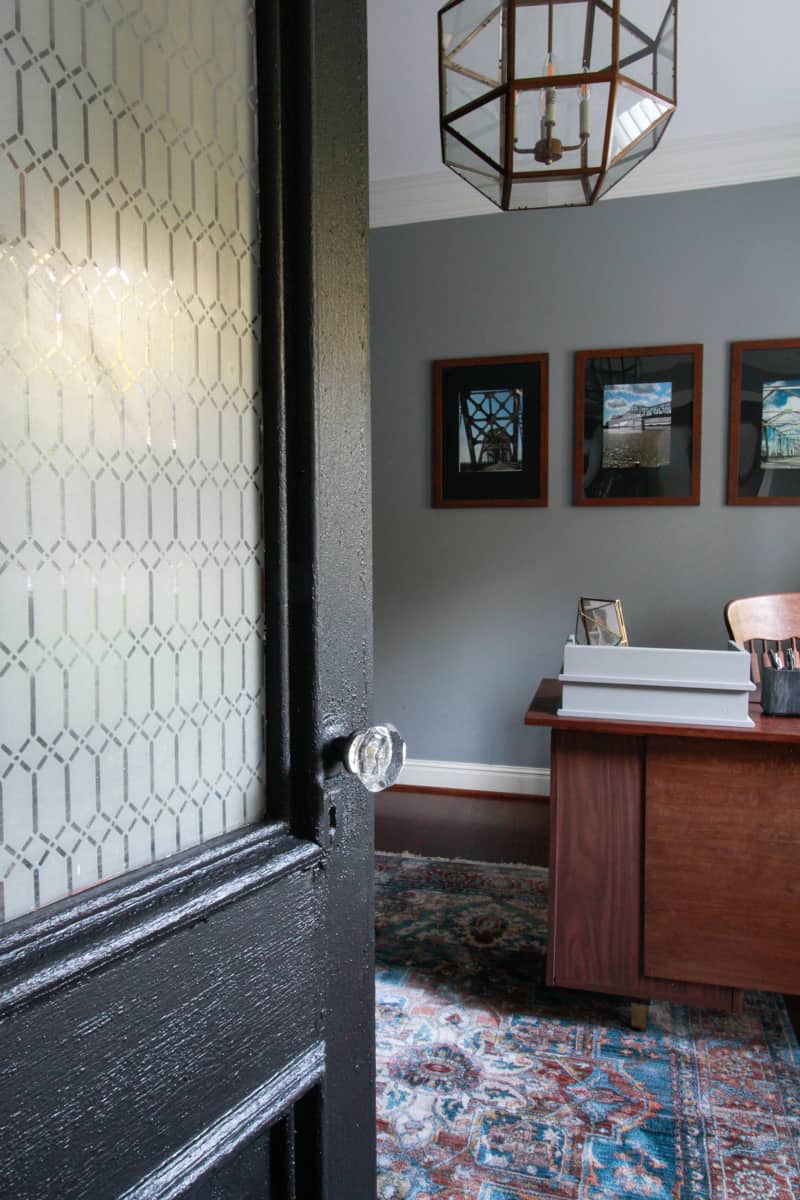 I chose to paint instead of strip the outside because the damage was so severe to some of the trim it needed to be replaced. Unlike most of the wood work on the door, the pieces that needed to be replaced entirely were basic half-round trim. What I didn't know before I had made the decision to paint them for continuity in the foyer, was how much instability the stripping process created. I am certain if I would have stripped the outside, I would have lost many of the irreplaceable details.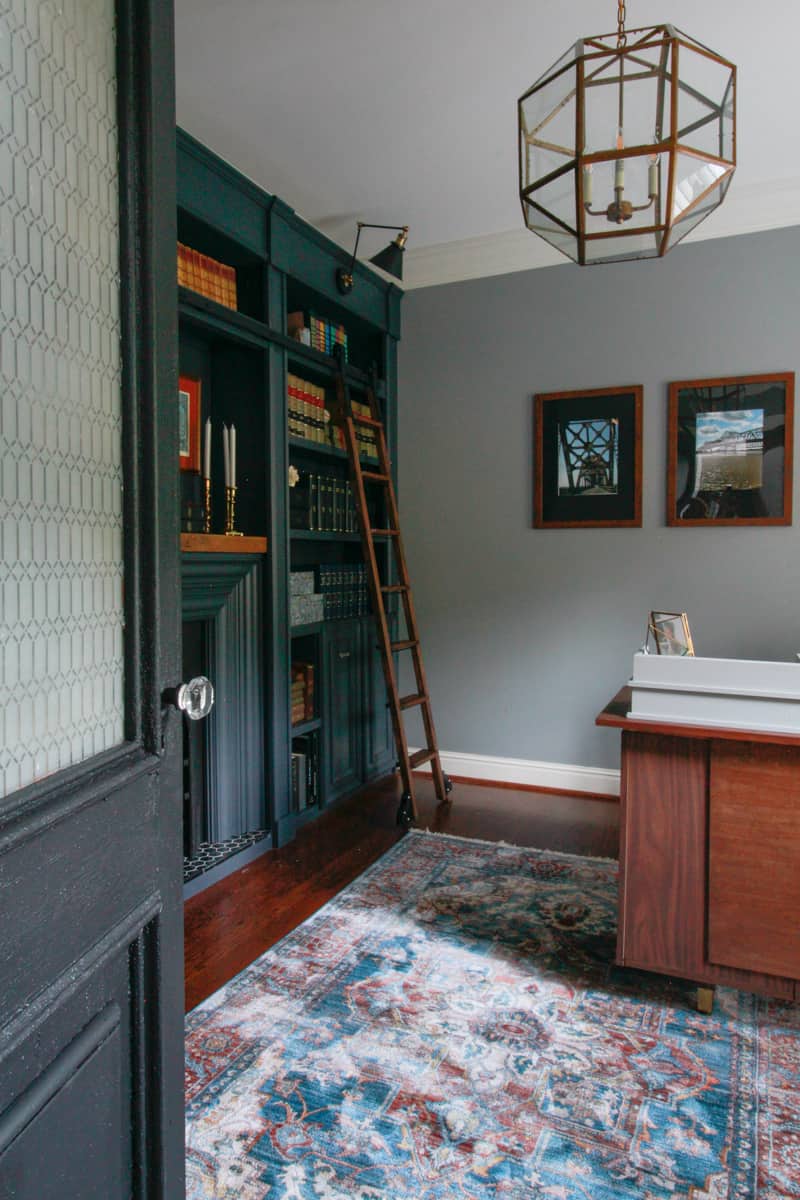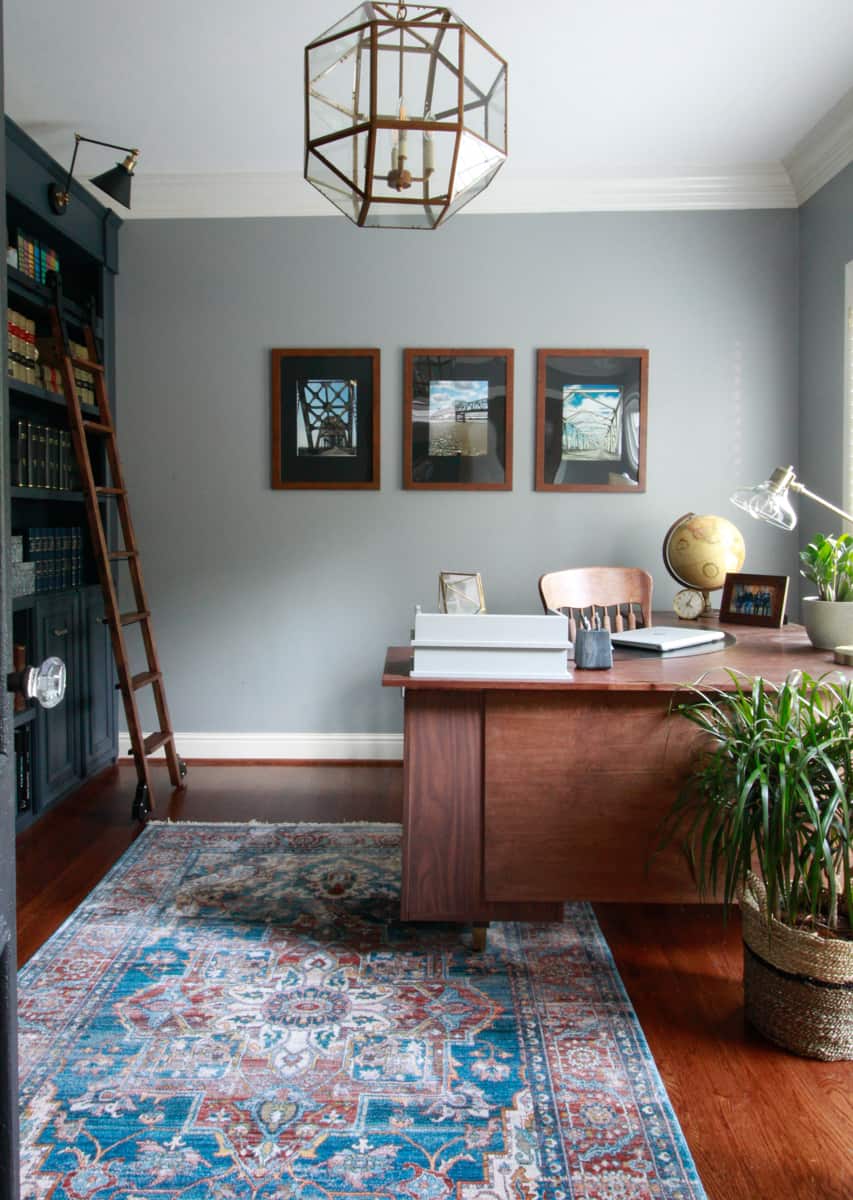 After the doors, it is hard to pick favorites. I kind of love it all. I am a DIY mom after all.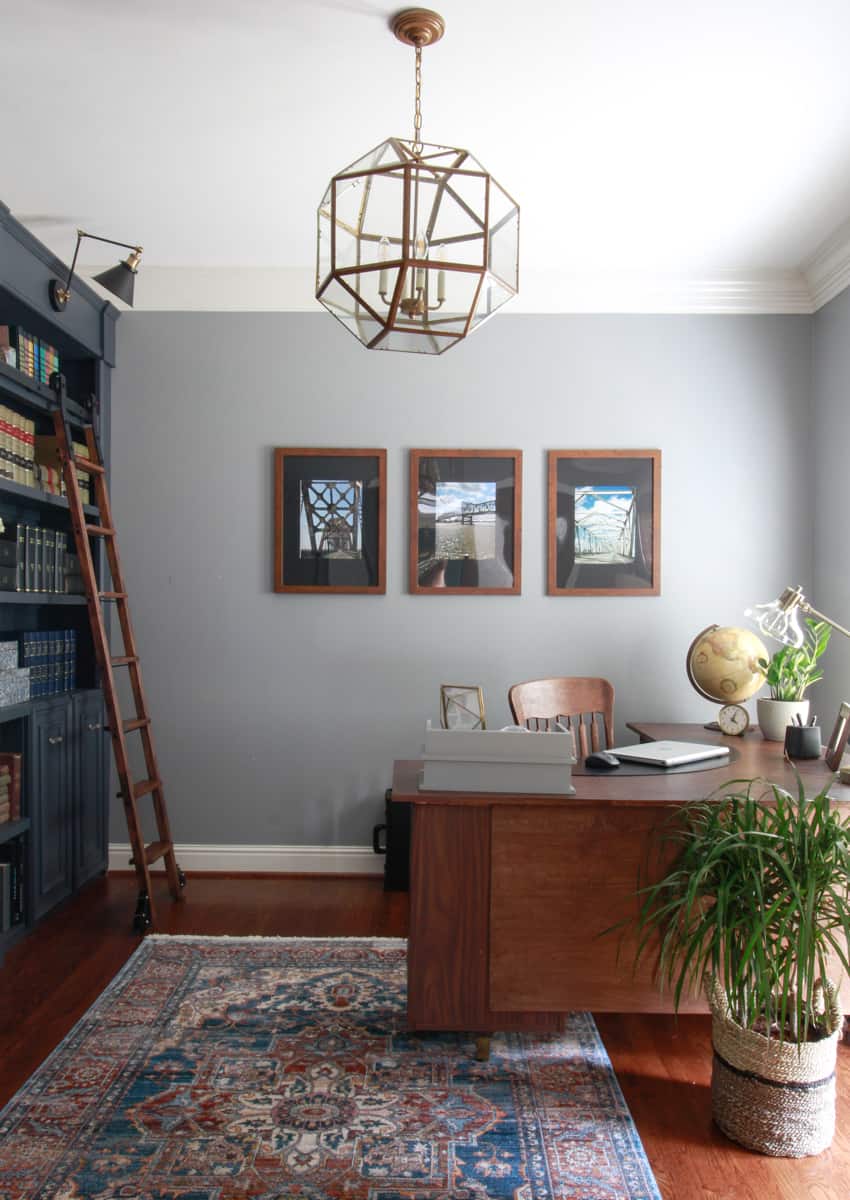 The photography on the back wall is significant to my husband and I. This is his room and I know how proud he is of his heritage. Born and raised in the small southern Louisiana town of Morgan City, these photos are the iconic bridges that cross the Atchafalya River. We met and became high school sweethearts in that town and while we have traveled and lived far from Louisiana it will always be important to us. I had taken the photo on the left of the "old bridge" several years ago and enlisted my cousin to take the photos of both bridges and the "new" bridge. (I must admit I was surprised at how rusty the "new" bridge looked.)
I love adding meaningful art or heritage pieces to my designs. Rooms should do more than be comfortable and welcoming, they should share your story.
The library ladder
Not only did this DIY come out even better than I had hoped, I will treasure it most of all because my Dad and I worked on the ladder together. The final week of the challenge coincided with our son's college graduation. He and my stepmom were here visiting and he expressed a desire to help me with one of my "projects".
This is was our first time to build together and I must admit we made a terrific team. We shot tons of photographs and video to share in a tutorial at a later date. I was determined to add a ladder to the library wall and was equally determined not to use one of those extremely expensive ladder kits! I am also happy to report that the cost of the ladder and hardware was a fraction of traditional systems produced by woodworking companies with an equally beautiful craftsmanship and finish.
And the best part is this project shared by my dad and I became part of the story of the room too!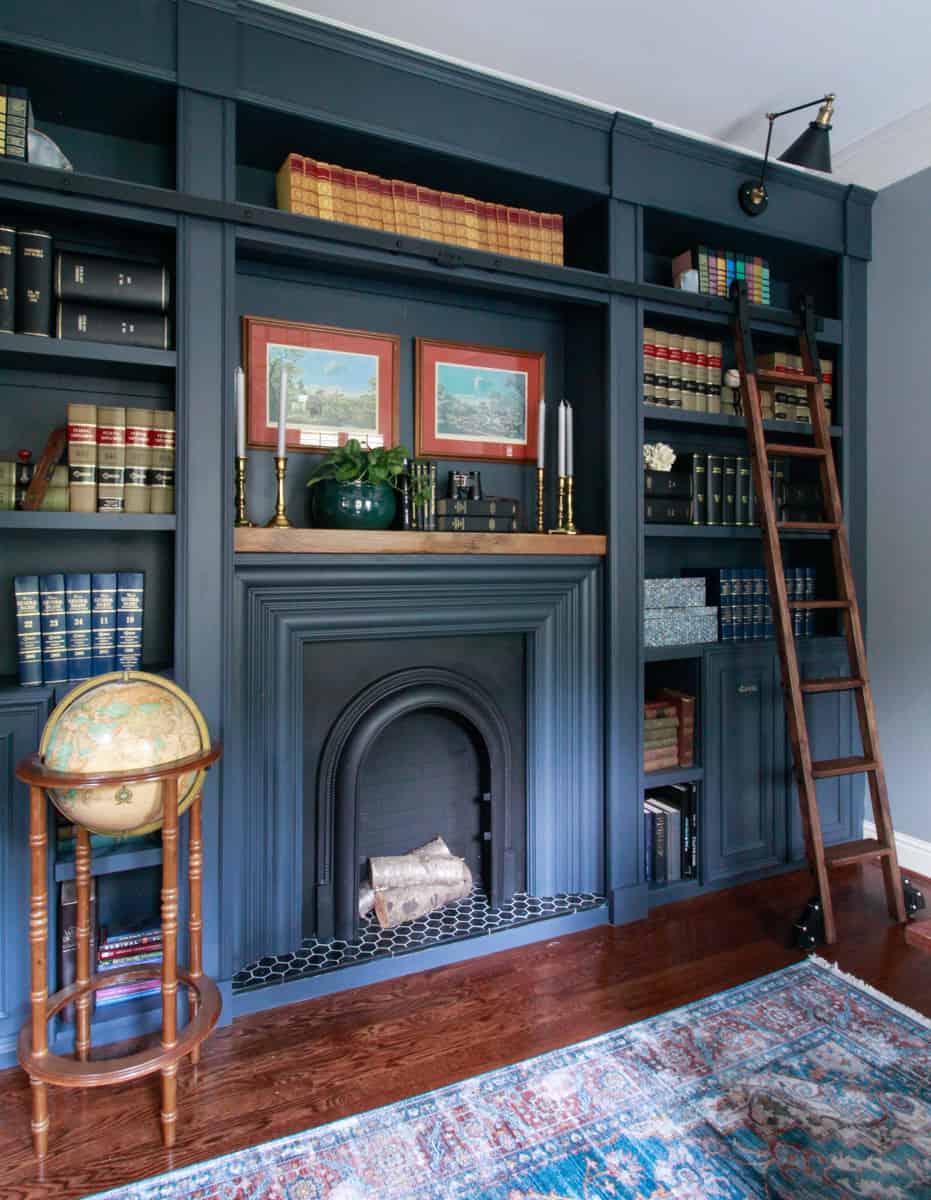 The fireplace and mantle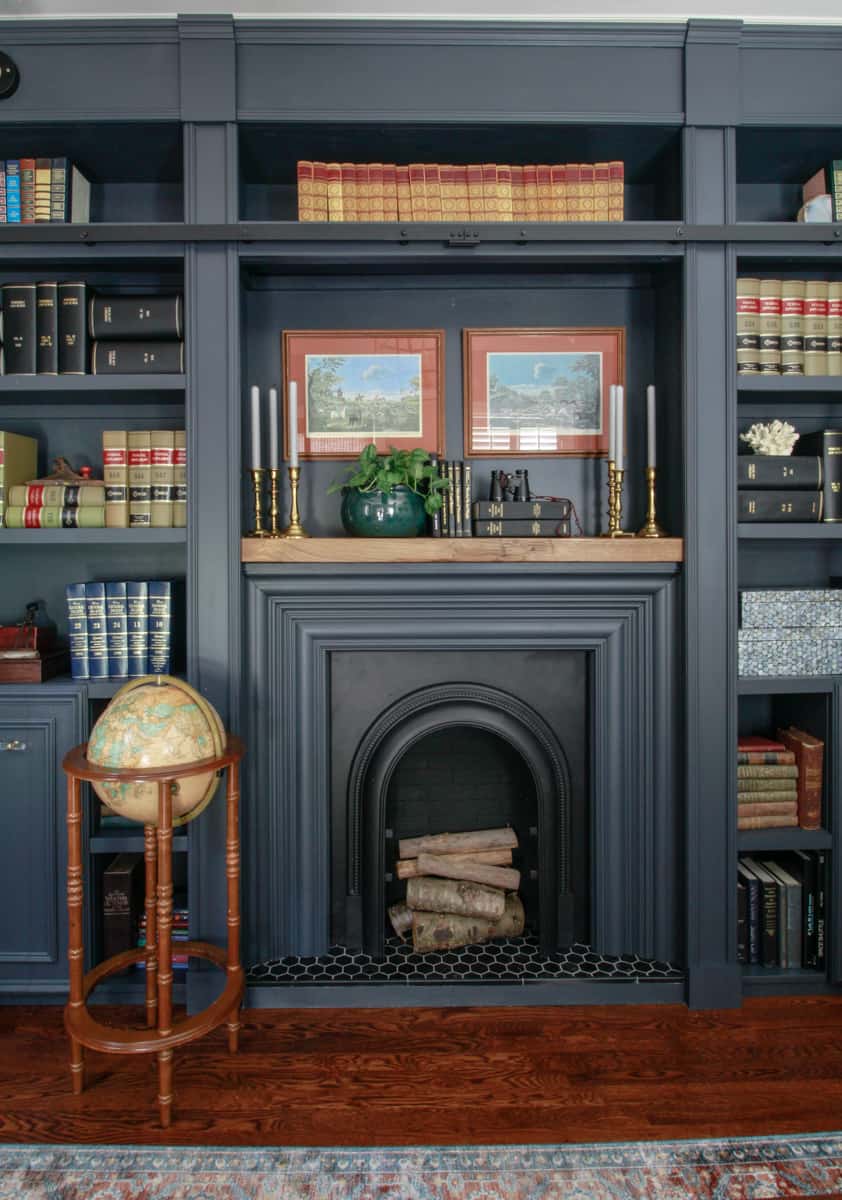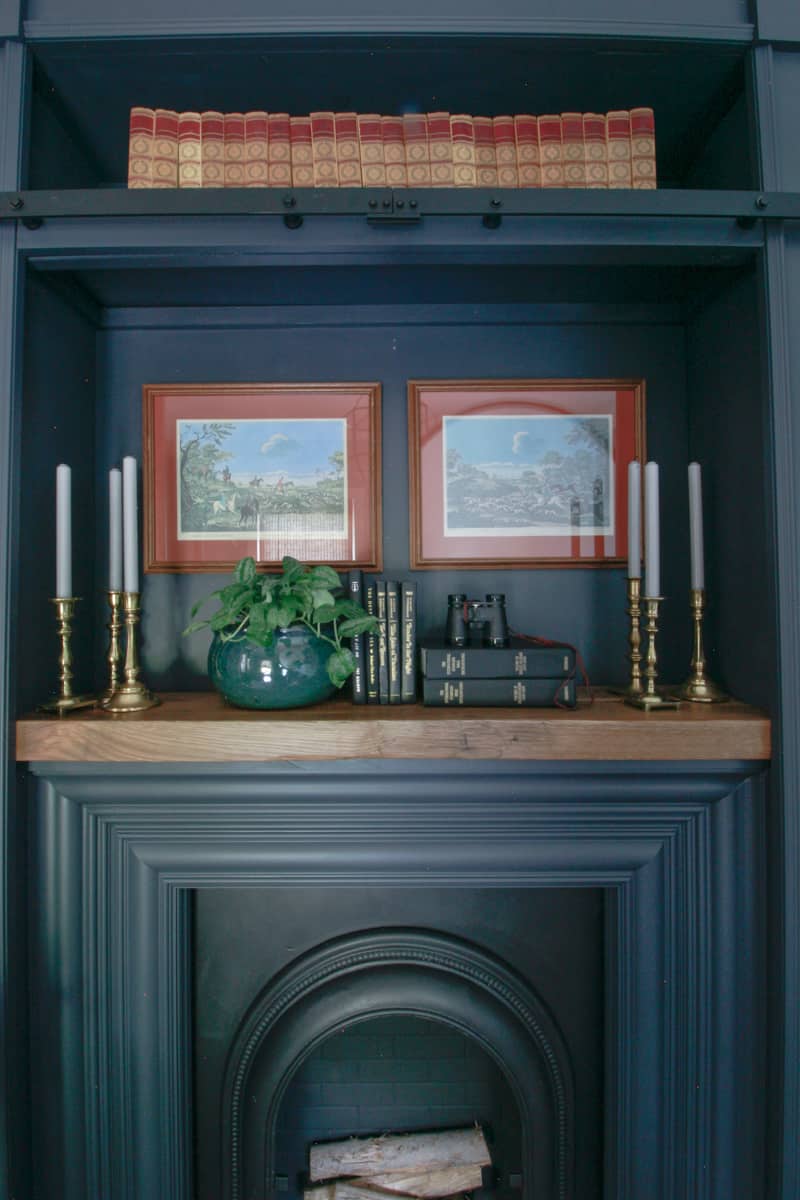 The design of the faux fireplace surround and mantle started with the antique arched fireplace insert. The rusty iron piece was also from Southern Accents. In a small courtyard outside they had a large selection, each with a different style. At the time, also about two years ago, they were very inexpensive. If I recall it was only around $30.
My vision for the rest of the surround was brought to life with the help of Metrie moulding and trim! There are four layers of gorgeous trim encasing the fireplace. The moulding details that enhance each section of the library bookshelves as well as the cabinet doors were also from Metrie. I love that they offer an extensive selection of styles of high-quality, unique moulding! Each of the pieces I used were from the French Curves line.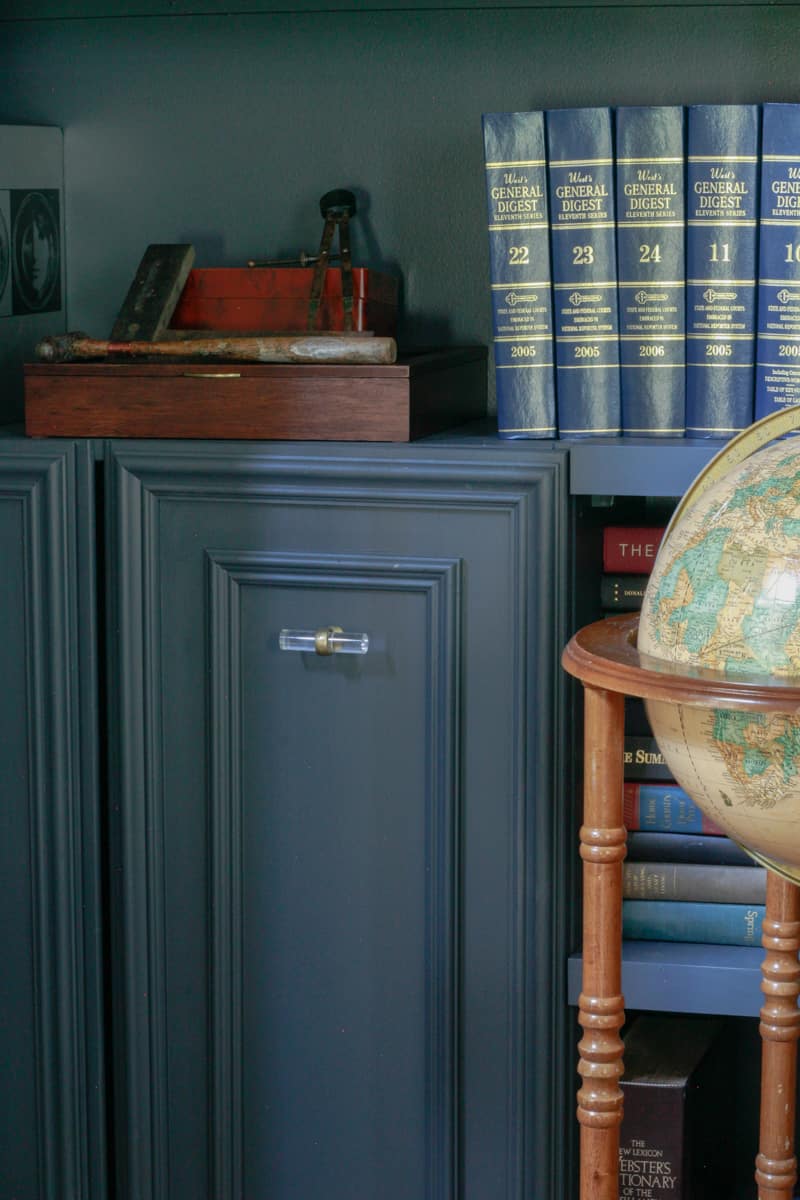 To cap off the top of the mantle I purchased some rough cut red oak from a local reclaimed wood store, Evolutia. I planed and sanded the lumber just enough so that it was mostly level and smooth, but left as much of the character as possible. A clear top-coat was all it needed with the natural rich color and patina.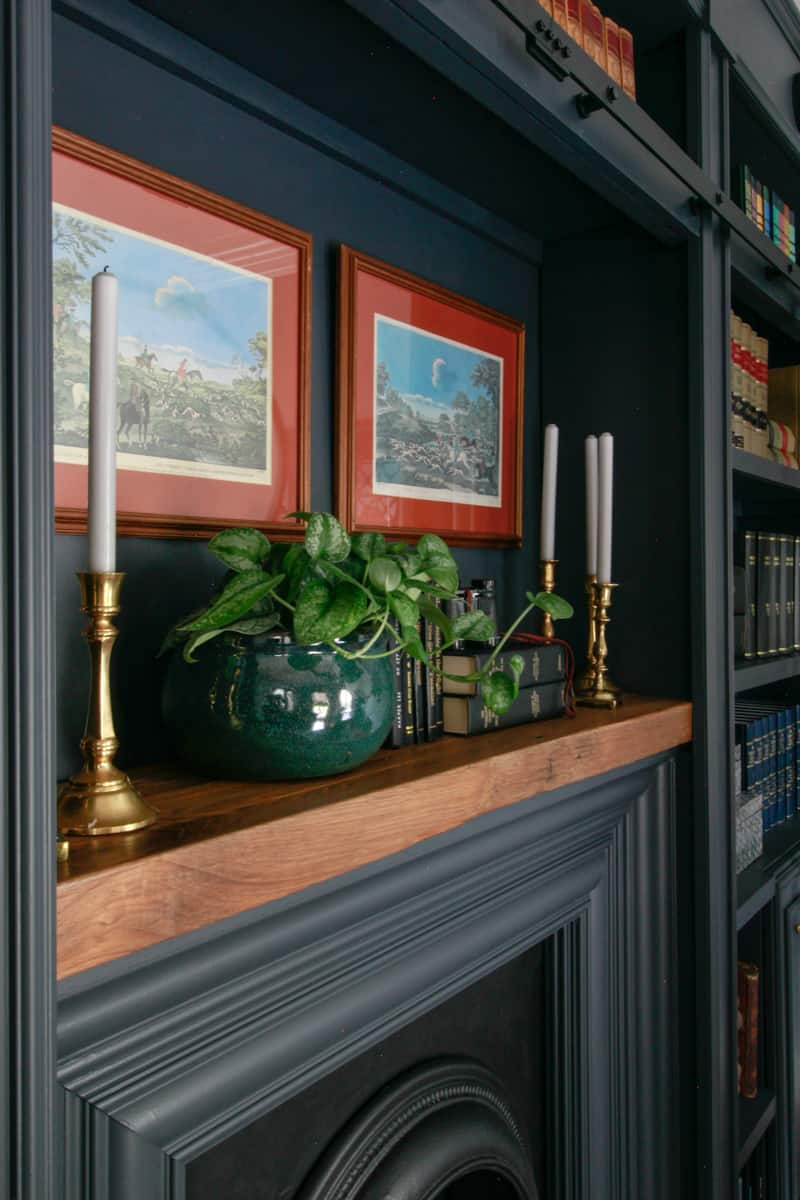 Here is a good look at the inside of the doors. It was an intense process to remove the many layers of likely lead paint from the doors and restore them to this state.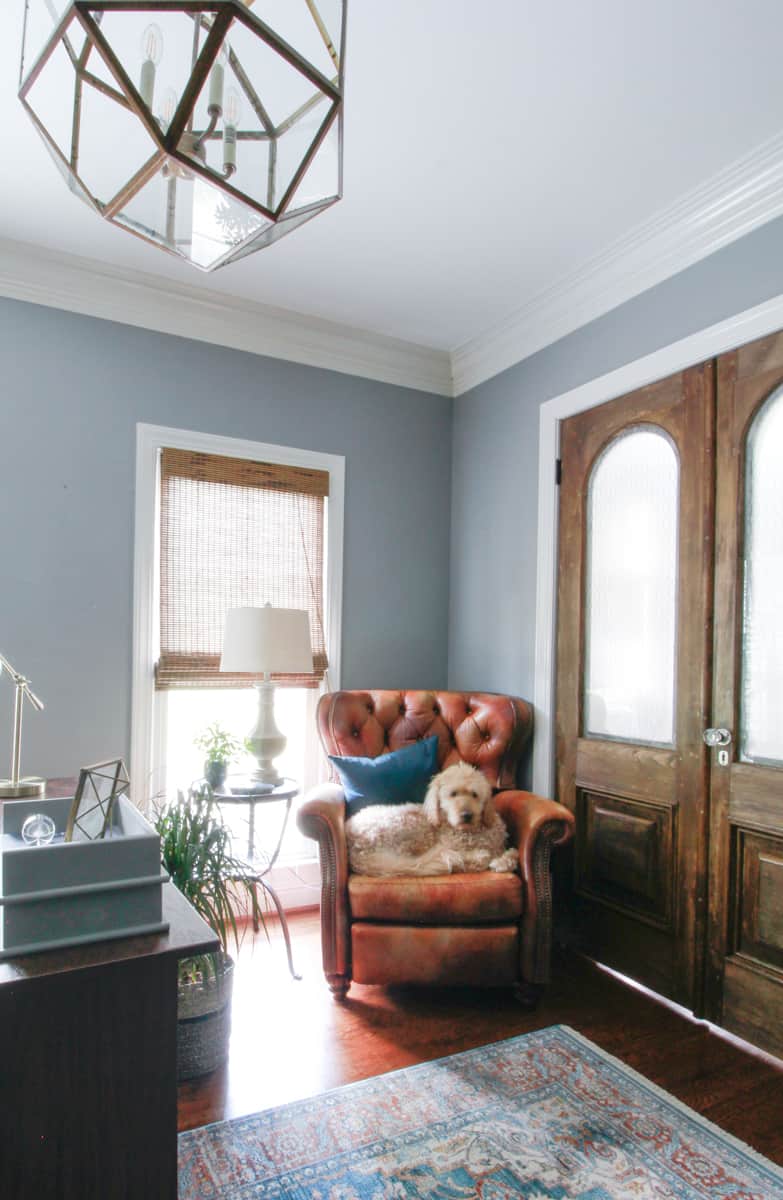 My husband replaced his beloved leather chair with a new-fangled recliner in the basement media room, so it got a second chance at life in the library. It's kind of nice to have a place to sit for a conversation or to read a book or for a dog to take a nap!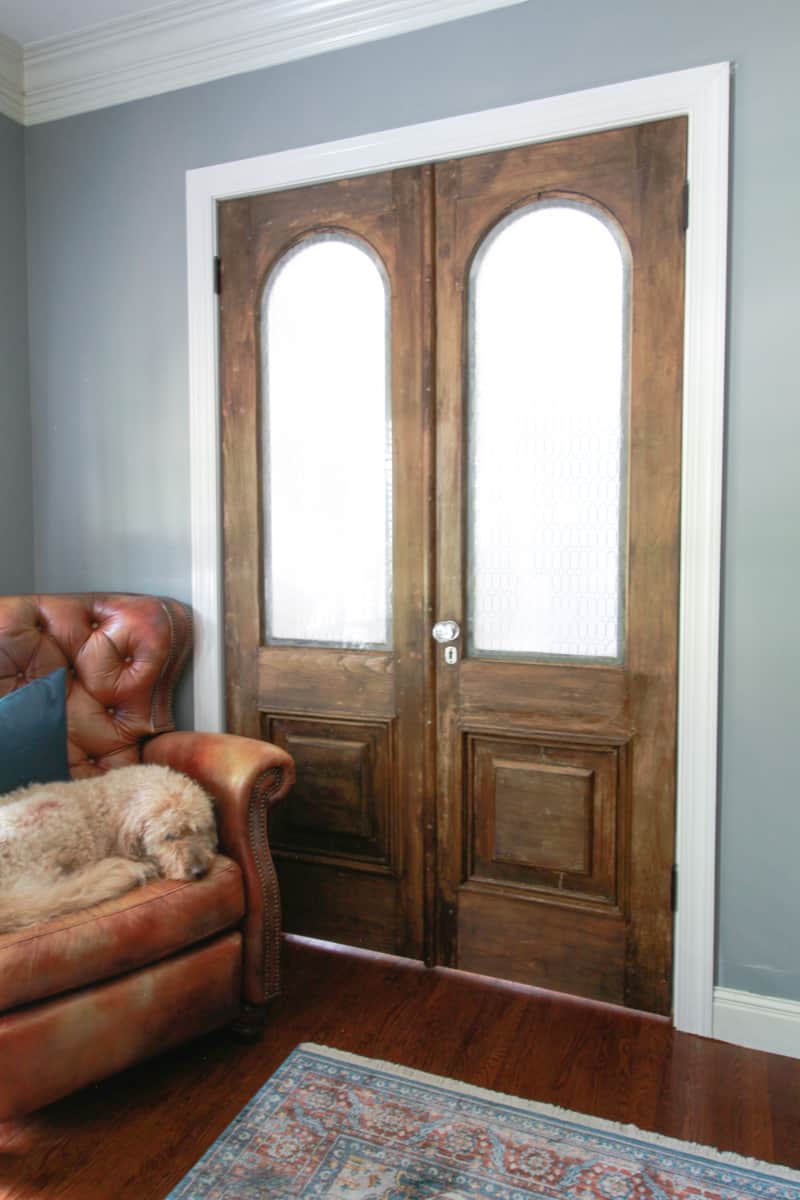 Before
Here is a look back at the before photos of the room. There isn't a shot of other side of the room because there was absolutely nothing there!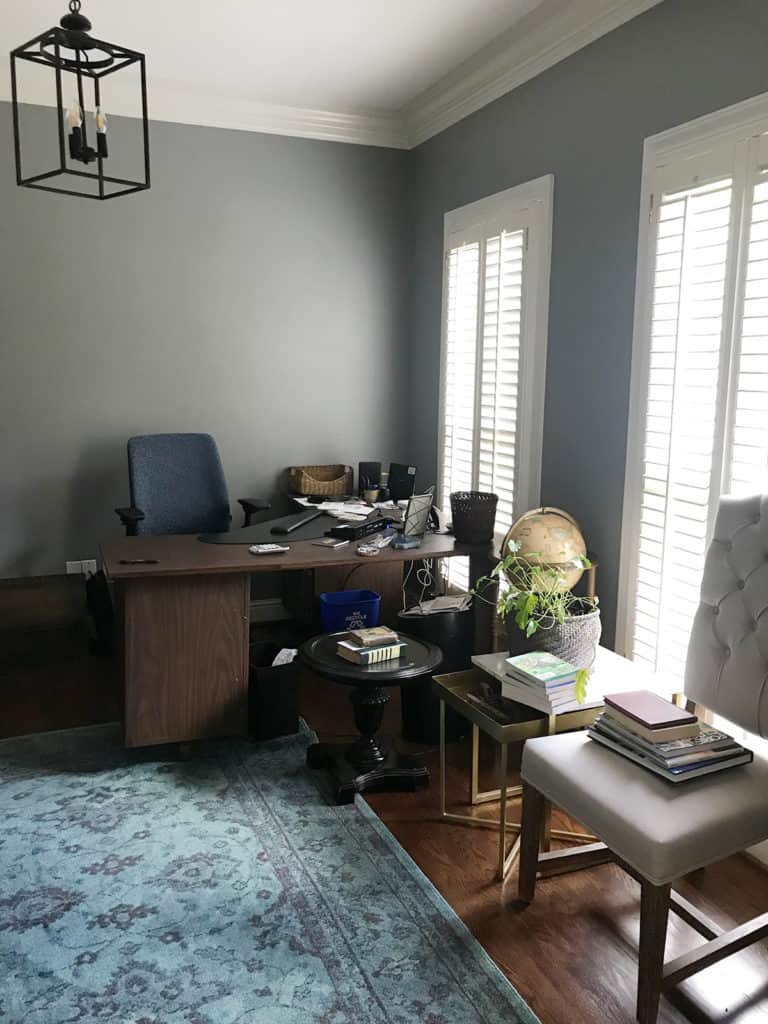 Thank you all so much for following along with this crazy, but totally amazing event! I appreciated your feedback and support during these long days! I am so thankful for the support of my husband and my family who make all this fun possible for me!
Shop the Post

Many thanks to my two sponsors for this challenge, Metrie for the beautiful moulding that completely elevated what could have been an ordinary bookcase wall.
And to Ryobi Power Tools whose continued support helps make builds like the library ladder and the installation of the moulding quick, easy and fun to do!!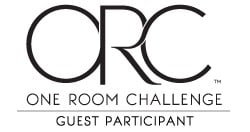 Of course I would like to thank Linda for creating and for nurturing my favorite design event, the One Room Challenge. And a huge thanks to the media sponsors House Beautiful and the Home Love Network!!
Now it's time to go and see the Guest Participants, here, as well as the Featured Designers, here!! You will not be disappointed! I promise!