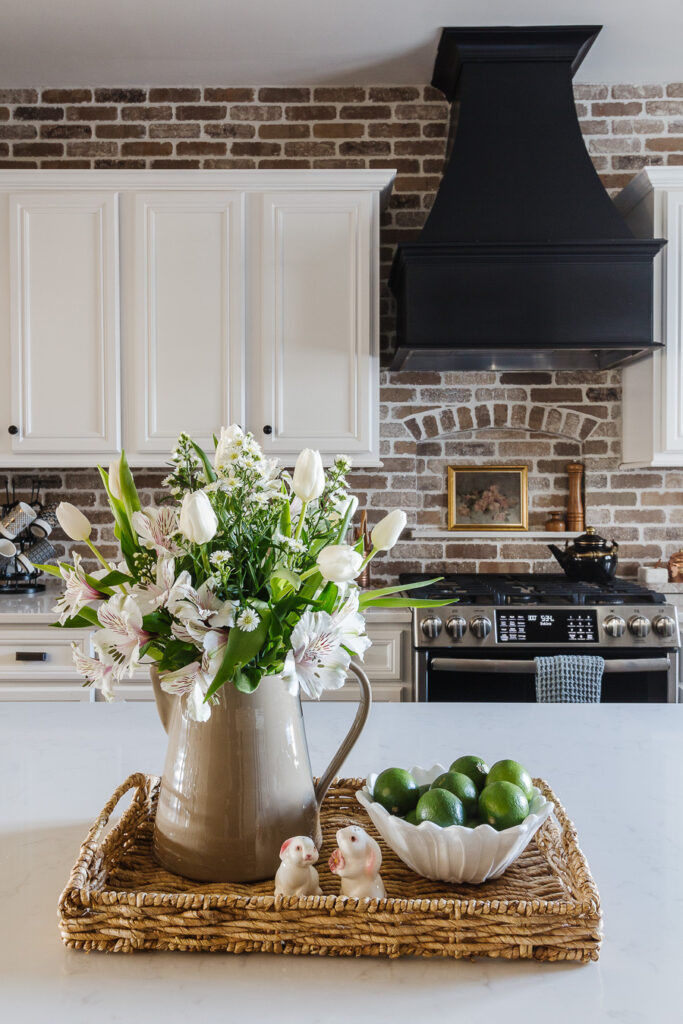 Today, I am continuing the Spring Decor Series. As the title suggests, my friends and I are sharing a look at spring in our kitchens. Be sure to check out the links at the bottom of the post. There is sure to be beautiful inspiration in store.
This post contains affiliate links for your convenience.
While I focused on adding touches of pink in my living room, the kitchen ended up more neutral with whites and hits of green. That was partly due to what florals were available at the store but I am not unhappy about it.
I planned the art that I swap out for seasonal touches around bits of pink so you will see that incorporated.
As I think about a season, I brainstorm on traditional elements related to the season and find a way to offer a subtle nod to that instead of a literal interpretation.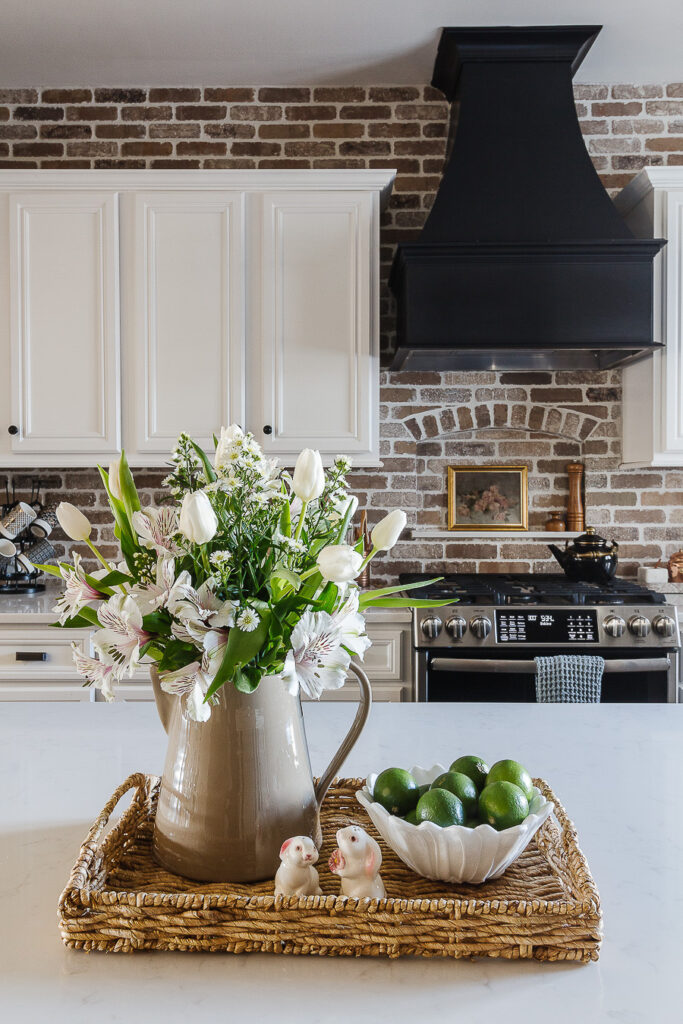 Instead of a basket, I opted for a basket weave tray to corral my decor on the counter.
Shop the Look

I combined a small bunch of tulips with white alstroemeria and a small daisy like filler. I love the look of a mixed floral arrangement for something a little less predictable. And it was less expensive to mix in these flowers that I can get for only $4 a bunch.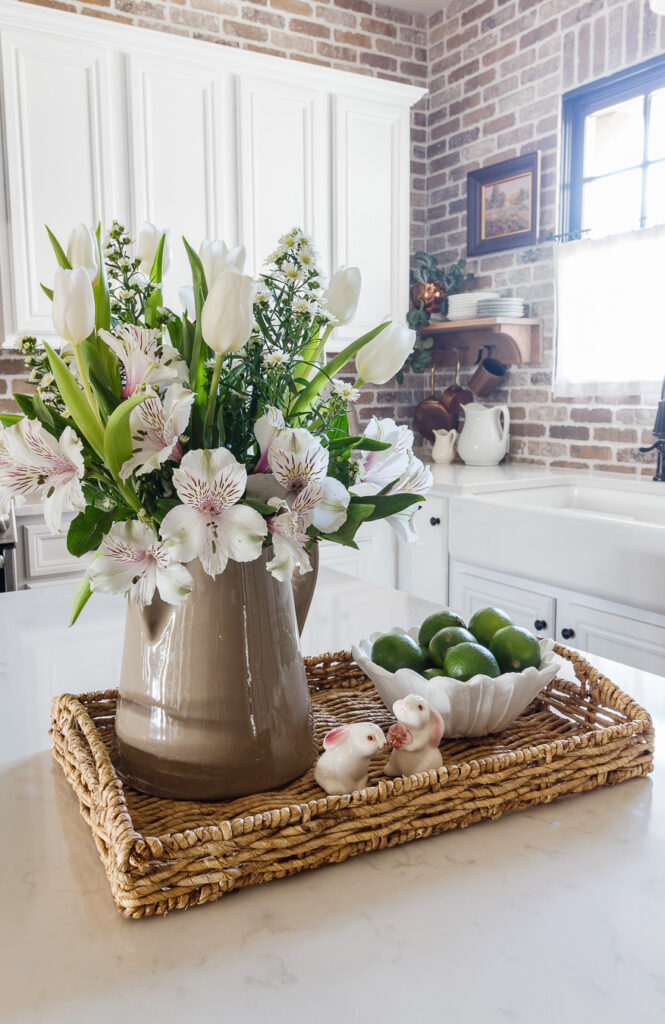 Florals and bunnies always come to mind and obviously, I went along. These bunny salt and pepper shakers are favorite seasonal decor items. I can't imagine not displaying them here.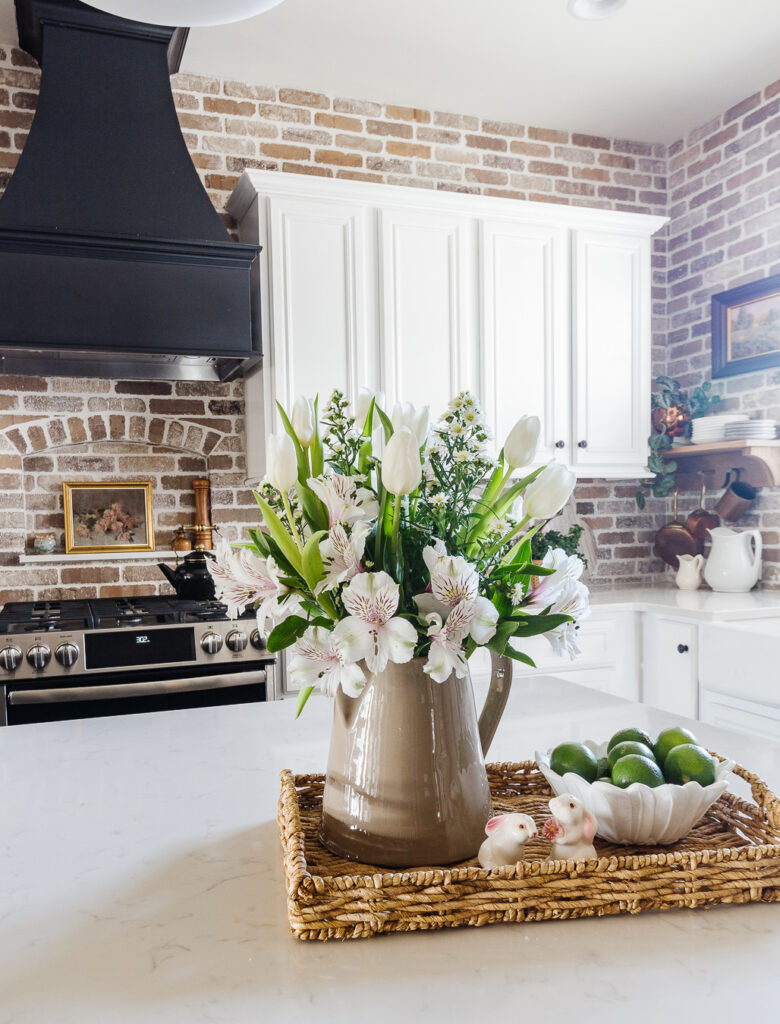 In the times we live in I guess you wouldn't be surprised if I told you I had planned for a bowl of soft green pears instead of the intense green of limes. But no pears were to be found at my store!
In the background you see one of the three prints I added to the kitchen. This one, a vintage pink rose still life, landed here behind the stove.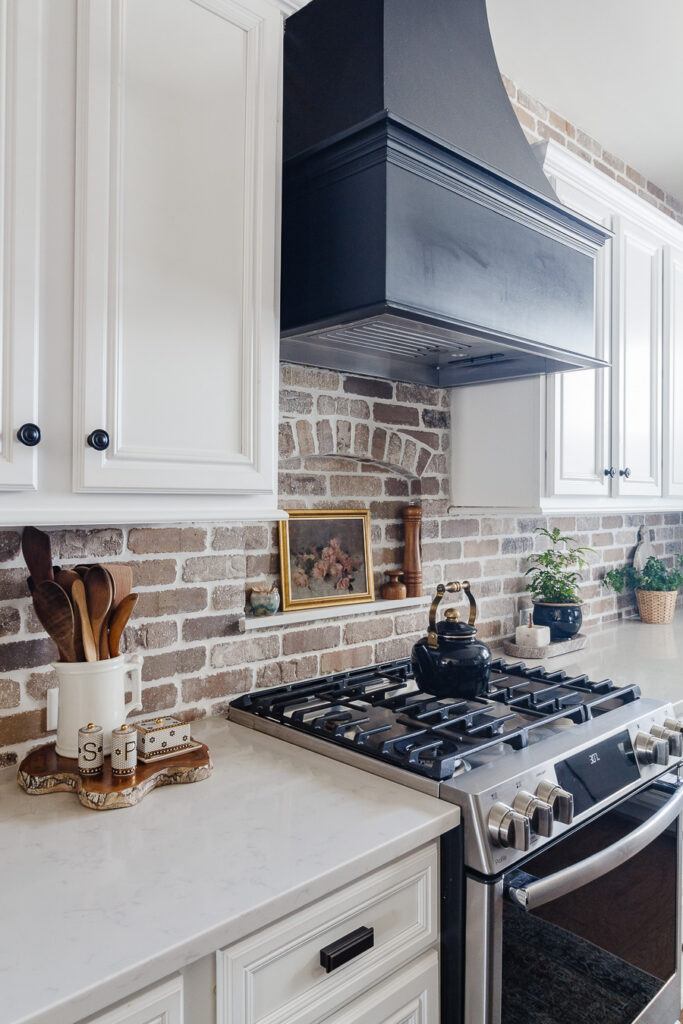 Not to worry, I remove the print when I am cooking. It is just propped up on the ledge, so it only takes a moment to place it back when I am done.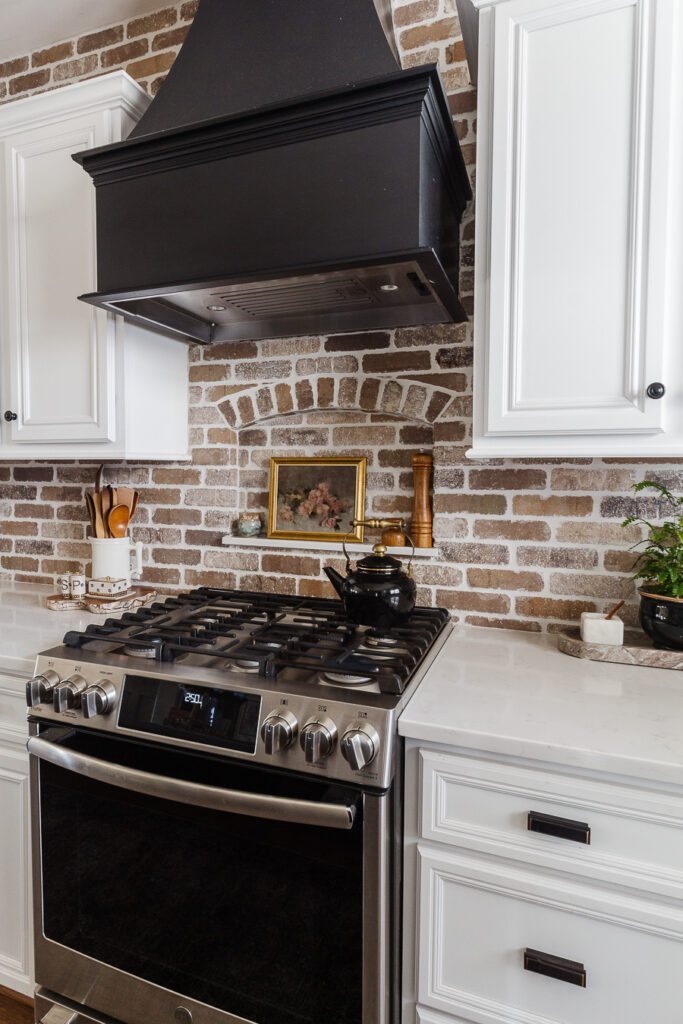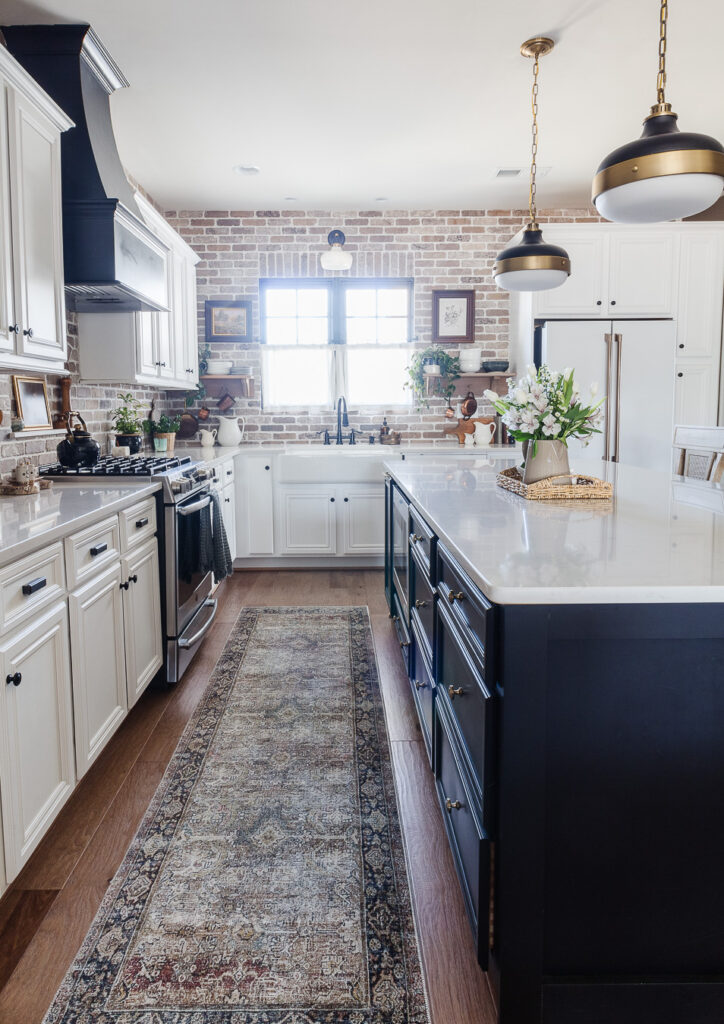 I also changed the art above the open shelves near the sink.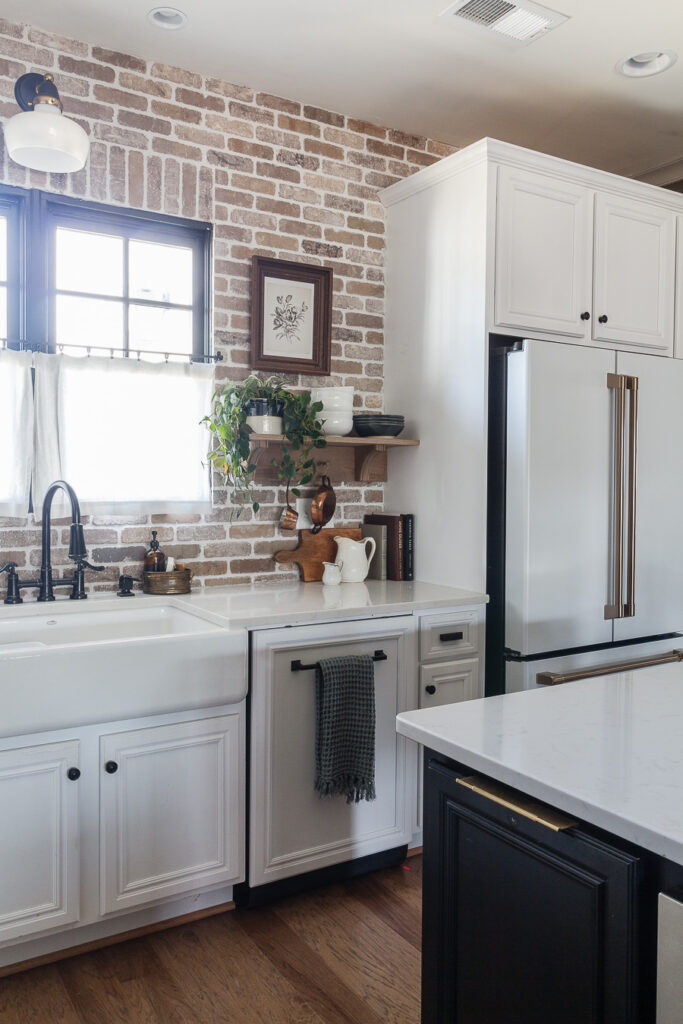 I find switching out the art a cost effective way to give me a new, seasonal look. The prints are easy to store in a box for later use.
Shop the look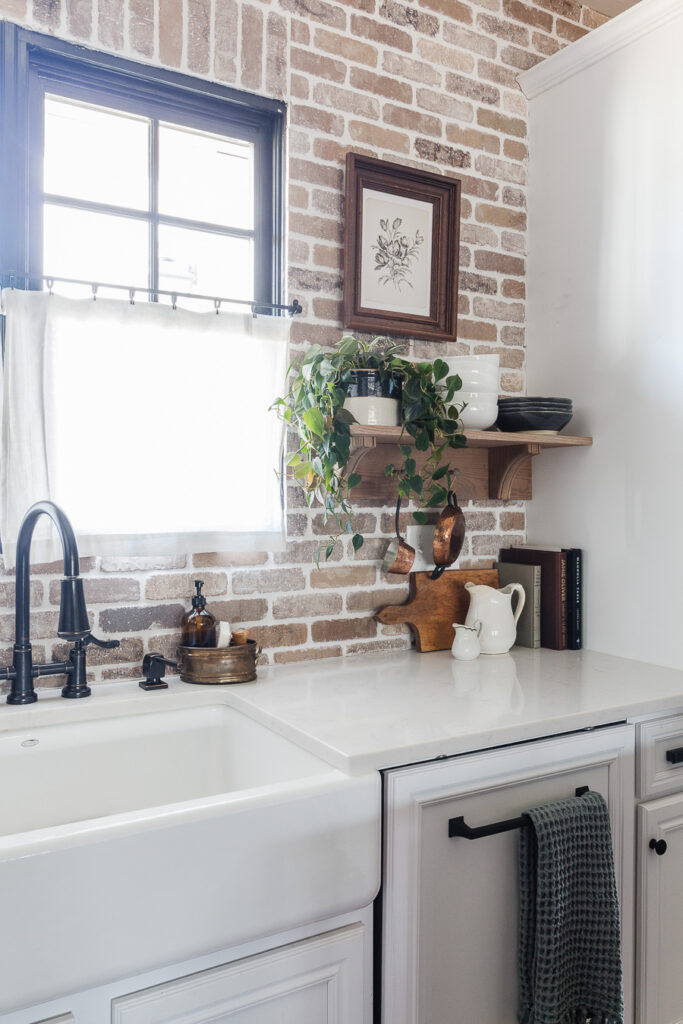 The sage green towel was a fun little find I threw into my cart from Grove Co. I love that they occasionally have seasonal offerings in addition to everyday cleaning items. This towel is super soft and very stylish.
In case you haven't heard of Grove Co. They deliver eco-friendly home essentials, from cleaning supplies to alternatives to consumable household products and personal care items.
I'll add a link here for a FREE GIFT in case you want to give them a try. I can't explain how fun it is to receive a box full of cleaning supples. Not only does it save me time at the store, products of this caliber are harder to find.
This is not at all sponsored, I just love their products. In case you were wondering, like I was the first time I ordered, what are my favorite things?
All of the concentrate surface cleaners are wonderful. I also really like using their glass spray bottles. I love their walnut scrubber sponges and European dish cloths. (I use those for cleaning my counters.) I love the dish soaps especially. I find they clean just as good as the brand we all thought was the best, but this is a cleaner alternative.
I also feel good about using their garbage bags that are made out of 100% recycled materials and are super sturdy too. I could keep going here. If you want to know about a specific product, just send me a message. I'm having a hard time thinking of anything I've been unhappy with.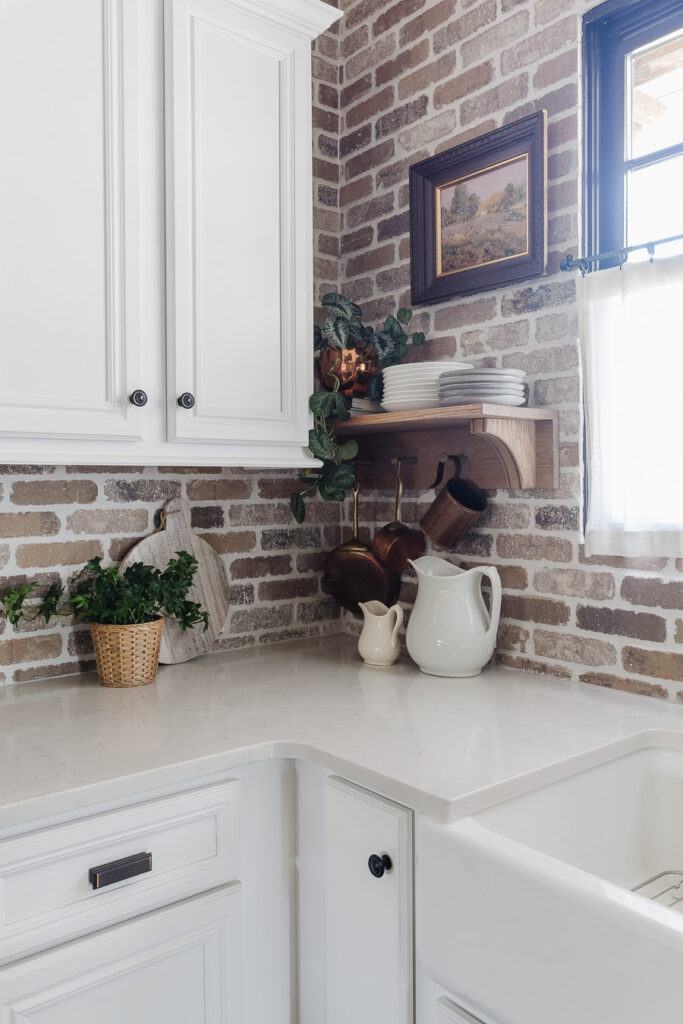 Okay, let's get back to the kitchen and spring decor. LOL
On this side of the sink, I added a pink hued landscape. I love it so much, I might eventually make it the art for my Frame TV.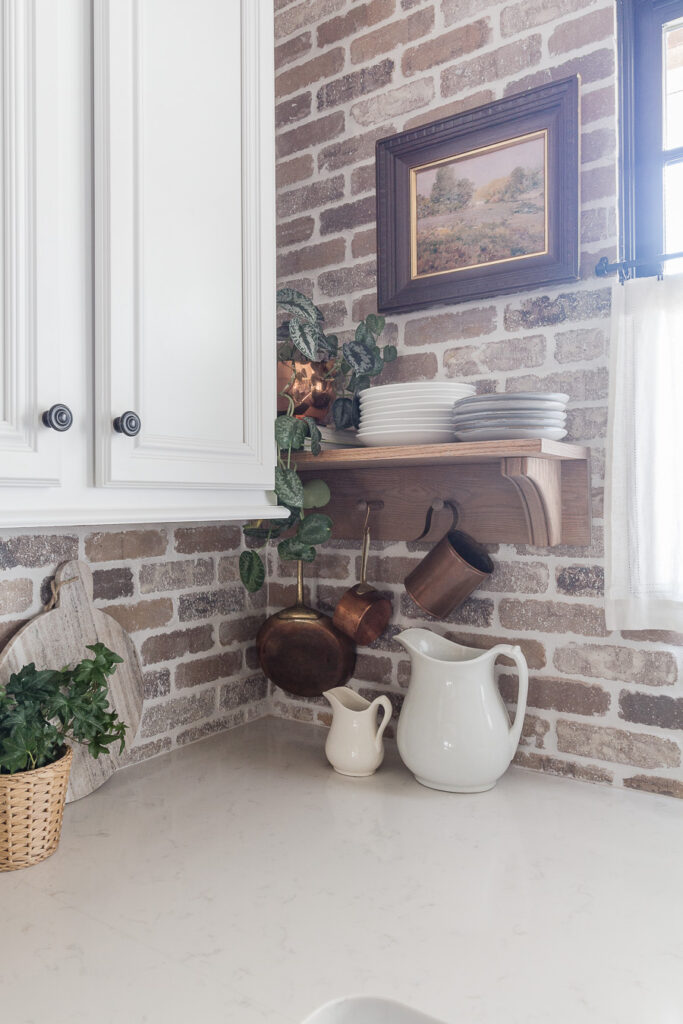 This planter gives me another touch of a basketweave, and I love the soft texture it adds.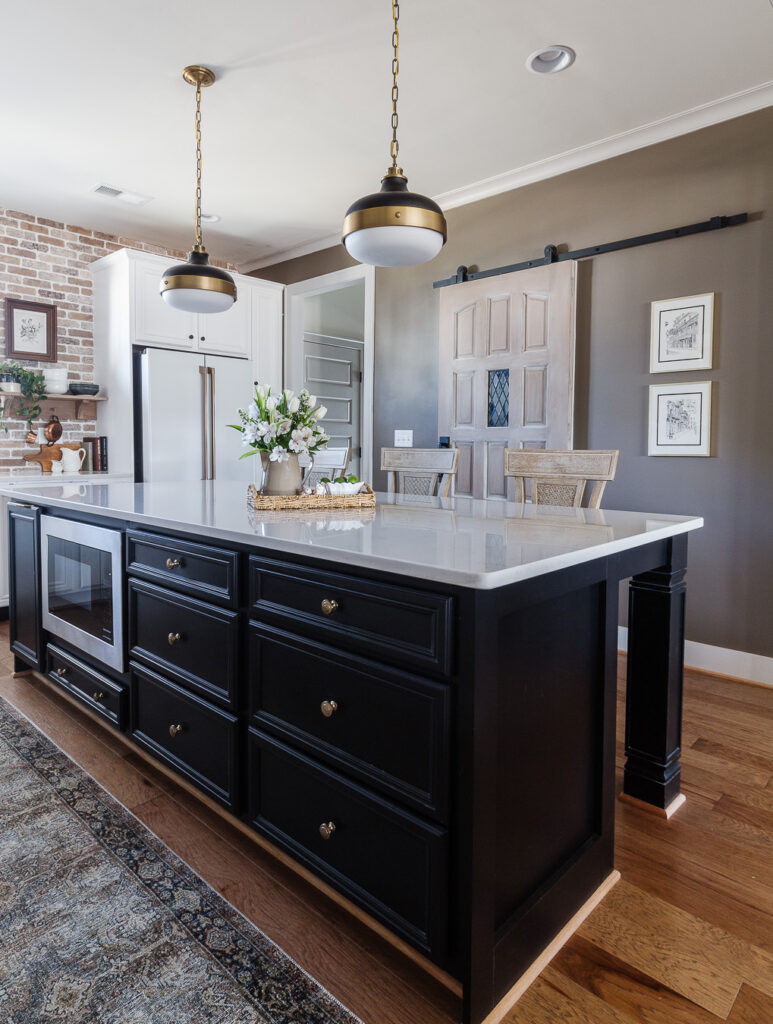 I often add a seasonal wreath to the pantry door. I tried several different things and none of them felt right.
I hope you were inspired to add subtle touches to your kitchen for spring.
Today some of my friends are sharing their Spring home decor ideas for their Kitchens. Be sure to visit their posts by using the links below the images.