It has been just over a month since our contractor finished our patio expansion. As soon as he packed up his tools, I got to work on bringing the design plan to life.
I started moving in some of our previous furniture, I purchased some new chairs and found a rug, recovered a set vintage bistro chairs, and built a tabletop for an upcycled coffee table. Then we decided expanded the garden just off to the side for more ambiance.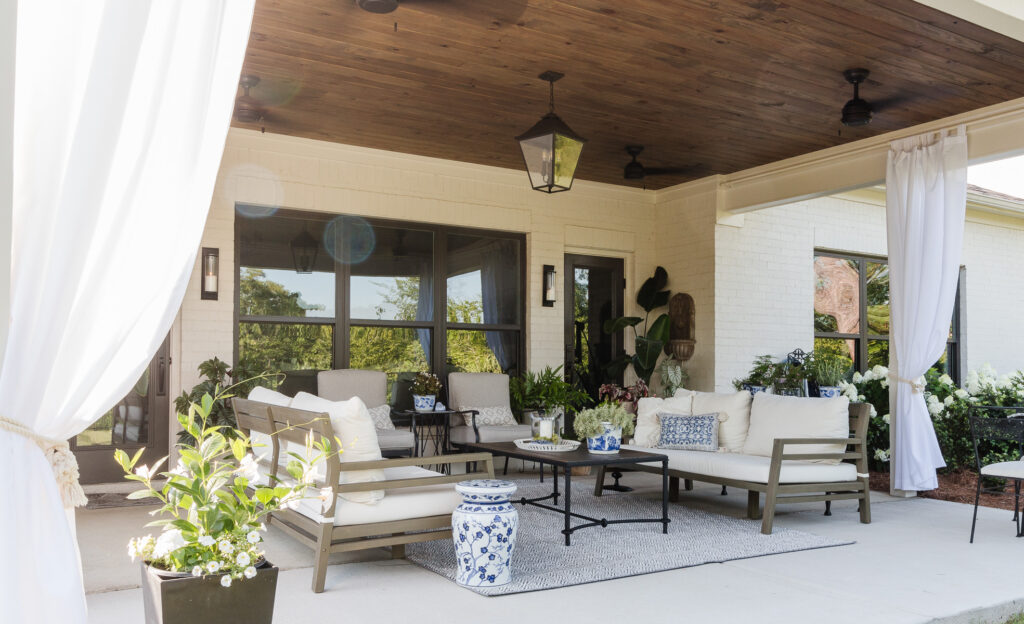 I couldn't be more delighted with the finished space. It truly feels like a welcome extension of our home. A comfortable outdoor entertaining space we can share with friends and family.
The Before
After living in this house, built almost 3 years ago, we realized how much we enjoyed sitting out on the patio in the evenings, watching the sunset. Even though I felt like I had created a nice space, it felt cramped. I could have rearranged the furniture to better suit the space, but this is the seating arrangement that felt the most like an outdoor living room, which is what I so desperately wanted to create.
You might not have been able to tell from previous photos I've shared. I tried my best to disguise the fact that all of the pieces were very close together and kind of cramped. I tried to convince myself it was cozy.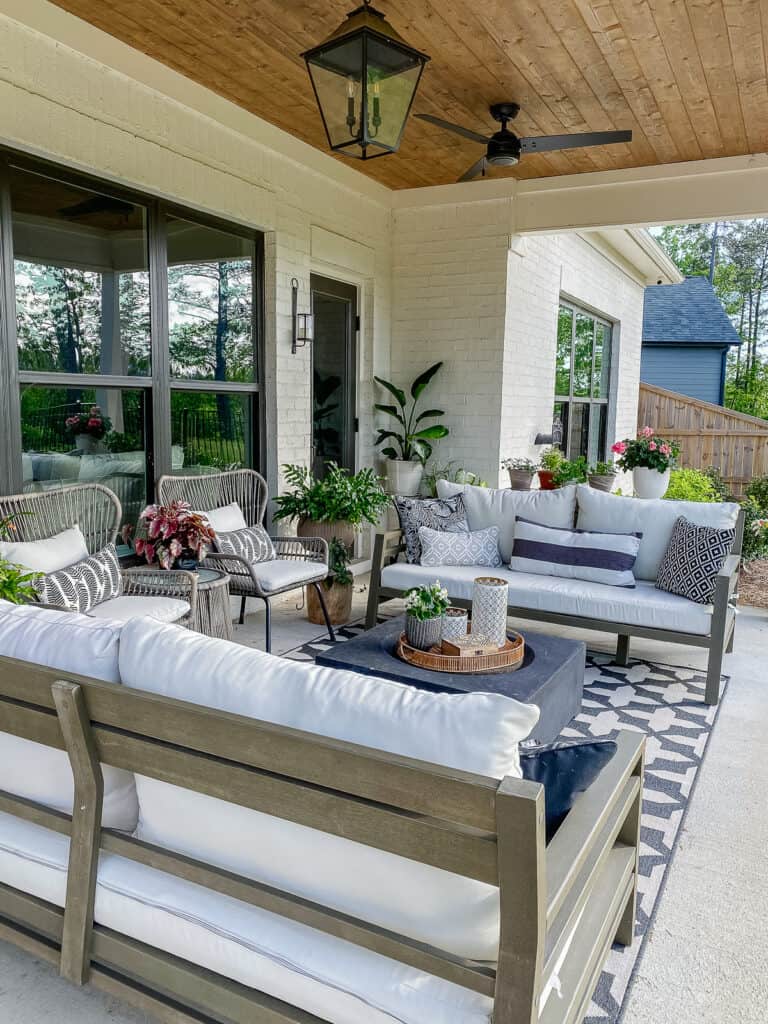 In the photo above, the edge of the concrete that is cut off is the actual end of the patio.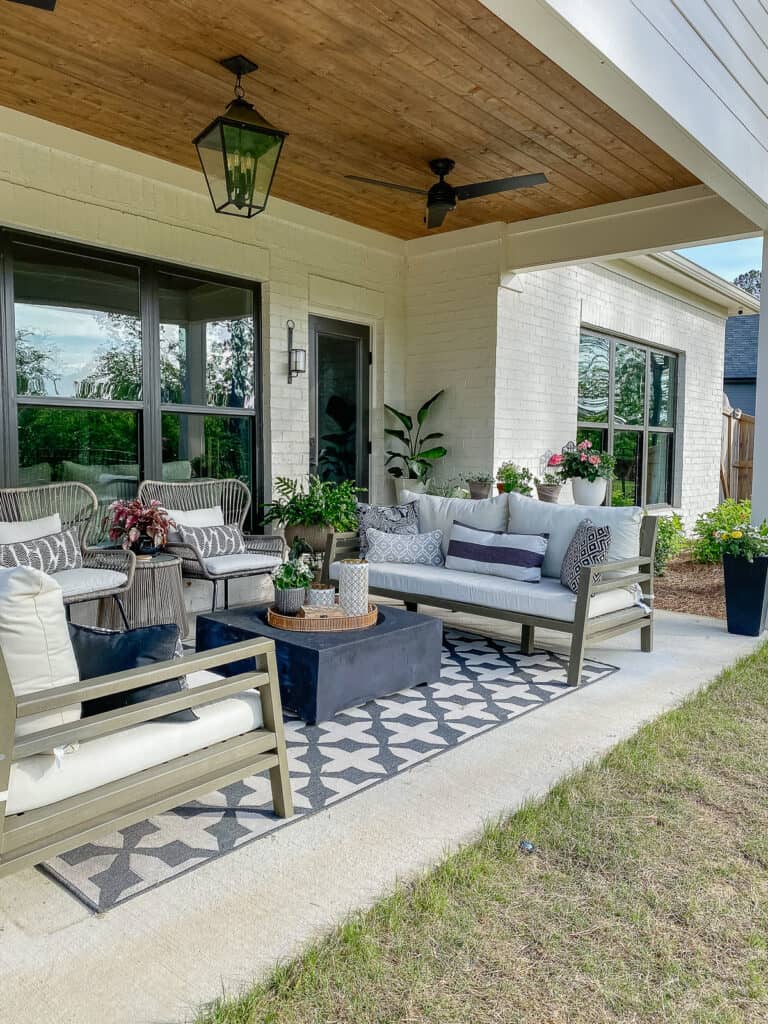 Beyond the fact It was hard to move around this compact space, everything got wet in any kind of rainstorm. The grass along the edge became bare from being trampled from walking around the outdoor sofas to enter the seating area.
Having this patio to enjoy our view was one of the things we loved about our house and yet were frustrated by too. After much debate, we decided that expanding the patio was worth investing in and I'm beyond pleased that we did.
How we did it
It is probably noteworthy to mention that we only extended the concrete by 7 feet. Once construction began, our contractor even questioned that seemingly small expansion. As it turns out that extra depth is perfectly suited to the size of our house.
Here is how the construction of the extension looked from a distance. Essentially, we had our contractor remove a portion of the siding, raise the existing support beam, and then add a small sloped roof off of the existing peak.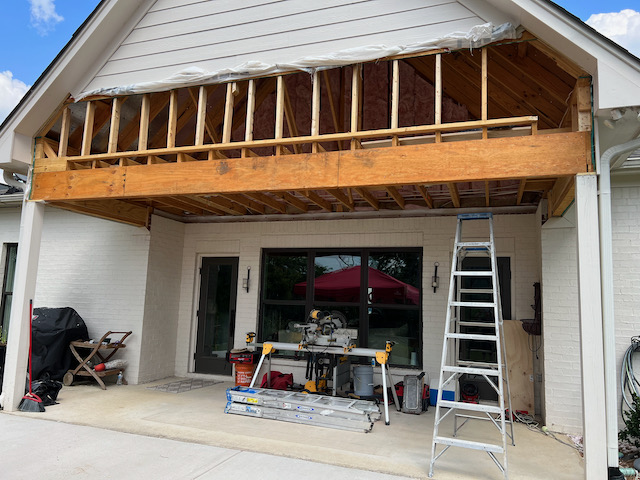 There is a similar sloped roof coming off the front peak of the house for the front porch. It was important to me that architecturally this extension was in keeping with the house.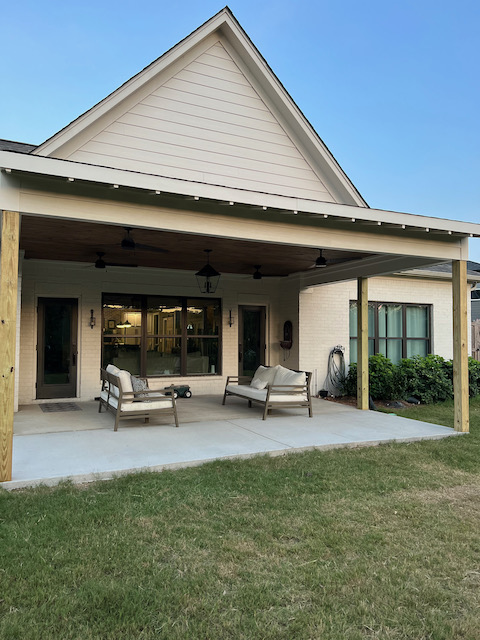 I also believe that anything larger would have been out of proportion with the back elevation of the house.
I wish they could have just added onto the existing tongue and groove ceiling, but it would have been nearly impossible to match after almost 3 years of exposure. I was thankful that a good portion of the original wood was salvaged. Some was donated, and some we tucked away for another project in the future.
After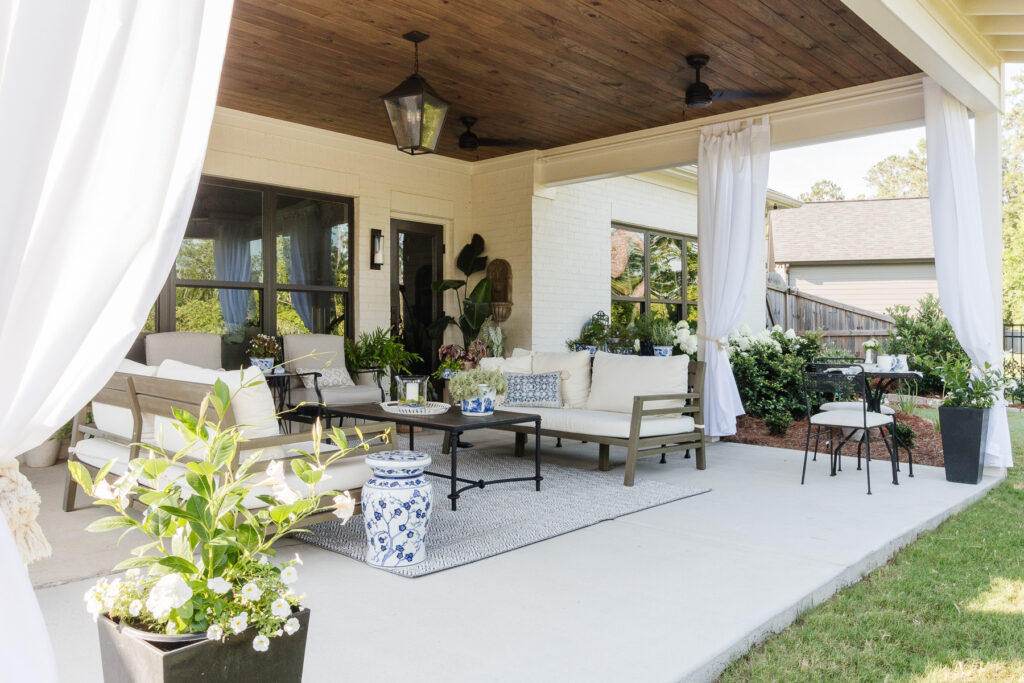 Outdoor Sofa (similar) | Side Chairs | Outdoor Coffee Table (similar) | Garden Stool | Large Planter | Planters | Outdoor Rug | Lantern | Ceiling Fans | Outdoor Wall Sconces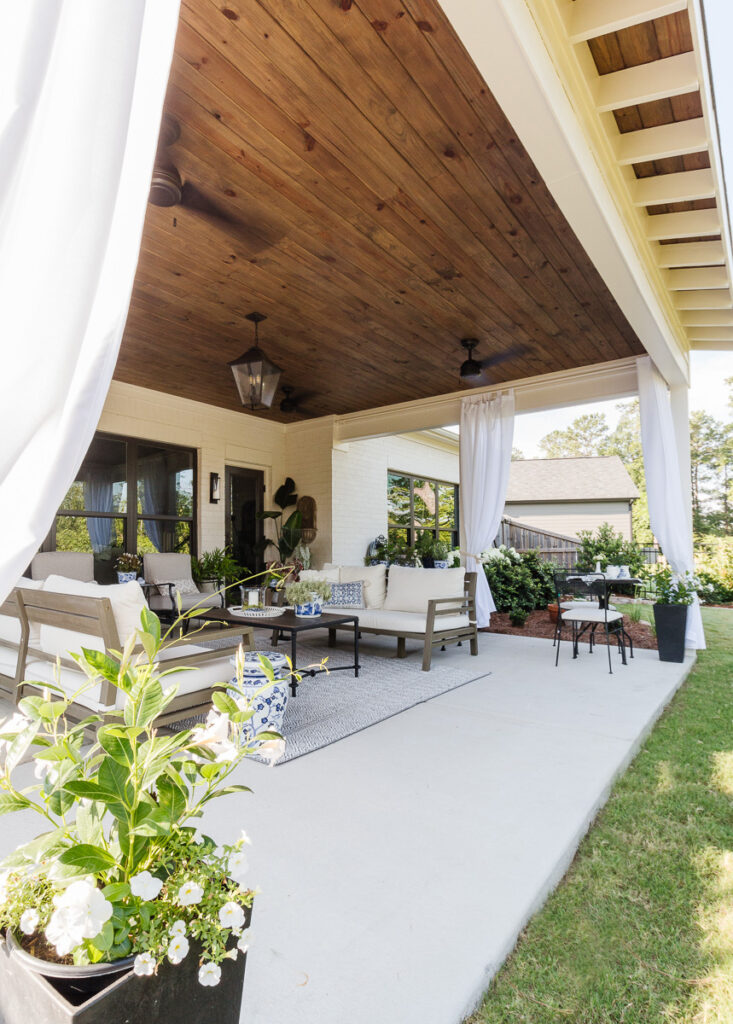 One of the best decisions was to leave the existing fans where they were and then add two more fans to the extension, for a total of 4 fans! We also had our contractor insulate this area. Both of these upgrades help the area feel significantly cooler.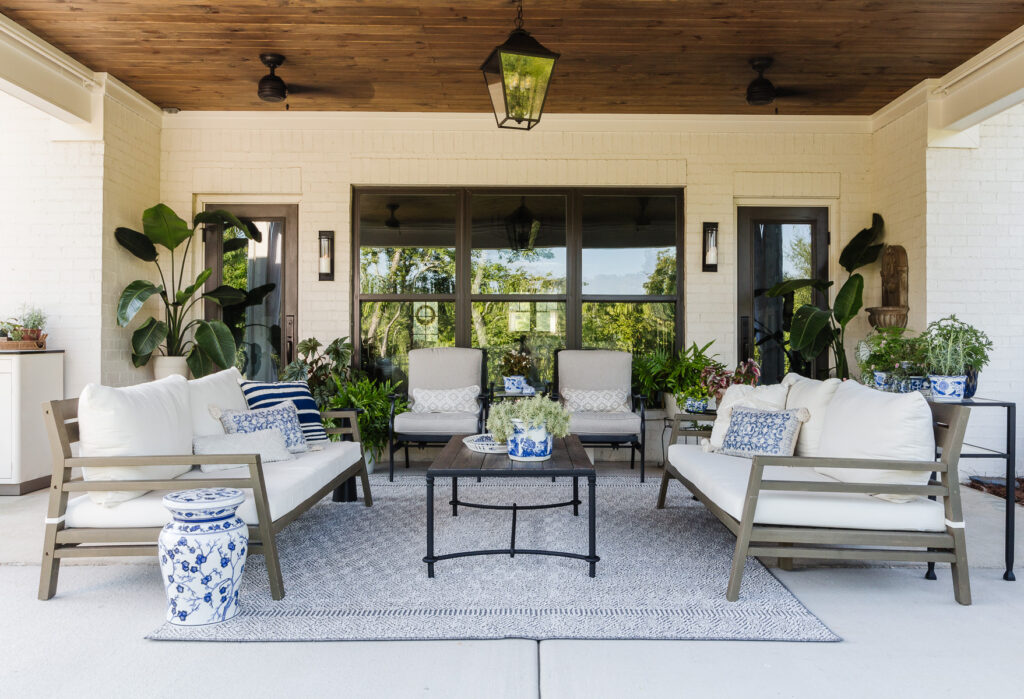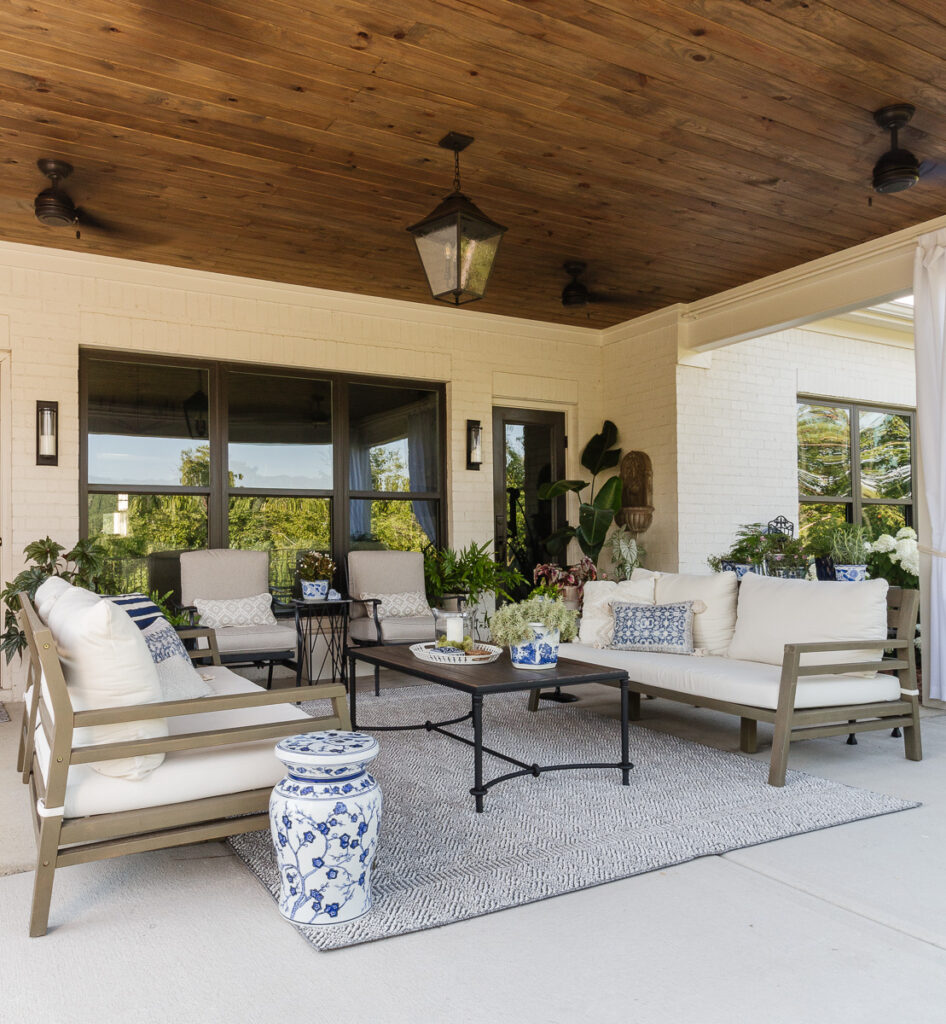 Traditional Styling
While the two outdoor sofas returned from the original patio, I wanted to create more of a traditional feel for this outdoor room.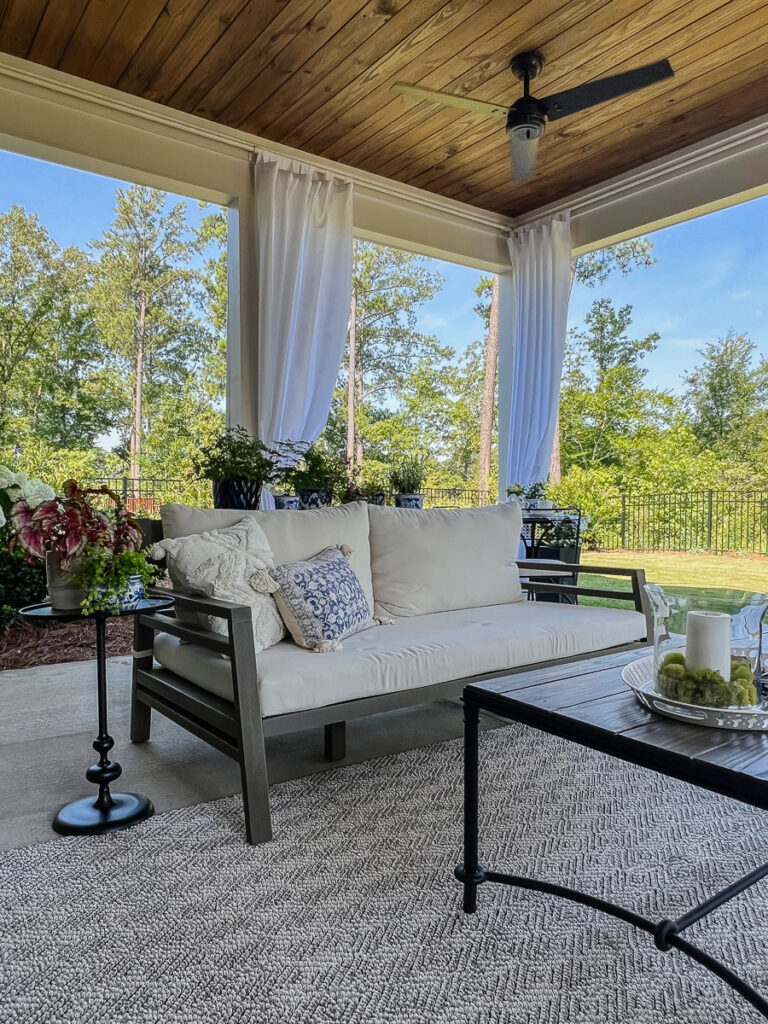 For additional seating, these two chairs bring classic lines. They offer a subtle rocking motion which I quite enjoy.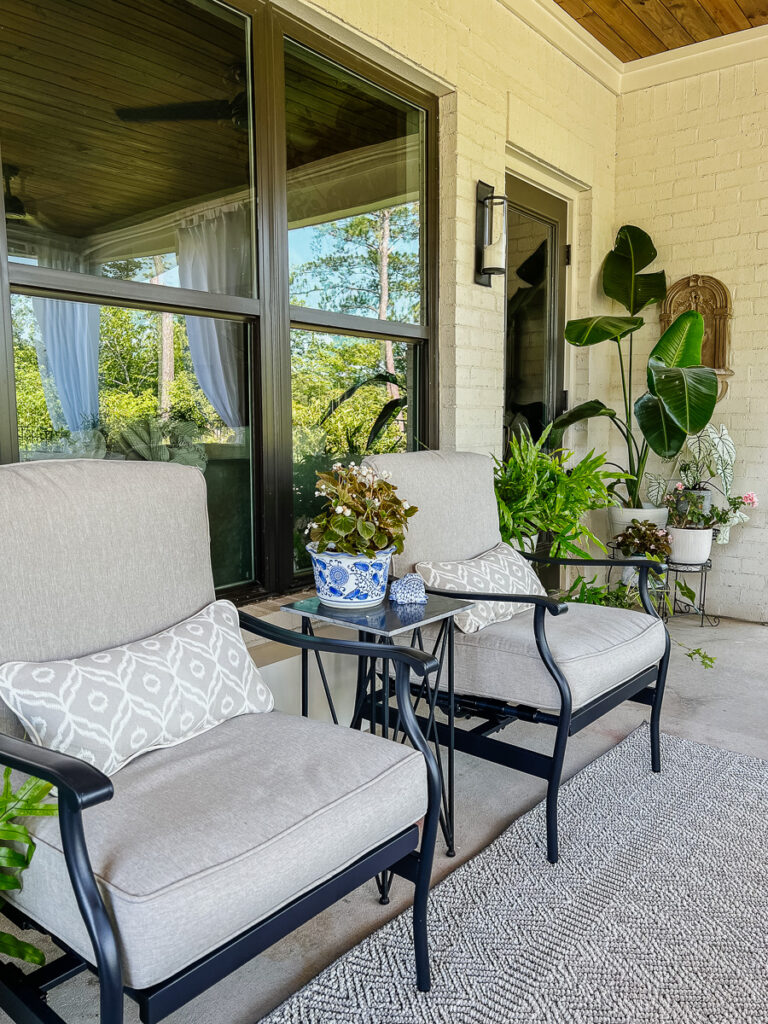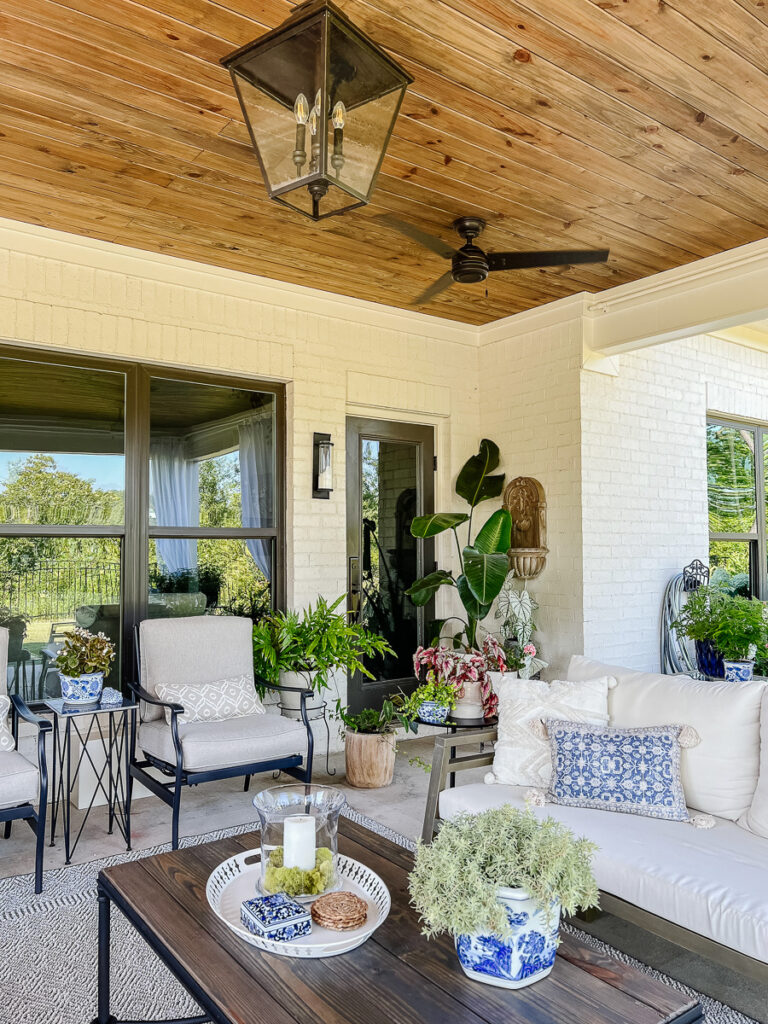 I didn't realize until they arrived they could also be used as seating at an outdoor table. They are a good buy for the price.
The coffee table has an interesting story.
Depending on how well you know our home, you might recognize the lines of this table from our living room.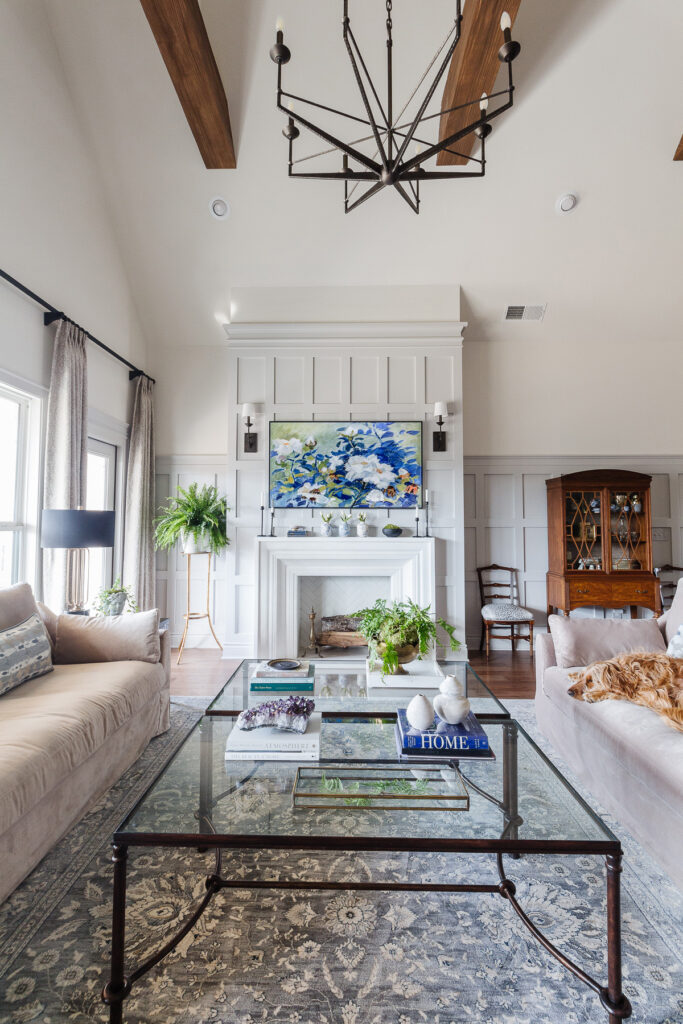 When these tables were ordered for the Spring One Room Challenge back in 2020, one of them arrived with broken glass. We tucked the frame away for future use, but I probably never would have guessed it would have ended up outside. I love the shape and how it perfectly suits this space too.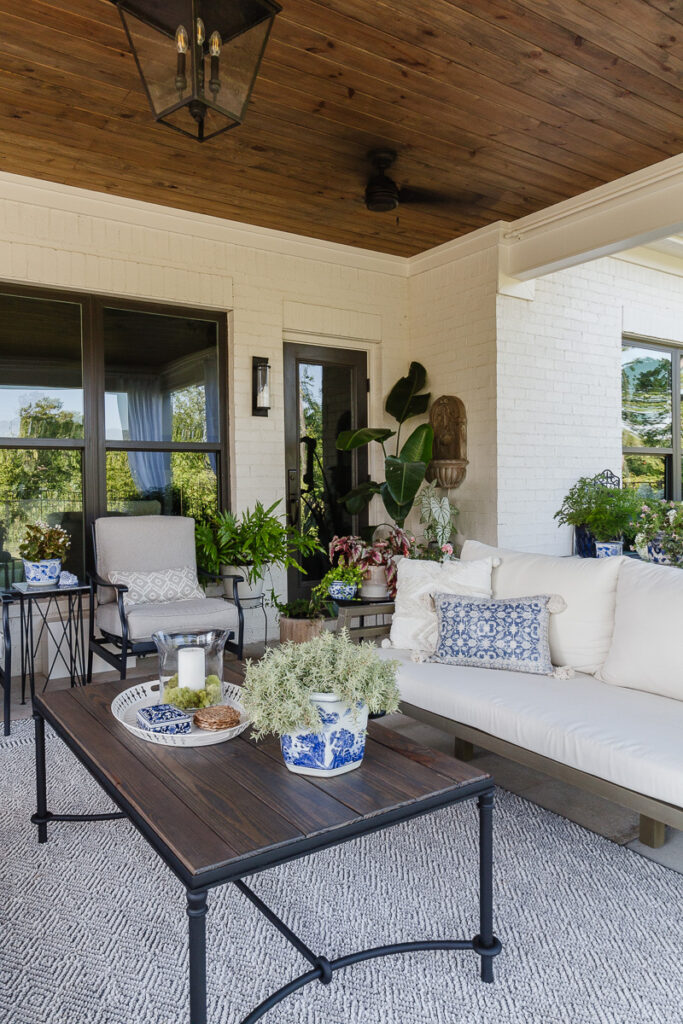 We abandoned the gas firepit we had on the patio because we never used it. Having a true table here feels even more like an outdoor room.
I built a new top out of the scraps of the tongue and groove left from the new ceiling. Using a router, I finished the outside edge. This makes the difference in the height where the glass would have been deliberate and elevates the look. I also painted the legs a matte black and shortened the legs to be an appropriate height for the outdoor sofas.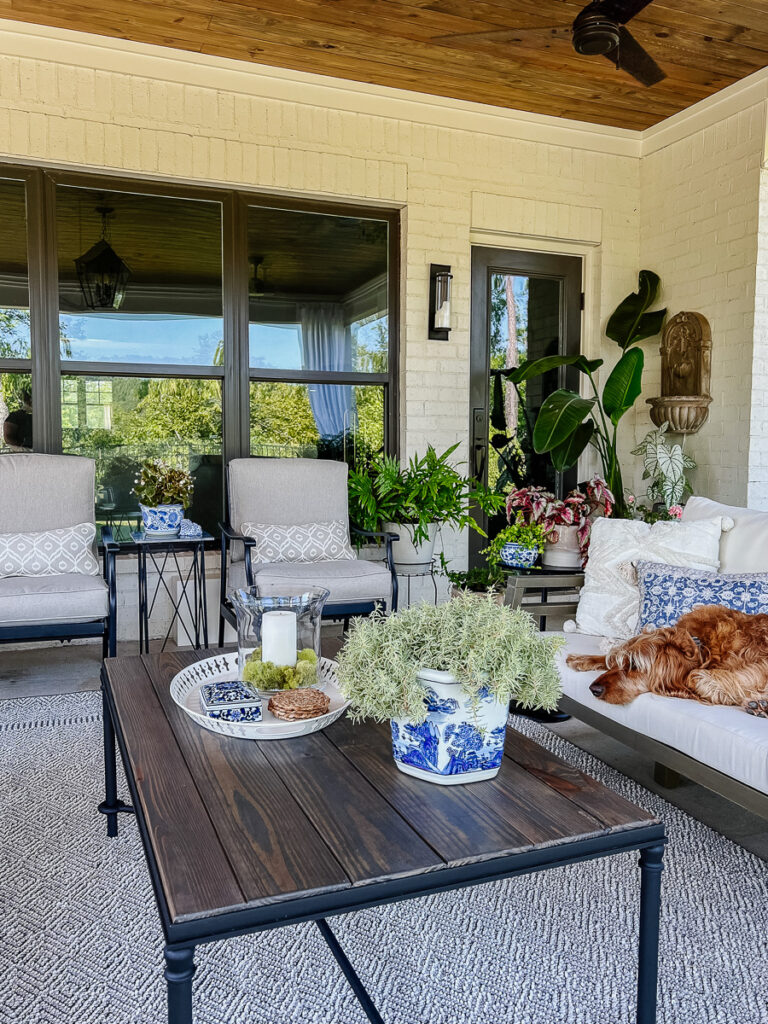 Not unlike most of the rooms I design, finding the perfect rug took some time. I hoped to find a rug with a small pattern that was also light and airy feeling. I wanted enough pattern and contrast that it would hide the inevitable bits of debris that comes along with an outdoor space. An added bonus for a durable material that was also soft underfoot.
I absolutely love this rug that was gifted to me by Loloi Rugs. It is incredibly soft to the touch and fits all of the criteria I had in mind.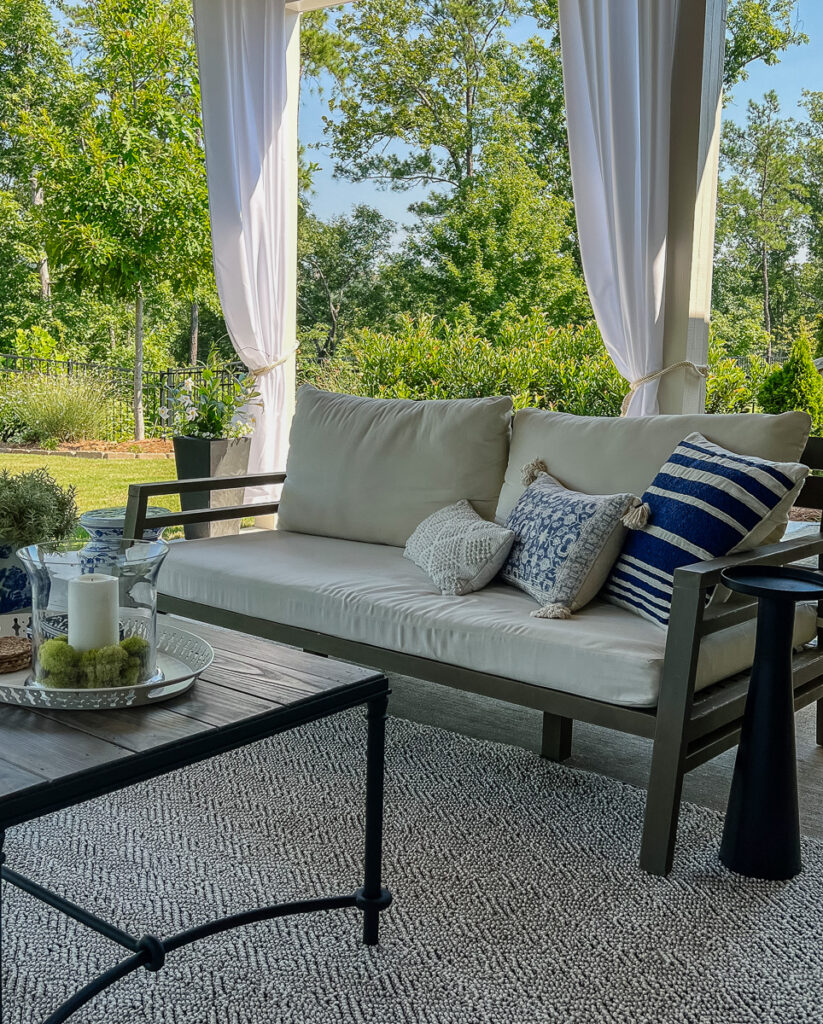 Outdoor Sofa (similar) | Outdoor Coffee Table (similar) | Garden Stool | Large Planter | Outdoor Rug | Outdoor Curtains | Curtain Tie Backs | Beverage Side Table
Blue and White decor
To know me is to know my love for blue and white porcelain and pottery. Bringing the blue and white outside felt like a lovely echo of the decor found inside.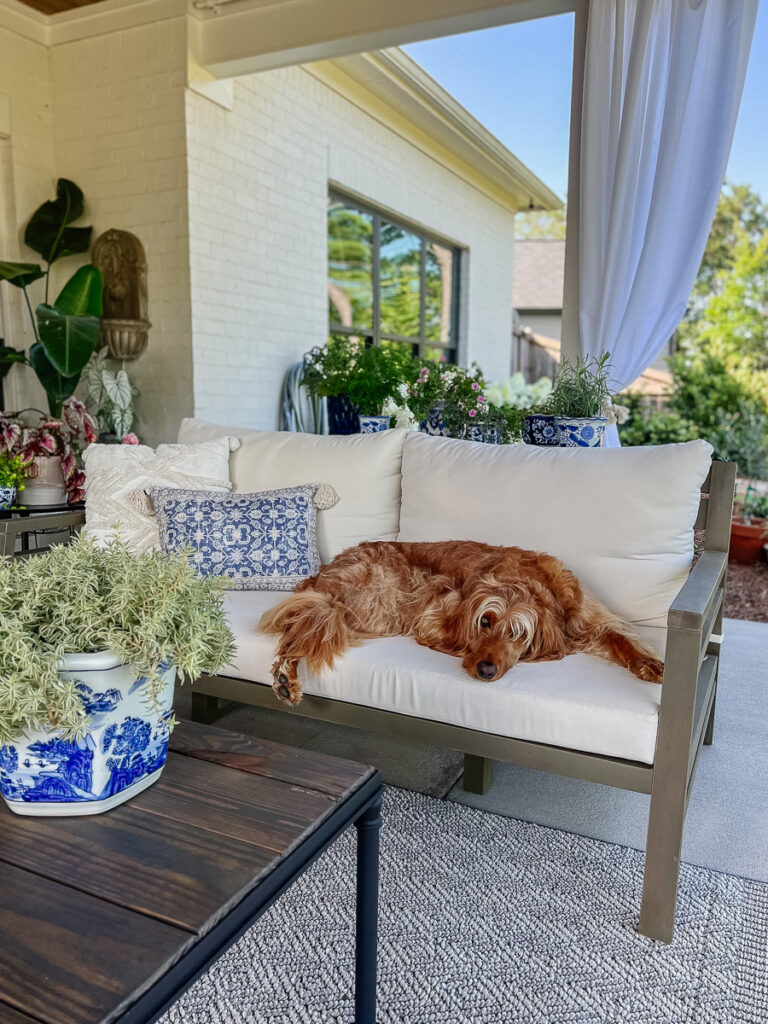 I was a little surprised by how long it took me to assemble this planter collection. I already had three blue and white pots, so I had a start. I scoured Facebook Marketplace, shopped at my favorite local resale shop, Stash and bought a few more new pieces online.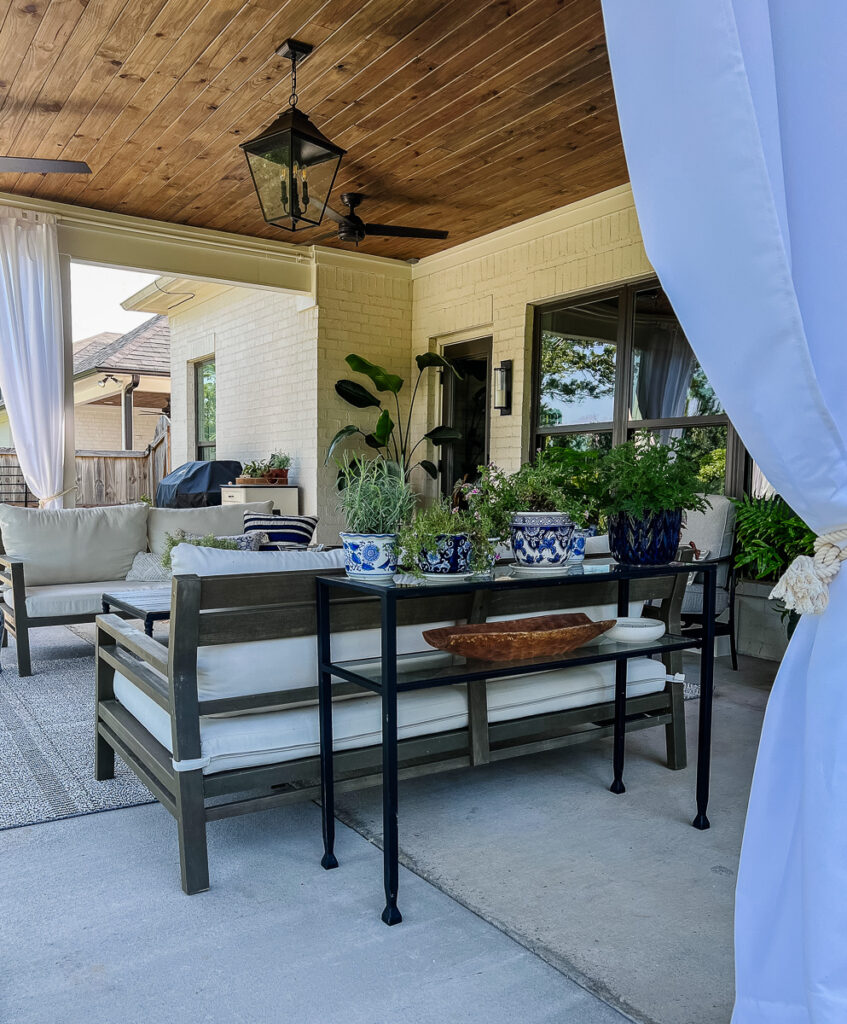 Blue and White Planters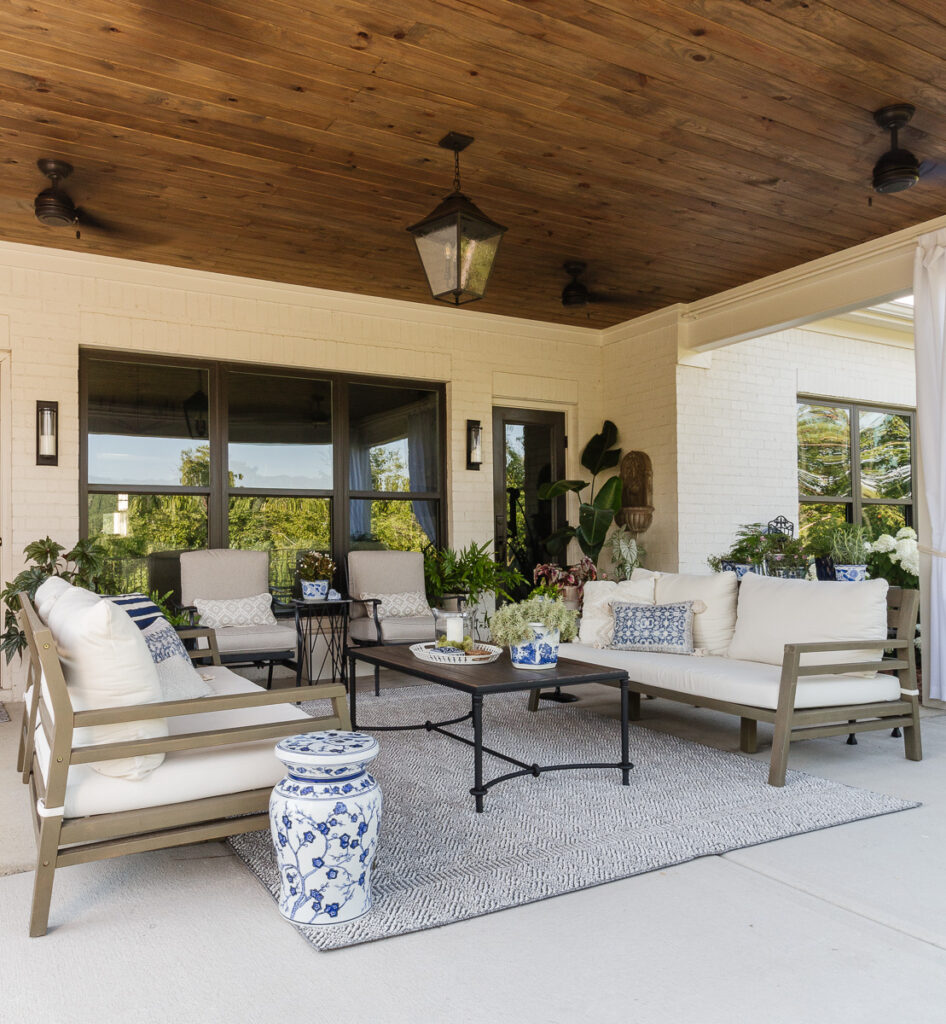 Luckily for me, my birthday was right around the time I was searching for blue and white for the patio. I suggested to my husband this garden stool would make the perfect gift, and I was right! I absolutely love it.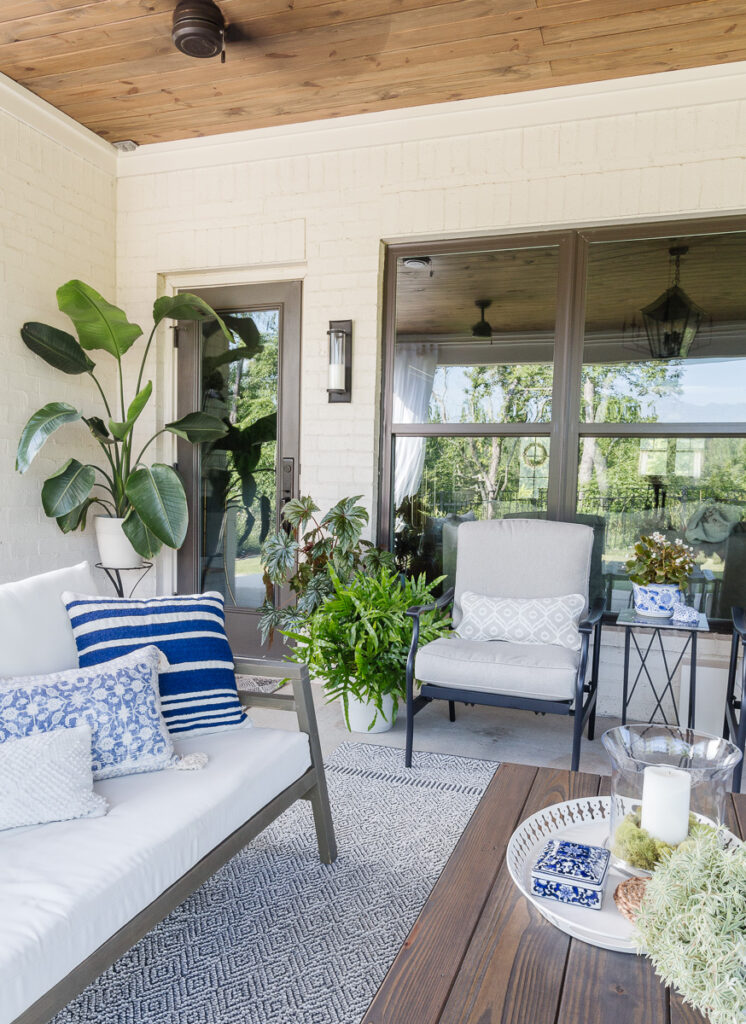 Blue and White Pillows

Bistro Seating
The patio expansion even allowed me to move a small bistro table into the space.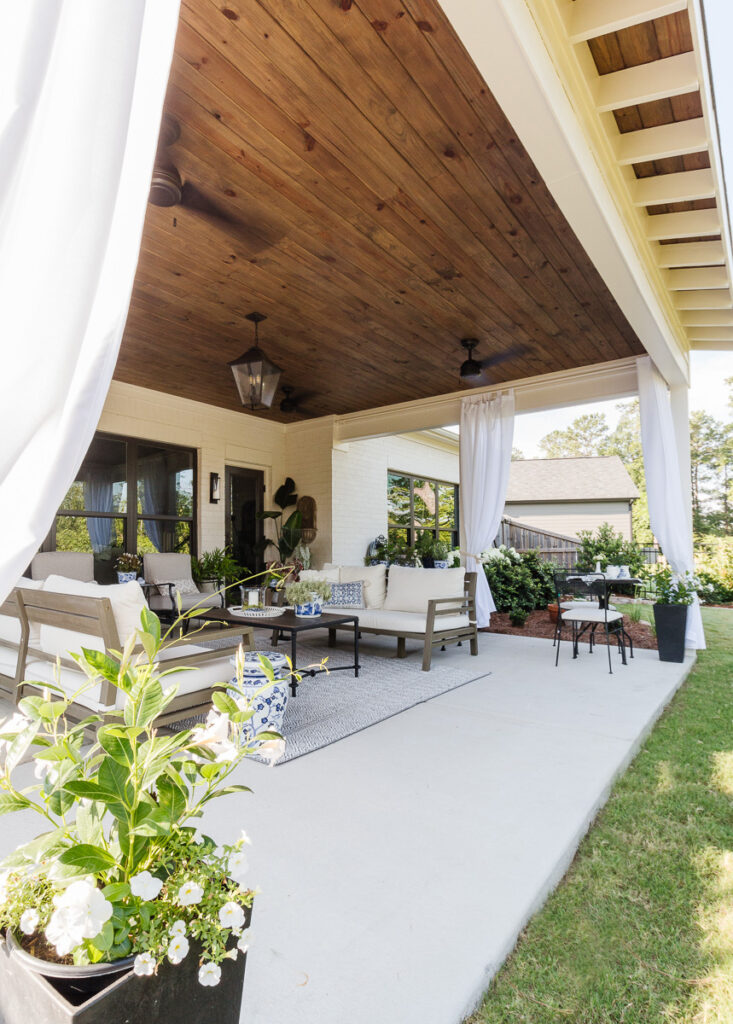 I picked up this vintage set for our small front porch several years ago. We never actually used, so it made sense to add it here. I just needed to add a new cushion and waterproof fabric. It is my favorite breakfast spot right now. I am sure as the weather cools; eventually, it will be a favorite lunch spot too.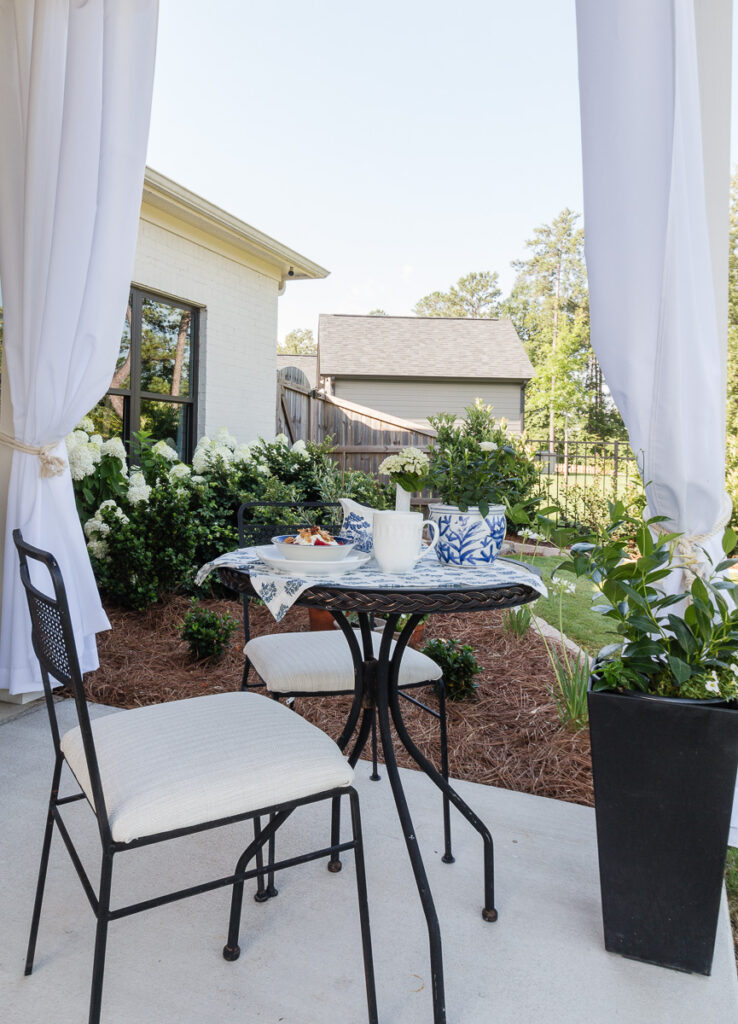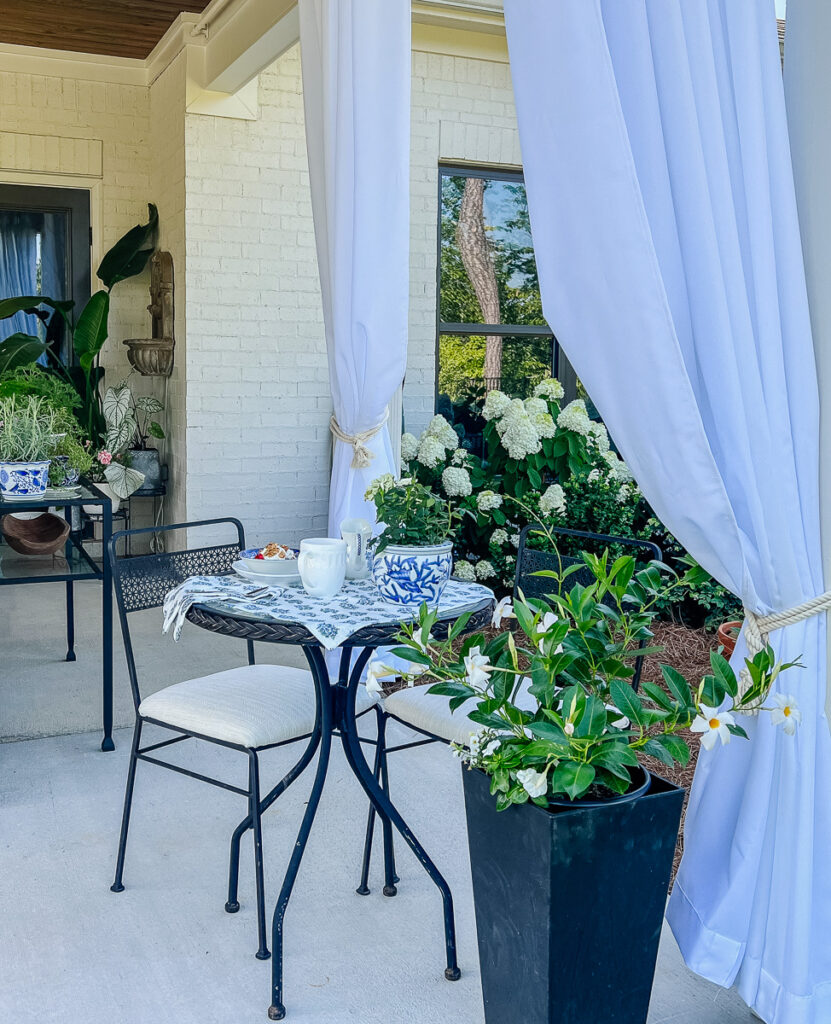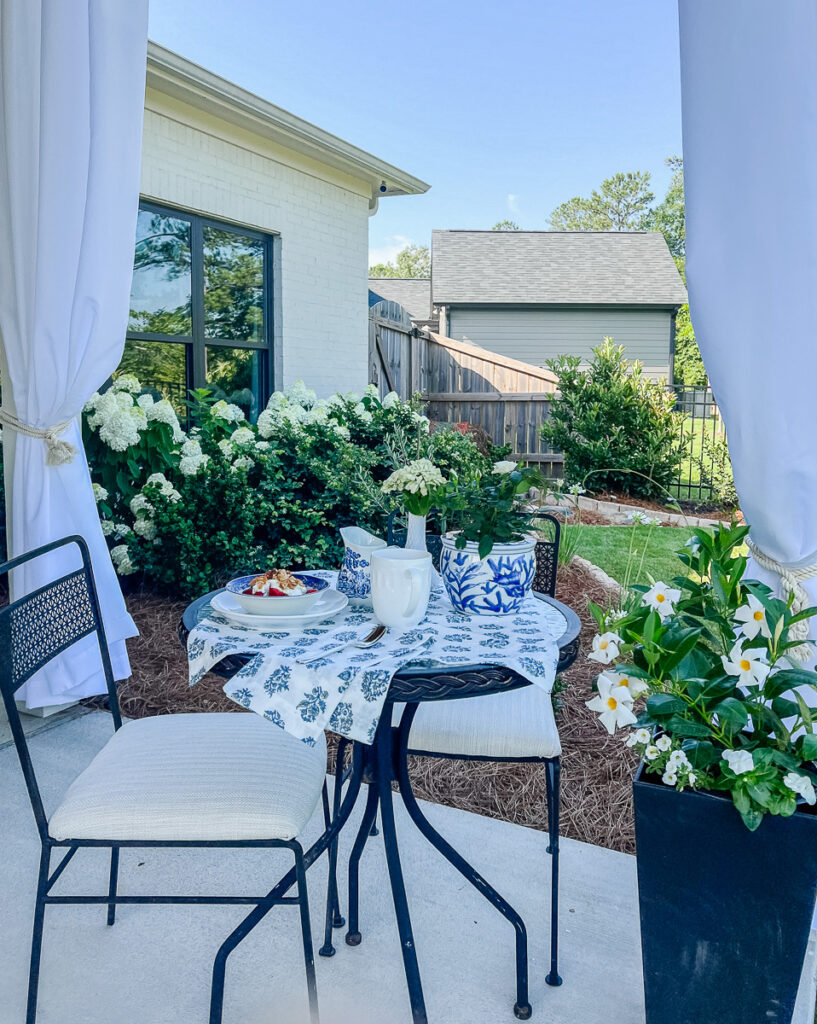 The Outdoor Curtains
Even before the expansion, we had considered adding curtains to the patio. The reality is that before those fabulous sunsets happen the sun is setting directly in line with the patio. It's quite uncomfortable to be in such direct sunlight, regardless of the heat. (Share glimpses of these sunsets often on Instagram Stories.)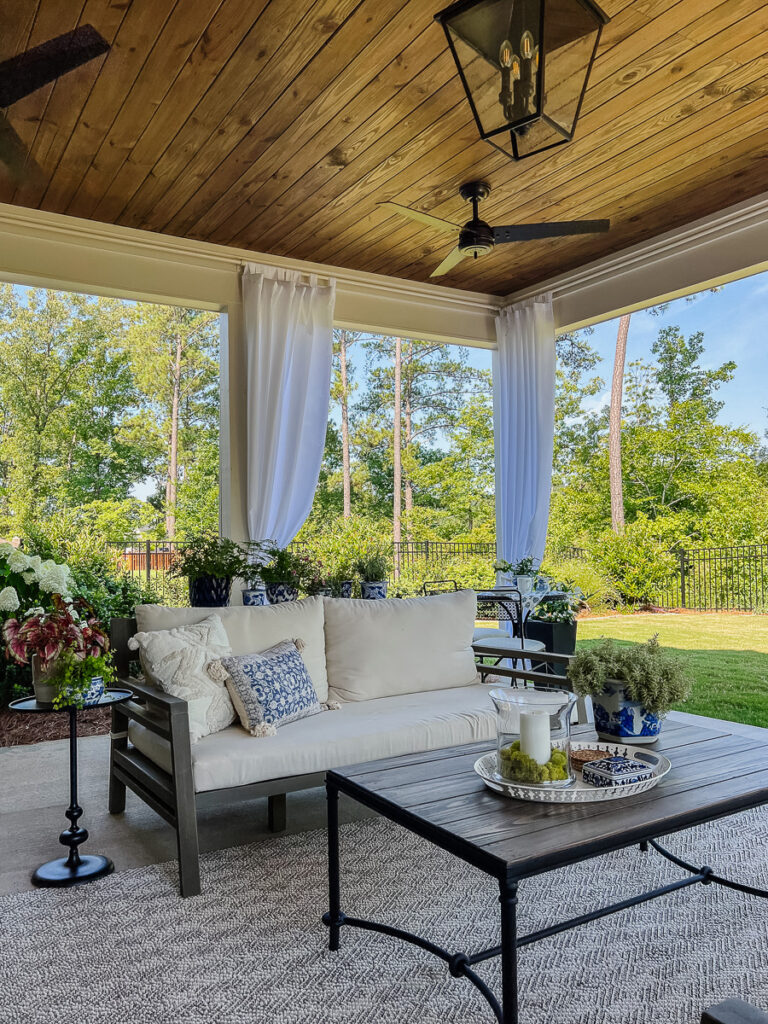 The image below was taken after the most intense sun.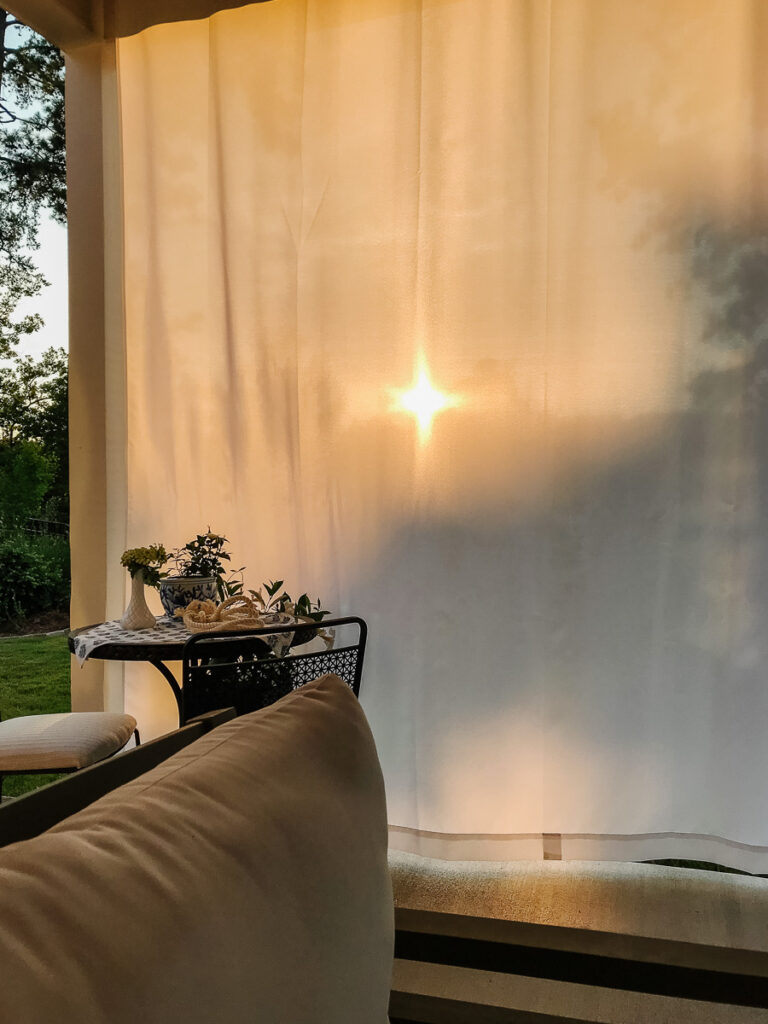 The curtains needed to offer protection from the sun, but not block the sun entirely. I wanted to be able to see when the sun was beginning to set so that we could slide them back and enjoy the view.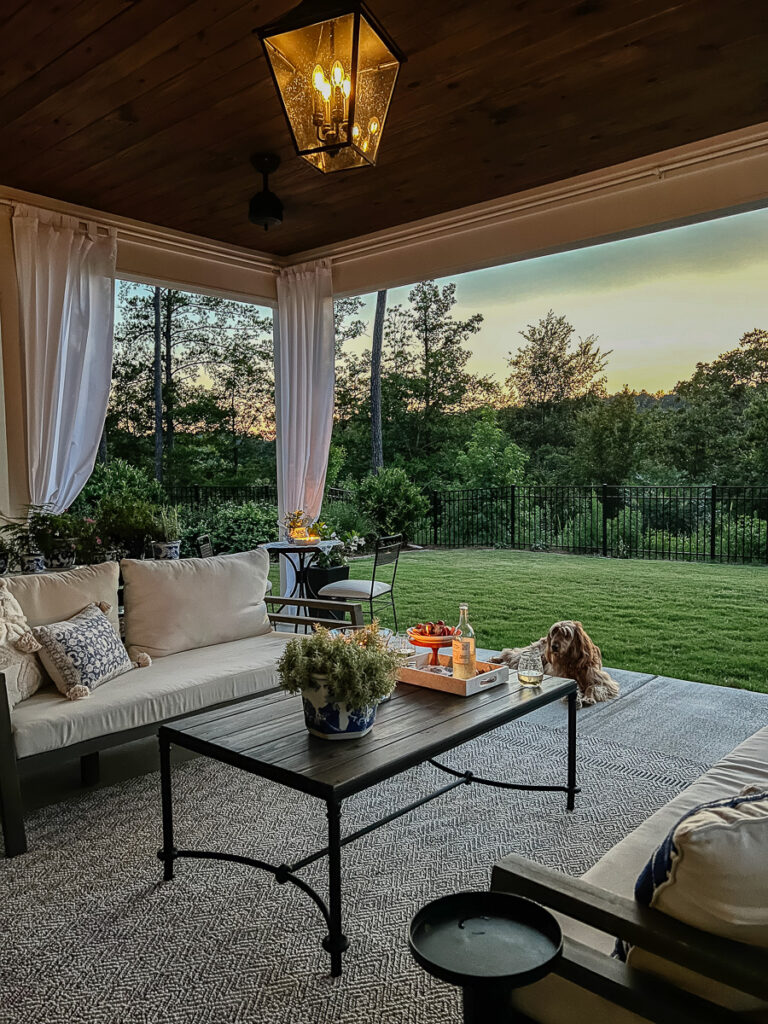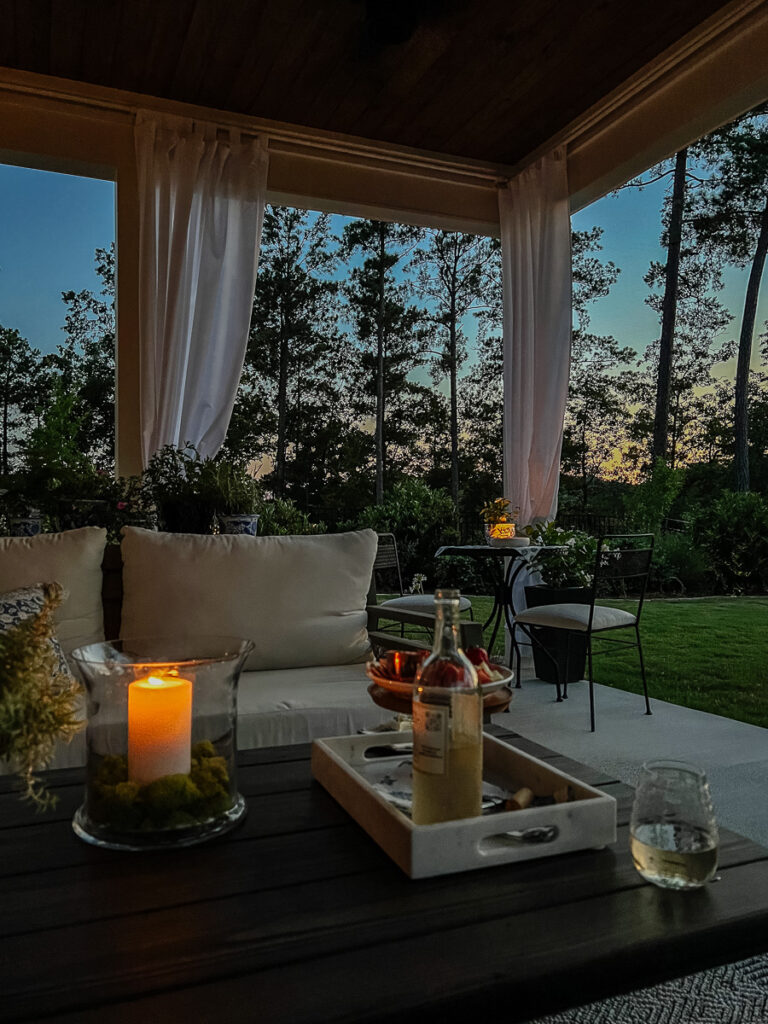 The curtains add the perfect bit of softness to the patio and elevates the room like qualities. Somehow the curtains help the patio feel more like a destination, one that I appreciate from inside as well.
I prefer the look of a tab top over a grommet. Although I will admit, they are slightly more fussy to move than a grommet, but working with the tabs is worth a little extra effort to achieve this look.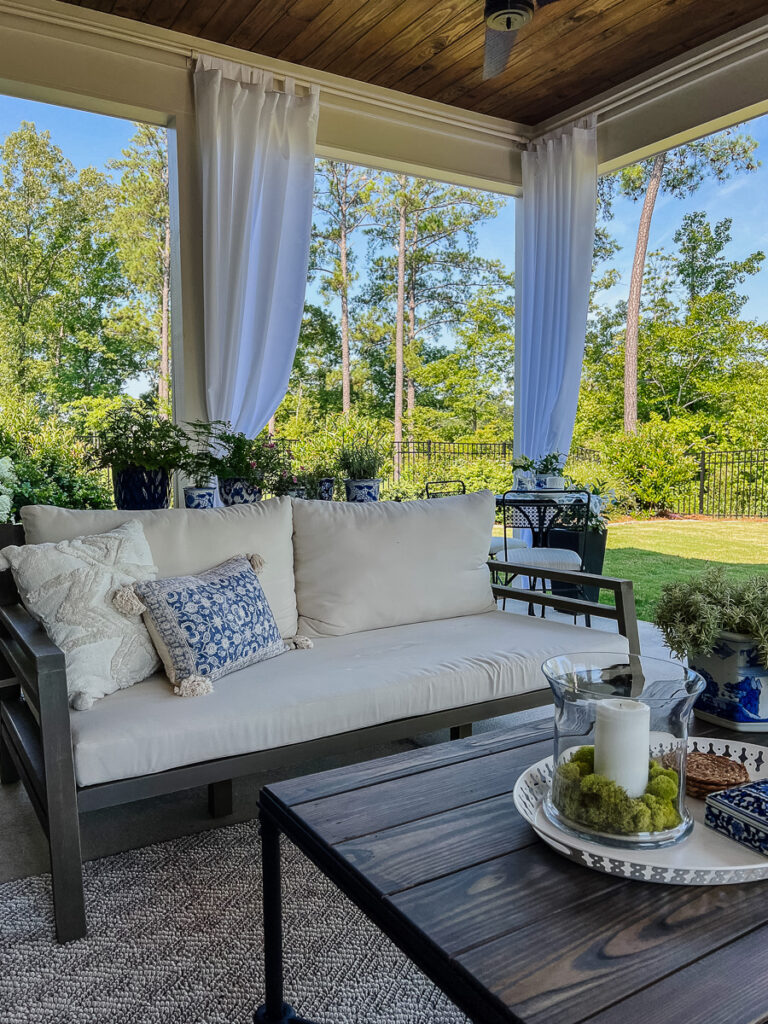 In the past, I have used conduit pipe to create inexpensive curtain rods. These are a bit heavier material and considered "construction piping." While it was a bit more expensive, special brackets are available and designed to work with these pipes.
I spray painted the rods and the brackets with primer and then a spray paint that closely matched our brick and trim color.
The tassels are actually two tassels looped together to go around the columns. I wanted to be able to just slip the loop into each other rather than tieing them up.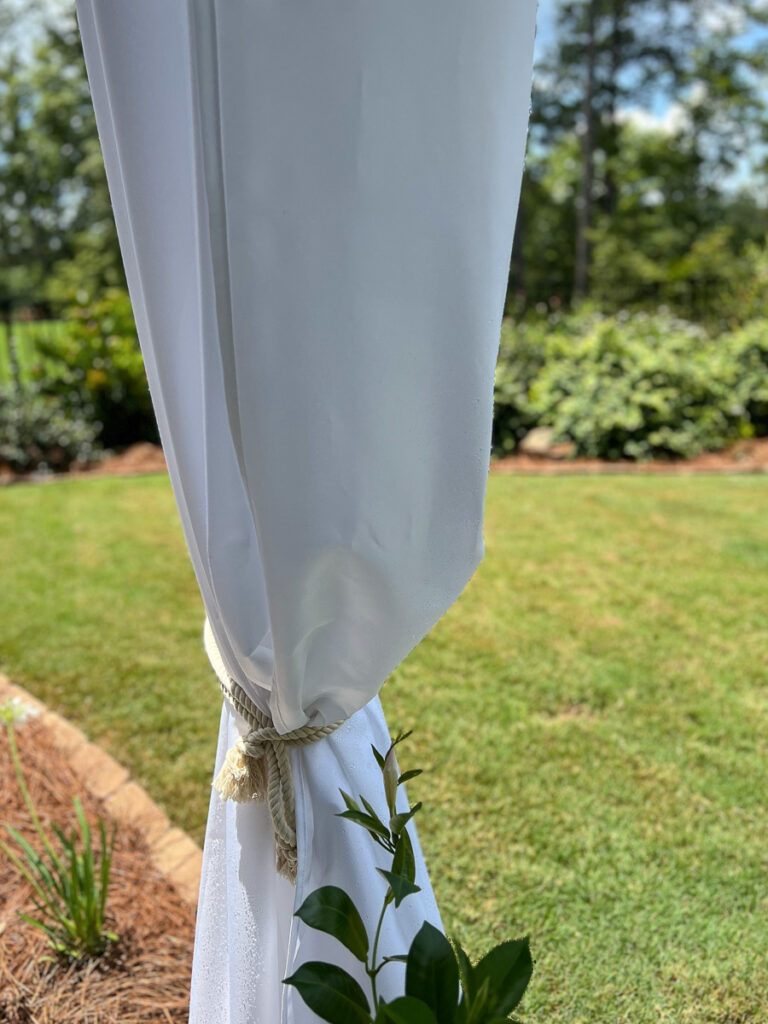 But I have found if a storm is coming, it's best to double loop them like this.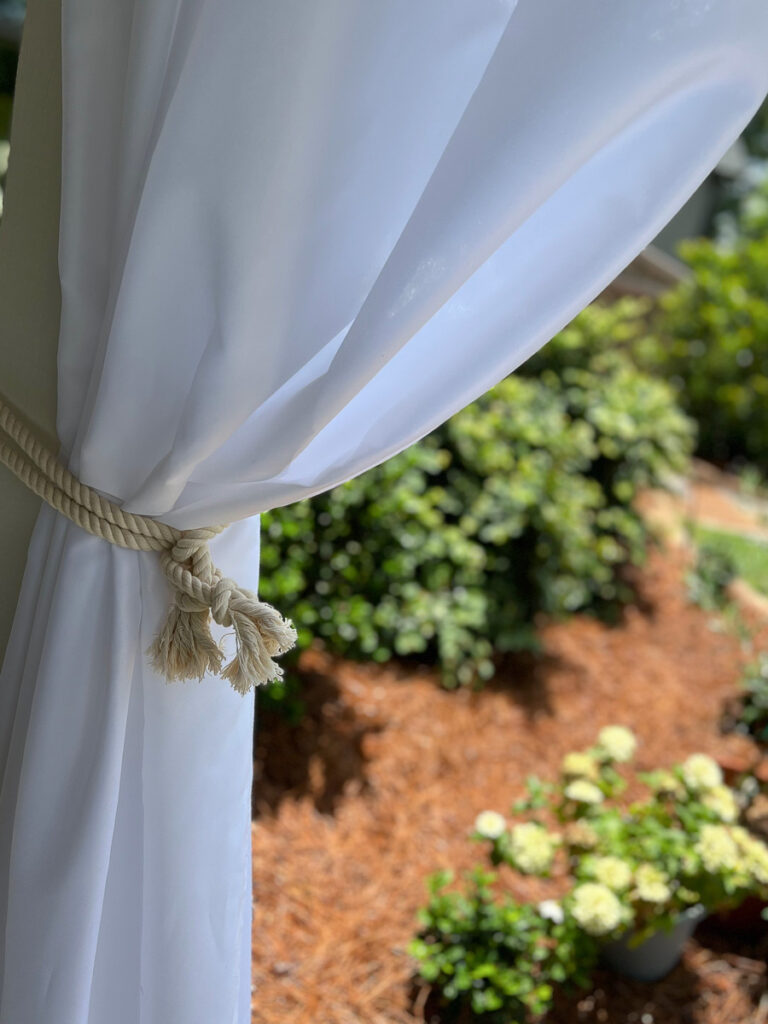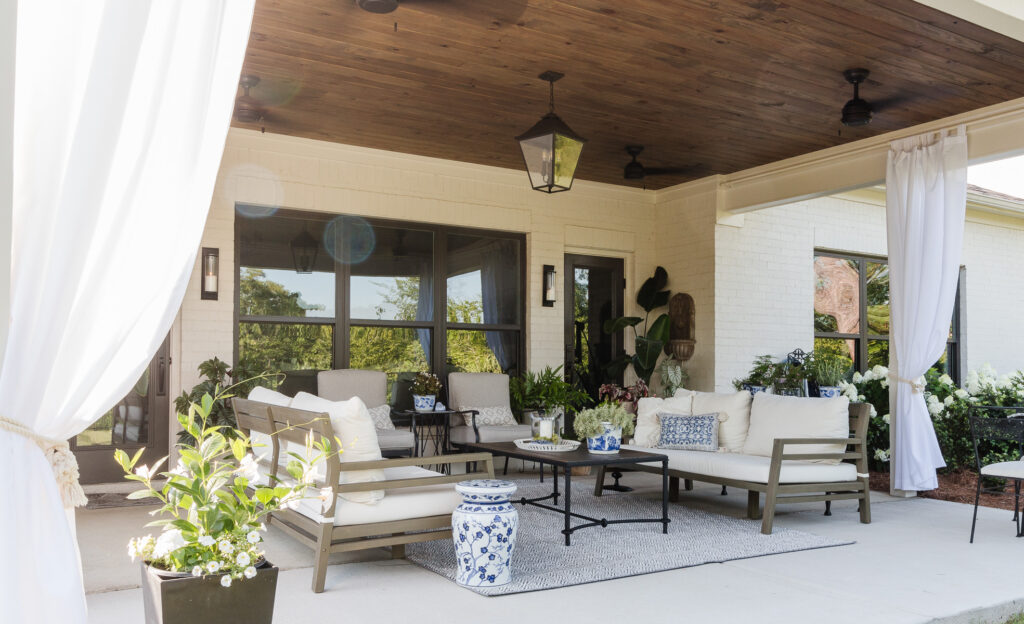 This expansion has given us the space to stretch out a little and truly share the patio comfortably with our friends and family.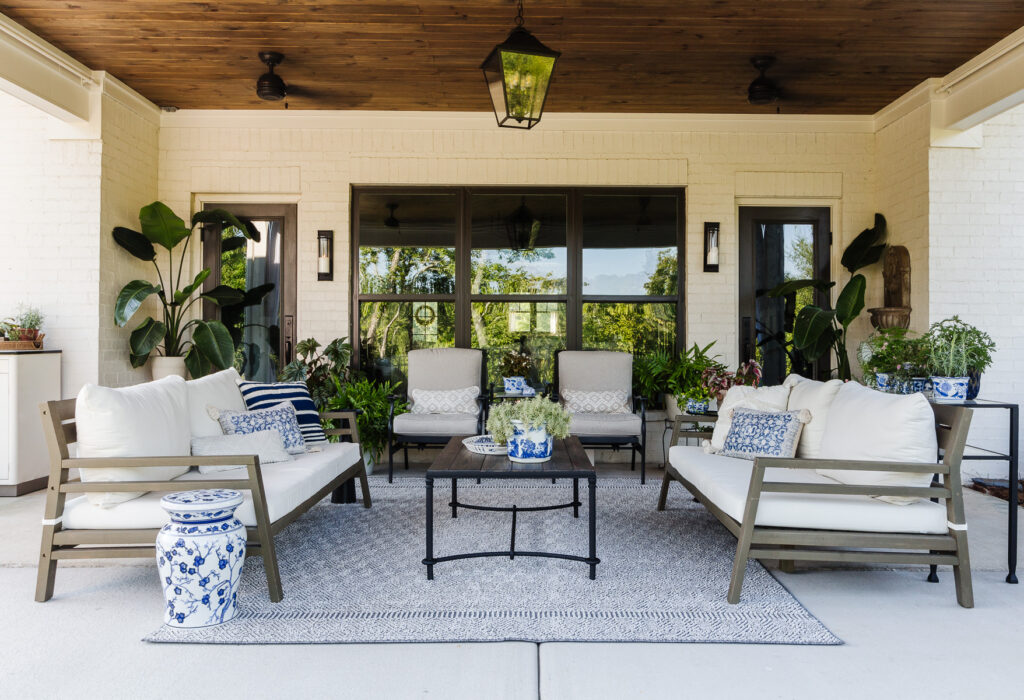 Shop our Patio