If you are new to Deeply Southern Home, welcome, I am Leslie! My goal, whether in my home or my client's, is to create rooms with a relaxed southern style. Although my designs are rooted in a traditional style, I love to experiment with color and a fresh interpretation of classic interiors. We recently downsized to a characterless new construction home. In the last year and a half and the past 3 seasons of the One Room Challenge, we have been injecting character and charm, in my trademark style of timeless finishes and lots of DIY projects!
Let's start the engines! It's time to get started on this season's One Room Challenge. I start off by giving an enormous thank you to Linda, the founder and organizer of this amazing bi-annual event, One Room Challenge™ The official media sponsor is none other than Better Homes and Garden!
I have to take a moment to bring in just a little bit of nostalgia for the event and what it has meant to me personally. Through the last 9 seasons and 3 homes over 11 rooms have been completely transformed. (If that math seems a little off to you it is because in my 8th season I was honored to be a Featured Designer and I tackled our living room, dining and foyer.)
This being my 10th season, the sheer volume of design and DIY that has been completed seems just a little surreal. It is visual proof that this challenge changes not only homes but improves and shapes lives. Lives that reach beyond just our own family. Many of those renovated rooms are now being enjoyed by other families!
Be sure to follow me on Instagram @deeplysouthernhome and my Facebook page Deeply Southern Home for behind the scenes on Stories, and sign up to receive my blog posts straight to your email inbox by clicking here.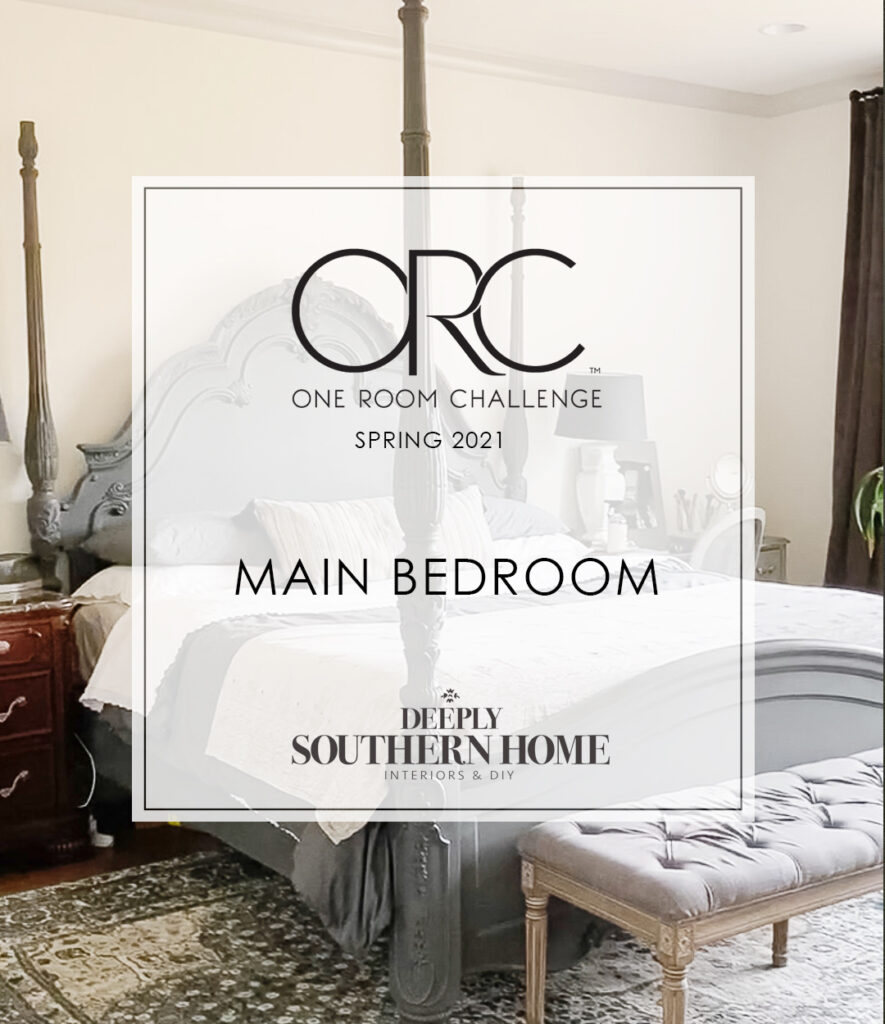 SO, if you read the title of the post you know I am tackling our Main Bedroom!
Main Bedroom Before
To give you a quick history of the room, when we built this house in 2019 we made one major change to the builder's original floor plan. The plan called for a pair of smallish windows on the wall facing the backyard. Because we paid a premium for a lake lot on a ridge, hence hashtag #lakeridgehouse, we wanted to capitalize on the view. We upgraded to a bank of three windows along that back wall. It was without a doubt some of the best money we spent in this house.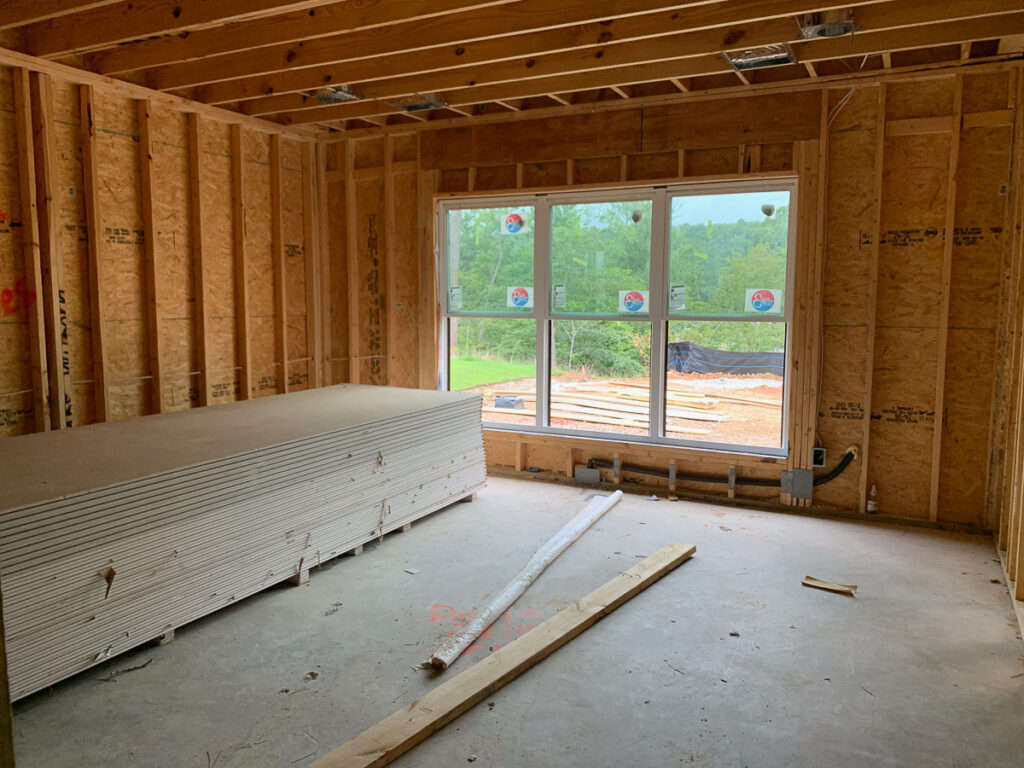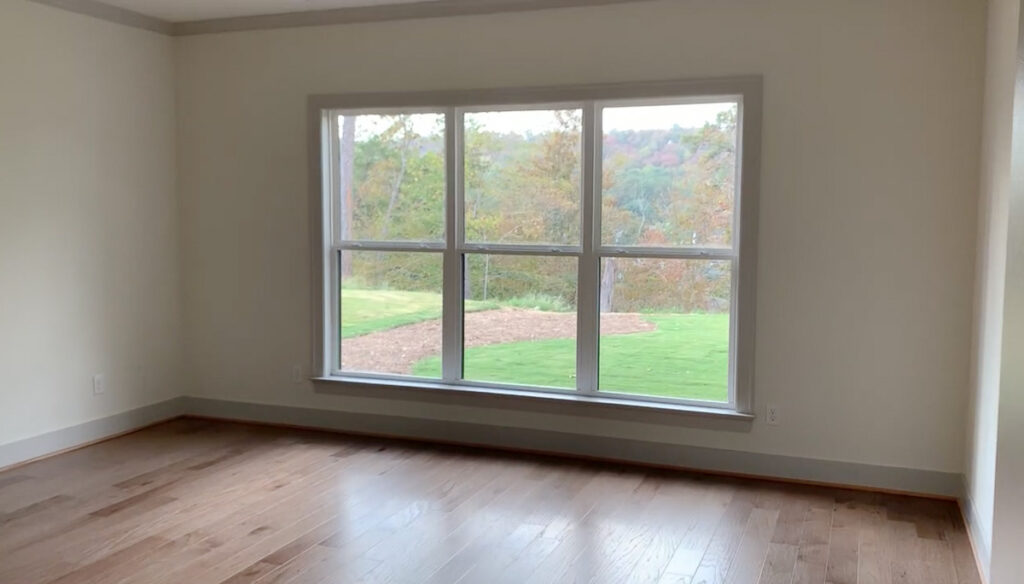 Over the last year and a half, my efforts have been focused on adding upgraded finishes to the kitchen for the Fall 2019 One Room Challenge. In the Spring of 202o, we did the same to the living, dining, and foyer. Most recently, in the Fall of 2020, I added functionality by reconfiguring the Laundry Room and added a dog washing station!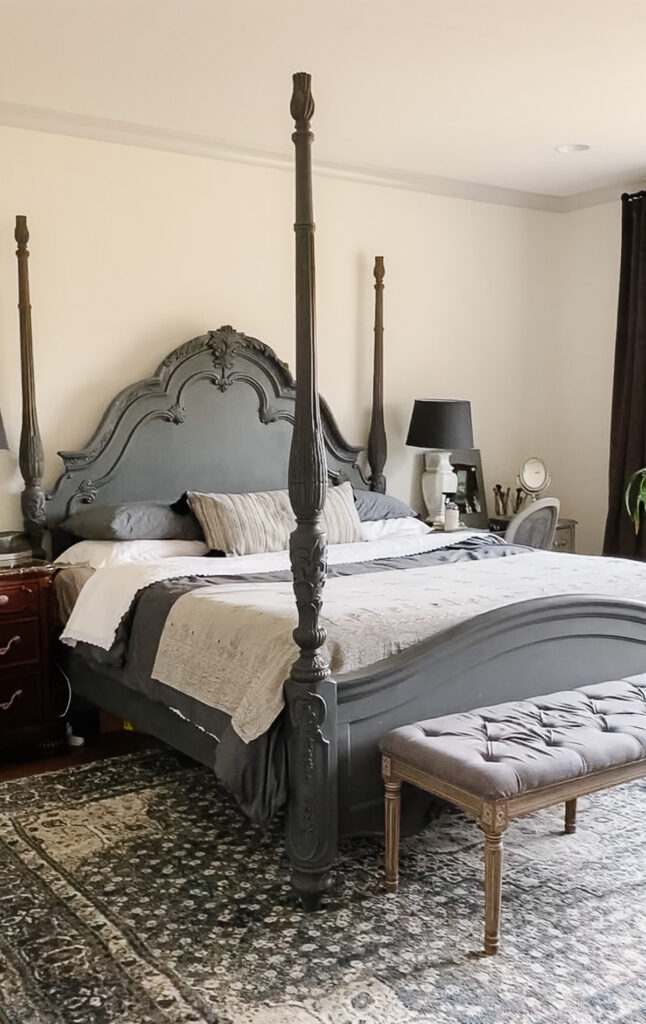 Like most people, the main bedroom is one of the last rooms to receive any type of real decorating attention.
Here is what it looked like in the fall of 2019, and pretty much how it looks now minus the fall prints which are now sporting their spring look.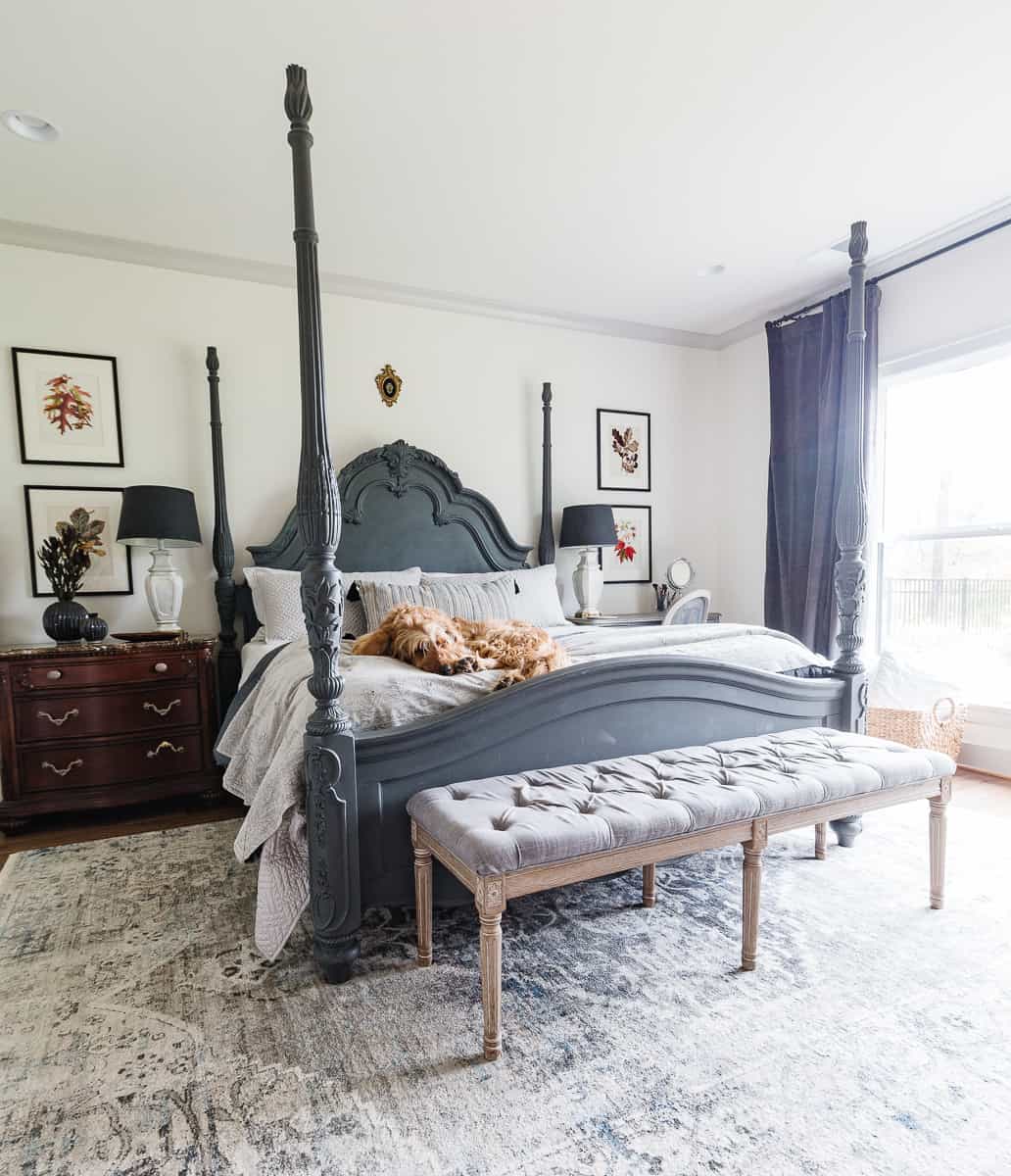 There's nothing really wrong with the way this looks. It's fine, but when you've lived with more than fine before you know it can be better.
Take for instance our main bedroom from the Fall 2018 One Room Challenge.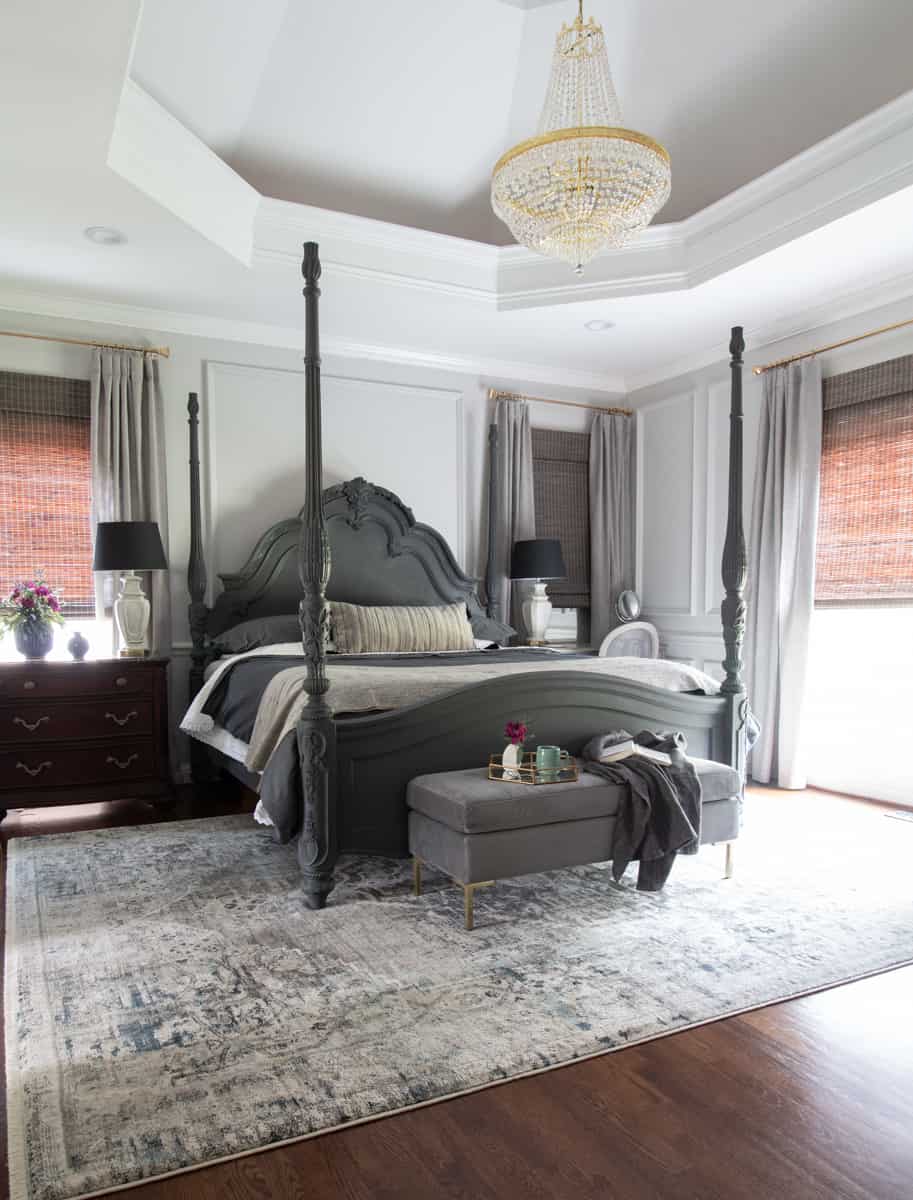 We added panel moulding around the room to add architectural balance to the vaulted ceiling. I called this room the "Shades of Grey" Master Bedroom.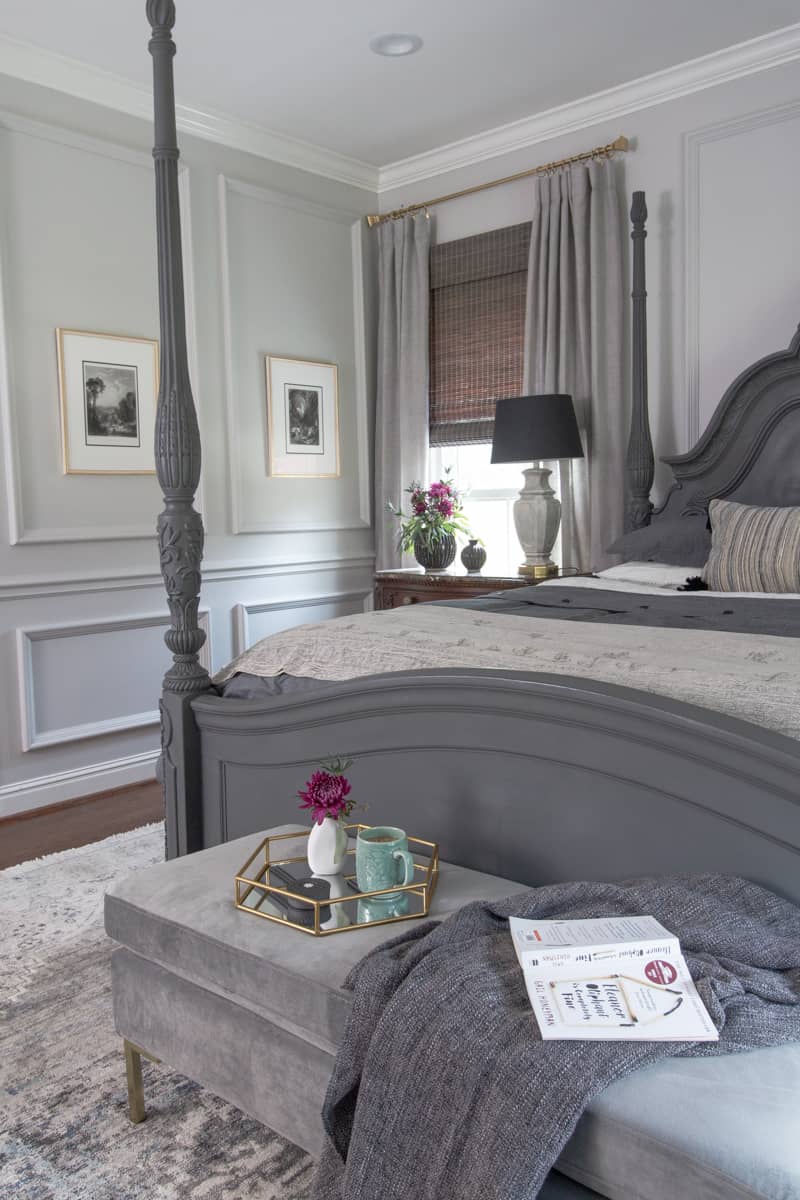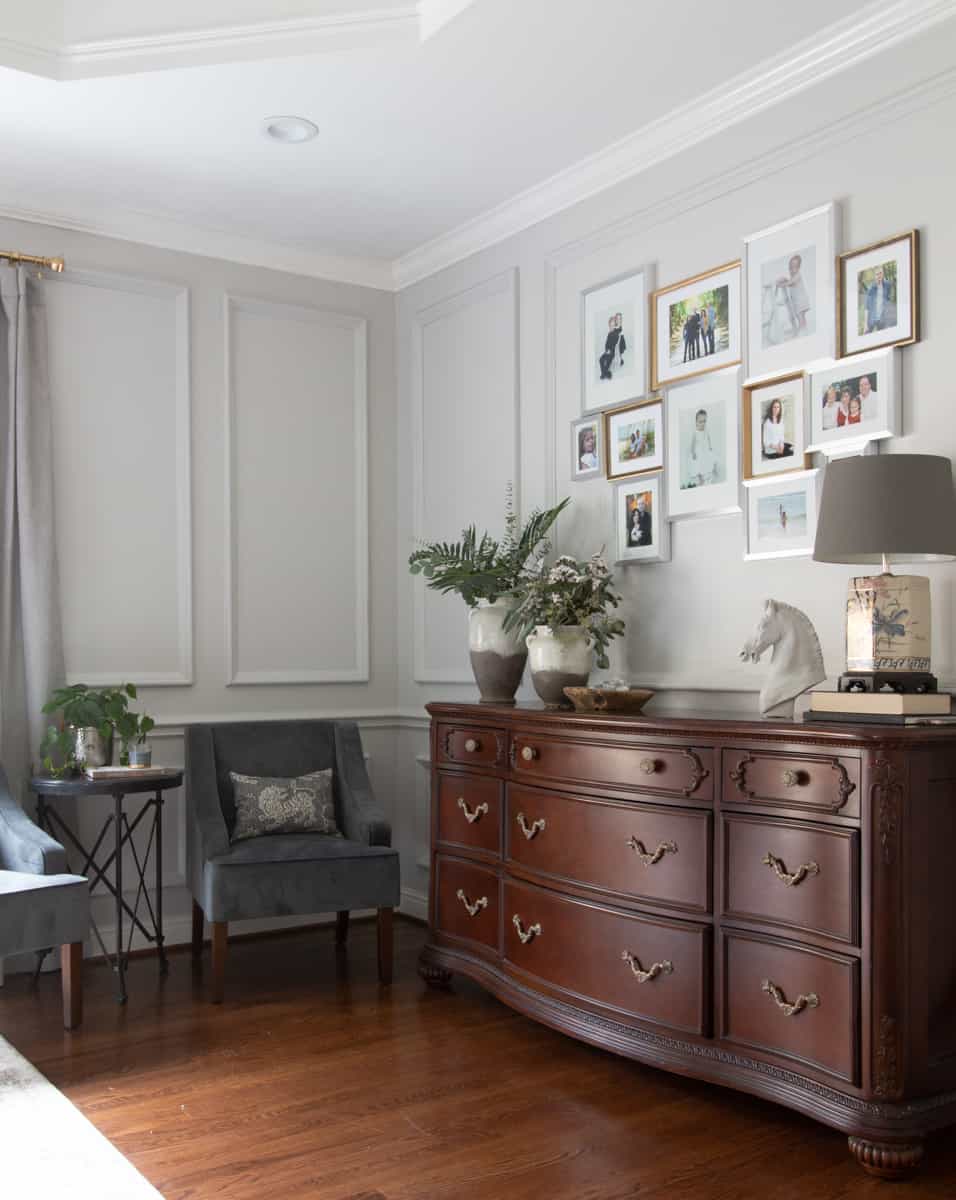 While there will be a few similarities between that bedroom and what is to come in our new bedroom, there will be some dramatic differences.
What's Staying?
This week, I'll start by telling you what will stay the same.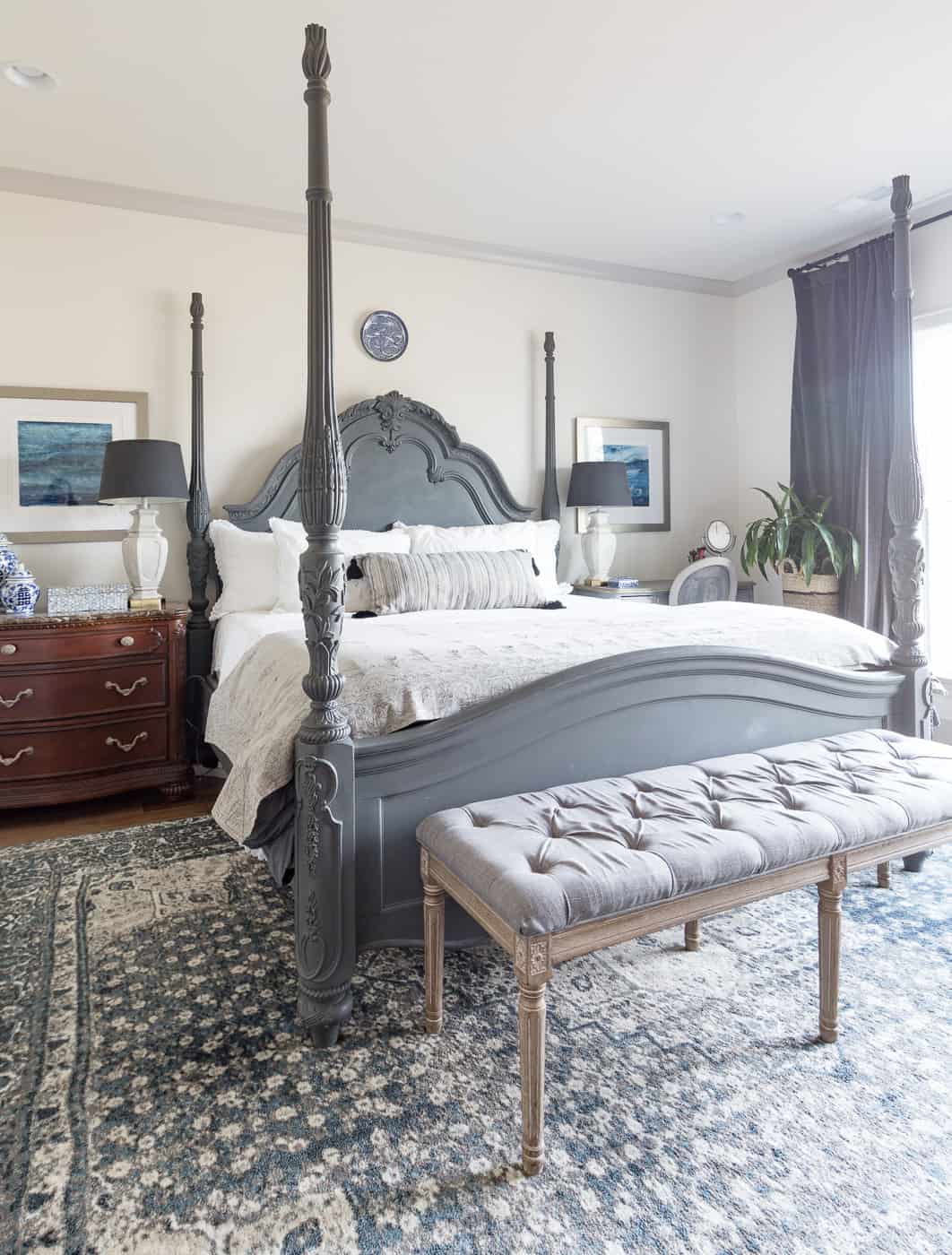 The four-poster bed. I have to admit that I am emotionally attached to this bed. We have had it for 16 years. While that doesn't seem like a lifetime, purchasing this bed was an emotional experience for me. Before this one, the bed we had was very similar in shape and style but was ruined when an enormous tree came through the roof and impaled the bed during Hurricane Katrina. To me, this bed is symbolic and a testament to God's providence and His protection. My husband had planned to be in that bed that night. But by the grace of God, he decided to evacuate and meet the rest of us at a friend's house out of town.
The antique vanity I use as a night stand is staying, although it could use a new paint job.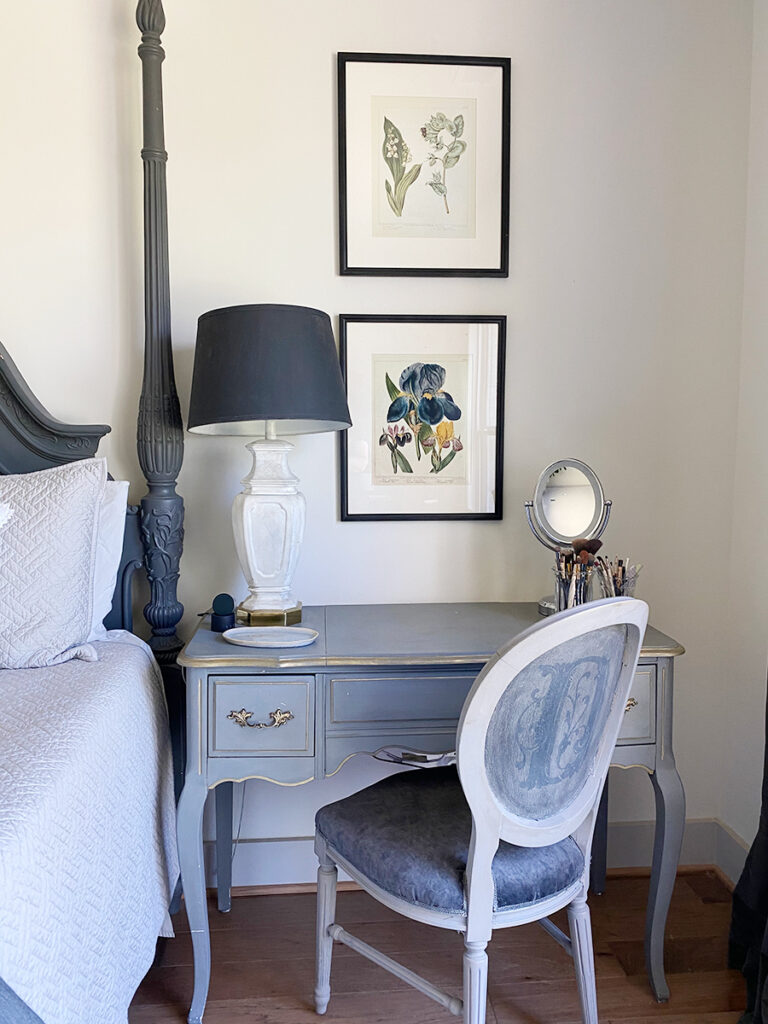 I absolutely love this little piece. It is the perfect place to sit while applying my makeup and has just enough storage for everything I need.
The antique French Louis chair will also be staying but will be completely reimagined. I can't wait to share more about this!
The main dresser will remain, but because it was damaged in our last move, it will get painted.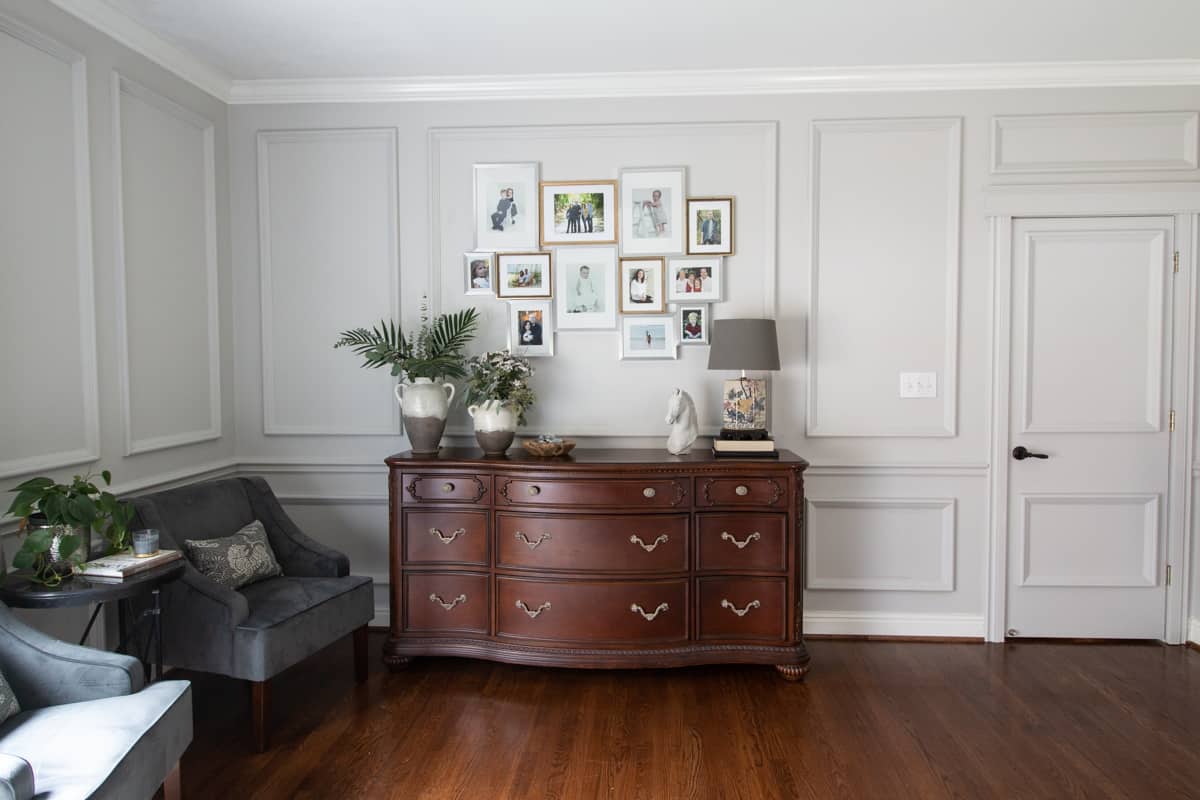 I will also be keeping most of the bedding. This quilt is lovely, just a few months old, and we really love it. The dark grey velvet curtains will also be staying although they will get a little embellishment in the way of trim. The way the curtains function will be completely transformed!! If nothing else, stay tuned for this change alone. I promise you it is LIFE CHANGING!!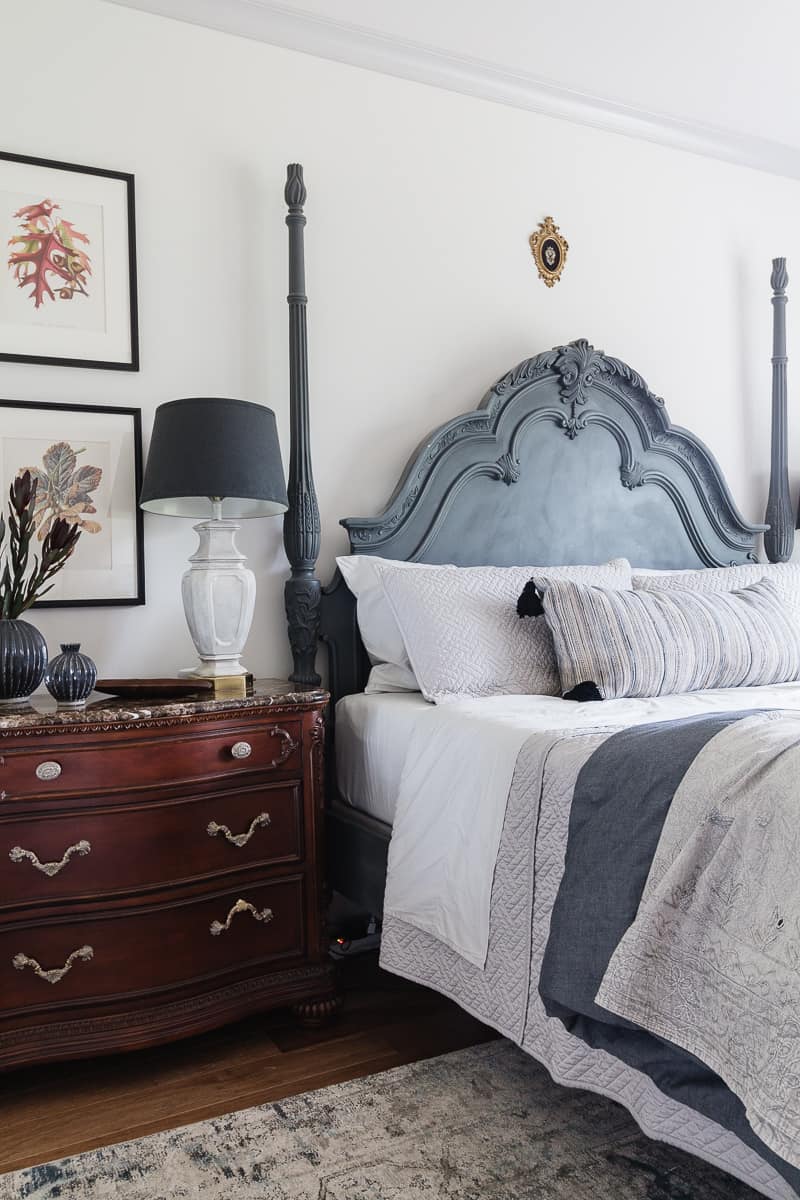 So then you may be wondering….
What is Changing?
Everything else! The walls are getting embellished, a dramatic new color is going on the walls and ceiling, the ceiling is getting some serious architectural enhancements, all new lighting, a luxurious new rug, a new bedside table and of course there will be a few more surprises to come.
While we have 8 weeks for this season's challenge, we are still in a period of unprecedented times. Shipping schedules are severely impacted by world conditions and I have had sponsors regrettably not participate because their product just can not be delivered in time. But, no matter what, the best will be made of the conditions and this will be an amazing makeover!
I hope you are intrigued to follow along with the many DIY's and projects I've got planned! I'd love to have you along for what is sure to be an informative and hopefully inspirational ride!
All of this would not be possible without the support and contributions from these amazing sponsors!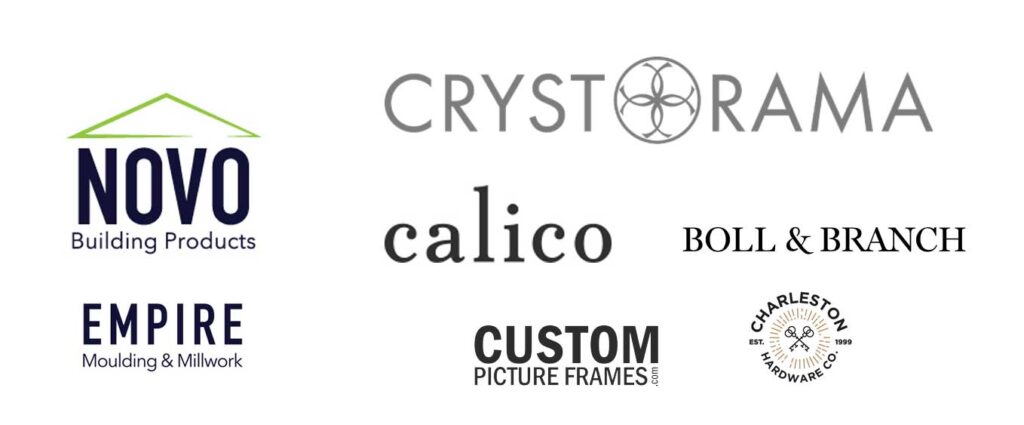 Novo Building Products and Empire Moulding and Millwork || Calico Fabrics 
Crystorama || Custom Picture Frames || Boll & Branch || Charleston Hardware Co.
Be sure not to miss this season's Featured Designers and the Guest Participants links at the One Room Challenge weblink up! As always, special thanks to the One Room Challenge media Sponsor, Better Homes and Garden and to Linda owner and creator of the One Room Challenge.