Welcome back to week 2 of this season's One Room Challenge. This week I'm sharing the Mood Board and the rest of the design plan. Last week, I talked about what was staying in our Main Bedroom and what was going. I mentioned in my Instagram Feed this week that really it's a little of a replay from our previous Main Bedroom and a good friend of mine suggested it's a sequel! I love that concept.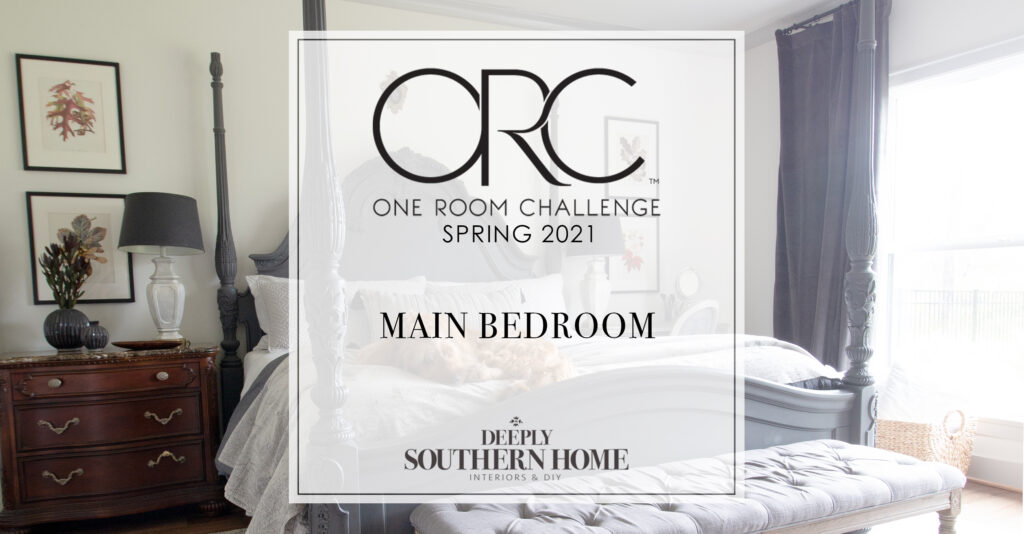 What is the ORC?
Thanks to Linda, the founder and organizer of this amazing bi-annual Interior Design event, the One Room Challenge™ there have been hundreds of amazing room makeovers over the years. The event encourages and inspires room makeovers of 20 Featured Designers and hundreds of Guest Participants, like me. The official media sponsor is none other than Better Homes and Garden!
If you need to get caught up on the previous week's progress updates and design plan check out these posts.
Week 1- the Intro || Week 2- Design Plan || Week 3 -Powered Curtains|| Week 4 Small DIY's
Inspiration
Let's start with a few inspirational images. Like most of my rooms, this design started with the traditional architectural embellishments of applied moulding. You might remember the treatment I added to our Shades of Grey main bedroom and en suite bathroom several years ago, both for the One Room Challenge.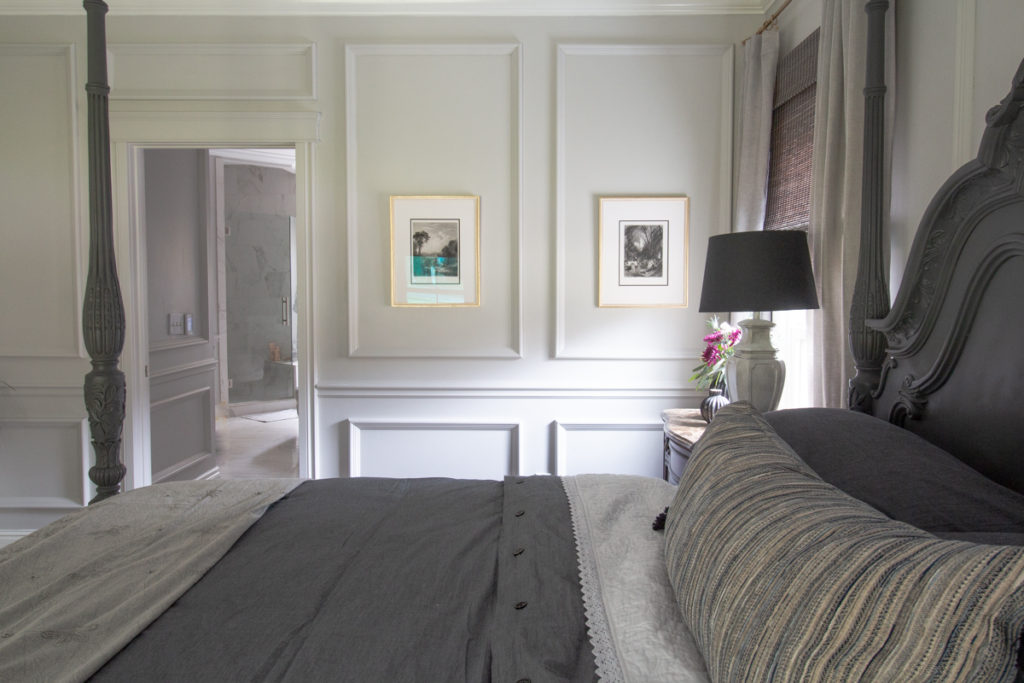 This time the way the moulding will be installed is directly inspired by the powder room I created for the Birmingham Symphony Designer Showhouse a few years ago.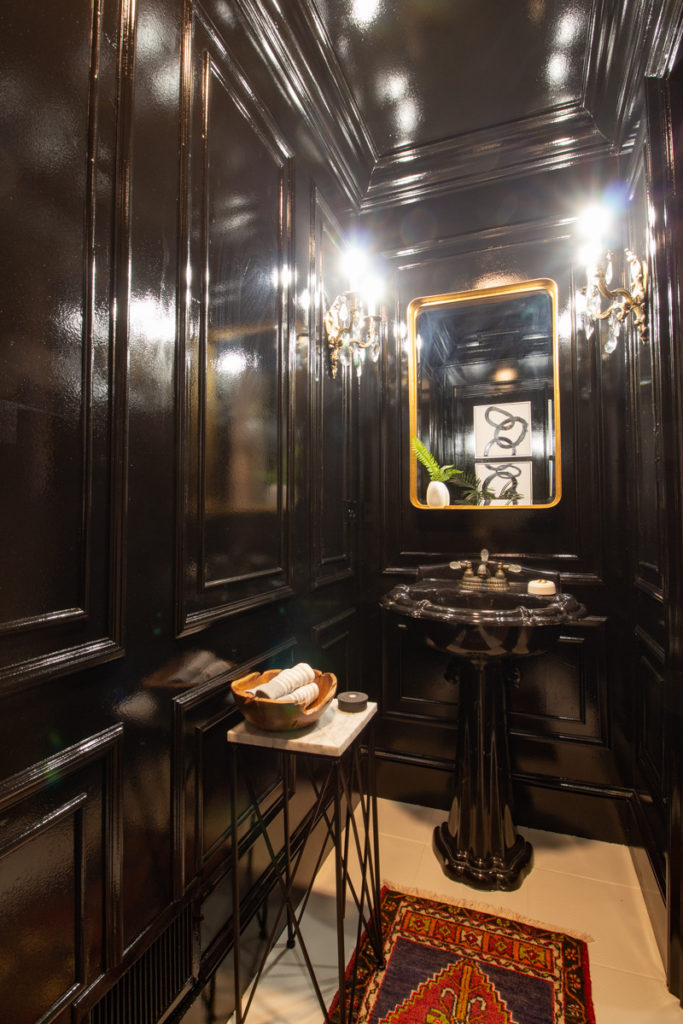 In this room, I took a slightly more modern approach to the panels by choosing to leave off the chair rail. The addition of the smaller panel inside the larger panel is also a feature I absolutely fell in love with. It feels grand and updated at the same time.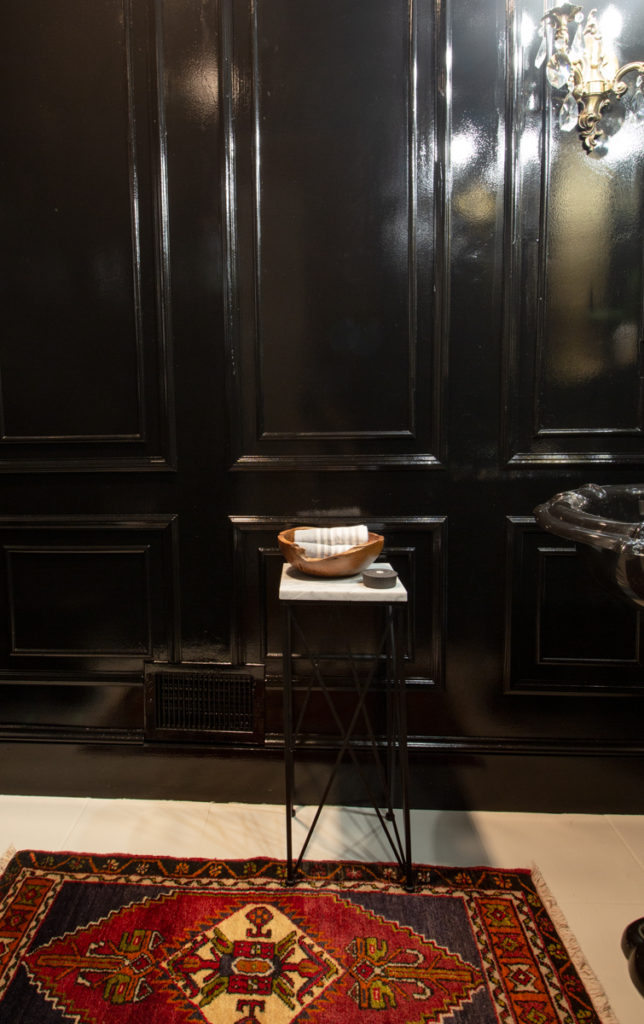 But the panels are just the start of the details I am adding in our fairly large bedroom.
On the ceiling, coffered details, something like this will be installed.
As a reminder, this is the before with the bed that is staying. You can see the rest of the room, what's staying and what is changing in the Week 1 blog post.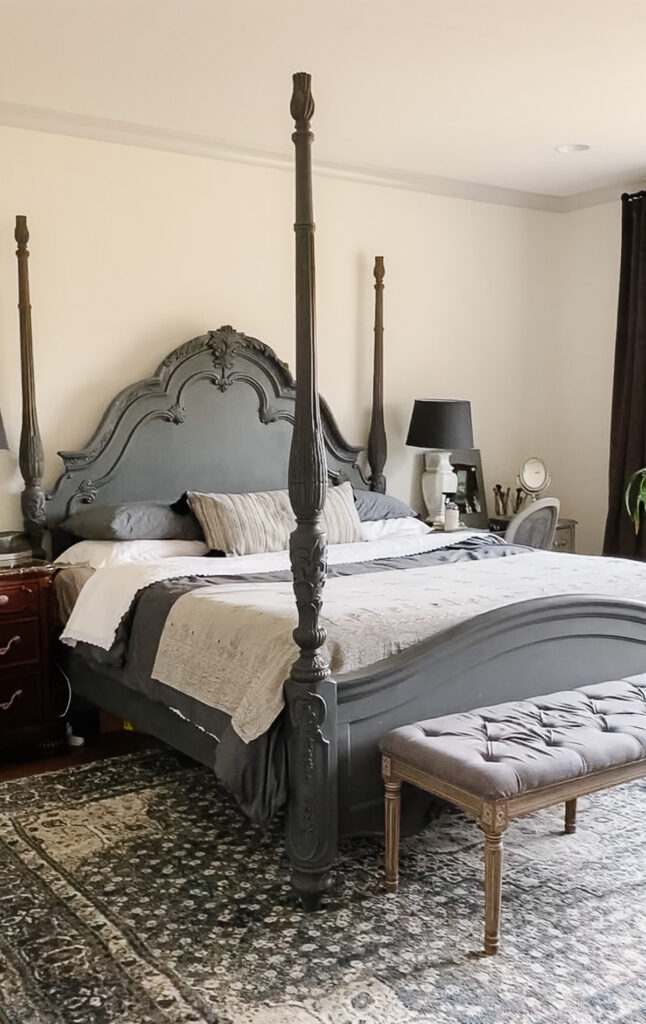 Mood Board
Madison Sconces from Crystorama || Sultan Treasures Floral Yazd Grey by Couristan || Fabrics by Calico
If you study this board closely, you might notice all of the furniture is existing, antique, or being repurposed. As of right now, there are no "new" pieces of furniture. That was not necessarily by design. The times we are living in, with endless shipping delays and backorders, have made it extremely difficult to source new furniture. Even just finding the right small side table for beside the armed chair has stumped me.
Fabrics from Calico
I am extremely thankful for my partnership with Calico Fabrics. The reimagining of all of this furniture couldn't happen without these amazing fabrics.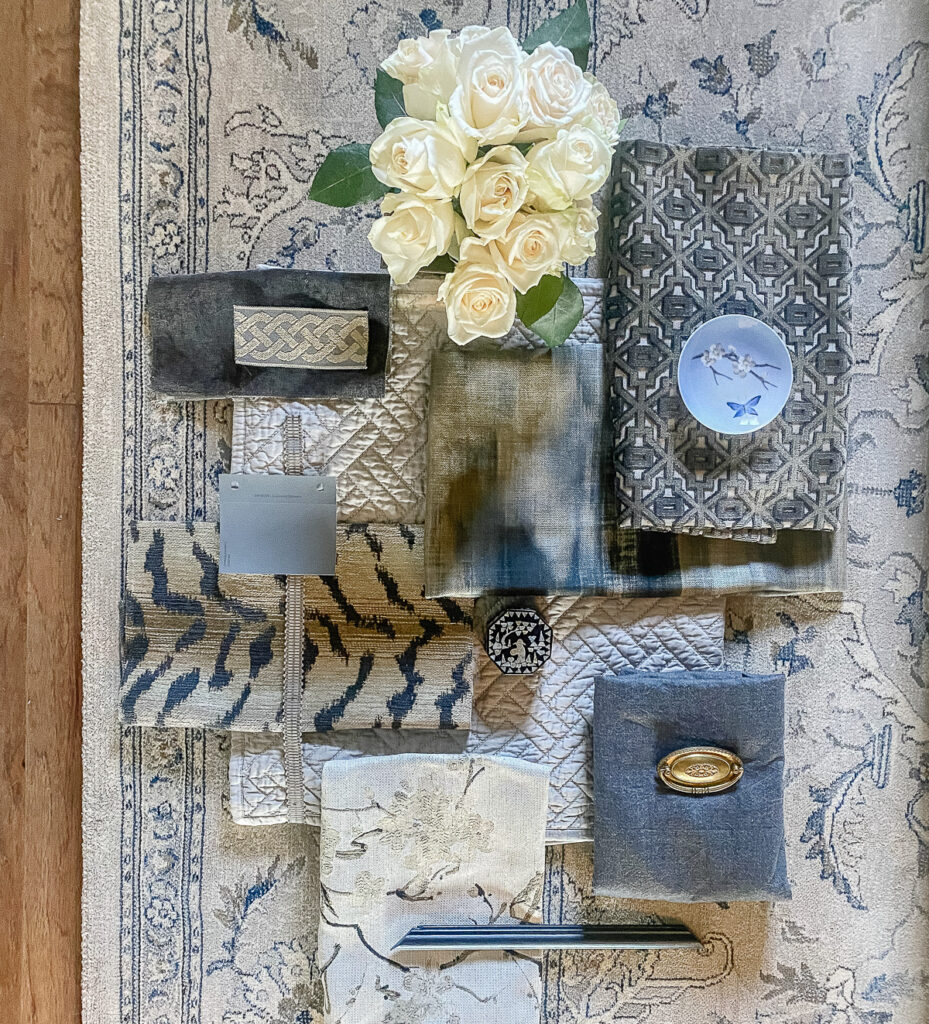 Clockwise from top left. Tape for curtains in Pewter, Watercolor Fabric: Cedar Rock-Luxe Collection Charcoal, Geometric cut Velvet: Social -Luxe Collection Carbon, Animal Stripe, Zebu-Crypton Home Coal, Beige Modern Chinoisere: Emilia Dove
I am waiting for the fabric to arrive to complete my part of these transformations. Then I will be reupholstering the two French Louis chairs.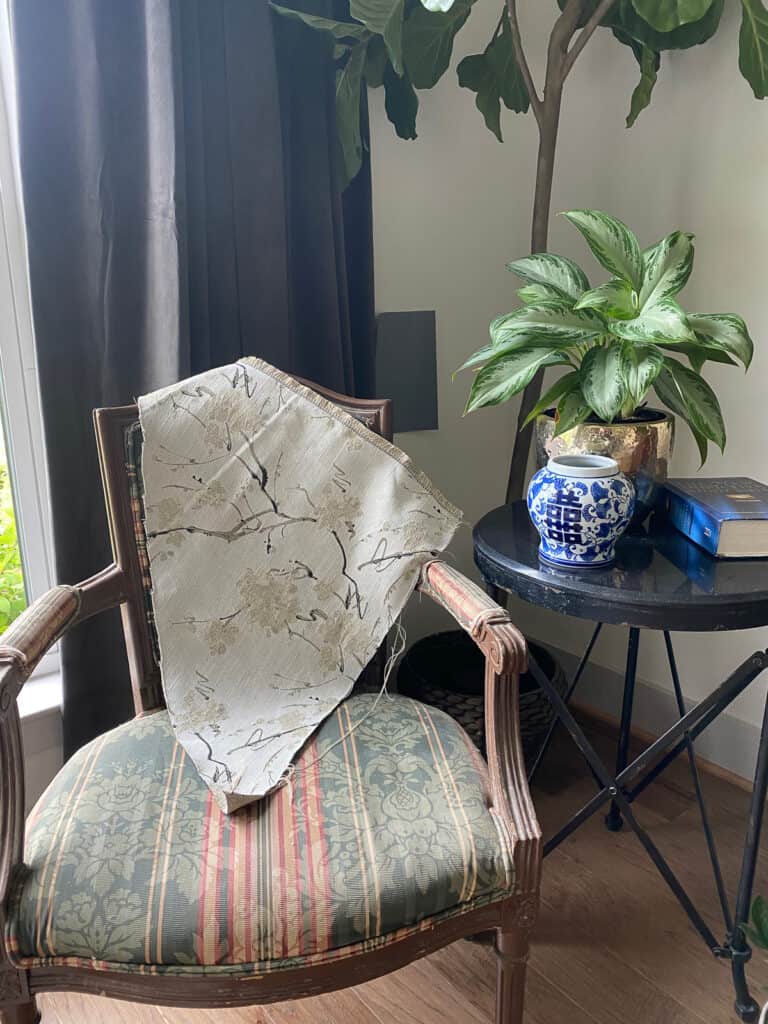 Progress
This week I don't feel like I have much to show as far as progress. Still working on securing things like hardware for the antique bedside table, (One of the handles is broken) tracking down all of the moulding and accepting shipments, administrative things like that.
I did start on painting the large dresser in the room. This is just the primer.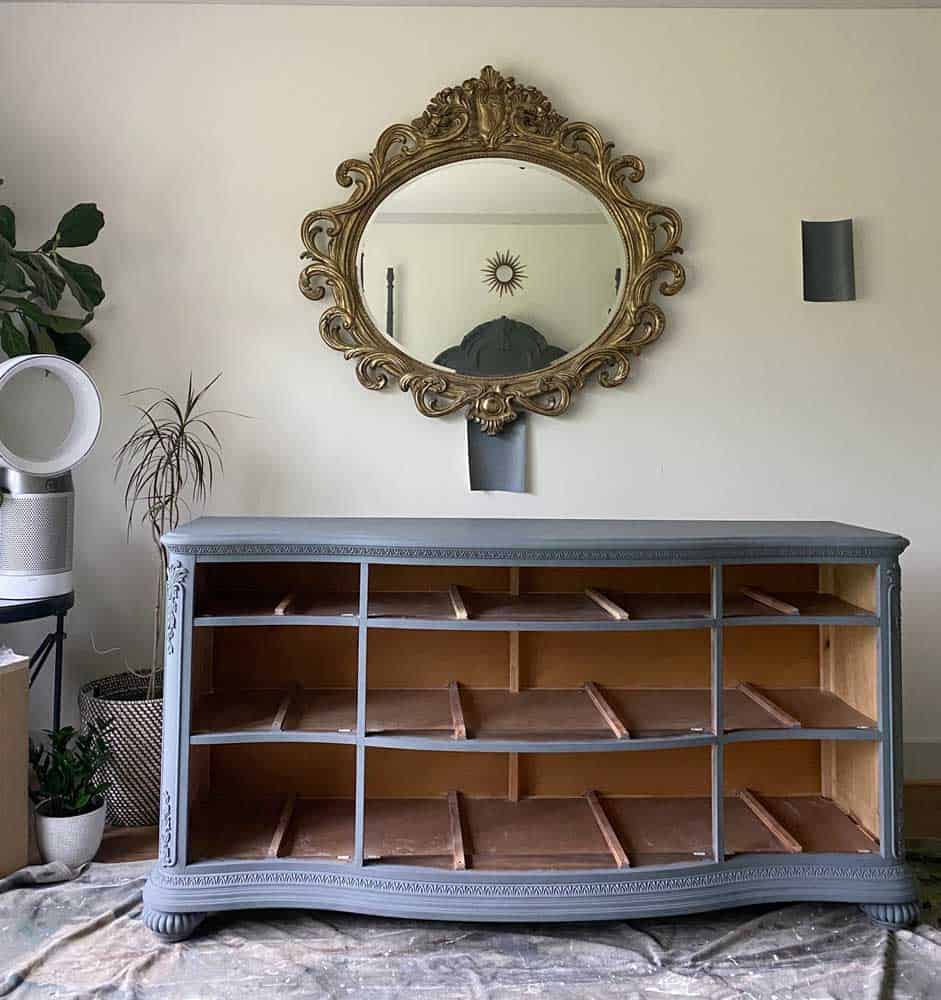 The only other piece that is not completely decided upon is the wall color. If you follow me on Stories, then you know I sampled a color on the wall and was fairly disappointed. I hoped to paint the walls a deep grey-blue. But the sample I tried had a fair amount of a purple undertone. Sadly, I had come to this very conclusion a few weeks ago, but changed my mind and got a "sample". Because of shortages in plastics and paint, I could not purchase a sample pot of the paint to see it in the room.
My only option was to purchase actual, high-quality paint. I guess I have a very expensive primer to start with.
The rest of my moulding should arrive this week, but my contractor who is installing the coffered ceiling overbooked. He won't be able to install anything until next weekend.
Because the plan is to line the panels on the wall up with the coffered ceiling, I don't want to start that part of the project until the ceiling is complete.
At this point I am extremely happy this is an eight week challenge instead of six!!
All of this would not be possible without the support and contributions from these amazing sponsors!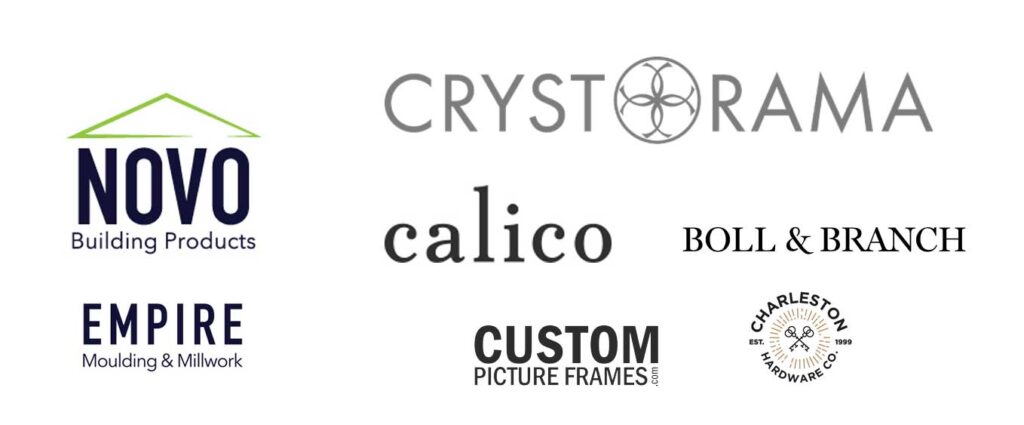 Novo Building Products and Empire Moulding and Millwork || Calico Fabrics
Crystorama || Custom Picture Frames
Don't forget to check out the Featured Designers and the other Guest Participants at the One Room Challenge website! It's so much fun to follow along. It's like over 300 DIY shows going on at once!!As always, special thanks to the One Room Challenge media Sponsor, Better Homes and Garden and to Linda owner and creator of the One Room Challenge.