To be clear this is not a reveal of the Basic to Beautiful: a Casual Traditional Kitchen Reveal for the Fall 2019 One Room Challenge.
Sadly, our kitchen is not completely finished. Most importantly, we are waiting on a few key items to arrive. I am hopeful everything will come together by the end of the week. As a consolation I thought I could at least share what is finished. The Pantry! I think it very well might be worthy of it's own post.
My goal for this season's ORC is to transform our brand new builder kitchen into to the Classic Traditional Kitchen of my dreams. A kitchen that feels polished, yet relaxed, the depth of texture and character of an older home, with a touch of tudor cottage. Because I was working with a brand new kitchen I thought it might be easy enough to add the pantry makeover into the mix as well.
You can also visit the previous weeks here, Week Four, Week Three, Week Two and the Week One posts!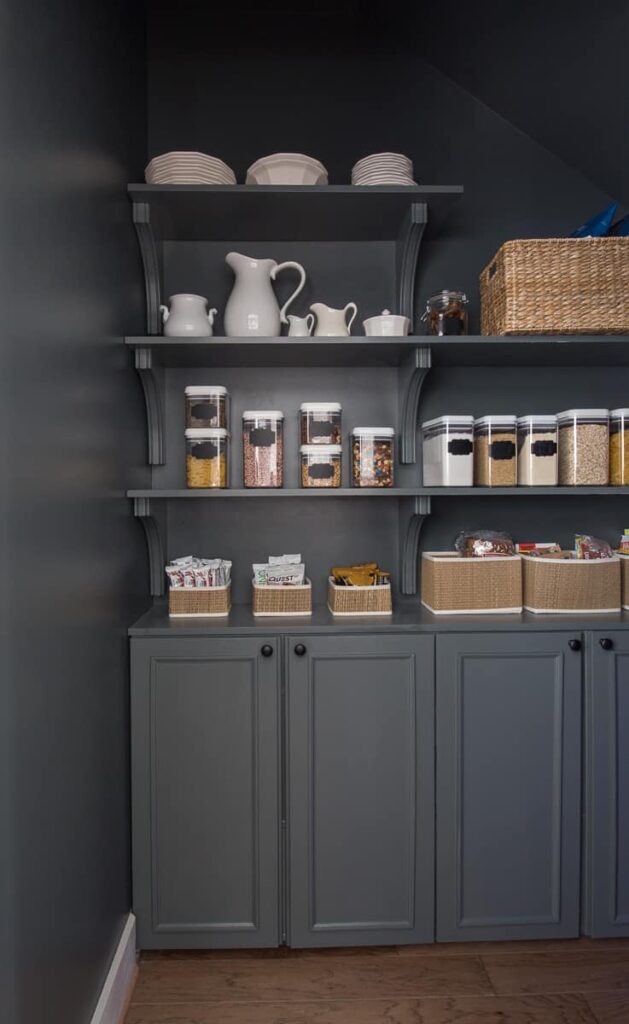 To quote my Mom, "Maybe you should have just done one room?" Maybe so, Mom, but then I wouldn't be almost done with my beautiful new kitchen and I wouldn't have this amazing pantry.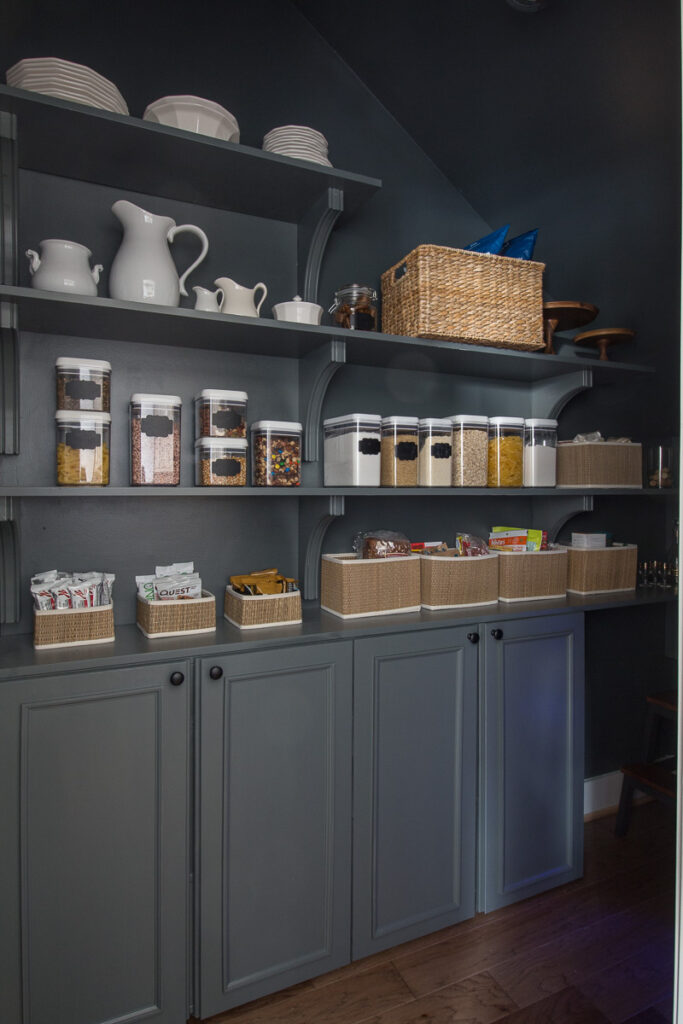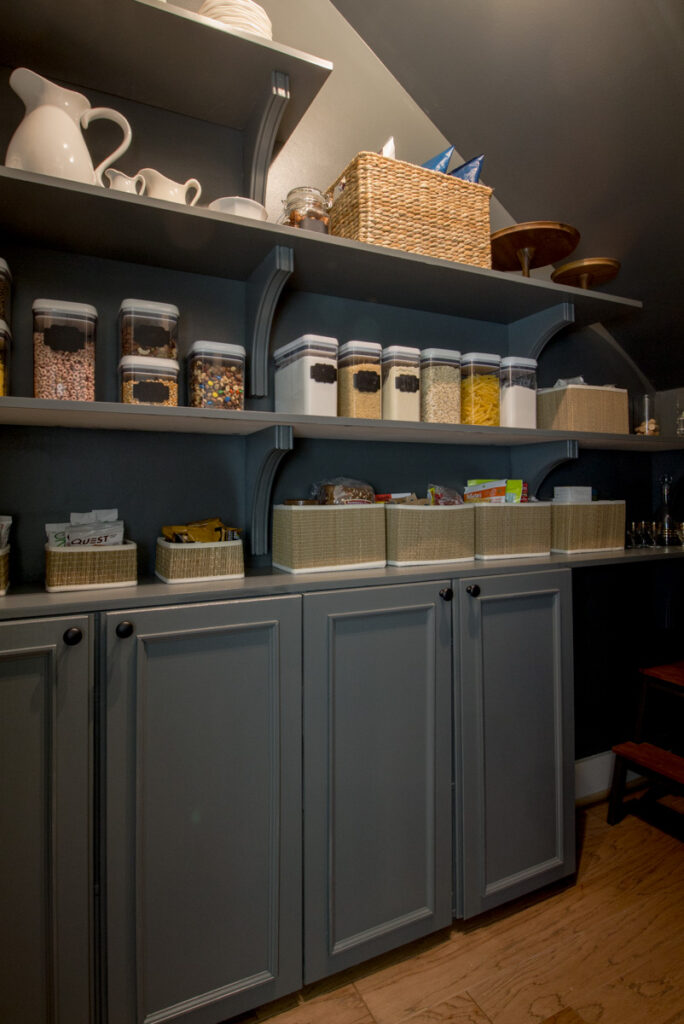 I'd love to hear what you think, but my goal was to create one of the most beautifully functional pantries ever. It has everything we need to store our food items as well as Christmas dishes and a surprise addition at the end. All of this is under the stairs that lead to my studio bonus room.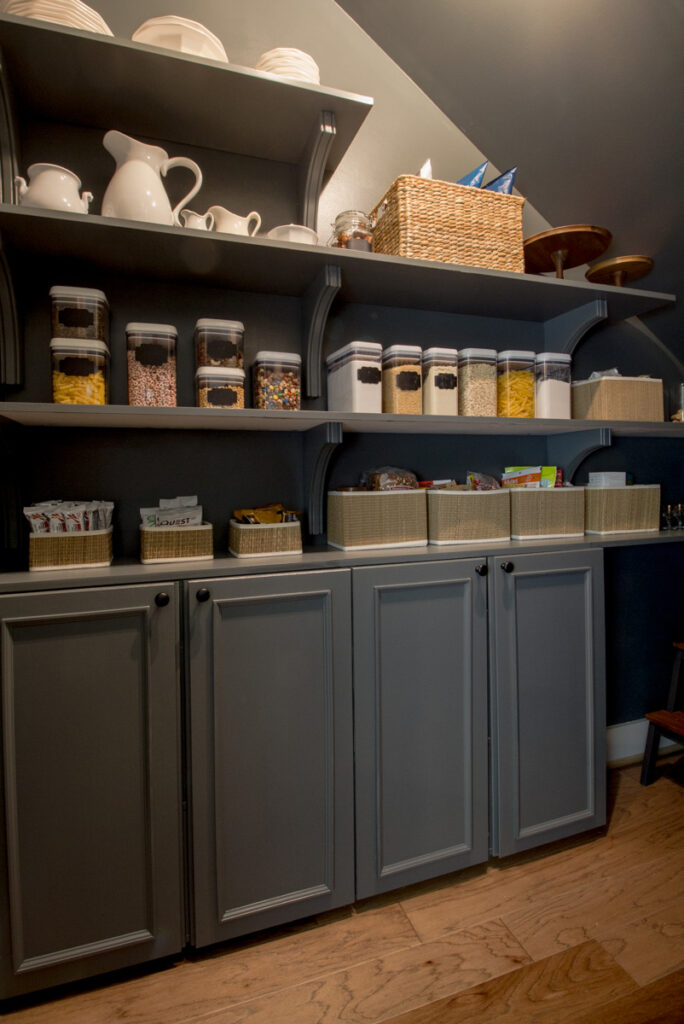 The Before & the Door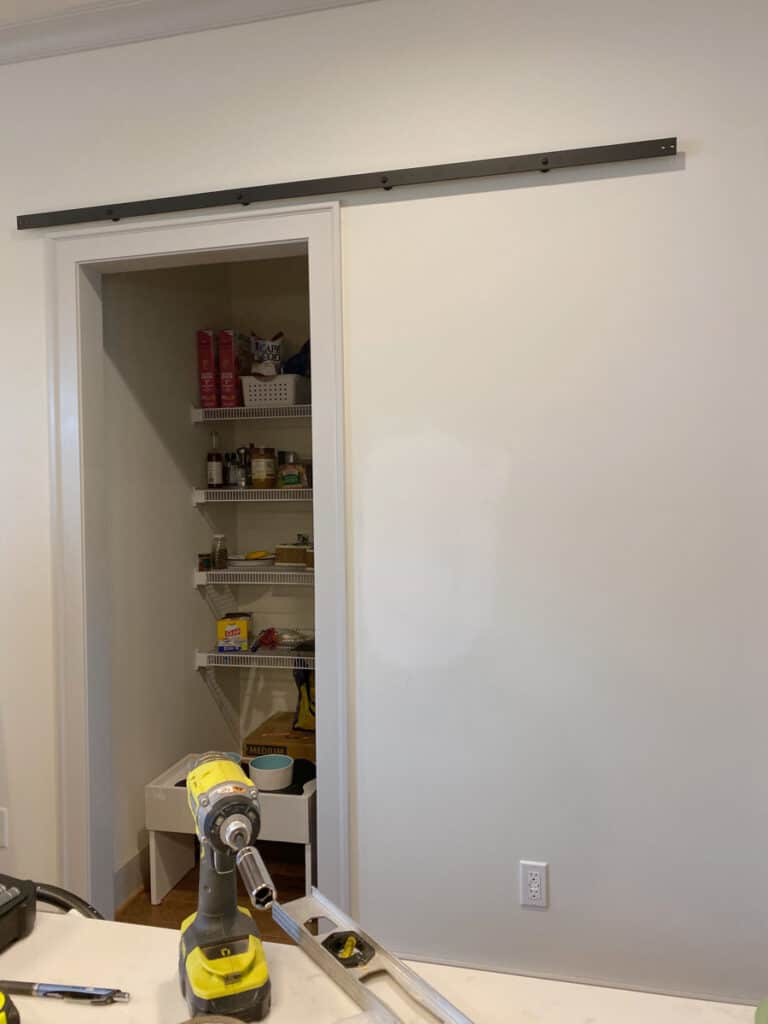 Sadly, I don't have a great before photo, but I think you can gather enough from these photos. The pantry is a basic builder grade pantry with wire shelves.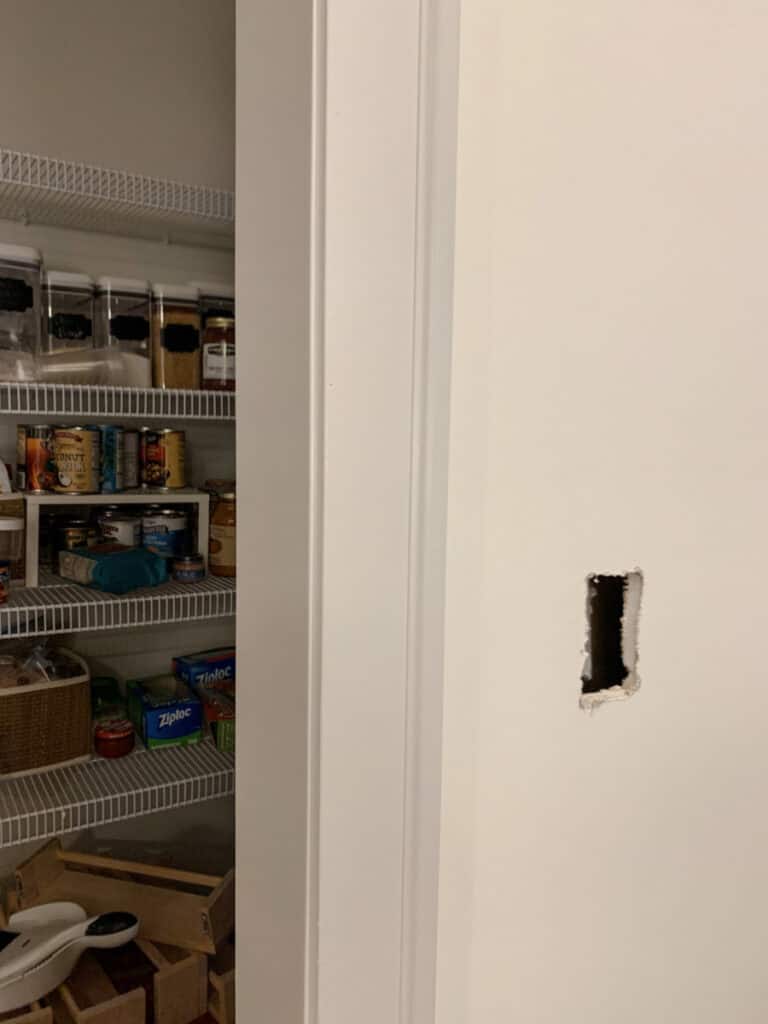 What I am also not ready to reveal is the vintage sliding door we added to this wall. The pantry was designed to have a standard door but I opted to have the builder leave it off. No matter which direction the door would have opened, it would have either blocked the passage way of the island or encroached on the space in the pantry.
Bracketed Shelving
The first part of the pantry planned was the shelving. These amazing brackets from Osborne Wood Products are the star of the space without a doubt. I planned for the shelving to be perfectly proportioned with the brackets. Not only are they beautiful they provide the complete support structure.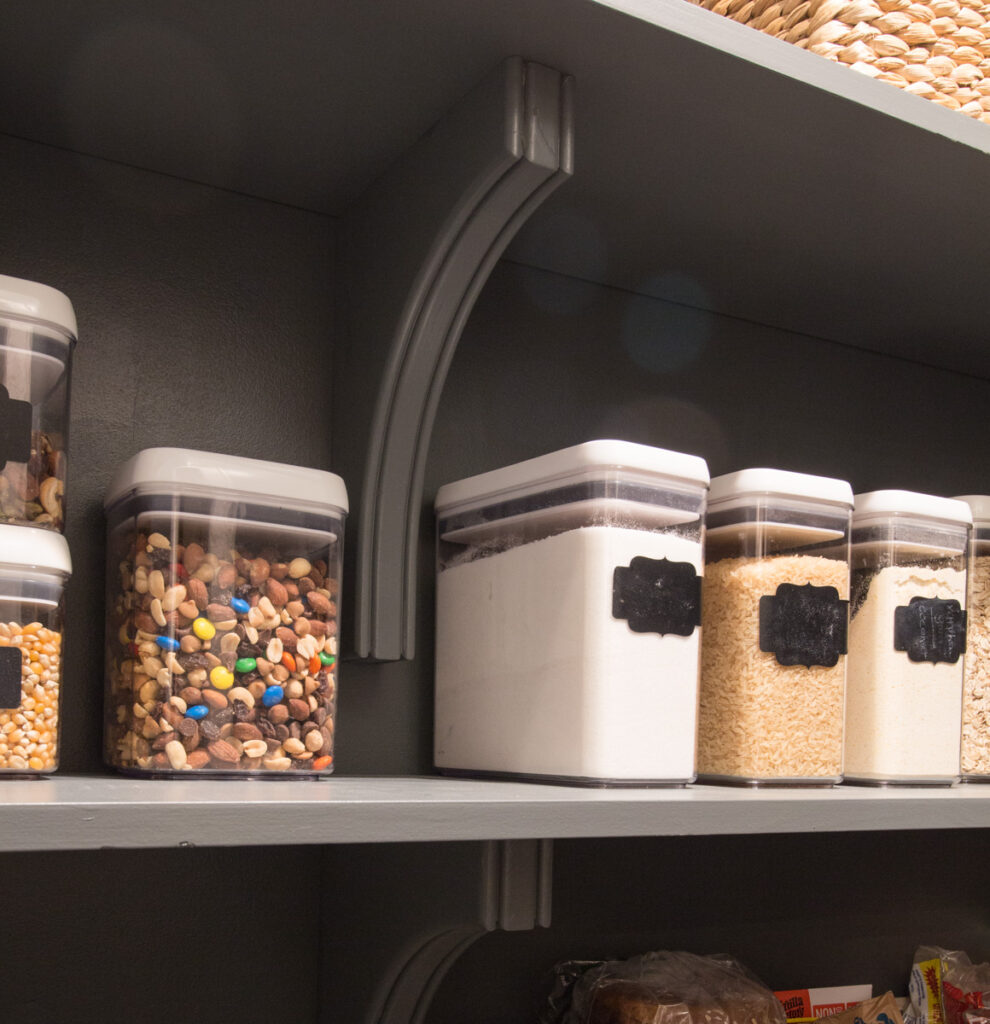 Generally, when we have built a closet or even a pantry in the past we used cleats (strips of wood attached to studs along the wall and under the shelves) for support. I love that the brackets provide a structure that enhances the room instead of being an element you want to try and hide.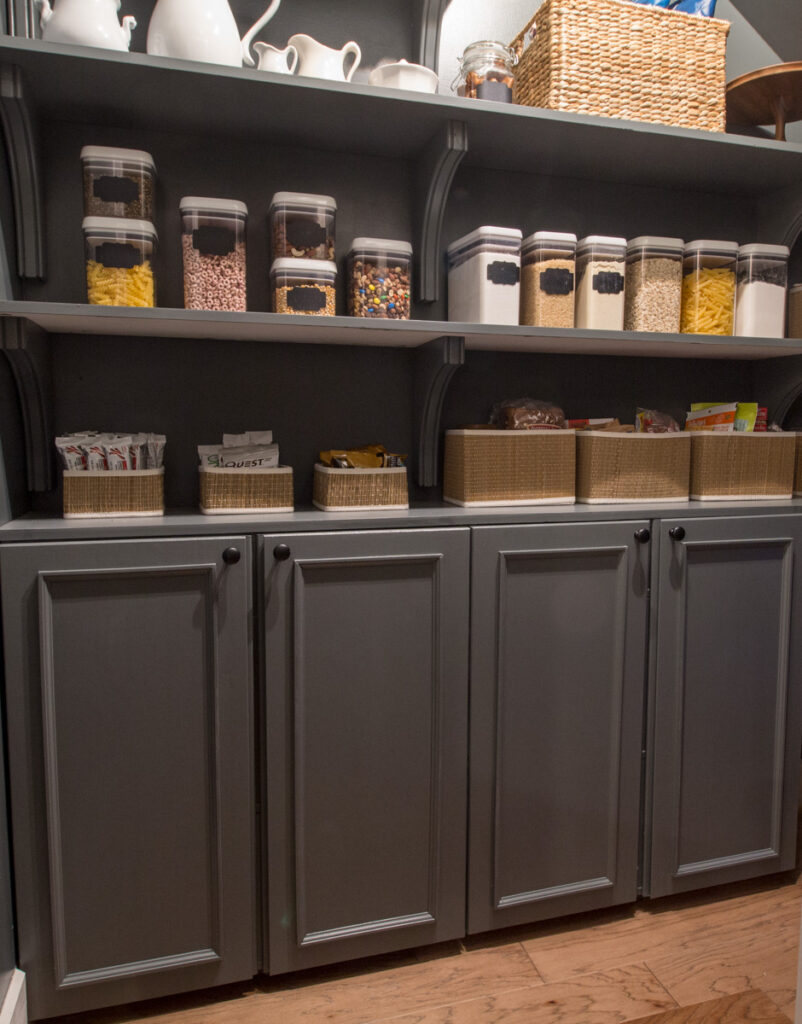 Cabinetry
The second key design element is equally purposeful as it is elegant, especially for a pantry. The cabinets are where all of the less than pretty items are stored.
In the process of designing this pantry I looked to our previous pantry. It was a wide, double door closet essentially. The bottom portion of the pantry became a mis-mash of items tossed down under the shelves. Adding cabinets with multiple shelves inside to corral all those miscellaneous items that would look better hidden was the perfect solution to our less than tidy tendancies.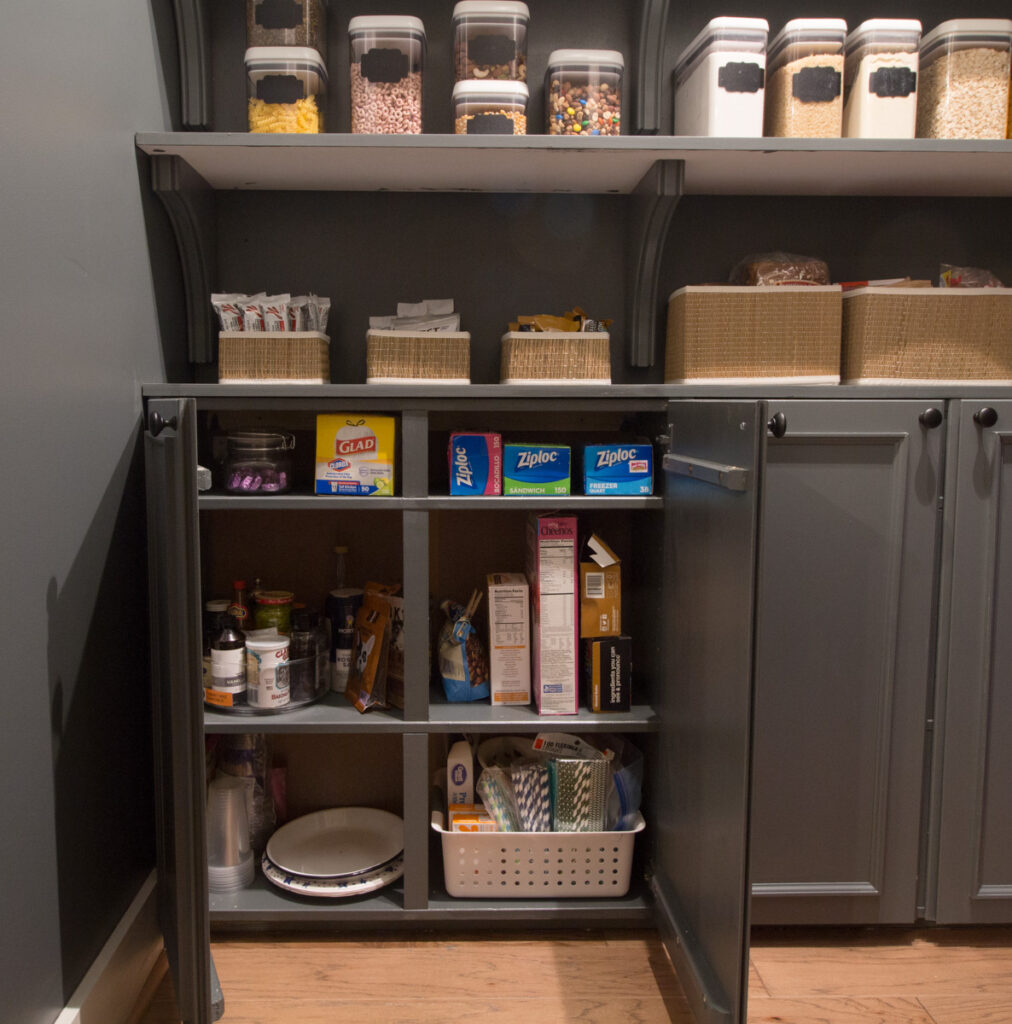 I have always been puzzled when I looked at photography of perfectly organized pantries. I will not leave you befuddled like that. I am an open the doors and let you see it all kind of person. Real life items are not picture perfect.
These cabinets are very inexpensive cabinets from Ikea. I'll share more on how they were transformed in an upcoming tutorial.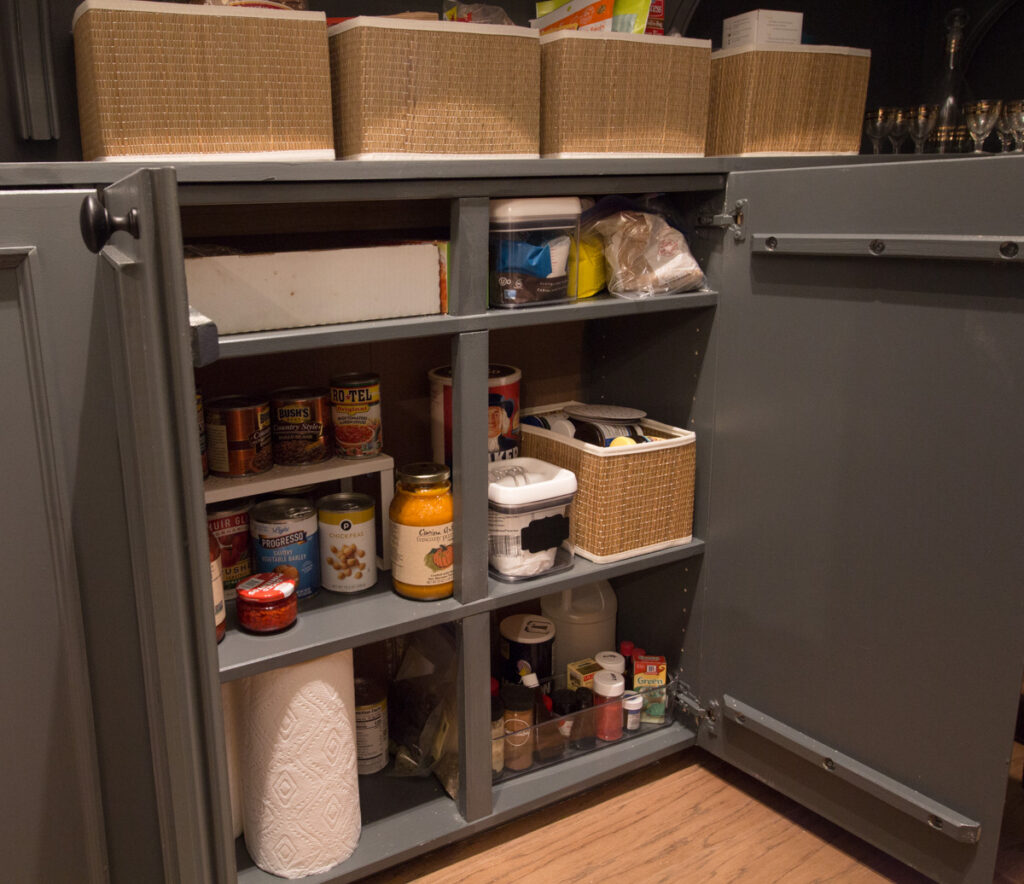 The Mini Wine Bar
The big twist to the pantry is the space at the end of this angled room. I had planned to have our wine fridge located on this small back wall. During the building process we asked the builder to install an additional outlet here.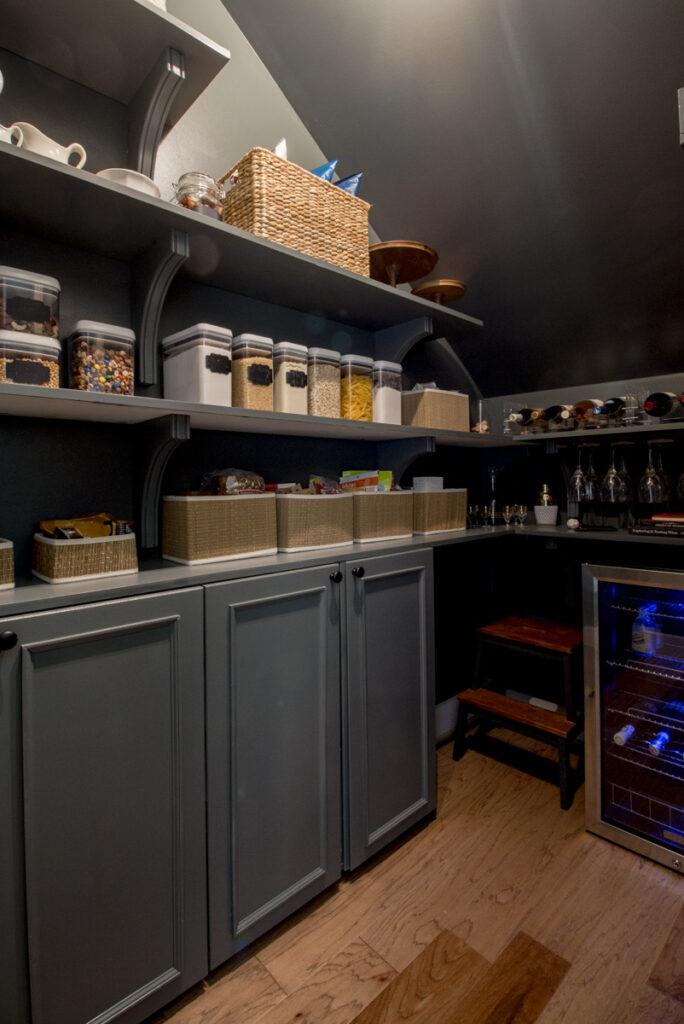 The truly evolutionary part was the creation of a little bar nook. I realized that next to the box of wine bottles, unopened and waiting to be unpacked from the move, was the box of our wine glasses. I shifted gears quickly and decided to repurchase wine glass holders that I had used to transform an entry table into a bar during the 2017 Fall One Room Challenge of our dining room!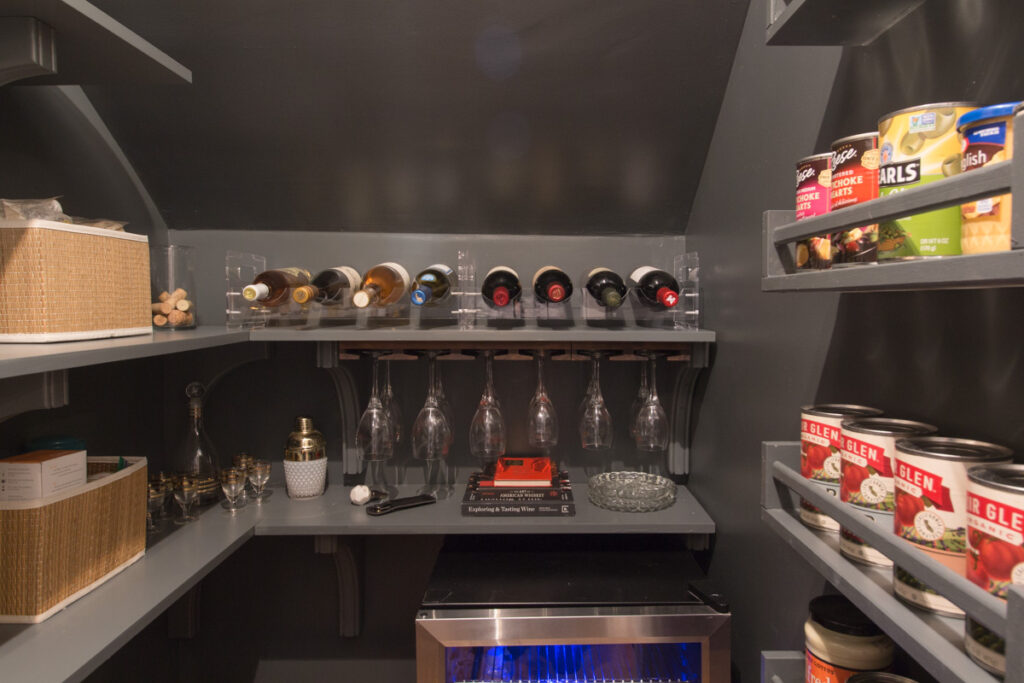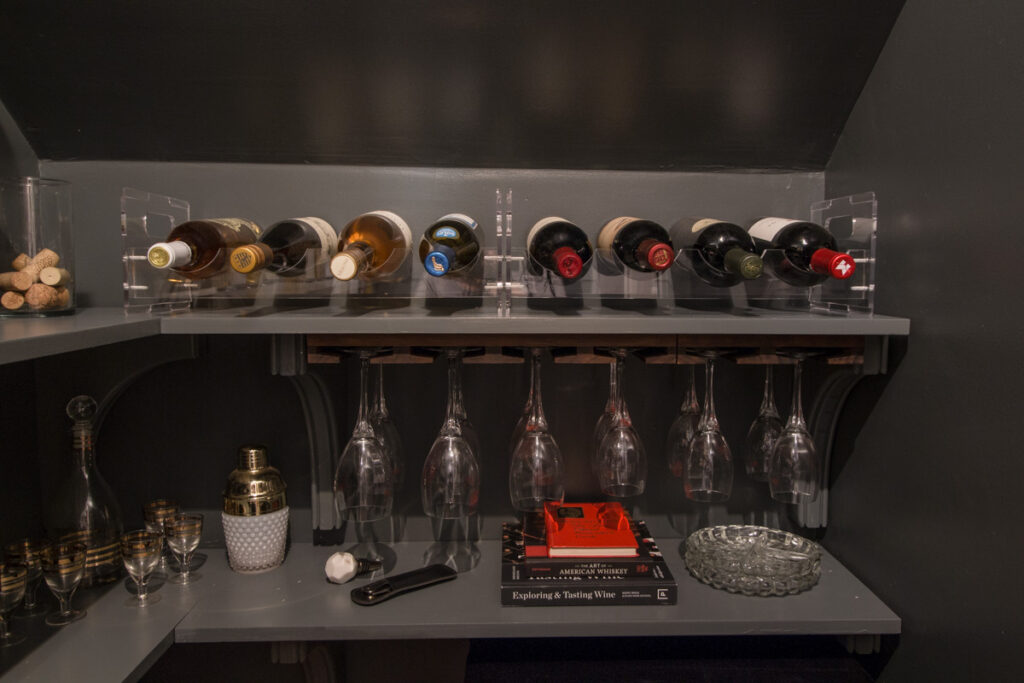 Canned Goods
The last little detail was where to store the canned goods.
I had these 5 Ikea shelves stored in a closet for the 4 years we lived at the Trail House. They were purchased for the pantry there and never got installed. During the building of this house it hit me that we had the perfect wall for them in this pantry.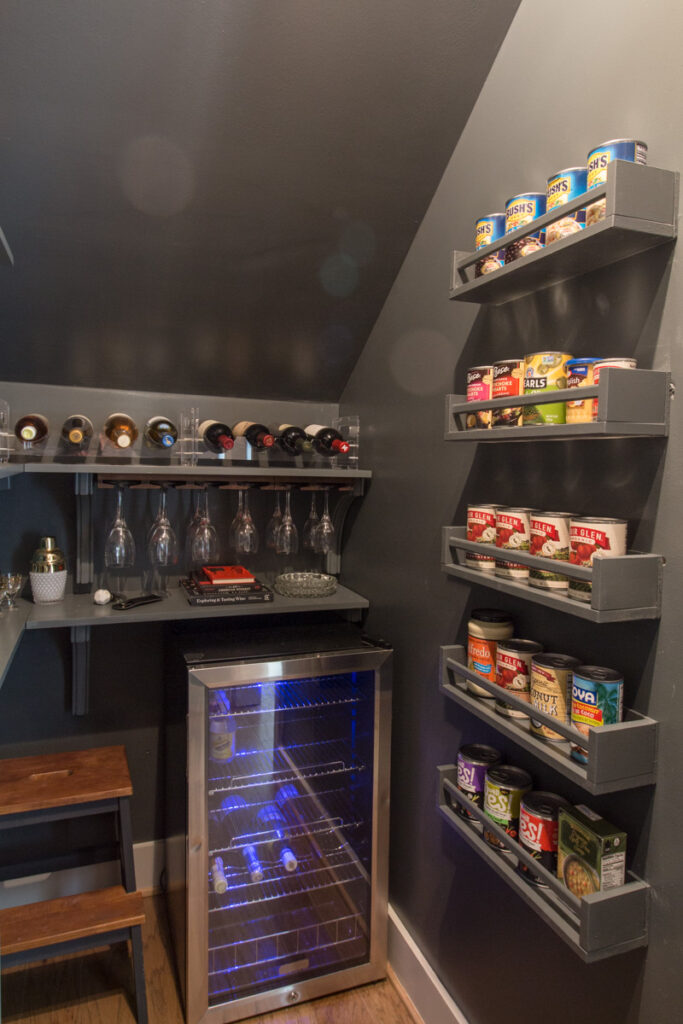 Once I attempted to hang them, I ran into a few issues that required a bit of a redesign. I'll explain that more in an upcoming post. It was a simple fix that seems to be working great! I'll give it a little time to make sure everything holds up properly!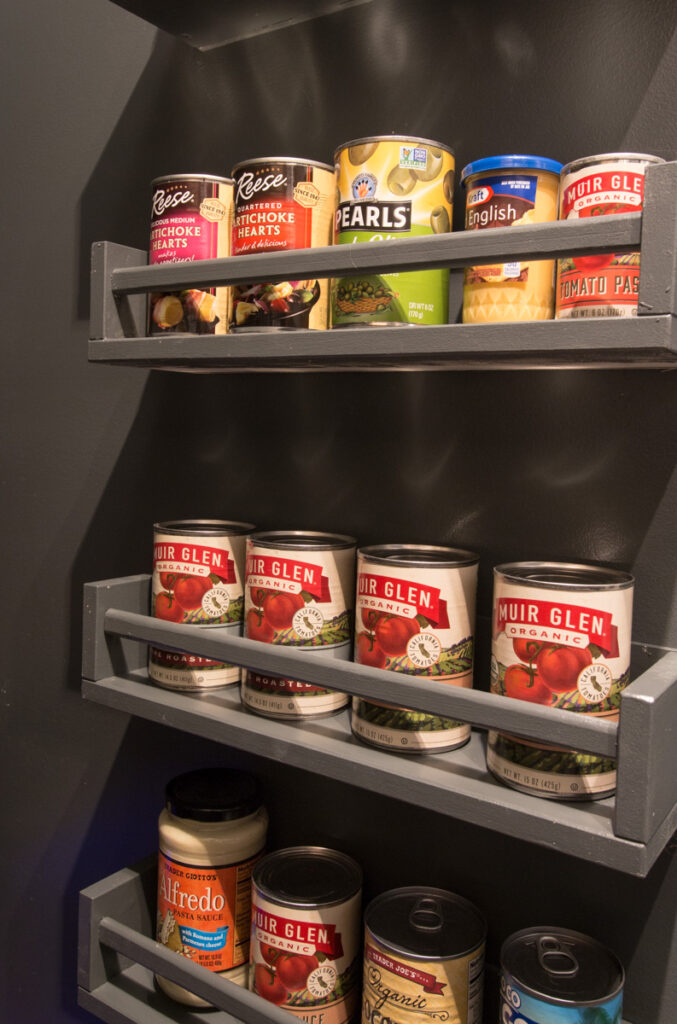 Lighting
This is one area where I am not completely satisfied. I love the look of the light I chose. I thought it was super clever of me to choose a light that had 2 directional bulbs. One that illuminated the front and one that illuminated the back.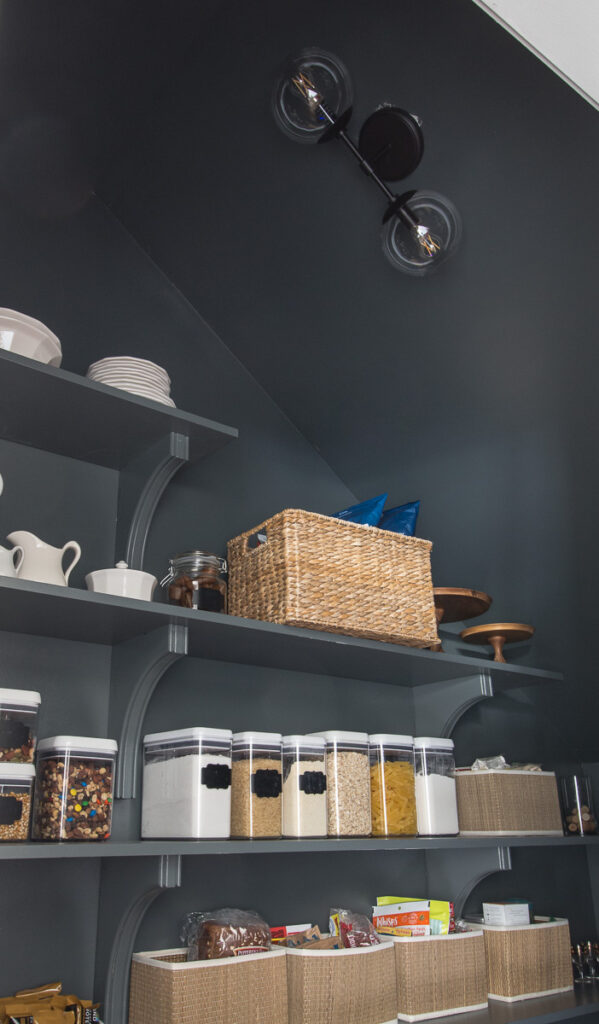 However, the listing of the light fixture was incorrect. I thought it was going to accommodate two regular sized bulbs instead of candelabra bulbs. Currently, the ones that are installed are a bit too warm for my taste. I either need to find the 3000K bulbs to fit or find a new fixture.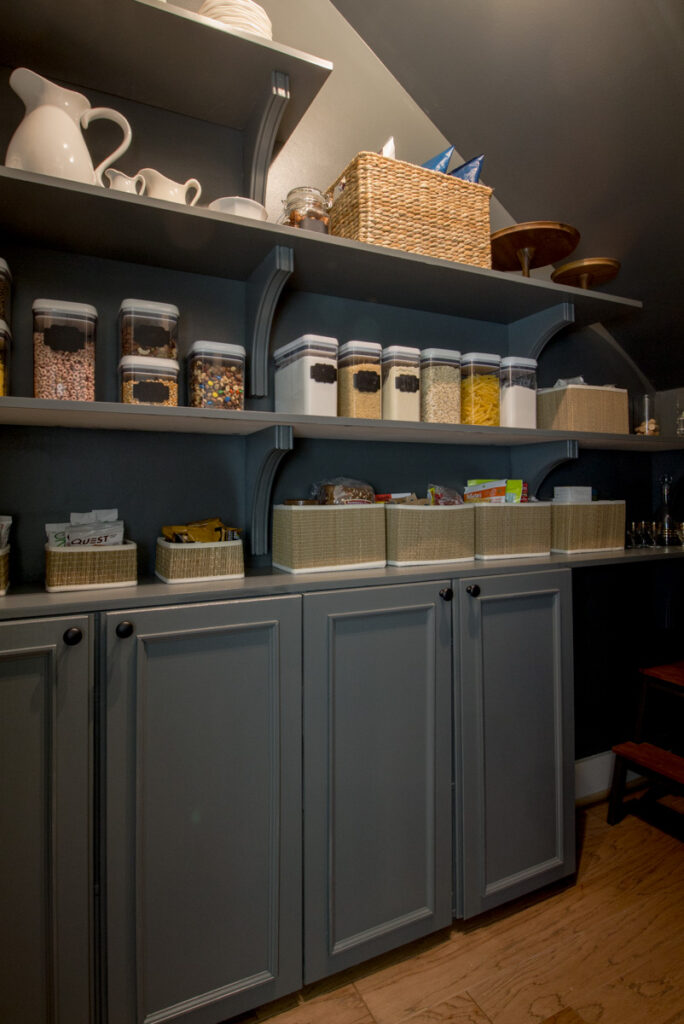 I am filled with utter joy over this pantry. The test to this system I've created will be how the rest of my family functions with it. I am sure it will continue to evolve.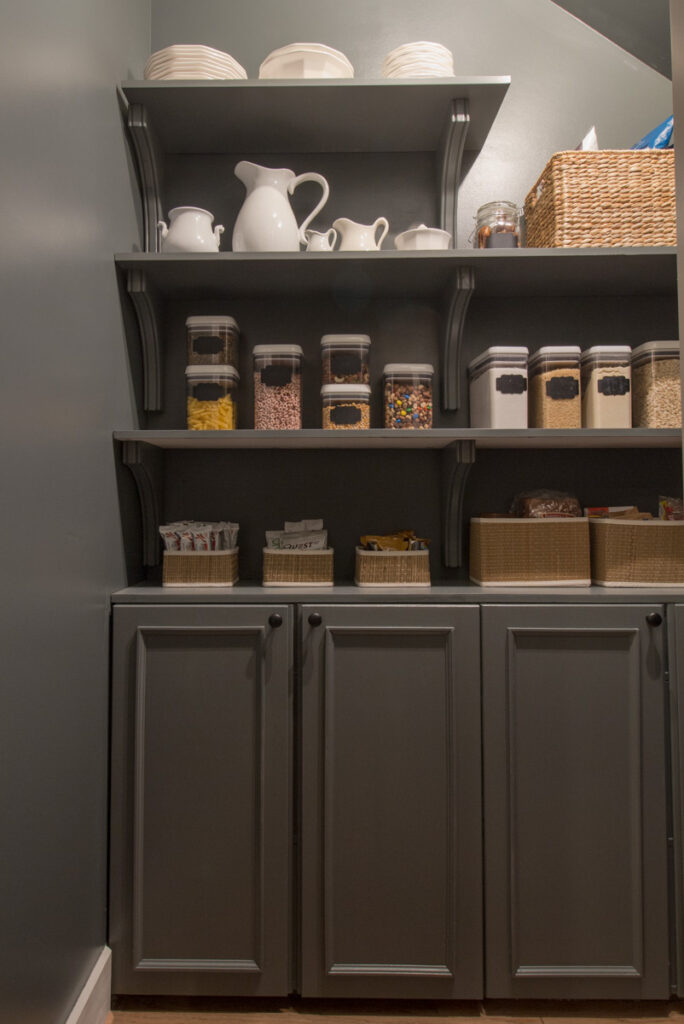 Look for complete plans and how to's in the near future on all of the pantry building and organizing.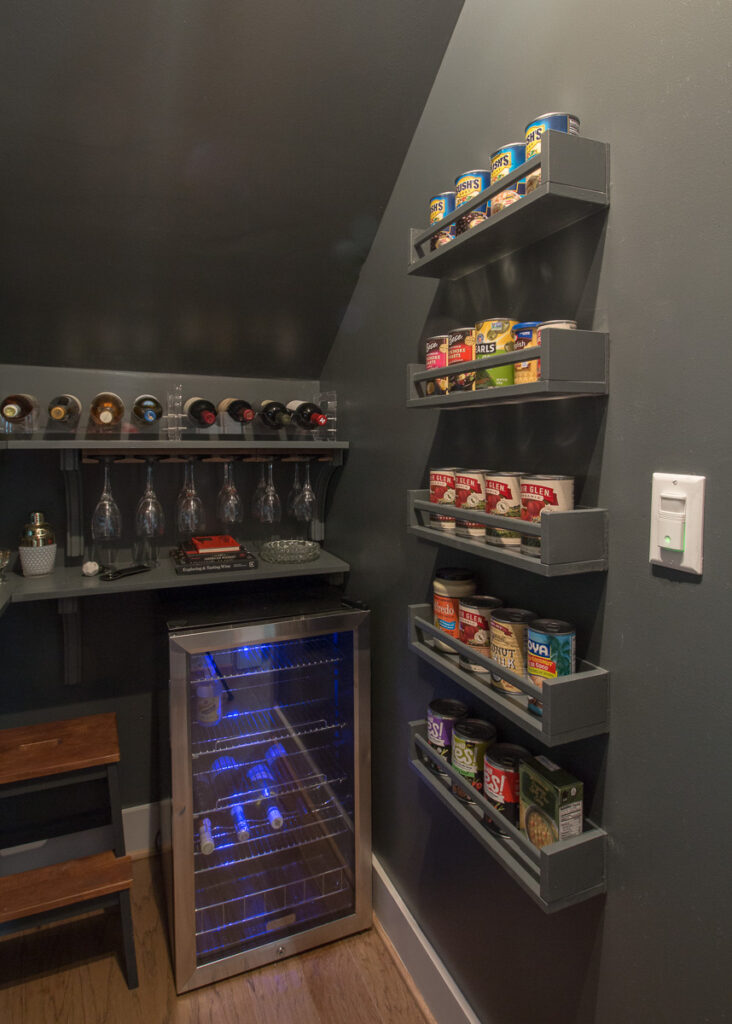 Of course, please come back for the full reveal of the kitchen. Be sure to follow me on your favorite social media – Facebook, Instagram, YouTube or best of all, subscribe to receive my blog posts in your e-mail inbox!! That way you are sure to never miss a post!
Be sure to check out the amazing One Room Challenge reveals of the Featured Designers and the other Guest Participants. I can not wait to pour over all of them once my kitchen is finished.
Reveal day is like Christmas for interior design and home decor lovers like me and hopefully you too. Go check them out!!
Many thanks to Linda from Calling it Home, who reminded us again that the purpose of the One Room Challenge is to create a beautifully finished space you love no matter when you finish. The deadline to be considered for a feature at Better Homes and Garden isn't until Sunday.