Had you been standing here at the pantry with me as I stepped back to look at what was completed today, you would have definitely heard me squeal. If I weren't so very tired I probably would have jumped for joy at least a dozen times.
Here's a little recap if you are just popping in for Week 5 of the One Room Challenge. You can also visit the previous weeks here, Week Four, Week Three, Week Two and the Week One posts!
My goal for this season's ORC is to transform our brand new builder kitchen into to the Classic Traditional Kitchen of my dreams. A kitchen that feels polished, yet relaxed, the depth of texture and character of an older home, with a touch of tudor cottage.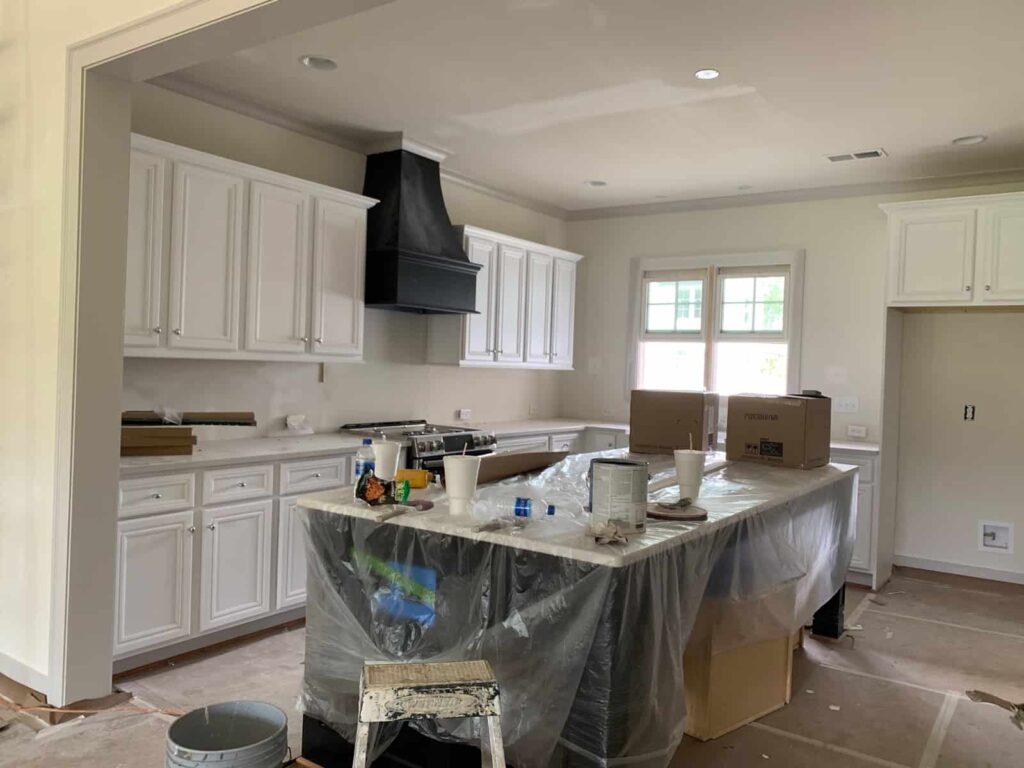 There is no denying this was a lovely kitchen just as it was. Before demo and reconstruction began I styled her up pretty and took this photo.
Before I get to showing you the pantry, let me update you on the brick.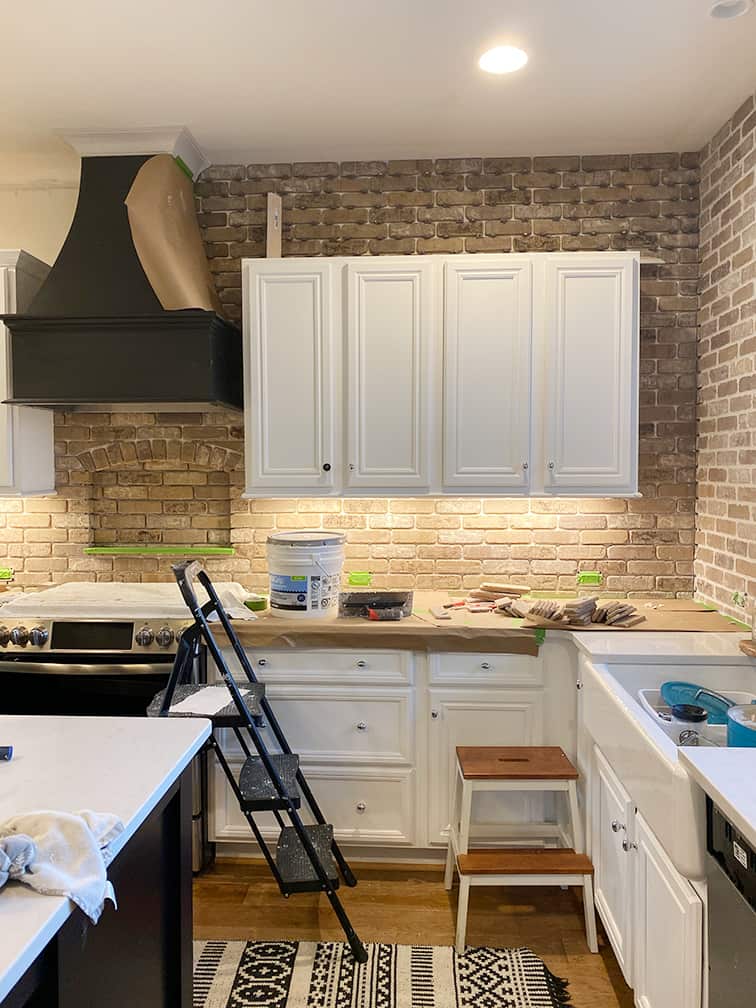 I should not be surprised at how long it has taken me to get a full two walls of brick installed, grouted and looking as it does.
I still have one small section, the upper left side of the hood to complete and about half of the wall to grout. Grouting the brick, with a thicker space to mimic grout requires a lot of muscle. Much more than I anticipated and I've grouted some large walls before. (See this shower below from the ORC a few years ago, link here.)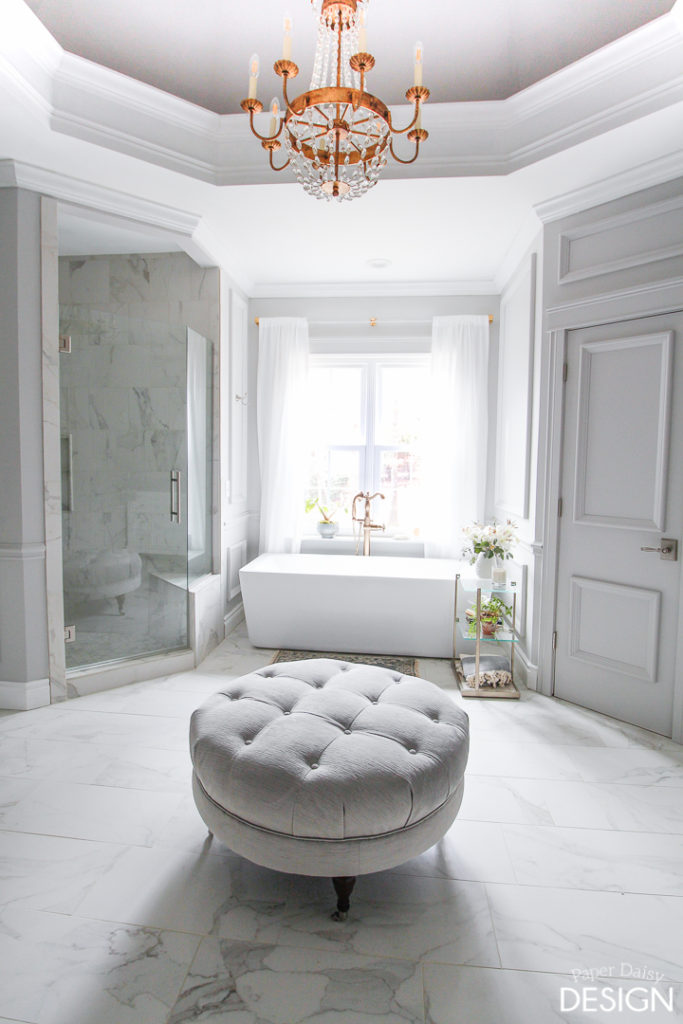 My friend and I finished grouting under the cabinets and the niche which was the little curve ball I threw into the mix last week.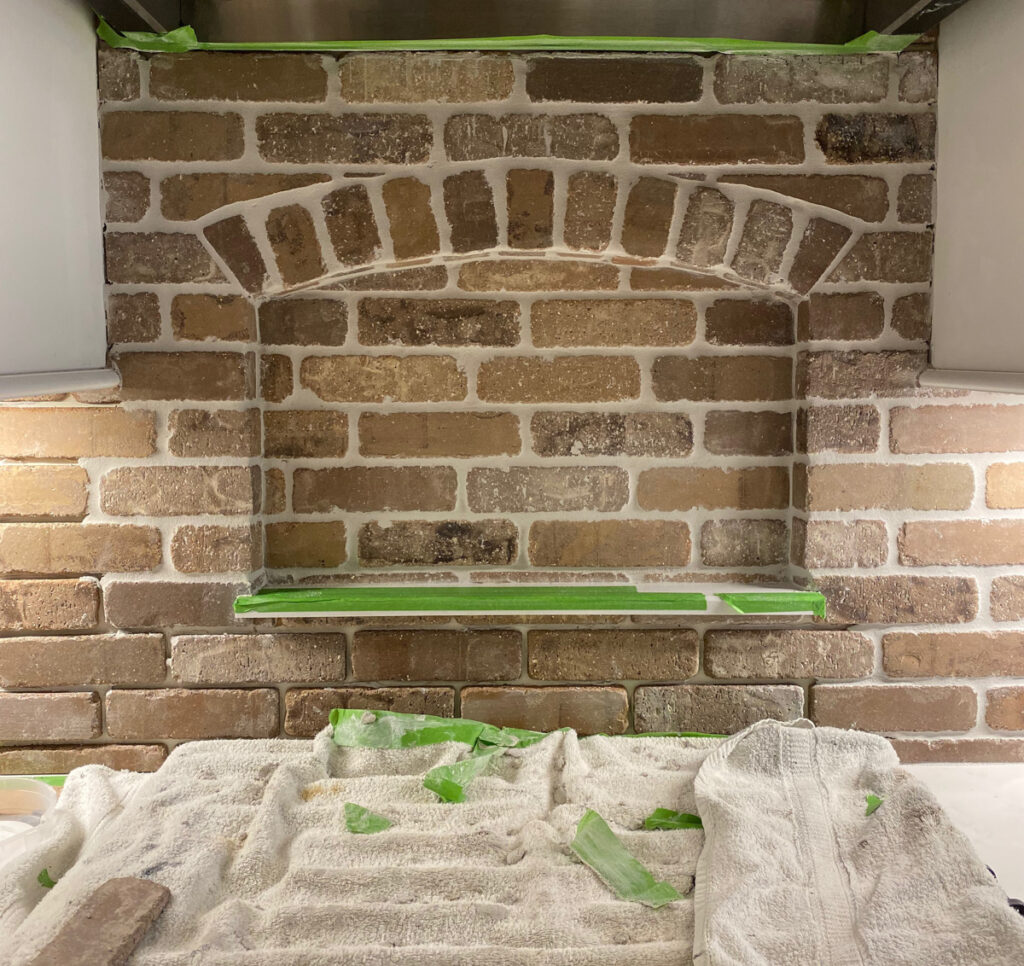 The Pantry
Now for what you came to see! I have said to my close friends and family, my goal is to make this one of the prettiest pantries you've ever seen.
It is yet to be seen if I can live up to it, but I hope that this progress shot will at least convince you it will indeed be a very special pantry.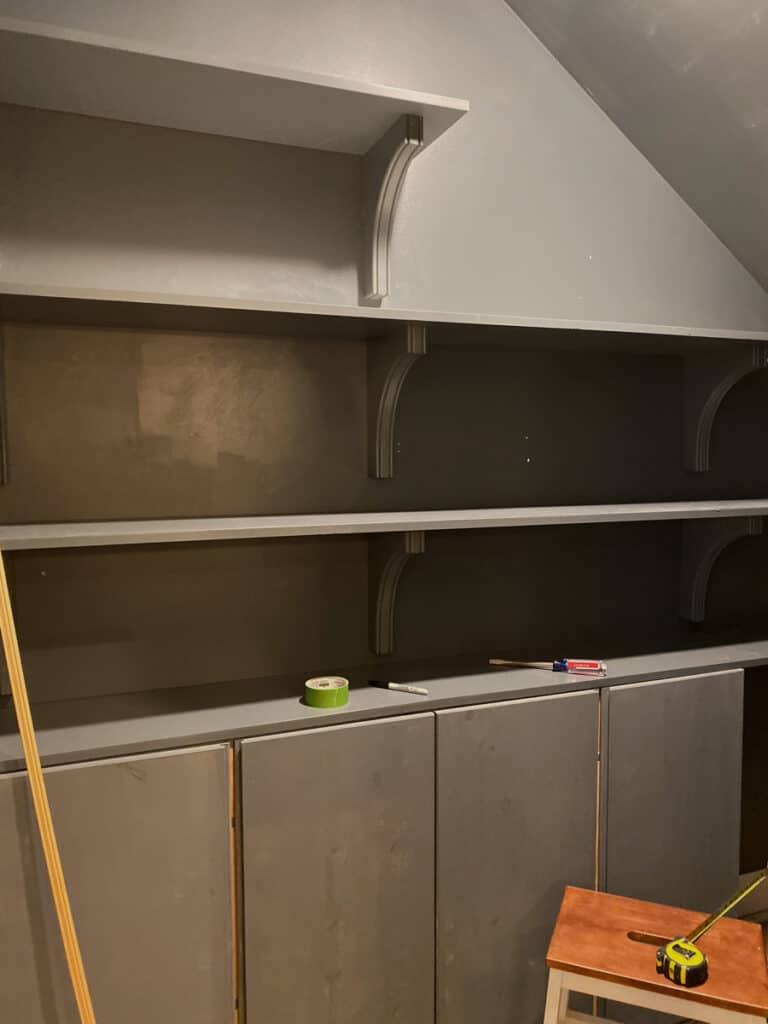 For starters, we painted the walls Farrow and Ball Down Pipe in Estate Eggshell.
Then we hung these amazing brackets from Osborne Wood Products. I love the traditional, polished look. They are incredibly sturdy and supportive too. We usually use cleats around the shelf and paint them the wall color. That also creates a strong shelf, but this is equally strong and even more beautiful.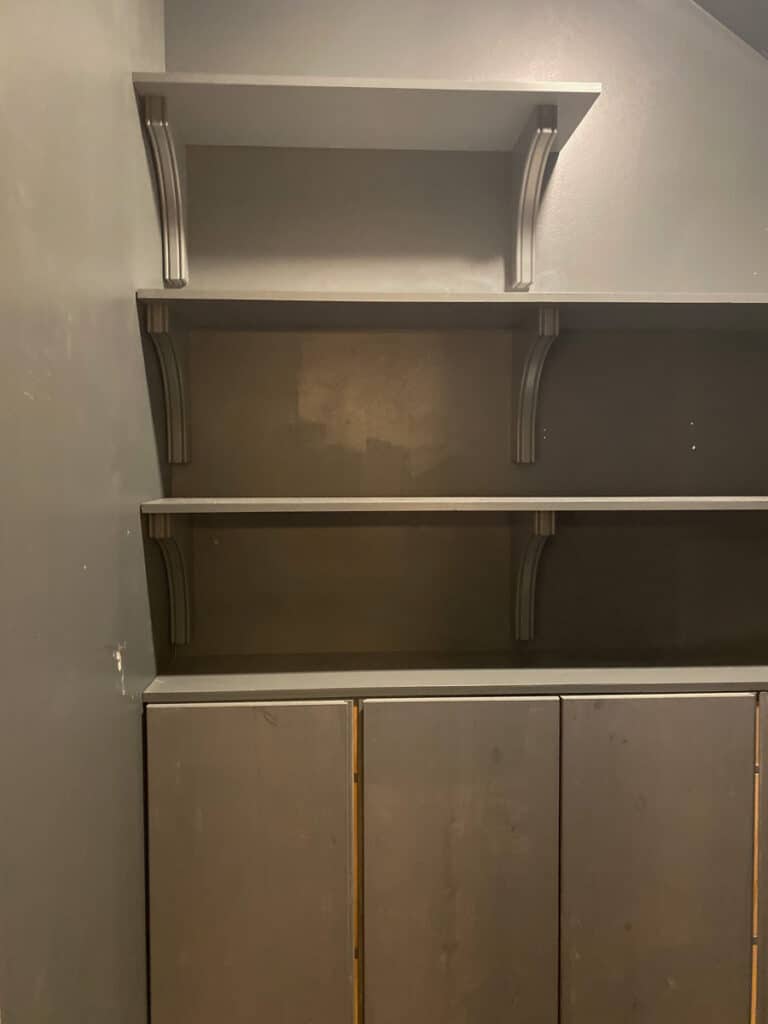 Today, when the work was done in here. That's when I squealed with delight. I am so thankful for my friend Shery's help today. This was dedfintley a job for 2 pairs of hands.
We installed the Ikea cabinets on a base and secured them to the wall at the studs. I will have a full tutorial in the coming weeks.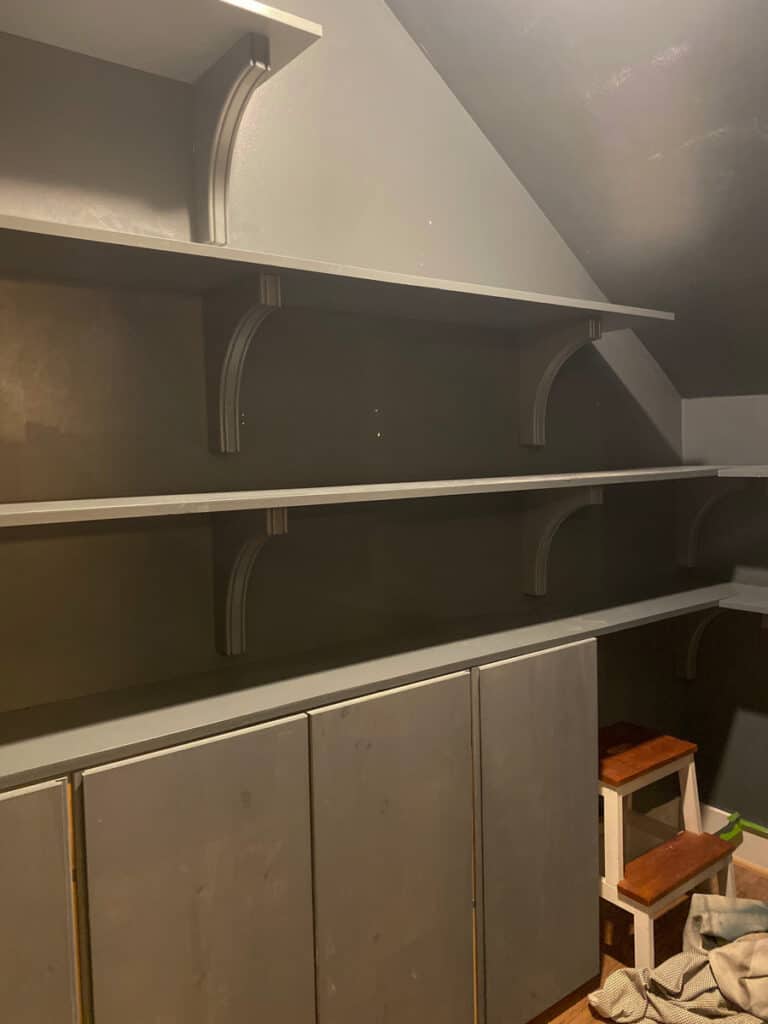 Next, I will give the wall another coat of paint and the cabinets will receive Farrow and Ball Down Pipe in Modern Eggshell just like the shelves. I chose to use that particular finish from Farrow and Ball because they previously called it their "Floor Paint". The durability factor of this paint is unmatched in my experience.
SPONSORS
With all of the expenses related to a moving into and setting up a new home, this transformation could not be possible without the generous help of the sponsors listed below. I will be sharing more about each of them as we move through the upcoming weeks.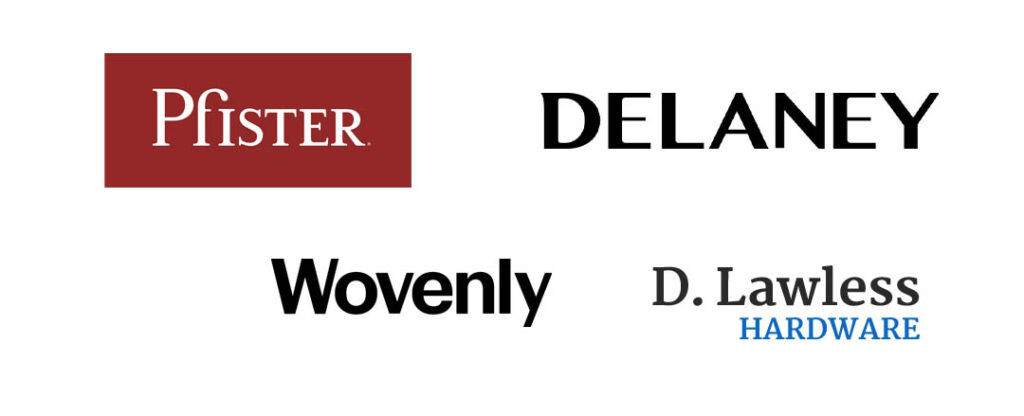 Pfister: Faucet || Delaney: Barn Door Hardware || Wovenly: Rug
D. Lawless Hardware: Knobs & Pulls
Be sure to check out the other guest participants and follow along each week! Click here for the link up list of all the participants and the featured participants can be seen here.
And again, special thanks to Linda of Calling it Home and the Media Sponsor Better Homes and Garden!!
I'd love it if you left a Comment and let me know what you are most looking forward to during this ORC!!