Three months have passed since the reveal of our master bathroom for the One Room Challenge. I've completely recovered from the overwhelming and complete exhaustion of the challenge. We have also had plenty of time to fully be blessed by this space. A lovely place to start the day and a calming sanctuary to relax in at night. I'm just so happy with how everything turned out, even though I have a feeling it would be way better than before.
Quite honestly I have to pinch myself when I think that this bathroom is actually ours and I have the privilege to live here.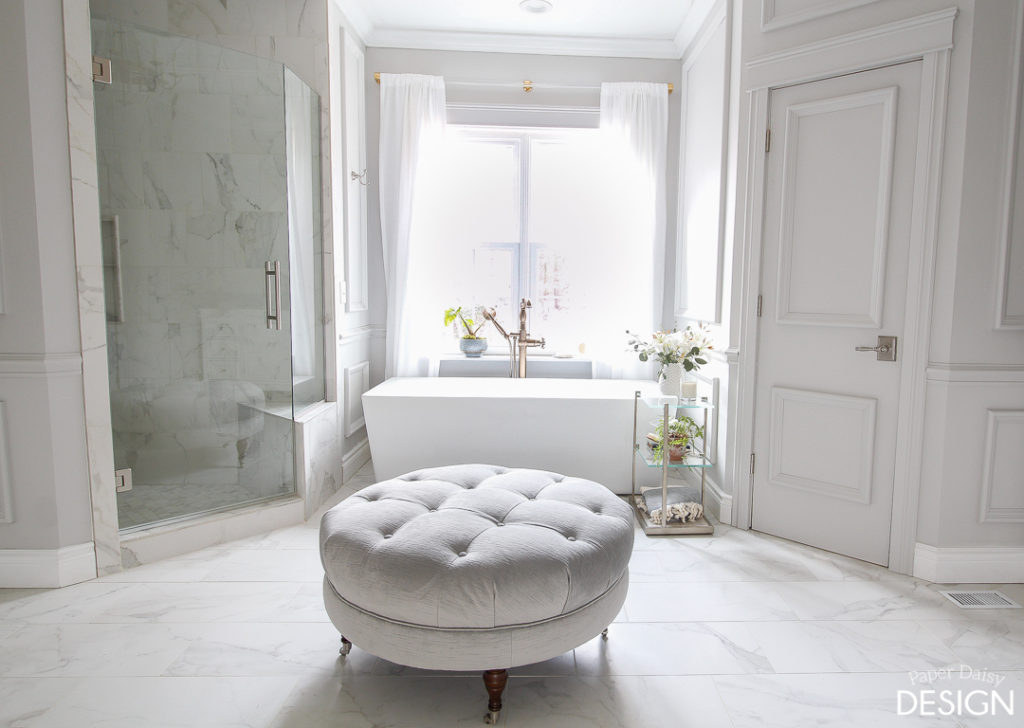 And you would think since I set every single tile in this room that I would have realized how big this space is. But once the room was completed for the challenge, we realized it was almost too big. It felt almost empty, like something needed to be in the center of the room. I initially considered a round table, but instead opted for an ottoman because it would be shorter and not block the view of the tub and would soften the room with all of the hard corners.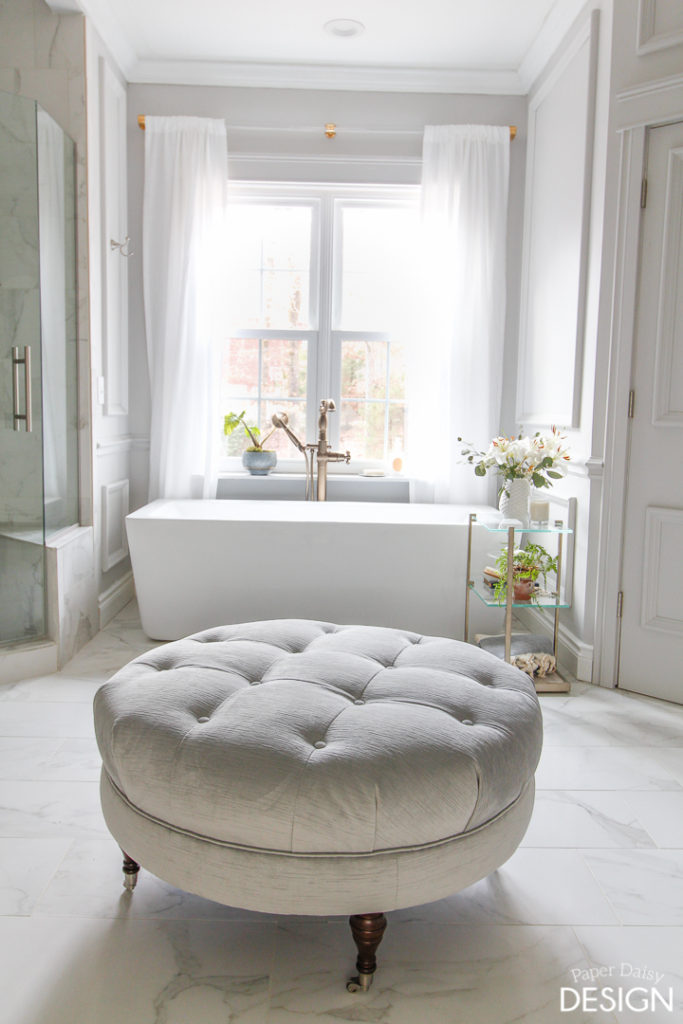 I ordered this oversized custom ottoman in a soft gray velvet. I don't think it comes off as well in the photos but it totally completes the room. There is more than ample room to move around and it doesn't feel cramped at all. Interestingly enough, we learned last weekend that the room can comfortably hold more than 12 people even with the ottoman! (Half the guests from the party we hosted ended up in here and we all agreed we could probably fit more people! Crazy right?)
I guess I had always focused on how ugly the room was in the before, that I couldn't grasp the sheer volume of space.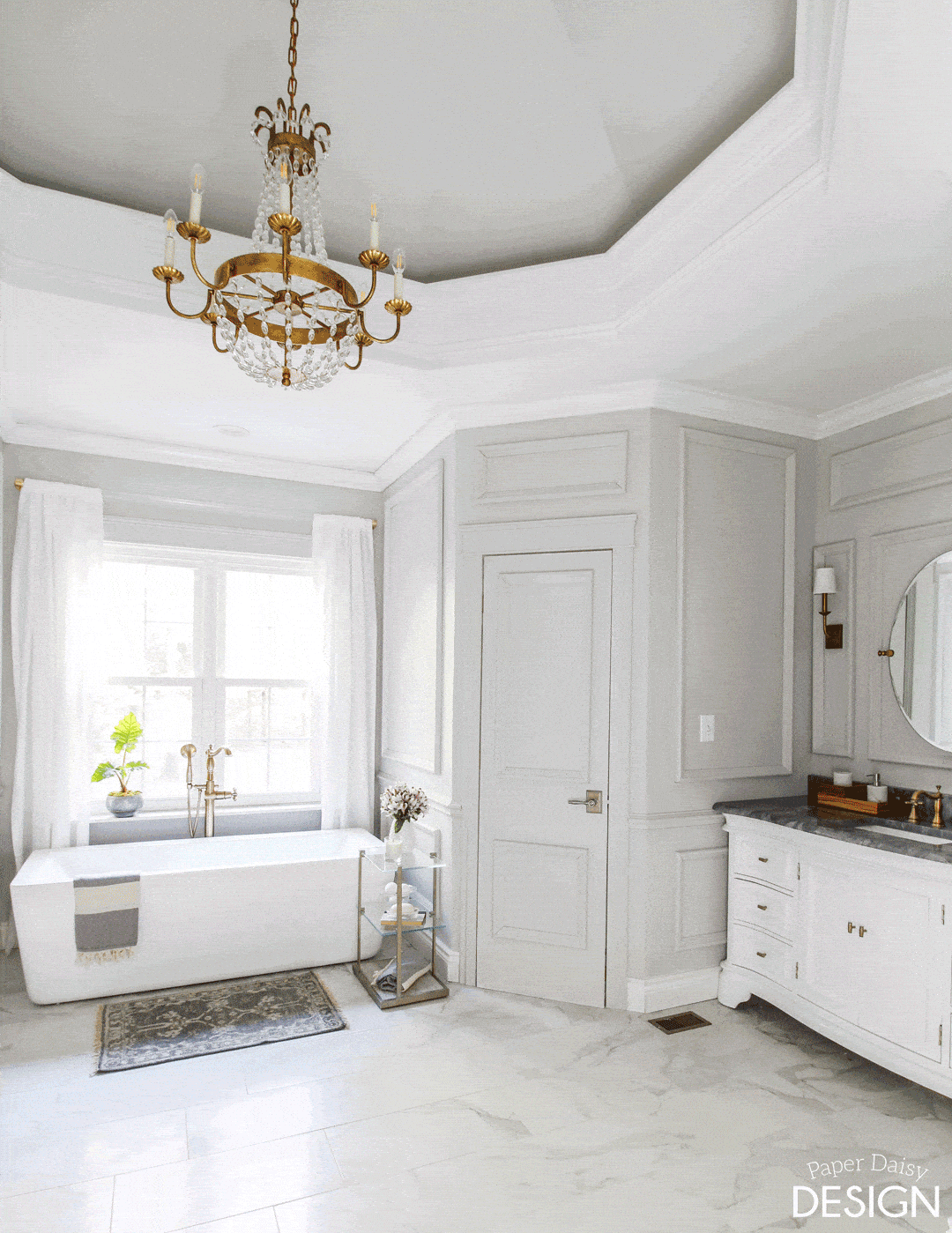 And now that the walls, trim and doors are all painted the same color, On The Rocks by Sherwin Williams, as well as the seamless transitions created by the molding, the once awkward angles seem to recede.
Before the renovation shower was cramped and cave-like, but now it feels more than generous. This is so surprising since we didn't even change the actual footprint. We just opened up one wall and the squatty ceiling and added a full glass enclosure.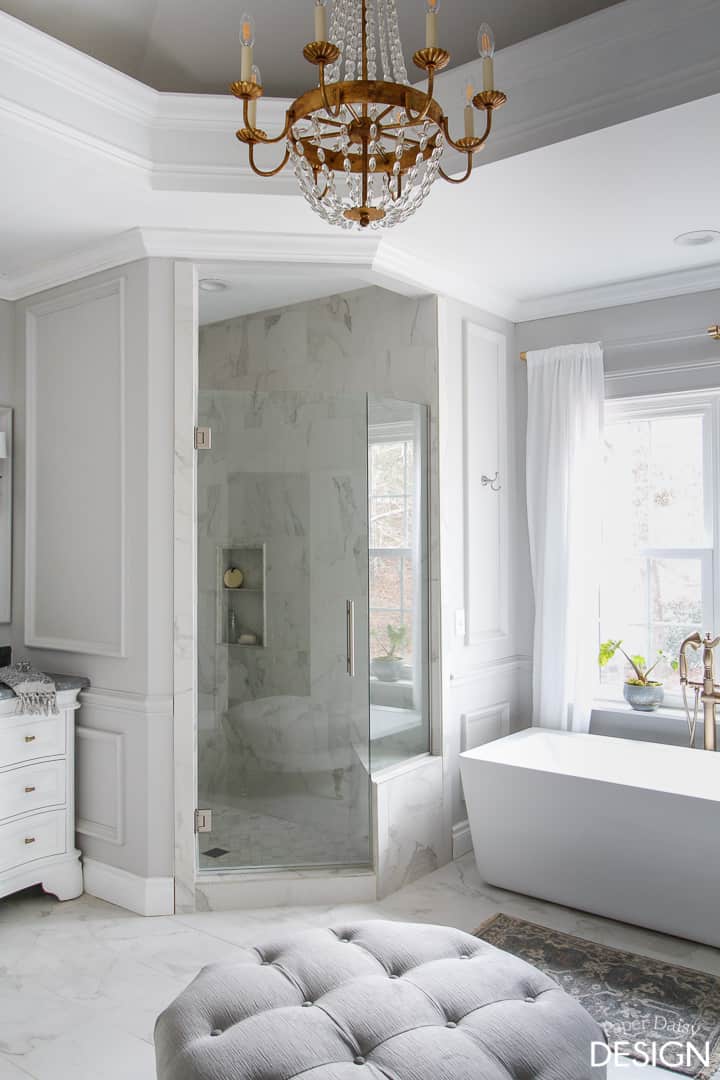 Repositioning the main showerhead so that you could reach in and turn the shower on without getting wet was a critical change for the new swing of the door.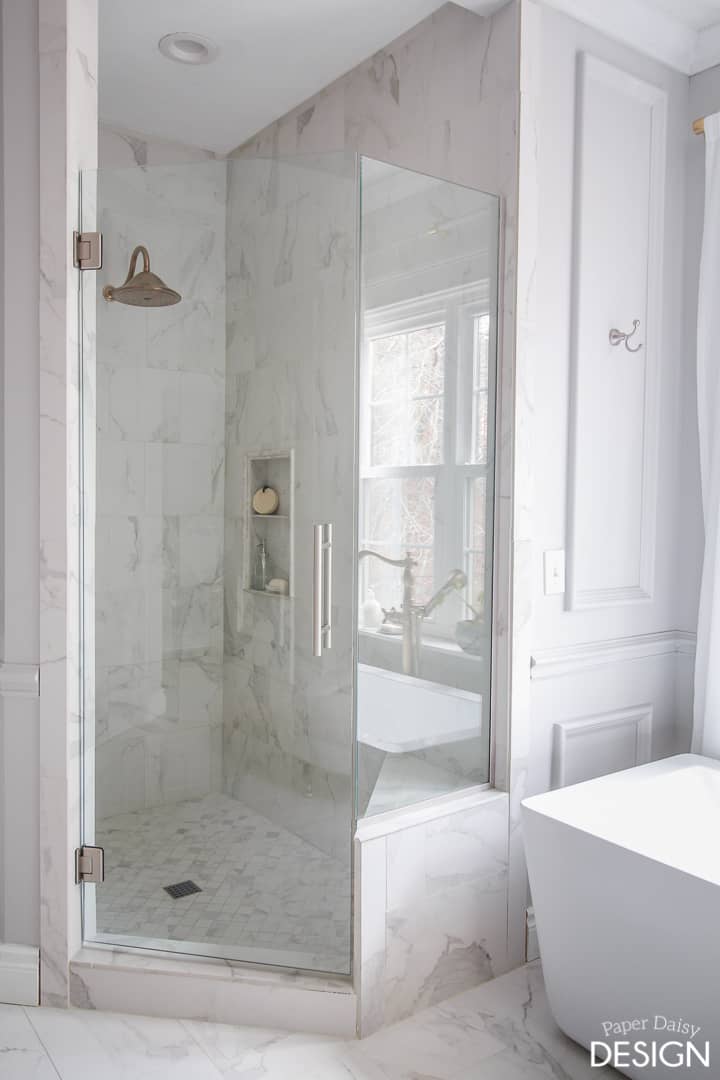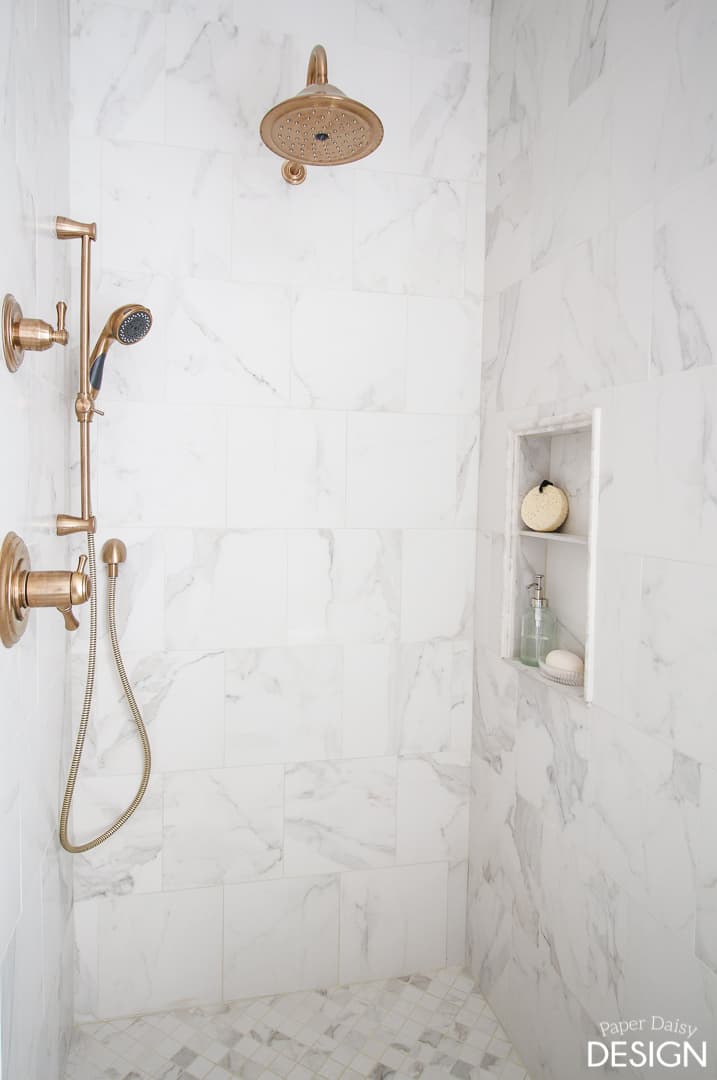 The two-tiered niche is perfect for holding all of our bathing essentials. (There are usually a few more glass pump dispensers than what you currently see.) Using glass containers is a great way to reduce the visual clutter of shampoos, conditioners and body washes.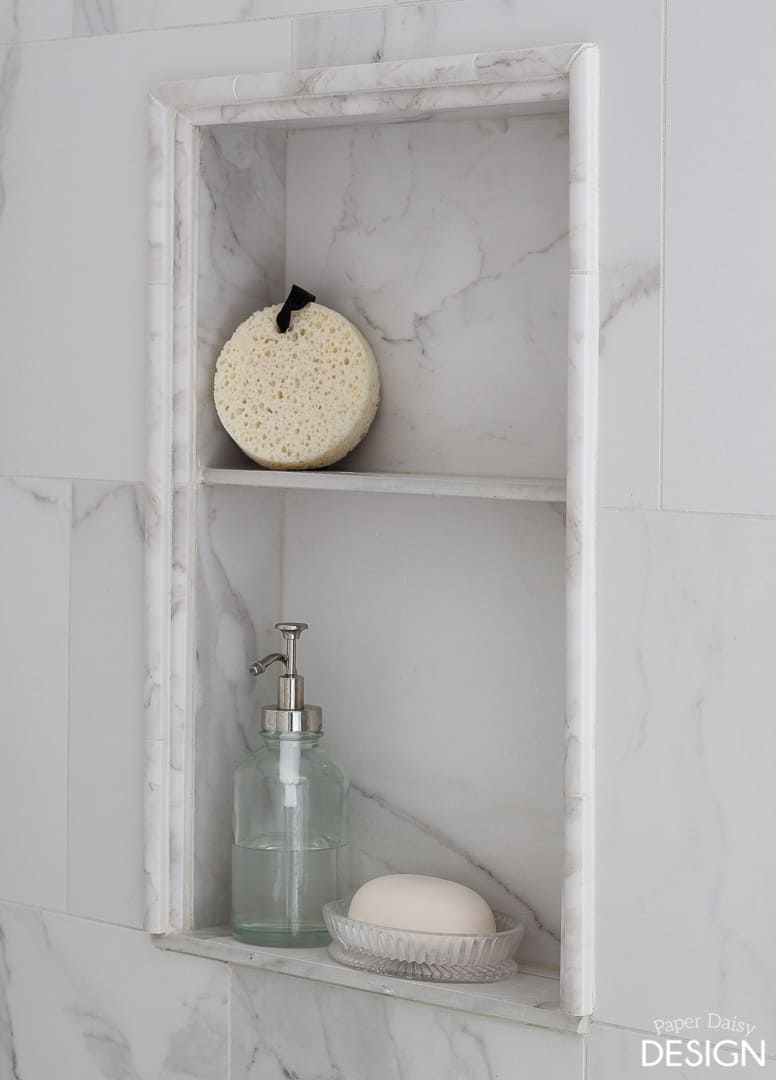 The only other changes we made to the space since the reveal was to add extra brass support to the acrylic rod and a towel hook on the panel wall closest to the shower as well as making a few adjustments to the size and scale of the panel molding above the mirrors.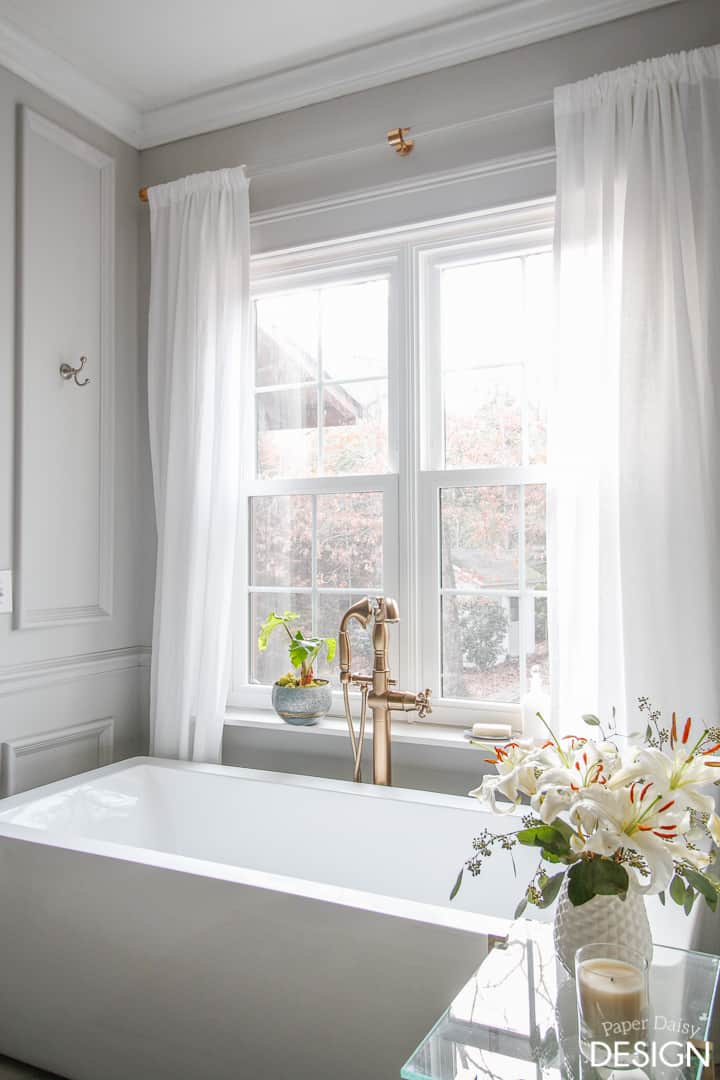 The only real sticking point we are having with the bathroom right now is the window over the tub. I want the curtains open all day long to see the view of the backyard. My husband, Richard is constantly closing the curtains. I think we have a solution and hope to take care of this shortly so he can have his privacy and I can have my view.
Living in a bathroom with heated floors is also quite a heavenly luxury. A luxury you can't even see, but man can you feel it, especially now that we've had cooler weather.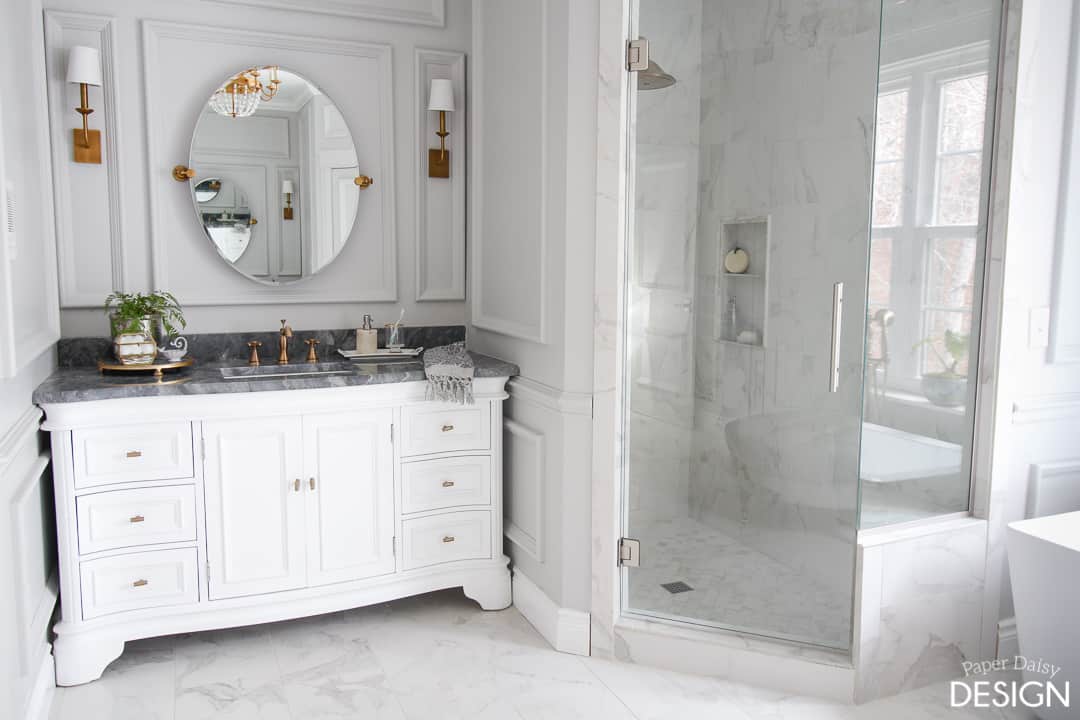 I will be sharing how to install heated floors as the first in the series of tutorials next week. This was our second time installing heated floors in a bathroom and I can tell without a doubt it is an easy system to use and install. It is totally a doable DIY project, but you do need to have a licensed electrician do some critical setup.
For now, I'll stop going on and leave you with more photos for you to enjoy.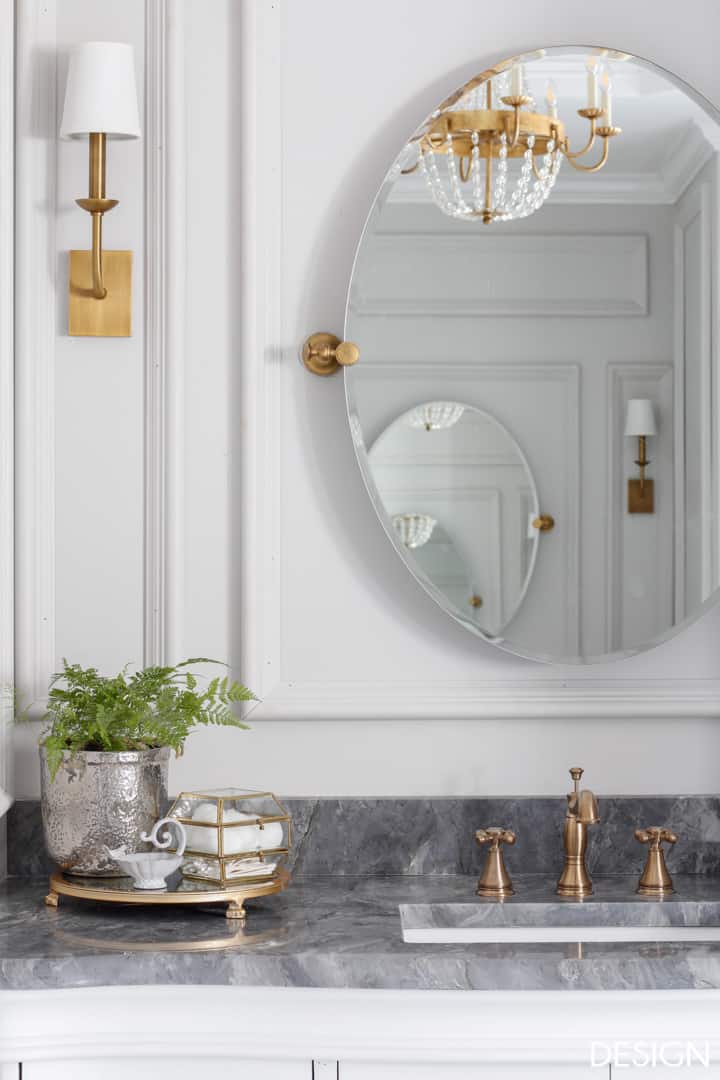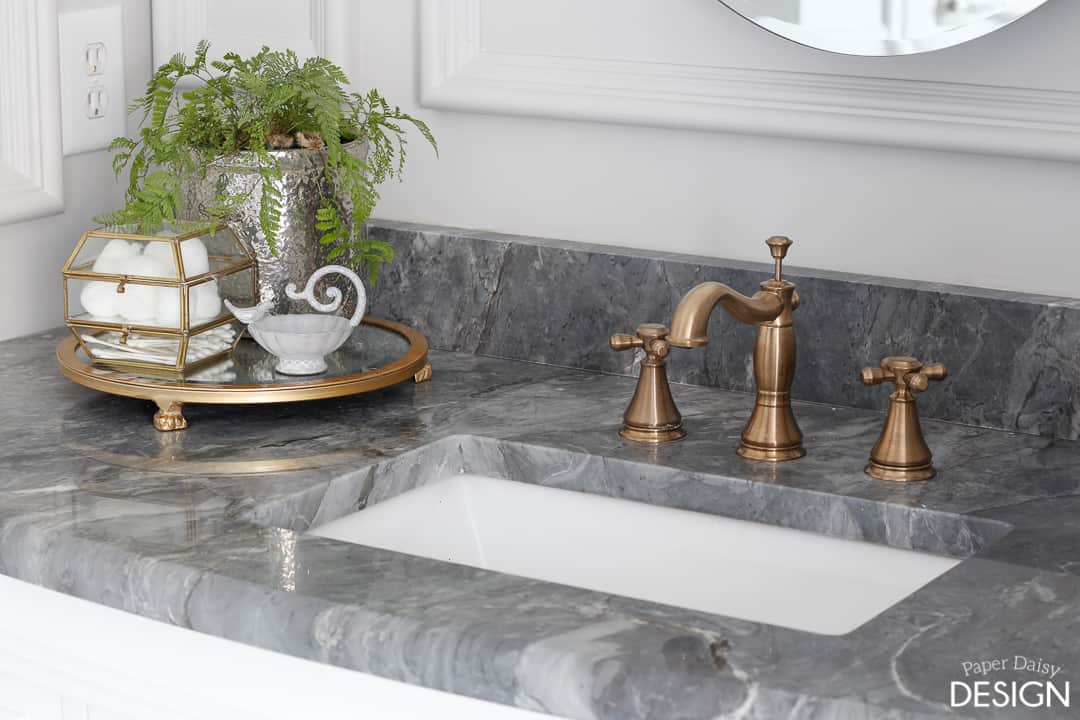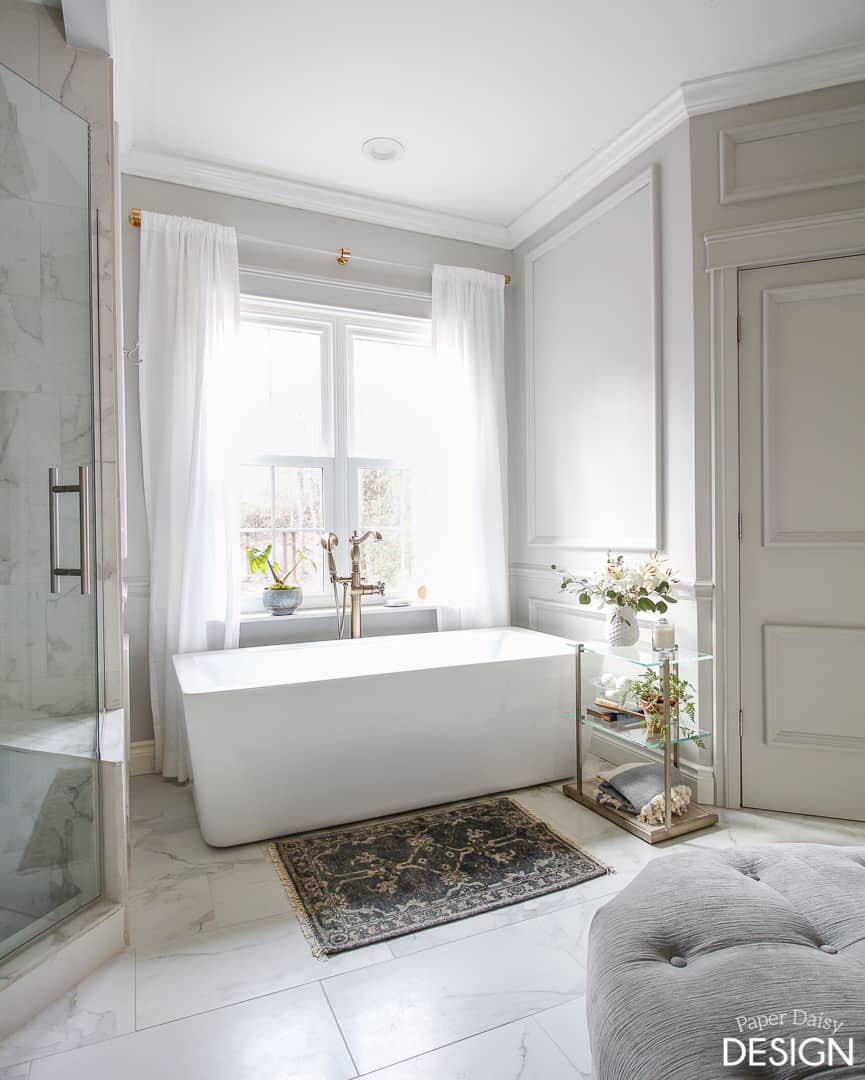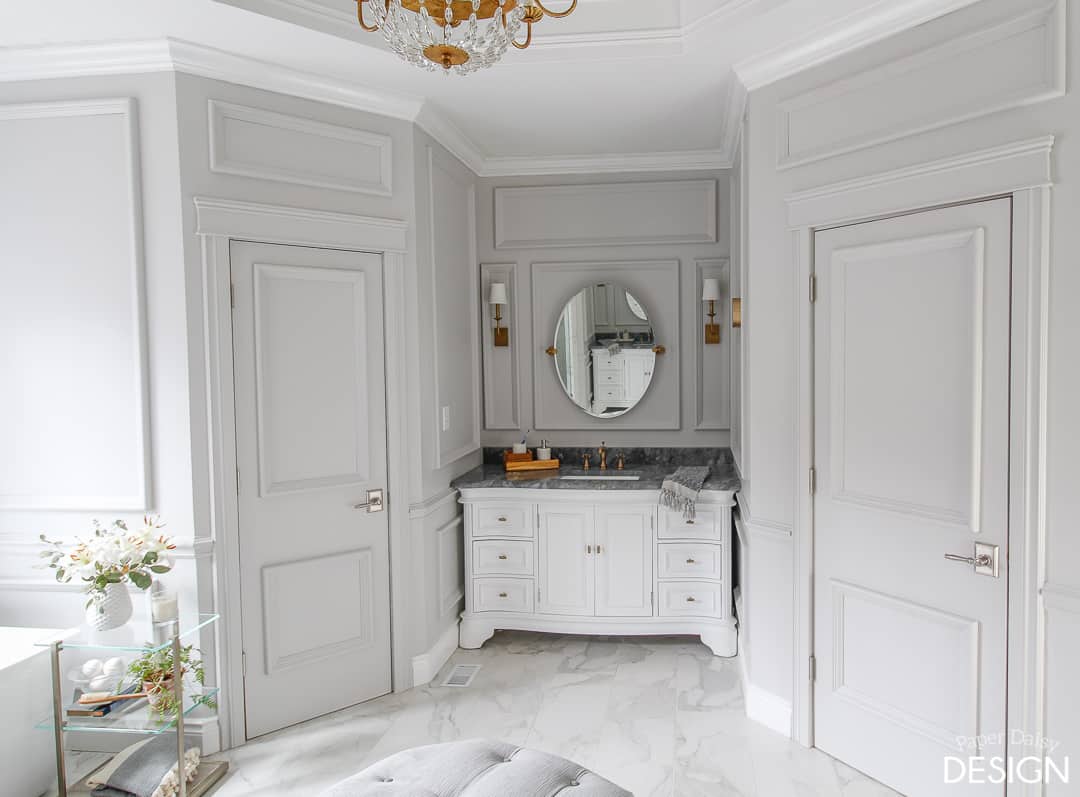 Adding to the surreal feeling of living in this bathroom, I was honored to have it featured in Birmingham Home and Garden this month!
Here's a link if you would like to read the article. Birmingham Home and Garden January/February
I eluded to making an overview video of the renovation in the One Room Challenge Reveal post. The video and the post include some more behind the scenes and how I overcame some small decorating challenges that allowed me to go from inspiration to reality. You can that video here.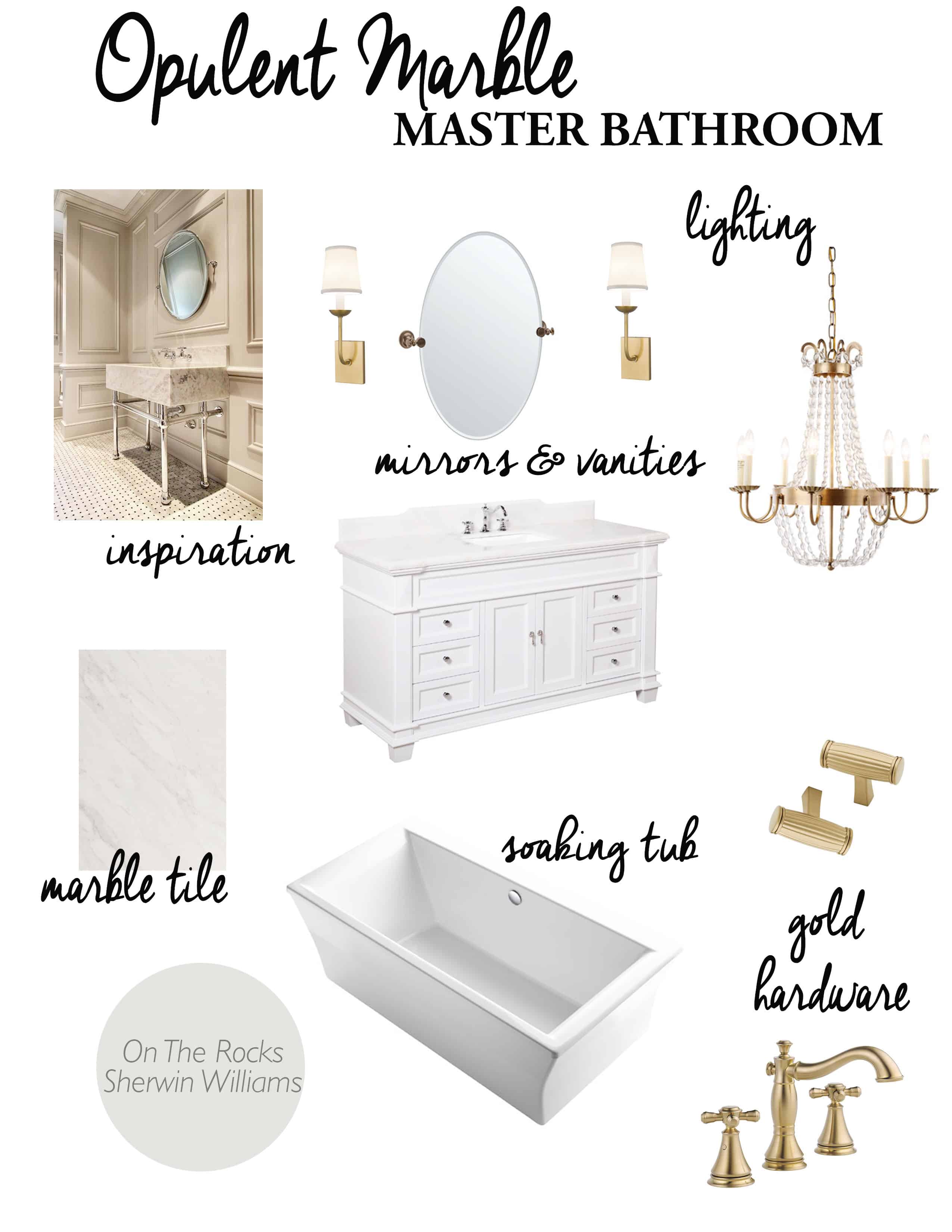 Shop the Look

If you would like to read a more in-depth, week-by-week summary of the issues encountered, you can read through all of the One Room Challenge Posts. They are compiled here in reverse order. You can Click here.
I fully realize a bathroom makeover of this magnitude in such a relatively short period of time is beyond the scope of what most people think they can tackle on their own, but clearly, if I can do it you can too!! And even if you don't have a budget to do it all at once, just look at the power paint played in this space! It never ceases to amaze me what the right color can do for a room.
If you want to go back and time and follow this renovation week by week, see below.
Week 1 Intro & Demo • Week 2 Starting the Tile • Week 3 New Window & Marble Counters • Week 4 Vanities & Waterproofing • Week 5 Wallpaper & Shower tile • Week 6 First Reveal
I would be remiss if I didn't take the time to thank my sponsors again for this makeover one more time. They contributed products that were integral to helping us achieve this renovation.
Wallpaper Boulevard & D.Lawless Hardware