Happy New Year! I totally realize we have arrived at week three of the new year already.  I wish I could just say I don't know where the time went, but we started the new year with a few challenges. It was best for me to set the blog aside for a short while. I also tried to focus on putting the finishing touches on projects around the house in preparation for a party we hosted last weekend.
Thankfully now, our little world is as right as it's going to get and I am ready to get back to being here. I look forward to finally sharing all the nitty gritty details of what I've been up to!
Before I move onto those newer projects though, I need to circle back to and share detailed tutorials on a few of the major remodels from our first year at the Trail House Reno. Look for those in the coming weeks.
There are still several rooms to complete at the Trail House, but many of the projects we plan to focus on this year will be centered around adding functionality to our spaces instead of major overhauls. I am extremely thankful we finally can live peacefully in our house without major construction and piles of tools in every corner. We also plan on tackling several projects that focus on the backyard in 2017.
So, let's look back at the Top Posts from 2016!
I've arranged them pretty much in chronological order.
Click on the title or the photo to read each post.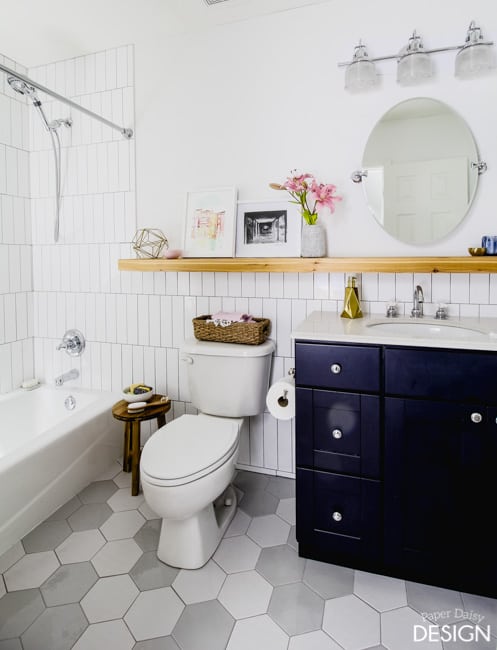 This was the last major project at the House on the Hill. Can you believe our daughter had to give up this amazing bathroom when we moved to the Trail House? And bless her heart, her current bathroom is not this nice.  But she graduates from high school this year so we all decided we would wait to update her bathroom when she's living in the dorm.  Maybe this will give her extra incentive to come home when it's done??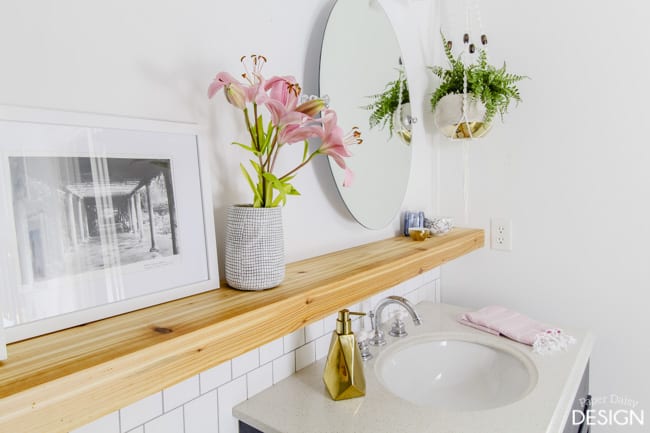 The thing that is super cool about this project is how the shelf was made to look like large cedar beam.  You could clearly see the top of the shelf and I didn't want to see a big seam where the pieces of wood met. Definitely worth a read if you are planning to create something like this.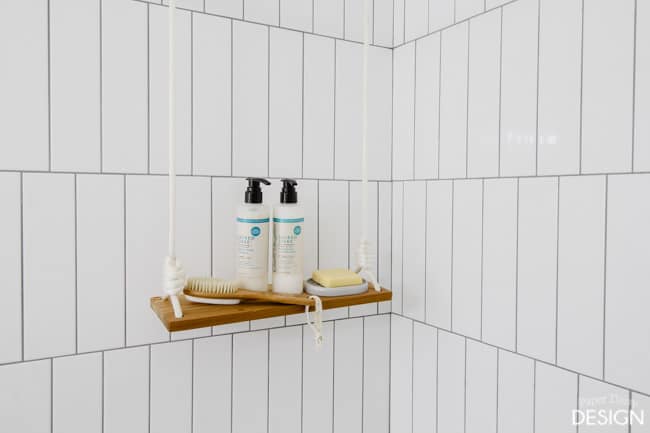 Also from the Modern Bathroom Makeover, for extra storage, we added a whimsical swing shelf to the bathtub/shower combo. It was also my first real take at creating a You Tube video demonstration. The whole process was pretty entertaining. One day I might release a blooper reel for big laughs.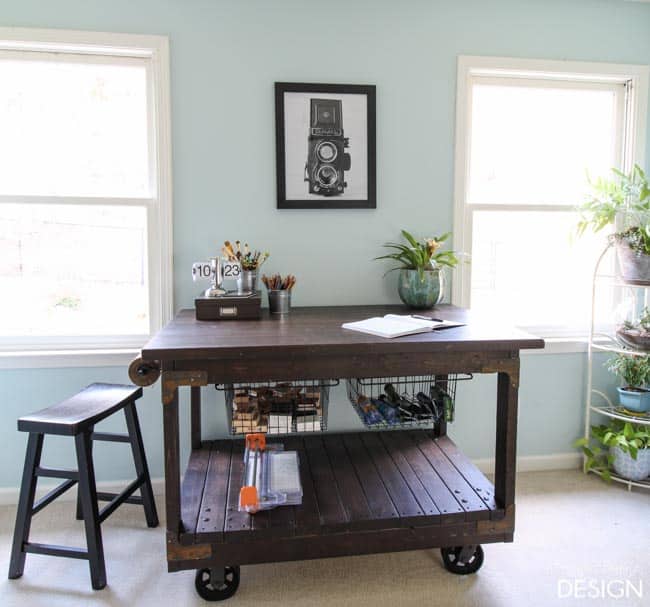 Would you believe this project is built completely from 2×4's? Even the top! Definitely an expensive DIY tutorial with an awesome result. Right? I love that the new table provides a great work surface and because of those super cool industrial wheels, if I need to work around the table I can easily move it to the center of my studio.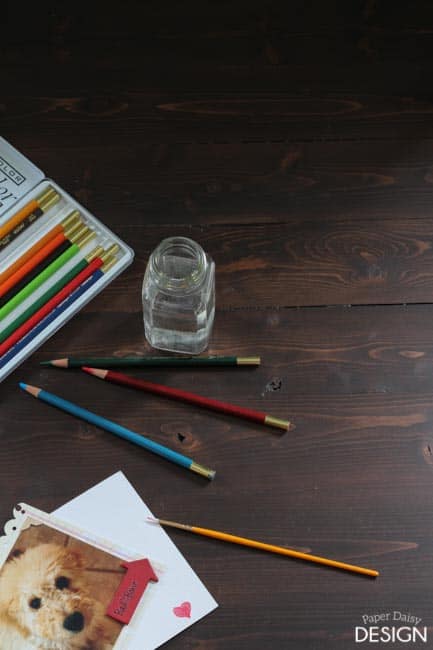 In this post, I walked you through the process of transforming simple pine boards into a rich, salvaged brown finish similar to Restoration Hardware. It's super easy, anyone can do it!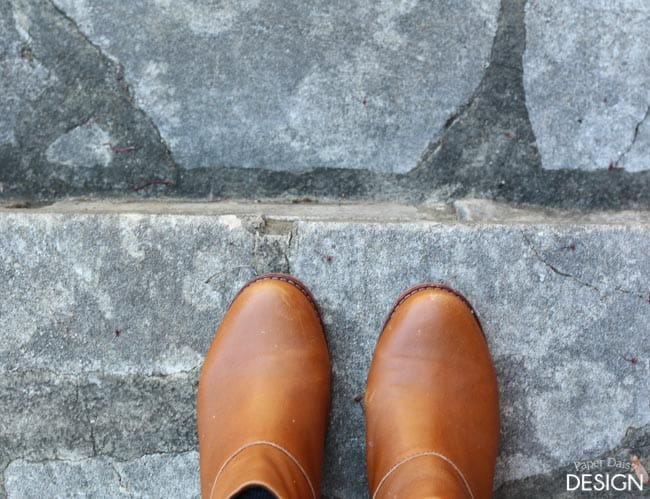 This post was about how we came to purchase our major Fixer Upper, The Trail House Reno. It's a pretty good story, at least I think so. And I'll go ahead and tell you now, it has a happy ending. 😉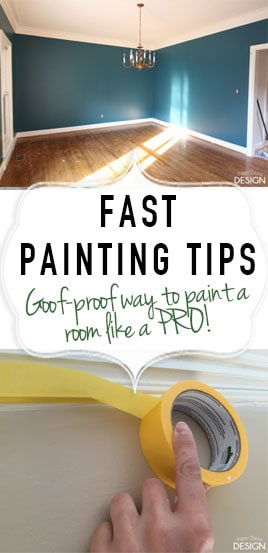 One of the first projects to tackle before we moved into the Trail House Reno was to paint as much as of the house as possible before the floors were installed or refinished. In this post, I share my favorite tricks and tips for painting like a pro!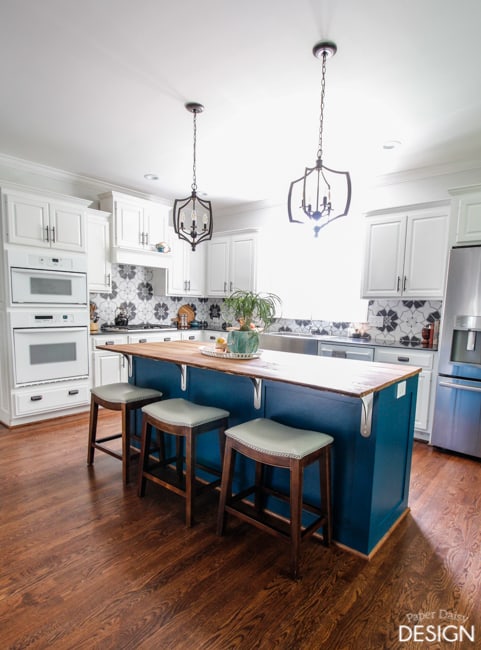 In this post, I reveal Phase 1 of our budget-friendly kitchen makeover. You won't believe the transformation and I also bet you won't believe how little the budget was! Go check it all out. Make sure you subscribe to my blog so that you don't miss when I finally share Phase 2 in the near future.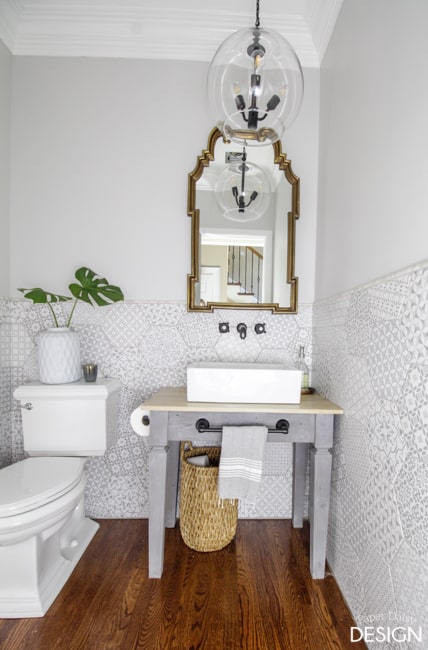 This room reveal of our main-level powder room is full of DIY projects and creates a modern mix of new materials, aged finishes and vintage finds. Check out all the details of this makeover! We even totally flipped the room and entry!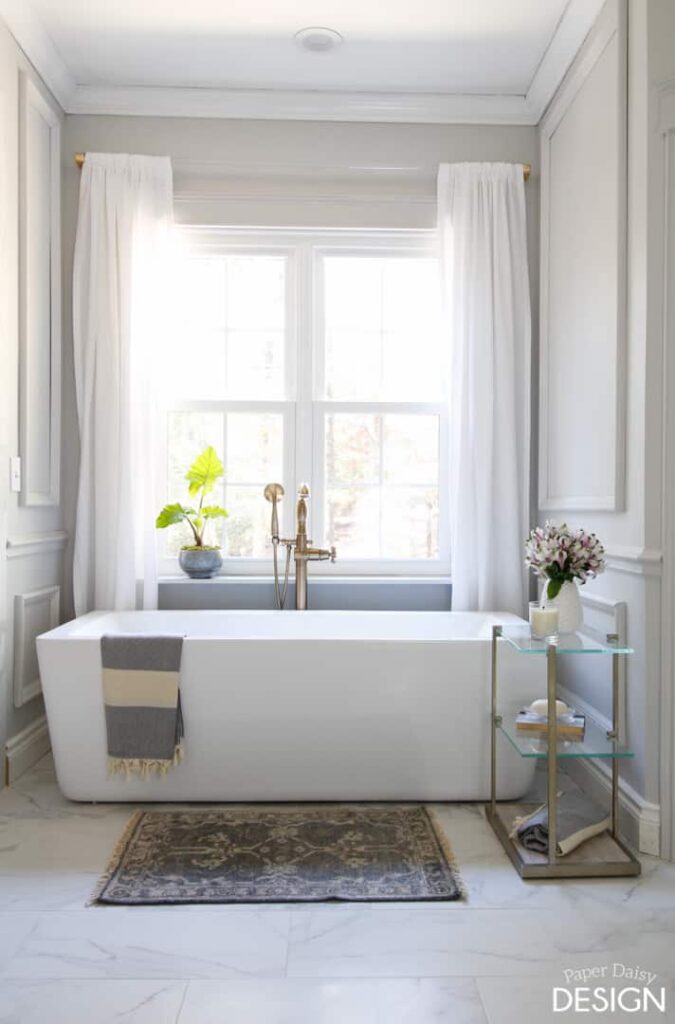 The biggest project yet at the Trail House Reno and my entry into the Fall season of the One Room Challenge.  After also completing a master bathroom in the previous One Room Challenge, I felt this room needed to take a luxury bathroom to the next level. So to create a truly opulent bathroom I relied on marble and gold and molding! You have to see the rest of the room and the before!
---
Speaking of this beautiful bathroom that I feel extremely blessed to get to live in every day, I will be re-shooting this room to show off the true reveal and then move into some informative tutorials. I've added a few finishing touches and the glass door for the shower was installed soon after the original post.
I also want to take this opportunity to thank you, as a reader, for coming back and following me on this journey. It just would not be the same if I couldn't share it with you. Thank you and I hope you have a wonderful 2017! I hope you are always inspired to tackle projects around your home too!
Do you love Instagram as much as I do? I recently shared my top 9 posts of the year on Instagram. I'd love to have you join me there too! Click here.