Making your space a "home" is something that every couple can relate to—but (like most things in life) home renovations and decor cost money. And sometimes, a lot of money. So how do couples strike the balance? Well, the short answer is you should shop around to find something you believe is worth your investment. If you are looking for a staircase then you might want to have a look at Pear Stairs.
Borrowed & Blue, who I've recently teamed up with to help educate young couples decorating their homes on a budget, has something to say about that:
"With post-marriage life in mind, Borrowed & Blue, the online resource for Birmingham weddings, reached out to Leslie of Paper Daisy Design. Leslie, along with her high school sweetheart husband of 24 years, has tackled project after project and mastered the art of the DIY home (one look at their incredible space and you'll be instantly convinced). So couples, or anyone with a home, really, listen up: Leslie is here to share her style, fool-proof design tips, and how you can follow along with her upcoming projects to keep the inspiration going." – Stephanie, Borrowed & Blue Birmingham Market Specialist
Today, I wanted to share my interview with Borrowed & Blue, even if you are a regular reader I think you will find it interesting and will have you saying "I Do" to DIY too.
Borrowed and Blue Interview
B&B: Describe your design aesthetic.
Leslie with Paper Daisy Design: I haven't always had the luxury of creating a space with one design style. Necessity and budget have encouraged me to develop a quite eclectic style. I do find that I am drawn to interesting details in furniture whether that is a traditional turned leg, a globally inspired chest or even a unique line on a more modern piece. Ultimately, I am most drawn to and desire to create spaces that are comfortable, collected and yet a bit refined. For a gathered space to feel cohesive, restraint is necessary and sometimes that's the most difficult aspect of designing a beautiful home.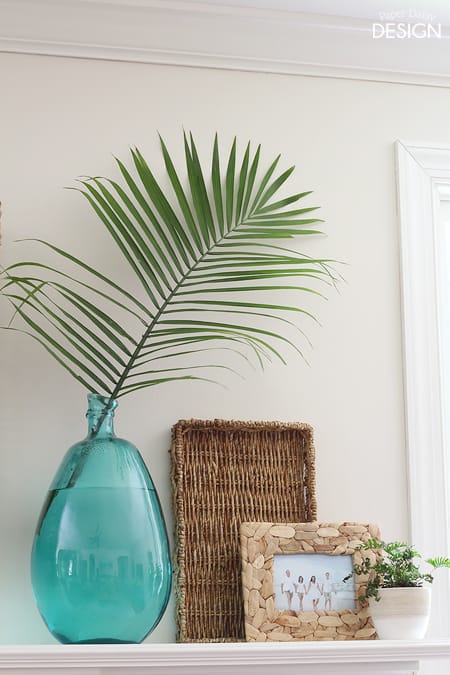 B&B: What inspires you?
PPD: It's hard to say that I have one source for inspiration. Sometimes the smallest details, something I see in nature, a pattern, texture or architectural details, anything can be the inspiration for a new project. Ultimately our visual experiences are collected and drawn upon. With the mainstream use of Pinterest, it's easy to be in inspiration overload. I love having a digital place to corral my inspirational images just as I used to do with a binder or cork board so I was an early adopter of Pinterest. I often find I have to be fairly descriptive in my pins to help me remember the subtle qualities or a specific tiny detail that inspired me to pin an image.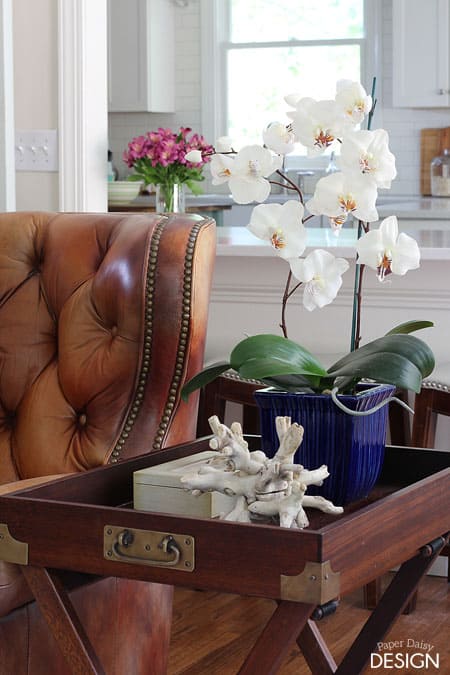 B&B: When did you get into DIY?
PPD: We actually began to dabble in DIY as a young married couple. Money was tight and we were looking for ways to save while making our first home our own. We painted almost every room in our first house ourselves and I remember being so proud of our accomplishments. Let's not talk about how hideous one of the color choices turned out to be. But even with that little mistake, it was fixable and I learned from the experience. When we purchased our second home, a very dated fixer upper, we moved onto more involved projects like tiling a kitchen and hallway, building a fence and replacing counters. We have moved 8 times in our marriage and each house became a new canvas for us to create a home that was perfect for us and a new opportunity to for a DIY project.
B&B: How did you learn how to DIY?
PPD:In the beginning, we pretty much approached projects in trial and error mode, but educating yourself is key. Before we begin any project we spend a great deal of time researching the best products to use and reading about proper techniques. Now you can learn how to do just about anything on blogs or YouTube videos. All you have to do is "Google" a subject or project and you are given a multitude of ways to complete a task.
B&B: Do you have any failed DIY projects?
PPD:Honestly, I don't think I've ever let a project be a total fail. There have been times when the first attempt was not a success. I can think of a complicated table I designed for instance. I'm a pretty big dreamer and our woodworking skills are definitely still developing, so sometimes it's trial and error until it becomes brings my vision to life and is a project my readers can easily duplicate. There was a time where I made a "bodge job" while trying to fix our roof, which resulted in a quick phone call to my local roofing company (theroofclinic.com) – but it all got resolved in the end.
B&B: What has been your favorite project?
PPD: Our marble master bathroom. It is the epitome of a dream bathroom. We worked on the project together, my husband and I, but I set almost every single tile in the room myself and that was a huge achievement that I am extremely proud of. When we had a little problem with the plumbing in the bathroom, we came to the conclusion that we wouldn't be able to do this alone. So, we opted for the idea of looking for someone who could solve this issue for us. I've heard a few stories of plumbers not doing such a good job, which is why we made sure we looked into something like citb checker, to make sure whoever was going to be fixing our plumbing had the right qualifications for the job. Once this was all done, we knew we would finally get the bathroom we have always dreamed of.

B&B: When approaching a space, what do you notice first?
PPD: Light, architectural details and if there isn't enough of either, how can it be enhanced with color and design.
B&B: For couples buying their first apartment or house together, what are a few questions they should be sure to ask themselves?
PPD: Does the space have good light? If not, can a cozy atmosphere be created. As a couple you should agree up front on a budget and discuss design preferences and styles before you start your search. If you find you don't agree on one particular style, finding a balance between the two of you will help you create a home you will share and love equally.

B&B: When tackling these projects as a couple, what's the hardest part about DIY? What's the most rewarding?
PPD: There's a saying prevalent in the DIY community, couples who build together, stay together.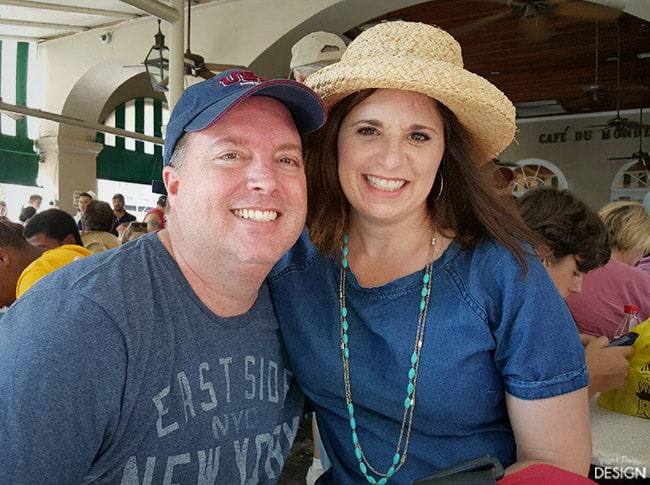 My husband and I are quite the yin and yang, but we are both easy going. I am creative, a big dreamer and don't enjoy the math side of building, I rather working more organically. He's very analytical and realistic in his approach. Sometimes we disagree on how to tackle a project or a problem related to a DIY and yet, we find a way to resolve those differences amicably. I think it's good "practice" for when life inevitably throws you a curveball as a couple.
B&B: How do you feel about thrifting for materials? Can you suggest any great local spots in Birmingham to pick up decor paraphernalia?
PPD: I totally embrace the recycled nature of thrift store furniture and decor. New isn't always better and I can almost guarantee it will not be cheaper. When you score a great item at Salvation Army or an antique mall, that needs just a little bit of love to make fabulous, there is great reward in that beyond the fact that you got it at a great price. I am a big believer in the services the Salvation Army provides for people in our community and around the world. I try and make those locations my first stop. Craig's List is another great resource. Just shop smart and be safe. Meet in public places during the daytime with a great deal of traffic and cameras and avoid going by yourself to meet someone. This chandelier was a treasured purchase from a sweet old man when we lived in Missouri. I will be moving this one with us again.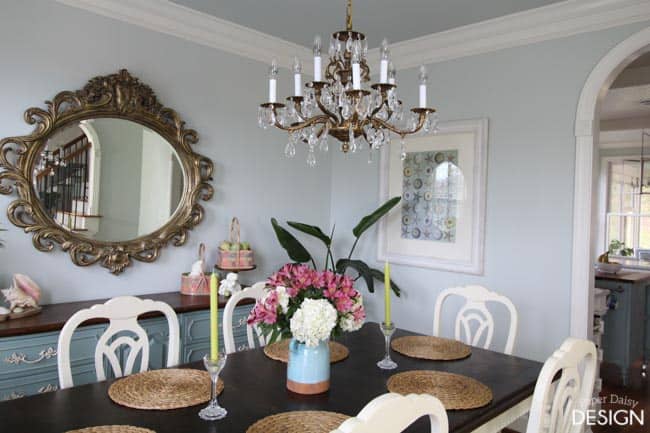 For one of a kind pieces of architecture I like to take a little drive up to Cullman, Alabama to Southern Accents & Architectural Antiques. There's nothing better than adding a little history to your space. Wait until you see our most recent purchase from them for our new house!
B&B: What will be your next big project?
PPD: Oh, boy do we have a big project! As I just mentioned, we will be closing on a new "fixer upper home" this week. We have so many projects planned, it will be quite the transformation. Not unlike those renovation shows on TV, I plan to walk readers through the process until the big reveal. To give you a little taste of what we have planned, here's a starter list: a total master bathroom renovation, a bathroom flip, meaning we are flipping the entry and the essentials to opposite walls and we widening a cased opening between the kitchen and the living room for a better flow and allow more natural light come into the living room. It's about to be a complete disaster zone, but one day it will be awesome!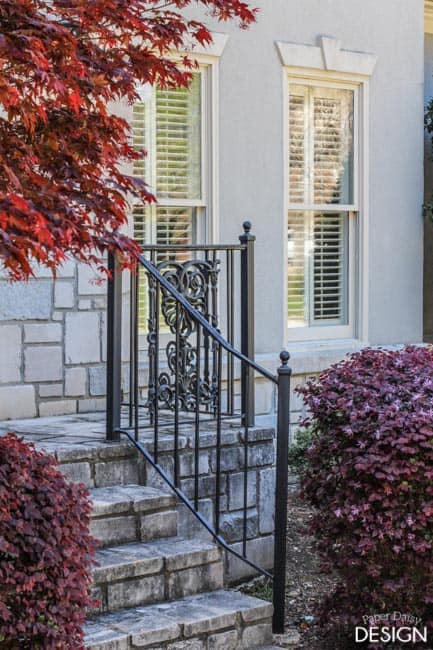 B&B: What obstacles do you imagine that project will present? How do you overcome those?
PPD: On the outside of the house the whole facade will be ripped off and replaced with brick. The house was clad with a defective stucco like material called EIFS. The big unknown with this type of cladding is how much moisture damage could have taken place over the last 20 years. If we do discover damage, it could potentially require costly repairs. We have test results that show limited damage around the chimney and we are hopeful it is isolated to that area, but honestly we just will not know until it is removed.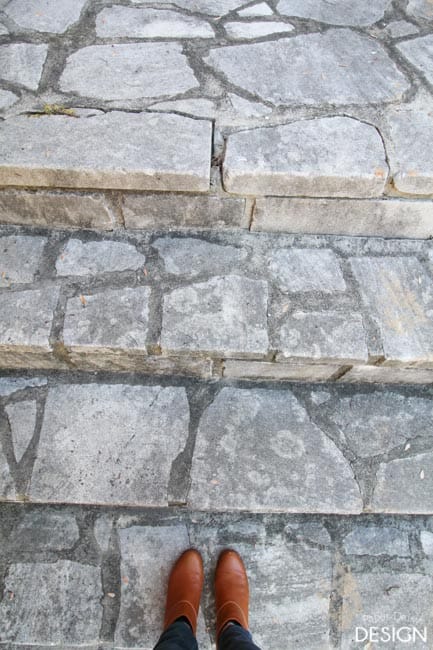 B&B: What are you most excited for in the future?
PPD: I continue to be thrilled at the growth of the blog and hope it continues to flourish. I love inspiring my readers, couples and families to create a home of their dreams one DIY project at a time. But in the immediate future, I can't wait to see this house completed with brick exterior and the inside updated for the way we live. We hope this will be the last house we renovate for ourselves. We don't want to move again and our goal is to find more ways to help others with their renovations directly.
Thank y'all for reading this interview! Be sure to check back as we tackle our biggest project yet and get ready for even more DIY design tips and tricks to come.
And a big thank you to Borrowed & Blue for reaching out and cross promoting!
This was not a paid post, nor was I compensated in any way. Just a fun way to meet new people and share!