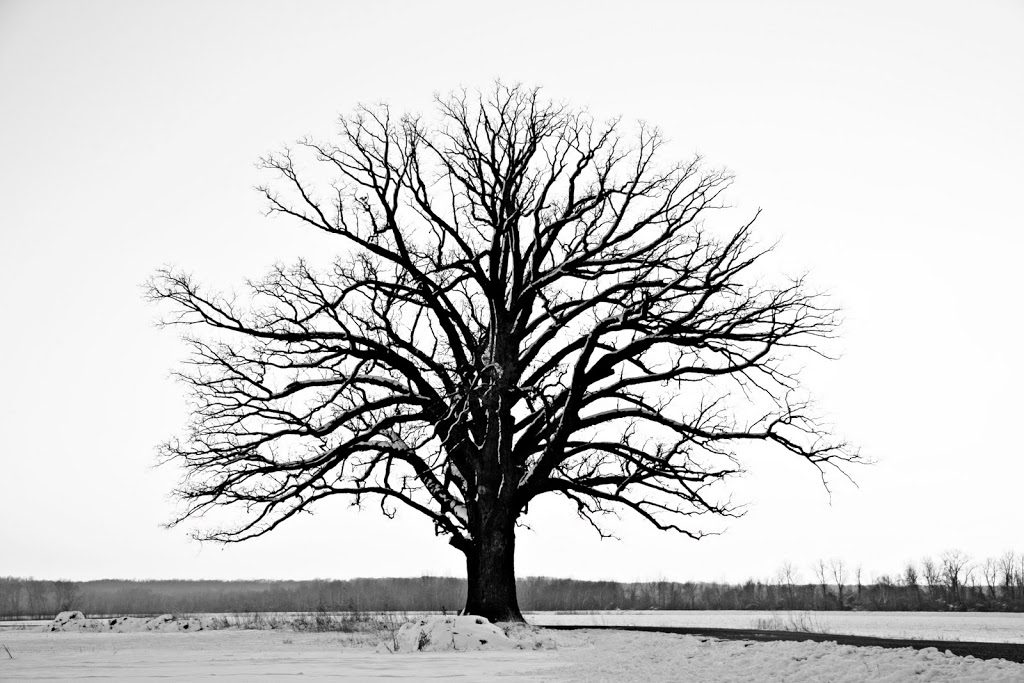 I'm sorry it seems like I dropped off the face of the earth.  Working on a major renovation during the Christmas/New Year's holiday will do that to you.
But thankfully, that project is finished and I can.not.wait to share it with you all! If you follow me on Instagram you might have seen this little sneak peak a while back.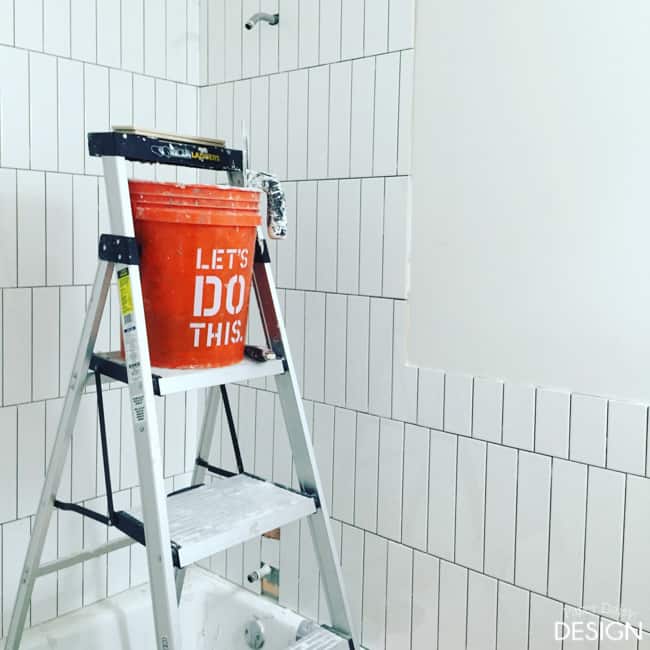 And this one today.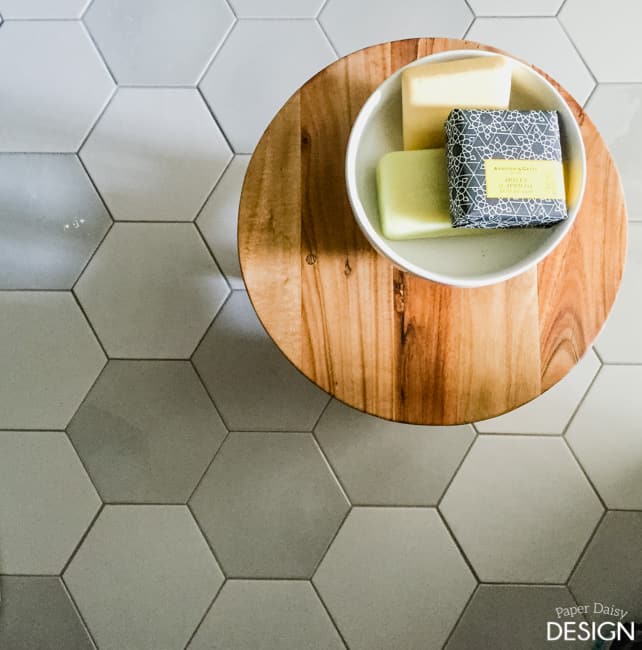 Hopefully, that will hold you and me both over until the big reveal!
Today, I wanted to commit to a few goals for January. Truth be told, I suck at goal setting and planning. I think it is by the grace of God I get half the stuff done around here that I intend to.  But in an effort to try and be more left-brained, organized and hopefully inspire you with where I'm headed, here we go. They are not necessarily in any particular order.
1. Refresh the house. With Christmas decorations down, it's a good time to move things around and try something in a new place, not necessarily buy something new. I actually had to think really hard as to what was on my mantle before I decorated for Christmas.  I still haven't found permanent pieces for the mantel since moving here.  Maybe now is the time to find a styling that works?
2. Finish a few organizational pieces in Emily's bathroom. She and I both came up with two completely different, but clever solutions for storage in her newly remodeled bathroom. I think you are going to love them.
3. Draw up plans for the big organization and design reset for my office/studio space. When we moved here, we jumped right into our kitchen renovation and I really just shoved my craft stuff into the closet, put up an Ikea Expedite and called it a day.  Now it's time to really organize the space and make it a creative retreat I can be proud of.  A new piece of furniture will be built for the room, so stay tuned!
4. Share tutorials from the master bathroom makeover.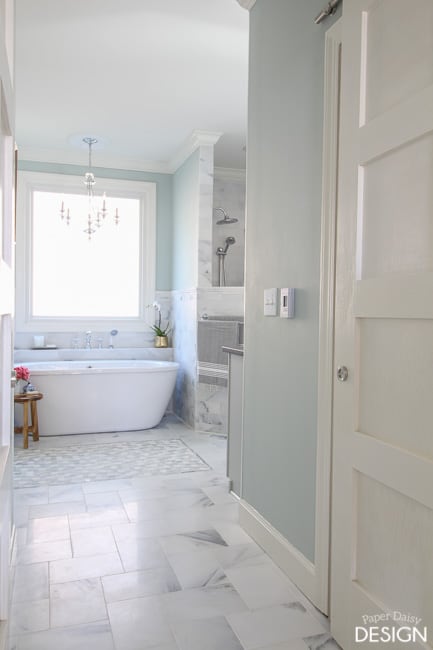 Our recent master bathroom renovation is packed full of DIY goodness, from how to install a heated floor, how to use and work with mosaic tile, to setting marble tile in a blunt herringbone, just to name a few.
5.  Actually finish my husband's office space.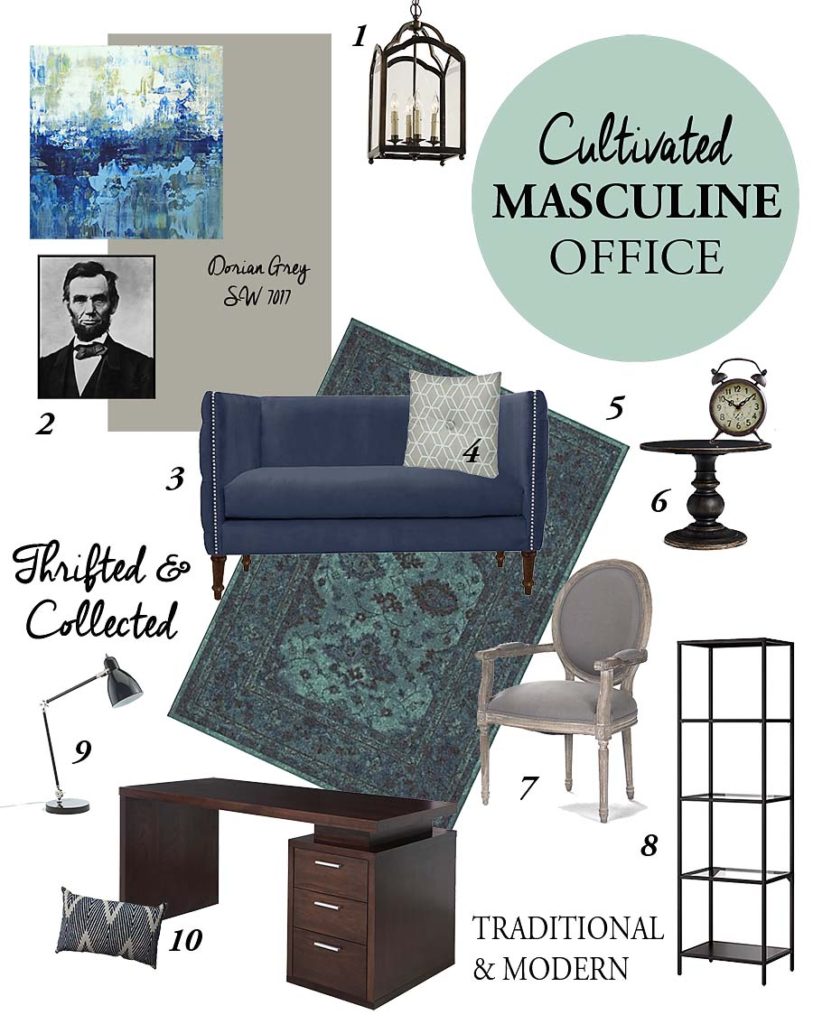 Bless his heart. I went in with a great design, we built/modified a large computer work desk, I collected furniture for seating, ordered fabric and then I left him with a mishmash of furniture that needs re-upholestry and/or paint.   At least he has a desk to work from, good artwork to admire and unique lighting. Those elements count right? You can see more of the gallery wall in this post. And the tile lamp here.
6. Re-style the kitchen in blue and white.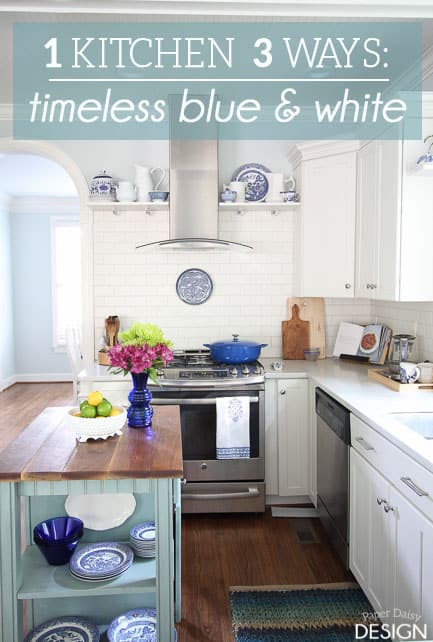 For all of you who were fans of the Timeless Blue and White version of the Kitchen Styled 3 ways series, I finally acquired enough bowls and small plates to use these dishes daily.  Woo hoo!  I'm looking forward to this look in the kitchen.
And now it's confession time. I didn't take down my Christmas tree until yesterday. There I said it. I had packed away the other Christmas decor over the weekend. So now, thankfully, all that is left to be done is to neatly arrange all the boxes into an under the stairs closet in the basement.  Hubby said my spatial skills were going to be required to get it all back in there!
So tell me, do you use winter to get your nest in order and small indoor projects done around your house? Which one of these goals do you most look forward to seeing complete?