In my last post, I revealed our Modern Barn Door: An easy solution for awkward entries. In this post I am going to show you how to build a barn door for $50!! To say that this makeover has changed the way we function in our master ensuite is an understatement.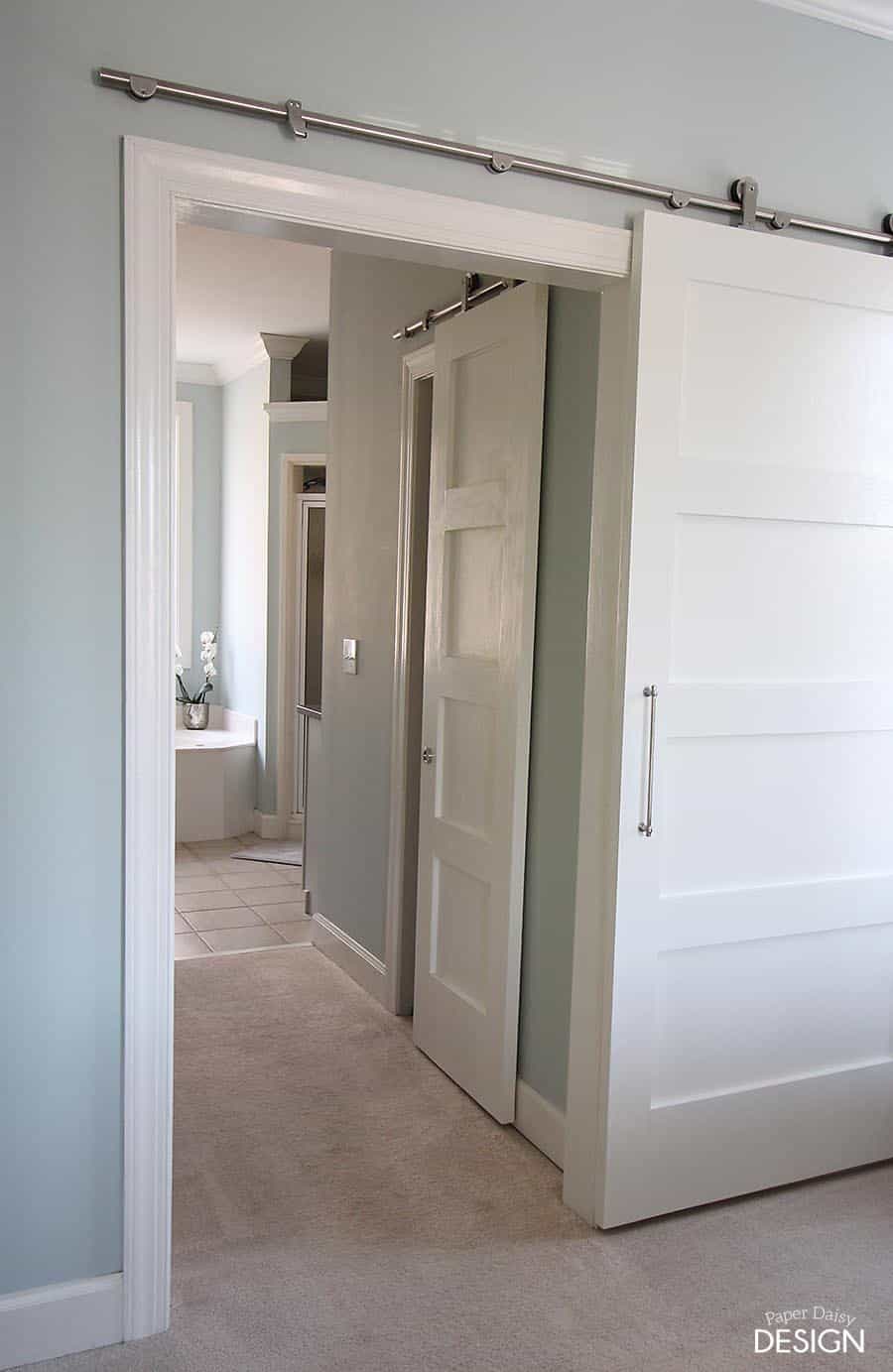 I'm back today for the complete details on how we built ALL THREE , contemporary styled, 4-panel doors for around $150. Yes, for the average price of one door, we built three! A bit of FYI, the 4-panel door is most common in Canada and Europe. A similarly styled door in the states is typically 5-panel.
This is the modern barn door hardware we used. We love it!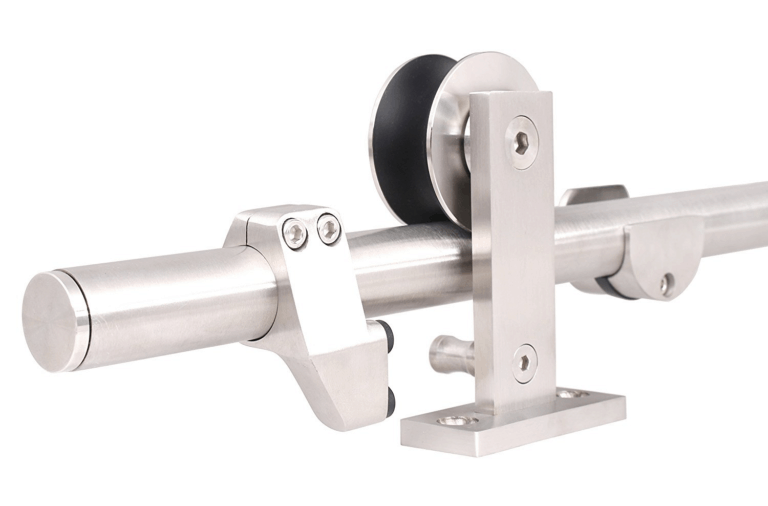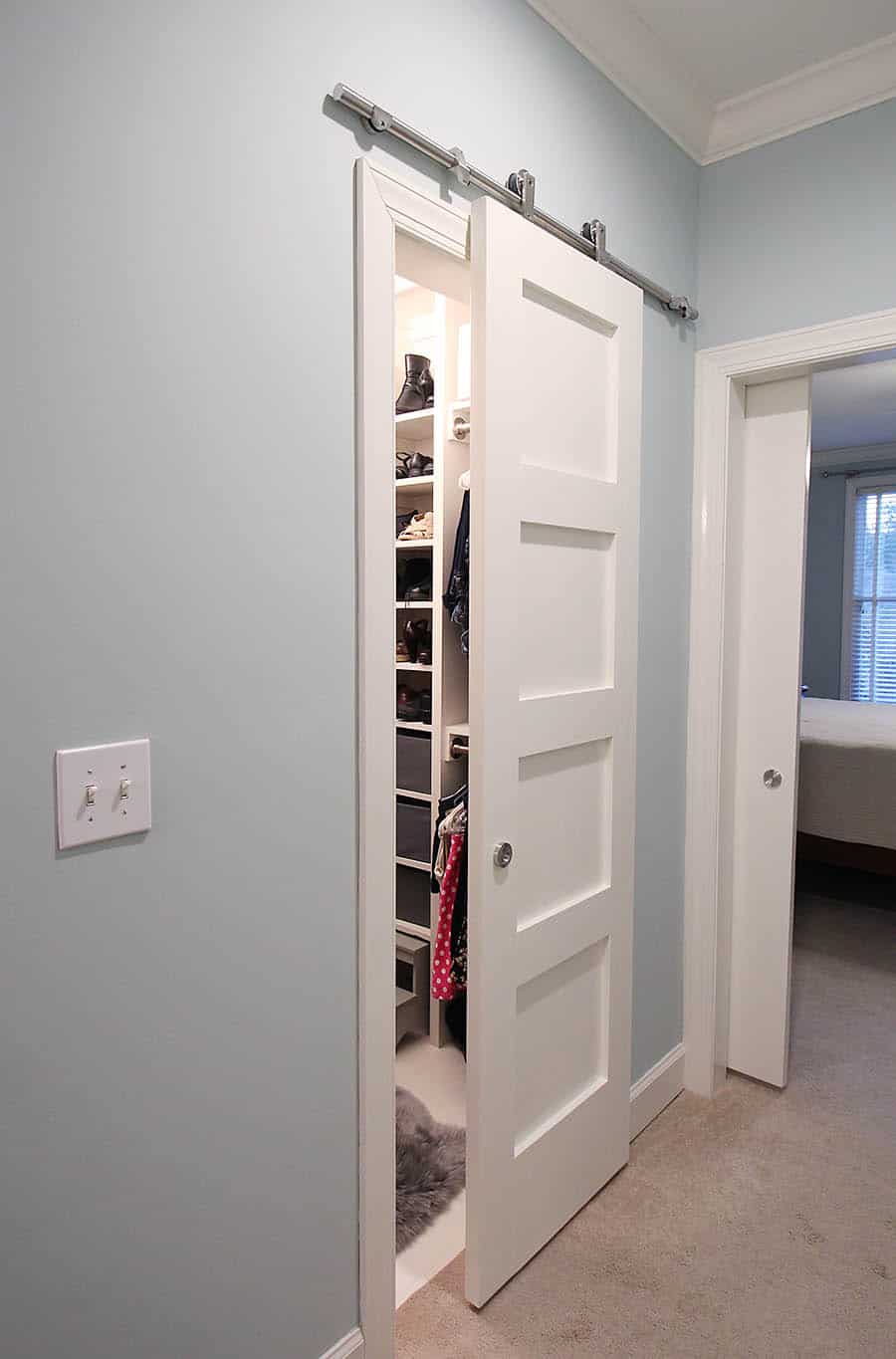 For some reason, going with the four-panel door really appealed to me. While the new doors don't match the rest of our interior doors, I felt the style, with clean and uncluttered lines, complimented our shaker kitchen cabinets.
Because we have become quite the fans of Purebond Plywood in Red Oak, we knew we would be building the doors ourselves with their product. It's an environmentally safe, hardwood product. And when I say hardwood, I mean it. Just keep reading, you'll see!
We don't own a truck, so we had to figure out where to have Home Depot cut the sheets of plywood so that they would fit in our small SUV. Just for reference, we can fit a piece that's around 40″ x 96″. We do this for just about every plywood project and then make the rest of the cuts at home. But if you don't own a table saw, they generally do an okay job of ripping the pieces for you.
This post contains affiliate links for your convenience.
Here are few tools you will need for this build.
Barn Door Hardware
4 ft Level
Digital 2 ft Level
Easy & Accurate Stud Finder
Cordless Drill
Drill Bit Set
Metric Self-lock Tape measure
Use these diagrams for the most efficient use of your plywood
We used 3/4 inch Purebond Plywood for the construction of our doors.
As you look at the cut file diagrams from the 3 sheets of 4 foot by 8 foot 3/4 inch plywood below, you'll notice the color of the pieces correlate to the where they were placed on the doors. But in all actuality, I've included these just for reference. It's likely that for your own project your door dimensions will be different and I would recommend sketching out your own plan.
In hindsight, we would have benefited from cutting each of the small doors from a separate piece of plywood. That would have given us a little more width for each door. But we chose to make our closet door the exact size of the opening, 24″, for two reasons. One, the space to the right of the door where it would rest when open is only 24″ and second, 98% of the time we don't close our closet doors. So in essence, our closet doors are mostly aesthetic.
Because I want to provide you with as much information as possible, I've sketched up an imaginary door that is 32″ wide. You'll note that our large door, 39″ x 84″ will require more than one piece of plywood. As you can see, this demonstrates that one door under 32″ can be made with one sheet of plywood.
That's right! A door up to 32″ can be built for around $50! Pretty cool, right?
How to Build Custom Barn Doors, with a modern or contemporary design
The actual build was super easy. But, after you do all of your cutting, I would recommend sanding the sides of the rails with a power sander. The cuts on plywood can be pretty rough and it's harder to sand the edges once it's all put together.
After you have your edges sanded, get them square on the door with vertical and horizontal rails in place.
Nail the vertical rails first and then measure out your desired space between the rails. We used 14″ for our spacing of a door that was 84″ high, and nailed those in place.
The 18 Gauge Ryobi Airstrike 18 Ga is the perfect tool to make quick work of the nailing. We used 1.25″ nails for nailing the 3/4 cut pieces to the 3/4 base.
We added wood glue only to the top rails. This was the one place we wanted a little extra insurance, as our hardware was top mounting.
I explain in more detail, the stainless steel hardware used and why we chose not to DIY the hardware in another post HERE.
After the door is assembled, you'll want to use wood filler to cover the nail holes and make smoother transitions between the rails. The goal is not necessarily to make the connections disappear, just smooth. The construction of the door is beautiful and simple. Embrace it.
I found the side edge of each door needed a great deal of sanding and a bit of wood filler to get it nice and smooth.
To paint the doors, I spread them out on the garage floor. Each of the doors was painted with primer and one good coat of Sherwin Williams Pro-Classic Gloss Paint, in the same color as our trim. I used a 6″ fine nap roller and then followed with a sweeping of a 4″ brush, only lightly covered in paint. This smoothes out the roller bumps, so that your door doesn't look like it's been rolled.
Once they were hung and in place, there were some spots that needed caulk and touch up. Another coat of paint was applied to the sides of the rails.
Shop the post
Barn Door Hardware
Sliding Door Lock
Wall Mounted Door Guide
Bar Handle
Hook Style Lock
Now that your door is built, click this photo below for barn door installation instructions.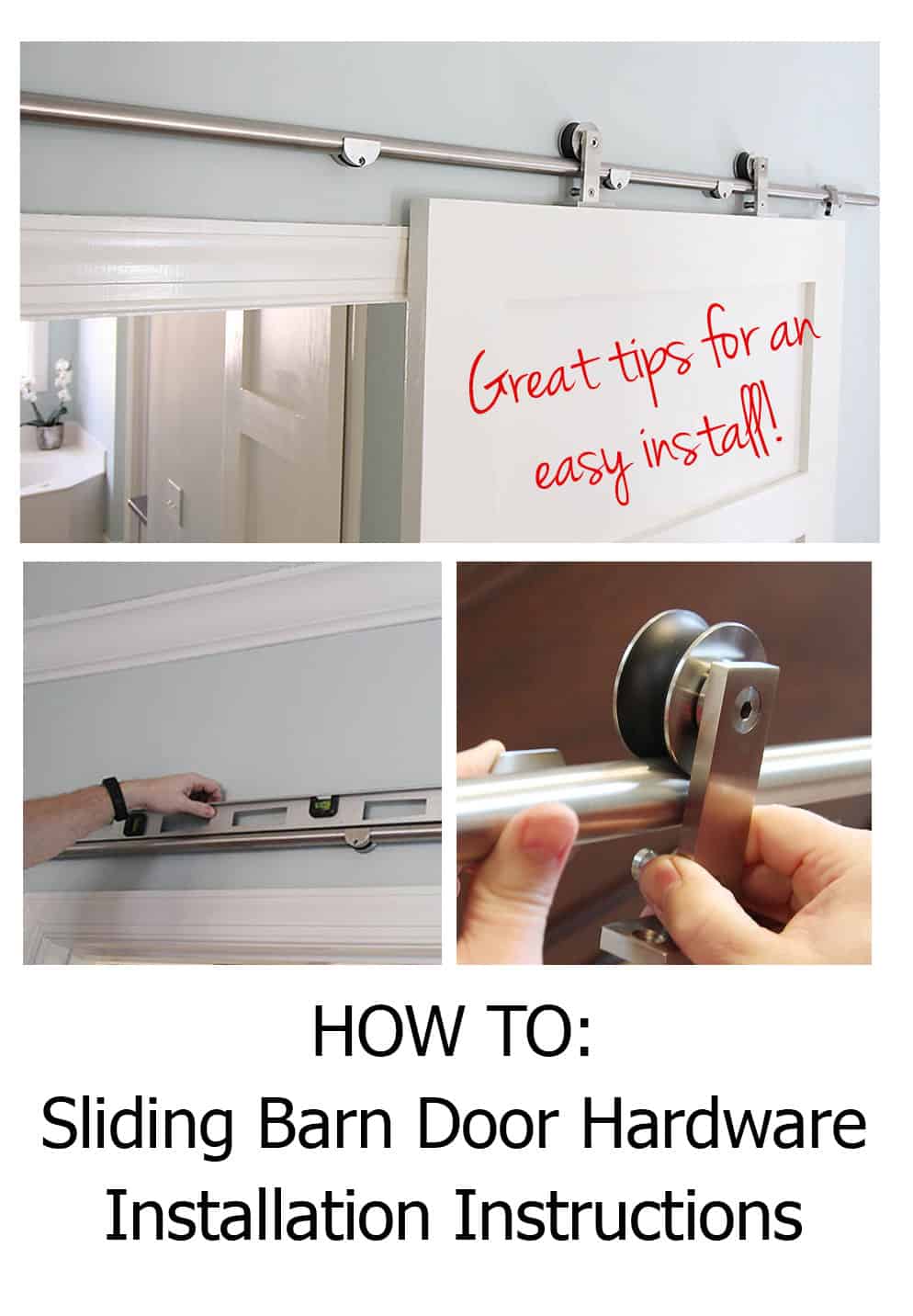 Remember how I said PureBond Plywood was a hardwood construction? Well, for visual proof we ran two durability tests on the doors.
First, I ran over one of the doors with my SUV!
Okay, so maybe this wasn't testing. Maybe this was just real life DIY incidents/accidents.
I didn't mean to run over the door, honestly. Our driveway is very steep and once you reach the flat part, you've missed the opportunity to see what's on the ground. So as I was pulling into the garage, all I could see the was the table saw and some scrap wood. But not the door!
The wood is so hard and sturdy you can't even tell it's been run over!
The second "test" happened when my husband dropped the large door from about halfway up the stairs!
When I peered down the stairs to the basement after hearing the crash, I just assumed, by the way, he was contorted and slightly trapped by the door, that at a minimum, he had broken his leg. But thank goodness he was fine. A little bruised, and not too happy about the hole in the wall, but nothing he wouldn't recover from quickly. He had lost his balance carrying the large door by himself down the stairs. Men, take note: This is a team carry item!
Despite our little mishaps, we love the doors, the hardware and the functionality of the space now.
To read more about why this solution works for us and how we handled the door jambs and handles, go here.
If you are ready to take the plunge, for a link to a full description on the installation of the stainless steel hardware we used Click HERE. There's also a good explanation as to why we chose NOT to DIY the hardware.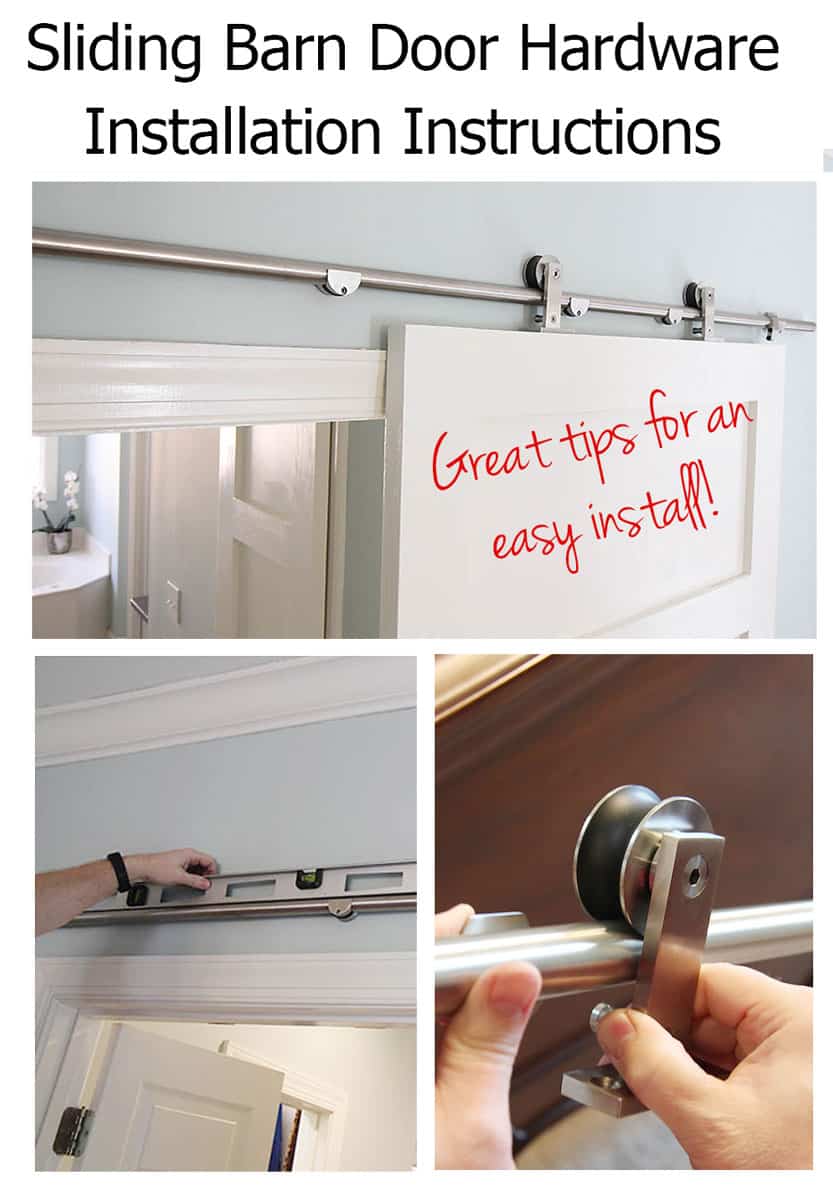 Let me know if you have a place you need to be more functional in your home. I bet you will want to hang one of these beauties! If so, I'd love to hear about it.
Disclosure: I was reimbursed for the cost of using PureBond plywood, but I would have no other wood product in my home regardless.