Welcome to my little bohemian jungle oasis and the reveal for my One Room Challenge studio/office space! If you are new here, thank you for popping over! I am Leslie. Through the home projects we tackle and tutorials I share on this blog I hope you are inspired to move beyond what you think is possible for your home decorating and renovations.
My favorite saying is, "You don't know what you are capable of until you try!" You can follow this slightly insane story of how this house in our existing neighborhood became the apple of my eye, and how we became blessed to call this house, #theTrailHouseReno, home.
This post contains affiliate links for your convenience.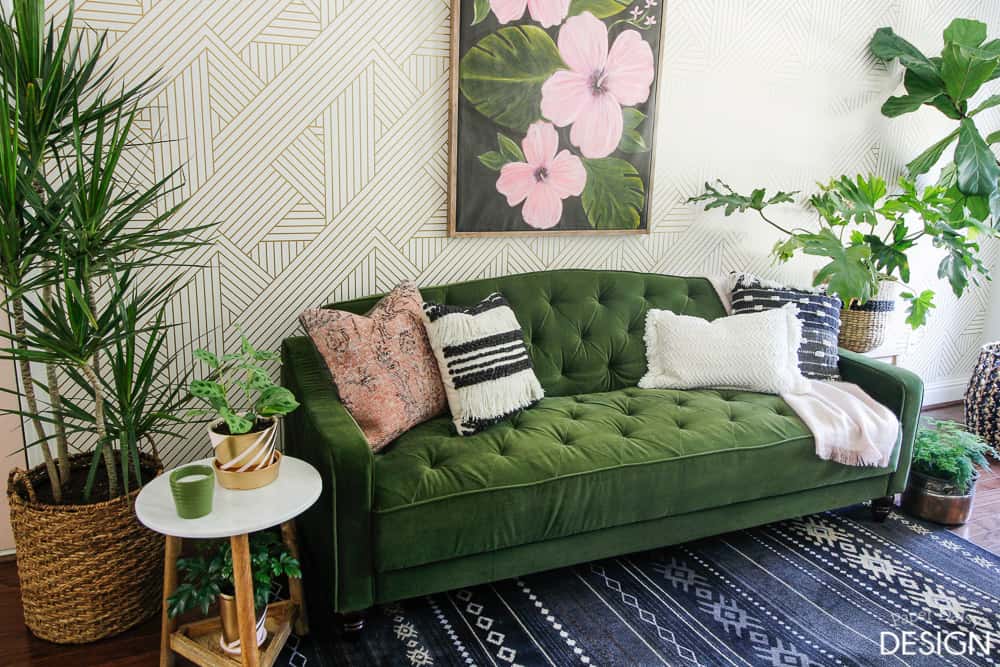 EDITED: The most asked question from this post is where is that green velvet sofa from??
While I'd love for you to read about the transformation of my studio
HERE IS THE LINK to the sofa,
The rest of the sources are linked
in the design board near the end of the post.
Welcome to my upstairs studio-office-craft space! It's a room that receives amazing light and I knew it was the perfect place for this self-proclaimed plant lady to create an inspiring jungle studio. Marry the houseplant jungle idea with some bohemian flair and just a touch of glamor and that's where my inspiration came from. More on that here the week 1 post.
Just six weeks ago, this was basically a forgotten space. We have been hard at work with the many other renovations in our home that this room pretty much got the old, dump the furniture and keep on moving treatment.
Here's a sad look back at the before.
Thank goodness for Linda at Calling it Home who came up with this brilliant idea to inspire bloggers and people everywhere to make over a space in six weeks!
There is plenty to see in here, but let's start with the practical… because did you see that sad excuse for a desk in the before photo? That cute little writing desk was not at all appropriate for what I needed. In fact, it was supposed to be a temporary solution until I could build the desk of my dreams.
I dreamt of a generously sized desk to hold my beloved, yet giant Mac with beautifully turned legs, but desks like those were way out of my budget.
So I kept dreaming until I found an antique bedframe that I knew I could turn into that desk! Don't believe me?
There's the before. A complete tutorial can be found here, because not only did I find a way to marry this old wood with new wood, I even added the perfect keyboard tray!
Directly across from the desk I added the prettiest futon you probably have ever seen.
This addition not only gives me a comfy place to read while I'm in my office, it also allows this room to serve as an overflow sleeping space during the holidays or whenever.
I bet you are not going to believe where I purchased it from either.
Wal-mart.com! Yep, that tufted emerald goodness came from Wal-mart, Right Here.

I couldn't be more happy with the way it looks and the size. It is a little firm, but that's kind of a preference when you think about a place to sleep.
Of course, the other showstoppers on that side of the room are the wallpaper and the painting I commissioned from my friend and artist, Wendy from Wendy Mitchell Fine Art.
She beautifully captured the tropical vibe I was looking for in my space. Please go check out her talented works here.
The wallpaper is from Devine Color at Target.  If you remember, I created a little mini reveal for Target Style last week. Click here for more and the sources.
I kept many of the decor pieces because they were so obviously perfect for the room! The super easy to use removable wallpaper adds drama and bit of glamor the wallpaper, but I also love the fact that if I tire of it, which isn't likely honestly, I can easily take it down.
Along the back wall of windows, my industrial inspired craft cart makes a return.
It's such a great work surface and I am still proud of the design and the function. Would you believe it was built solely out of 2×4's? Yep, get all the details here.
But it's likely you don't notice the cart for all the plants on the shelf and in the windows.
And that's okay. The plants are what make me extremely happy. And boy does this room have some good clean air!
The shelf above the windows not only provides a great place to display my collection of vintage cameras, it also allowed me to conveniently hang these awesome macrame hangers by my new friend at Ty's Knots.
We collaborated to create these hangers using a vintage macrame magazine a neighbor had given me years ago.
Just to the right, the IKEA bookshelf returns.
The storage it provides just can't be matched.
It also gives me a place to display my thrifted treasures.
And plants of course.
The wood bead chandelier is from here, but I did make a little modification.
I spent a couple hours this weekend wrapping the top with jute.
Why would I do that?
Because the one that I really had my heart set on was no longer available but here's another great new option for just a little more.
The last little detail in the room is this roadside rescue of a tool chest. I use it to hold my printer and my office supplies.
You might be wondering why I didn't paint those doors pink like the other on the accent wall. Well, those doors are usually left open on a day to day basis. One leads to a poop colored bathroom and the other is the entry door. Behind both of those doors are currently mini-disasters. Rejects from the space, paint cans, trash, and a vacuum cleaner to name just a few of the contents.
I couldn't be happier that I decided to participate in the One Room Challenge again this spring. I believe this was the most fun room yet!
Sources
As promised here is a round-up of all the items I can possibly link to from the room.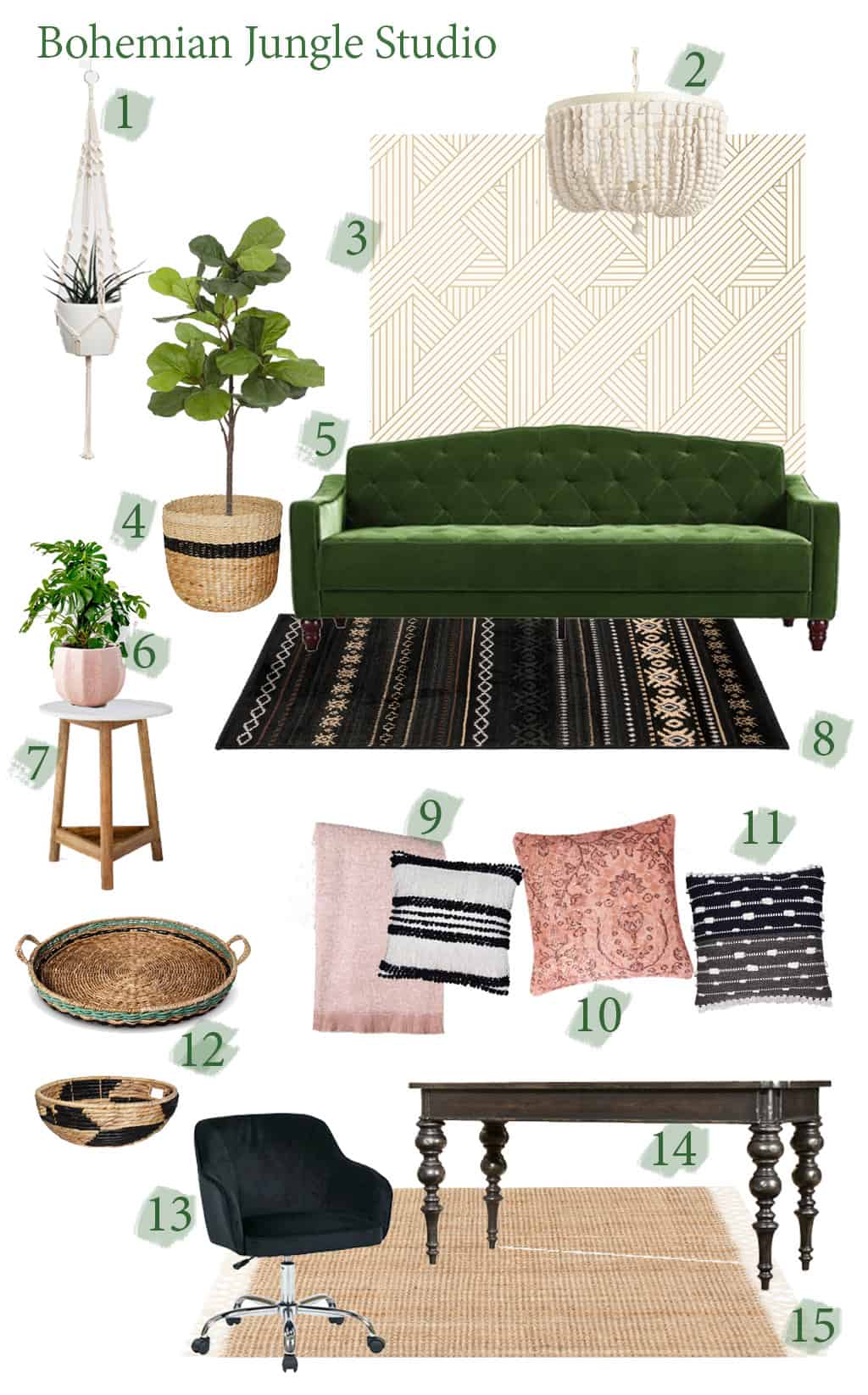 Macrame hanger 2. Wood bead chandelier 3. Gold wallpaper 4. Medium Basket 5. Green Velvet Sofa. 6. Pink Planter  7. Marble and wood side table 8.Black tribal rug 9. Pink blanket and pillow 10. Pink Pillow 11. Black and grey pillow 12. Woven tray 13. Black velvet chair 14. Inspiration desk 15. Jute rug with fringe.
Sure, my other spaces ended up amazing too, but this one was less intense in nature. Last fall we made over our bathroom. For a full reveal, check out this post.
The fall before that we made over the bathroom at our previous house. And the spring before that we dramatically improved our outdoor spaces during the One Room Challenge makeover.
Needless to say, I am totally a fan of this event. Be sure to check out the featured designers as well as all of the other guest participants for this year's One Room Challenge.
A very special thanks to my sponsors and
contributors to this One Room Challenge makeover!