Before we go ringing into the Christmas season I wanted to hit pause for a moment to share my fall living room refresh.
Things got a little more than crazy around here starting in October when I participated in the One Room Challenge to makeover our master bedroom.  We love the resulting room, but it meant that I had absolutely no time to dedicate to writing this post and to share what happened in the living room this fall.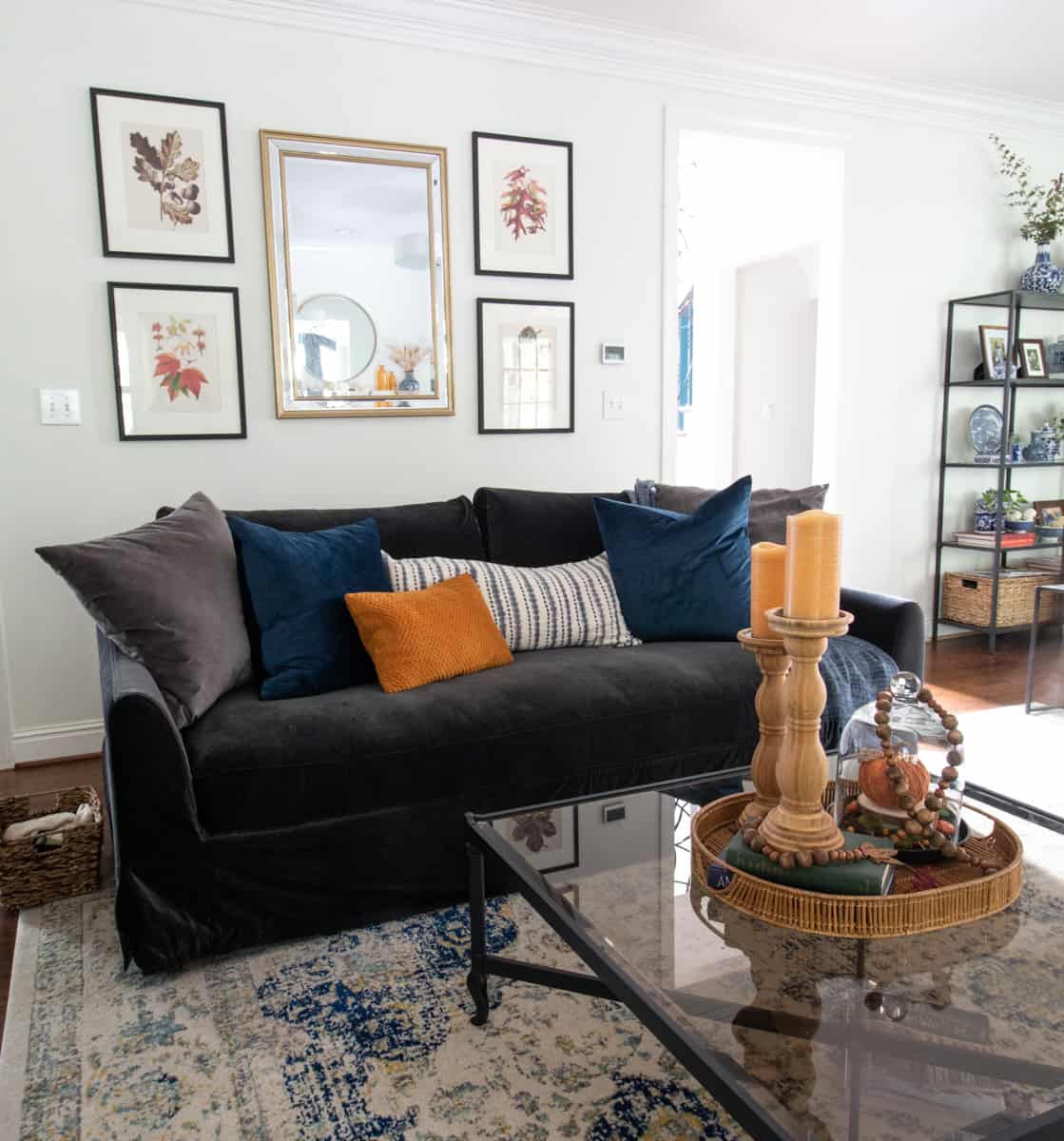 This post contains affiliate links for our convenience. 
If you remember the room before then you noticed right off we got a new, beautiful dark grey velvet sofa. I could not love it more. It's like getting a hug every time you sit down. Source below.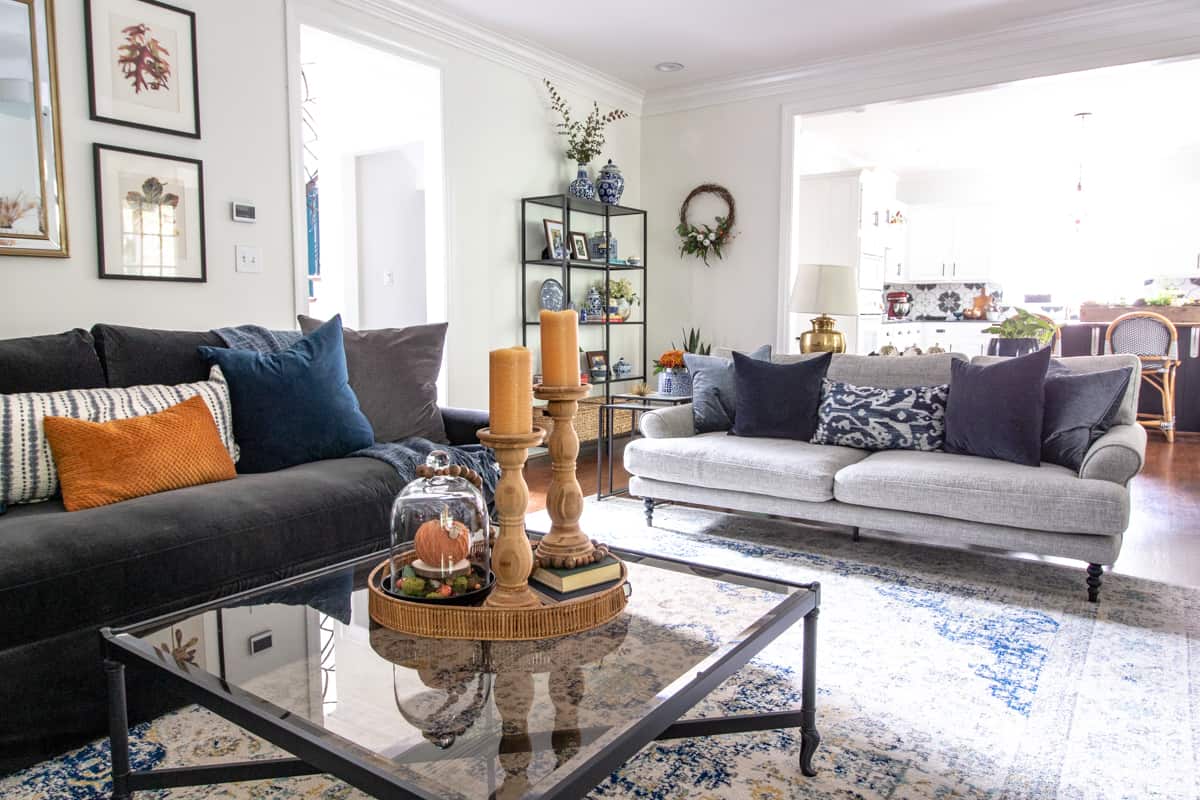 I had been saving money for a while to make this change and now that it is here the room finally feels like our living room is nearly to the level of a cohesive design I had hoped for.
Not only is it okay for a room to evolve overtime, but it is much more realistic for me and my budget. A series of little refreshes makes design approachable.  Don't be afraid to start small.
For an easy season touch, I also replaced the fresh green botanical prints with vintage fall leaves. I'd be happy to share the sources if you are interested.
The new sofa
Once the new sofa was in place it was time to repaint the vintage buffet used as a console under the TV. It was a very warm grey color.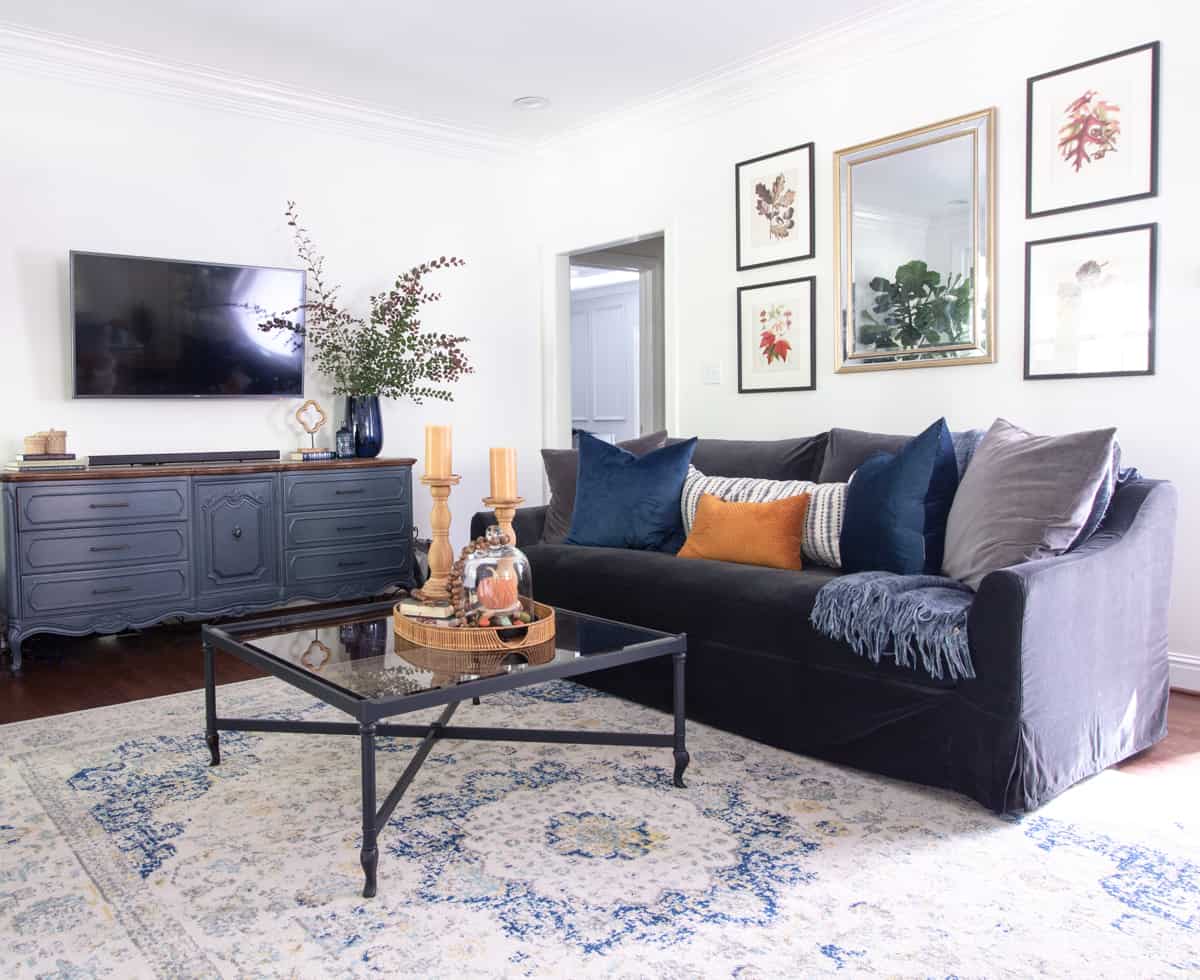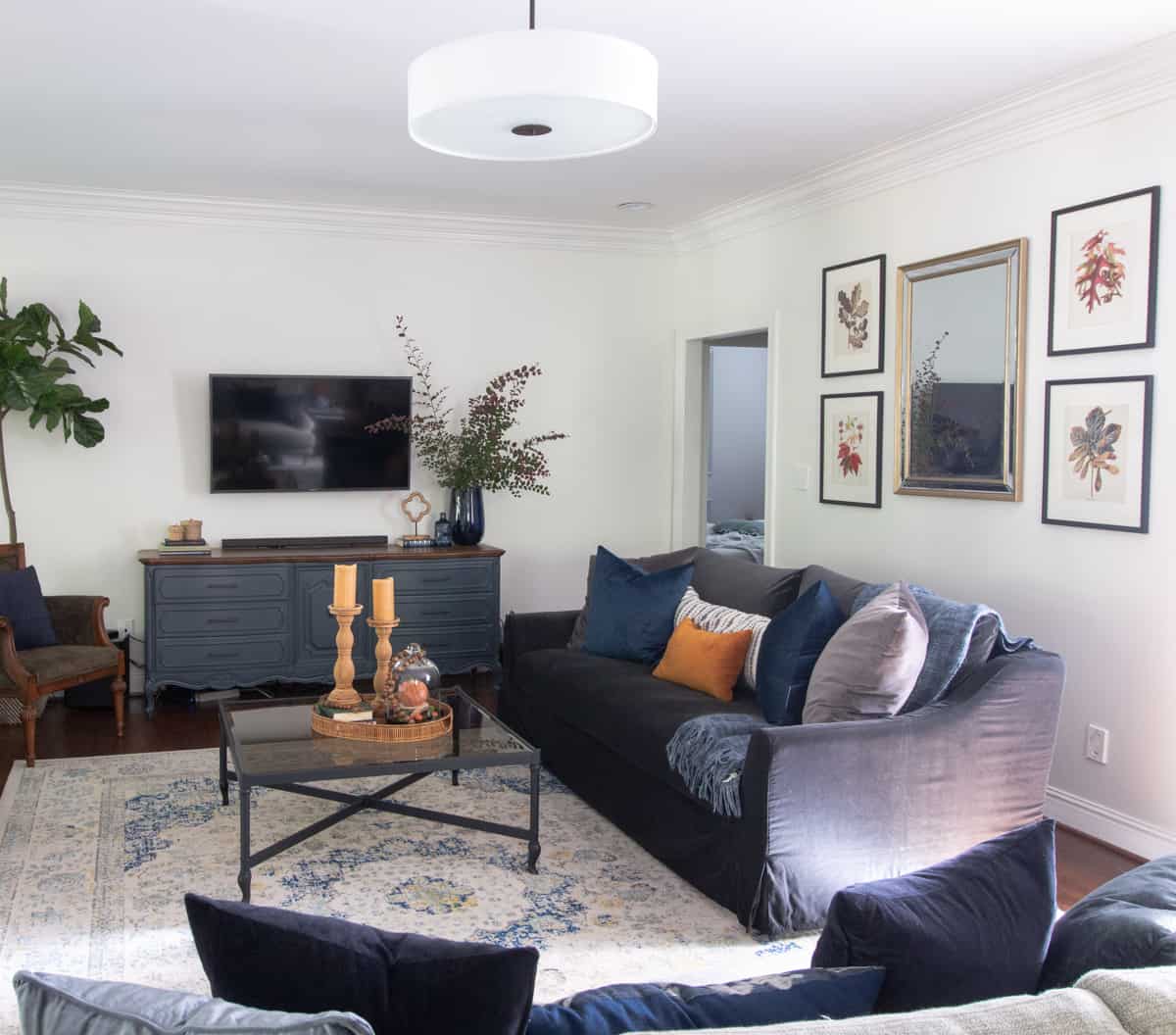 I custom mixed a deep, dark, grey-blue and absolutely love it. ( I had it colored matched afterwards if you would like the formula.) I knew the previous grey color wasn't working in the room but I wanted to wait until the sofa arrived before I made a change.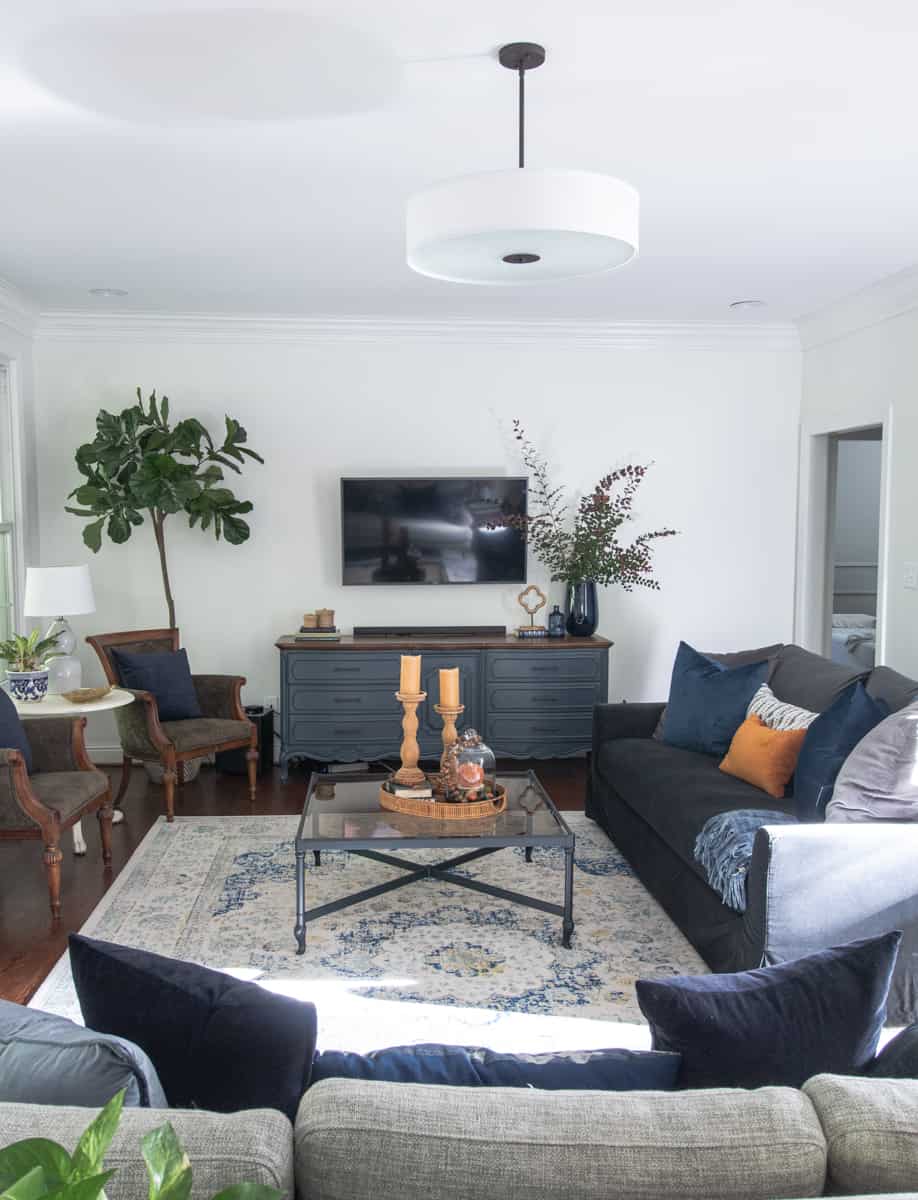 The last major project for this room is to reupholster the side chairs. I have had the fabric for quite some time. It is a lovely grey velvet too, just a bit lighter than the sofa. All that is left is to to decide if this is a project I want to tackle or hire it out.
If you follow me on Instagram Stories, then you might remember I was going to be on the look out for more great faux plants to share with you all. ( I love this part of my job!)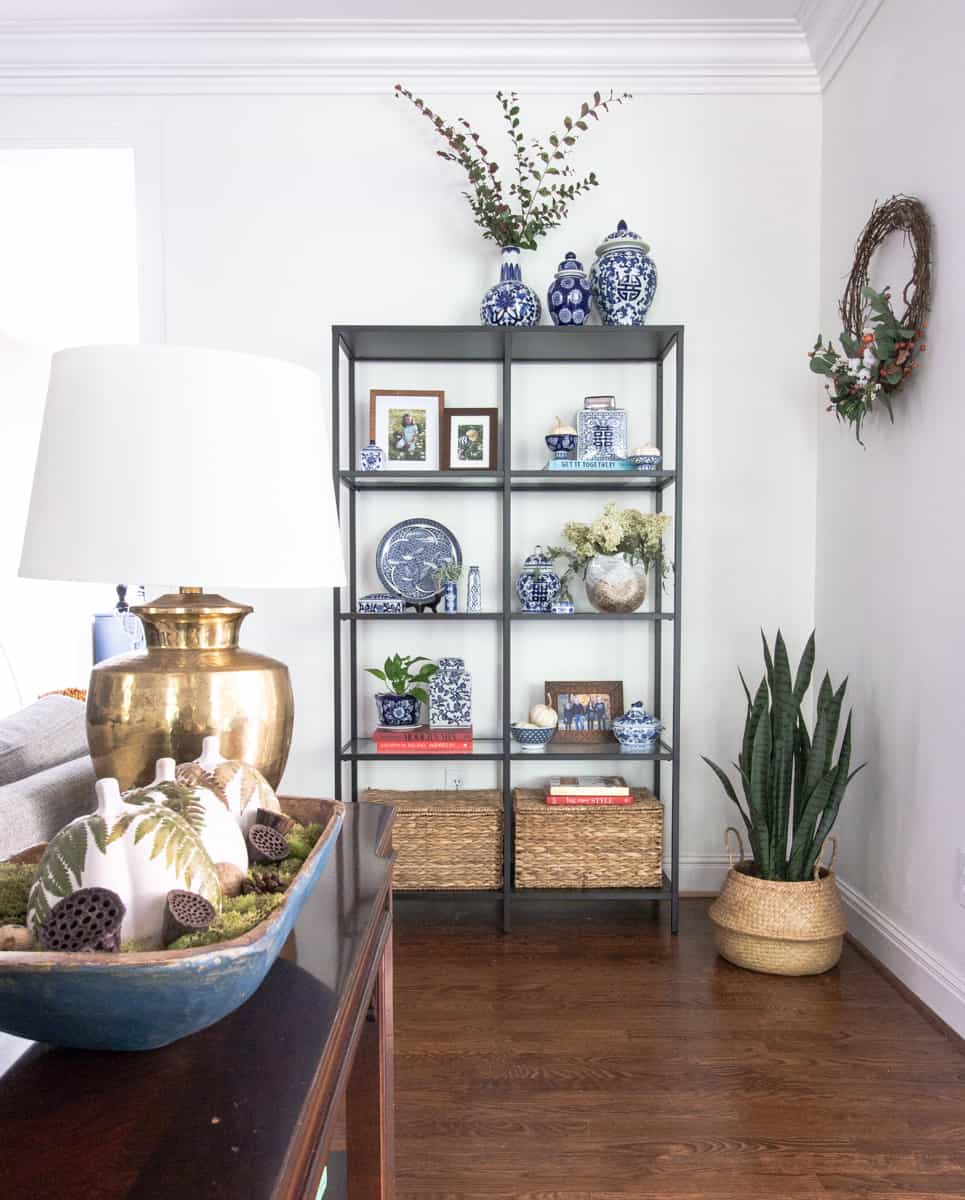 Despite what you see here, the room is rather dark. The screen porch is just off the fireplace wall so after the morning light from the foyer stops creeping in there is no direct light. (It's a definite trade off that I will accept to have a generous screen porch that we love. You can see it here.  The power of a long exposure is everything in room photography.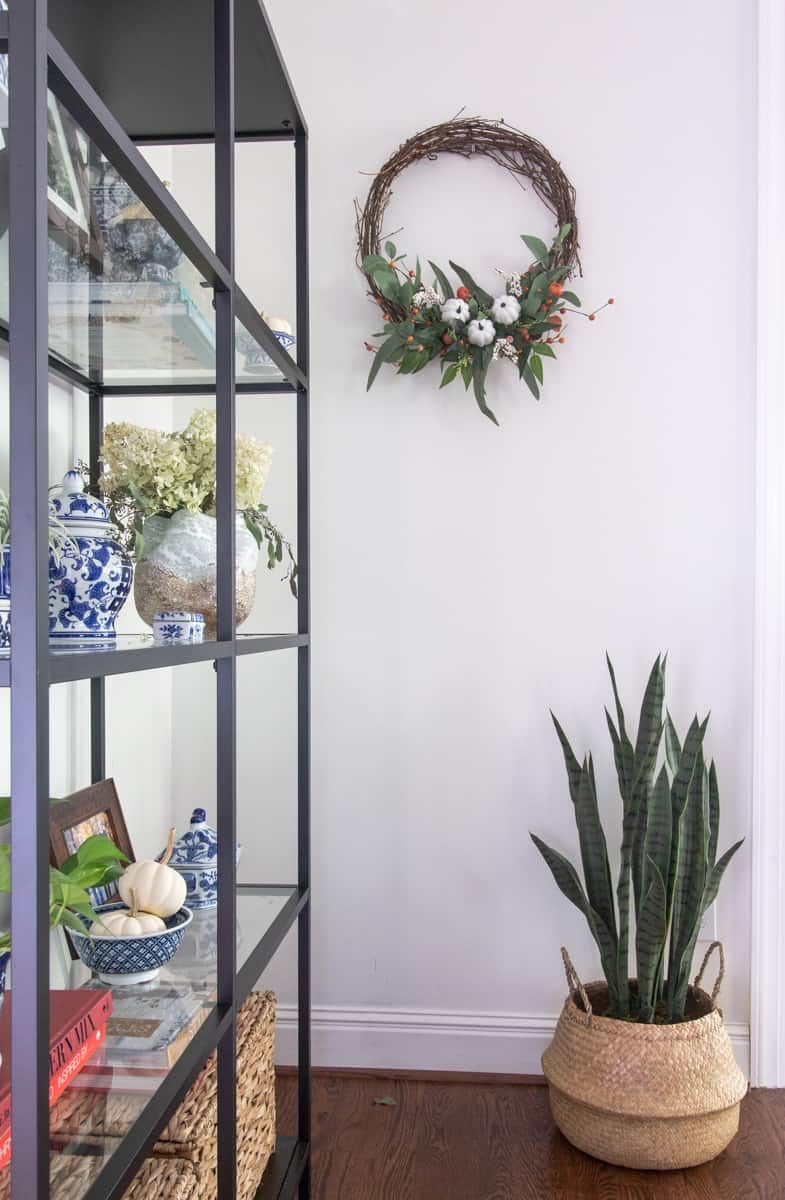 About the plants
The real plants I have been able to keep alive need to be rotated every so often to other, brighter areas of the home to keep them alive.
This snake plant is the new faux and it is very good. I would definitely recommend it.  A snake plant or cccc is known for living in darker situations but to keep one happy at this size in this little natural light was more than I could manage. Here is a link.
The other faux paint in the room is the big fiddle leaf fig. Most people can't believe it when I tell them it is not real.  Available here.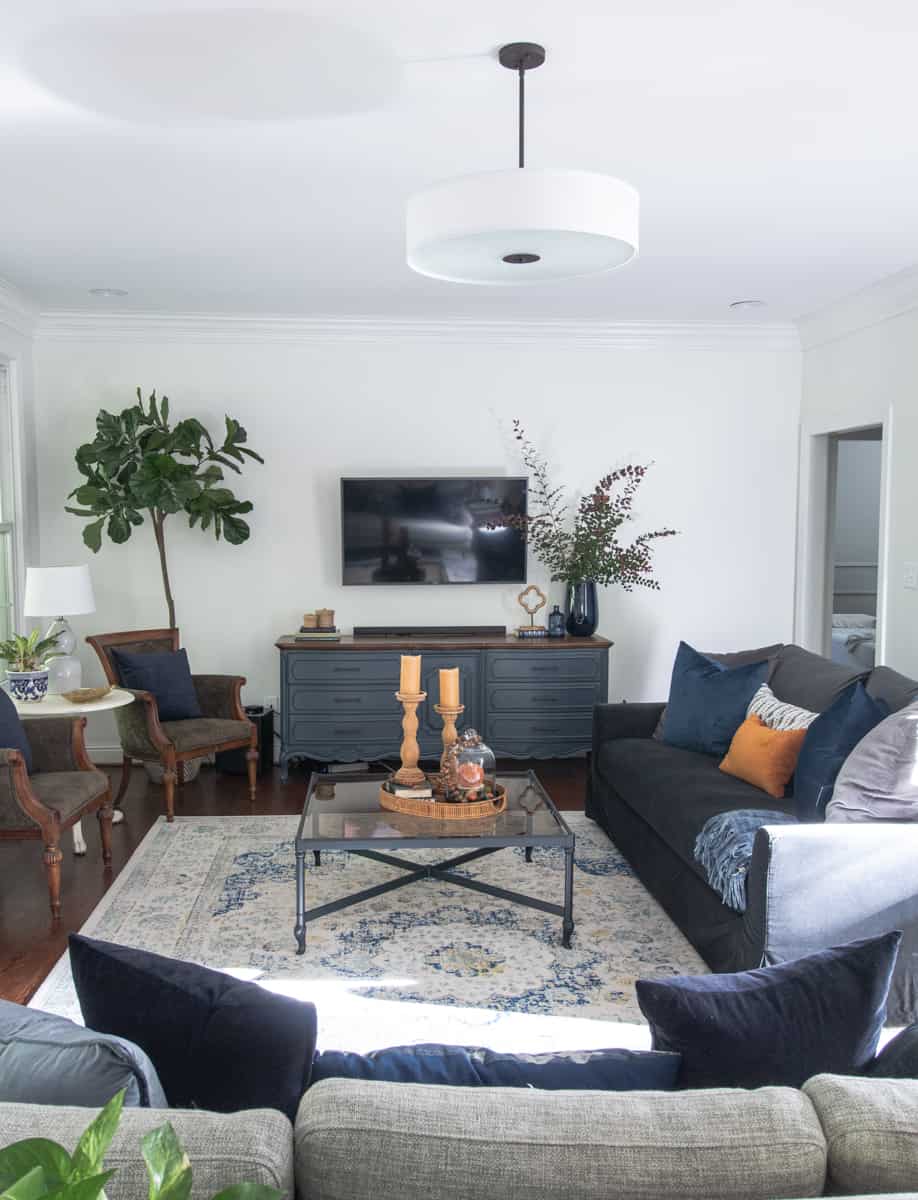 One of the best fall posts I created this season was 4 Simple Ways to Style a Round Mirror. how to style a mantle with a round mirror. If you are itching to add a round mirror to your decor, I share several budget friendly options in the blog post too. Find it here.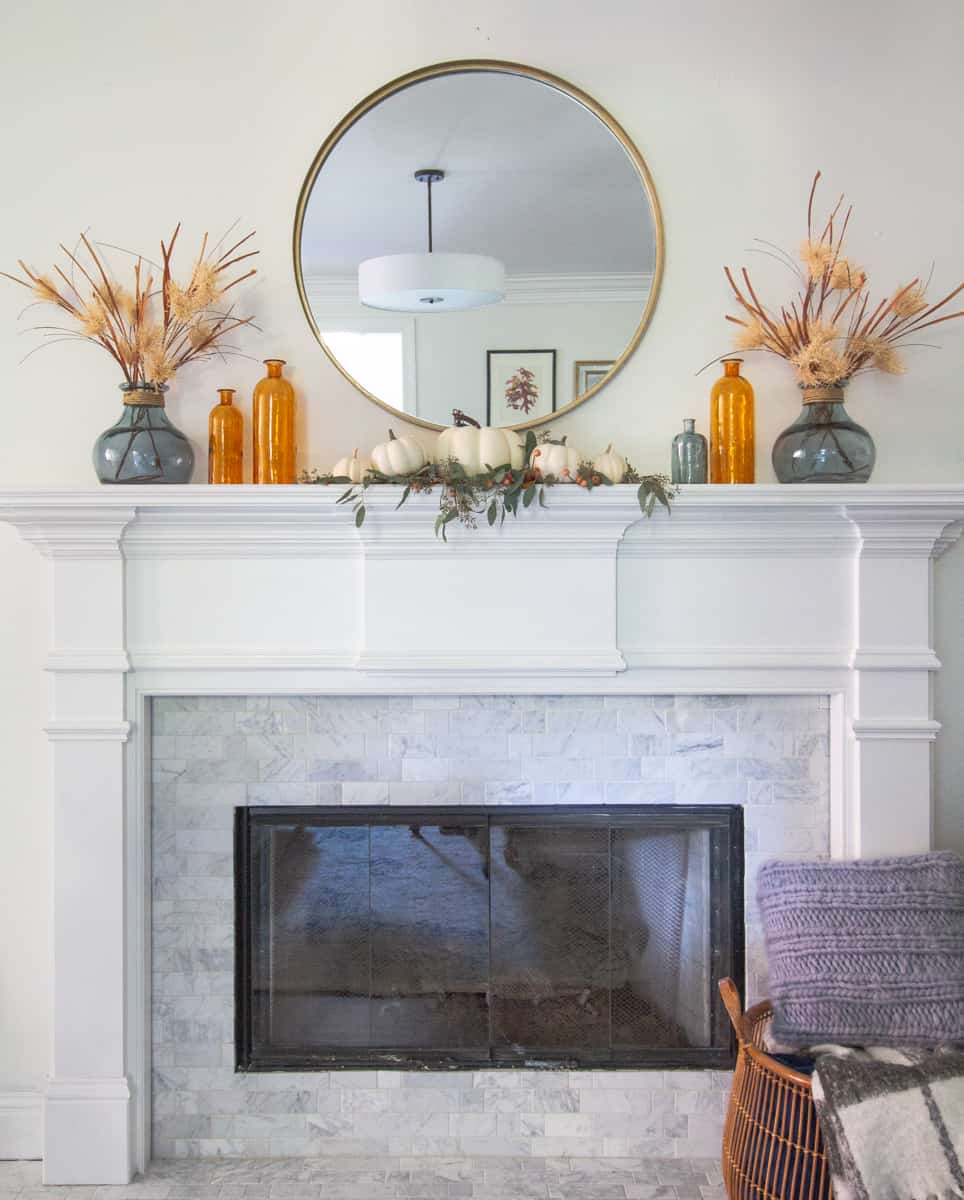 Now, if I could just carve out some time to actually sit and enjoy the new sofa! I almost forgot to discuss the source. I bet you are thinking it is from some high in furniture store but it's not.
It is the Farlov from Ikea!!  Which is kind of shocking I'm sure. They don't do themselves any favors by displaying this sofa in a very uninviting fabric in the stores. The velvet slip cover is a little more expensive but it is totally worth it! I had to pay for shipping because I don't have a truck I can't drive to Atlanta to pick up but the price with shipping and tax was still under $1000. I think is a great price given the size and design.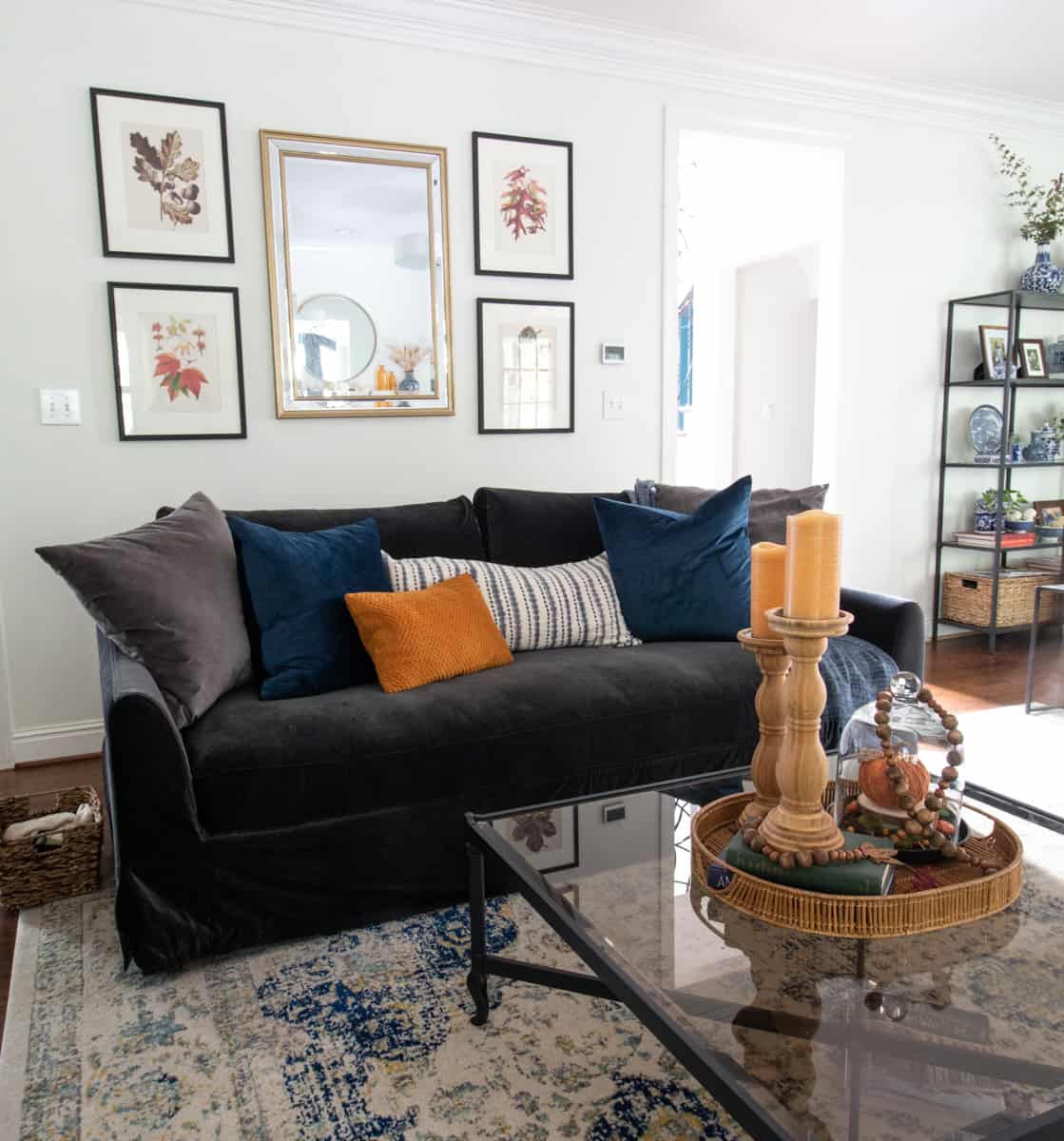 The before
Want to see what the room looked like last fall? I shared a full look around the room in the Fall 2017 Home Tour. You can find it here. All the changes were so gradual I hardly remembered how much it hand been revise and slowly refined through the year.  I am fairly certain I hadn't shared that I painted the coffee table and the console under the TV was even a completely different piece of furniture. And of course, I gave the fireplace a complete makeover this spring.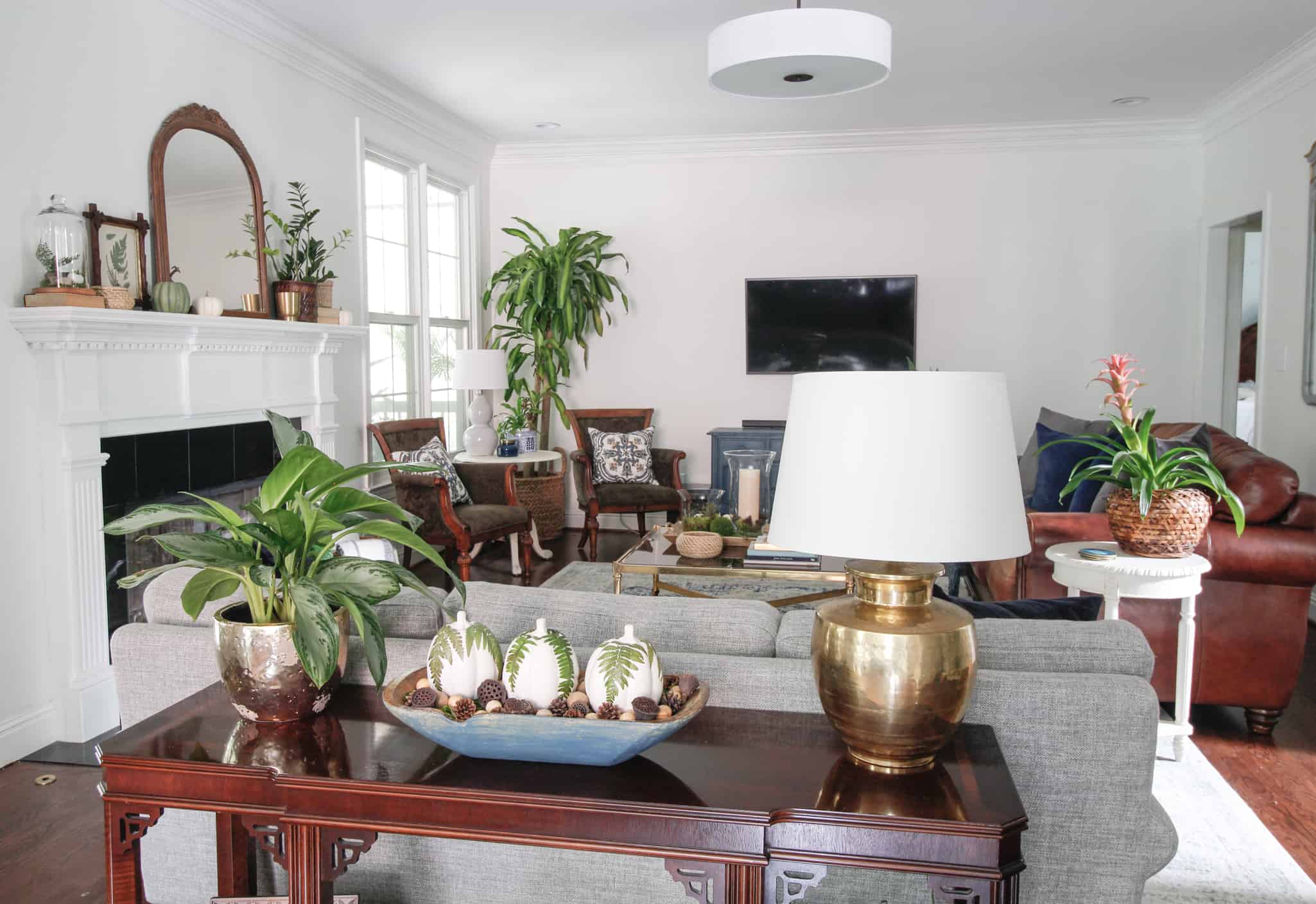 I can't wait to dress this room for Christmas and enjoy it with family and friends.  Do you have a favorite change? I bet you can guess what mine is!!