Welcome back for this week's installment of the One Room Challenge. If you are just joining in, you can learn more about the challenge and the project here for week one and here, week two. This post is sponsored by Lamps Plus.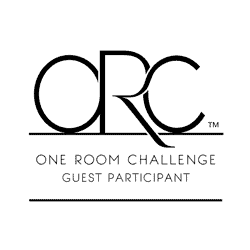 I was hoping I would have a sneak peek of marble tile on the floors to show you, but tiling work did not happen this week either. I'll fill you in on all the sad progress details in a minute, but for now, let's focus on the pretty. Specifically, lighting, is one of the fun parts of redesigning any room, especially a bathroom.
Because we are keeping the large, inset mirrors over the two vanities in the bathroom, a double or triple wall light configuration was desired. The design trend right now is very focused on pairs of single wall sconces flanking mirrors. I was pleasantly surprised to find fantastic-looking other wall light options at Lamps Plus, so I didn't feel like I was sacrificing style for bucking the current trend.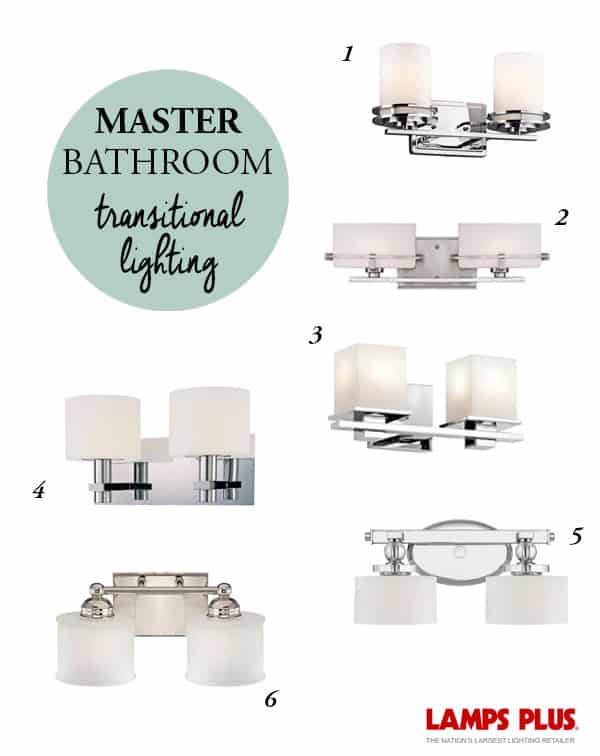 Creating a contrast between some of the more traditional elements in the bathroom, like the faucets and the classic Cararra marble tiles, I searched for lighting with a bit more of a transitional feel. Any of these lights, in a brilliant silver finish, are clean-lined and look very fresh.
When we started with our mini makeover last year, I found this Home Decorators chandelier on clearance at Home Depot. I am still happy with the look and saw no reason to replace it.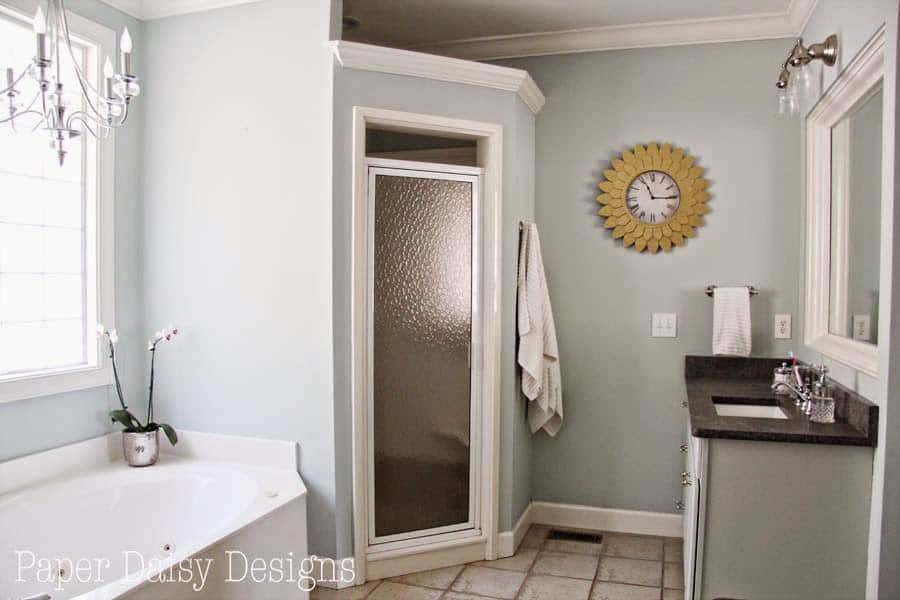 As you might have noticed from the round-up above, one of the wall lights has a similar acrylic/glass embellishment that seemed to compliment the chandelier very well. They are simply stunning in real life with just the right amount of bling.
In other good news, I have a sneak peek of the freestanding tub. We set it here to determine the height of the tub filler shelf. (More on that to come.) If you recall my inspiration board, this tub differs from the one I dreamed of getting. I happened upon an excellent deal on an open box model that had been a special order and then returned. While the original design board tub is stunning, this more sleek tub better suits the transitional look I'm hoping to achieve with the renovation. And the half-off price tag spoke to me loud and clear. "This is your tub!"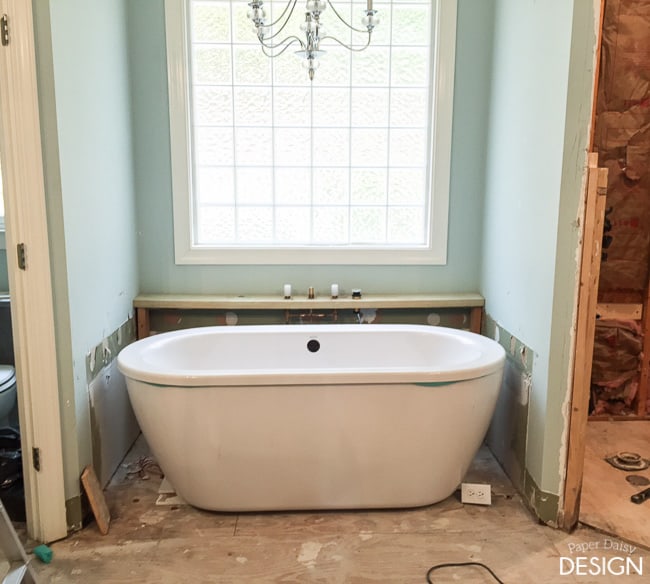 I am also happy to report that the "glass block" window will be replaced with a single-pane obscured glass window on Friday! (This window is really just a one-piece acrylic and, while not hideous, it is extremely exciting to see it go.)
So, now we get to why there is still no tile on the floors or walls. On Monday, the electrician came to finish the set-up part of the installation for the heated floor system. All was good and we thought we were finally ready to go. But I still needed to finish installing the Detra heat system in the shower, as well as install the drain.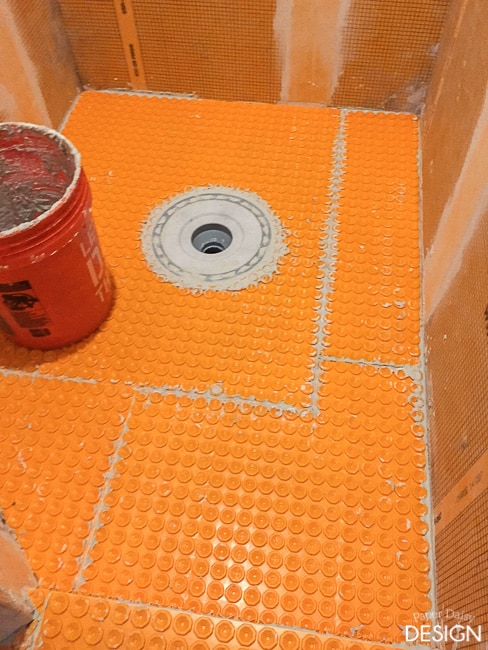 I finished up Tuesday afternoon and that evening, after the dear hubby finished work, we installed the heated wires.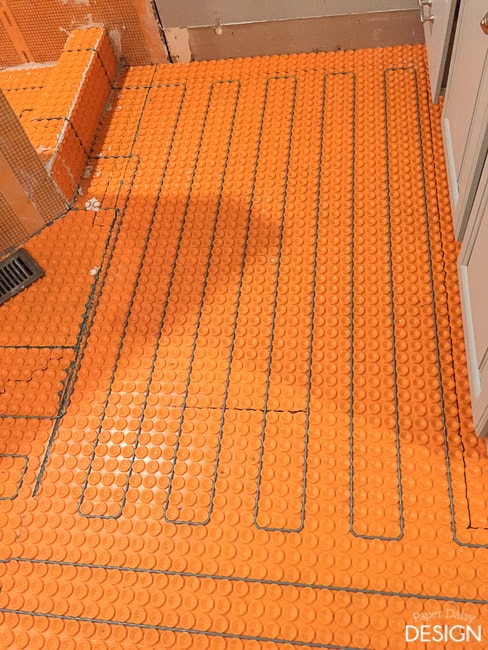 It was actually very easy to do and everything went very smoothly. After we covered the entire bathroom ensuite in a very concise and deliberate manner, we found we were starring at more than 30 feet of leftover wire. Sounds like no big deal right? Well, in this system you can not cut the wire. It has to fit exactly in your space and must fit in to specific perimeters of certain distances from walls, drains, vents and wooden objects. So, this meant we had to recoil the wire and send it back for a shorter wire. And this is why we still have no flooring.
Thankfully, the awesome company we are working with is sending the new, shorter wire ASAP and we plan to finally begin tiling over the weekend.
So there you have it. Still no tile. I do believe that once we actually get started tiling things will shape up rather quickly.
Be sure to check in on the other guest participants here at Calling it Home, as well as the One Room Challenge Participants here.
This post was sponsored by Lamps Plus, who kindly provided lighting for this project. All opinions and thoughts are my own.