If you are new here, thank you for visiting. I'm Leslie and I love DIY and find joy in creating livable, beautiful space in my home one project at a time. I'm on this crazy mission to completely remodel our master bathroom in 6 short weeks. Here's another look at my design board.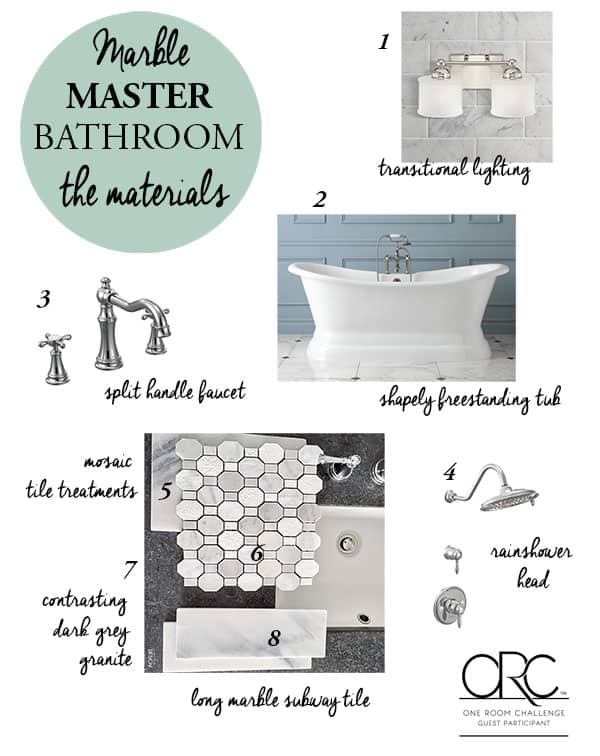 I'm not in this crazy challenge alone though, there are over 100 bloggers participating in the One Room Challenge as well as more than twenty sponsored participant bloggers. We are all racing to finish inspirational rooms and support each other along the way. You can keep up with the weekly reveals at Calling it Home. Special thanks goes to Linda for creating this fantastic challenge community.
This week, I hoped I'd have more pretty photos to share. Instead, we are still looking at lots and lots of Schluter orange.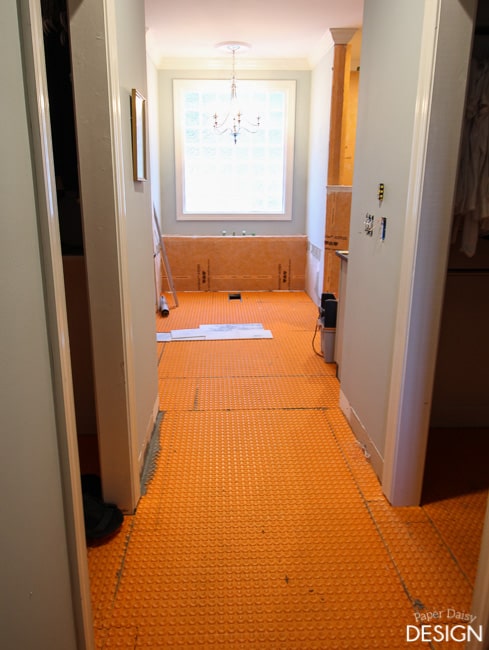 If you aren't familiar with Schluter products you're probably wondering what I'm talking about. In the photo above, the waffle looking matts that were mortared to the wood subfloor are the foundation for the Ditra heated floor system. (affiliate link)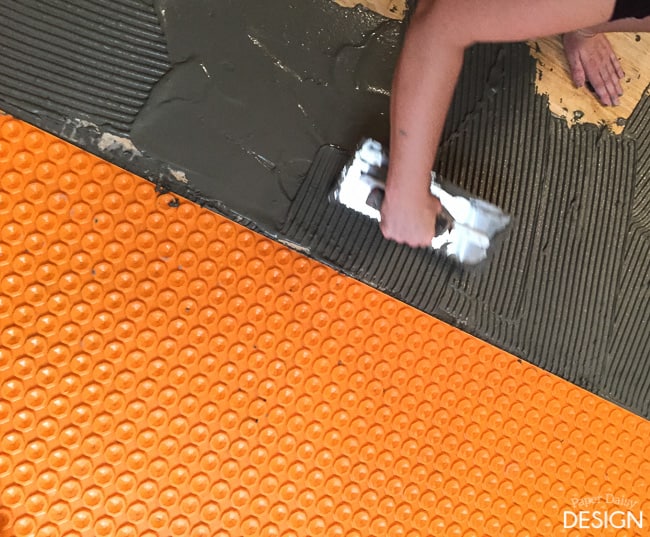 The photo below is the Kerdi membrane which creates a waterproof seal over the cement backer board in the shower. (affiliate link)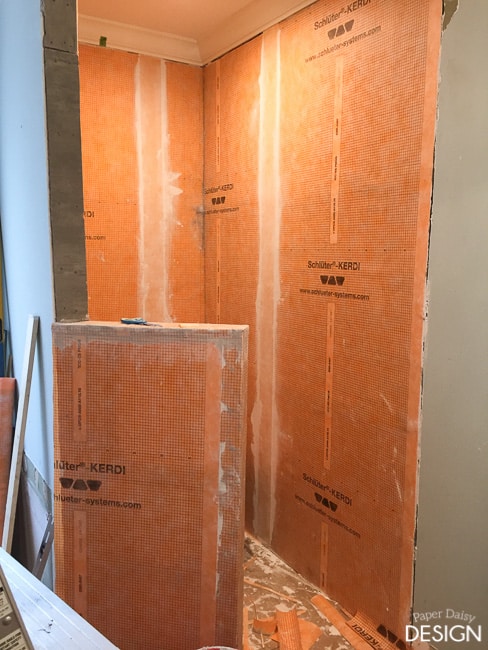 The shower pan has also been installed, although not covered in the Ditra Heat system, nor completely water sealed. The edge banding still needs to be put into place and the drain installed.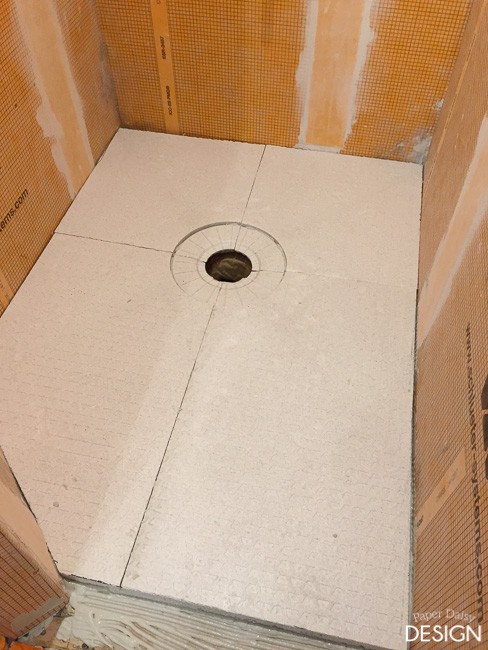 Obviously, we have had all the plumbing fitted by a peninsula plumbing company. I'm really pleased with it and can't wait to see the finished product!! This is the niche where the freestanding tub will sit. I added the waterproof membrane on the wall we built behind the tub because we had extra. I'll be adding tutorials on the installation of all these projects in the coming weeks. If you're looking for a plumber to do your bathroom for you take a look at plumbers richmond or your local area.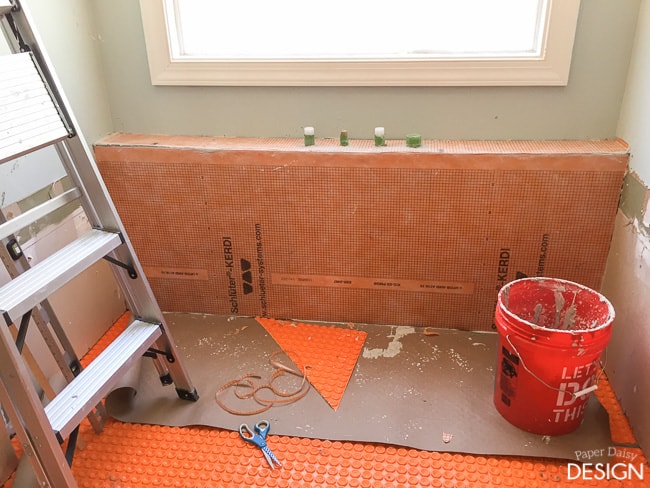 The main cause for our delays is ensuring the electrical components are properly prepared for the heated floors. The little blue box has been installed where the control panel will go.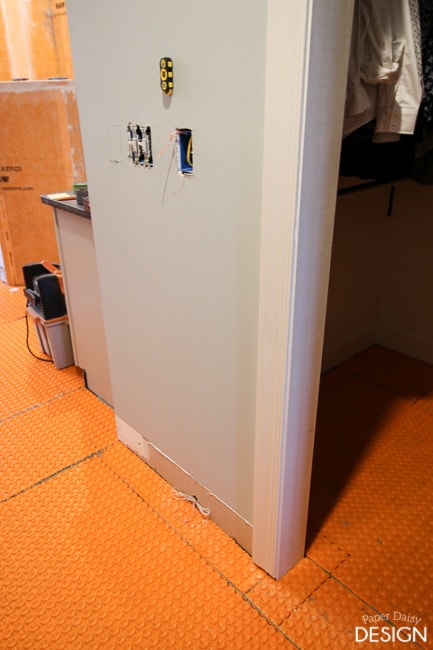 And down at the bottom, where the baseboard used to be, is the wire that will eventually power the floor. BUT, as thorough as our electrician is, he did not have every testing meter necessary to properly certify the heated coils before installation. This is very important to document for the validation of the warranty of the heated floor.
Hopefully, he will be back tomorrow and we pray that the coil is in good shape and will be ready to install. (Sometimes the coil gets damaged in shipping and has to be replaced.)
So, as we wait I've had time to question some of my decisions, namely the grout color. I had planned to use Bright White, but I have since decided that it would be too stark and have ordered it in Snow White instead. Anyone who has done a marble installation I'd love feedback on this! I was advised by the tile company not to use a grey grout as it can stain the white honed marble. I'm also not sure grey grout is the look I am desiring anyway.
On a brighter note, today we took some time to visually plan the layout of the tile in the blunt herringbone pattern and iron out the details of the tile rug inlay.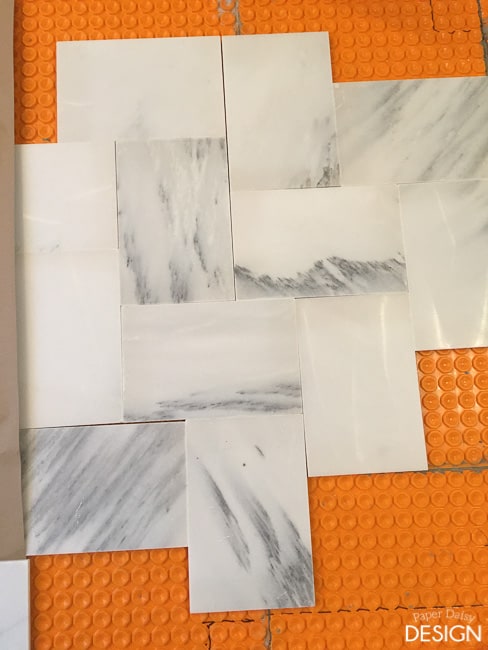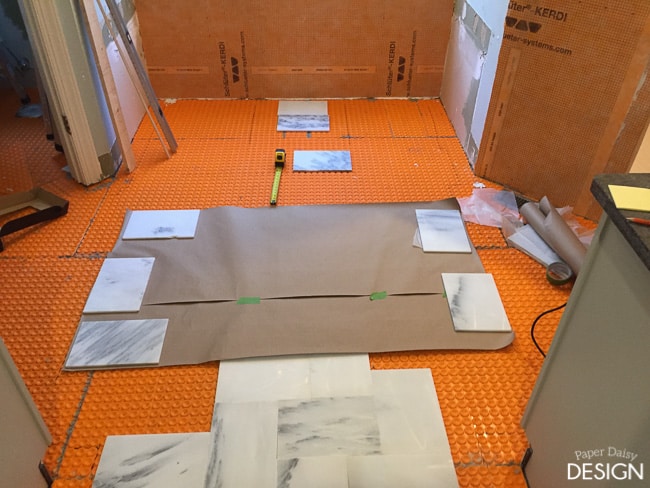 While it doesn't look like much, this prep work requires a great deal of work and is a long process. Thankfully, it is almost complete. We've actually embraced the delays and enjoyed a few days of doing just a little project here. Initially during the demo and early prep and building stages, which took a solid week to complete, we worked pretty much non-stop. My husband had even taken a week of vacation.
My only concern now is whether or not we get it all done in time. Being the eternal optimist, I think it will all work out. Only time will tell. Keeping my eyes on the end goal of a beautiful marble bathroom inspired by images like this one.
To see more inspirational bathroom photos check out my Beautiful Bathroom Pinterest Board and visit my Week One post here. See you next week! Be sure to check out the other participants here.
Follow Paper Daisy Design's board beautiful bathrooms on Pinterest.
Links provided for your convenience, some links are affiliate links.
At no cost to you, I receive a small commission for the referral if you decide to make a purchase.