Welcome back for this week's installment of the One Room Challenge. If you are just joining in, you can learn more about the challenge and the project here for week one , here, week two and here for week three.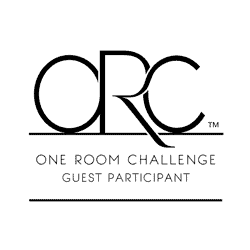 This is where you can cue the hallelujahs! Tile is going down in the master bathroom! And if I weren't so exhausted I would be jumping for joy and doing a little happy dance for you. For now though, I am just so thankful that there is marble on my floors!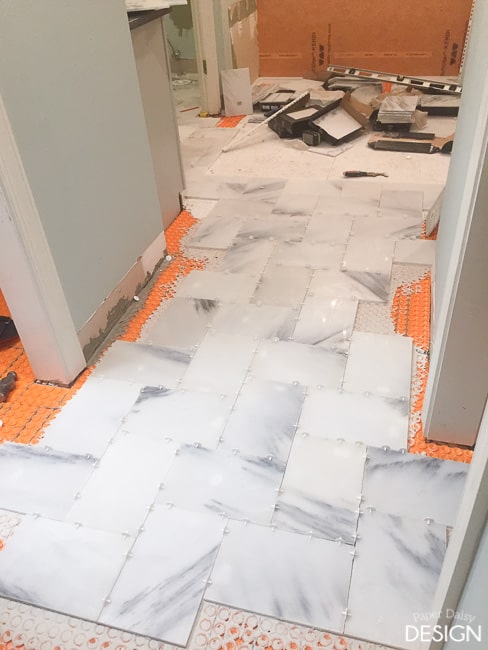 This is where I stopped late Wednesday night. You can't see it from here, but tile goes in both directions right and left, and into the bathroom. Which means in a few working days we could have a toilet again! (We have several prior commitments to attend to the next few days and won't be able to get any work done right away.  My body could use a little break, that's for sure, but trust me I look forward to a shorter hike to the potty in the middle of the night once that toilet is installed.)
Here's a recap of how we got to this point from where we were last week. After installing the proper length of heated floor, I stared planning the layout of the tile on the floor.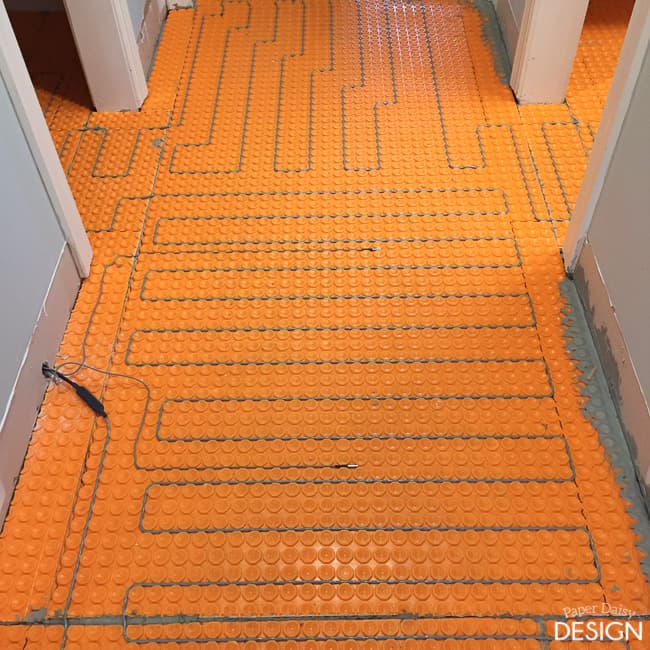 I became bit obsessed with planning the pattern and how to work into all the little dead end corners using the blunt herringbone pattern, as well as, where to actually start tiling. To make matters even more complicated, I've designed an accent rug area with a mosaic tile in the middle of the room. My dear hubby said he wasn't surprised by how long all my planning was taking. Confession time: I may have an issue with perfection.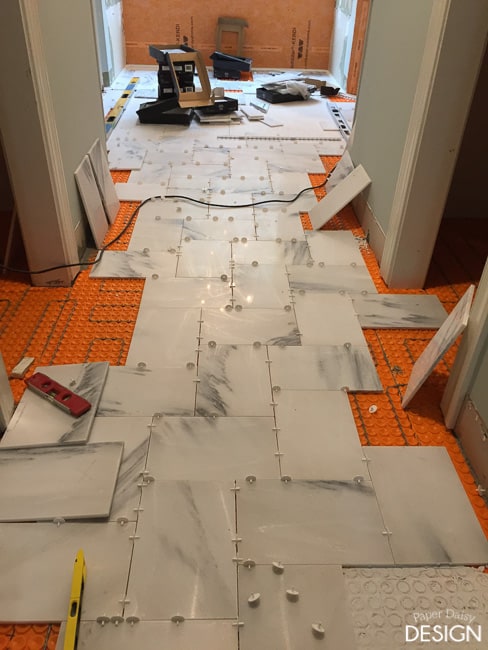 So, after the dry-fitted tiles covered a majority of the floor and I completed another project for a deadline, I started actually laying tiles on Tuesday and worked late into the night. The same goes for Wednesday night.
The most challenging aspect of laying the pattern was working in the small dead-end sections of the room.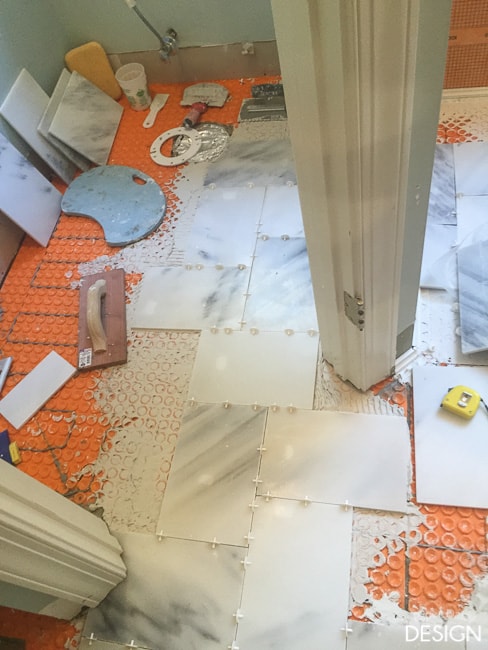 The pattern relies on the spacing of the previous tile to achieve proper spacing and trying to lay the pattern while still having space to actually work in was time consuming. Once I was finally working into the open hall way, the tiles were almost flying into place.  I am beyond elated to actually see a glimpse of the vision I have had for the room come alive.
In other good news, the new window was installed as planned on Friday. I don't have a good photo to share. I forgot to actually photograph it in the day time. I might have been a little distracted by the tiles. Stay tuned for more next week.
Now that work on the floor is progressing, I'm hoping and praying we can actually pull this off for the deadline. What do you think? Can I pull it all together in 2 weeks?
Either way, I'm so appreciative to Linda at Calling it Home for hosting this challenge.  Be sure to check out the progress of the other guest participants here. I try and visit as many as I can, you should too! It's so fun to see how these challenge rooms are coming to life!