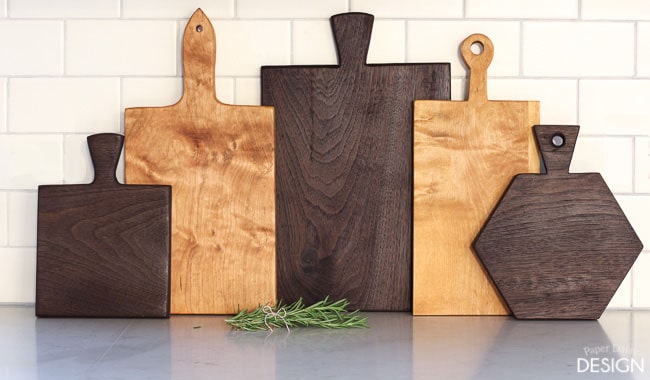 The holidays will be here before you know it and I've got a simple gift idea to share today.  Actually, these bread boards, cutting or serving boards are so easy you'll probably want to make several and check more than just a few names off your gift giving list. Luckily, I created an assortment of plans/cutting guides so each of your recipients can receive a unique handmade board.  Have fun with all the variations, try different species of wood. I enjoyed making these so much that I plan to make several more!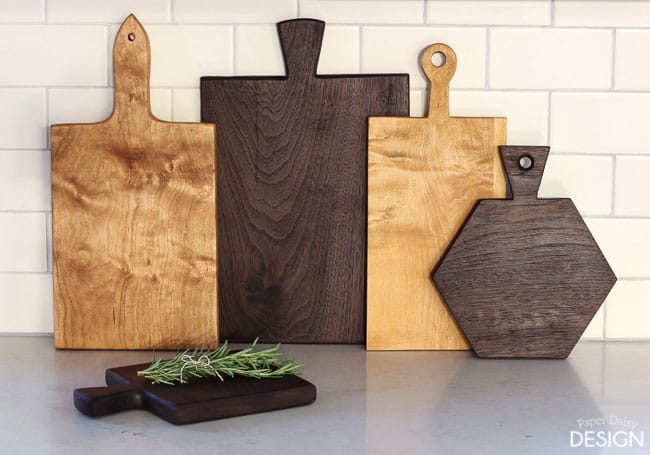 The key piece to these boards is quality lumber.  Untreated hard woods with a tight grain are best, like cherry, walnut or maple. Softer woods like pine or woods with a very open grain like oak, are not ideal species of wood for cutting boards. You can purchase quality lumber from a local hardware dealer or specialty wood shop.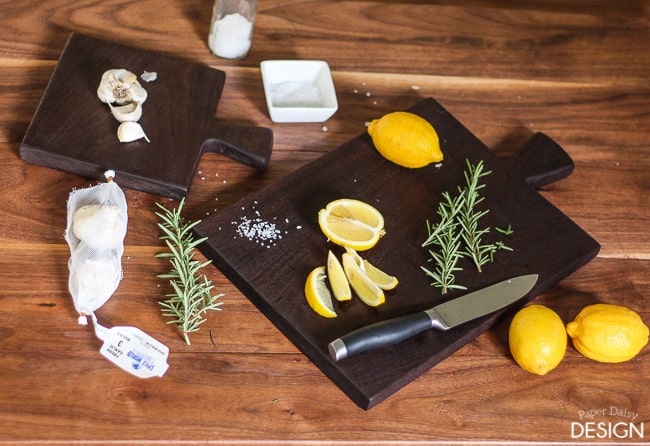 Other than the wood, simple tools are all that you need. All of the handle templates include a centering guide to make it easy to accurately center them on the boards.
Visit Ryobi Nation for the detailed instructions including how to cut the hexagon board with a miter saw for perfectly straight cuts.  You can also download the other templates/cutting guides for all the shapes featured at Ryobi Nation. All of the templates can easily be cut with a jig saw too.
Click here to download templates and helpful tips at RYOBI Nation.
Sorry, the Giveaway has ended.  Give us a follow so you don't miss the next RYOBI Giveaway!
Be an IG friend on Instagram 
Follow with Bloglovin
Like Paper Daisy Design on Facebook
Keep up on Twitter
**Never miss a Post! Subscribe via Email**
Good luck and enjoy creating your own handmade holiday gifts! If you make some of your own, be sure to tag me at paperdaisyme on Instagram or send me a photo! I'd love to feature your work too!