I can't believe it is already week 5! I am not exaggerating when I say I may not make it to week 6 for the final reveal. Honestly, I am realizing now that not only may the bathroom not be complete, I may have very well keeled over from exhaustion.
If you are just joining in, you can learn more about the challenge and the project here for week one , here, week two and here for week three. Many thanks to Linda at Calling it Home for hosting this challenge.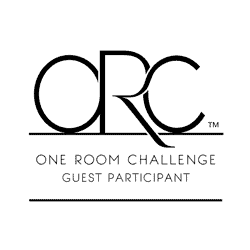 For the good news, here's a sneak peek at the mosaic tile rug accent dry fitted and ready to go. Yes, you read that correctly, "I am still laying tile."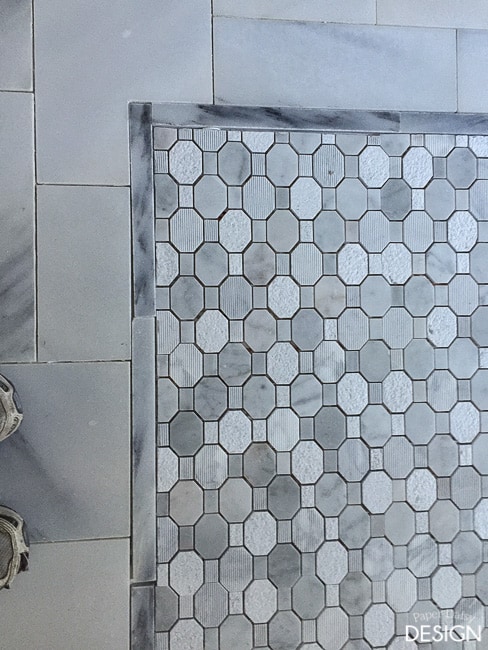 But look, I can also share a photo of the new window. Bye, bye dated, fake glass block!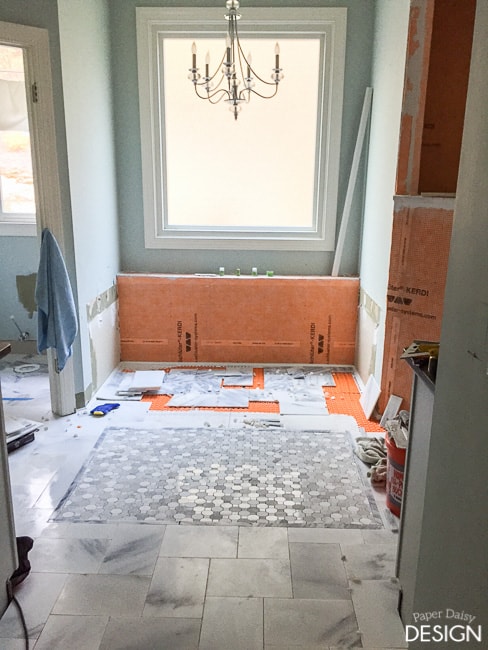 Here's where we stopped late Wednesday night. The tile under tub was laid and the mosaic rug accent tile, while in place, was not yet set with mortar. My only explanation as to why this is taking so long is that the herringbone pattern is difficult to lay in spaces that are not wide open. It turns out, that in all actuality I've been reworking each area twice. Once to cut all the pieces to fit, dry-fitting them into place and then a second time, lifting the pattern and spreading mortar and replacing the tile in a small section.
Orginally, I was going to use a different tile for the border of the rug, but when it arrived, the color of the stone had shifted and it just didn't work. Instead, we cut small trim pieces out of the marble tiles that were very grey. (You may also have noticed the grey tiles under the tub. Through out the process of laying tiles, I have been setting aside the darker, busier grey marble tiles. Thankfully, there has been enough overage to accommodate this lighter pattern I was envisioning.)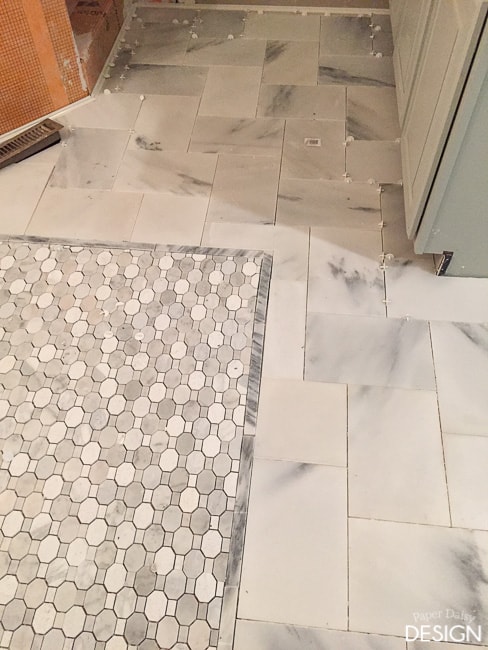 All that is left to lay now as far as flooring, is the "his" closet, opposite the one in the photo below, the mosaic rug and the mosaic tile in the shower floor.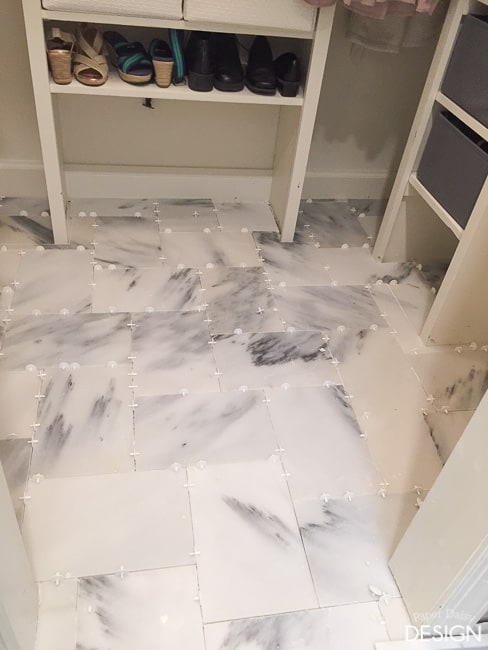 We have planned out all the work left to do and we have quite a busy week ahead. Here's how we hope things shake out. If everything falls into place we should finish in time.
Thursday: Finish tile in closet and rug, dry fit mosaic in shower, work on the mosaic on the sink walls
Friday: Hang wall tiles behind tub and around the left side of the room, pre-seal the tiles for the shower, mortar the shower floor
Saturday: Clean wall tiles prep for sealer, hang tiles in shower and right side of the room, possibly seal tub wall tiles
Sunday after church: Grout tub walls with grout sealer, Clean rest of tiles, seal all tiles later that evening, if dry
Monday: Grout rest of tiles
Tuesday: Plumber to install tub and faucets
Wednesday: Install lighting, towel bars, final touch up, decorate and photograph
Thursday: Big Reveal
It probably goes without saying, I had no idea we would fall this far behind. I have done almost all of the tile work myself. We took a few days off last week to go home to Louisiana for my mom's retirement party and to celebrate my mother-in-law's 80th birthday. That time off may end up being our deal breaker as far as making the deadline, but the previous delays with the heated floors didn't help either. Regardless, I would not have wanted to miss either of those events and in the end it's about keeping family a priority.
I hope you come back next week and see how this all plays out. Keeping my chin up and hoping for the best. A little extra prayer never hurt either.
Don't forget to visit the other Guest Participants. I bet they are just cruising into the finish line! You can see the complete link up list here.