If you are new to Deeply Southern Home, welcome! I am Leslie! My goal whether in my home or my client's is to create rooms with a relaxed southern style. Although my designs are traditional, I love to experiment with color and a fresh interpretation of classic interiors. We recently downsized to a new-construction home and I can't wait to inject old-world charm and character through my DIY projects and timeless finishes. I am honored to be a Featured Designer this season for the One Room Challenge™ and am waiting anxiously to share the final reveal on June 25!
You can visit all 8 of my previous One Room Challenges™ here.
Here we are my friends, it is Week 2 of the One Room Challenge™! This the week I give you more details about the design plan. Things have fallen into place as best as possible during this crazy time.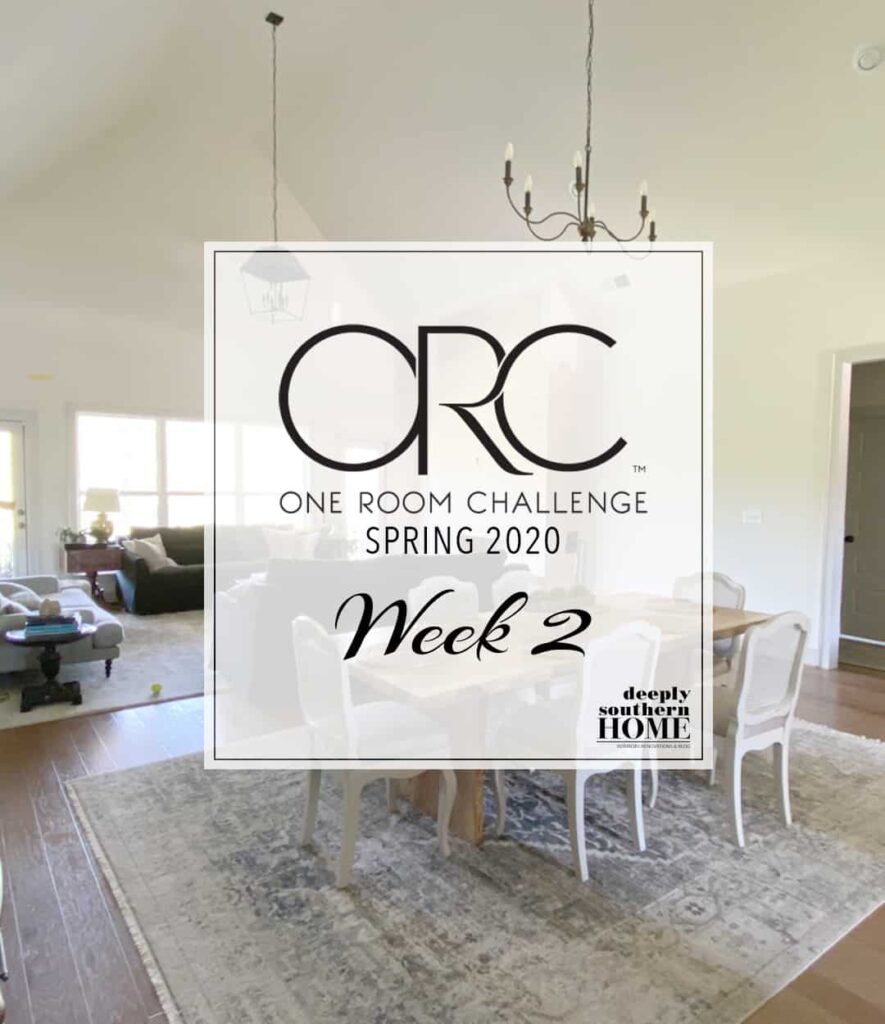 I still have a few details to work out in the final styling of the rooms, but for the most part I've got everything either in house or on the way. If you were here with me you right now, you would have heard a big audible sigh of relief saying those words.
Last week, in the Week 1 blog post I shared an overarching plan, a vision if you will to create an "atmosphere" in this big, very high, blank space.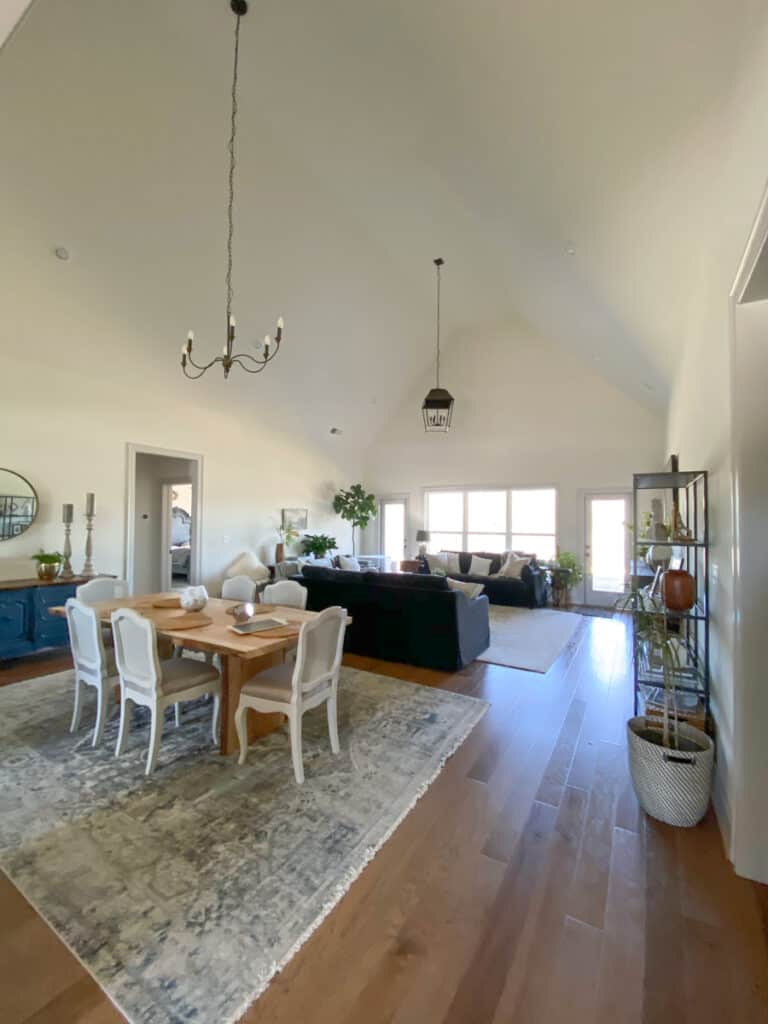 The specific plan to create atmosphere
As a reminder, here is the quote I shared last week from James Michael Howard in his interior design book, entitled Atmosphere. I definitely feel it's worth repeating, I love it so much.
Atmosphere is the magic that an entire residence can have when it is beautifully designed – the complex murmur of mood and undercurrent of refinement in a lovely setting. It embodies the power a space has to capture your attention and please your senses, embracing you and making you your eyes dance around your surroundings. It is the "wow factor"

James Michael Howard, Atmosphere: The Seven Elements of Great Design
Add Beams
In a vaulted space, beams are the jewelry for the ceiling. Similar to crown moulding it's the icing on the top that makes a room feel infinitely more finished.
We had the option to add beams with the builder, to essentially wrap the ceiling during the construction. It was actually an addition we had initially added into the contract.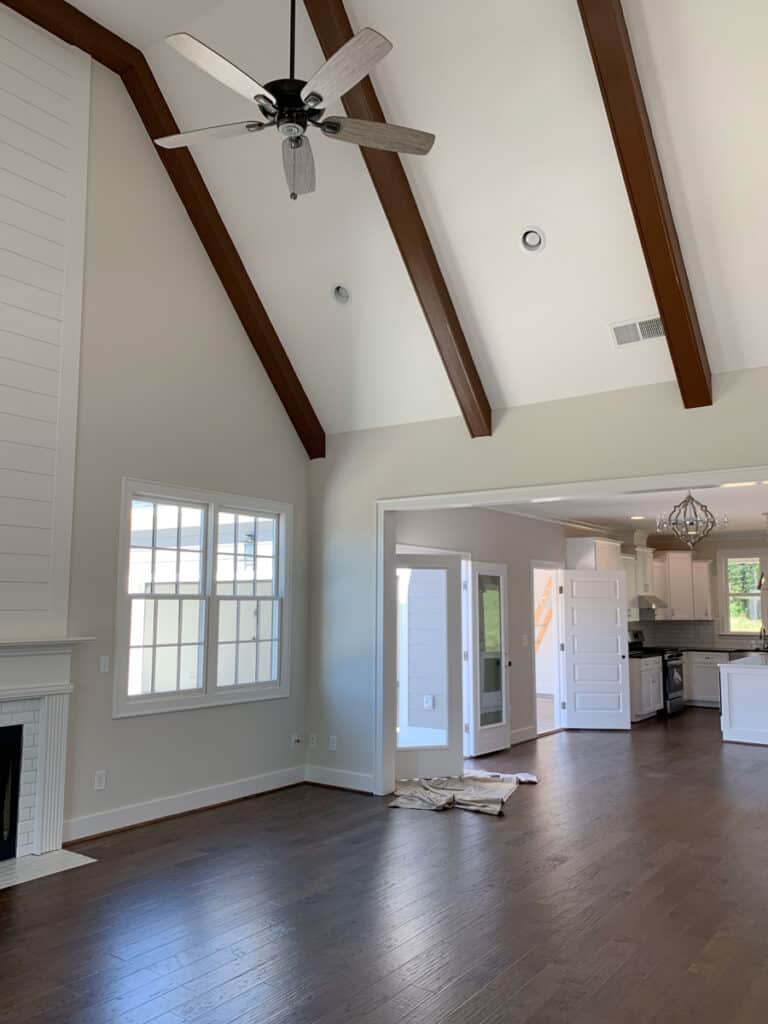 But once I saw a few of the finished beams in homes under construction, I decided to leave them off. I knew the exact finish of my floors were kind of tricky to match and I felt the 3 board construction was not quite what I was hoping for.
We also had them remove any moulding around the room. This is how it would have been finished.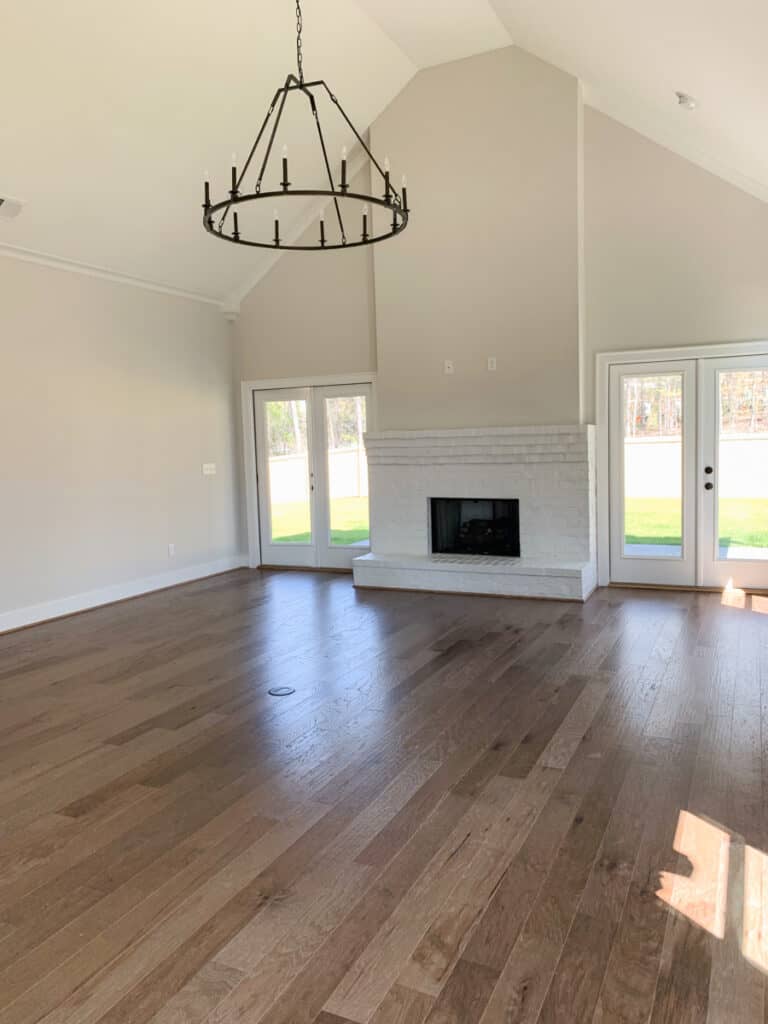 Knowing I would eventually find a way to add beams, it would be best to leave these additions off completely.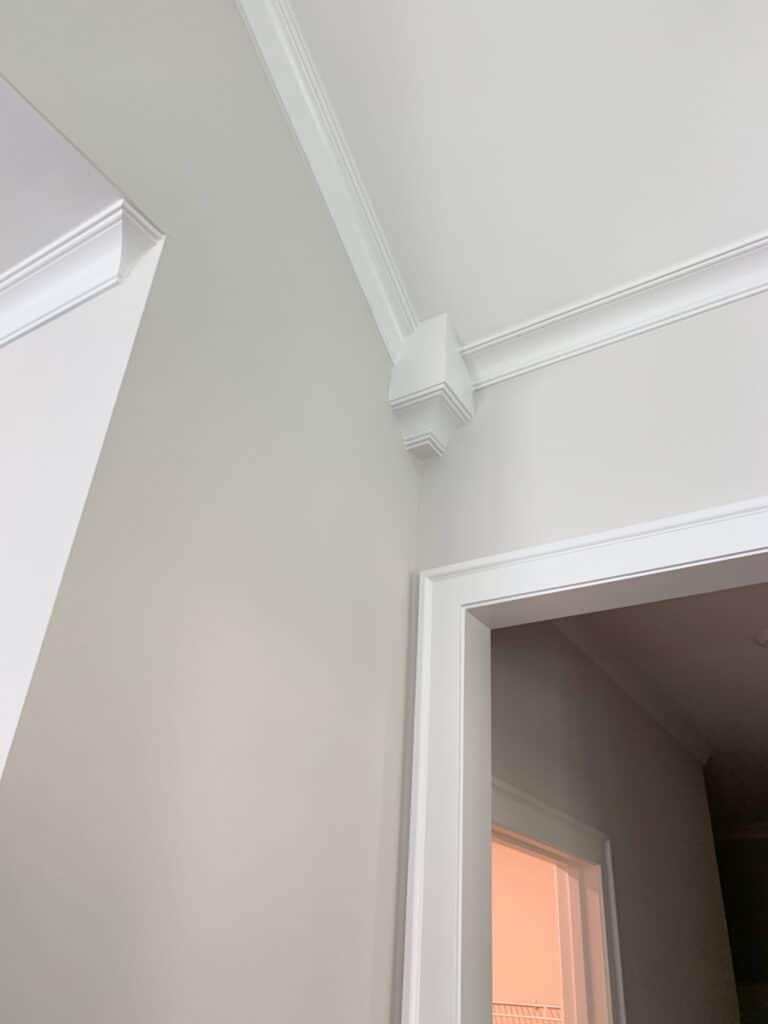 The style of beams I really wanted to have installed were a series of beams that spanned across the vault. Like these.
After searching for the last couple of months, I found the perfect faux wood product to hang across our ceilings from AZ FauxBeams.com. They have the best prices and customer service I have found. Using faux beams instead of real wood beams allows me to install them after the fact. The weight of a traditional beam would require much more additional support and add to the cost of installation.
I ordered my beams unfinished so that I can custom finish them myself to match our light hickory floors.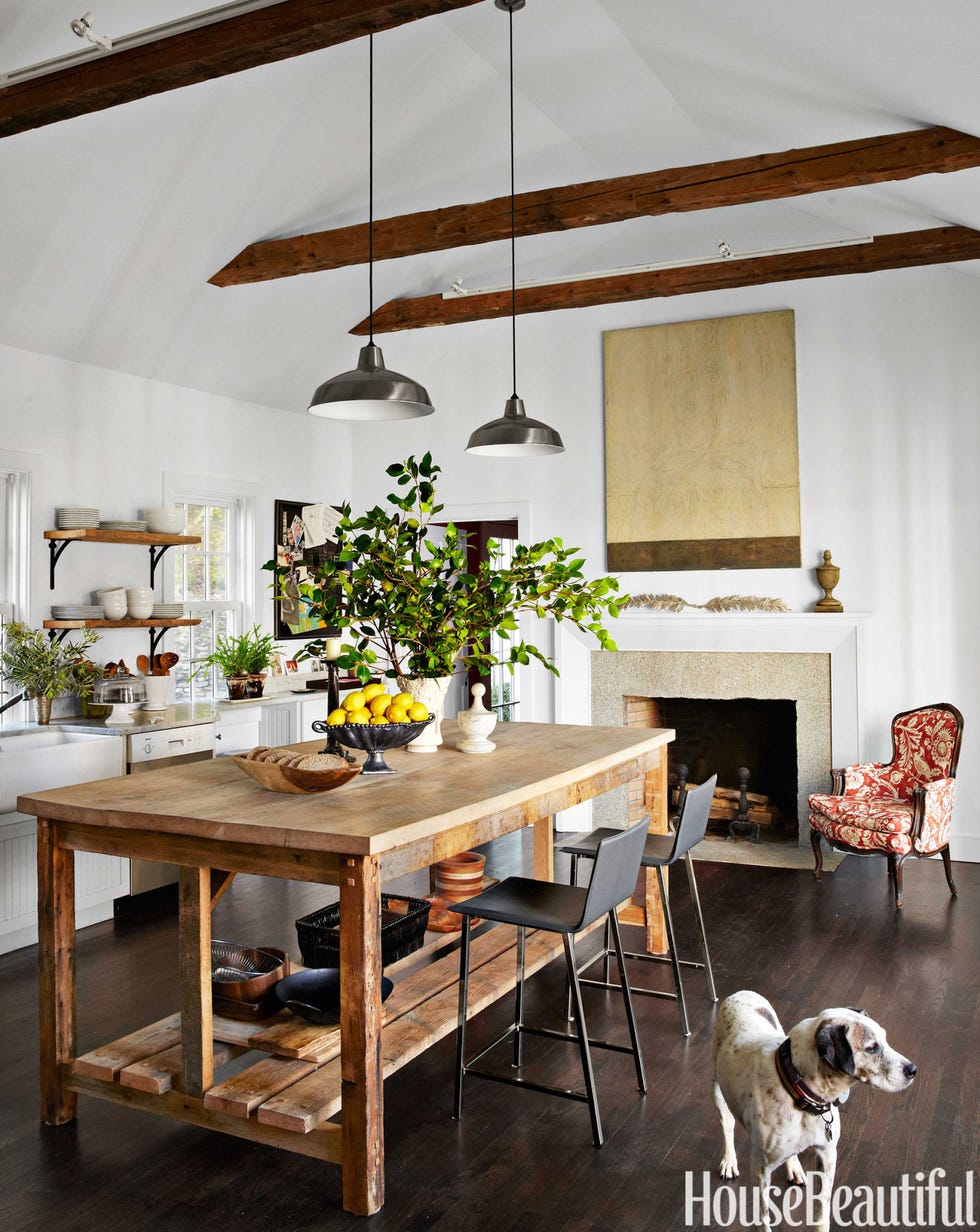 With the beams, your eyes will be drawn up to the dramatic vault. The next step was to find a way to bring your eyes back down and make the room feel cozy.
Add Architectural Details with Tudor style Paneling
What makes Tudor Style panel different than wainscoting?
The answer is visible in the proportions and details. The panels tend to be taller, narrow rectangles. They also have a fine, raised detail on the inside of each box.
Like I've mentioned before, because our home has a Tudor inspired exterior, I thought it would be fitting to continue that design concept to the interior architecture as well.
Here is a scale model of the main fireplace wall in the room.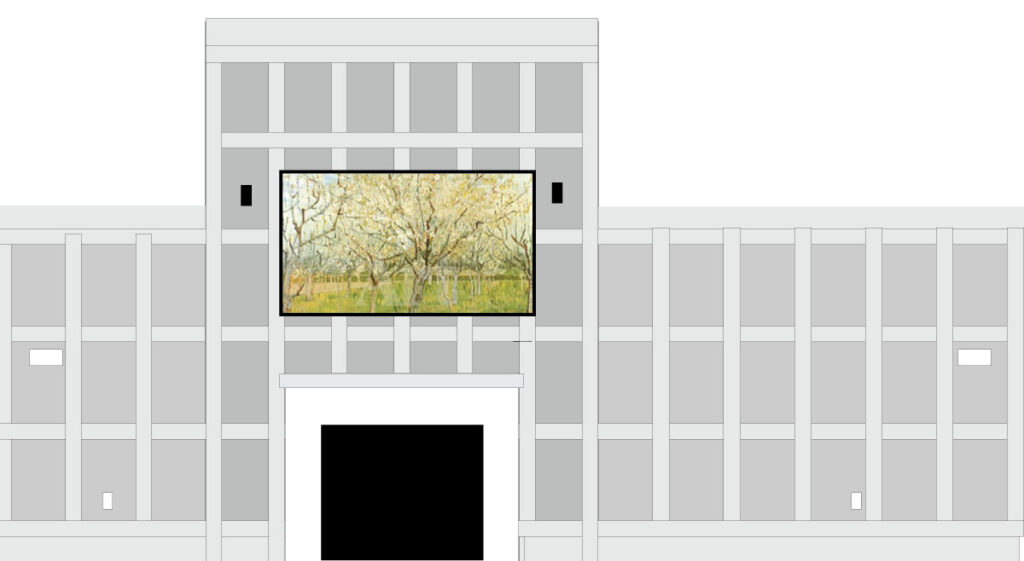 I was very lucky to get to work with Novo Building products to make this vision a reality. I will share more about the construction of the panels in next weeks blog post.
Interior Finishes & Details
While this is a flat lay of all the items I could gather together in one spot easily, there are a few key fabrics missing. Hopefully this will give you a glimpse into the color palette in the living room area, especially.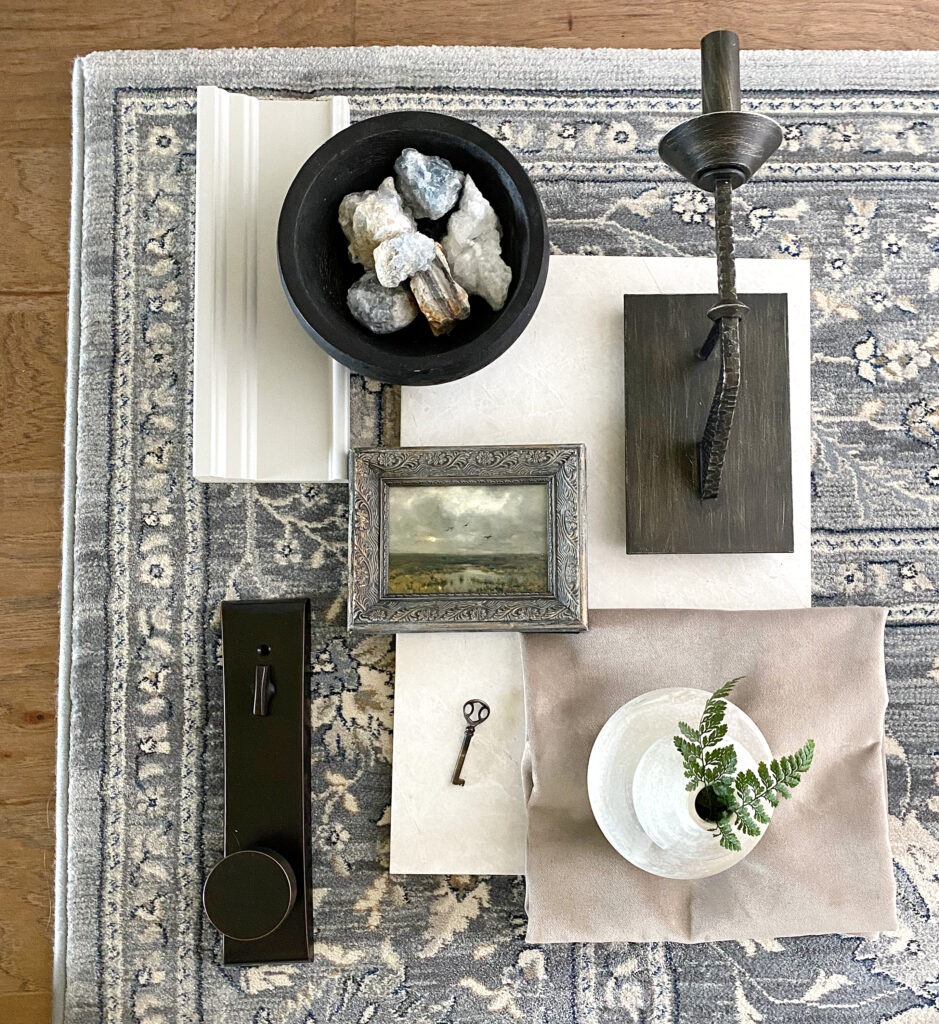 It is very exciting to see all of these elements together in one place. All of these items have been either mulling around in my head or tucked away safe in boxes in our spare room, so this is one of the first times I've seen them all together.
Here's a look at a design board for the living room with a few of the key pieces.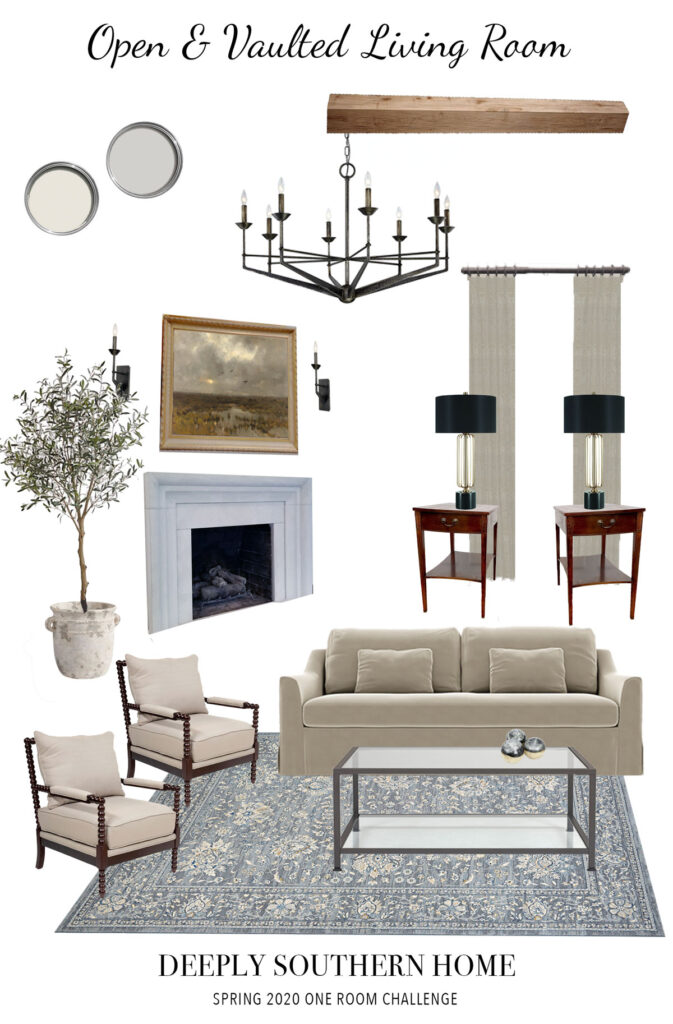 I will admit this looks a little on the plan side without a great deal of accessories added in, but remember so much of the design of the room is about the atmosphere. The large beams and Tudor paneling in the soft grey, of On the Rocks by Sherwin Williams will put everything in a calm and neat package.
The color palette for both areas of the space is decidedly grey and beige with black accents.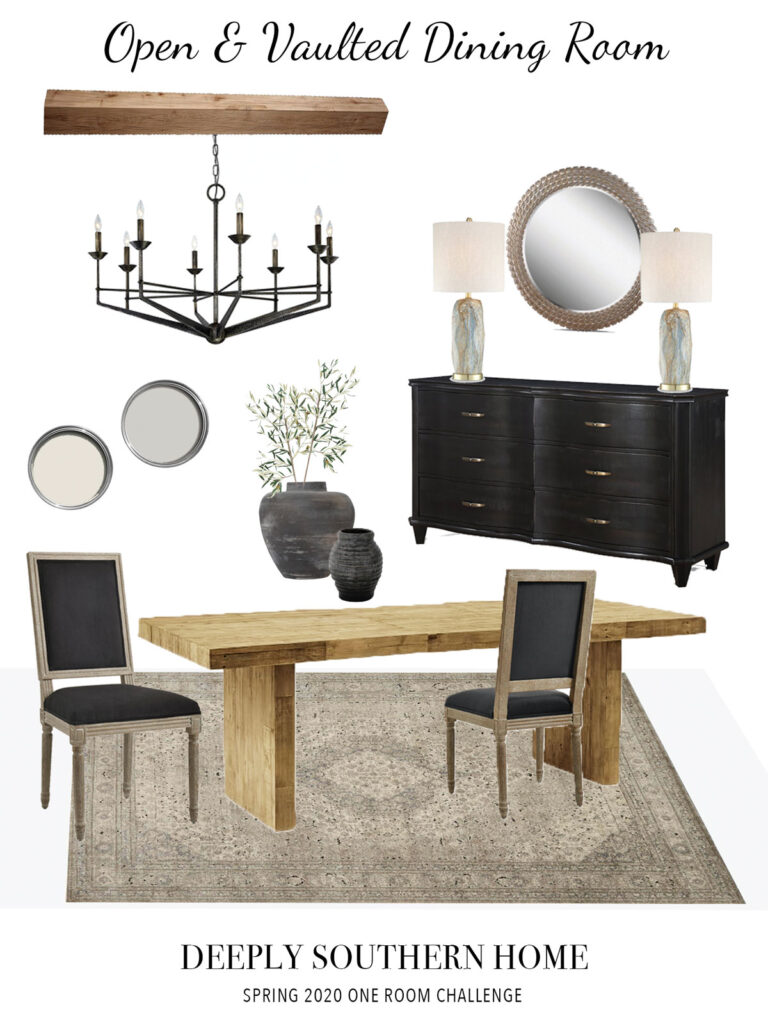 The one caveat to this dining room mood board is that these are my dream chairs. Will I actually pull the trigger on them? I think that depends on if they end up going on sale soon. Otherwise, I will give my current chairs a makeover. The only issue with keeping my current chairs is my best friend really wants me to sell them to her!
Furniture Arrangement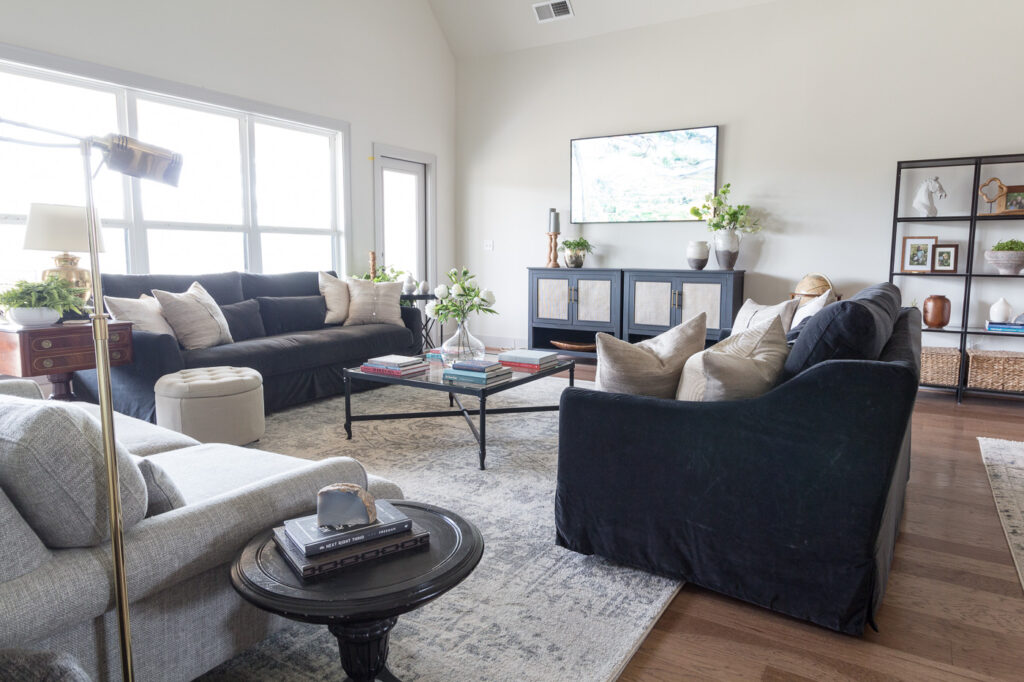 I am keeping the basic layout seen in this before photo. I feel like this was something I definitely got right from the beginning. I just needed to pull together the right pieces.
I love a living room with a pair of facing sofas especially in larger, open concept spaces. By defining either side of the room, it creates an easy flow and cozy seating area.
The two Farlov sofas from IKEA are nearly new and I opted to have custom slip covers made by Bemz.com. The slipcovers are shown in the Sand Beige Velvet fabric both the design board and the flat lay. I have to tell you the fabric is so luxuriously, stunning. It alone it could carry this softer palette beautifully.
The extra sofa seen in the corner of the above photo, was a carry over from our previous home and will be replaced with a a pair of chairs. Three sofas in a room is not quite right, a pair of chairs will suit this furniture arrangement better.
Next week I'll share more about the installation of the paneling. I have some very strong opinions about how it should be installed and painted. I don't consider myself OCD, but I am a perfectionist. I think my approach will offer some good tips for finishing this type of project.
Here is a list of all the items to be completed in the 8 weeks.
Paint panel portion of walls – DONE
Build fireplace structure -DONE
Install paneling on fireplace, patch and paint – ALMOST DONE
Remove existing flooring in fireplace -DONE
Install tile in firebox
Install tile for hearth
Build mantle and surround for fireplace
Install paneling around room, patch and paint – HALF WAY
Hang custom drapery
Refinish pair of side tables
Hang chandeliers
Install sconces
Install 4 beams across ceiling
Install new door hardware
Arrange furniture on new rugs
Sew or find lumbar pillows for sofas
Hang art
Style china cabinet
Accessorize both the living room and the dining room
Finish the "surprise" space
Photograph the room
Write 8 blog posts total
Okay, now I feel a little bit overwhelmed. I can definitely say I am thankful for some extra time this season. The only piece of the design that I am waiting for is delayed due to COVID-19 are the custom curtains. Hopefully, with some states opening up now, it feels a little more likely they will be finished in time. Finger's crossed.
If you missed my week 1 post, you can find that here.
SPONSORS
A special thank you is necessary for my sponsors. They have graciously shared the products that will make this makeover possible.
Novo Building Products | Hudson Valley & Troy Lighting | Apt2B
Emtek | Loloi Rugs | Couristan | Calico | Overstock
The Tile Shop | Bemz | AZ Faux Beams
Be sure to visit all of the talented Featured Designers for their week two updates.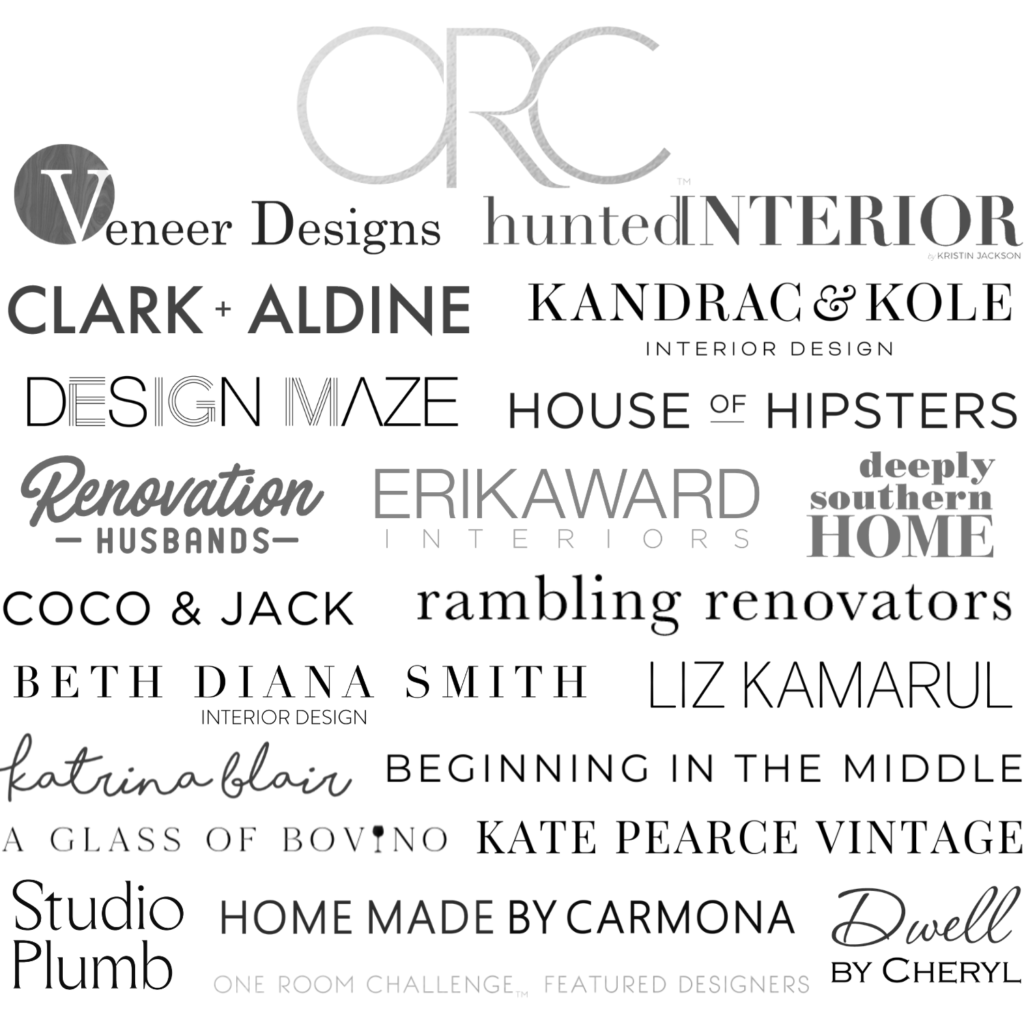 A Glass of Bovino | Beginning in the Middle | Beth Diana Smith | Clark + Aldine | Coco & Jack
Deeply Southern Home| Design Maze | Dwell by Cheryl | Erika Ward | Home Made by Carmona
House of Hipsters | Hunted Interior | Kandrac & Kole | Kate Pearce | Katrina Blair | Liz Kamarul
Veneer Designs | Rambling Renovators | Renovation Husbands | Studio Plumb | Media BH&G
And then look for the Guest Participants on Thursday! It's so very exciting that there are a record number of guest participants this year. How cool is it that over 350 blogger entries and 260 Instagram entries!! That's a lot of room makeovers happening! I venture to say that these rooms will be evident that good things can come out of all of this time staying home.
Thank you to Linda, of the One Room Challenge™ and the official Media Partner, Better Homes and Garden.