Today is the long awaited official start for the Spring 2020 One Room Challenge. I was thrilled and completely honored to be selected this season to participate as one of twenty Featured Designers!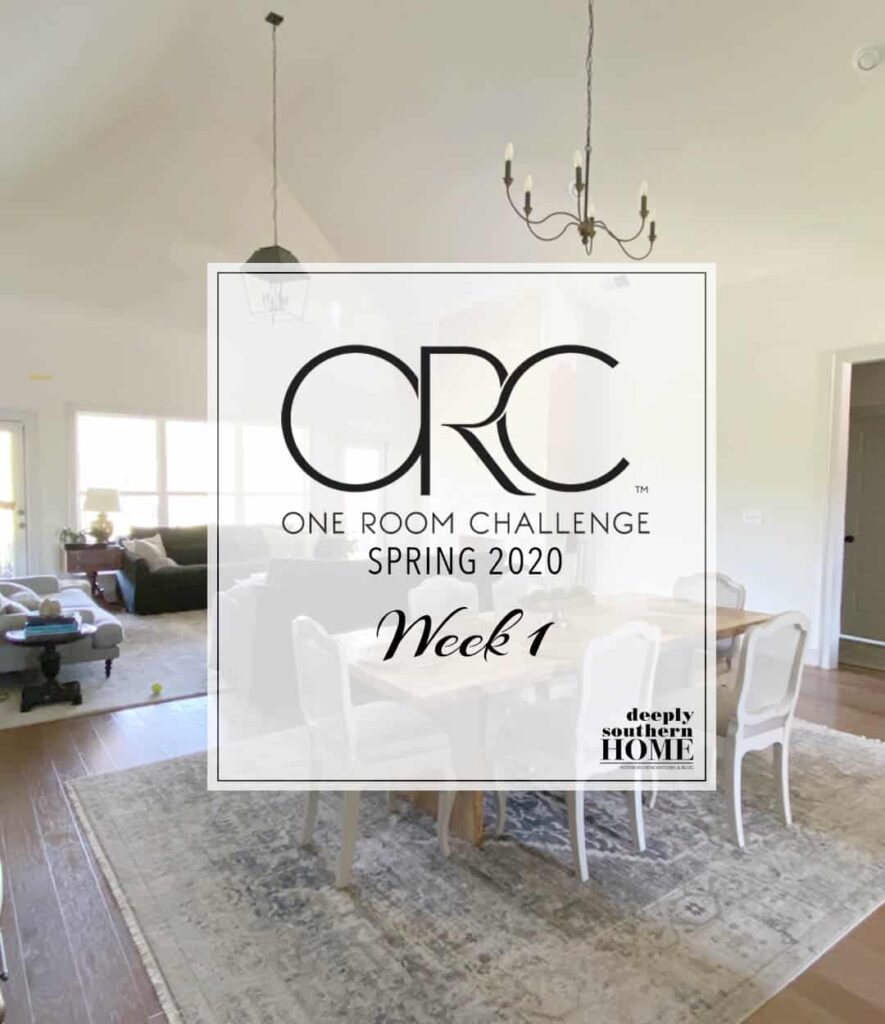 This will likely go down in history as the one of the longest running One Room Challenges! With the Covid pandemic arising near the original start date of April 1st, Linda Weinstien, the founder of the One Room Challenge and her blog, Calling it Home, made the very wise decision to delay the start. I am also thankful for her decision to add extra time to the traditional 6 weeks.
If the last few weeks have taught us anything, we have likely learned that life during a pandemic moves much slower than we are used to, accommodations have been made, and new challenges have arisen, but we will carry on with grace and and maybe even a little extra ingenuity.
If you are new to Deeply Southern Home, welcome! I am Leslie, a self professed creative junkie turned home decor and DIY blogger. After working as a graphic designer for several years I took a very, very early retirement to raise our children. Along the way I found myself as a creative blogger. My goal whether in my home or my client's is to create rooms with a relaxed southern style. Although my designs are traditional, I love to experiment with color and a fresh interpretation of classic interiors. We recently downsized to a new-construction home and I can't wait to inject old-world charm and character through my DIY projects and timeless finishes.
Be sure to follow me on Instagram @deeplysouthernhome and my Facebook page Deeply Southern Home for behind the scenes on Stories, and sign up to receive my blog posts straight to your email inbox by clicking here.
About the One Room Challenge
In case you have never heard of the One Room Challenge, it is an amazing biannual event where 20 featured designers are chosen to make over rooms and share their progress.
It's not a competition. Every detail in transforming a room is featured in a community atmosphere, sharing the good, the bad and the eventual beautiful space with the ORC audience and community.
Through long updates in weekly blog posts and behind the scenes in social media, I will walk you through the entire design process and share some simple and more complex DIY's up until the final reveal. And the decorating fun does not stop with the featured designers, nope, anyone can join in as a Guest Participant now that an Instagram only option is also available. All you need is a desire to finish a room and take others along for the fun!
As a Featured Designer, I am joined by the most talented designers in this online community and honored to be among this season's lineup. A very special thank you goes to our official Media Sponsor Better Homes and Gardens and of course Linda!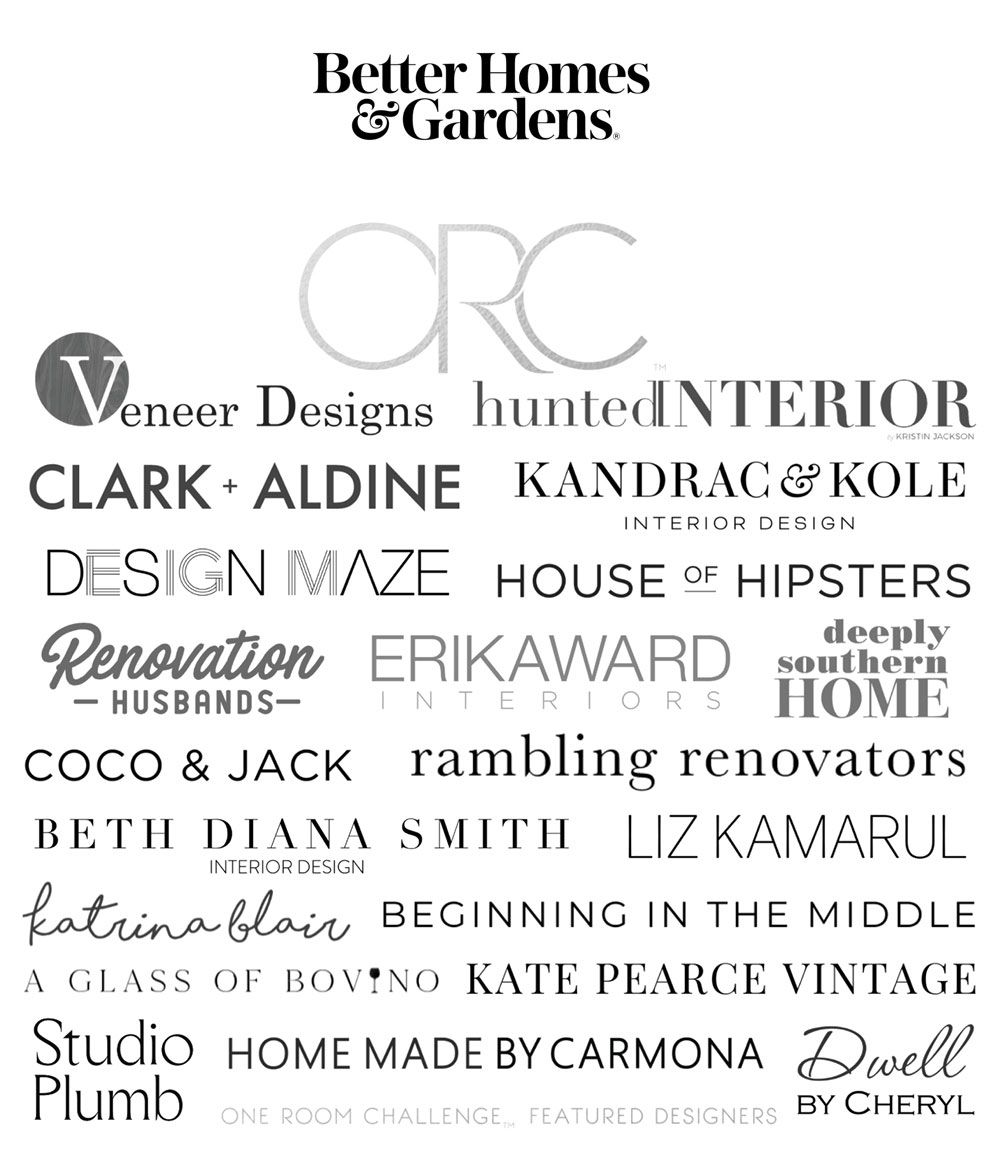 After eight seasons as a guest participant, it is an absolute dream come true for me to be a Featured Designer! I have pretty much been hooked on the One Room Challenge since my very first entry back in 2015. I love to create traditionally inspired spaces with an emphasis on modern comfort and sensibilities.
If you want to see how the One Room Challenge has changed our homes check out the link on the top bar on the right or here. It's like a scrapbook of our lives over the last two homes and a hopefully displays an evolution in my design esthetic.
With all of that goodness out of the way let's get this show rolling!
After several months of scheming and planning and pretty much obsessing over the room I am going to be transforming over the next 8 weeks, I can not wait to tell you more.
If you follow me on Instagram then you likely saw my IGTV Video featuring an early viewing and walk through of the "before" of the room, or actually rooms, I am tackling this season.
In that quick little snippet revealing that our vaulted living room and dining room is this season's ORC makeover, I glossed over the how's and why's. So, today I am going to walk you through the current challenges of the space and share some inspiration and the direction in which we are headed. And I say we, because I really hope you will choose to come along!
The Before: Living and Dining Open Concept room
Because this space is starting as essentially new construction, the before is far from the usual, uninviting rooms I've shared in the past.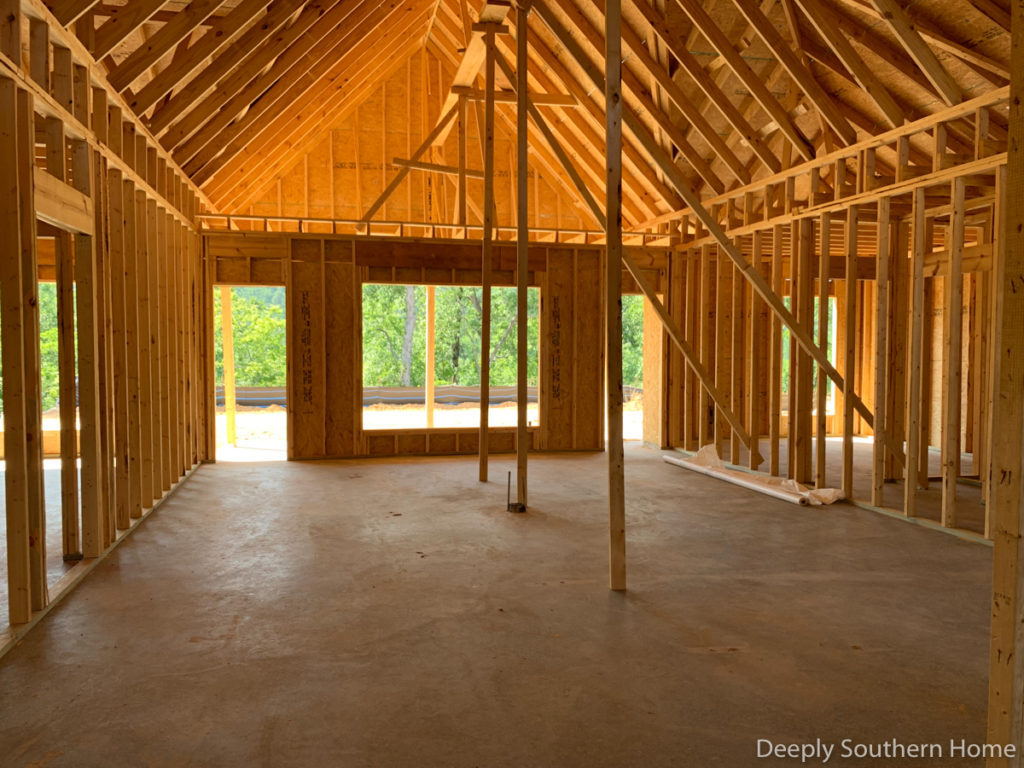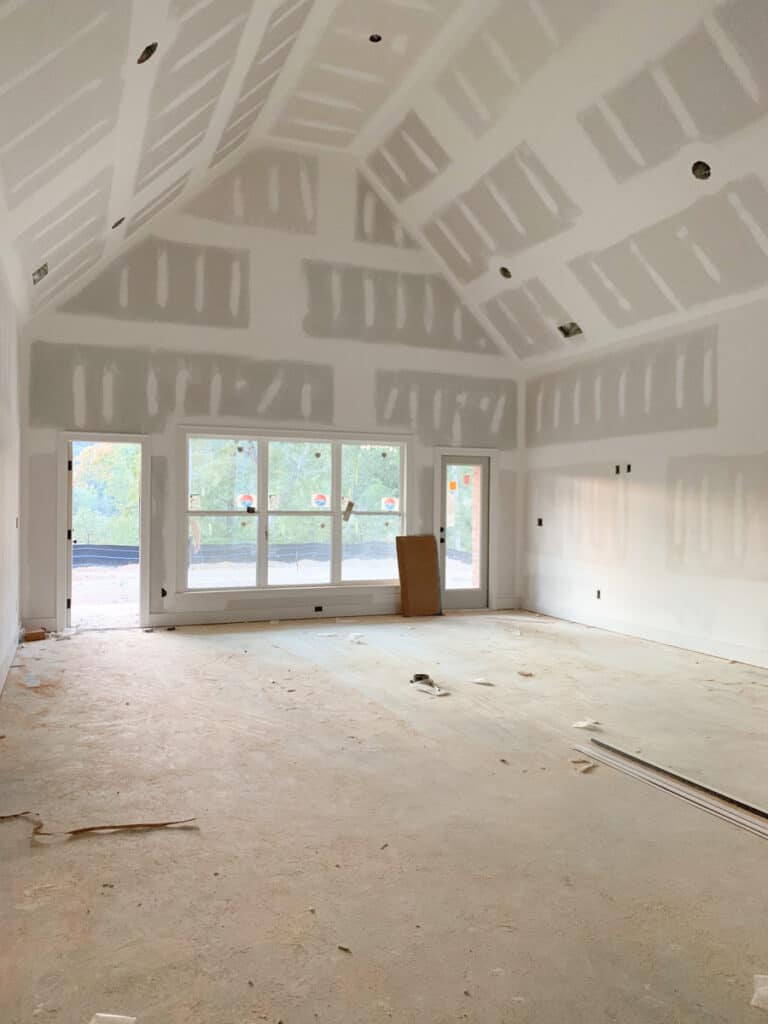 We built a very blank slate and were actually extremely intentional about it.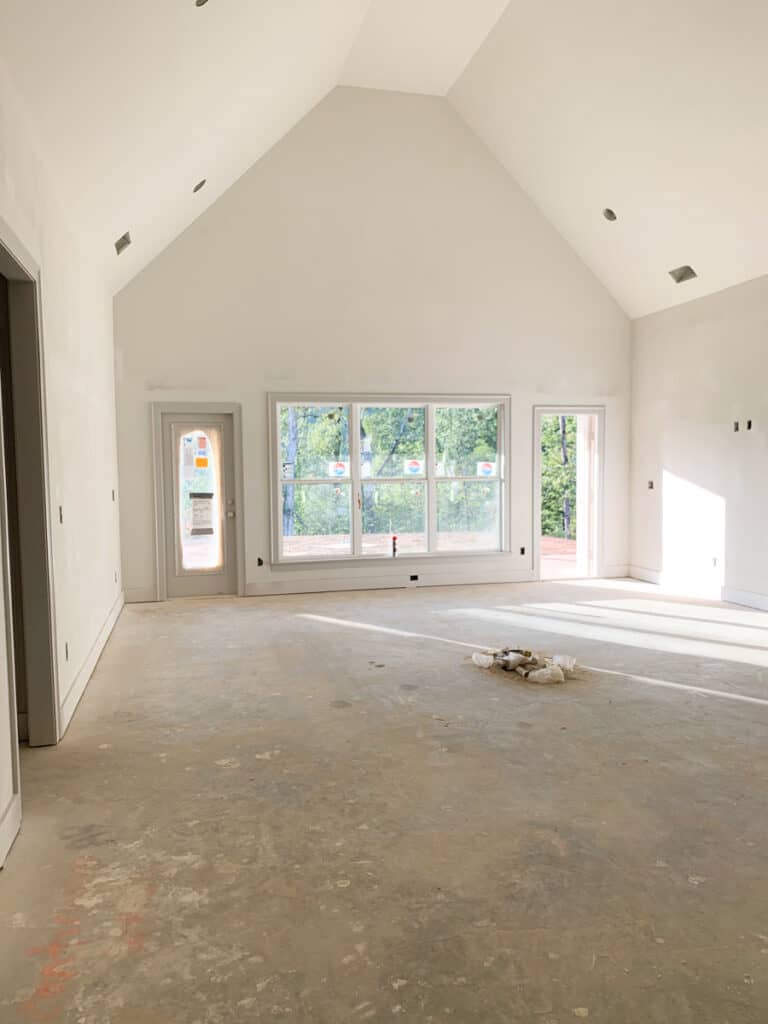 If you look at the original floor plan below of the room, you see that the fireplace is at the back of the house, leaving only two french doors as a view to the backyard. While that seems nice enough, given the premium we paid for a lakefront lot, the focal point should be the view of the lake crest not the fireplace.
After much debate, we decided to forgo the fireplace all together and instead install a large bank of windows. We considered having the builder add a fireplace on the right hand wall, but the scale of the fireplace they were going build just didn't feel right. I knew, given some much needed extra time, I could plan and execute the perfect fireplace to add to this room.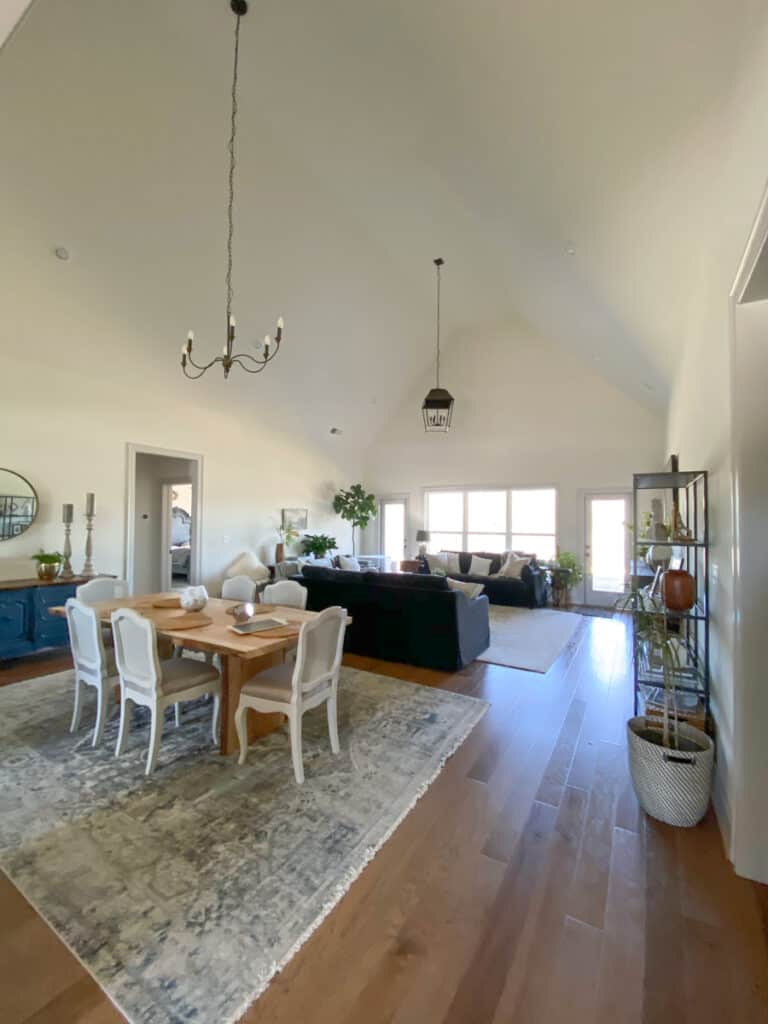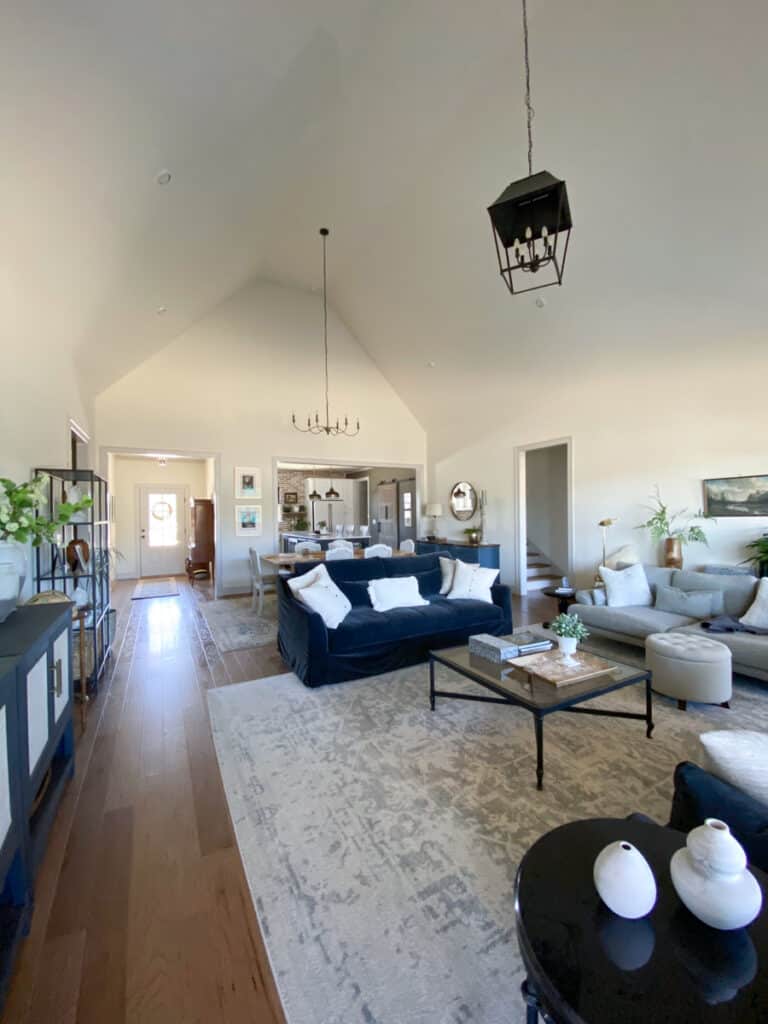 As I mentioned in the IGTV video, weeks before the original start date for the One Room Challenge I had my contractor come and build the basic fireplace structure.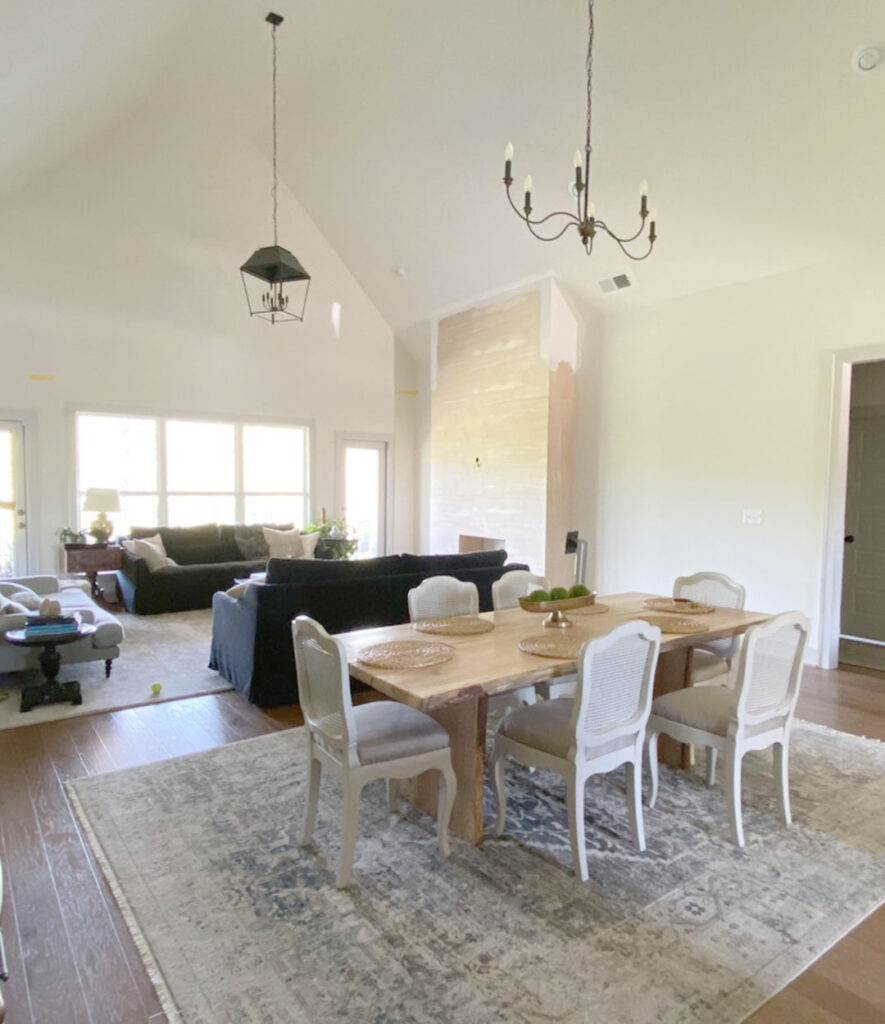 I will go into much greater detail about the plans for the fireplace in the coming weeks. You'll just have to trust me when I say it's going to be amazing!
Now that I've introduced you to my space, I'd like to share a little about the guiding philosophy for the design.
Design Philosophy: Atmosphere
After studying many beautiful rooms similar to ours, I realized the most important "thing" a successful, vaulted, open-concept room can have, is atmosphere. In one of my absolute favorite interior design books, James Michael Howard teaches readers what it means to create Atmosphere in a room.
Atmosphere is the magic that an entire residence can have when it is beautifully designed – the complex murmur of mood and undercurrent of refinement in a lovely setting. It embodies the power a space has to capture your attention and please your senses, embracing you and making you your eyes dance around your surroundings. It is the "wow factor"

James Michael Howard, Atmosphere: The Seven Elements of Great Design
I highly recommend his book, you can find a copy here. His style is rooted in his amazing abilities as an Architect. His rooms feature a clearly refined amount of decoration because he so skillfully creates detailed, beautiful rooms that come to life with a sophisticated style.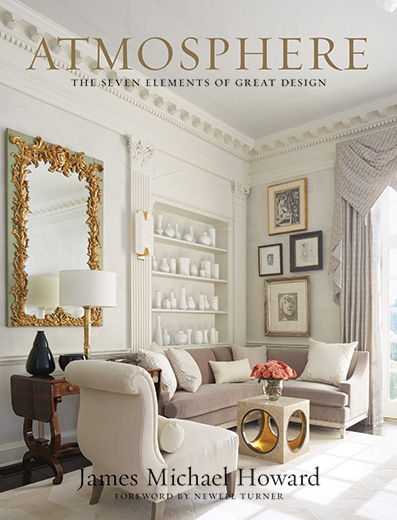 Creating this "wow factor" and a room that embraces your senses is truly what I want to create for this hollow shell of a vaulted space. I kept finding myself drawn back to the light, bright and open spaces he created in his book. Clearly this room will be inspired by the stunning works of James Michael Howard.
Thoughts on Vaulted Open-Concept Living
Once we agreed building best suited what we needed in a downsized home just last year, I realized most new construction floor plans have some variation of an open-concept with a vault.
I began collecting images in a Pinterest board of similar rooms. Here are a few of my favorites from my "Open Concept can be Beautiful" board.
It became clear that our space is lacking many of the key features that make these rooms so appealing to me and I think, makes them successful in their design.
What our room needs.
A fireplace to ground the living area.
Generously sized lighting to define each area.
Architectural elements to draw your eyes up, like beams.
Architectural embellishments to make a room feel cozy.
As I said in the IGTV video, I feel like I'm moving in the right direction. Even adding just the shell of the fireplace made the living room feel like it had a purpose. Remarkably and noticeably, it gave the living room furniture grouping an anchor apart from the window and the view.
The Inspiration: A Tudor Home
The main inspiration for this room comes from the architectural details on the exterior of our home, which is rooted in Tudor Style. Since the interior was crafted with no real inspired details it made sense to capture that style inside.
The ultimate goal is to create a style for this home. By injecting traditional, Tudor character into this blank and uninspired canvas, I hope to create the charm of an older home while still having the room feel relevant in a completley modern way.
One of my favorite design elements in Tudor interiors is the classic, Tudor style, paneled rooms.
I'll talk more about executing this design element next week, but know that this is key to the design plan.
Next week…
Next week, I'll be back with more details. I'll reveal the complete design plan and more of the "how" I am aiming to create Atmosphere.
Sponsors
I'll also be sharing more about the amazing sponsors in the coming weeks. They have graciously shared the products that make this makeover possible.
Novo Building Products | Hudson Valley & Troy Lighting | Apt2B
Emtek | Loloi Rugs | Couristan | Calico | Overstock
The Tile Shop | Bemz
Again, be sure to follow me on Instagram @deeplysouthernhome and my Facebook page Deeply Southern Home for behind the scenes on Stories, and sign up to receive my blog posts straight to your email inbox by clicking here.
And don't forget to visit the other talented designers sharing about their spaces today.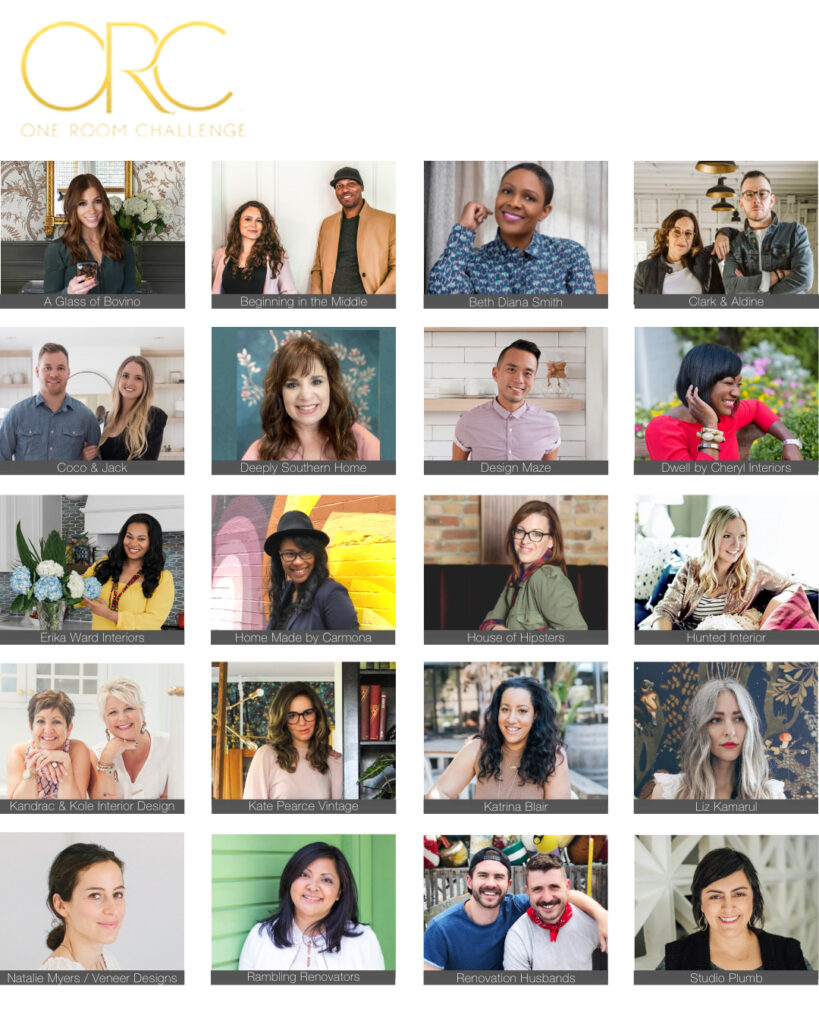 A Glass of Bovino | Beginning in the Middle | Beth Diana Smith | Clark + Aldine | Coco & JackDeeply Southern Home| Design Maze | Dwell by Cheryl | Erika Ward | Home Made by CarmonaHouse of Hipsters |
Hunted Interior | Kandrac & Kole | Kate Pearce | Katrina Blair |
Liz KamarulVeneer Designs| Rambling Renovators | Renovation Husbands | Studio Plumb | Media BH&G