If you've been following along on this season's One Room Challenge makeover of our master bedroom than you have seen that Annie Sloan Chalk Paint has played a pivotal role in transforming the room, most especially our four poster bed.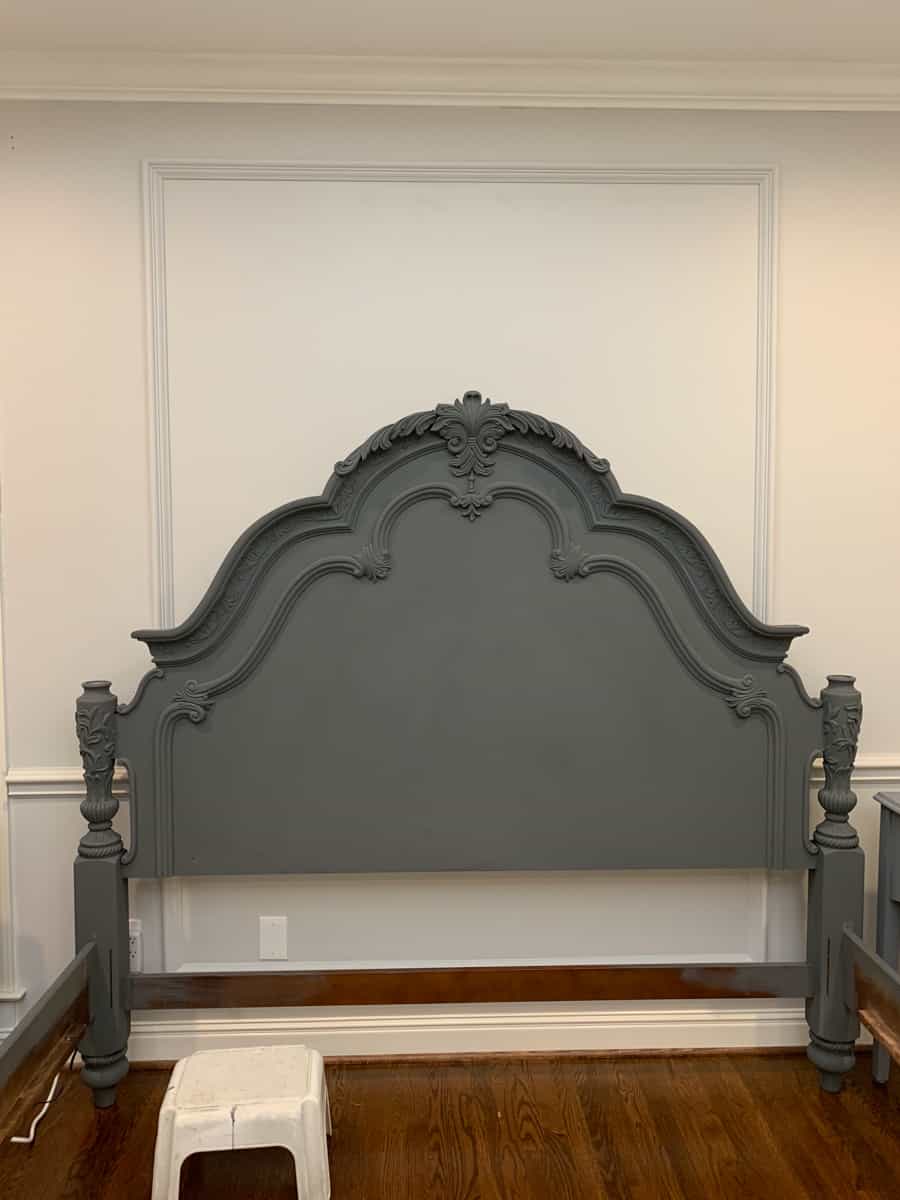 If you need a refresher on what was completed over the last 3 weeks of the One Room Challenge check out these posts.
Painting the bed was one of the most visually impactful transformations in this makeover, but what you might not have realized how many other elements in the room were updated or modified with the help of Chalk Paint.
My vanity, which I love and use nearly every day was painted a lighter grey  mixed Paris Grey, Graphite and Coco. Then I gave it a subtle wash of a different combo of those colors and then finished with clear wax and little dark wax to give it an aged patina. I also used gold gilding wax to highlight some of the details. I especially like the Annie Sloan version of gilding wax. It is easier to apply than Rub N Buff and doesn't give off those noxious fumes.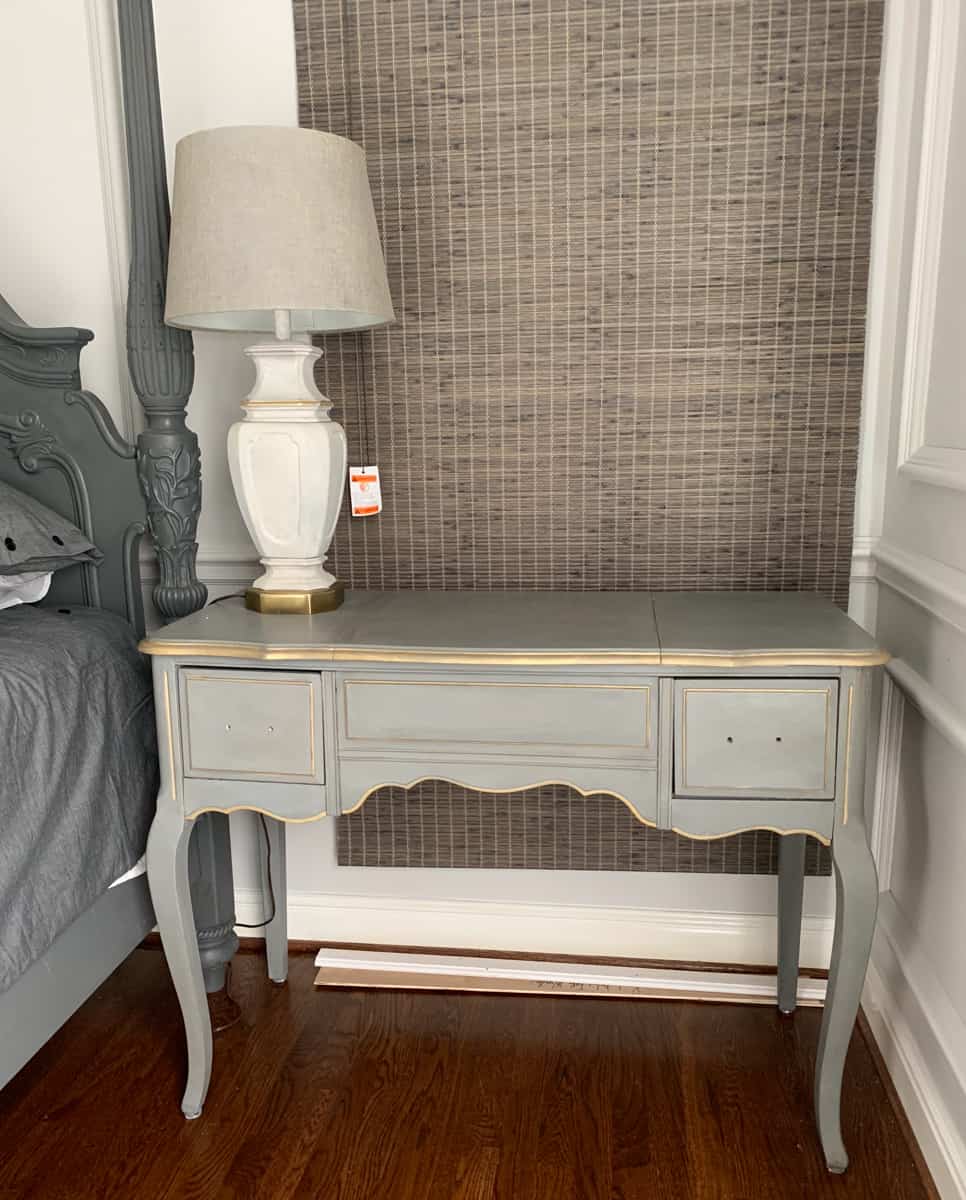 I also used Chalk Paint on the lamps. After a coat of white primer dried, I applied a grey wash that I stippled off with a paper towel to create a marble inspired look. I am still deciding if that is the final look for these lamps.
Dying Curtains with Chalk Paint
The original plan was to dye my old, off white colored curtains with chalk paint. Unfortunately, the extra panel I thought I had stashed away was no where to be found, so I had to purchase new curtains.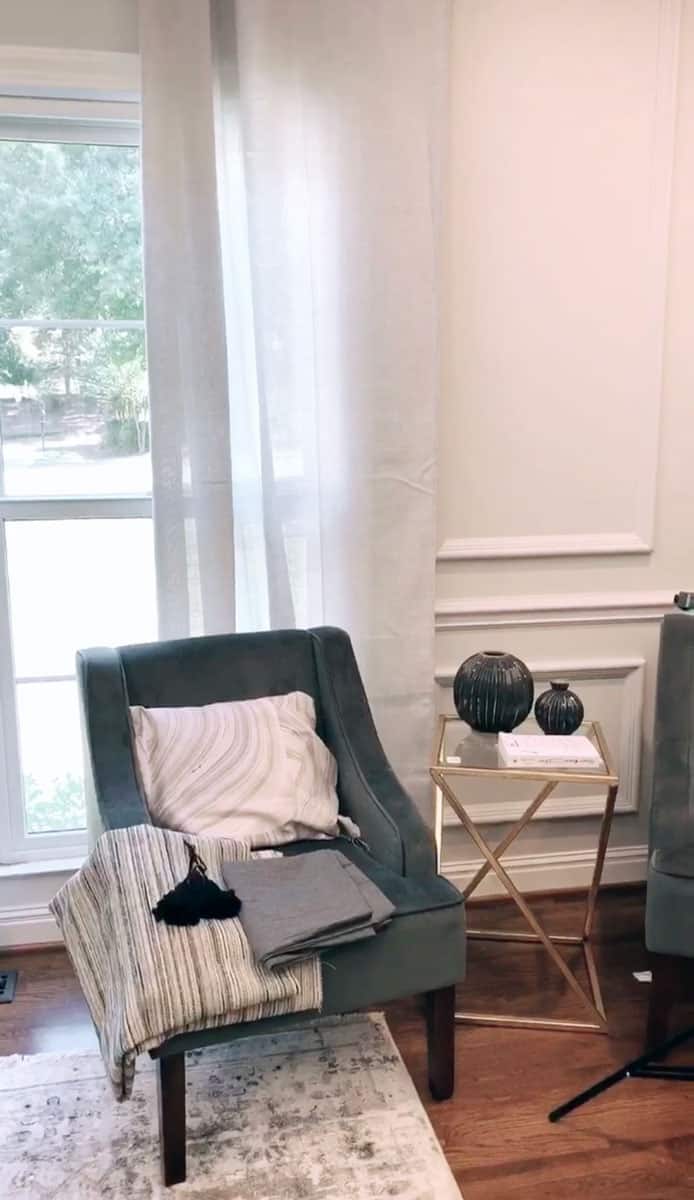 I thought I have found the perfect panels, but the longer I lived with them I came to realize they would be so much better if they were a bit warmer and a tad darker.  (They had just a hint more blue undertones than the wall color, On The Rocks by Sherwin Williams.) Finding another set of 3 panels in such a specific color way this late in the game and within my budget, was going to be nearly impossible.
So, yesterday I did what many would think was a crazy, hair-brained idea, I dyed the brand new panels.  And you know what? Now they are perfect!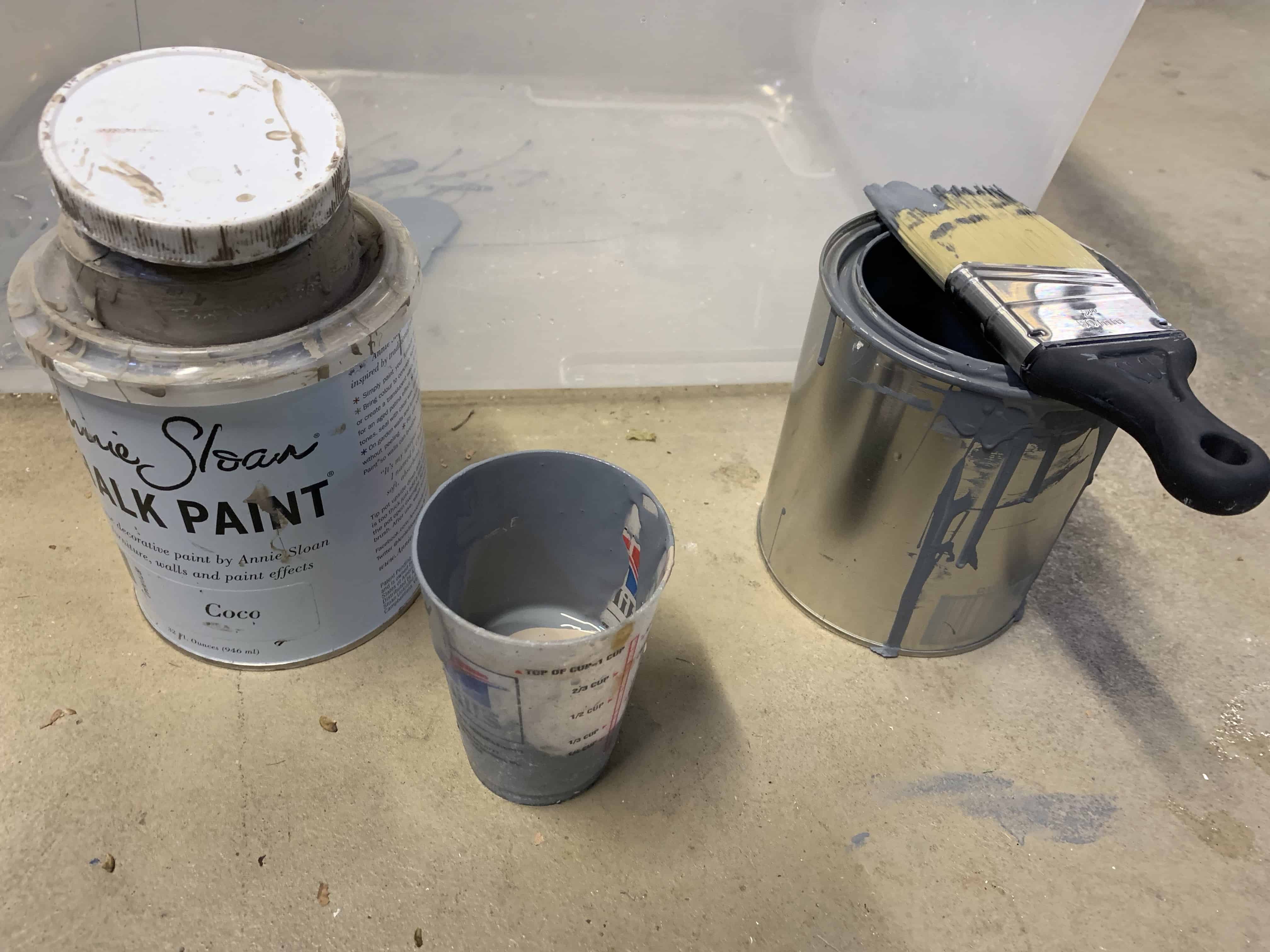 I mixed about a 1/2 cup of chalk paint in total into about 2 gallons of water in a big plastic bin. Stirred it up very well, so that it was a nice even mixture.
I cut off a few of the tabs on the back of the curtain so that I had extra pieces of fabric to test out the color.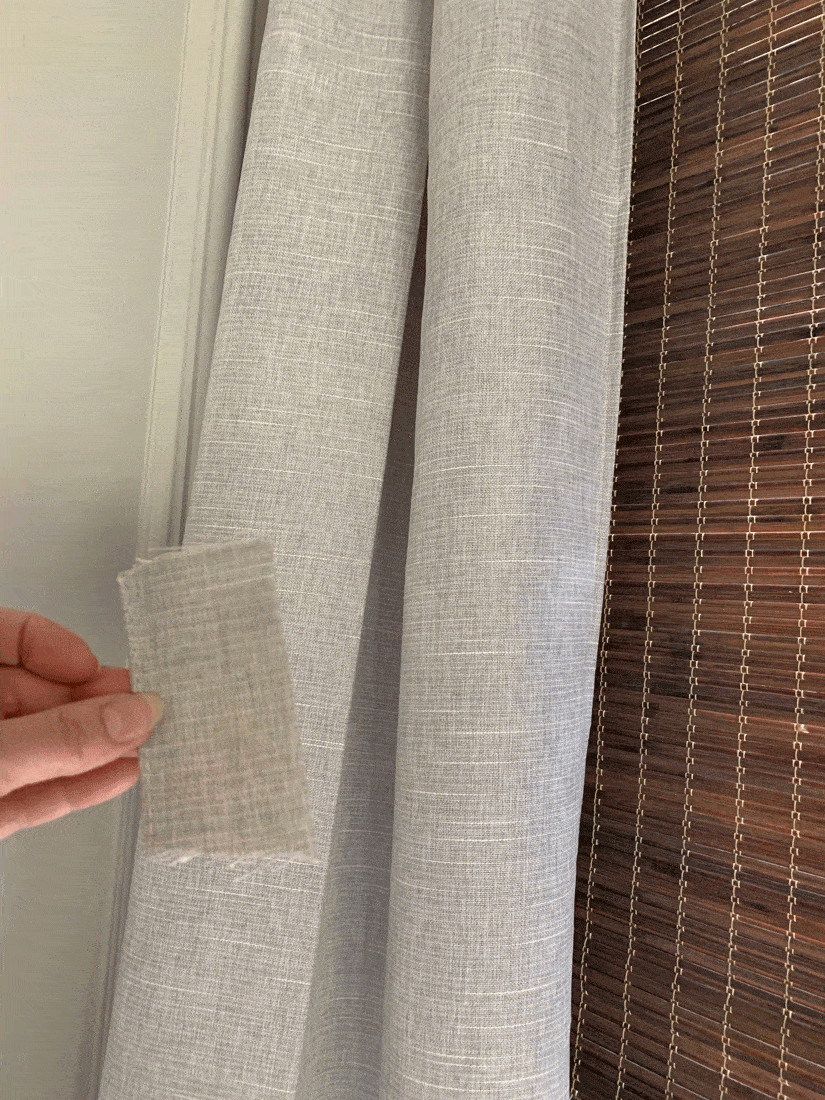 Once I was happy with the shade of grey I created from a mixture of Paris Grey, Graphite and Coco, I submerged the curtains fully into the mixture. 
The process was extremely easy. In fact, the hardest part was rigging up a way to let them hang out to dry.  (I might have been able to put them in the dryer, but I did not want them to shrink.)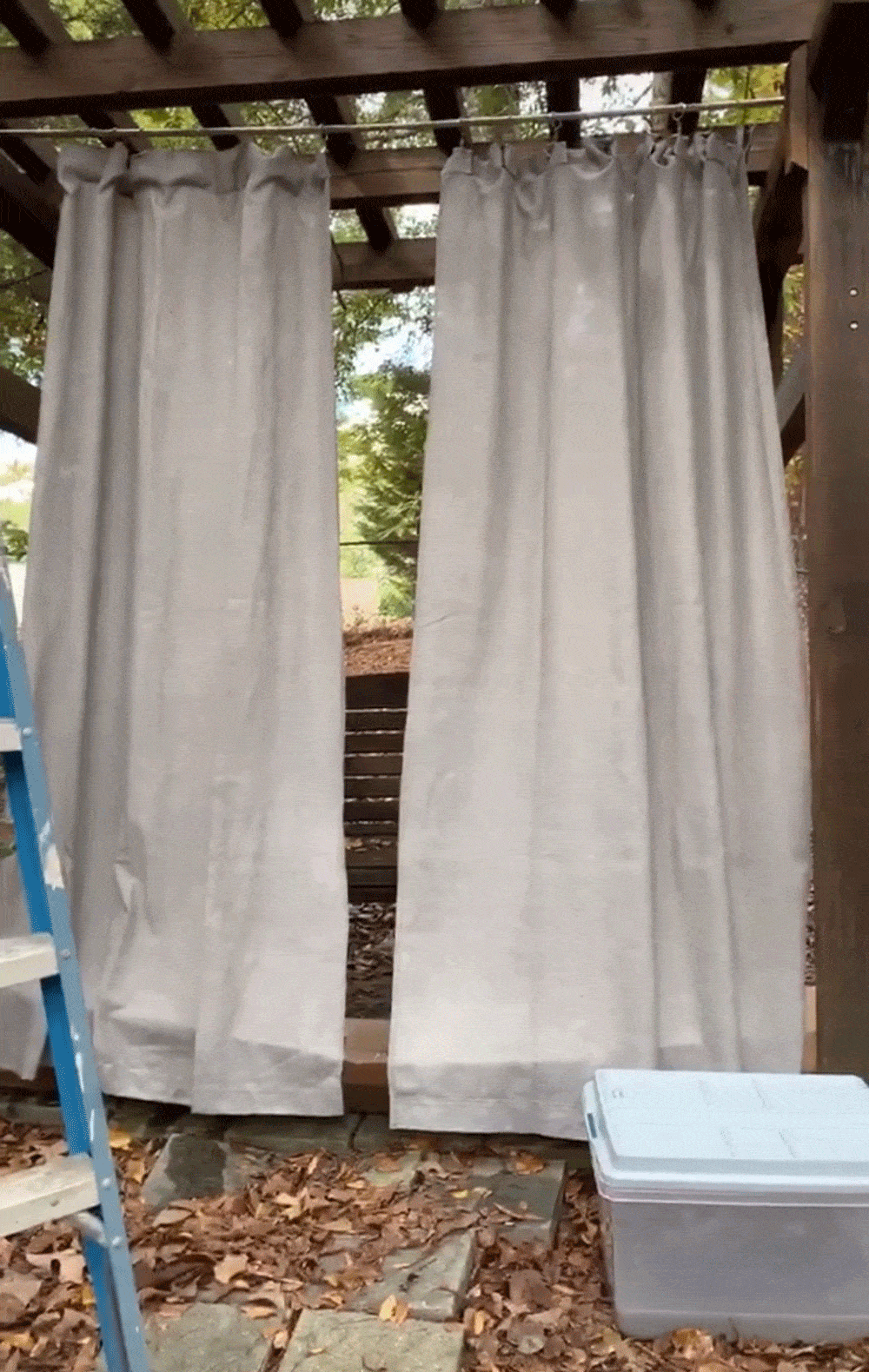 I wrung each panel out as best I could without twisting it up too much and then hung them on a curtain rod suspended across a trellis over our swing in the backyard.
Each panel was nearly dry after a couple hours and then I repeated the process two more times until each of the 6 panels were dyed. 
It is very important to thoughouly mix the solution after each pause in use. The paint begins to settle down to the bottom of the tub, but easily mixes up nicely once stirred again. (I just used my hand so that I could feel the solution.)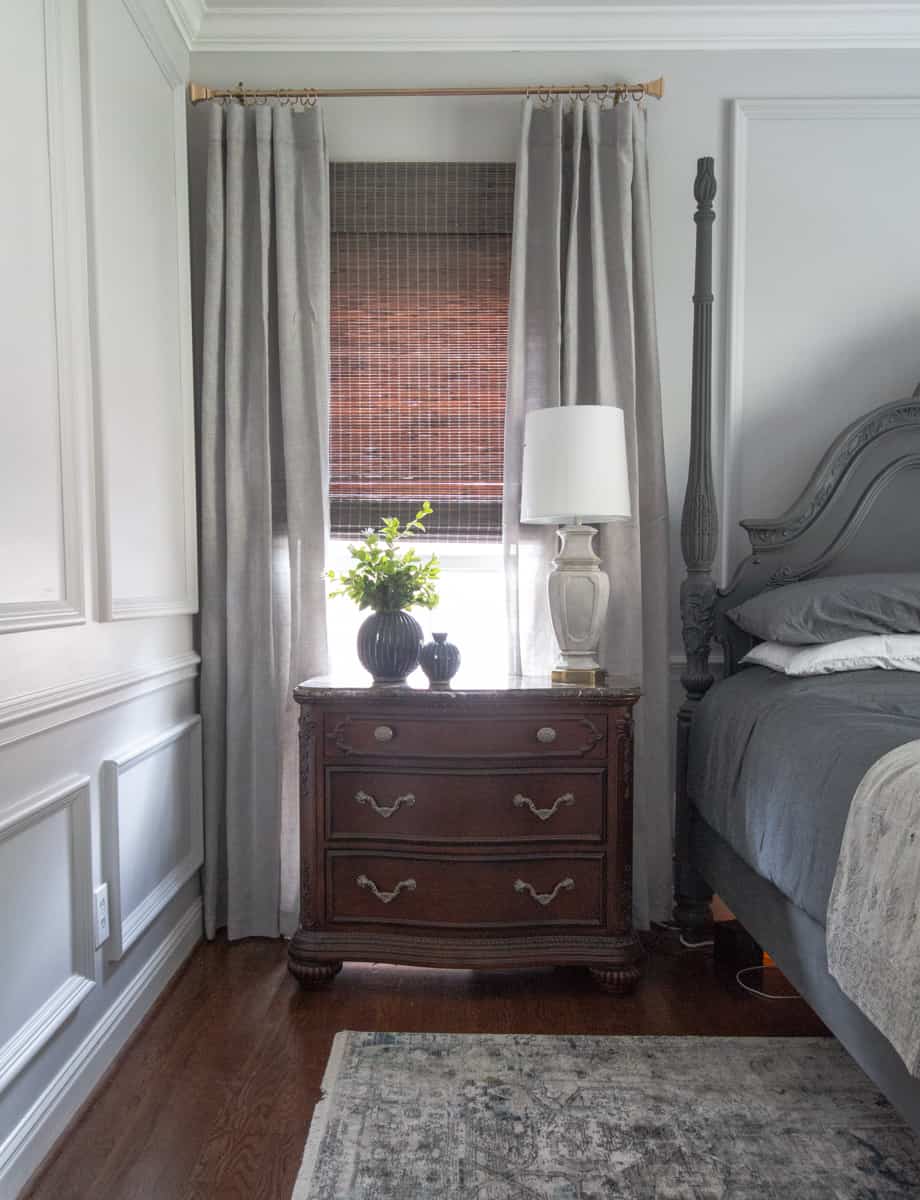 I could not be happier with the result. The color is more in line with what I had envisioned and dying the curtains also quieted the little bit of sheen of the fabric.  It looks, and even feels more like linen, which is the look I was going for.  They still need to be ironed and I might eventually line them for more body, but for now they are pretty great. Especially since I only spent $75 for them and I already had all of the chalk paint I needed to complete the transformation.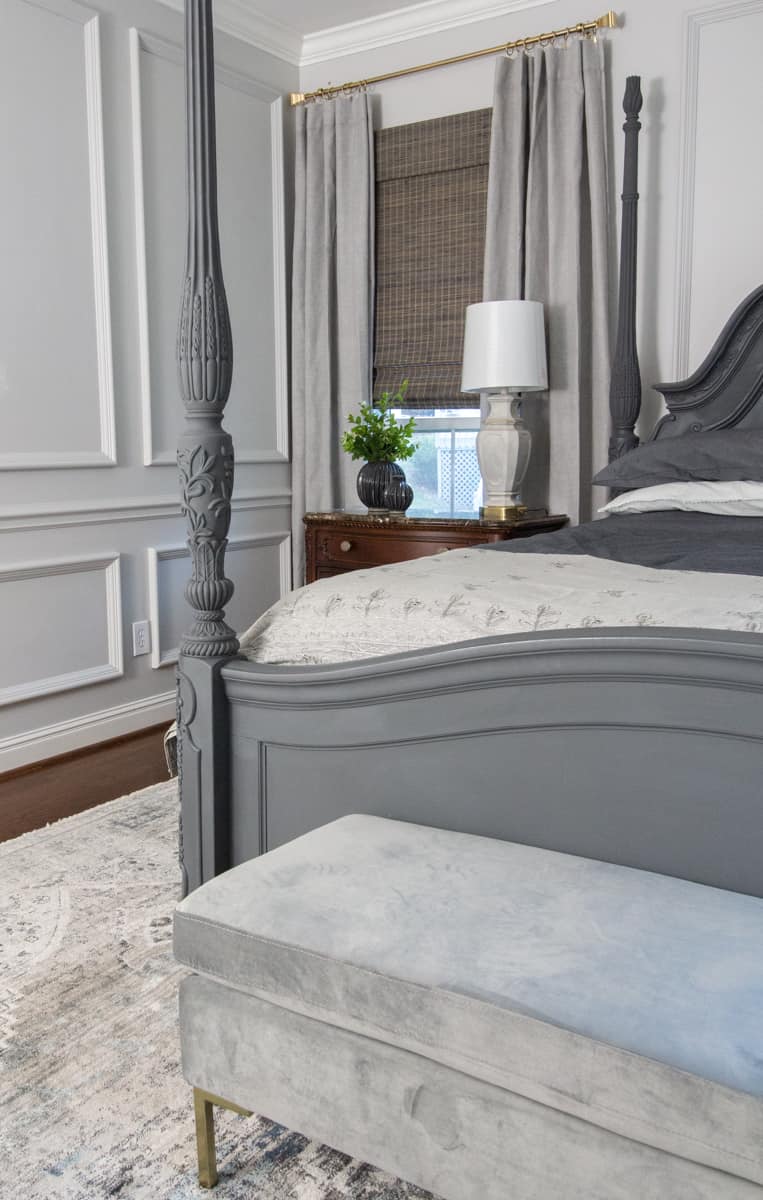 There are still a number of things to complete for the reveal. I've updated the original list addding a few more details I had failed to remember or mention previously.
This post contains affiliate links for your convenience. 

The Specific Plan & the To-Do List
Install molding from Metrie just as we did in the master bathroom. 
Paint the bed. (I know some of you just gasped as you read this but I debated for a very long time and I have decided this is the best option for me and my sentimental side. Not to mention, I do not want a tufted or upholstered headboard. I tend to be a bit of a design rebel and can't stand to create a space that is not unique.)
Simplify the other furniture. (I have a few new pieces coming in from HomePop and editing others which will require me to give up a smidge of storage, but I feel like it will be worth it.)
Create symmetry in the room.  This is probably the one feature of the room I struggled with the most.  I finally had a lightbulb moment a few weeks ago and I can't wait to tell you how I am going to solve this pesky problem!
Reimagine my existing curtains and add shades from Payless Decor. This will help me stay on budget and has the potential to be an interesting DIY.  UPDATE:  I will be purchasing the right curtains, hopefully at the right price since what  I wanted was free!
Paint my existing vanity. I love this little antique. It is perfectly functional and just needs to blend with the rest of the room. (You can see just a hint of it in the before photos.)
Recover the vanity chair.
Give the existing lamps a makeover.  They are extremely well made and have a very convenient switch on the base, a feature we love having next to the bed.  The shape of the lamps are nice and I am always reluctant to get rid of something for the sake of having something new. I have started this, just debating on the finish I created.
New bedding is also in order to fit the new color scheme. I am thrilled to share that I have partnered with Laura Ashley Home for a beautiful new quilt set!
Frame prints purchased from my most recent trip to London, England.
Sew pillows. A bolster for the bed and two small rectangles for the pair of chairs.
Reconfigure family gallery wall above dresser. 
Here's is a look again at the inspiration and links to sources.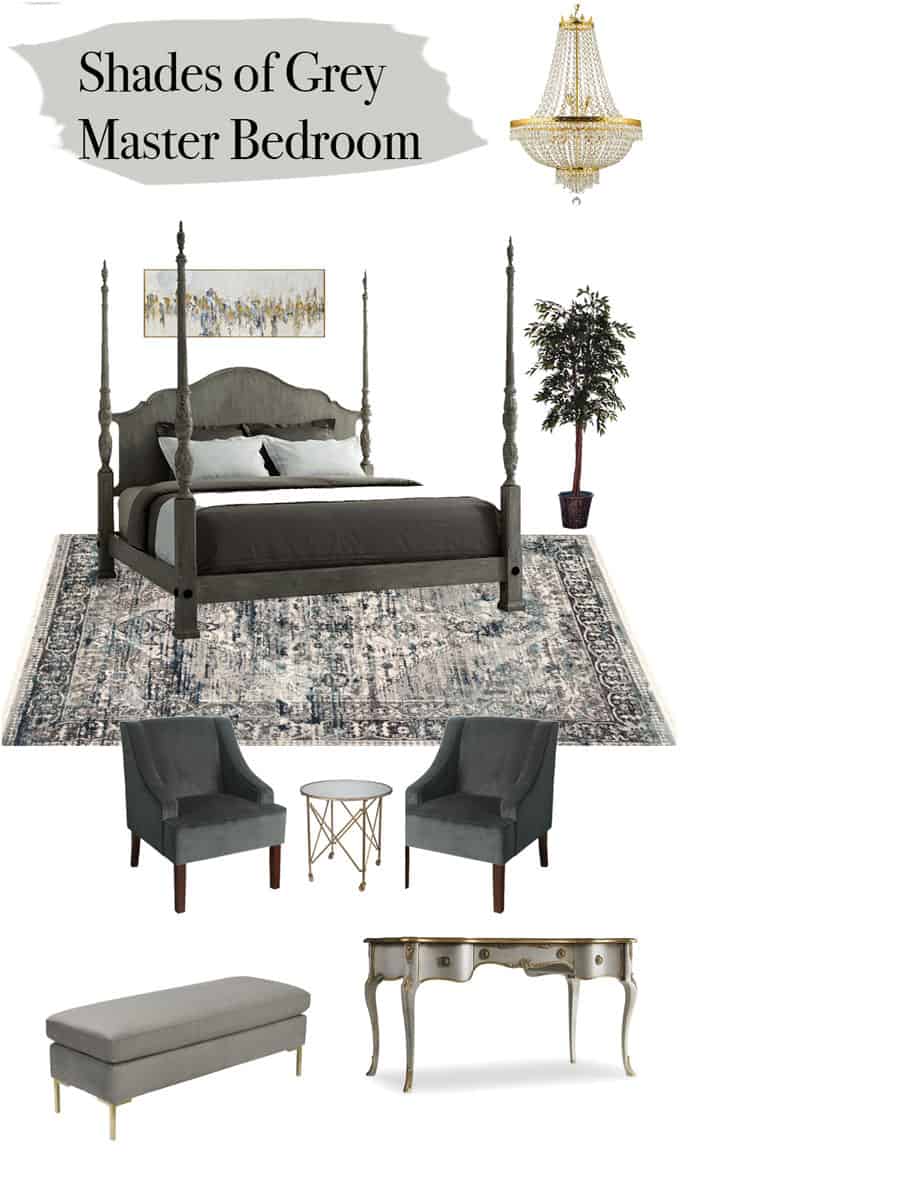 French Empire Chandelier || Similar Bed || Rug || HomePop Chairs || Side Table|| HomePop Bench  || Similar Desk
I have been extremely fortunate to partner with these amazing companies. I'll be sure to share more details about each of them in the coming weeks!!!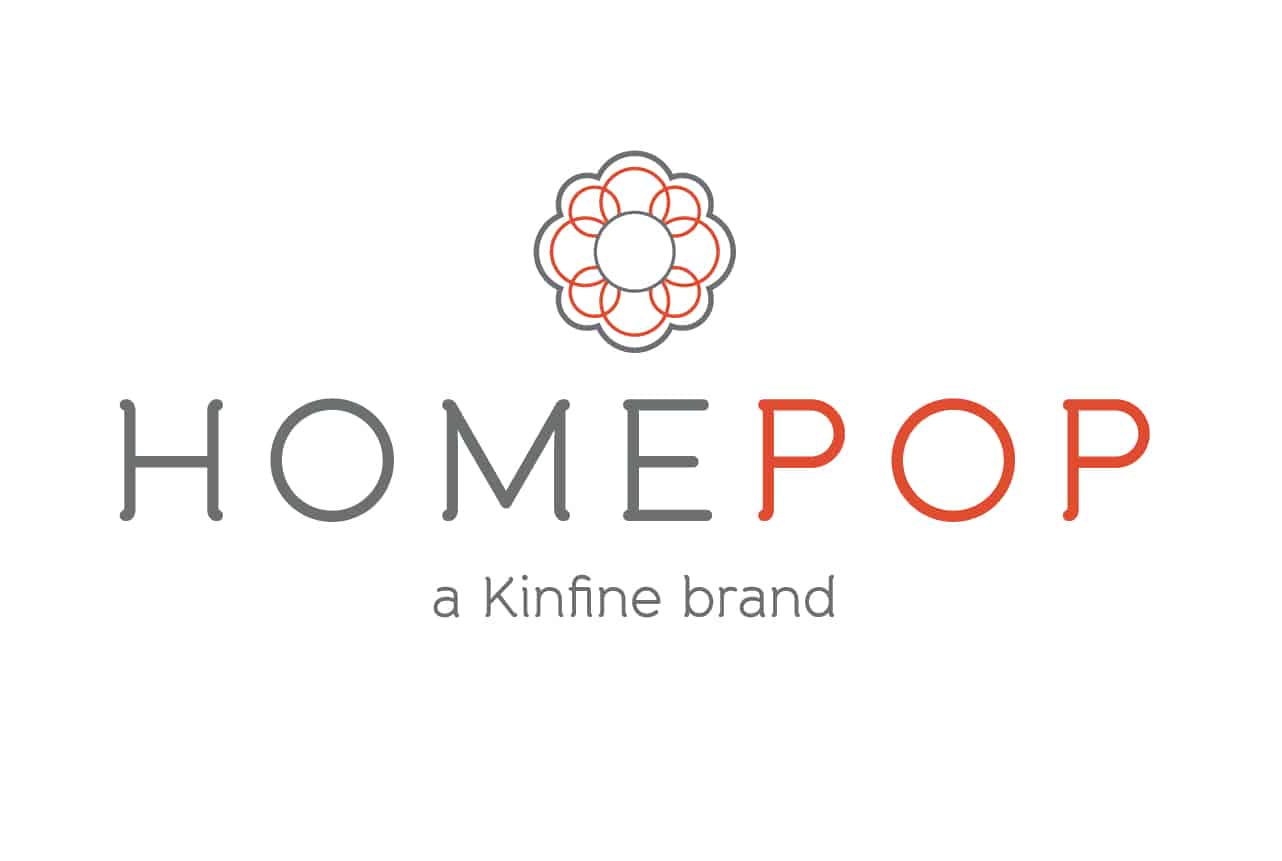 My Local Annie Sloan Chalk Paint Stockist, Faux Design Studios
Be sure not to miss the other guest participants here and of course, the featured participants here!  It is always such a thrilling time to check in on everyone's progress week to week!