Welcome to Week Two of the One Room Challenge! I had hoped to have more progress to show for this week but as I promised I have a design board to share as well as a few more details I only hinted to last week.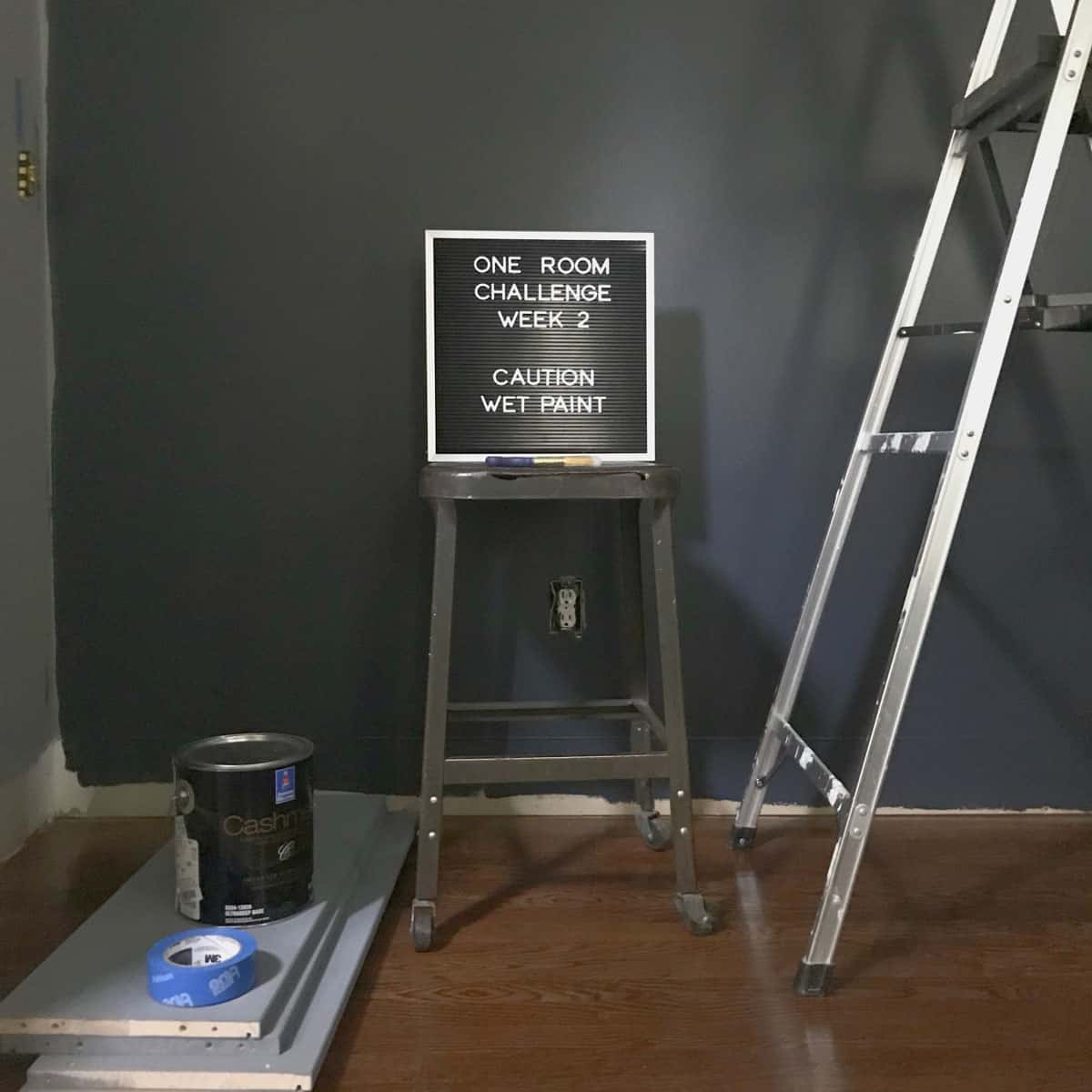 Basically, this is the week I am spilling all the goodness that is yet to come in this room! Hooray!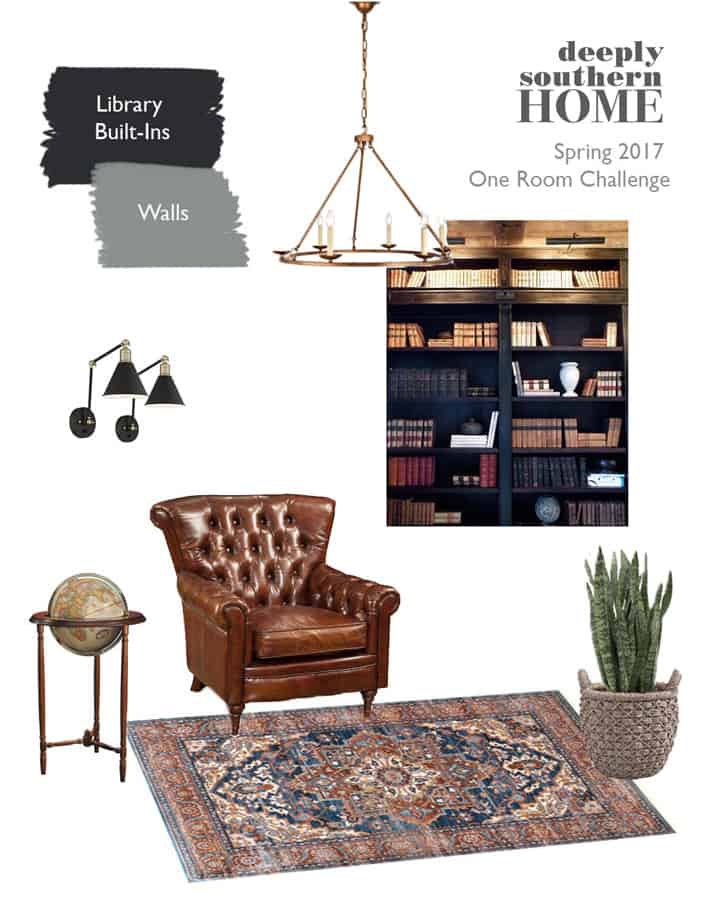 In the inspiration images I shared last week, as well as the before photos, I didn't disclose that the library wall will also contain a faux fireplace!
In order to give you a visual for how that wall will come together here is a mock-up drawing of the shelves and the fireplace.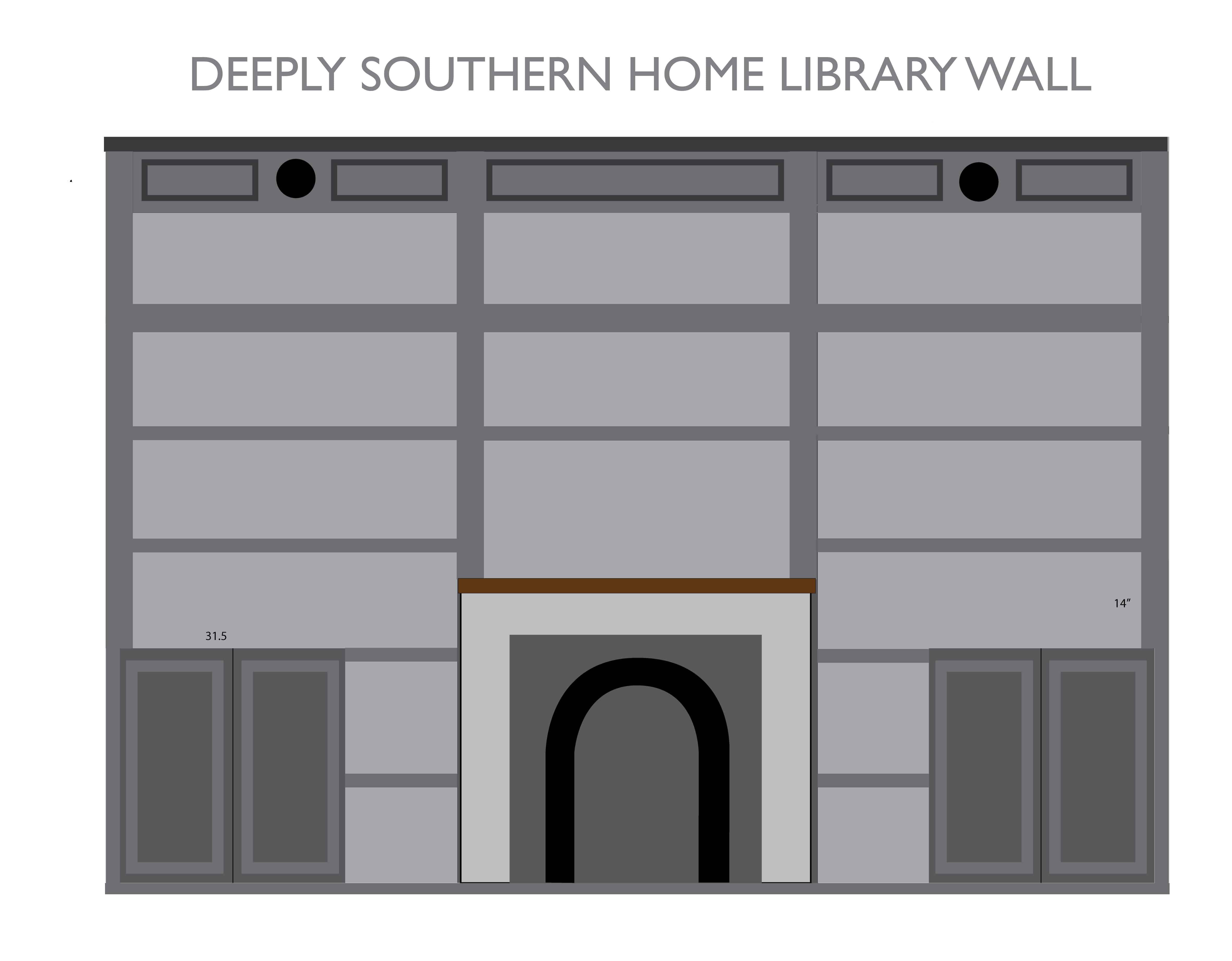 The arch is an antique iron piece I have been holding onto for several years specifically for this space! Gosh, it feels so good to see my dreams for this room to finally come to life!
I hope to create a mantle that looks something like this, but painted out in the dark blue grey built-in color, Cyberspace by Sherwin Williams. It will also have a mantle shelf and obviously it will surrounded by the bookshelves.
The other detail I only mentioned last week, but talked about on my Instagram Stories, are the doors that will be added to the entry of the room.
Like the fireplace iron piece, these doors were purchased about the same time we bought the Trail House. At that time, my husband was working from home so adding doors to what was to become his office was extremely important. Previously, the room was more of a formal sitting or living room. But as the renovation slowly proceeded without this being addressed, his position at work changed and he no longer needed a private home office. The urgency to install the doors to the opening we modified specifically for the doors was no longer there.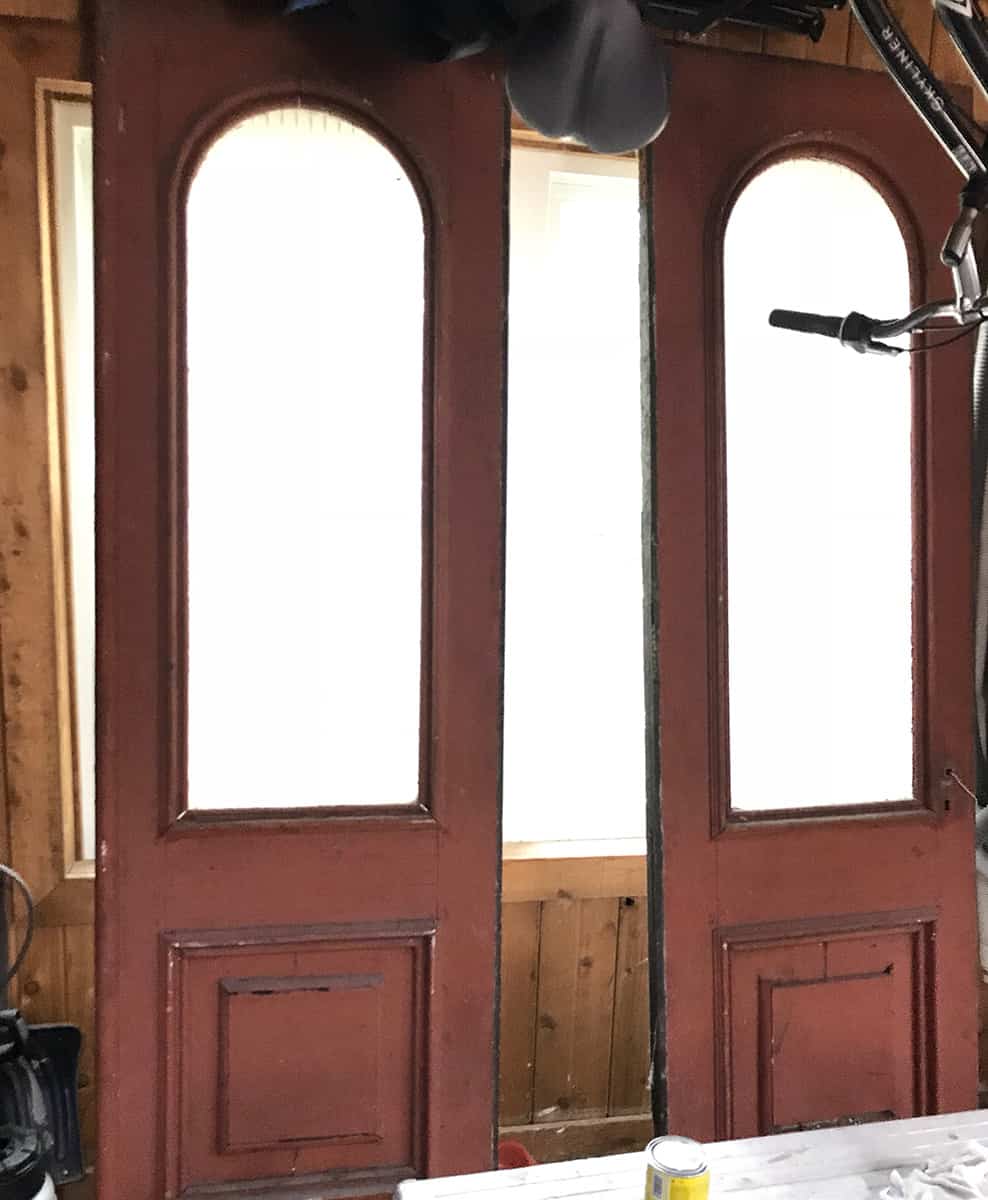 This side you see here will be repaired and painted. But I hope to strip and refinish the other side of the doors. The opposite side was clearly used inside and are in much better shape. I purchased the doors from Southern Accents & Architectural Antiques in Cullman Alabama. They had salvaged the doors from an old building in Nashville.
What you can't see in this blown out photo is the pattern etched onto the old glass. But trust me when I tell you it is absoultely incredible!
After we finish the built-ins, I will begin the work of restoring the doors.  We are certain due to their age, they were painted with lead base paint. I will be taking great care to follow proper procedures.
We were delayed in our start of the built-ins by a late delivery of the cabinets that will flank each side of the fireplace.  They arrived late on Wednesday and so now we are ready to get building!
The only part of the room that hasn't been finalized is the art to go over his desk.  It will need to be oversized and I would like it to be meaningful to him. So, I'm still thinking. Maybe I'll paint something, maybe I'll find some old photographs?  The idea of a sepia toned photo popped in my head while priming and painting the bookshelf wood today. Don't you love how inspiration strikes during mundane tasks?
Probably not a gallery wall, but maybe a series of two or three lined up? What do you think about that idea?
Be sure to check out the progress of the other 268 guest participants here as well as the featured designers here. So much talent!!