Today I am finally sharing a project that I completed quite some time ago, my best friend Dana's guest bathroom. And when I say I completed, that's a bit of a stretch. We worked together tirelessly at her home in North Louisiana for 3 weeks last fall.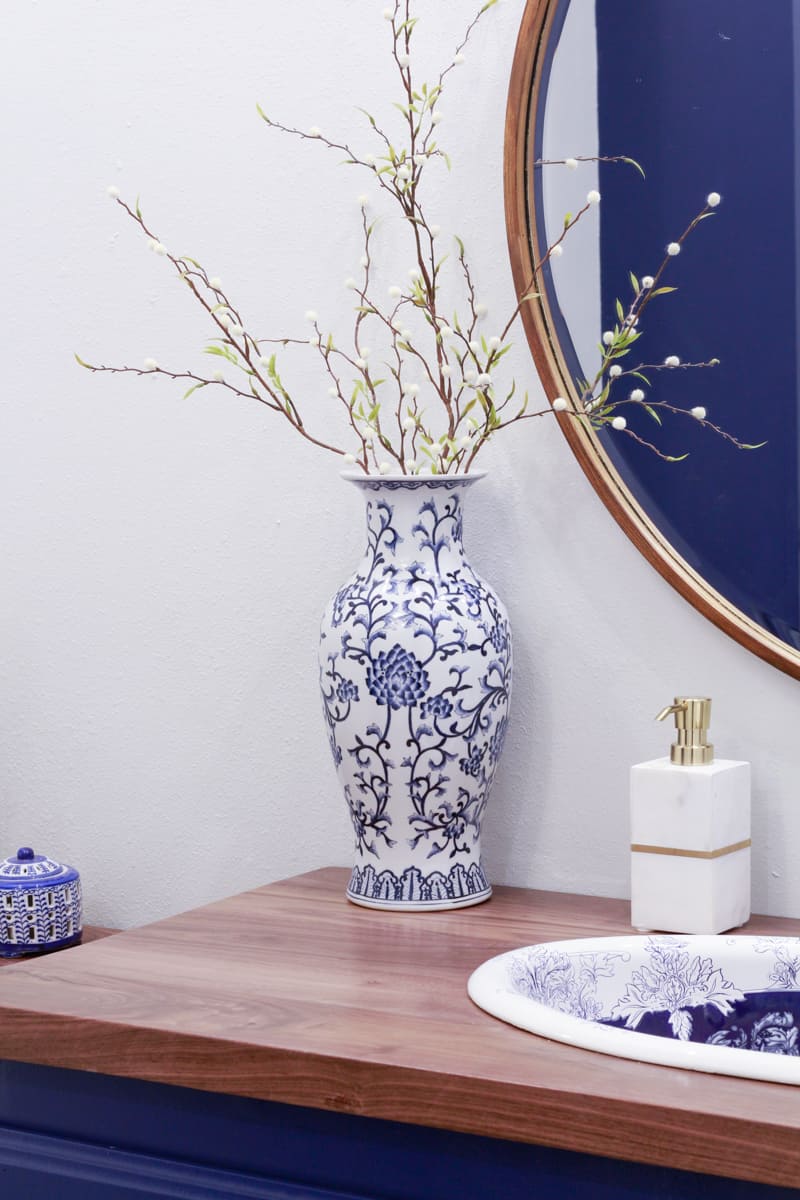 We kept a grueling pace for those three weeks painting, installing large format tiles, rebuilding and painting the cabinets, building a walnut countertop and a new vanity. We learned though that anything is possible with your best friend by your side to laugh with and to cry with, mostly over our tired bodies.
As I referenced in the title of this post the design for the bathroom was driven by the vintage sink installed by the previous home owner. It seemed like the perfect design inspiration since we both adore all things blue and white and the sink, produced by Kholer, is no longer in production.
Sources for all products are listed at the bottom of the post.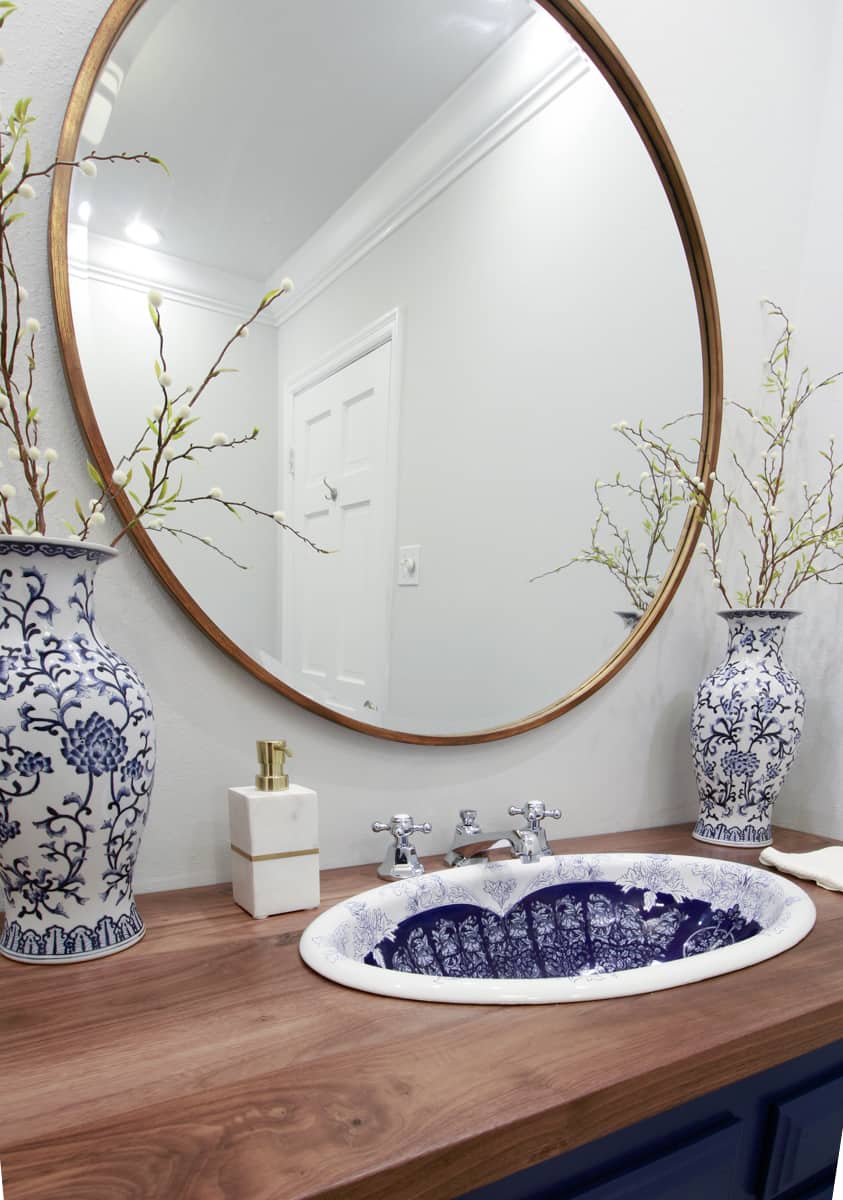 I love the look of mixing finishes of soft brass and brilliant chrome. Finding a balance between the two not only provides interest, but offers the benefits of picking and choosing where to allocate your budget dollars.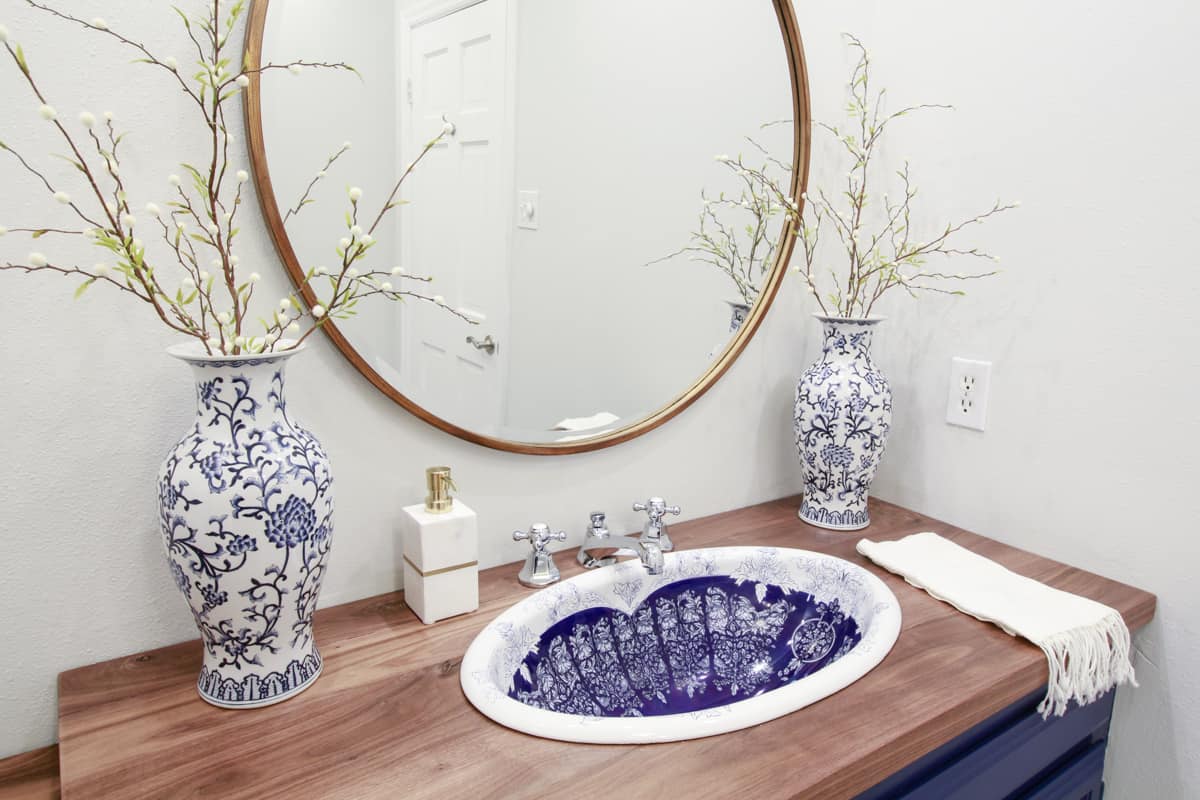 To appreciate where we ended up you must, of course, see the before. Note the tile countertop and the wasted space to the left of the sink and the old beige tile floor.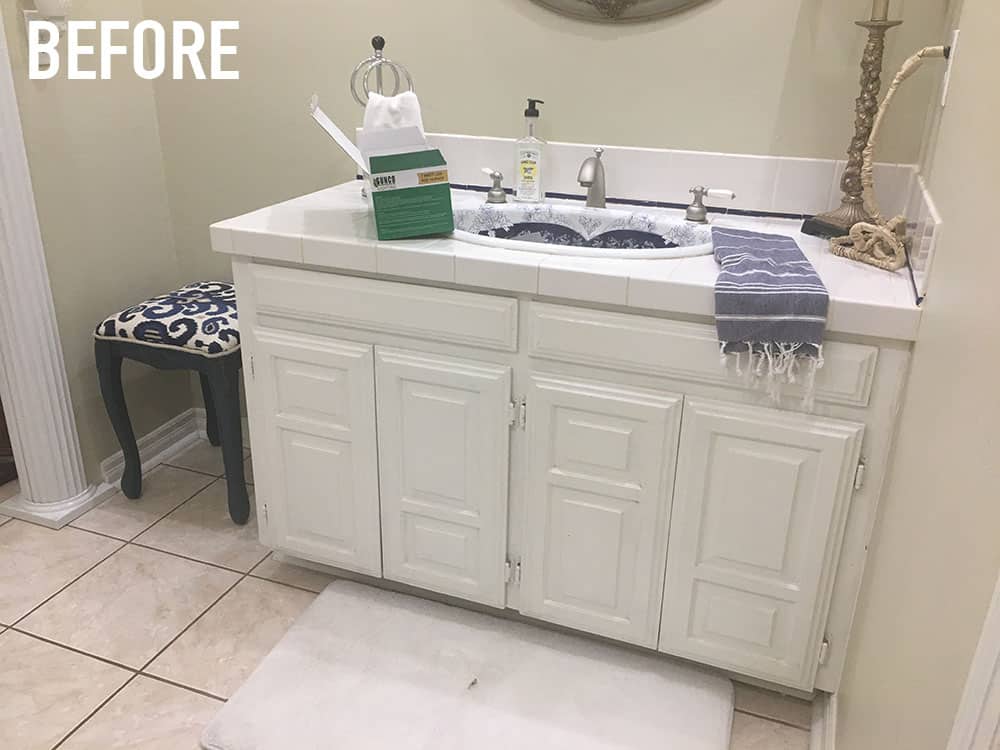 We are not at all sure what the original homeowner was thinking adding these aluminum columns that divided the tub and toilet area from the vanity area.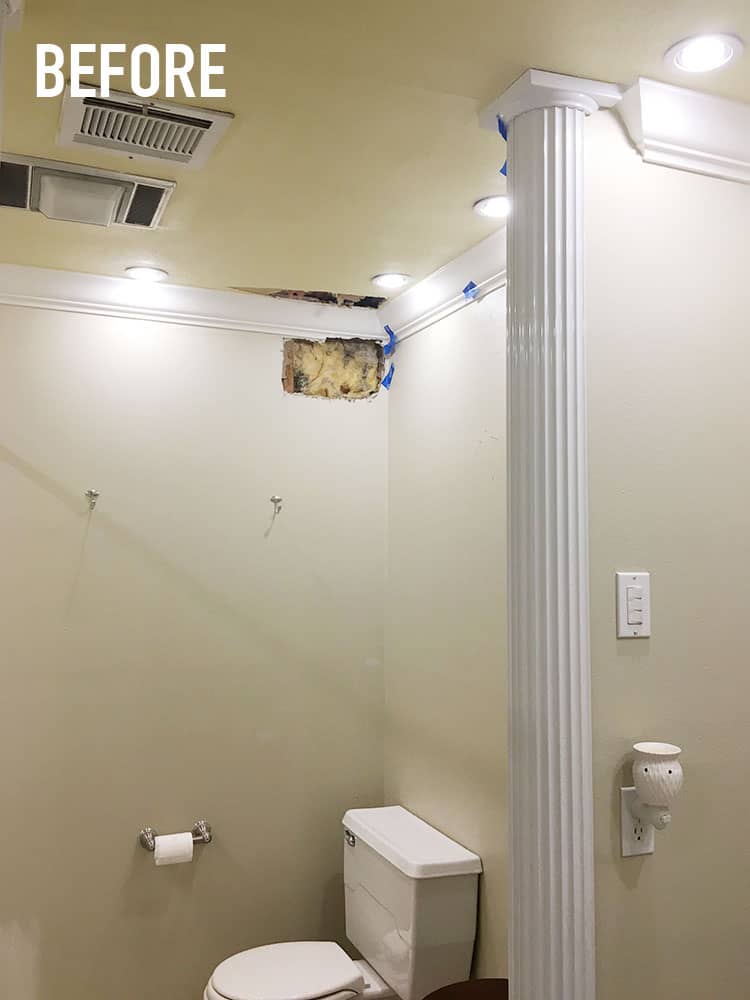 The walls on either side of the bump out where the column used to be were different depths.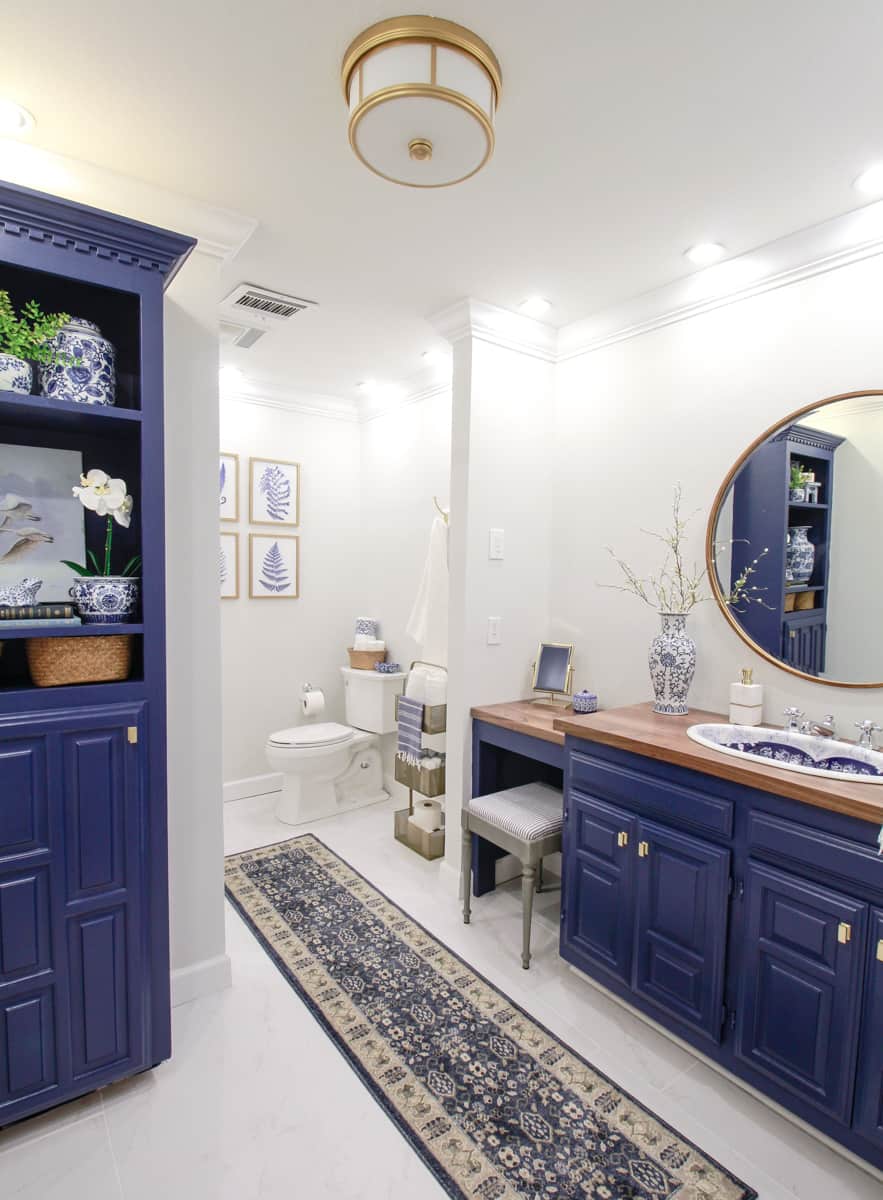 Once the vanity area was added the little divider wall became less of an awkward design and more of a way to visually break up the long room.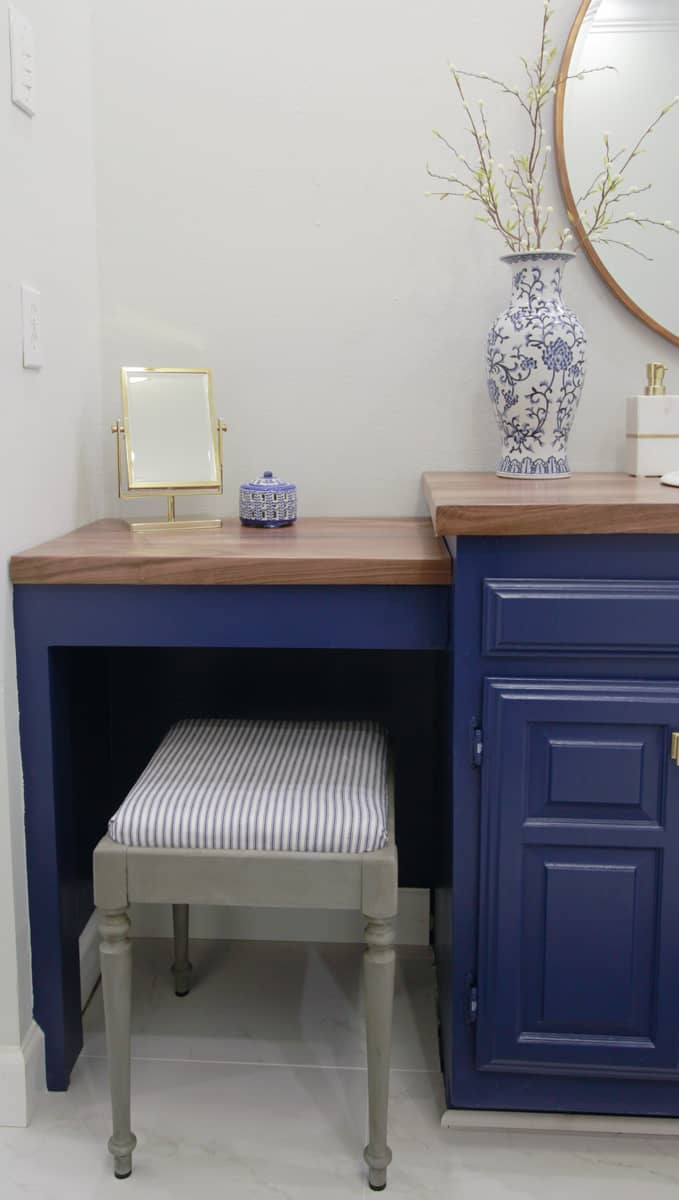 To highlight the beautiful sink we sourced rough milled walnut from Ouachita Antique Woods to plane and join into an amazing countertop for both the washstand as well as the vanity we added to fill the awkward space to its left. It is the element I am most proud of. It is absolutely stunning with only a flat finish from General Finishes.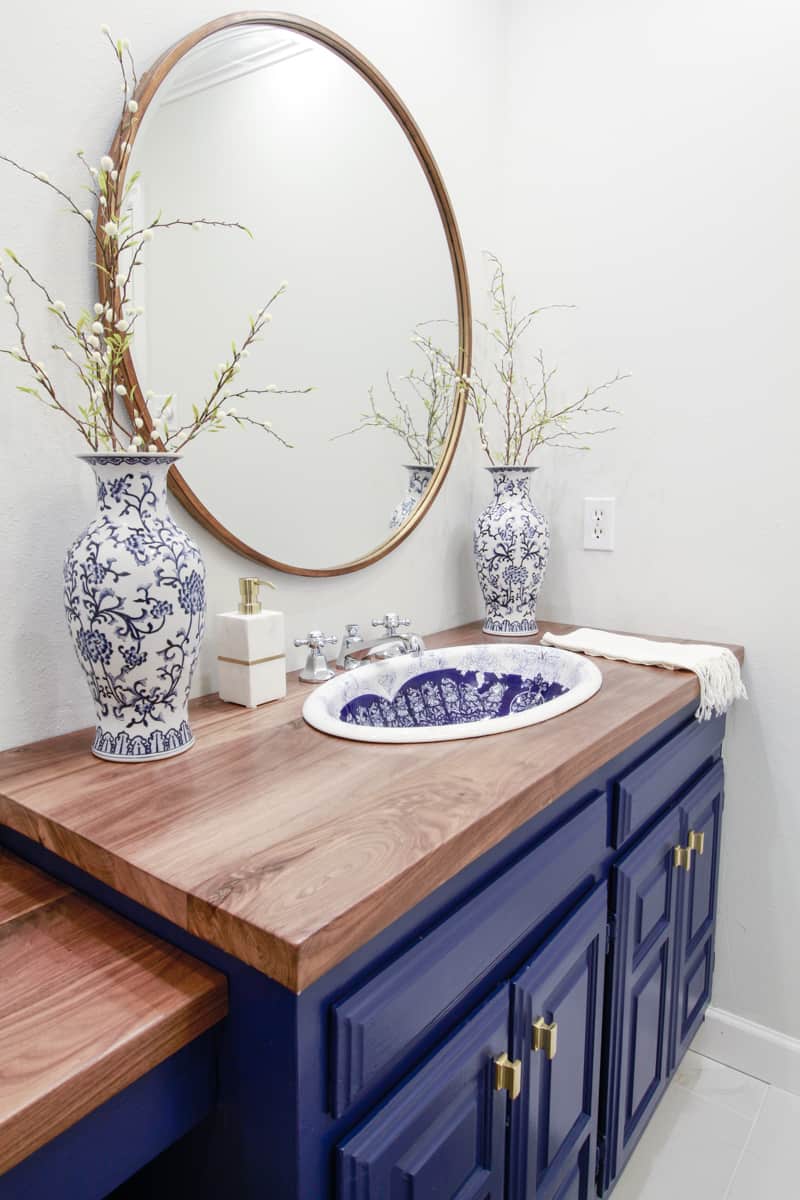 When I casually mentioned we rebuilt the washbasin cabinet earlier, this gives you an idea of the amount of work that actually went into that process. The original cabinet was shorter and not in keeping with modern comfort height cabinets. We removed the doors and added wood to both the top and the bottom to facilitate shifting the doors and the panels up.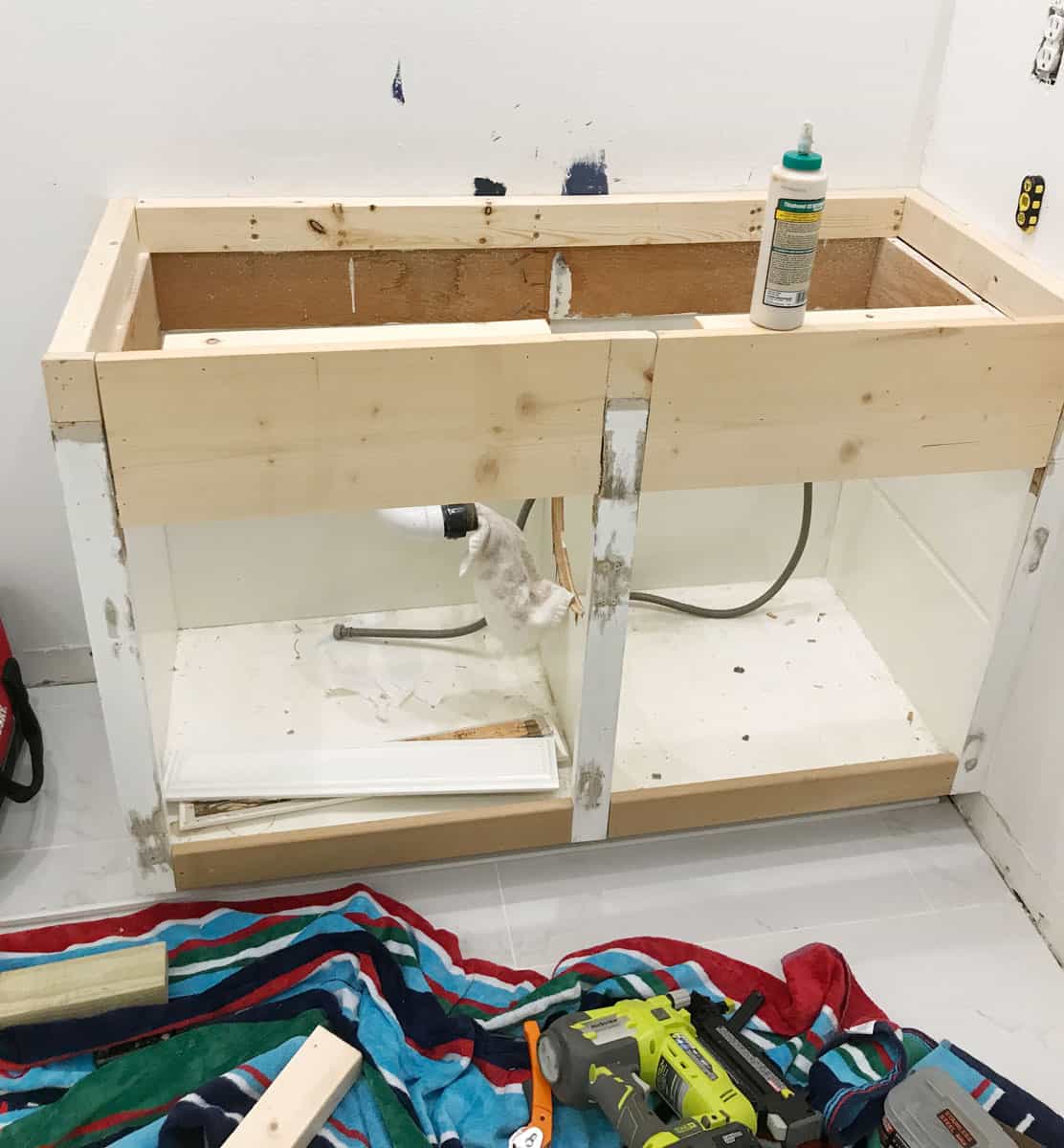 The hardest part of the process was removing the old, stripped cabinet hinges from the base!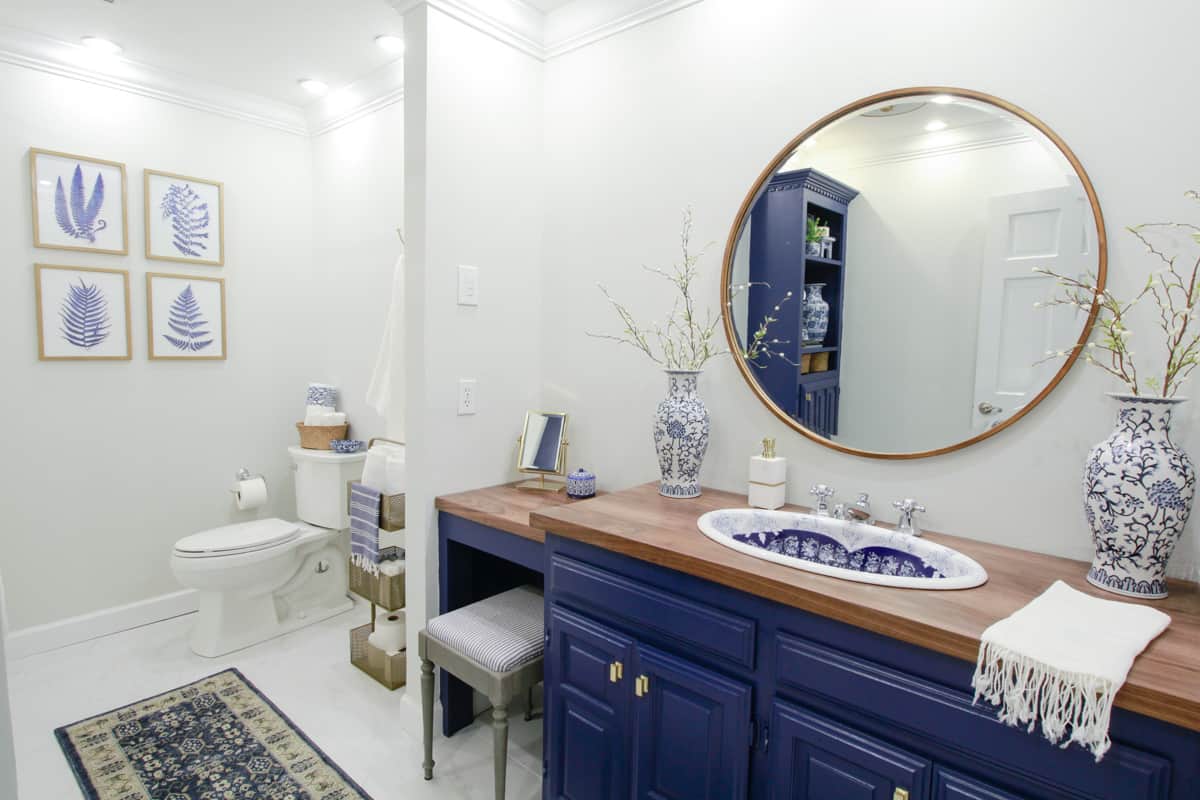 All of the cabinetry in her home has the same raised panel doors and we wanted to keep them. The lines are interesting and definitely not a commonly used design. Keeping these unique features of an older home is something I feel strongly about. It is the perfect example of my desire to create distinctive spaces with exceptional details that are often tossed aside in today's remodels.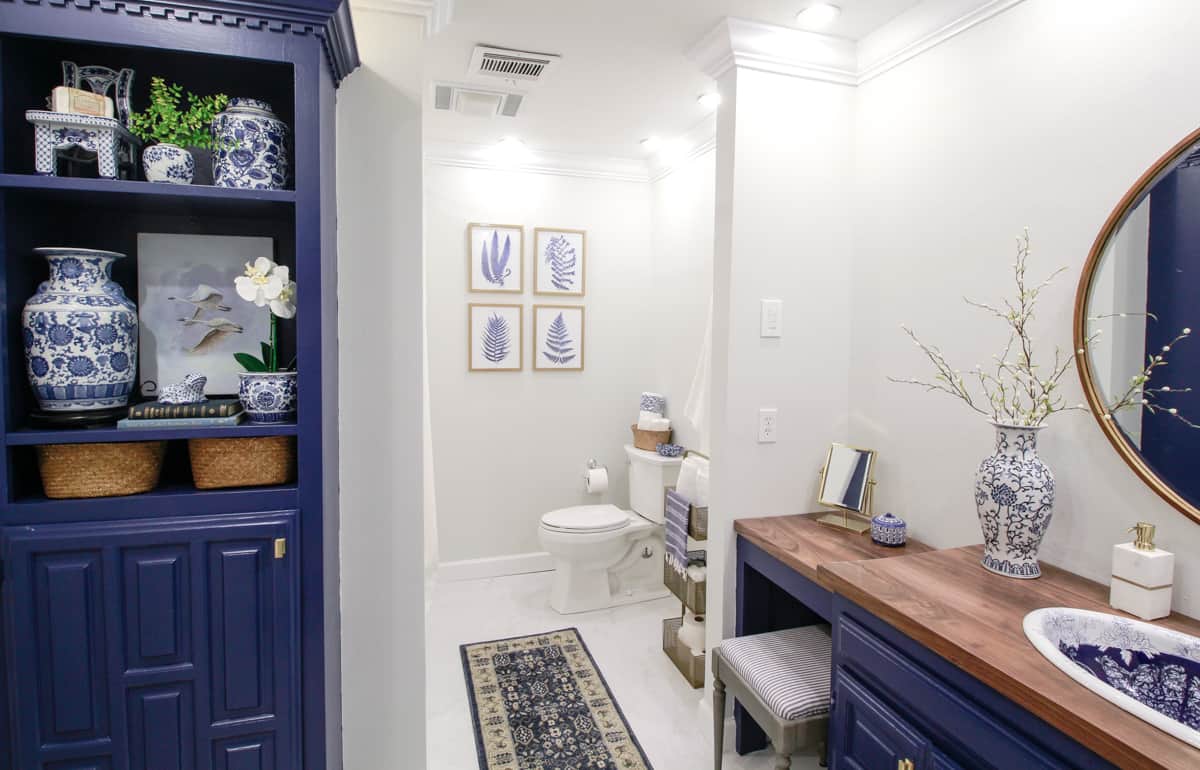 It was surprisingly difficult to find a royal blue paint color that matched the sink. So I mixed up several different blues to find the perfect hue. Several requests were made for the formula so I have added it here.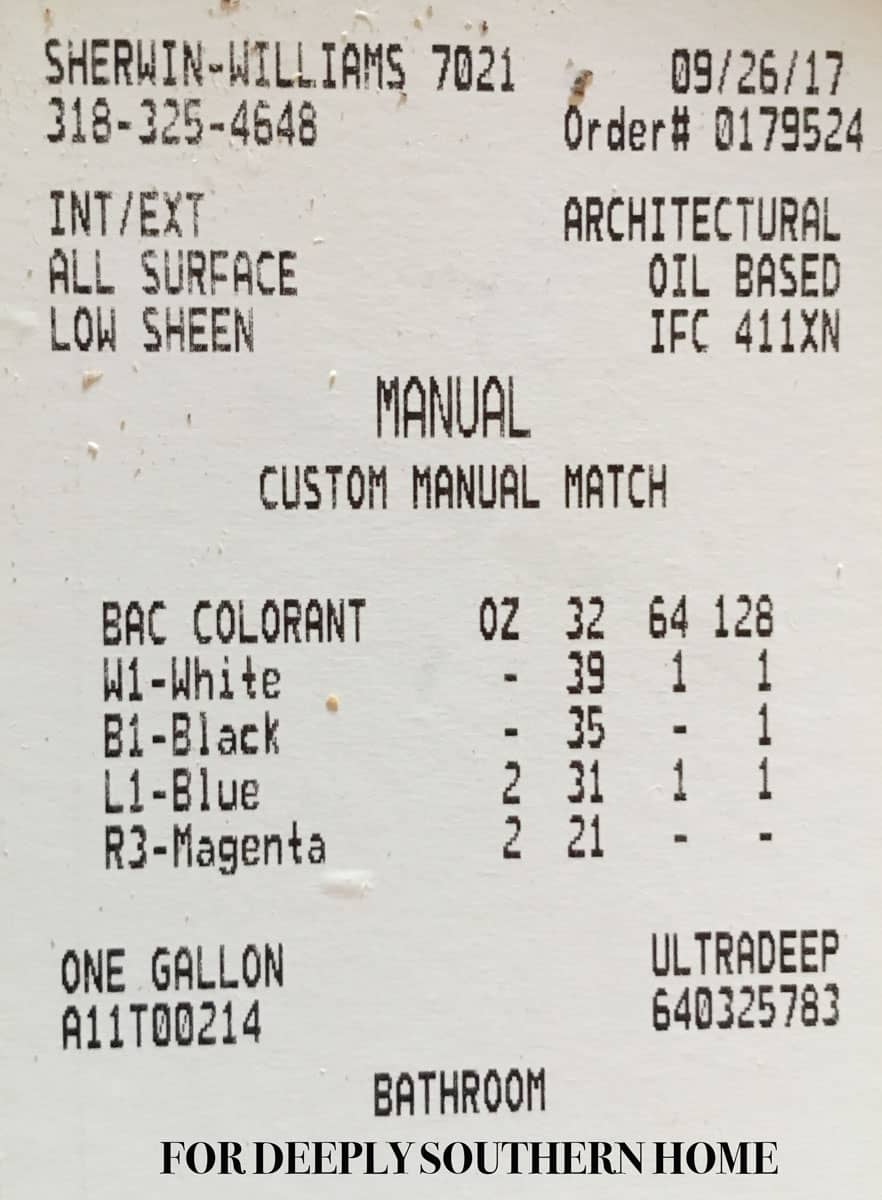 All of the cabinetry in Dana's home was originally painted in oil based paint. For ease, we also used oil based paint. It was a low-luster finish but we felt like it had too much sheen for the detailed cabinets. I would recommend using a latex paint in a matte finish if a low-luster finish is desired. (I'll be writing a post soon about what we did to remedy our finish.)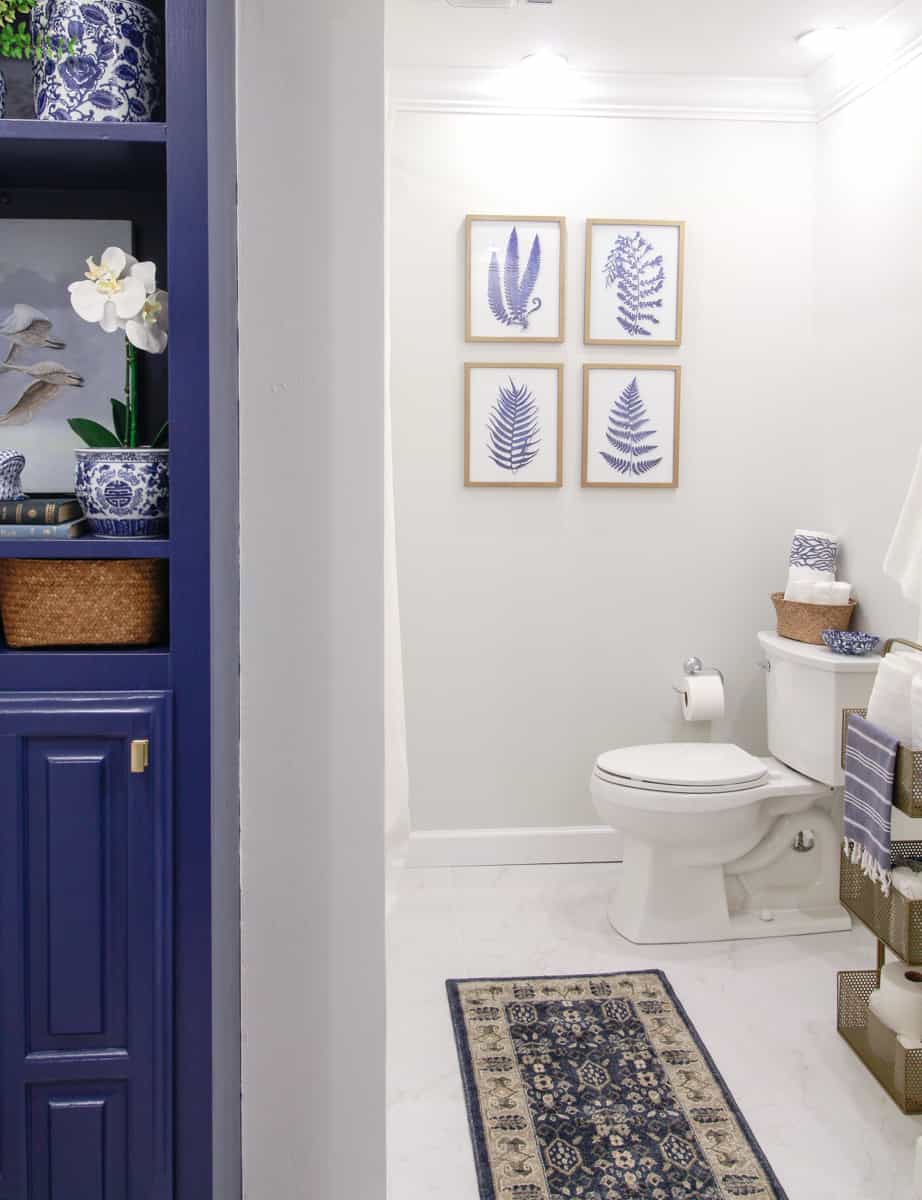 We installed a brighter white marble-look porcelain tile as the base of this dramatic transformation.
With her extensive collection of blue and white pottery, we had no problems styling these built-ins with items from around her house. If memory serves me correctly the only things we purchased were the orchid and the little whimsical frog. The painting was done by Dana's aunt, Dot Rogillio,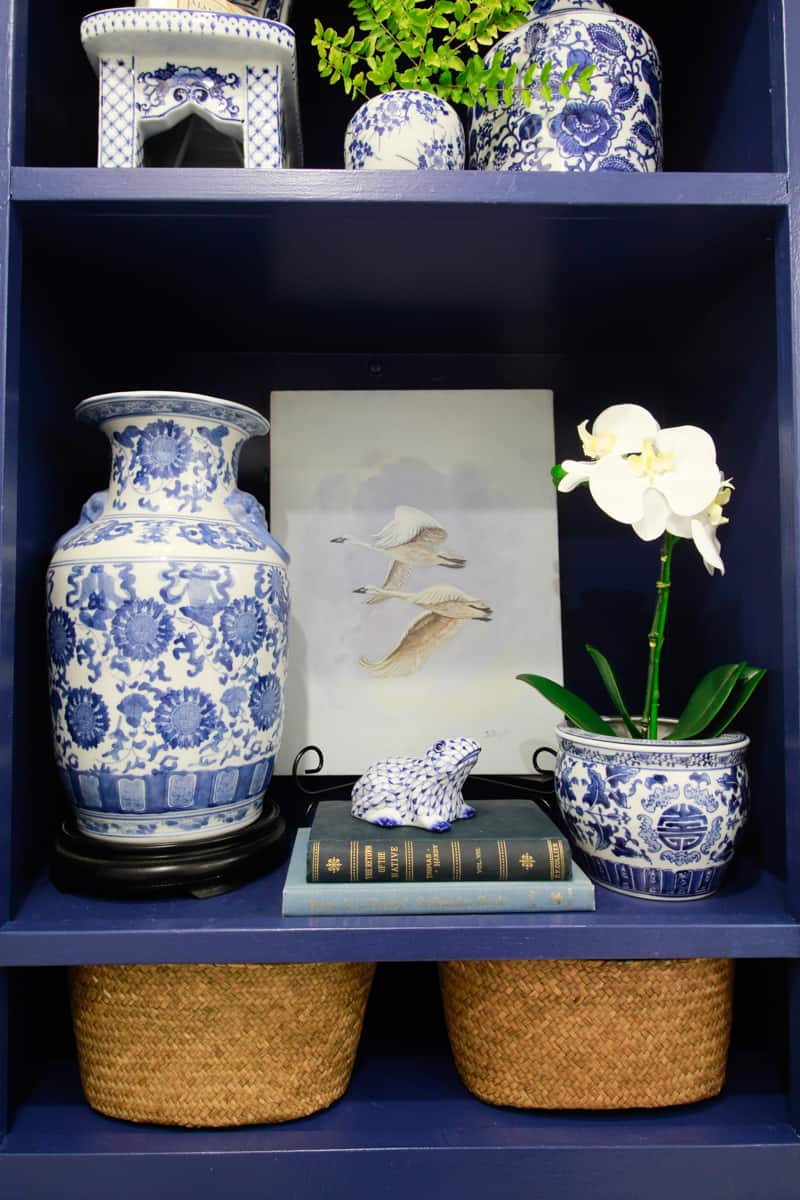 With a long bathroom like this finding the perfect art to highlight the back wall was key. These prints were purchased on Etsy and framed in inexpensive frames from Hobby Lobby and spray painted my favorite gold.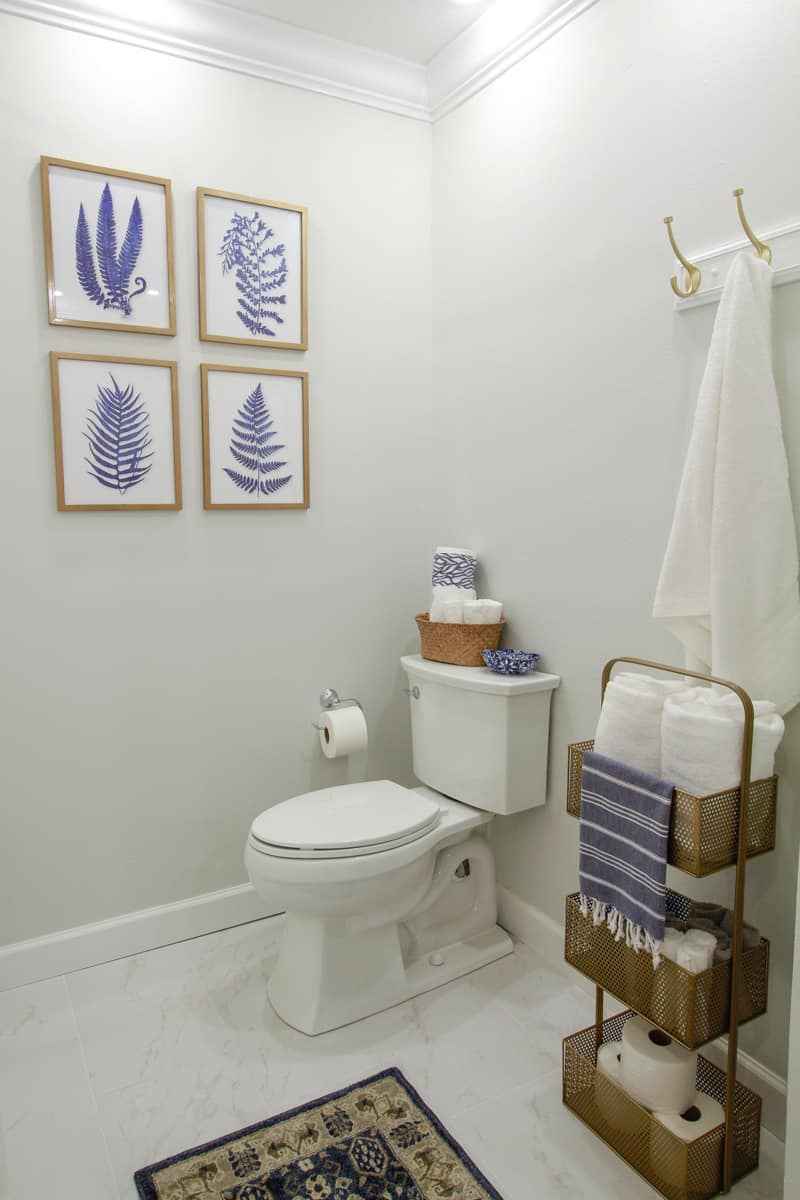 I love the classic style of this bathroom remodel. It is traditional and yet anything but boring and predictable.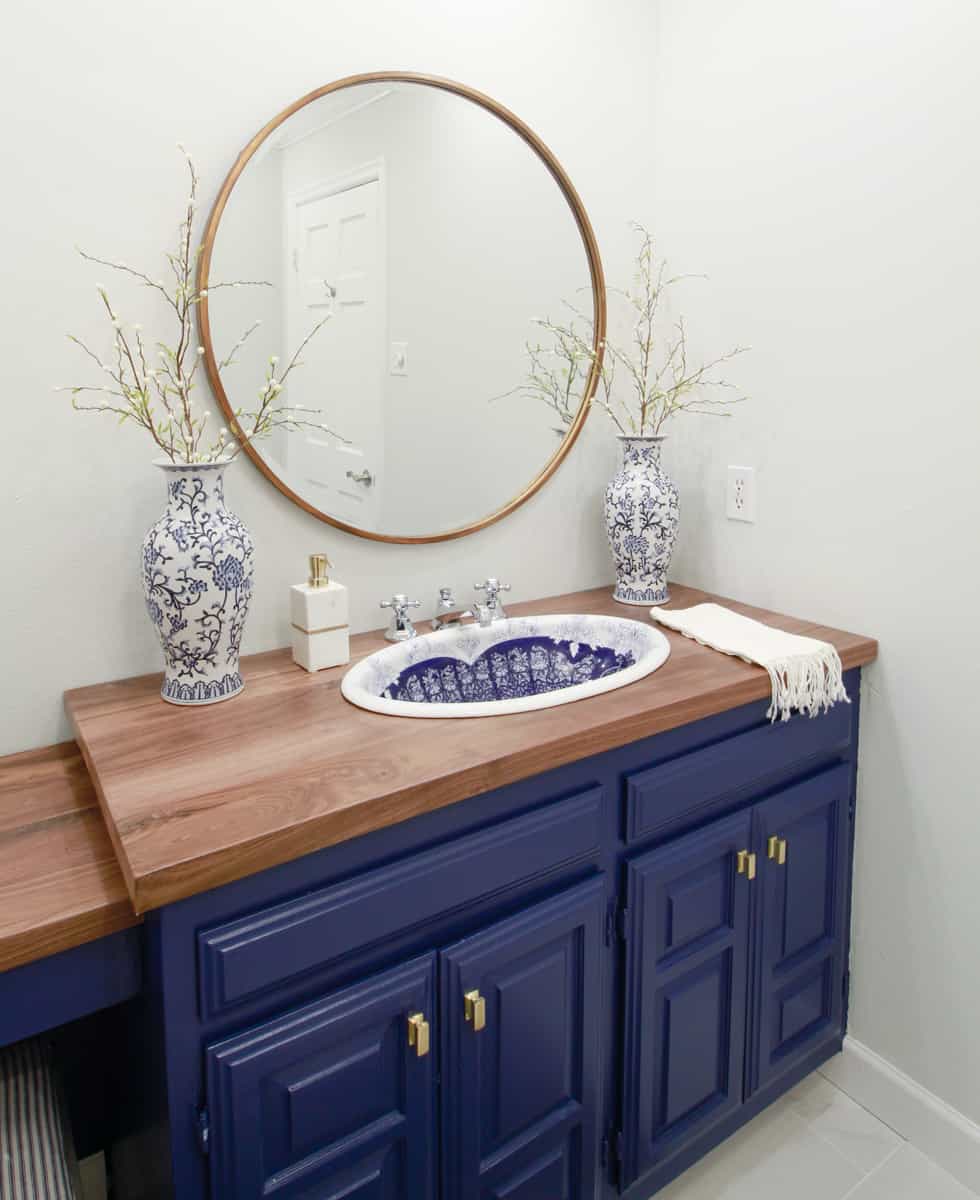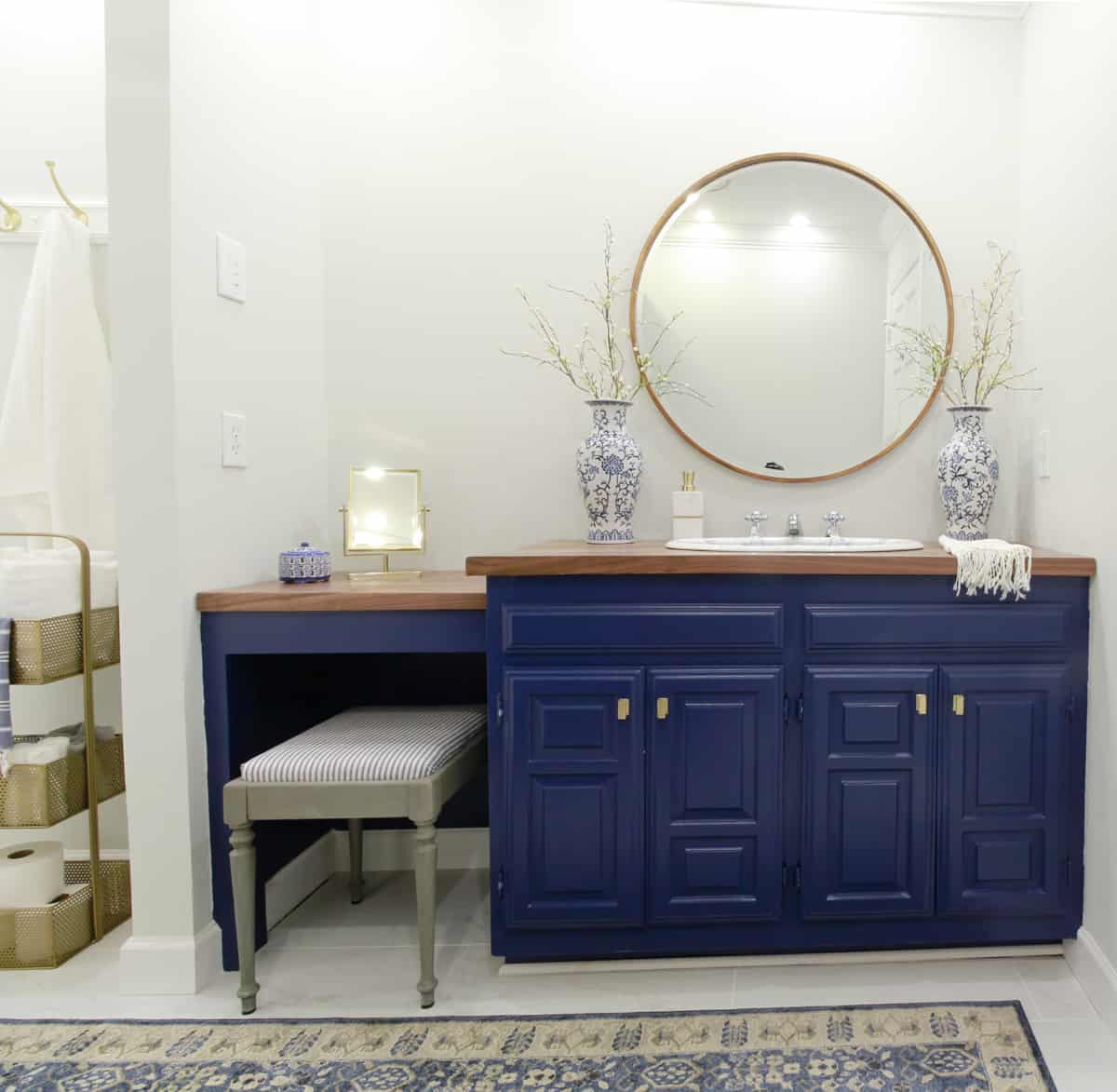 Shop the Post
Some of the affiliate links are to similar products to replace vintage or one of a kind items.
Without any windows it is still a bright and airy bathroom, even if it was an enormous challenge capturing it in photographs.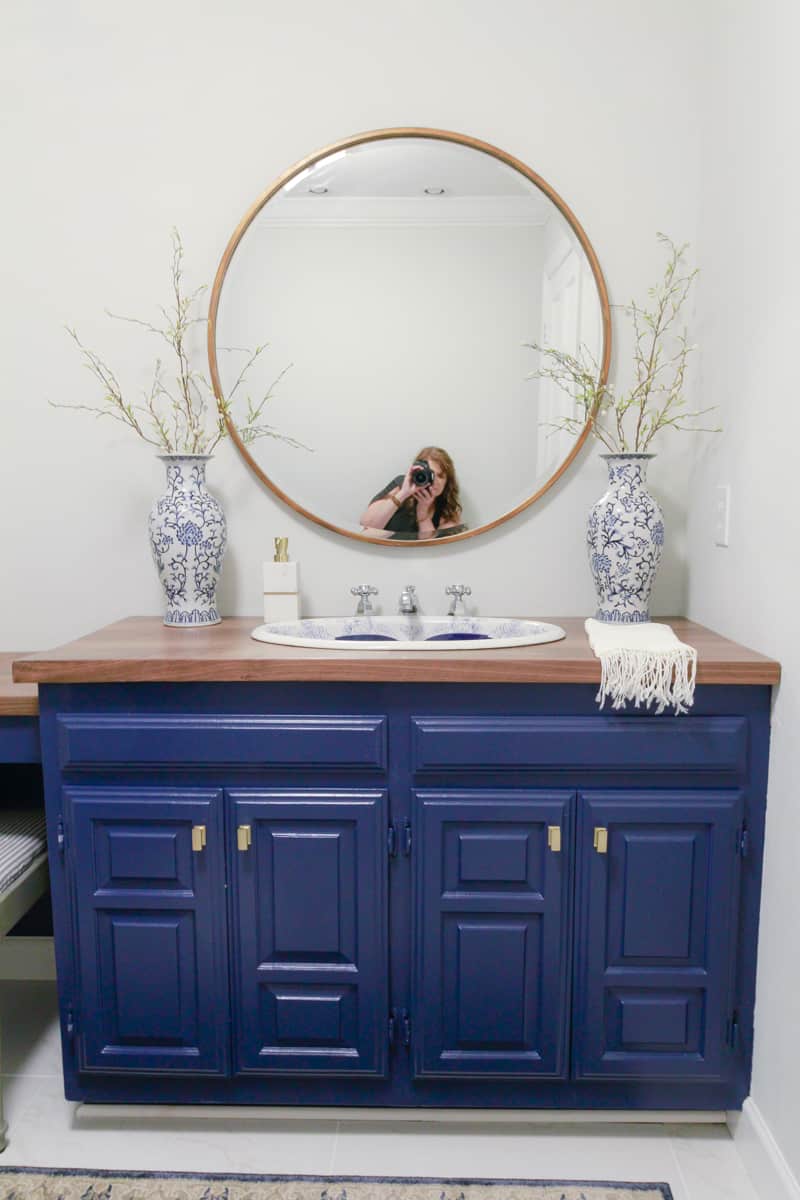 At the end of the 3 weeks we both were completely exhausted and proud of what we accomplished and how well we work together. Having your best friend live 500 miles away from you makes it fairly inconvenient to pop over for a quick project! But you wouldn't believe what we accomplished beforehand with phone calls, texts and internet shopping! Since several months have passed and we have had time to recover, I think we are ready to plan out our next DIY makeover!
Tucker had no problem making himself at home during our stay but he was very ready to go back to Birmingham when we were done.