Here we are at Week 6 of the One Room Challenge.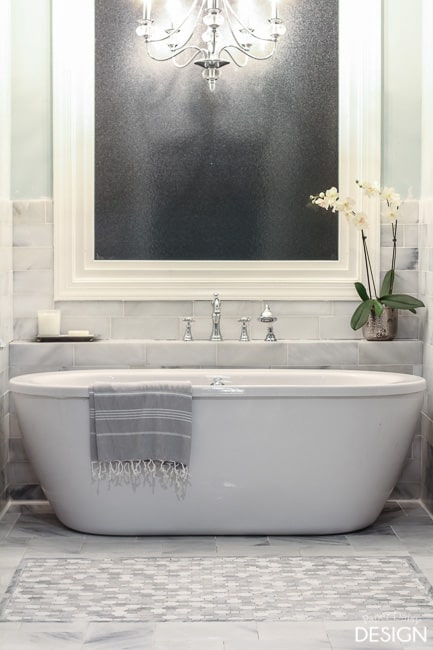 Last week, I alluded to the fact that, if and only if, we kept to a very strict timeline would our master bathroom makeover be ready for the big reveal day.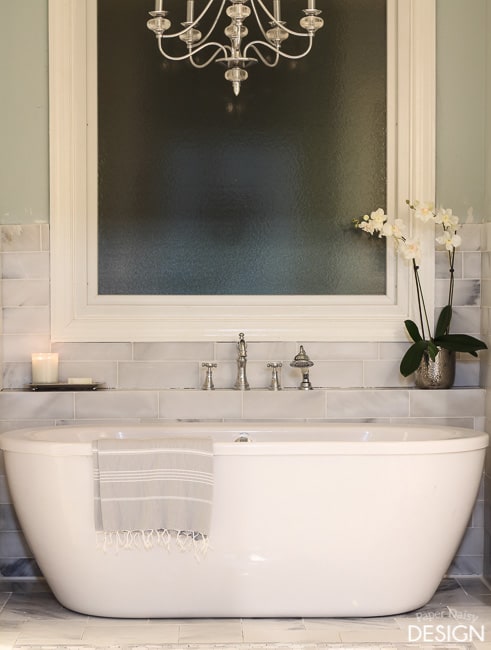 On Sunday night, after tiling for 6 hours straight, my husband made me realize the very sad truth. I am a slow and methodical worker.  I want my work to be precise and I want to produce a quality end product.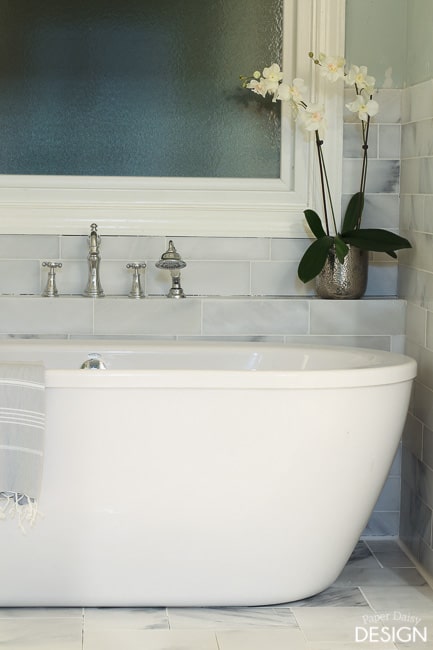 He had calculated, at the rate we were going, it was mathematically impossibly to finish all the tile work planned for the bathroom  (If you remember from a previous post, we had 3,500 pounds of tile delivered from the kind folks at Jeffrey Court tile.)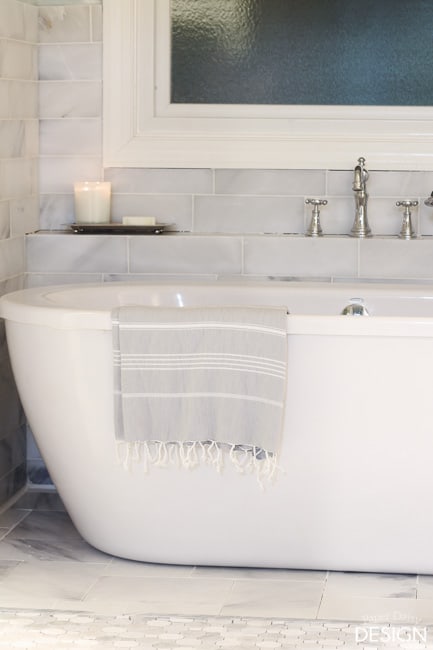 Despite this realization, I committed myself to work as hard as I could to get as much done as humanly possible. It so troubled me to not make the deadline. Even before this realization, I had worked many long days and nights, more than I care to count, until at least 1 am in the morning.  And as sad and disappointing as it is to not finish on time, I know I worked as hard as I could and maybe even pushed myself harder than I probably should have. My body says I did.
After those few glamor shots, let's take a peek into the reality of the project.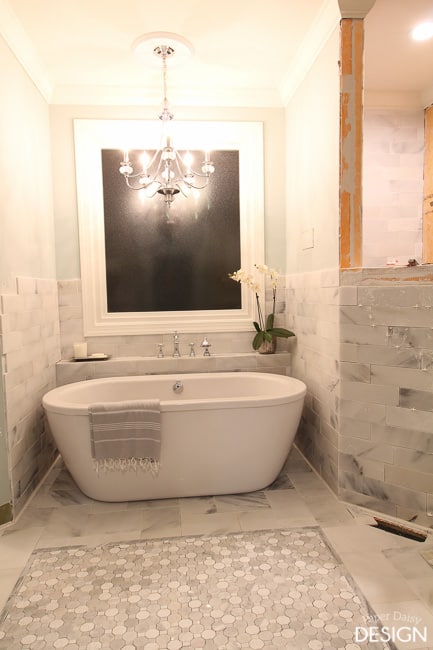 On top of the 4×12 tiles at the chair rail should be this beautiful marble crown molding.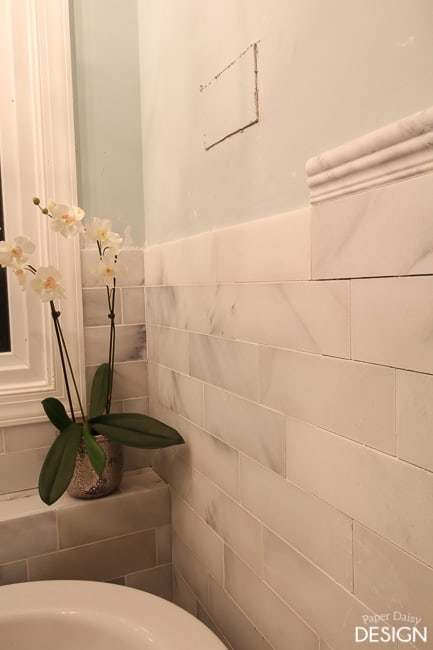 I had hoped to set these on Wednesday, but the plumbers took all afternoon to complete the few simple tasks left for them to do, longer than we had both anticipated. I had pushed them back from Tuesday so that I could get the tub area and part of the shower walls grouted.   Check out that hole they had to cut in the wall to reset the poorly fitted plumbing from prep work done just a few weeks ago.
At some point on Wednesday, when things were even less than I had hoped for, I reminded myself. This is a major renovation. Things rarely go as planned.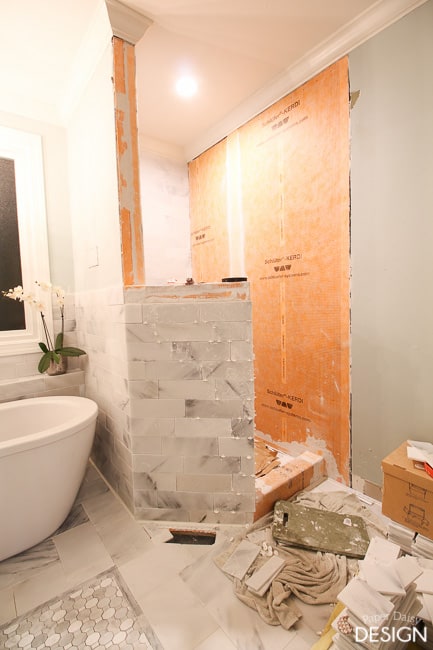 Obviously, the shower walls aren't complete and we still don't the amazing rain shower head from Moen or the hand held shower.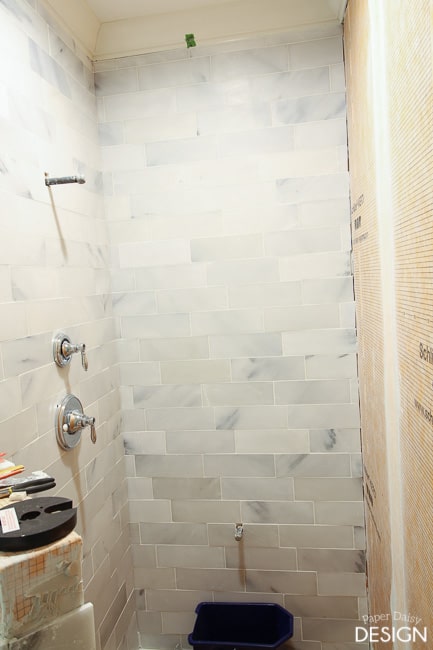 The sink walls have yet to been touched. The beautiful light fixtures from Lamps Plus didn't go up because I'm not even close to finishing over here.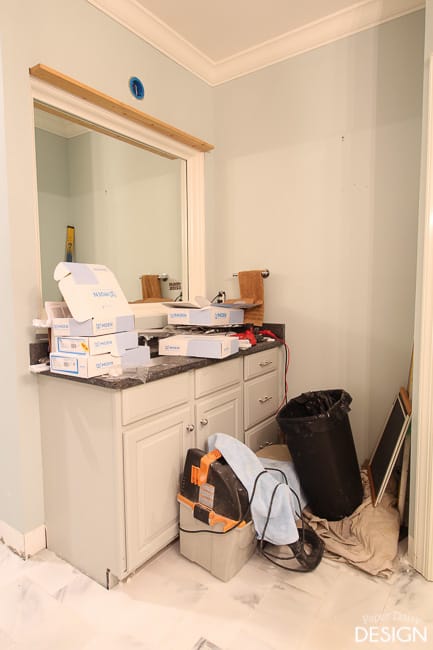 I don't think I ever shared the full details of what is planned on these walls. I will tell you this. It's going to be epic.  You will want to come back for the full reveal.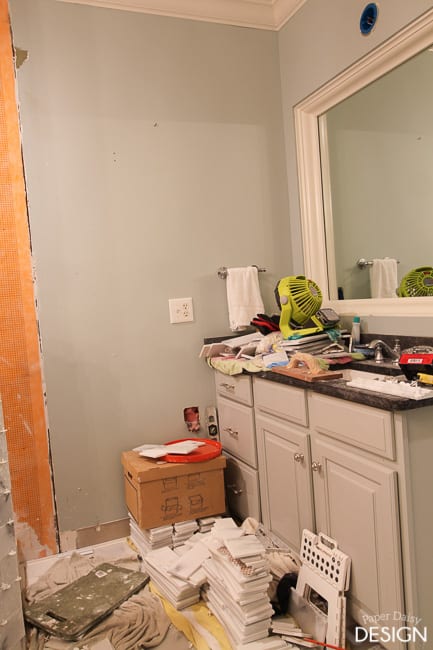 If you are up for joining me for a Seventh Week, come back next Friday, November 20th  for the full reveal.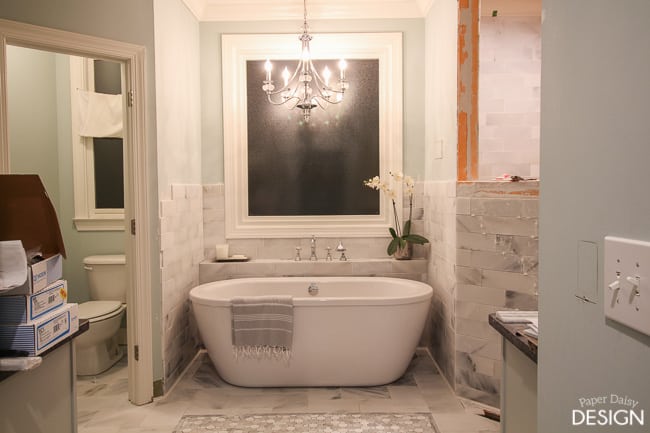 I am giving myself one extra day and one extra week to get it all done. Because tomorrow, I'm taking a much needed break.  A break that includes cleaning house and doing laundry unfortunately. But at this point, those things sound really great to me. 
Thank you, to Linda at Calling it Home for hosting this this obviously crazy thing we all love, the One Room Challenge.  Be sure to visit the other guest participants and see how they faired.  I can't wait to have some time to check them all out. Click here for the links.
A few of my social media links are listed below for your convenience, so
you don't want to miss this reveal.
Be an IG friend on Instagram 
Follow with Bloglovin
Like Paper Daisy Design on Facebook
Keep up on Twitter
**Never miss a Post! Subscribe via Email**
A HUGE thank you goes out to all the wonderful companies who provided support for this makeover.
Jeffrey Court Tile, Moen and Lamps Plus graciously shared their amazing products and I am very grateful.