So, it's Friday! Yay! I promised a reveal today, but we are still not quite ready for the big show. But, y'all we are getting so very, very close.
In order to not leave you hanging, I am sharing one more teaser. One of the mosaic walls.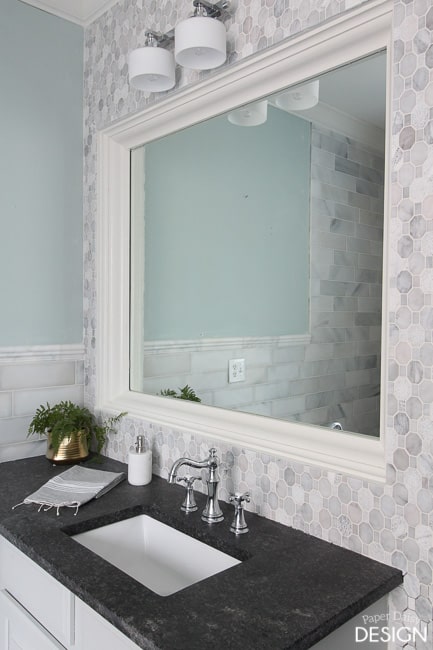 Once I cleaned the counter and set a few items down for the photo, it was all we could do not to just stare.  I promise to show more close ups at the reveal, but you'll just have to trust me that Crisp Illusion mosaic is just gorgeous.
There is still a fair amount of grouting left to do in various places around the room.  Namely, the mosaic wall on the opposite side of the hall and the main traffic areas on the floor.
But let's just look again at that completed wall and that faucet. Oh, my it's so beautiful. So, tell me what do you think? Was I exaggerating when I said this was going to be epic?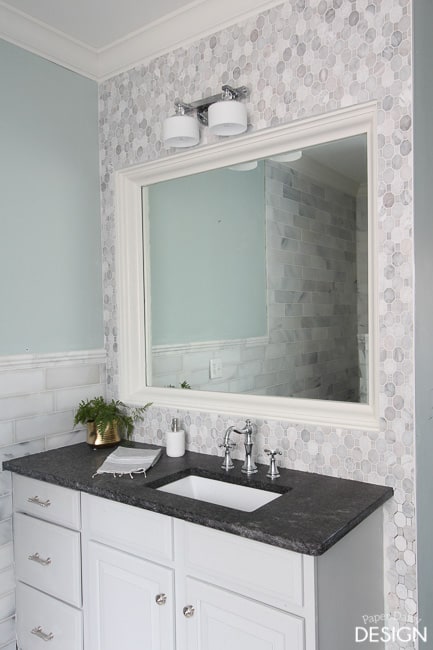 As far as, actually setting tiles, we just have the shower curb, a few pieces of chair rail and the inside of the niche wall.  I am guessing all this can be done by Sunday night at the latest.
Our plumber was supposed to finish the shower faucet installation today, but he got called to another "emergency" job. I am hoping he can come Monday, but let's meet back here on Tuesday just to give me some more cushion. (I probably should have set more realistic deadline to begin with, but I'm an eternal optimist. Combine that with a deficiency in the ability to judge the amount of time it takes to complete tasks and there you have why there isn't a big reveal today. Story of my life and my best intentions.
I hope you all have a great weekend.  We are taking the night off and going out to dinner for a much needed break. This may or may not be the first time I've left the house this week. Yes, I still have been at it that hard.
I thoroughly appreciate you sticking with me on this bathroom journey.  I can't wait to share the entire room.  It will happen on Tuesday because we have family coming in for Thanksgiving and there is a good deal of house cleaning that needs to be done before they get here!