We have made it to Week 6 of the One Room Challenge! While the official link-up deadline has been extended until November 29th, I wanted to share the week 6 progress and a partial reveal.
If you are new to Deeply Southern Home, welcome! I am Leslie, a self-professed creative junkie turned home decor and DIY blogger. After working as a graphic designer for several years I took a very early retirement to raise our children. Along the way, I found myself as a creative blogger. My goal, whether in my home or my clients, is to create rooms with a relaxed southern style. Although my designs are traditional, I love to experiment with color and a fresh interpretation of classic interiors. We recently downsized to a new-construction home and I can't wait to inject old-world charm and character through my DIY projects and timeless finishes.
Special thanks to Linda of the One Room Challenge for organizing this event biannually and the Media Sponsor Better Homes and Gardens. Be sure to visit the 20 Featured Designers here and check out what they have been planning for their virtual rooms. The Guest Designers (like me, this season) would love for you to visit their blogs and see their progress!
This season I am so thankful to have Build.com as a major sponsor for this makeover.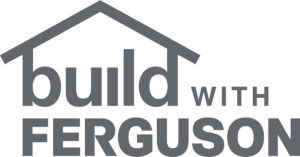 Paint sponsor is Sherwin Williams, featuring their new Emerald Designer Color Collection. Door Hardware from Emtek, Brackets by Osborne Wood Products, Fabric by Calico Fabrics and moulding from Novo Building Products.
This post contains affiliate links for your convenience.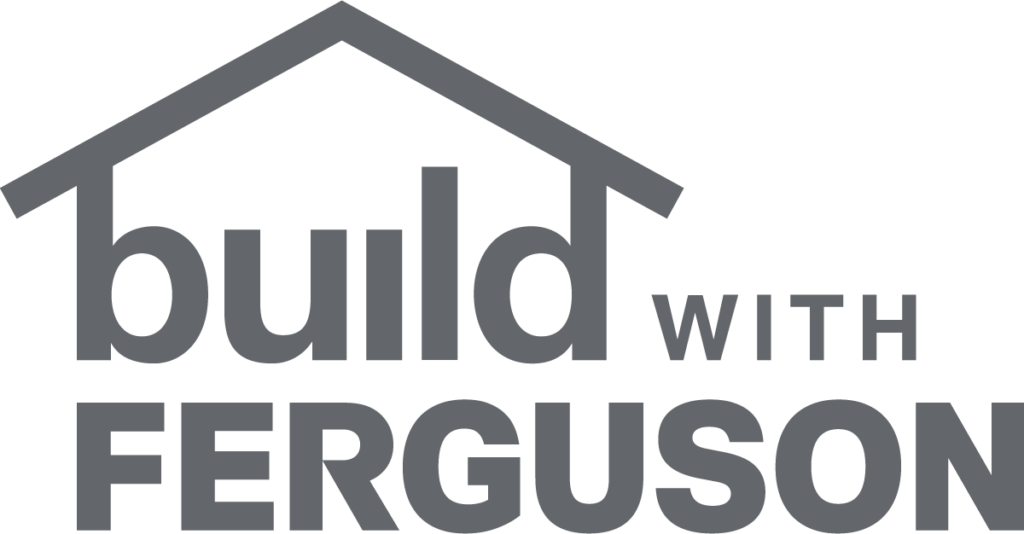 The Before
I made some efforts to complete this mudroom earlier this year. We built the base of the bench and added a much-needed closet style cabinet from Ikea. I still had bigger plans in store for this space even though it stalled for several months. It seemed like a natural addition to our Laundry Room project for this season's One Room Challenge.
Mudroom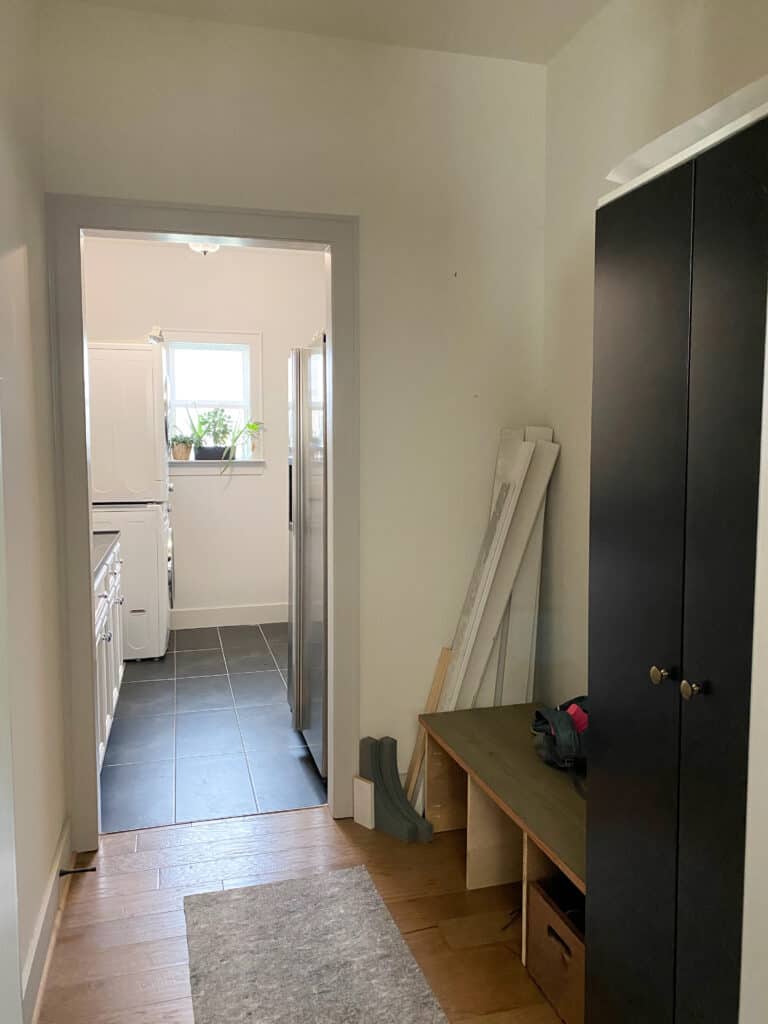 Laundry Room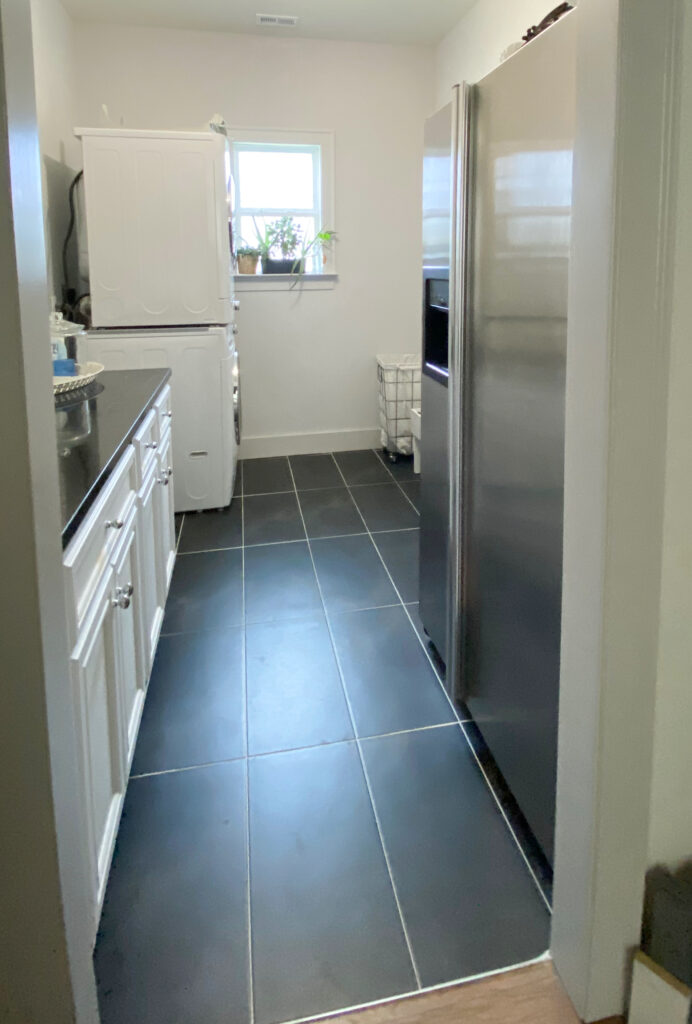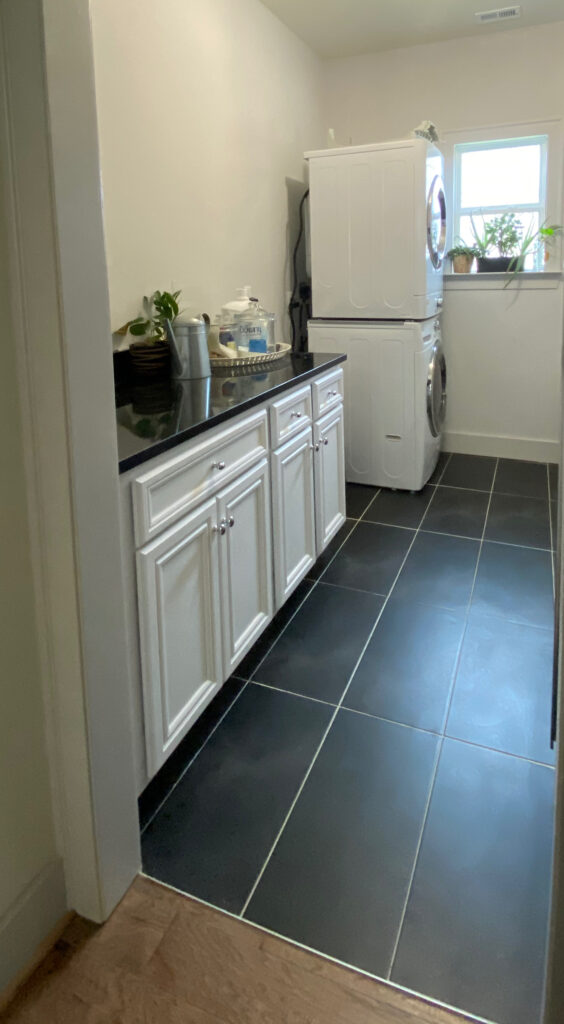 The biggest change for the Laundry Room, outlined in Week 1, was to add a dog washing station and as much functionality to this room as possible. While this is probably the largest laundry room I've ever had in a home, roughly 10'x6′, once we added the washer and dryer and our second refrigerator, the room seemed much smaller than the room drawn on the plans!
I thought I would make the most of what had become a relatively narrow space and add storage as well as a few necessities of life in our smaller home.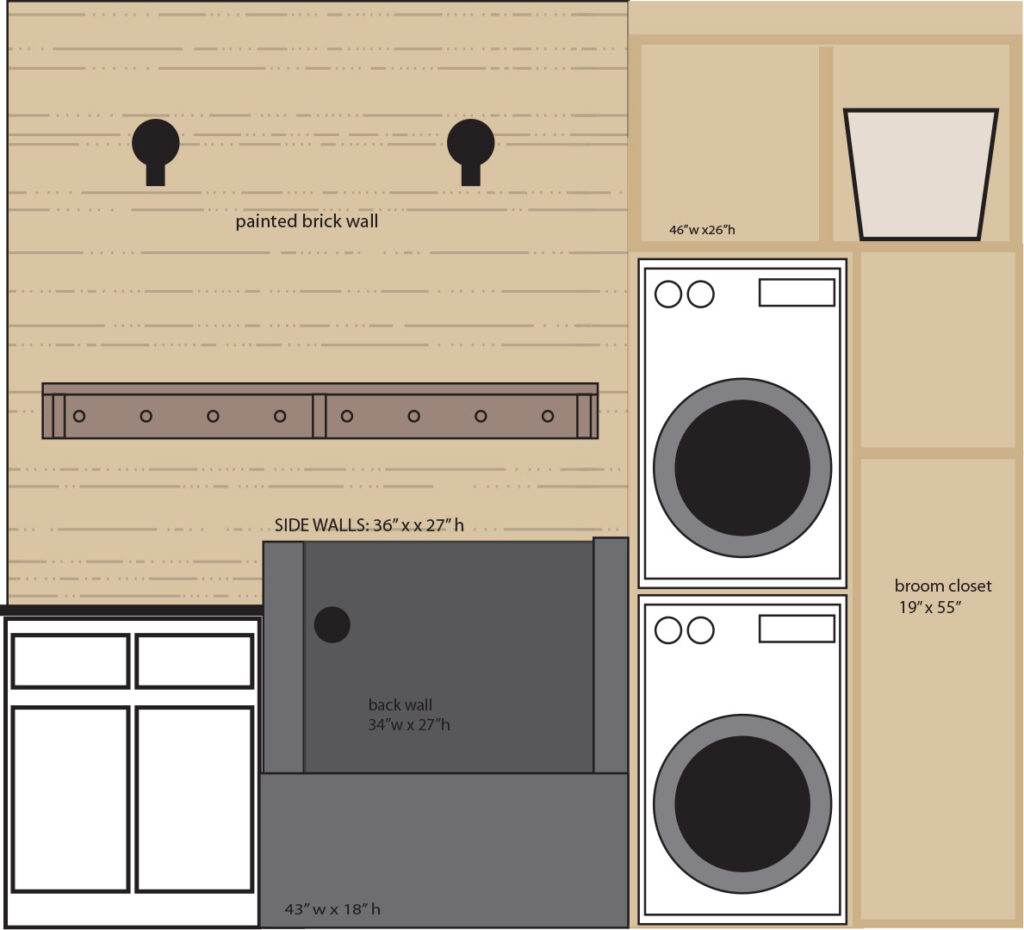 You can see the progress of this makeover week by week below.
Mudroom Reveal
While I am only able to reveal the Mudroom this week, it is completely finished and I absolutely love it! (We will talk more about the laundry room later in this post. I will eventually edit this post to contain both reveals.)
In the blog post for Week 3, I shared a mini reveal of this same space and promised there was much more to come!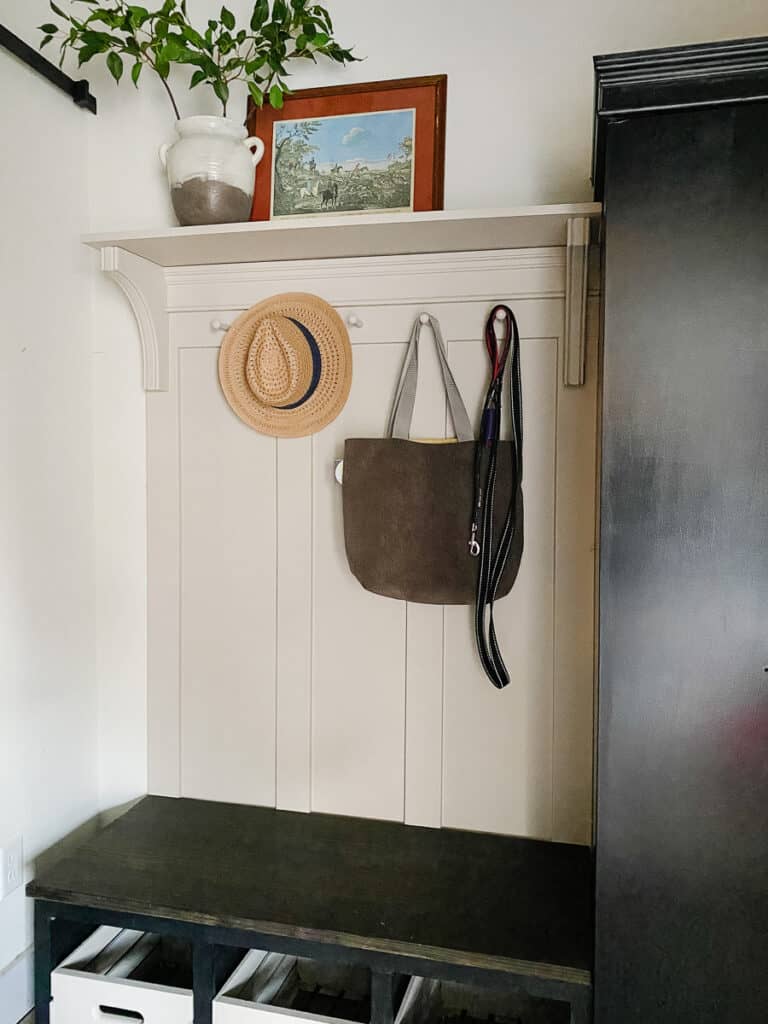 I bet you thought it looked pretty good. And it did! But now you can see it was far from finished.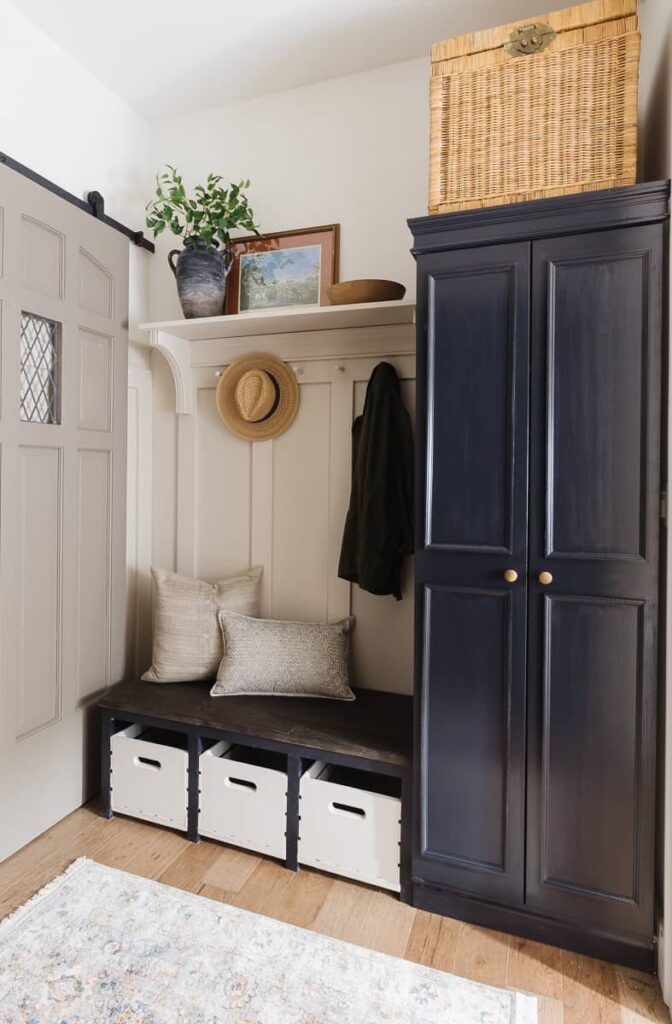 The work on the vintage sliding door is complete and it is hanging between the mudroom and the laundry room! I've only been talking about adding this door since we moved in a year ago.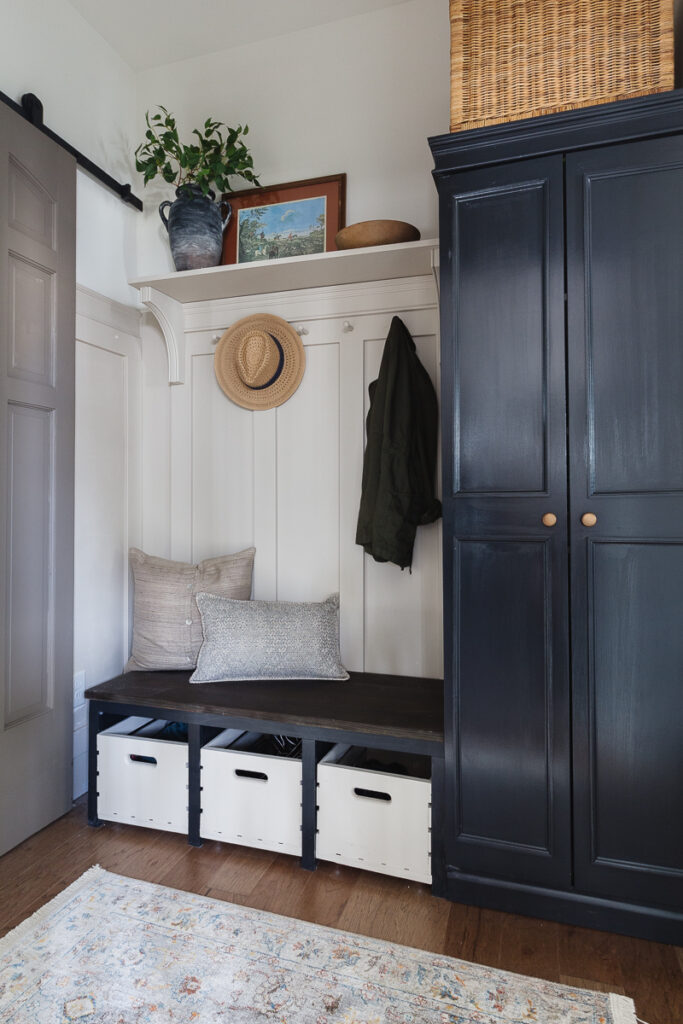 If you follow me on Instagram Stories, then you saw a good bit of how much work this door required to get it to function here. I needed to trim the sides to make it fit in the open position comfortably, I added an extra 6 inches of wood to the bottom to allow for hanging and filled the old irregular door knob holes.
While it was a great deal more work than I had intended this door is very similar to the door I added to the entry of our pantry. You can see that room reveal here.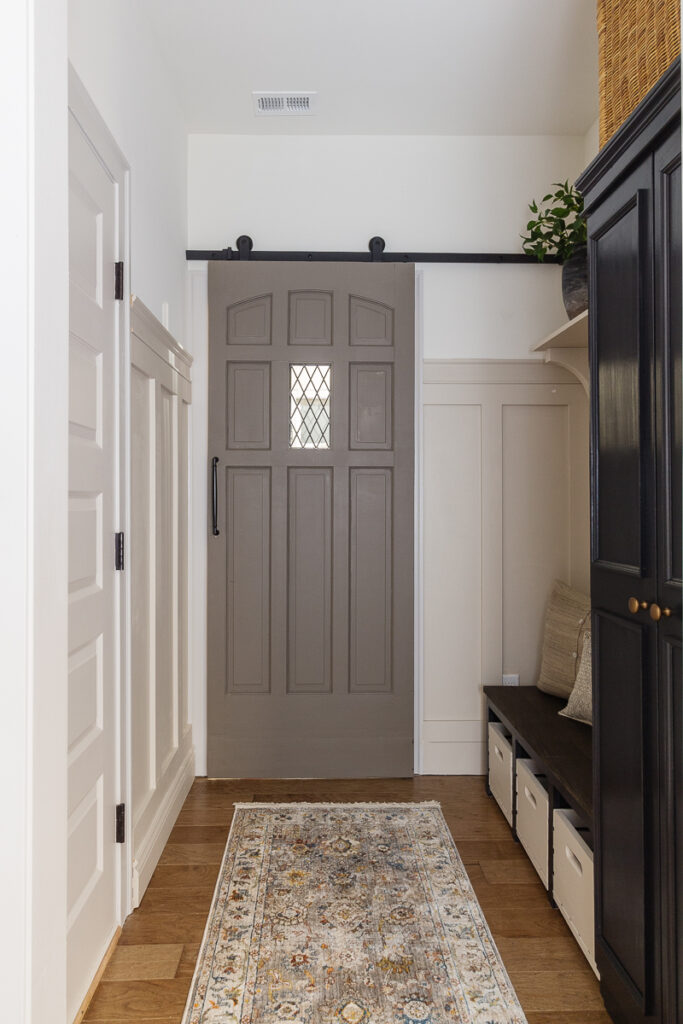 I also wrapped the board and batten treatment around the mudroom. The paint color, Minimalist by Sherwin Williams from the new Emerald Designer Edition, is a hint of what is to come in the laundry room.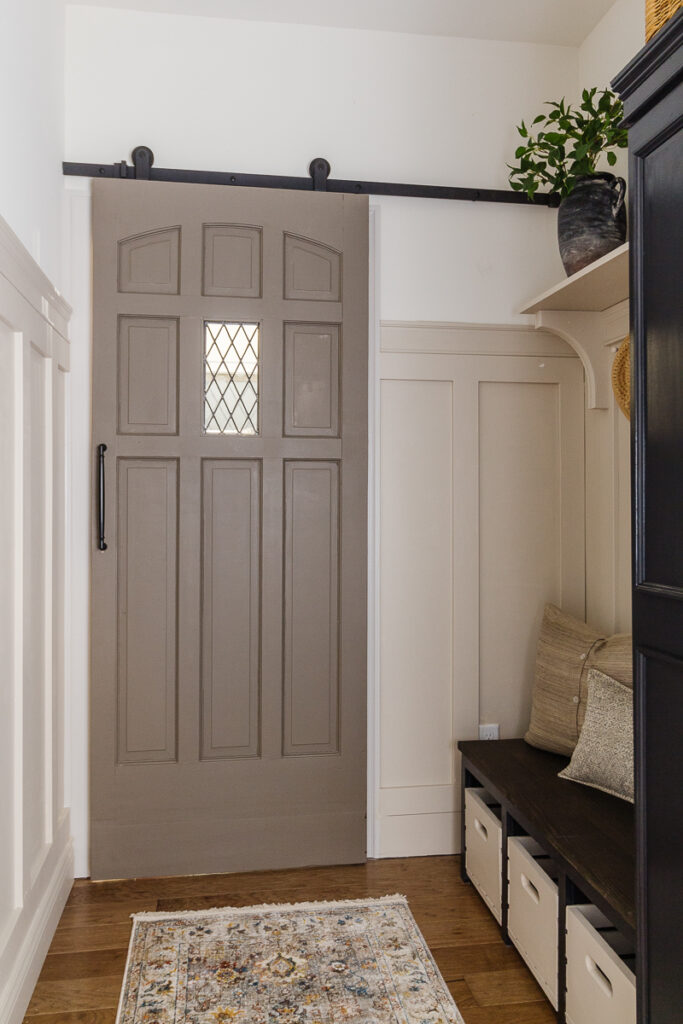 The vintage door is painted the same color as the kitchen. I love that this transitional space links elements from adjoining rooms. The black of the bench and the closet style cabinet echos the black from the kitchen island.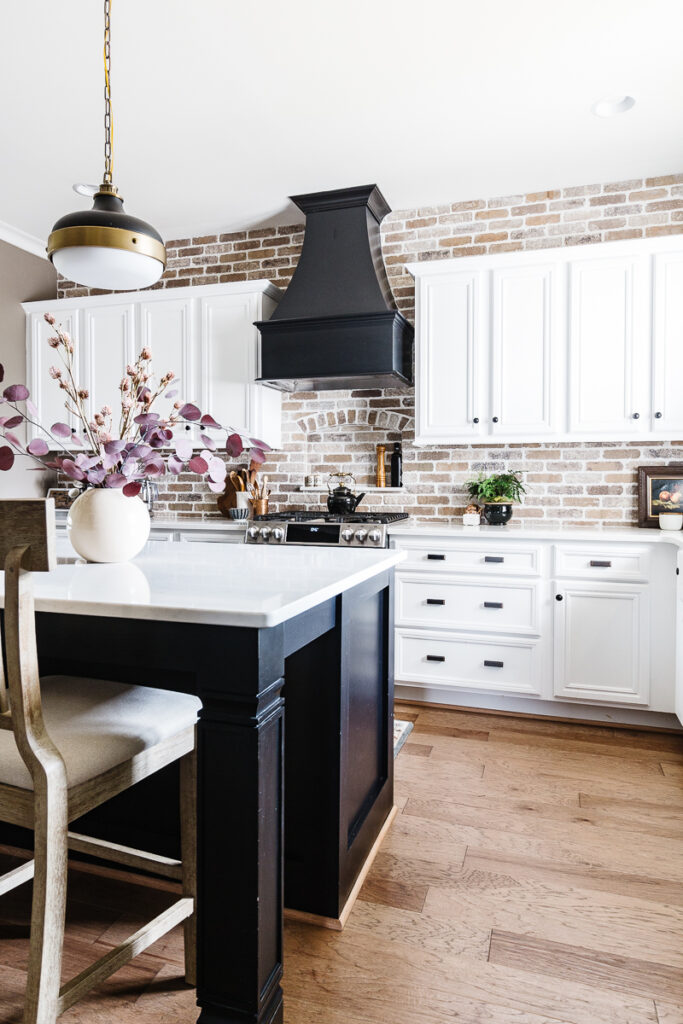 The basic Ikea closet was upgraded with trim along the top, the toe kick and boxed panel style trim.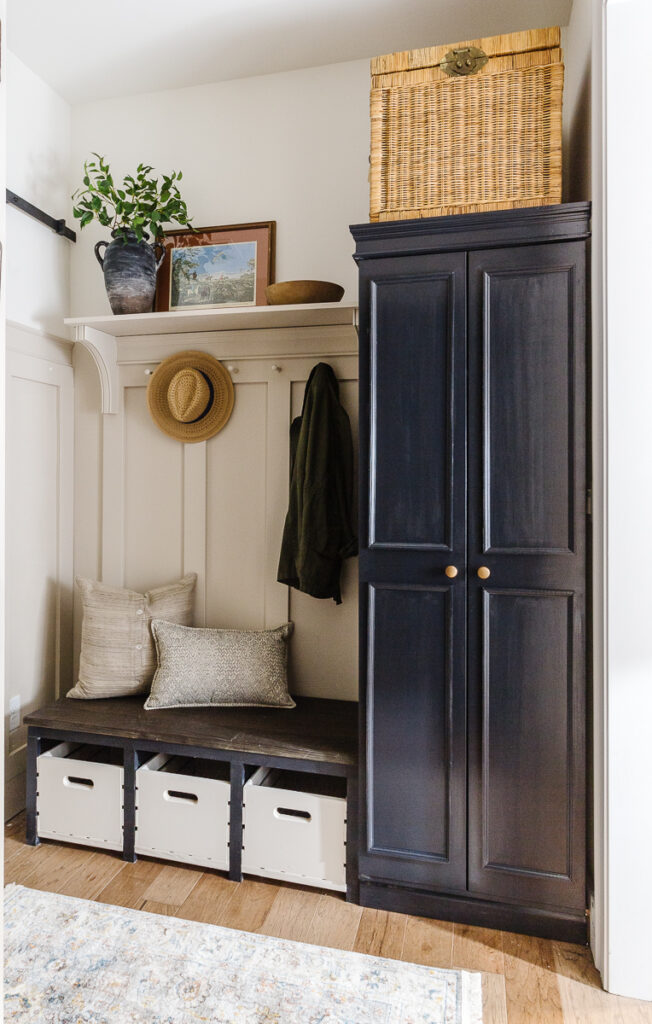 The soft copper tones of the knobs, from Build.com and Signature Hardware, will be repeated in the Laundry Room. This Nantes Solid Brass knob is in their oil Rubbed bronze collection. It's not your traditional finish and I love that!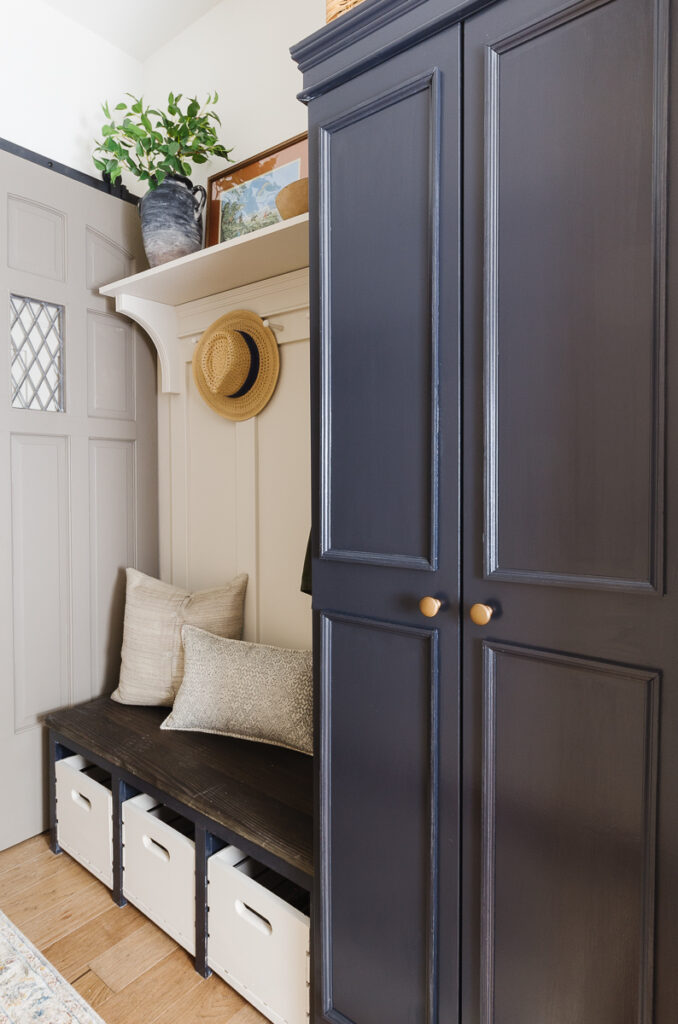 All of the moulding is from Empire Moulding and Millwork. I incorporated the same styles of moulding previously used throughout our living and dining room Tudor Style Paneling.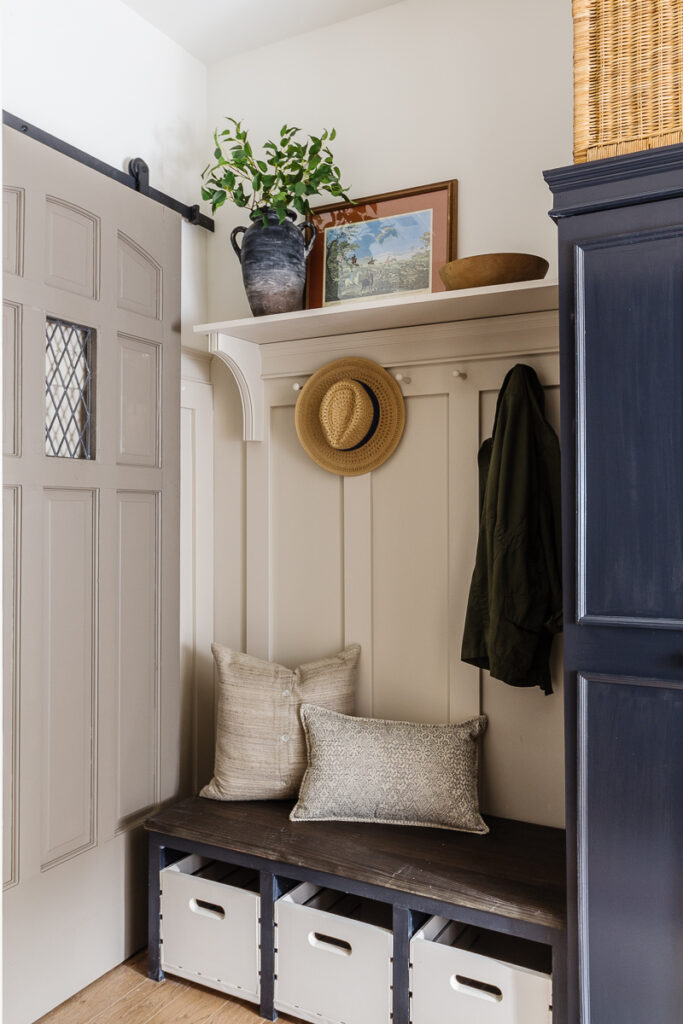 The shelf above the bench is supported by a solid wood oak bracket from Osbourne Wood Products. I also used these same brackets in our Pantry Makeover last fall.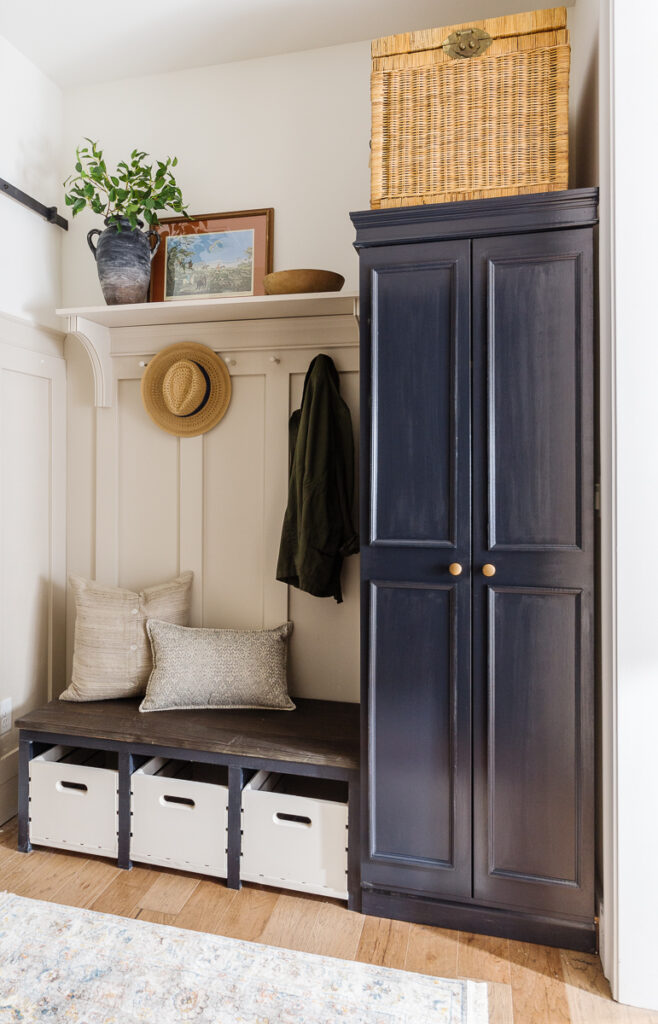 To the bottom of the bins, I added wheels so they slide in and out from under the bench smoothly. These bins are the perfect place to store dog leashes and our hiking gear.
The door features a gorgeous appliance pull, the Westwood in flat black from Emtek. It's substantial and has lovely soft curves.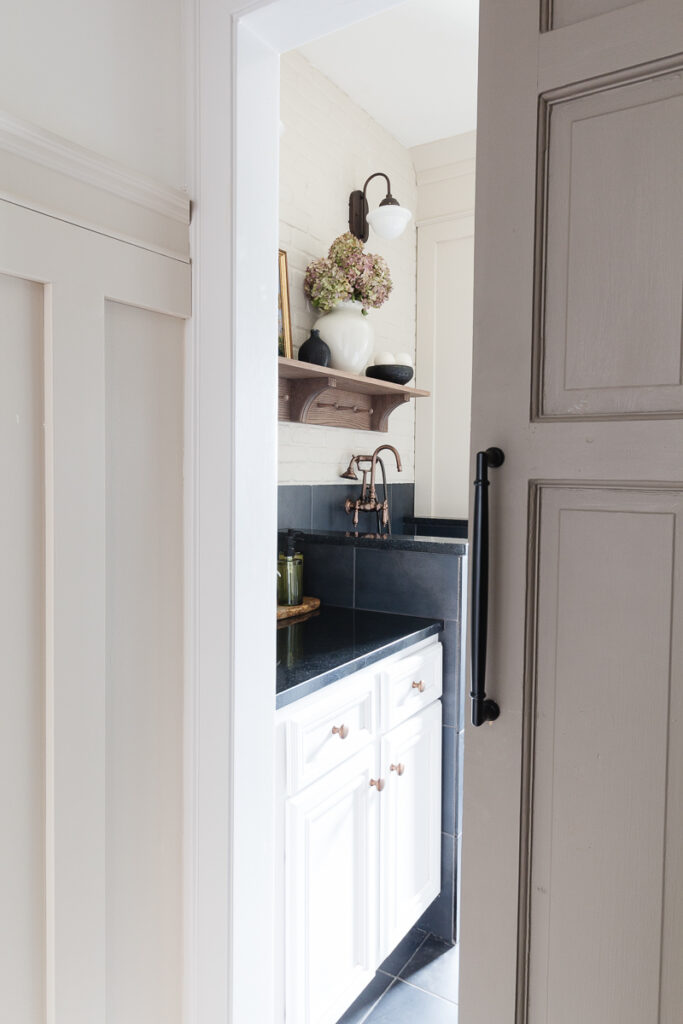 Design Plan for Laundry Room
While the mood board perfectly represents the elements in the room, effectively translating the mood board into the reality of the room was hard to do.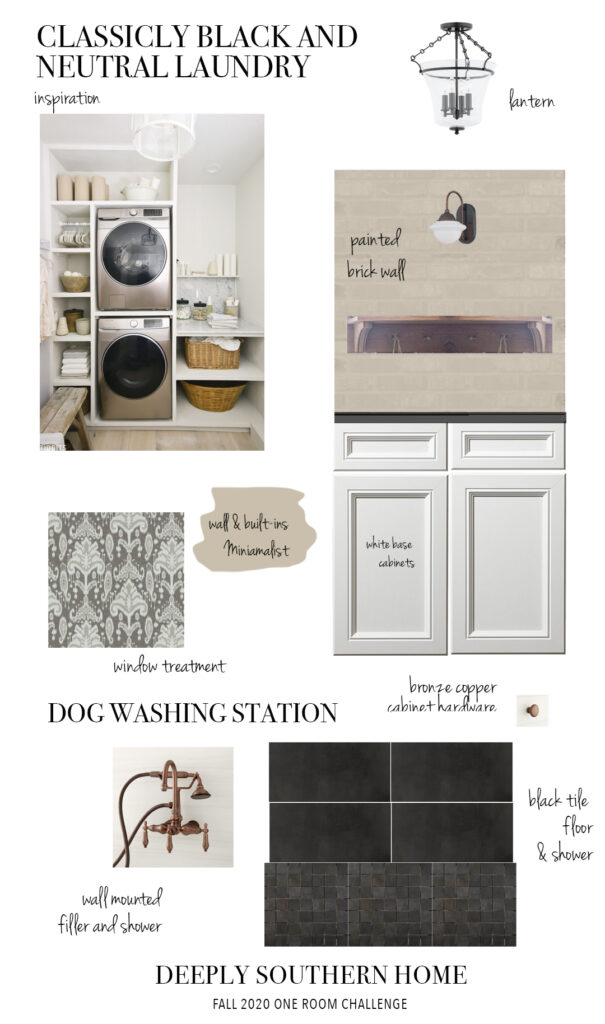 Laundry Room Reveal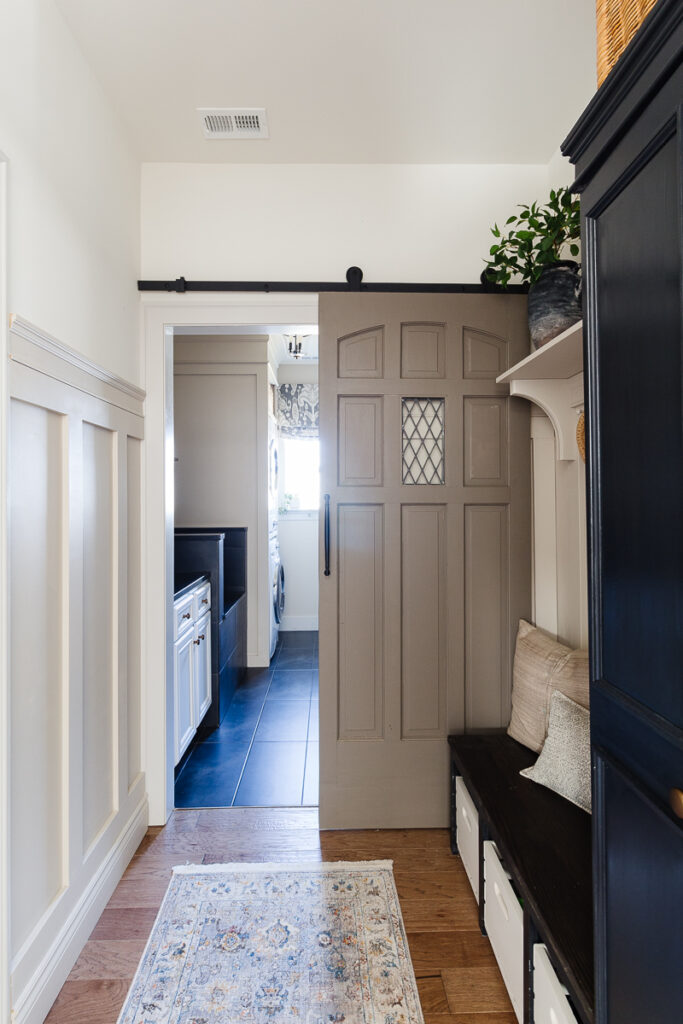 After a little over a week-long delay, I am thrilled to share the Laundry Room! In an effort to create a waterproofed dog washing station, postponing the tile installation was necessary. I likely underestimated how long it would take to install these large format tiles, even for the small space.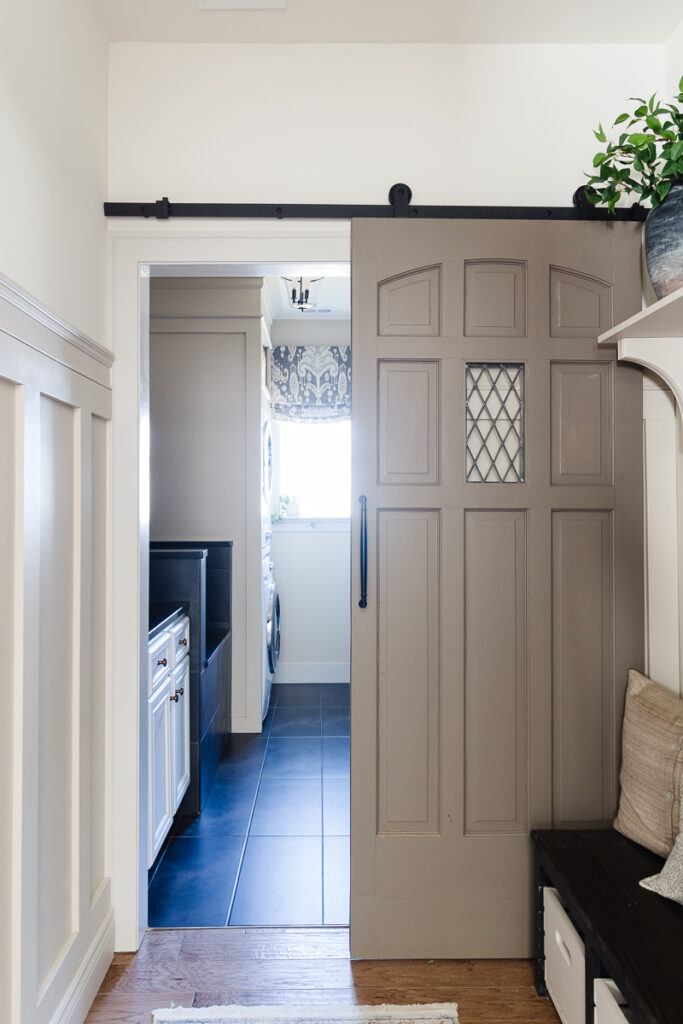 Undeniably the room is a long rectangle. I decided to capitalize on the linear nature and balance the larger elements on either side of the room with floor to ceiling built-ins.
The main goal was to pack as much function as possible into this room. I assessed our needs and built the room to accommodate those needs.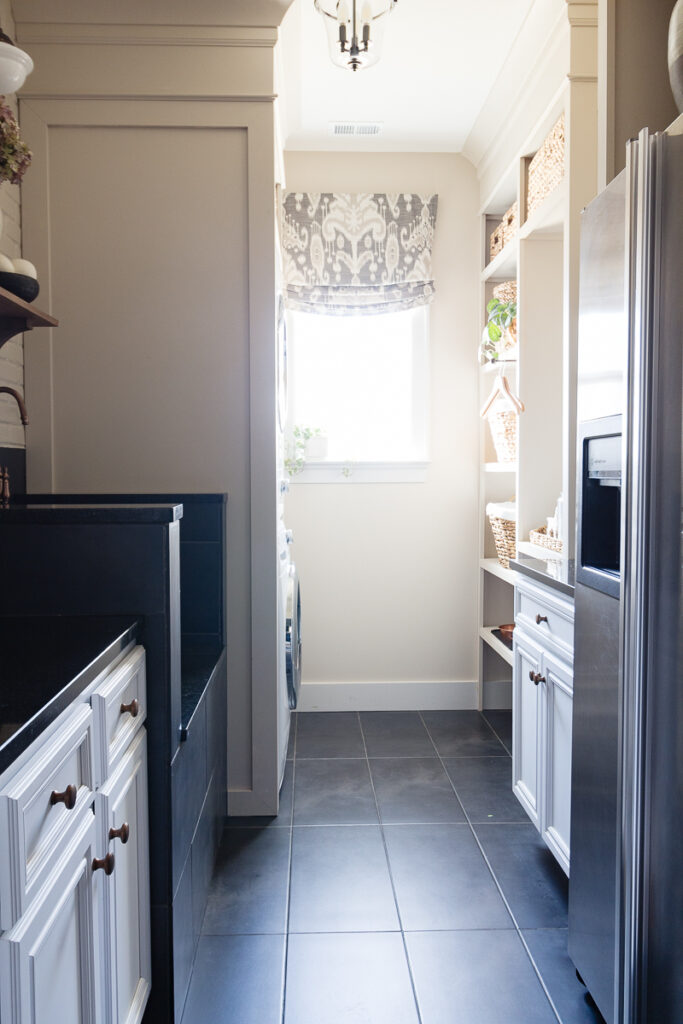 On the washer and dryer side, I split the existing cabinetry to make room for a dog washing station.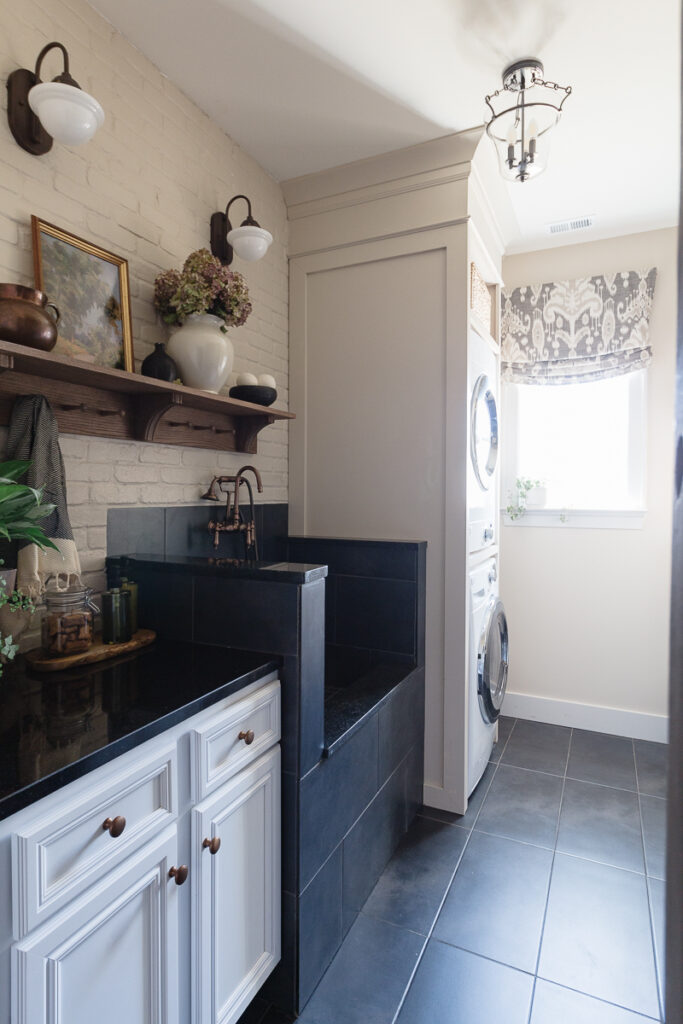 The Dog Washing Station
As a dog lover, I have always dreamt of a dog washing station. The ease of washing a large dog in a raised shower became more and more appealing with each passing year.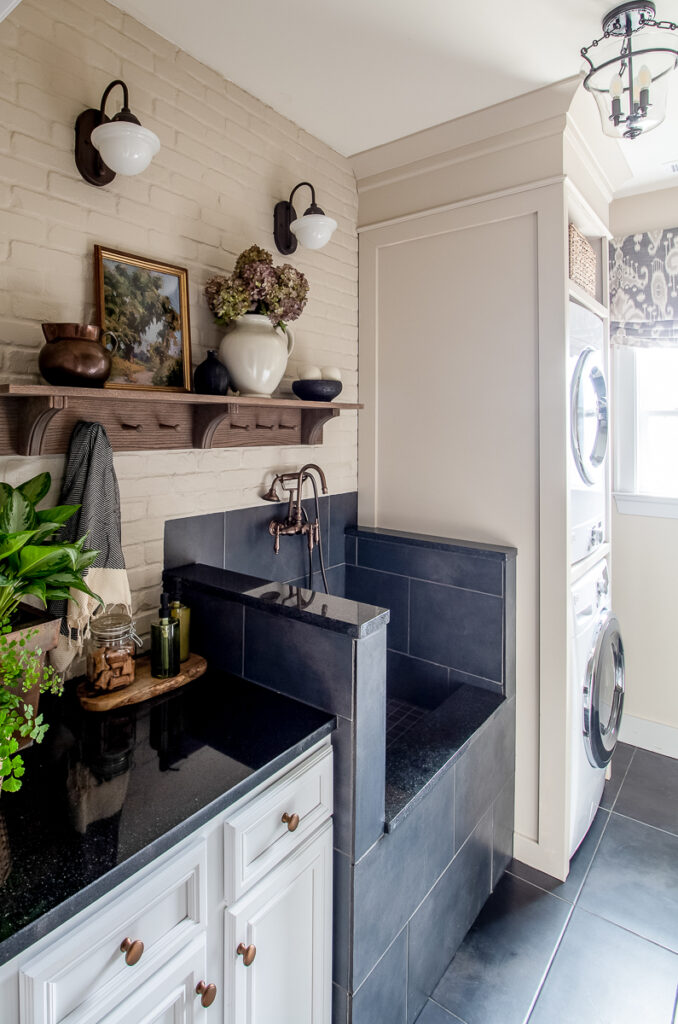 Our dog, Freddie (@readyfreddiedoodle on Instagram) and I go hiking at least a couple times a week which means, at a minimum, his paws need rinsing often.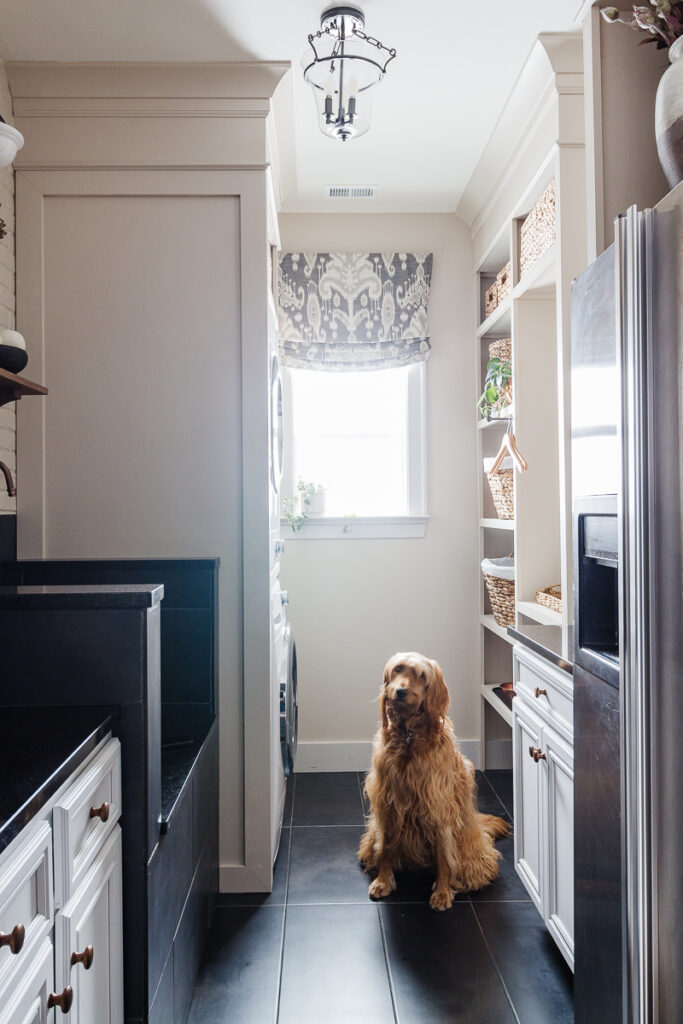 Not only is it thoroughly functional addition to the room, the gorgeous faucet and sprayer designed by Signature Hardware from Build.com make it undeniably beautiful.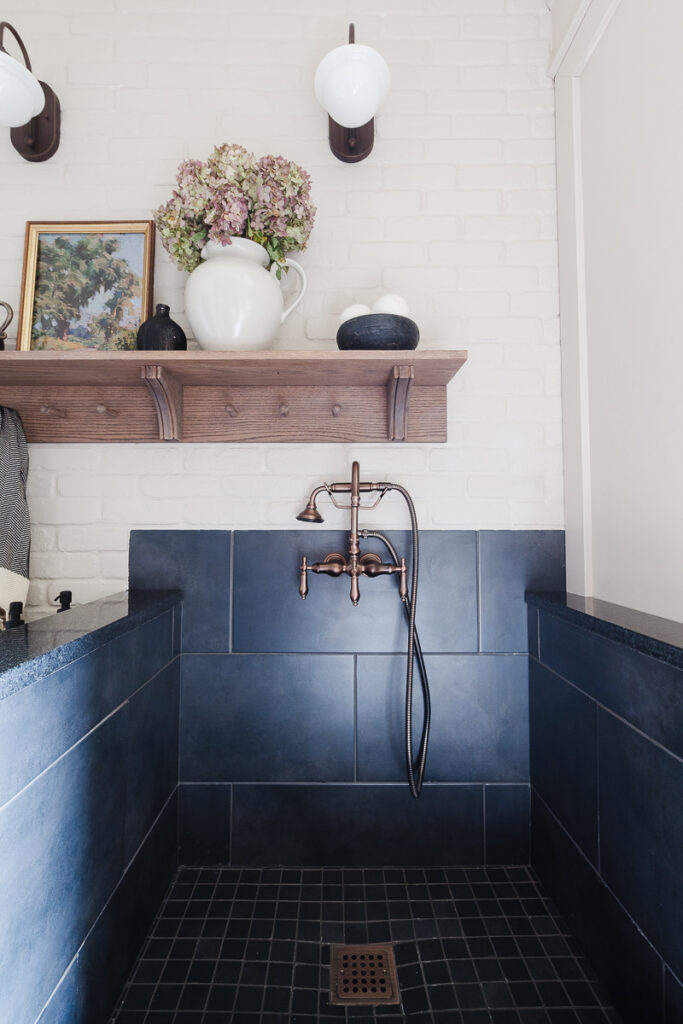 Their oiled rubbed bronze finish has an amazing aged copper feel about it that I just fell in love with.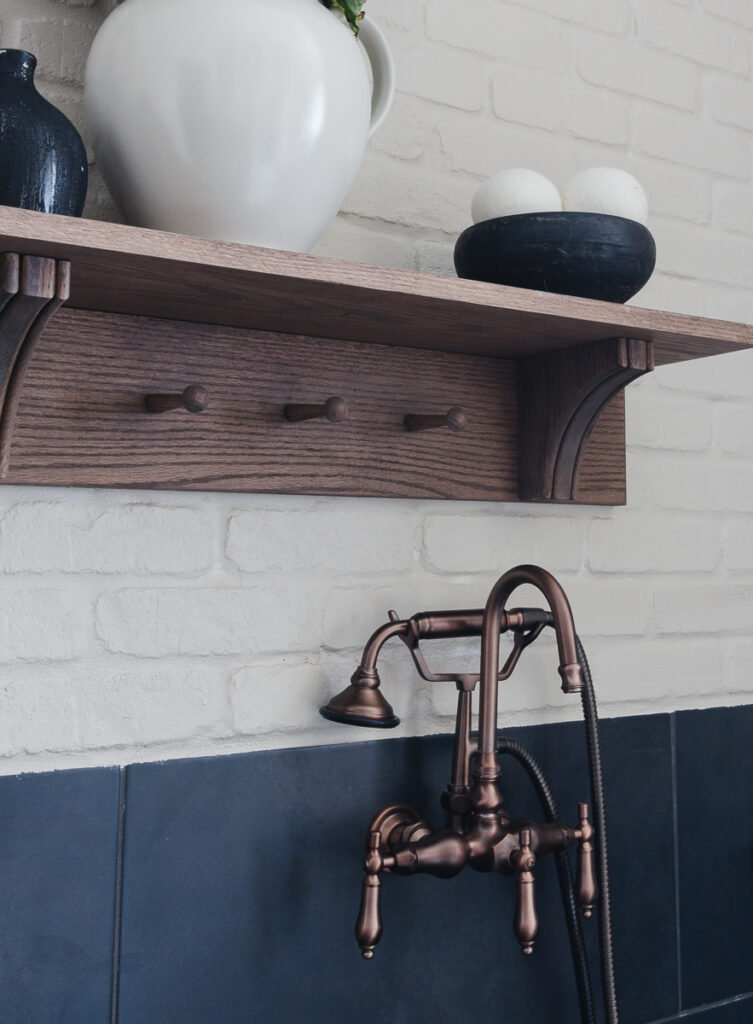 That aged patina finish was carried throughout the room and naturally influenced the selection of the wood finishes.
I love not having to bend over to bathe Freddie!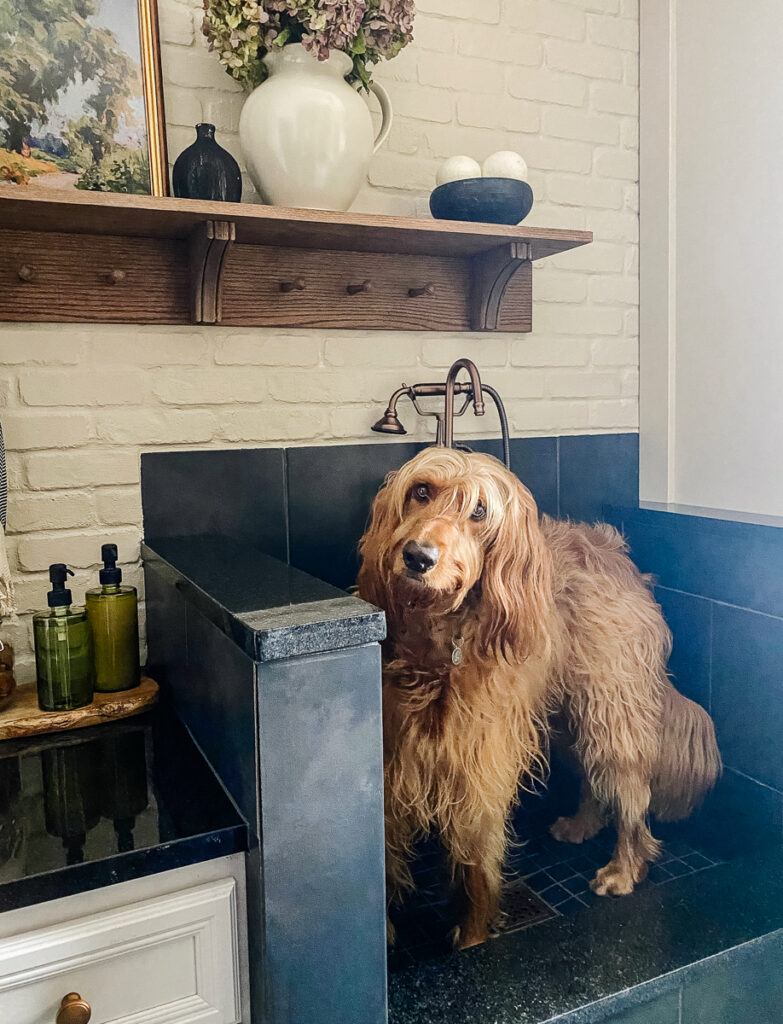 Bathtime was quick and easy!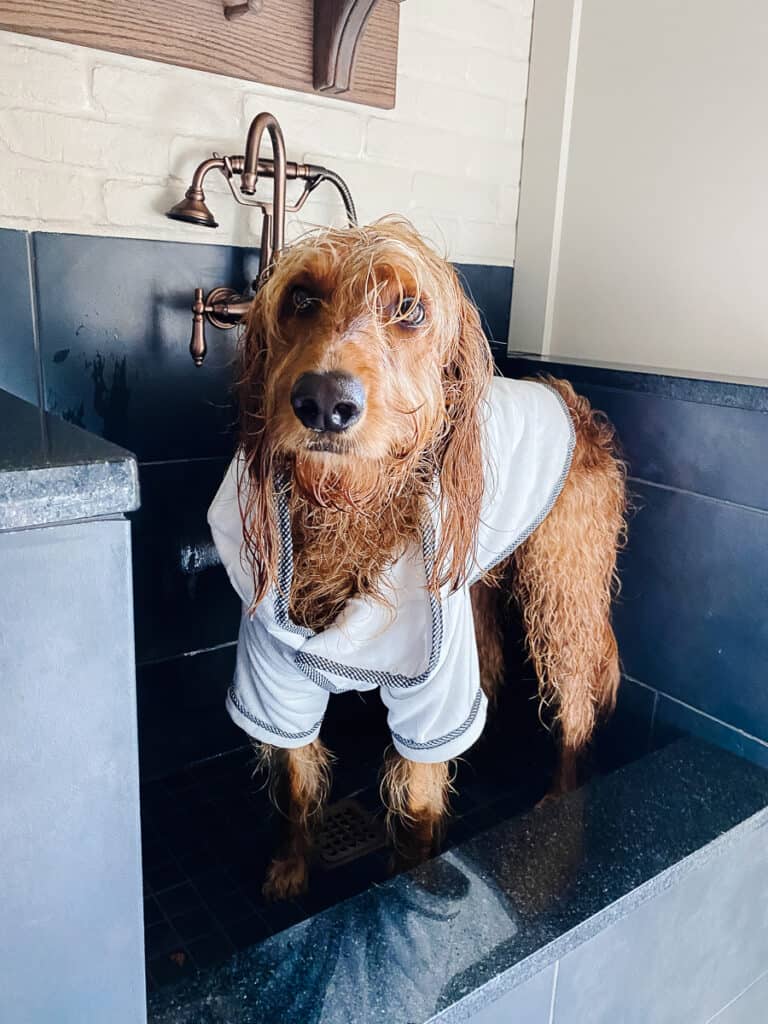 I ordered this dog bathrobe, almost as a joke, but it was really was so helpful! By the time he decided it needed to come off he was a lot dryer than when I put it on! (By the way, Freddie is wearing a 2XL. I had originally ordered an XL but it was snug around his barrel chest.)
This is a total aside for my dog-loving friends, but I also ordered a new dog shampoo that is fantastic for long-haired dogs. I love the scent, it lathered up beautifully and Freddie's hair is so soft! Give this one a try!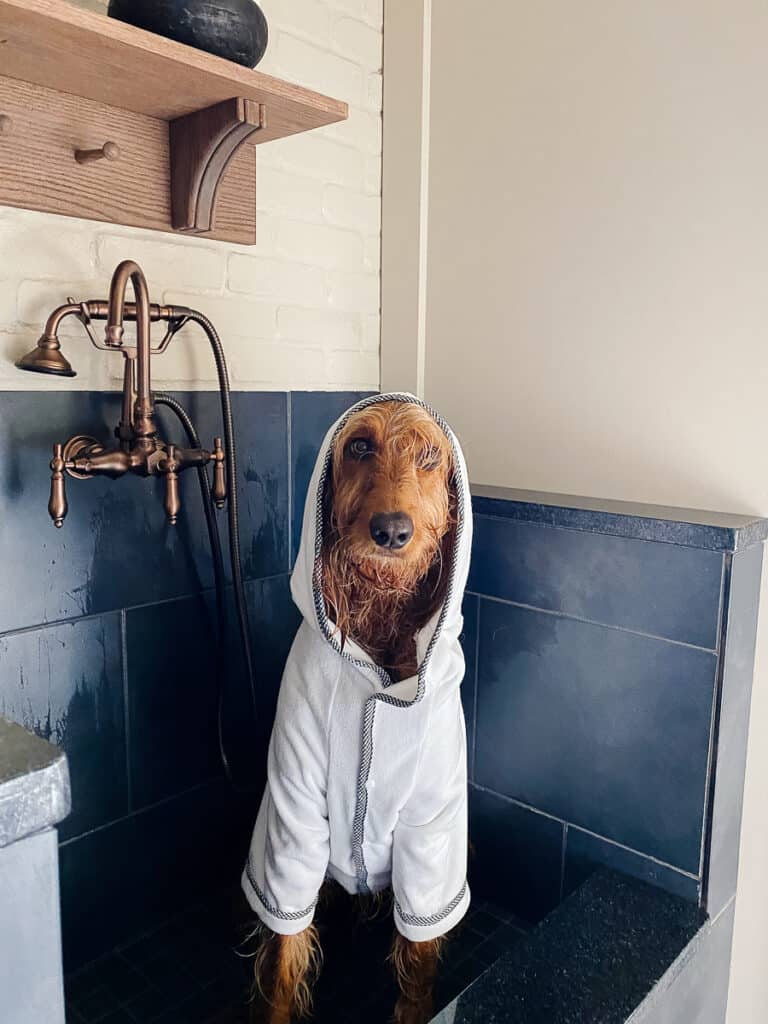 Of course treats were used as a reward to get him adjusted to getting in and out of the shower. Over the last few weeks I have been periodically training him during various phases of the building process.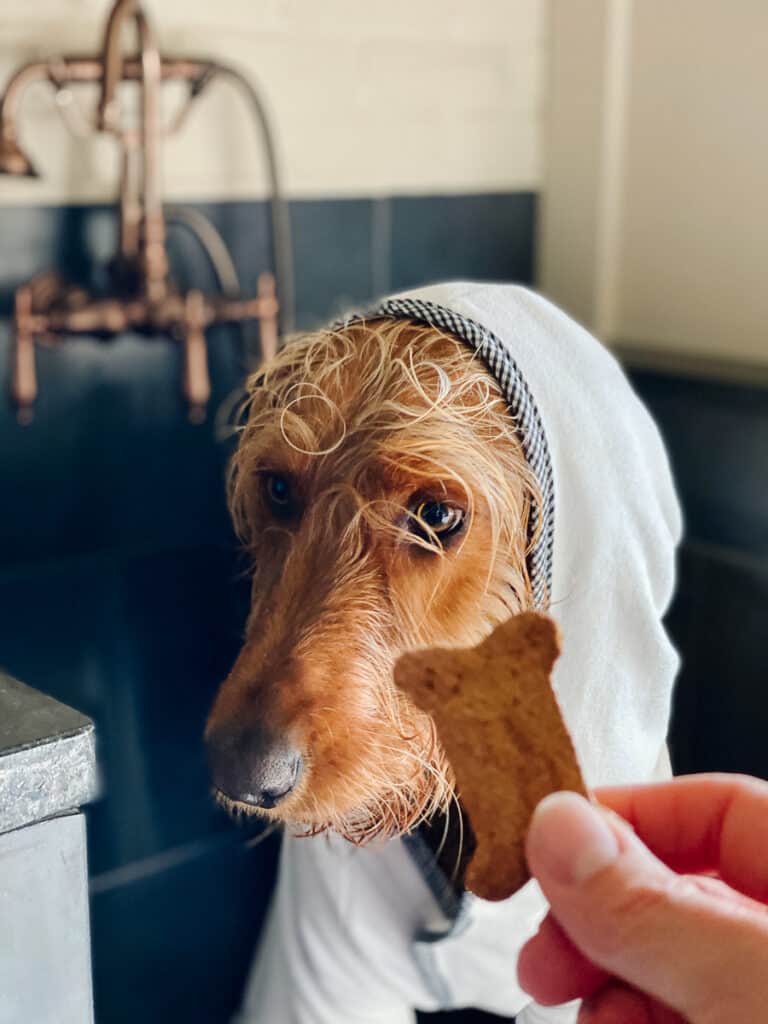 Trust me when I say he knows there is a jar of treats on the counter next to the dog wash!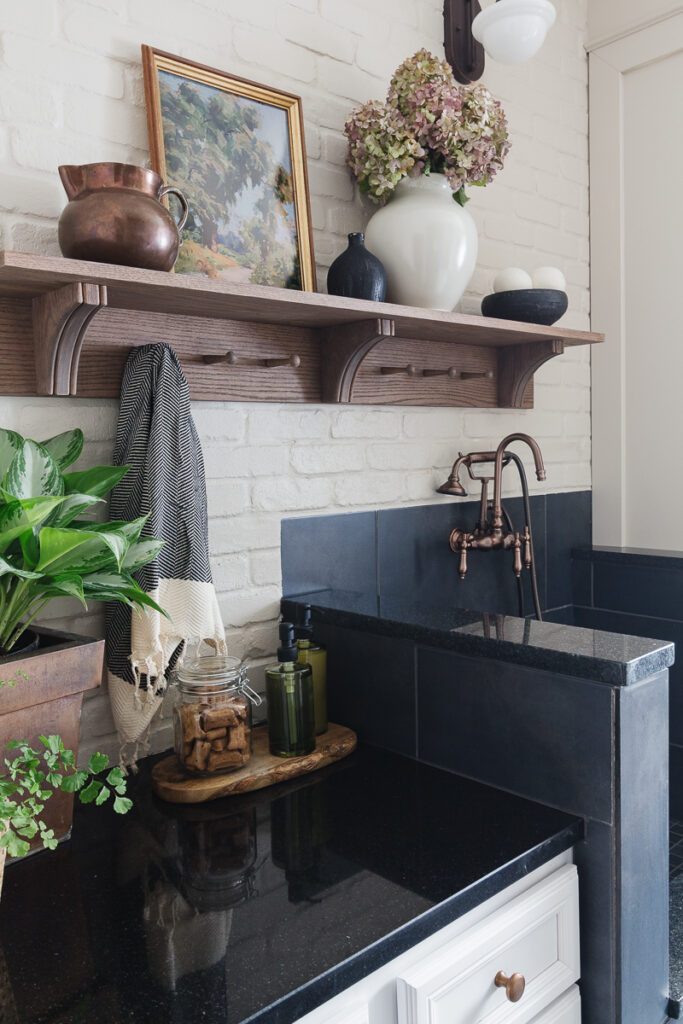 This Cosmopolitan Emser tile, in charcoal, also from Build.com is the same tile I chose from the builder for the floor during the build of our Lake Ridge House. I love how visually, the tile looks like a natural stone.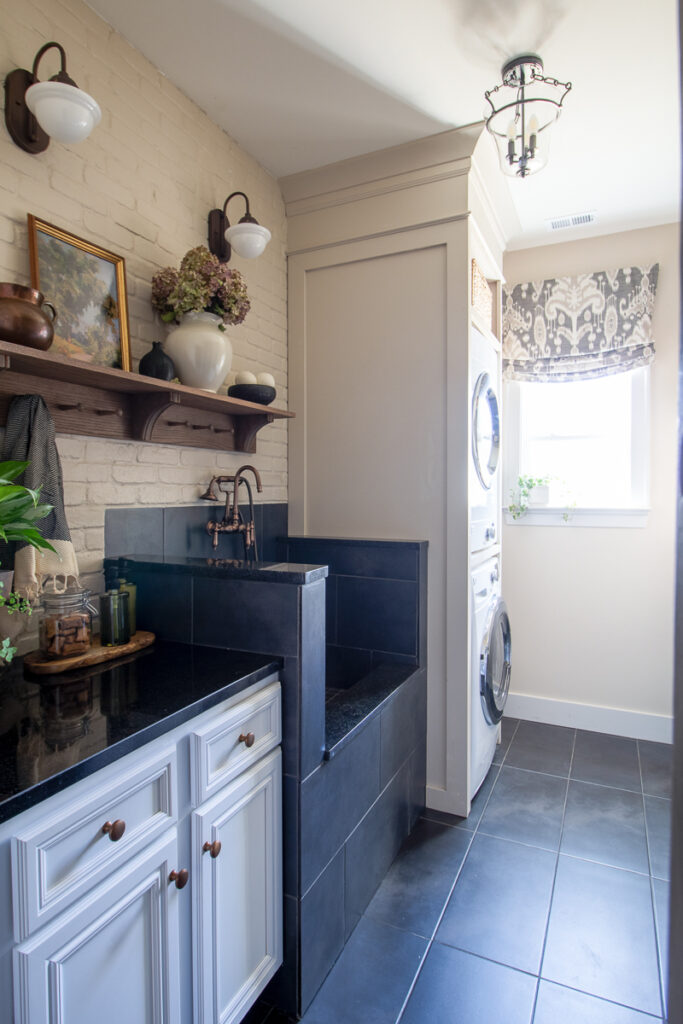 For the floor of the shower, I chose a companion tile in a 2″ square mosaic.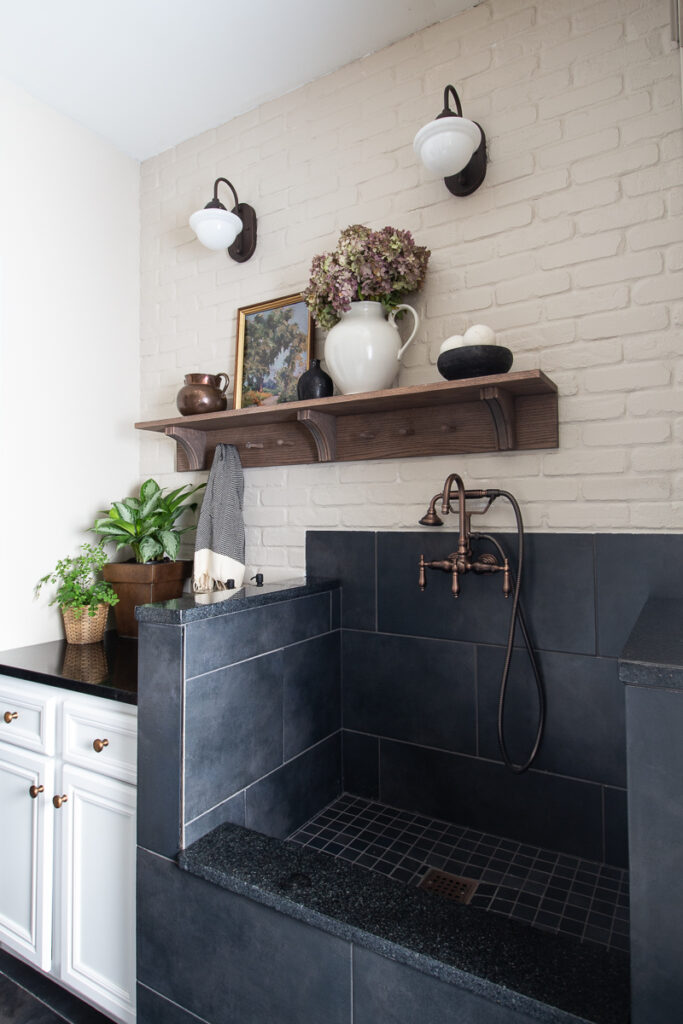 To elegantly cap off the top of the shower and the entry ledge, I had granite fabricated out of a similar stone to our existing countertop.
The tile was grouted with a Charcoal grout from Mapei and the original white grout was painted with grout colorant also in Charcoal from Mapei.
Shop the room

Brick wall and Peg Shelf
I love using repetition as a whole house design concept. The brick in the kitchen is repeated here in the laundry room. But this time, it's painted.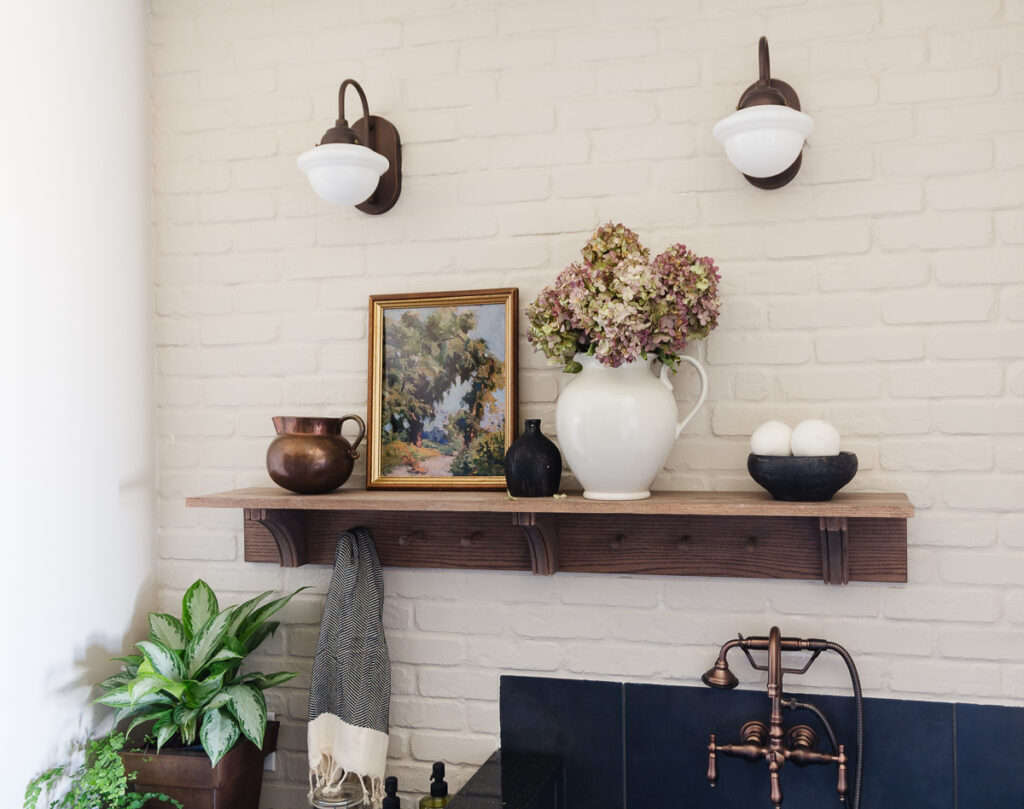 Not only is the brick wall a visually appealing repetition, it adds another layer of water resistance to the area behind the shower. Because let's face it, most dogs shake water everywhere immediately after they are bathed.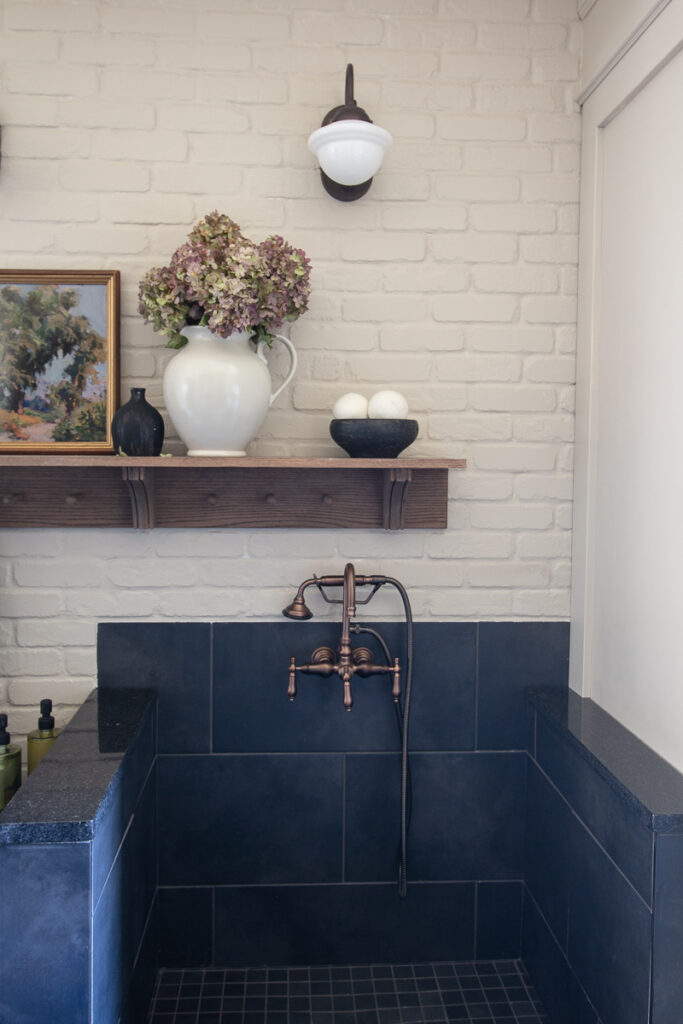 I built the oak peg shelf to model the ones I added to the kitchen makeover from last fall's ORC.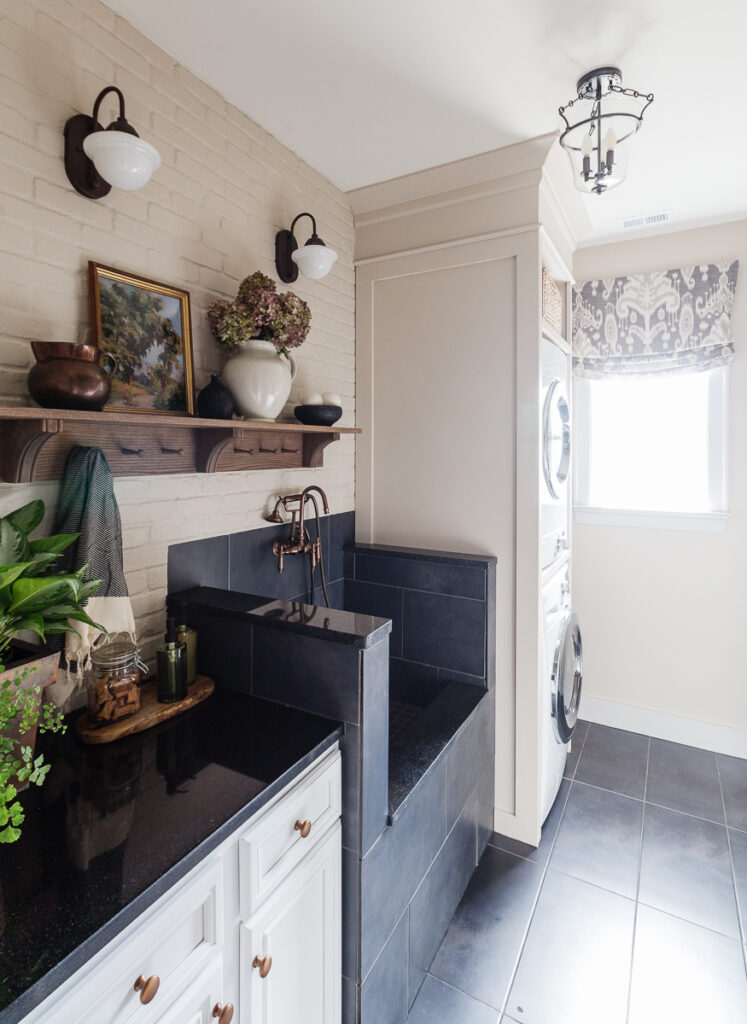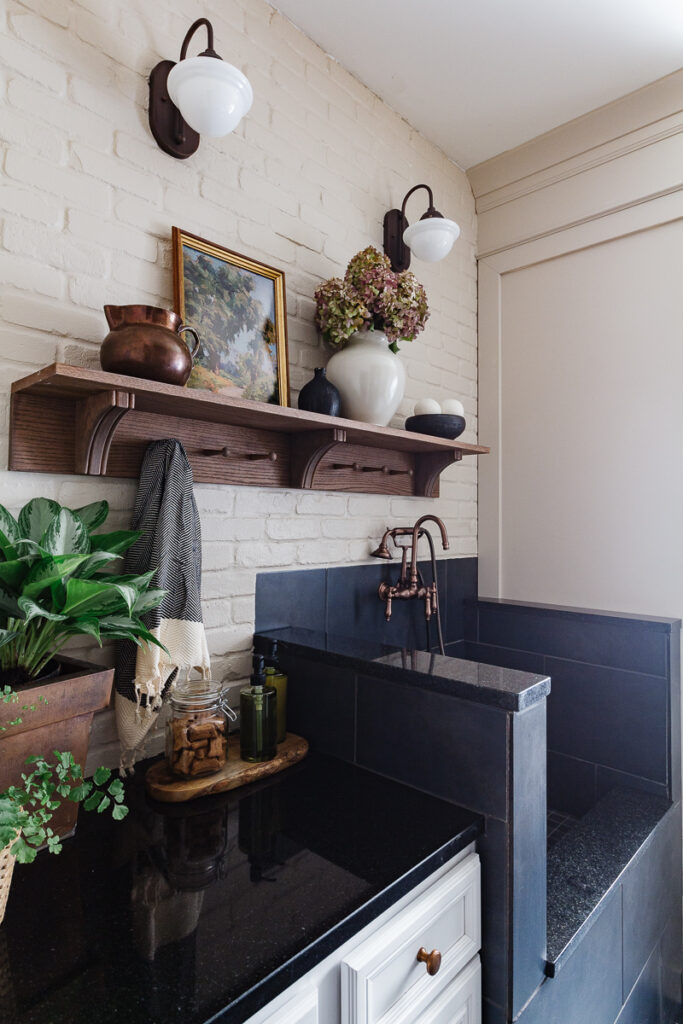 The oak was purchased from the home center but the beautiful brackets are from Osborne Wood Products. I love the beaded detail of these 6″ brackets. I trimmed the tops to fit a standard 1×6 oak board.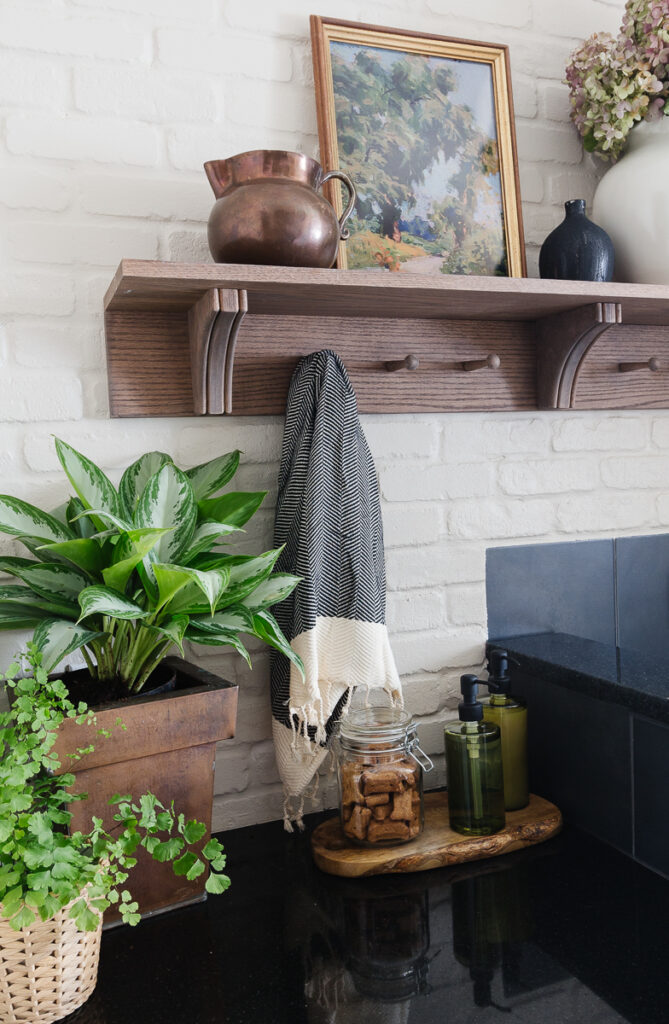 For additional task lighting I added these charming Millennium sconces to the brick wall. While they are new, their vintage style is a perfect accompaniment to the brick.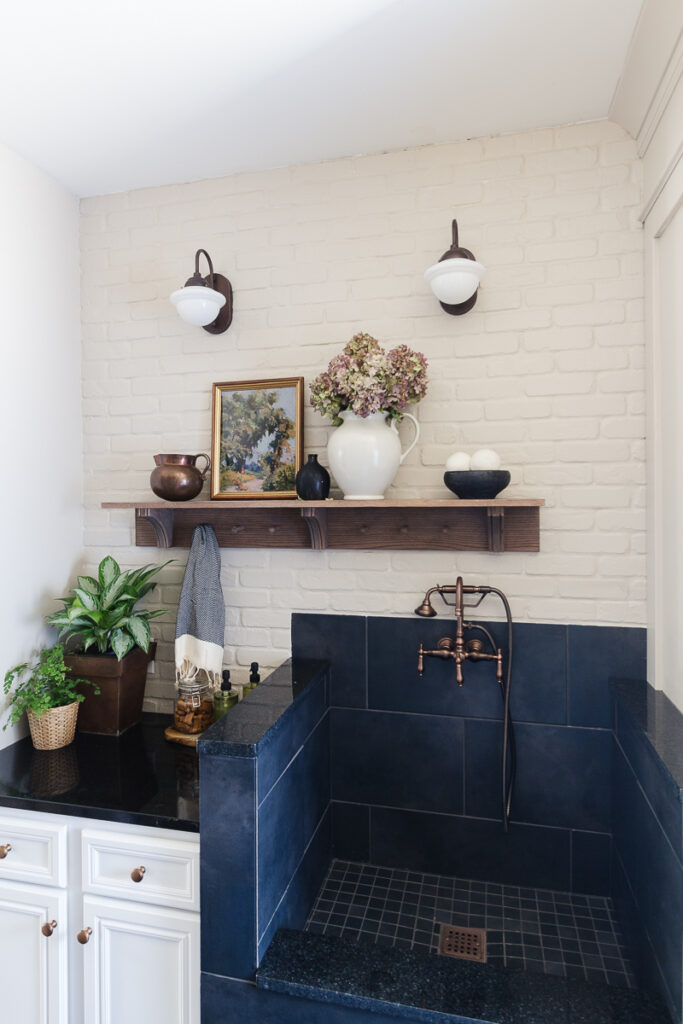 And of course, I must not forget to mention the matching bronze drain in the shower, also from Signature Hardware. Is that not the most beautiful drain you have ever seen?
The Walls of Built-ins
Esthetically the built-ins provide a more polished look to the washer and dryer as well as our second refrigerator.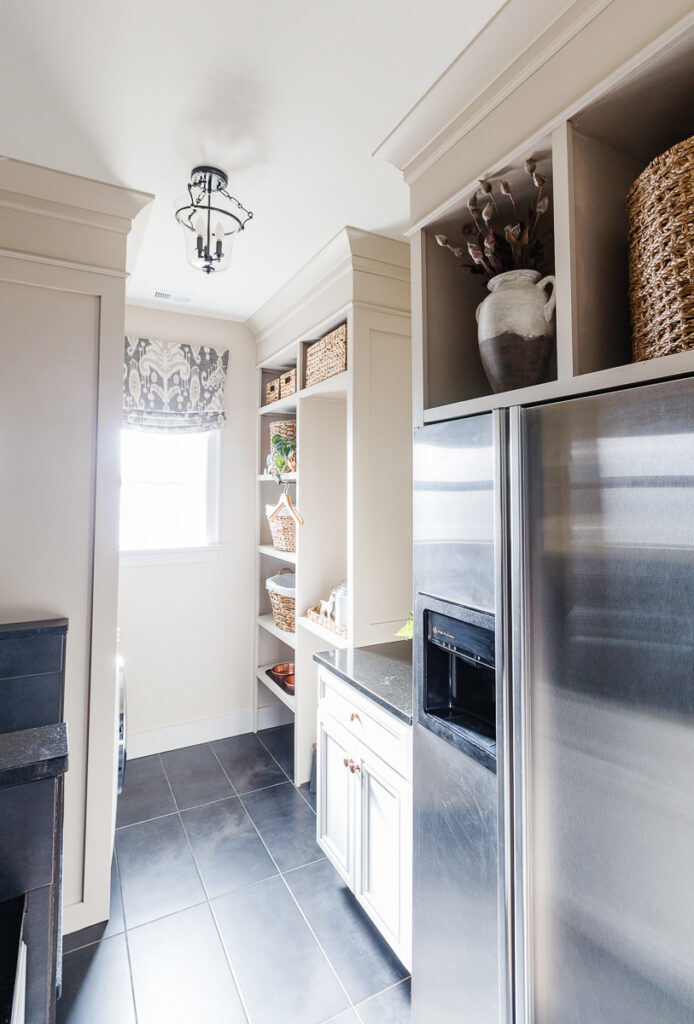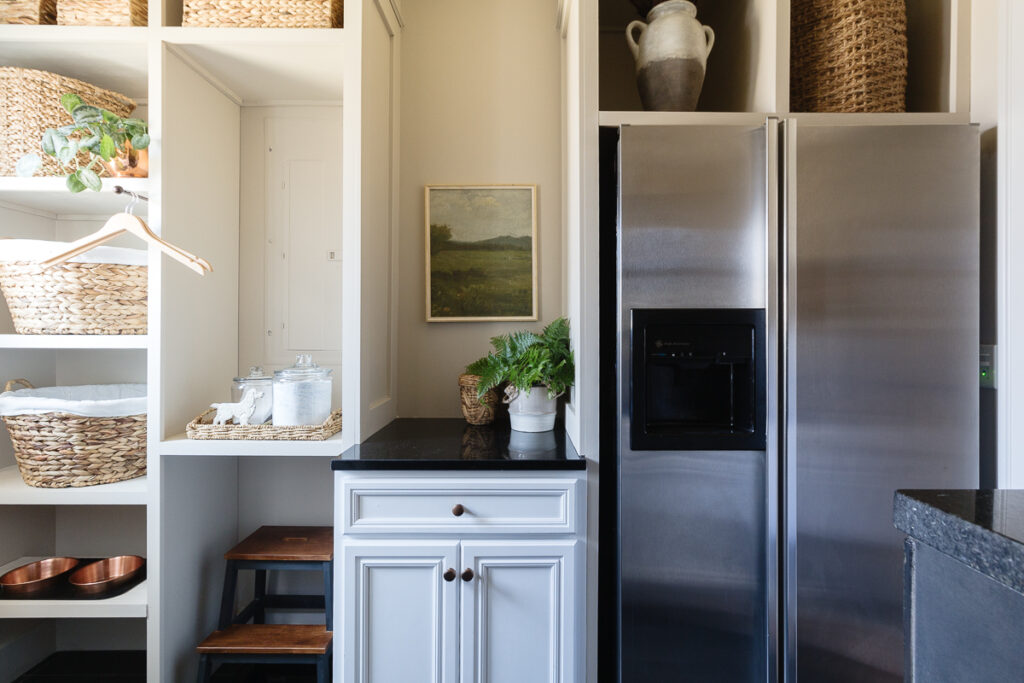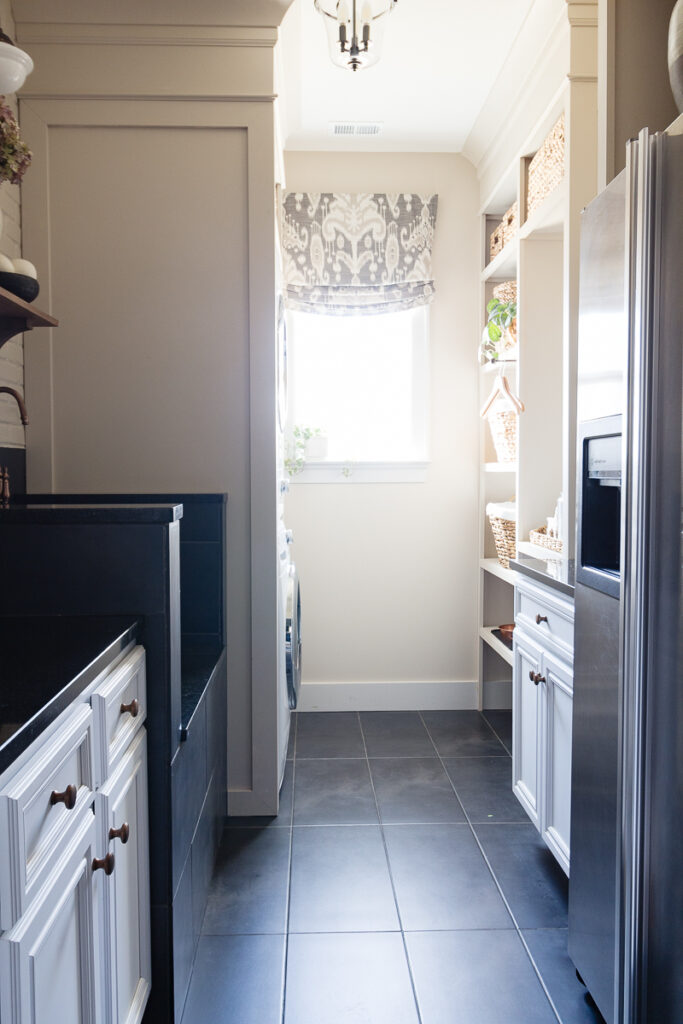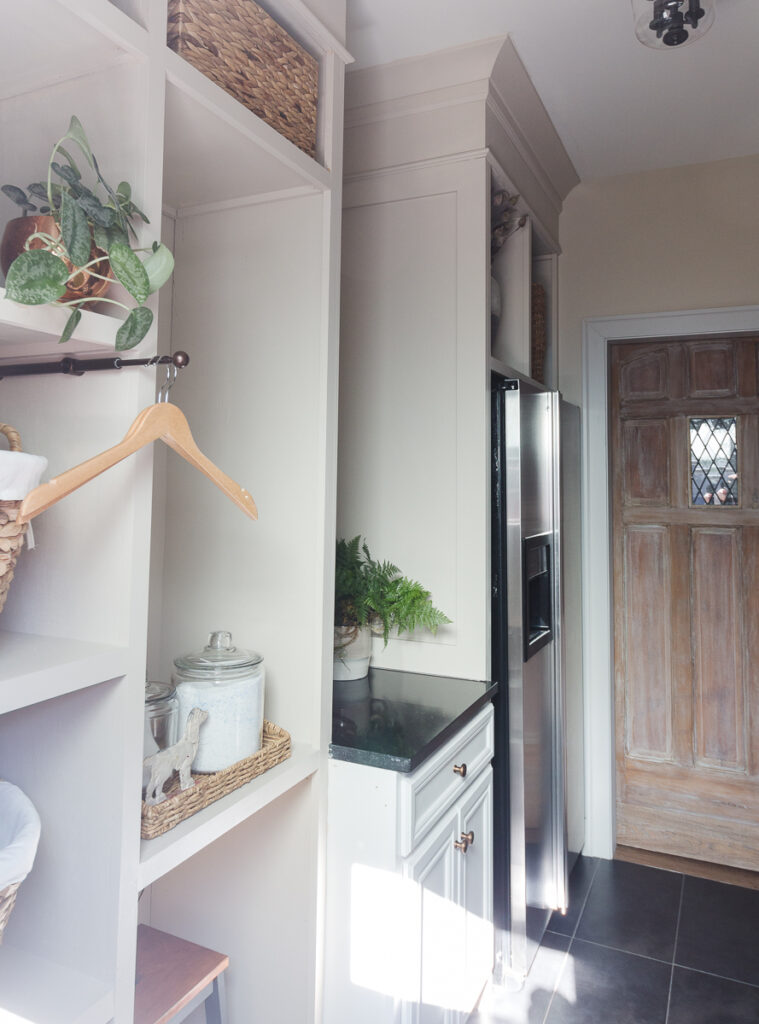 Building them to the ceiling draws your eyes upward and adds as much storage as possible.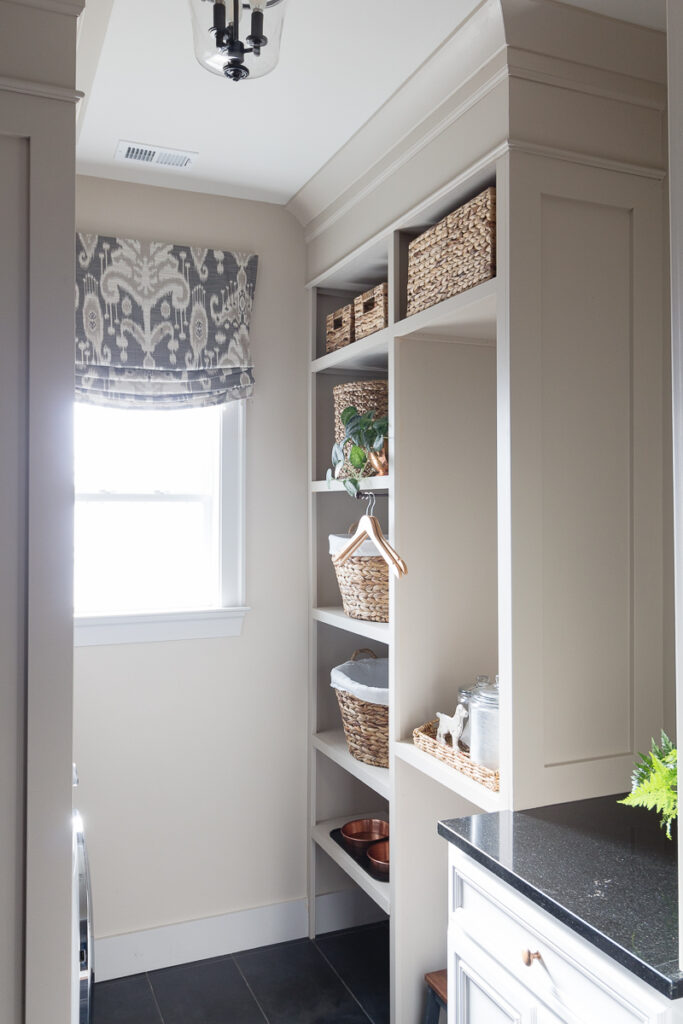 Creating Hidden Functionality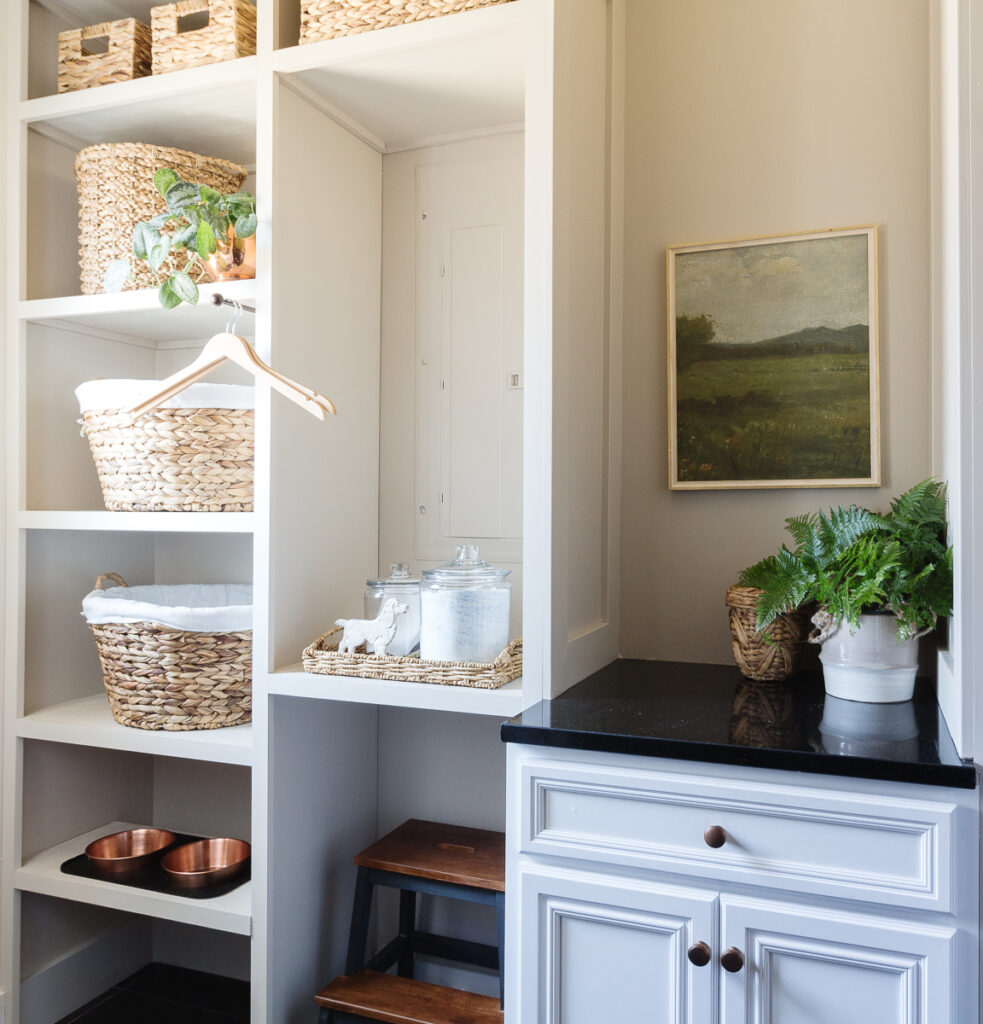 By optimizing a basic cabinet I added an ironing board and a pull out dog food bin.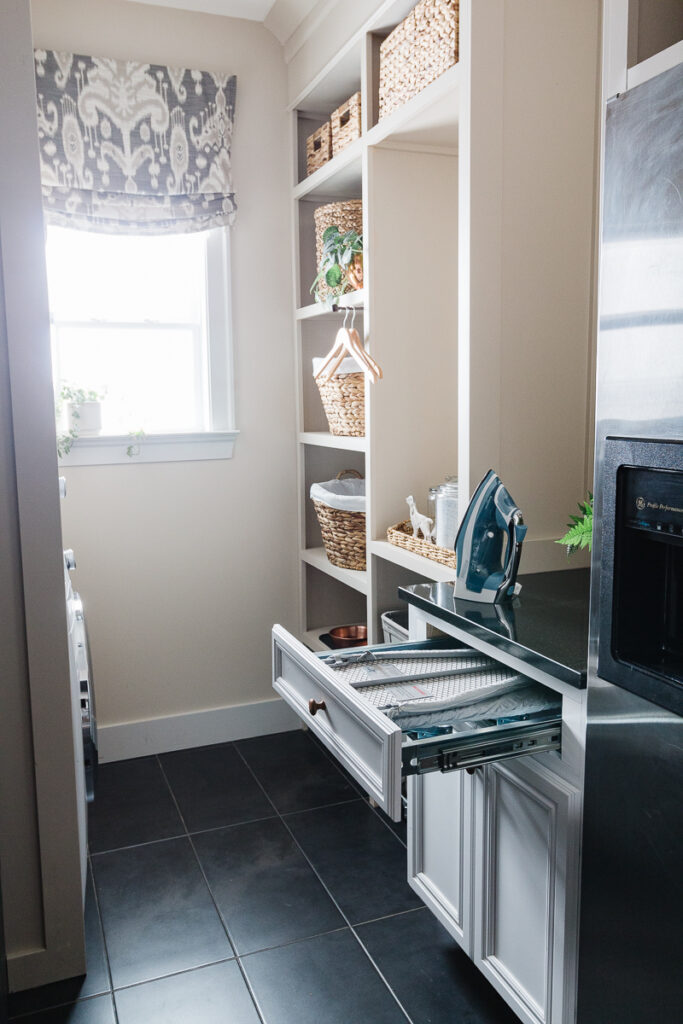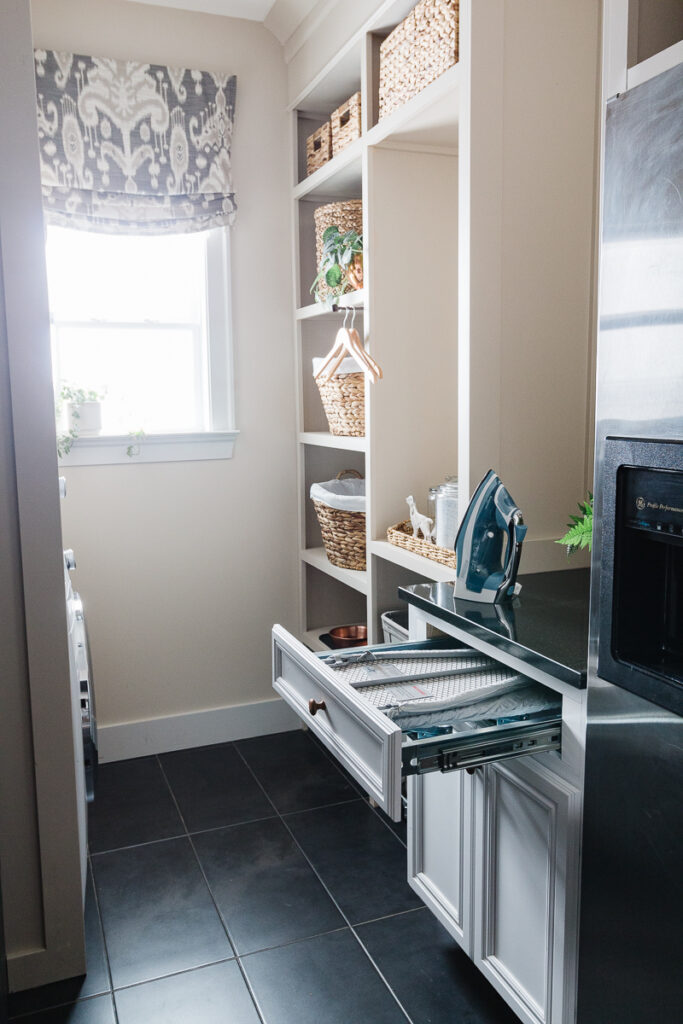 Isn't that ironing board in a drawer the most clever contraption? I haven't had an ironing board since we moved here a year ago. I love that it tucks away easily and opens up so conveniently when needed!
You can find so many amazing Revashelf products at Build.com For inside the cabinet, I found the perfect pull-out bin with a lid to store Freddie's dog food!
This one is smaller sized and yet the bin fits a full bag of dog food. It is made for smaller cabinets like those generally found in RV's.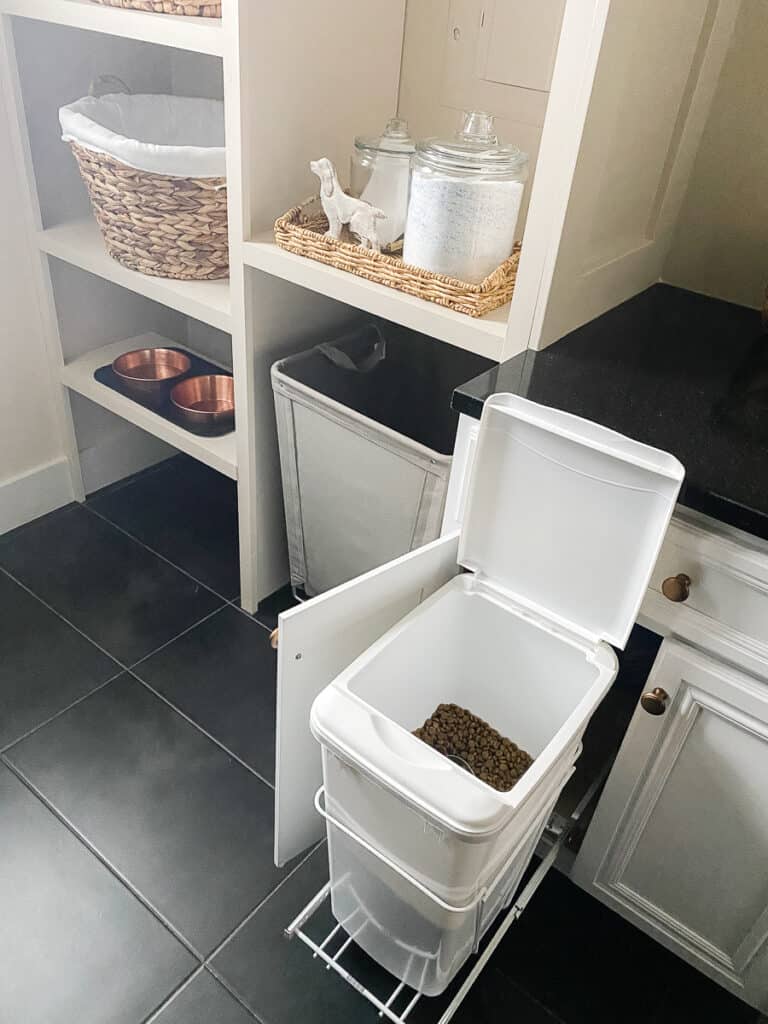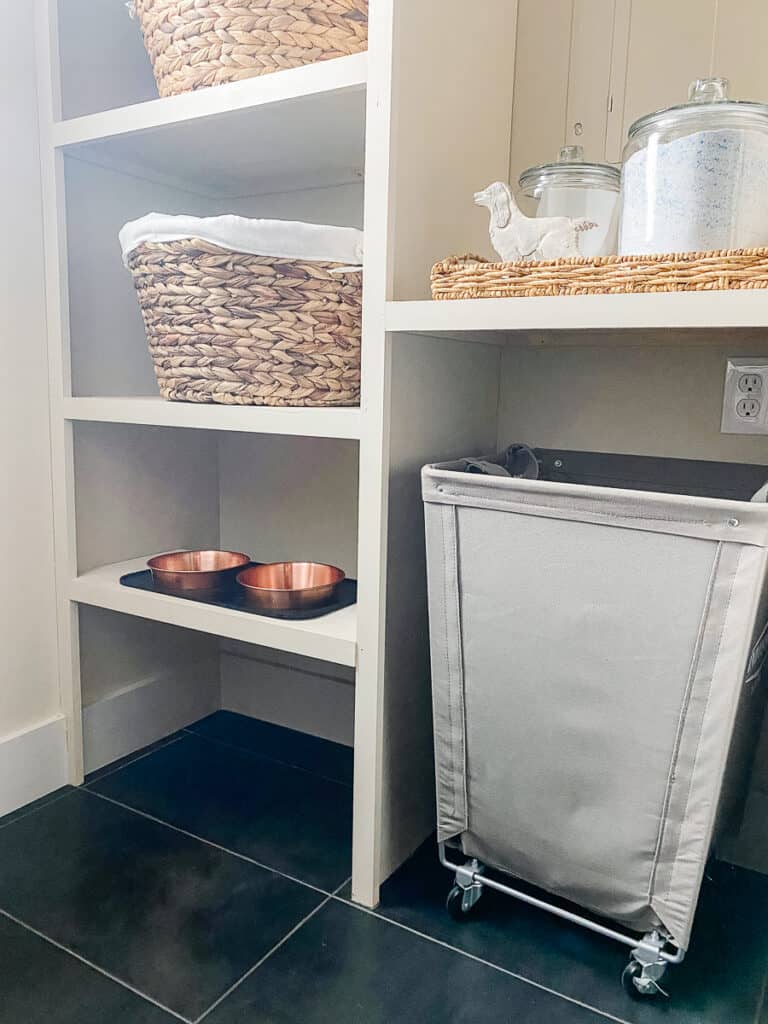 Tucked in the far corner of the laundry room, I built an elevated feeding station for Freddie. Research shows that bigger dogs, especially breeds with barrel chests benefit from eating and drinking with their food elevated.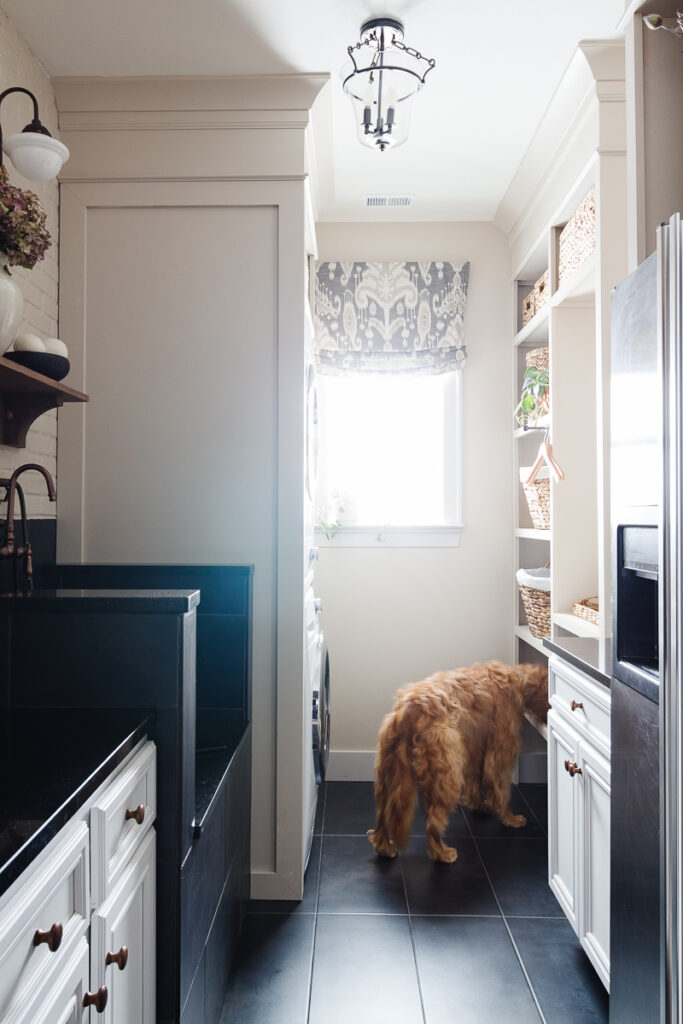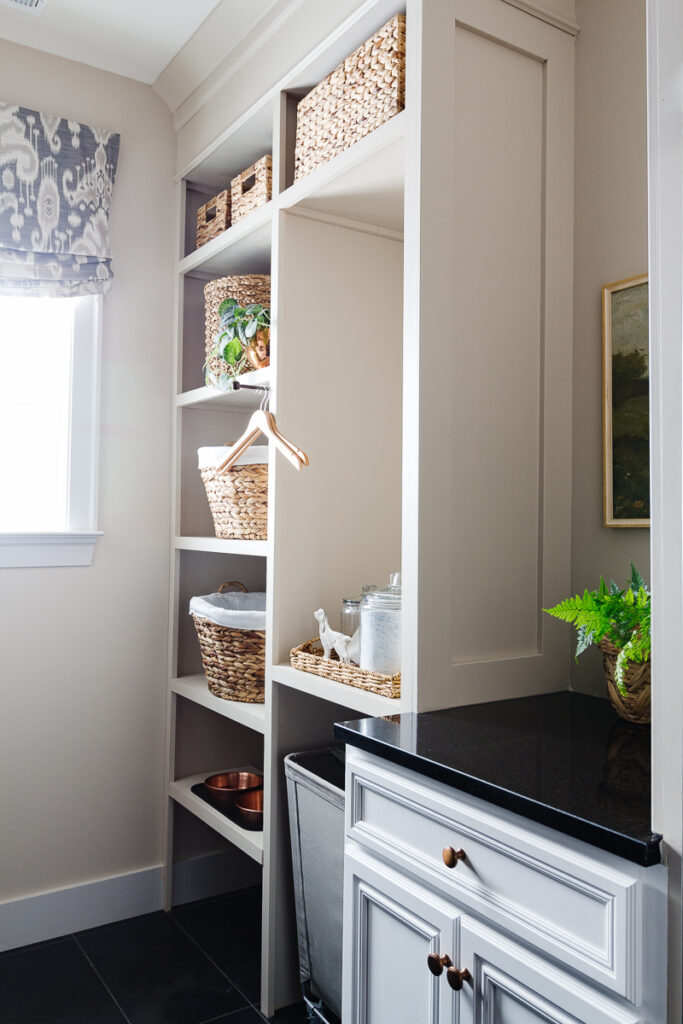 In case you noticed the rolling laundry bin, I would be remiss if I didn't recommend this one. It is so sturdy and convenient. We keep it parked in our closet and roll it in the laundry room when I am ready to do a load of wash.
What actually lives in this space is my favorite stool from Ikea and our RoboVac.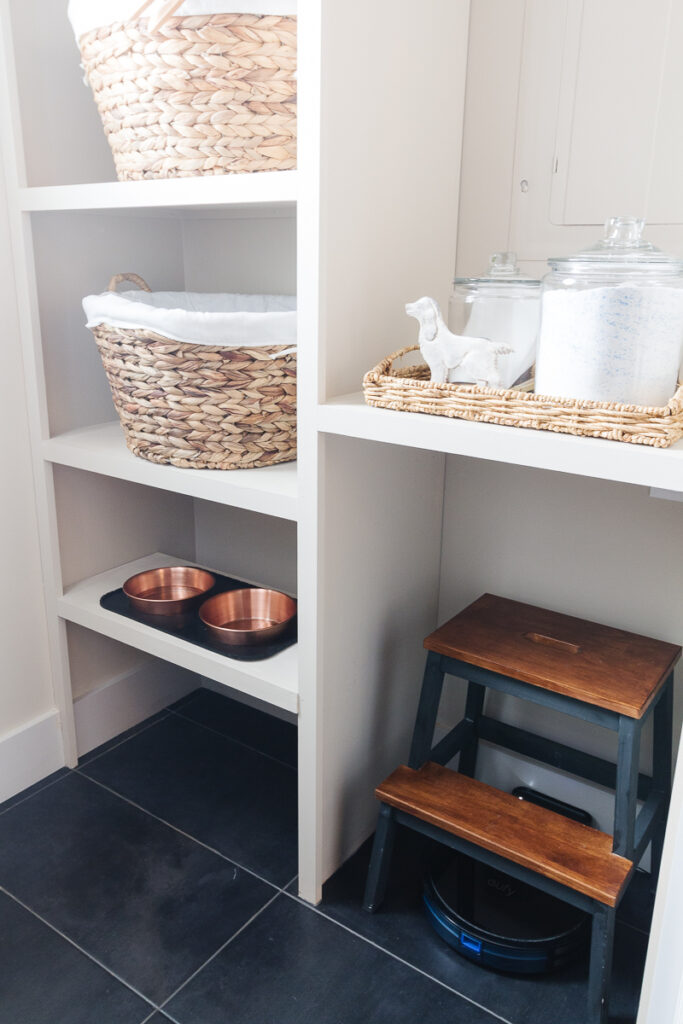 I made sure to have my contractor move the outlet to this cubby just so I could park our Eufy here. I really do like it too! I still vacuum with a Dyson when it is time for deep cleaning, but the Eufy runs 3x's a week for touch-ups.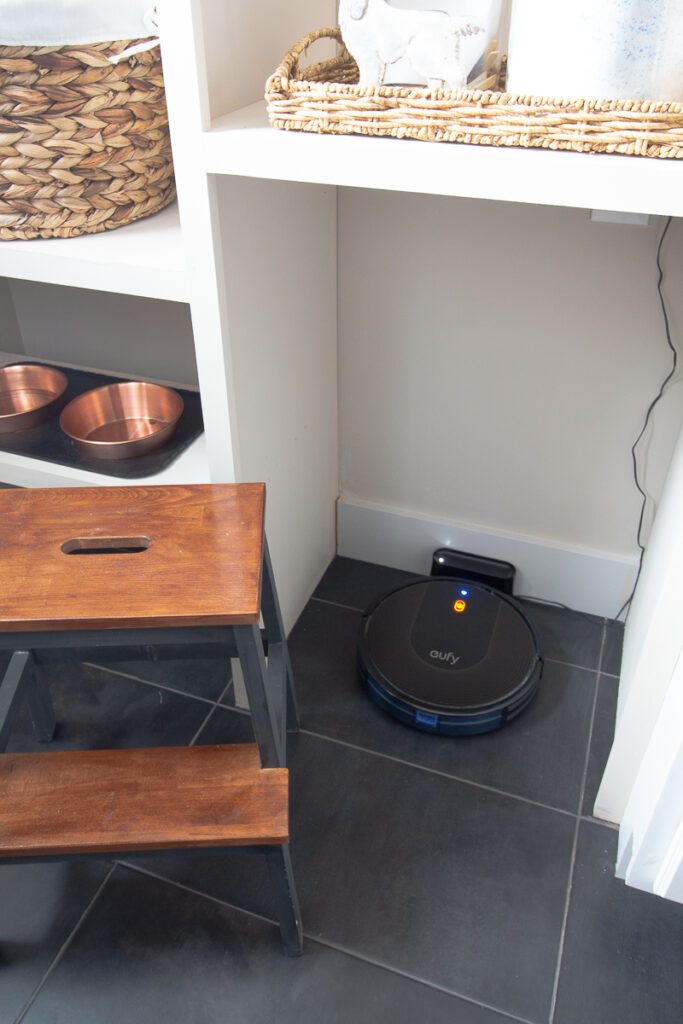 Speaking of cleaning, across from that space and beside the washer and dryer, I tucked in one more hidden compartment.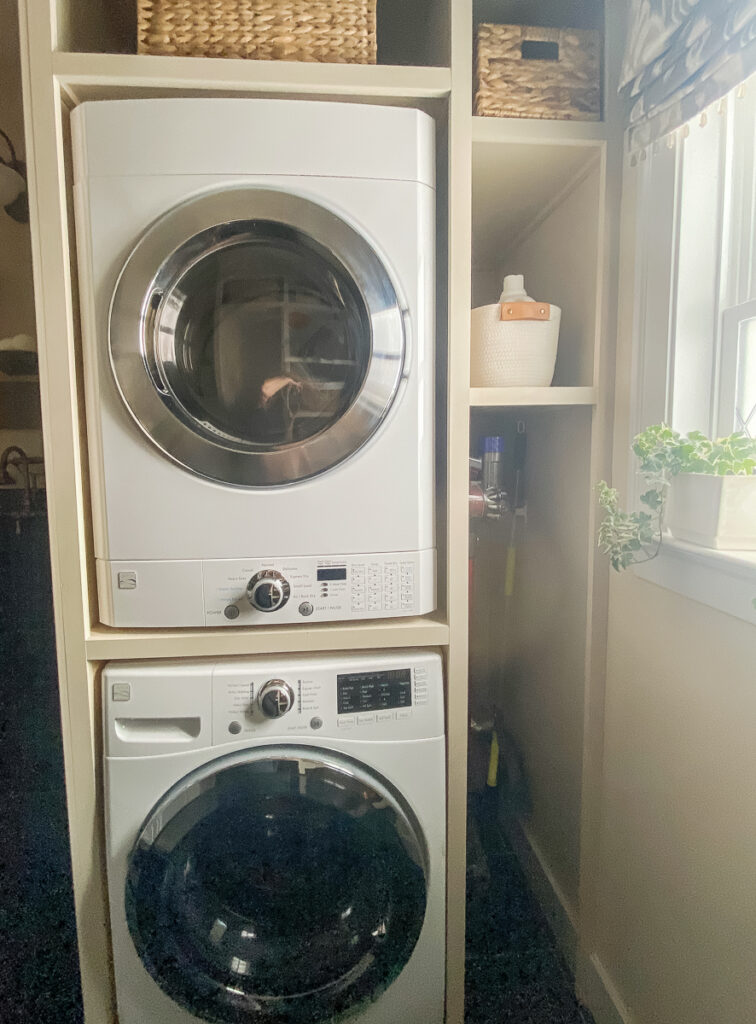 The Cordless Dyson and all of my various brooms and mops live in this area. I opted to not add a door, since no one can see it unless you peek around the washer and dryer.
Lastly, to give me a temporary place to hang clothes out of the dryer I installed a Valet Rod in oil rubbed bronze from Revashelf.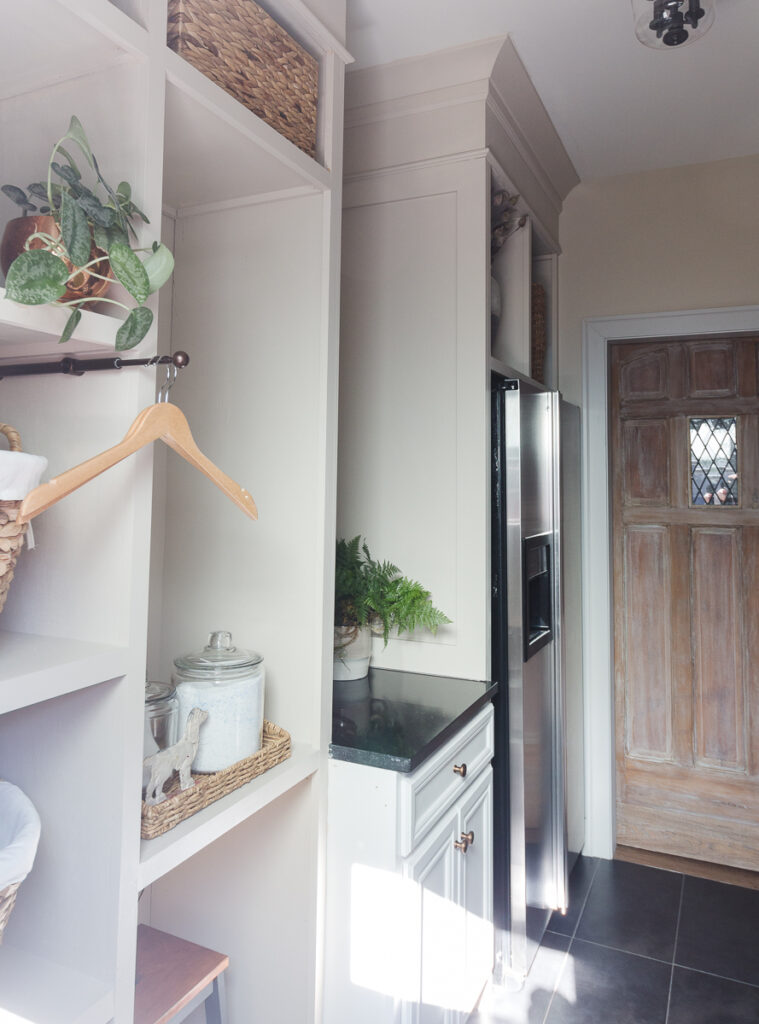 I knew from previous laundry room upgrades that if I installed a bar with plenty of hanging space I would have likely filled it up with hanging clothes and never moved them to my closet.
Finishing Touches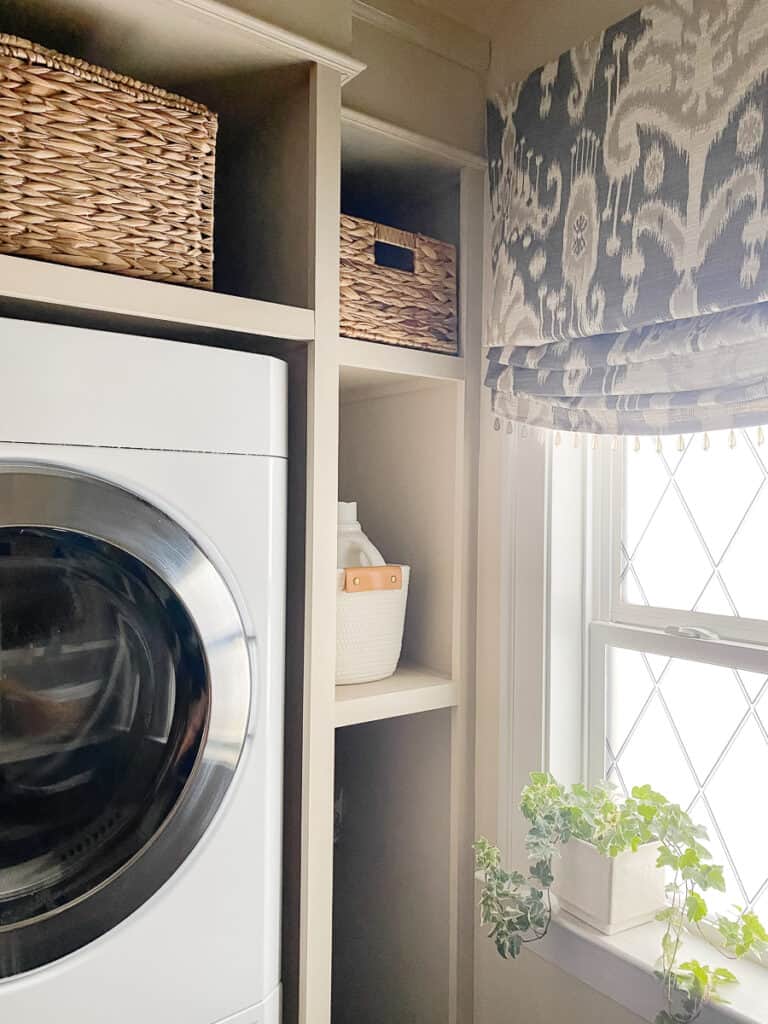 The faux roman shade was sewn by my mom the week she was here to visit. The fabric, an ikat Azaka Quartz from Calico was the perfect way to bring a soft finish to all of the hard edges in the room. It is adorned by. this adorable beaded fringe, Huntley in Fawn also from Calico
The last detail to note in the room is the opposite side of the sliding reclaimed door. I applied a white lime wash to the side I stripped off the peeling paint.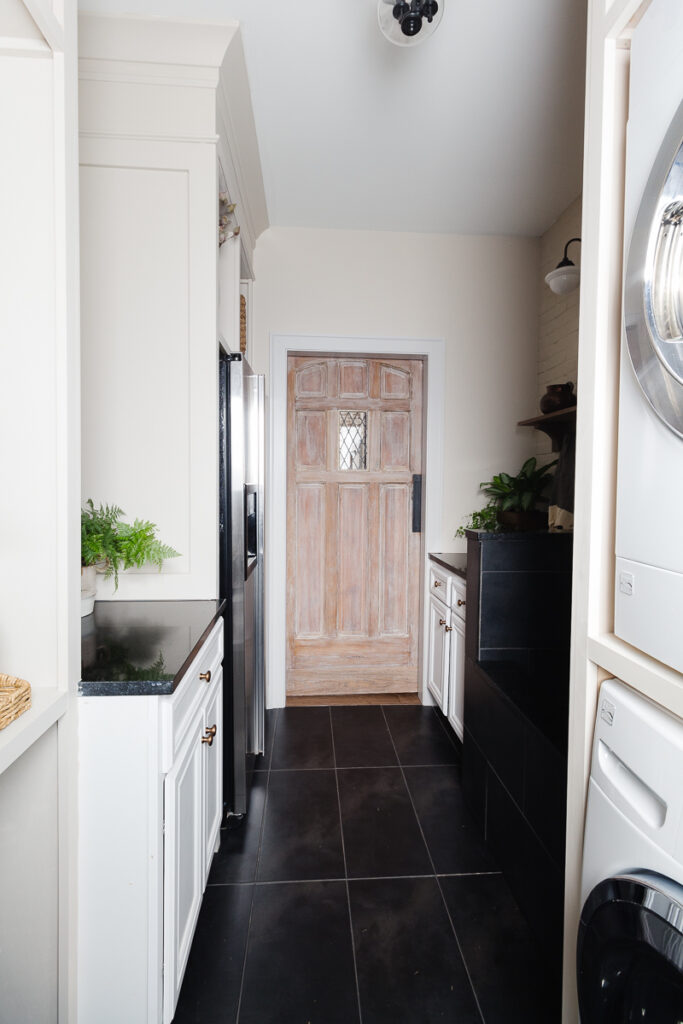 The lime wash tones down the orange-pink tones and disguises the oak that was pieced in at the bottom to give the door the proper length.
To provide a smooth opening and closing of the door, I installed a Modern Rectangular flush pull from Emtek. I must admit I was extremely proud of the router skills I didn't know I had, but needed, to install this plate.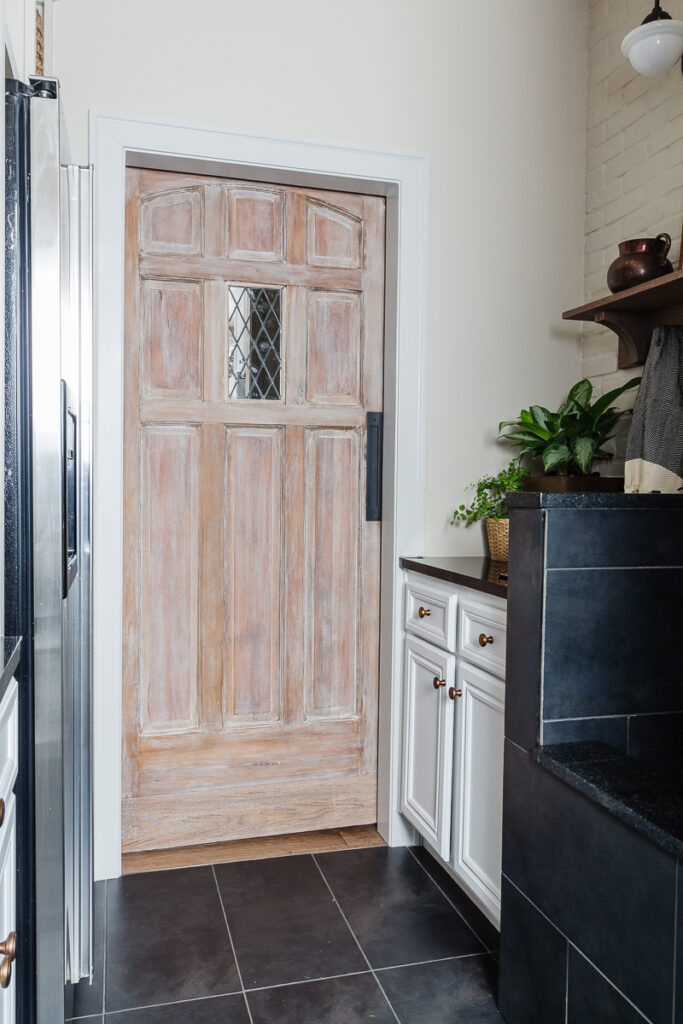 The semi flush mount lantern is the smaller version made by Hudson Valley Lighting. I love the glass and dark metal combination.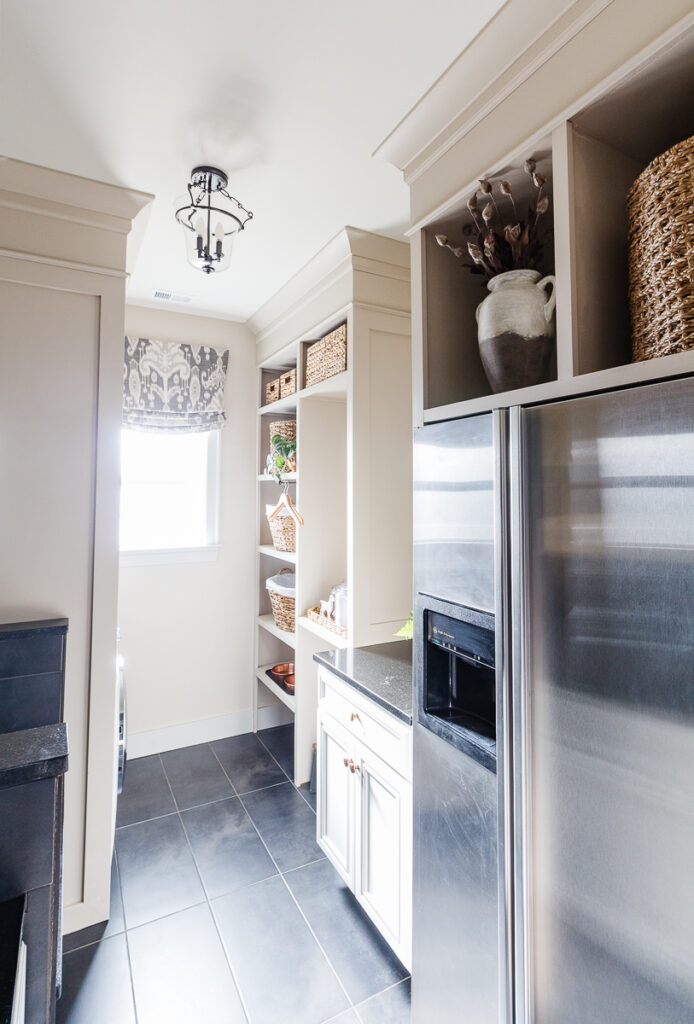 The only piece I didn't mention in the room was our second refrigerator/freezer. It was a leftover from several houses ago, but it's still going strong. Having additional freezer space is especially nice during a pandemic. The refrigerated side is used mostly to store cold drinks and water except for during the holidays when it gets filled to the brim!
Special Thanks to my Sponsors
This season I am so thankful to have Build.com as a major sponsor for this makeover. Without their generous contributions, I would not have achieved all of the goals I set out for this room.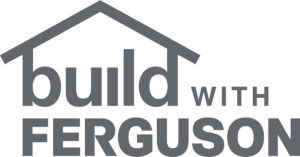 Paint sponsor is Sherwin Williams, featuring their new Emerald Designer Color Collection. Door hardware from Emtek, Brackets by Osborne Wood Products, Fabric by Calico Fabrics Light from Hudson Valley Lighting and moulding from Novo Building Products.
Be sure to follow me on Instagram @deeplysouthernhome and my Facebook page Deeply Southern Home for behind the scenes on Stories, and sign up to receive my blog posts straight to your email inbox by clicking here.
Be sure not to miss the Featured Designers and their virtual projects with High Point Market. Also, visit the hundreds of other Guest Participants linking up their reveals until November 29th. Keep checking the link-up and see the new ones added daily!
And last but not least thank you to Linda at the One Room Challenge for hosting this amazing event year after year. The official media sponsor is Better Homes and Gardens. Often they choose projects from the event to be featured in their magazine! Maybe this will be my year!!