Earlier this week I made a pot of my favorite Tomato Florentine Soup. It is definitely one of my most requested recipes. I shared it on my blog years ago when it was just a little family thing, but I thought this is a wonderful time to share again with all of you.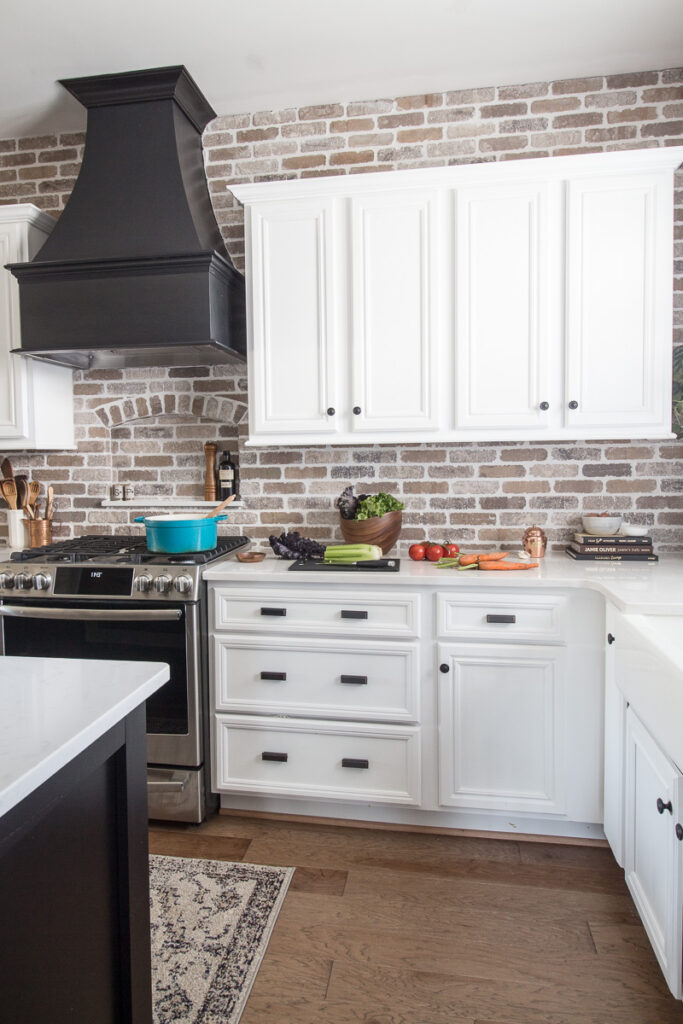 Here is the origin of the recipe.
I've been working on this recipe for quite a while now. It's inspired by my favorite soup at a local cafe/bakery. I can not go to this place and not order this. It is so good. I really wanted to make this at home and with a little help from a friendly waitress, I think I've finally got it right. It certainly is the most delicious tomato soup I've ever had. Part of what makes this soup so wonderful is the rustic flavor that comes from leaving the vegetables chunky and not pureeing the soup, which seems to be common practice among tomato soups.

September 2013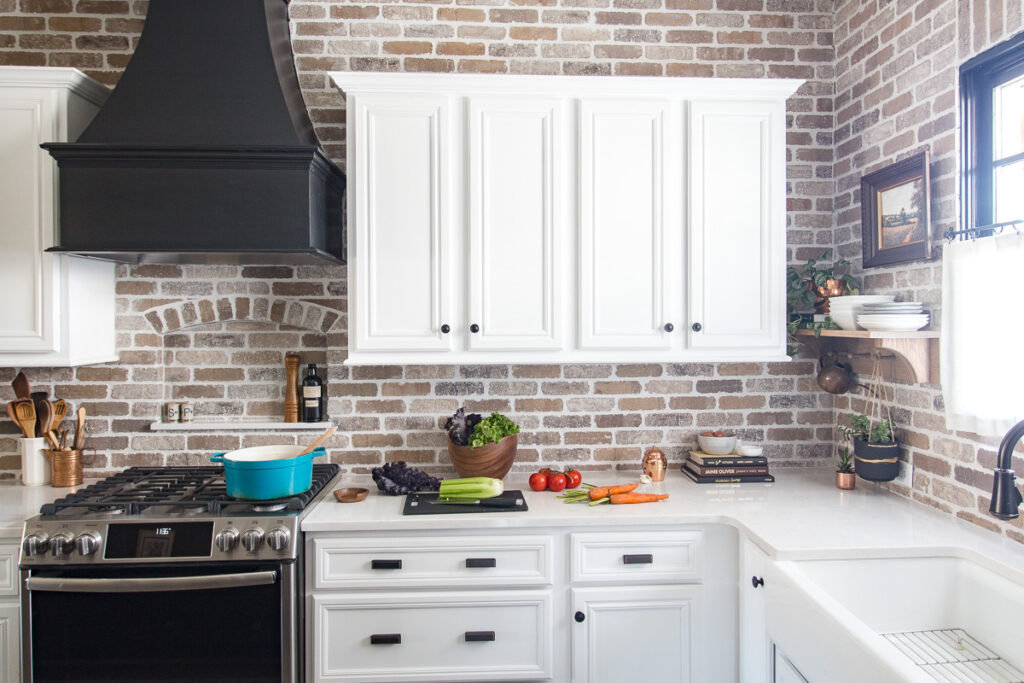 While the focus of the photoshoot this week was the kitchen, I only have my old photos from the original post. I'll come back and add new freshly styled photos soon. But it's too good to wait until I make it again to share. Most of the fresh ingredients for the soup are on the counter though.
See the full reveal of our new kitchen here.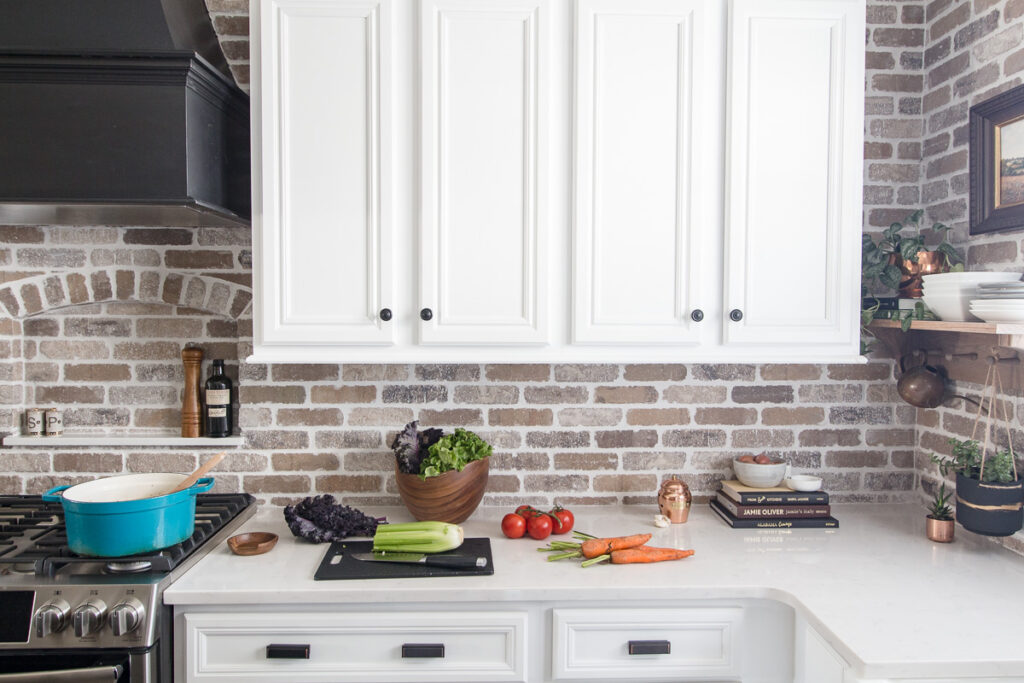 I now add Italian sausage to the recipe to give it some protein. It is delicious either way. The other change I made was to eliminate the corn starch and use cream instead of half and half. That makes it more Paleo/low carb friendly.
Rustic Tomato Florentine Soup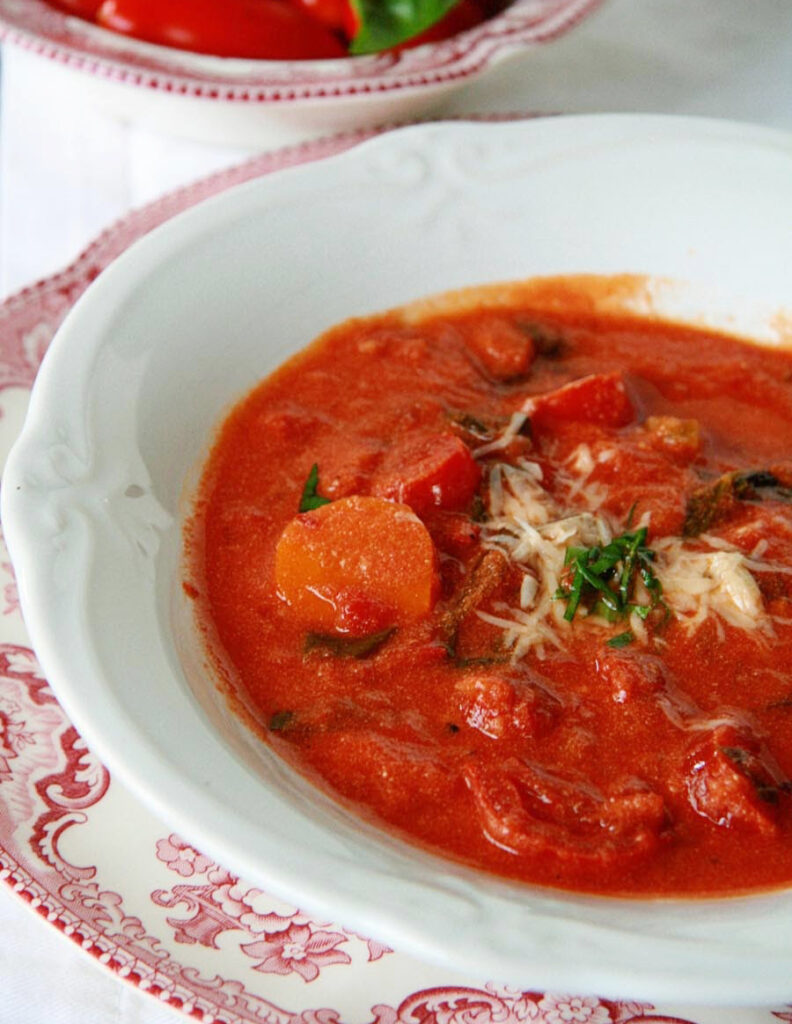 Ingredients
4 tablespoons olive oil
1 lb Italian Sausage (optional)
1 large onion, finely chopped
2 medium carrots, sliced
2 celery ribs, sliced
4 cloves garlic, minced
1 pinch red pepper flakes
1/4 cup white wine
2 bay leaves
3 tablespoons corn starch (optional if using cream)
2 cups tomato juice
2 28 oz cans of whole tomatoes with juice
OR 1 can and 4 cups of grape tomatoes sliced
2 tablespoons dried basil or 1/4 cup fresh basil leaves, torn
2 tablespoons sugar (optional if Paleo)
2 tablespoons balsamic vinegar
5 oz frozen spinach OR fresh
1 1/2 cup half and half (or cream)
2 tablespoons butter
Directions
1. In a large stockpot or dutch oven, heat 4 tablespoons of olive oil over medium high heat. If using, brown Italian sausage and remove from pot.
Add the chopped onion, carrot, celery, and garlic. Then, season with salt, pepper, and red pepper flakes. Stirring occasionally until the vegetables are just beginning to soften, about 5 minutes.
2. Carefully pour in white wine, simmer until almost completely evaporated. Pour in the cans of tomatoes with their juices, or 1 can and sliced grape tomatoes. Add tomato juice, basil and bay leaves. Increase heat to medium-high and bring soup to a boil for 1 minute. Then, reduce heat and simmer soup for 10 minutes until vegetables are tender crisp.
3. Then stir in the sugar and vinegar. Add spinach and allow it to begin to wilt.
4. Add the half and half. Stir in a slurry of corn starch dissolved in about a 2 tablespoons of half and half and let cook on medium low for a few minutes to thicken.
5. Stir in butter and once it's melted it's ready to serve. Remove bay leaves. Ladle into bowls and garnish with fresh basil and grated Parmesan cheese.

If you like tomato soup, you will love this one! Pin it now, because it is a keeper!!