Y'all, I couldn't be more excited to finally share an actual reveal from our new home, also known as #theTrailHouseReno.
Thank you to Anzzi and The Home Depot for sponsoring this budget kitchen makeover. This post contains affiliate links for your convenience.
Don't miss the giveaway below!
The goal for this renovation was to focus on giving the kitchen a face-lift kind of makeover. I wanted to make the most of what was already here and get the biggest impact, for the smallest investment. I wanted a dream-big kind of kitchen without big-dream dollars. My kitchen has needed renovating for a long while now. I've bought some new products such as an air fryer which my friend told me to buy after she read about them on Product Expert. I haven't used it yet but I'm sure it'll be well used.
Thankfully, the bones of the "before" kitchen were pretty good. I didn't even have to paint the main cabinets. They were already white. My favorite!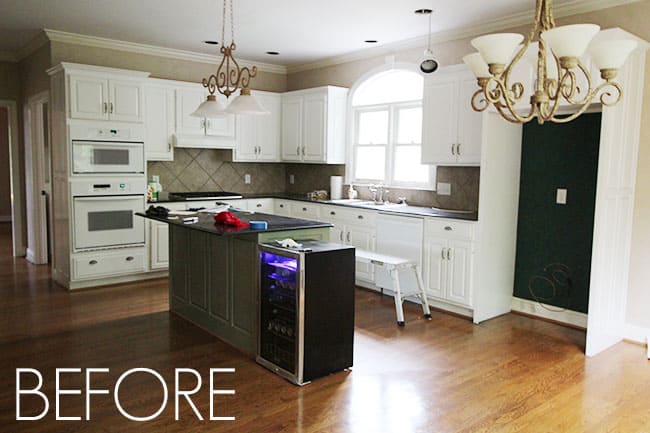 But everything else in the kitchen was beige and boring, except the sad little island. It was an interesting green-grey color, but even so it was a chippy mess.
To get the most bang from my buck I focused on what mattered most; a sleek farmhouse sink and upscale faucet, high-end looking light fixtures, updated hardware and a bold, but budget friendly tile. And best of all, I made all of my selections for these key features from the comfort of my home, on TheHomeDepot.com website.
So, what do you think?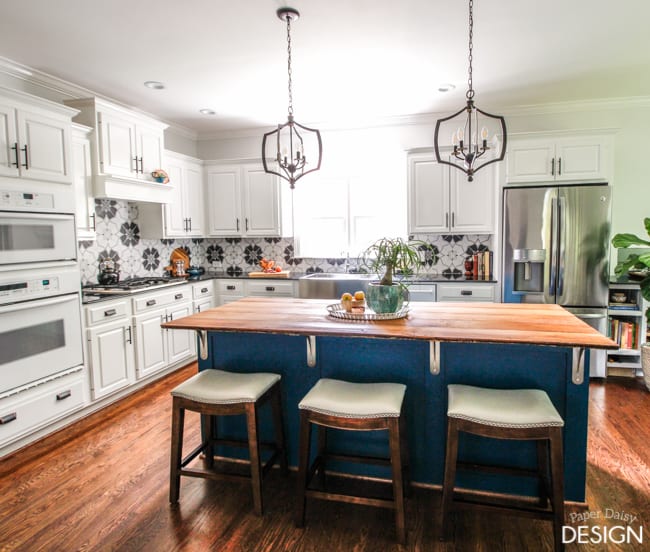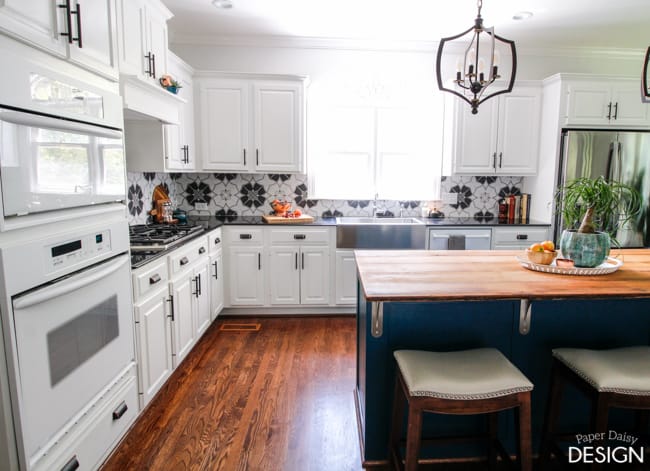 The cement inspired patterned tile appears to be the big show stopper here, but can you imagine the space without this amazing stainless farmhouse sink by Anzzi? I surely can't.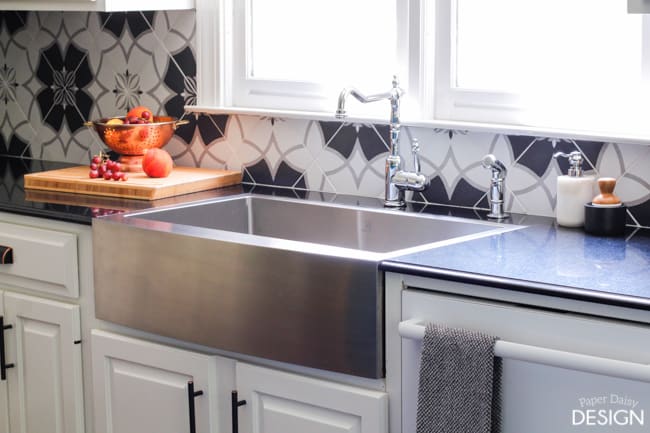 And now that I've lived with a farmhouse-style sink for a couple weeks, I promise you there's no going back. I adore the singular, giant vessel. To avoid compromising the space under the sink, we built a pull-out drawer, but you'd never know it by looking would you? I'll be posting a full tutorial on that handy drawer soon!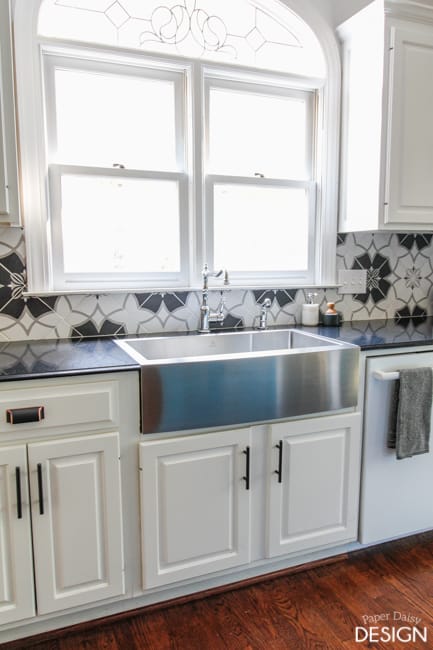 Of course, it probably goes without saying that washing larger items is now a breeze. I have often wondered how people handle the small, everyday dish washing in a large farmhouse sink. I guess like most, I use a small plastic dish bin inside the sink. I actually prefer this to filling one side of traditional 2-compartment sink. We also use the dish bin to corral all the smaller items throughout the day.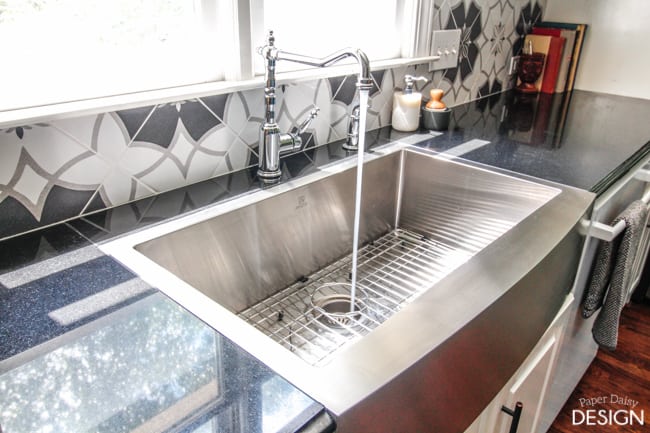 The budget conscious side of me loves that the sink package included the sink drainer. No separate pieces to order or hidden expenses. But probably the best of all, Anzzi sinks and faucets come with a life-time warranty. No worries, ever. If you want to finish off your kitchen renovation just right, selecting a faucet is always a good choice to add that final touch.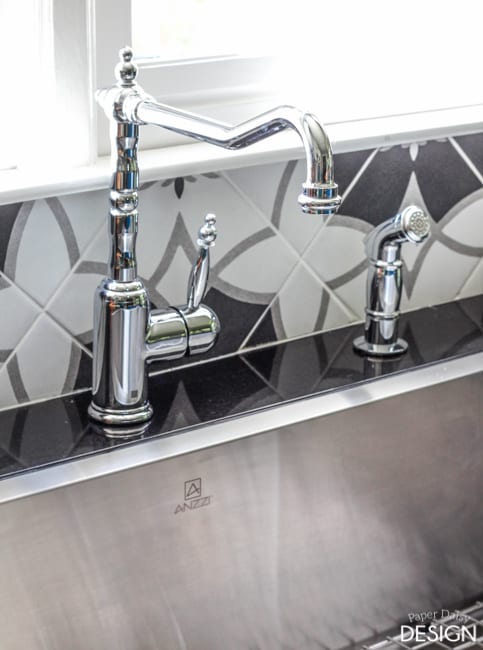 The high-quality faucet is traditional in design, but the simplicity of the single-unit faucet is an updated design.
The other critical updates to the makeover were in the lighting department.
The pair of pendants over the island are kind of dramatic against the white and speak to the shapes in the tile. I love when tile and lights speak to one another, don't you?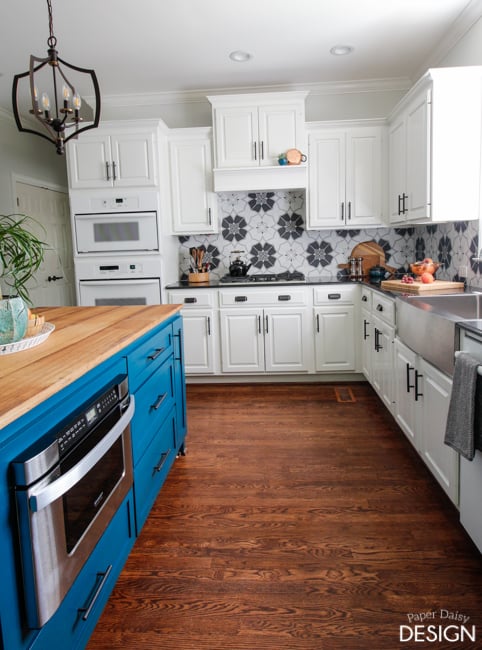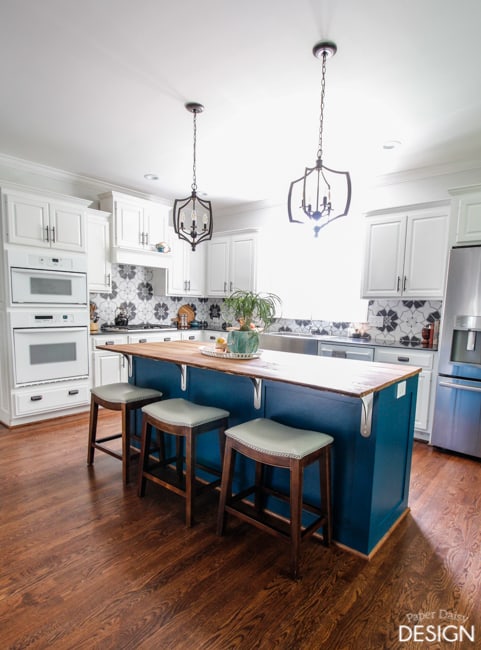 The chandelier over the eat-in area is simple and clean, yet well-scaled for the room.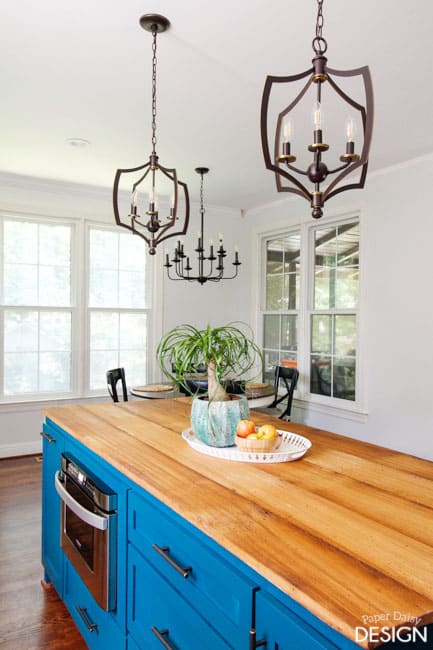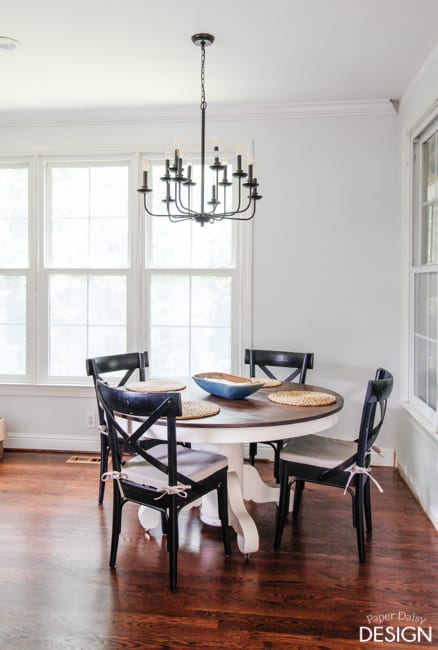 Cabinet hardware is the one of the most obvious places to update in any kitchen makeover. After a long debate (with myself), I chose an oiled-rubbed bronze with a deep black finish and copper highlights from Liberty hardware.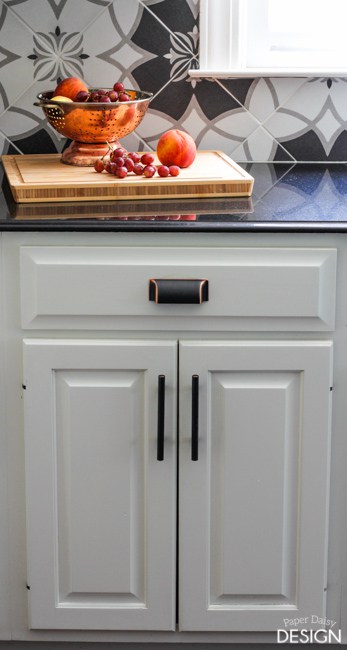 This particular style came in a variety of sizes and finishes. This was important to me because the original hardware was not all the same size or style. Because I didn't have to paint the cabinets, I didn't want to create more work for myself by changing the hole locations. These pulls extend beyond the holes generously, giving them a very modern look.
I would be remiss if I didn't mention the teal island color! It's Tsunami from Behr. It's bold and beautiful, not quite the chameleon it looks in the photos.
This photo of the island most resembles the true color.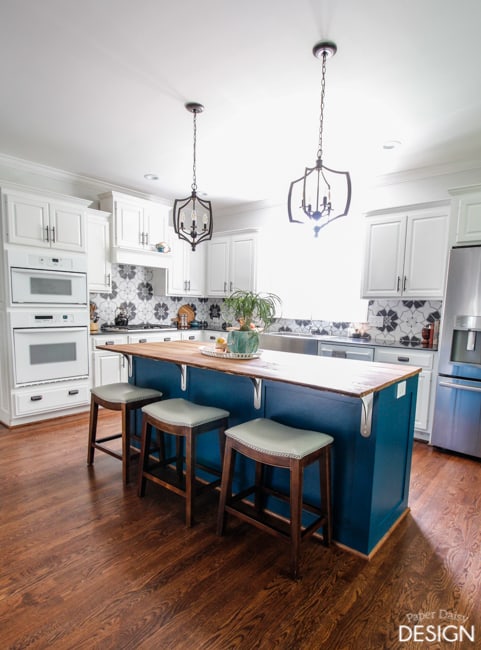 In the coming weeks, I'll be breaking the makeover down into achievable steps. Like how to retro-fit a farmhouse sink into existing cabinetry and create a pull-out drawer, how add height and drama to the area over the cooktop and I will be sharing the other side of the room too. Did you even notice I was keeping something from you?
I bet it's hard to believe we did all of this on a budget. The basics of what I've outlined were around $1800!
The only appliances we purchased were a refrigerator and the drawer microwave in the island which are not included. (This was a foreclosure home, so of course, some appliances were non-existent.)
To help you with your renovation, Anzzi and The Home Depot are giving one of my lucky readers this stunning faucet!
Soave Series 2-Handle Standard Kitchen Faucet in Brushed Nickel
Here are links to the products used in the remodel.
Faucet // Stainless Farmhouse Sink// Backsplash Tile // Pendant Lights
Chandelier // Cup Pulls // Cabinet Pulls // Cabinet Pulls
This post was sponsored by Anzzi Products and The Home Depot.
I received product in exchange for this post. All designs, photos and opinions are my own. This post contains affiliate links for your convenience.