If you've been following along with our  reno project then you realize I have fallen behind in my weekly updates.  I have pretty much decided it's time to let that part of the story go and move to writing timely updates when there is something new to report or reveal.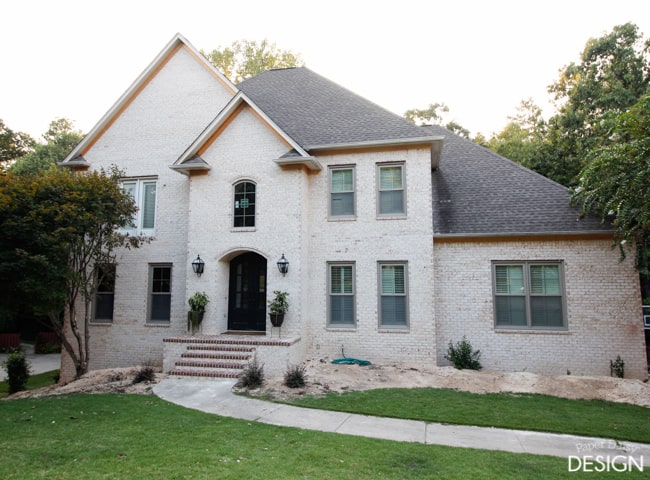 There are a few reasons for this change.
The speed at which progress is happening has slowed considerably.  There is just not enough to share to week to week. Probably because of #2
Our contractor is super flakey. We are promised he will come and then we are left waiting and waiting for his return. We don't have any great loyalties to him and could try to find someone else to do the work we need done in the basement, but we respect his painter and drywall guy and want him to be able to do the work. We figure the contractor only has a few days of work left to complete around here. We also realize a majority of contractors are equally as flaky. It's like a contractor disease.
I would much rather share room reveals.  We are far enough along in the process now that room reveals are actually happening! This is the fun part! I want to be able to focus on presenting one space at a time.
But before I leave you I do have a few updates.
Did you notice the one constant, nagging thing that is missing from these photos?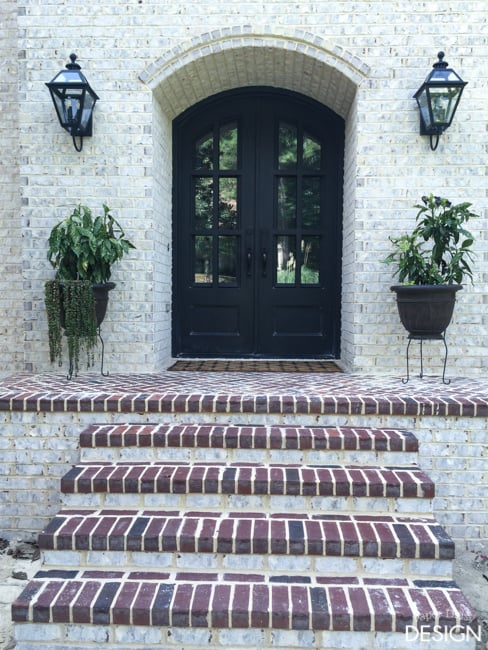 That's right! The pole jacks are finally gone.  The owner of the jacks, not to be confused with the absentee contractor, came to retrieve them a week or so ago.
The painter still needs to paint the facia boards, the french door and the back siding. We are still missing the railings too. One of our guys took them to be sandblast and they still haven't made it back to us.
The window work is now complete. The installers returned to wrap the brick mold in the proper finish. So we are slowly making progress toward a finished exterior.
Our motivated daughter cleared out a majority of the miscellaneous items in the dinning room. If you remember this room was packed with misplaced furniture and decor for the basement. We have a little room in the basement that was once a dark room that she packed most of the items into. We also had a garage sale to raise funds for a flood victim in Louisiana, some of what was in there was sold.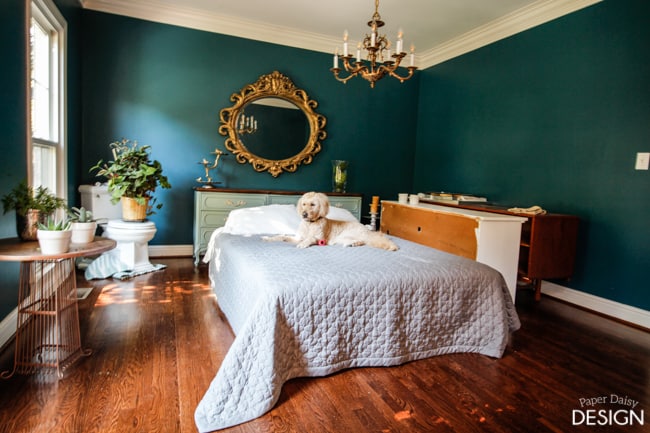 I guess I should explain the bed though….My very best friend and her family came to visit a couple weeks ago.  Since our basement is in shambles, we have no guest bedroom and we had 6 people we needed to put up for the night. Fortunately we had not long purchased a new king mattresses. After a long time of searching, and reading leesa vs casper reviews, we finally found the perfect mattress. Two of the six slept on this in our dining room, and they absolutely loved it!
After they left, our goldendoodle Tucker decided this was the most awesome dog bed ever!  We haven't had the heart to prop it back up against the wall where it had been. Yes, we really do spoil him that much.
And maybe you noticed the expensive plant stand in the corner??
That shiny new toilet was delivered along with other larger items a while back. It will eventually go in the master bathroom. For now, it sits patiently in the corner and the plant is happy there.
Now for my favorite part…since the last update I revealed the first phase of our budget kitchen makeover can be seen here. The second reveal featuring mostly the other side of the kitchen will happen once the new window over the sink is installed. That will likely be in 3-4 weeks.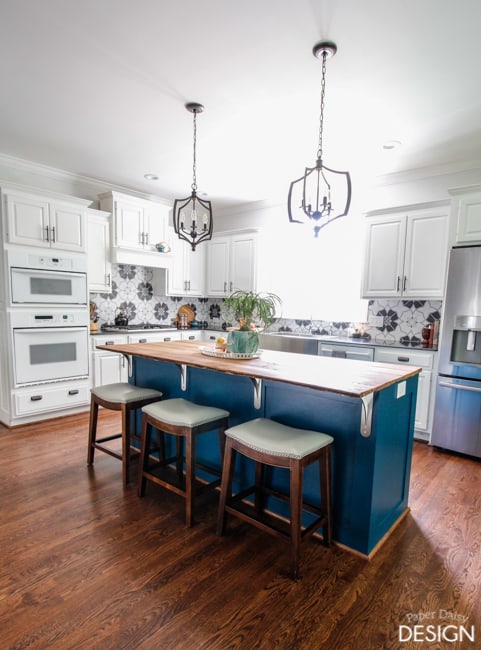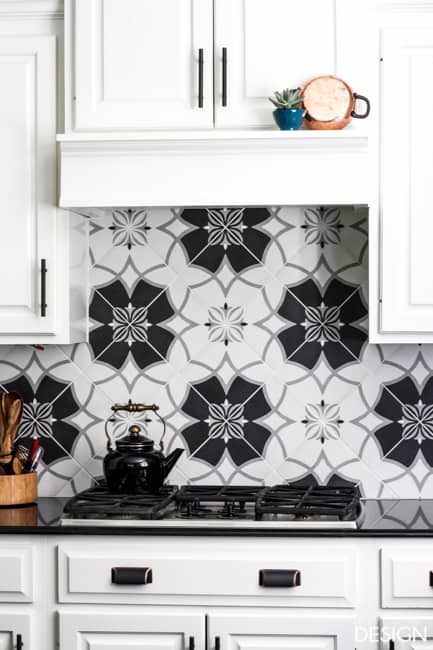 If you would like to see more of the kitchen, click here.
There is good news to having an AWOL contractor, we were forced to learn how to hang an antique door and door casing! The very best part of this scenario is that we finally have a door to the powder room! And I might remind you this is the only functioning bathroom on the this floor, so it's kind of a big deal to us.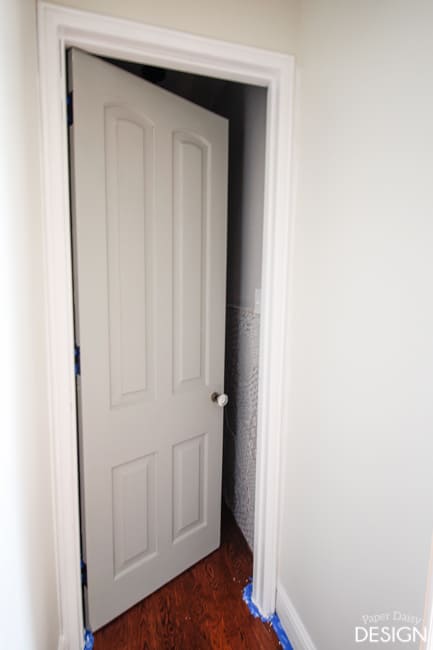 Actually, these are carpentry skills we will be continuing to hone. The plans for the master bathroom include all new moldings throughout the space.  Yet, we waited and waited for the contractor to do it because we felt we had other, more pressing projects we needed to focus on. Now, with the casing finally hung I was able to finish the last little bit of tile work in there. The reveal for the powder room will happen early next week!!
Also since the last reno update post, I revealed a quick look into the bedroom upstairs. Click here for more.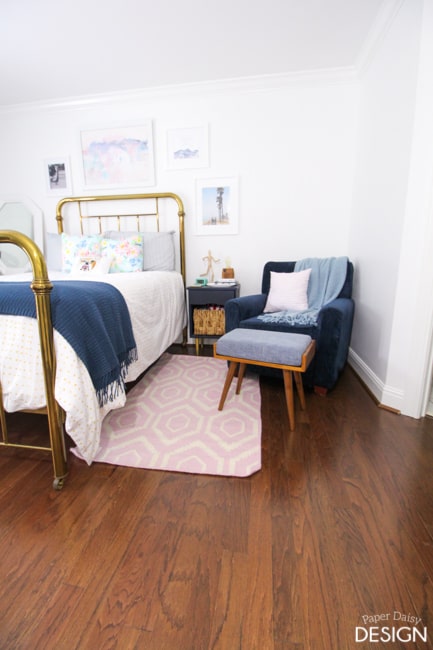 I hope you continue to follow along, even with the editorial change. I will still give an overview of the whole house from time to time. Not to worry. Be sure to subscribe to the updates delivered directly your inbox, as to never miss a post, update or reveal. Click here to subscribe.