I'm extremely happy to report we now live in a brick house! Not just a house wrapped with Tyvek or even the old Dryvit.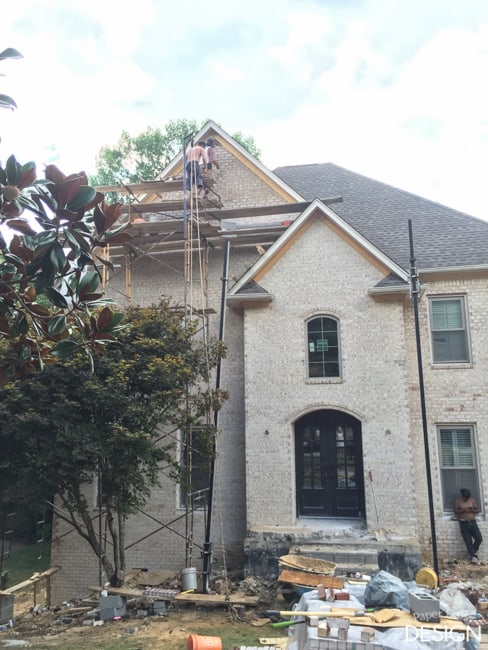 This photo is of our mason setting the last row of bricks on the tallest gable. I literally wanted to stand there and do a happy dance!
We had a planned trip to Louisiana to visit family and pick up our daughter from a week-long leadership seminar. We were pretty nervous about leaving town with the house looking like this.
My new neighbors were so very kind and knew our concerns. They would send us photos at the end of each day to help us keep tabs on the progress.
I must admit it has been immensely heartwarming to meet our neighbors walking by. More than once they have expressed their gratitude, saying things like, "Y'all saved that house."  We also can't help to chuckle each time a neighbor drives by slowly, catching a long glance from their car at the progress.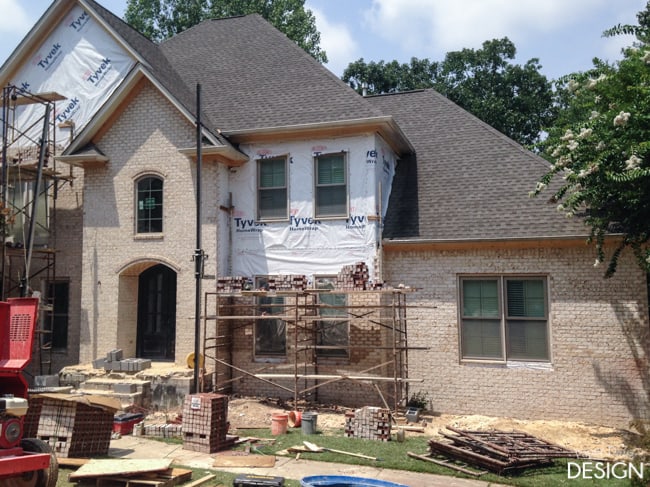 The masons still have the staircase to rebuild and a retaining wall to finish. They will likely be here for a few more days.
I've been sampling paint colors for the back of the house. Agreeable Grey by Sherwin Williams became the choice.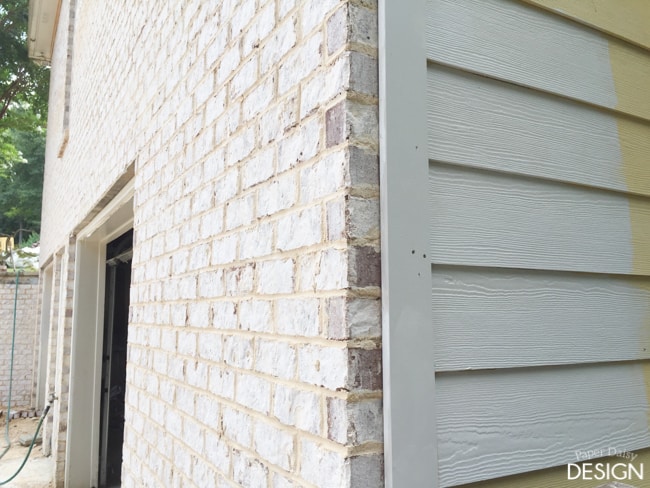 Inside, the house is still in complete disarray.
With previous moves, it was not uncommon for our house looking like a home in a matter of a couple days. This time we still have piles of misplaced belongings and furniture in nearly every room. Not even one piece of art has been hung on the walls.
Before and after our trip, I have been working on completing the tile in the powder room. It has been progressing much slower than I had anticipated. It is nearly done now and we are moving in a toilet today!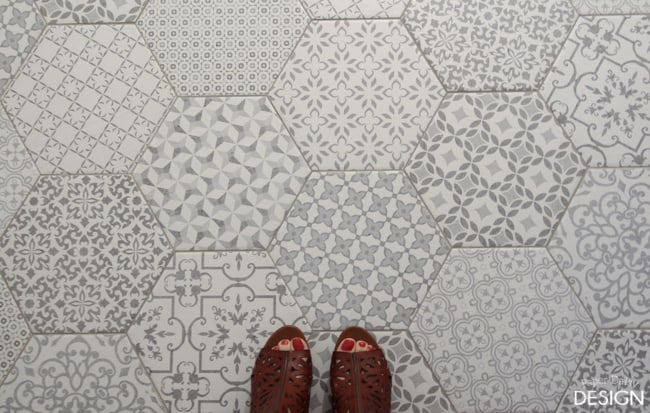 And that news is about the best thing I've had to report in a long time. I can't tell you how excited we are to not have to climb a flight of stairs to get to a functioning bathroom!
I wish I had more finished spaces to share. I keep looking around to find a vignette or look into a room to share and they all look about the same or worse than they did a few weeks ago, but I can share a bit of reality with this.
Current State of #theTrailHouseReno report:
The kitchen island is only partially covered with a makeshift countertop. Basically, we are sporting the naked look all around. No backsplash and all of the cabinet hardware has been off for weeks.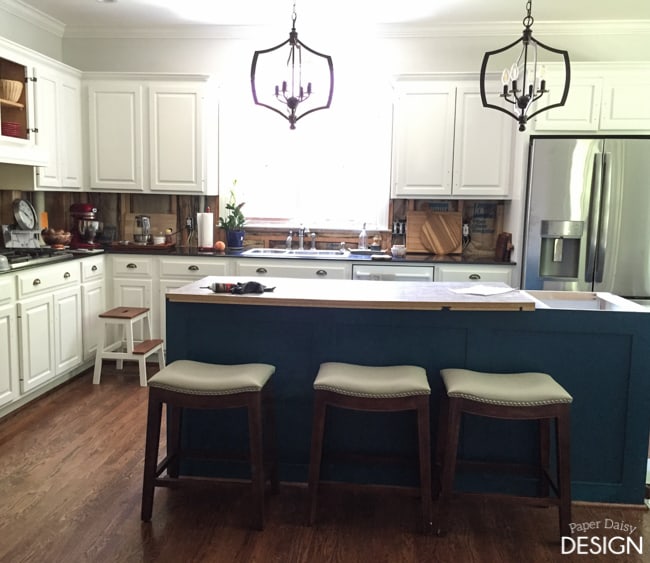 I finally succumbed to the idea of matching hardware and decided to replace them, but never installed them.  Here's a sneak peak at where we are headed! I keep telling myself, "Keep your eyes on the prize, Leslie."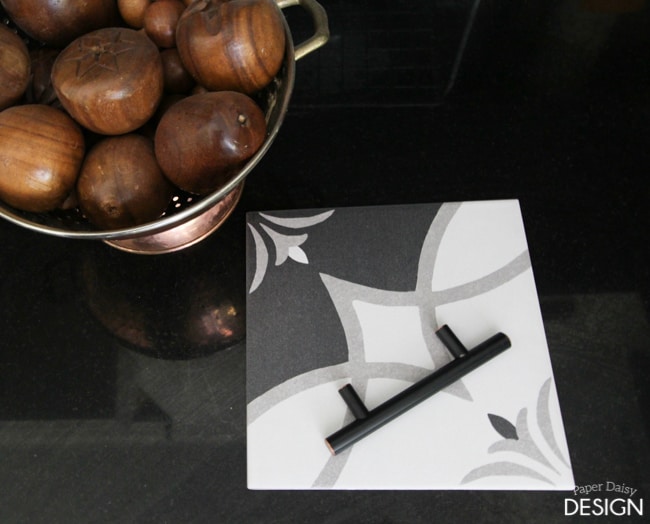 The master bathroom is still a shell of a room, no toilet or fixture in sight.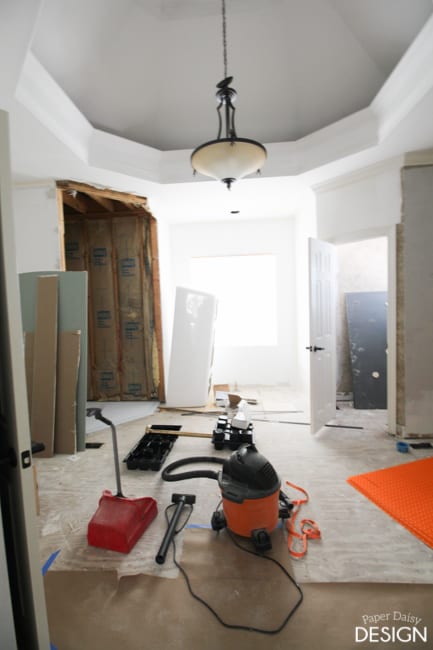 The master bedroom is the temporary home to the vanities for the bathroom, along with an extra bed or two. It's pretty cramped and cluttered in there. I am usually all for full disclosure, but I can't even bring myself to show you this room. 
The dinning room is full of the contents of the basement and the porch. Thank goodness we sold our dinning room table and the sectional from the basement!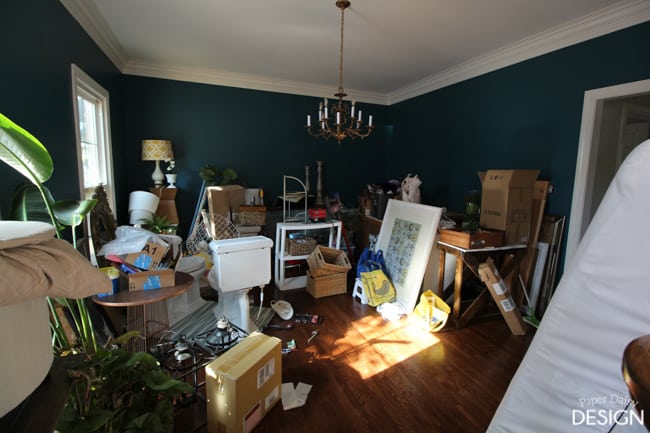 The finished basement now looks like it never was finished because we ripped out the drop ceiling and gross carpets.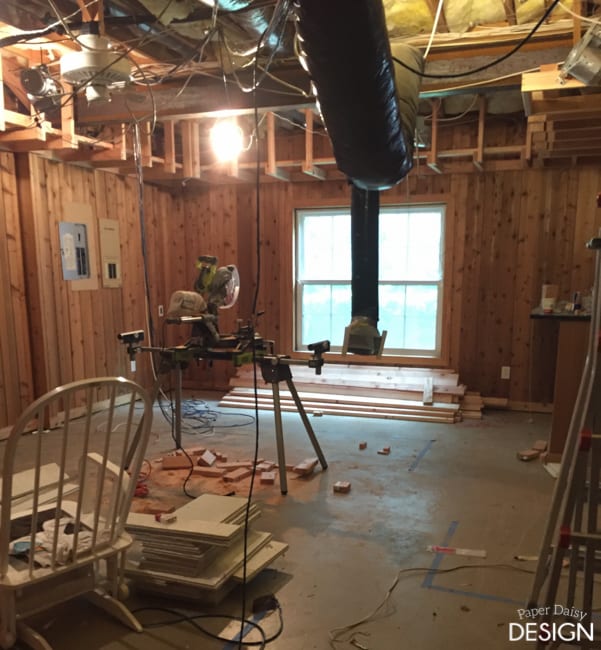 My office/studio is a complete disaster because I haven't taken the time to unpack and organize.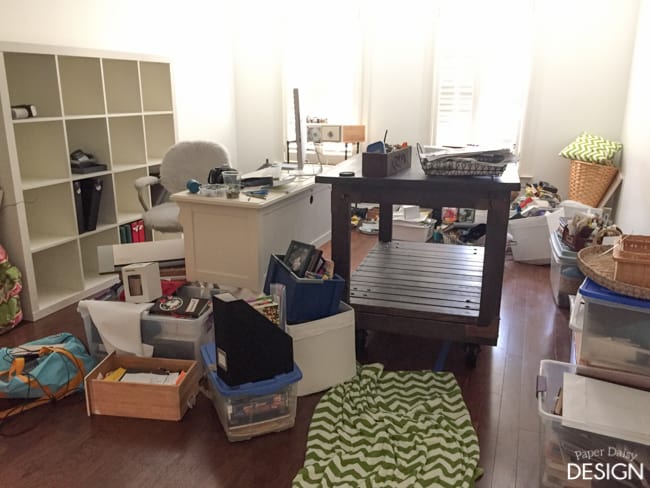 So, when I say things are in shambles, clearly, I'm not exaggerating.
I'll be sharing more of the powder room next week. Hopefully, with that huge accomplishment off my to-do list, I can get a few more spaces in order.
Need to catch up on previous posts? Click here for a complete list week by week.