I readily admit this week's update is a bit tardy, but not without an excellent reason. If you follow me on Instagram, then you saw how I spent most of last week…at Vacation Bible School as a craft leader! I honestly don't know how teachers do it! Hat's off to you all. I was so completely exhausted each afternoon and wasn't able to complete as much as I had planned at the Trail House.
Not to worry though, some good things happened inside. Come check it out!
The hardwoods were installed in the master bedroom and repairs were made in places where walls were moved, etc.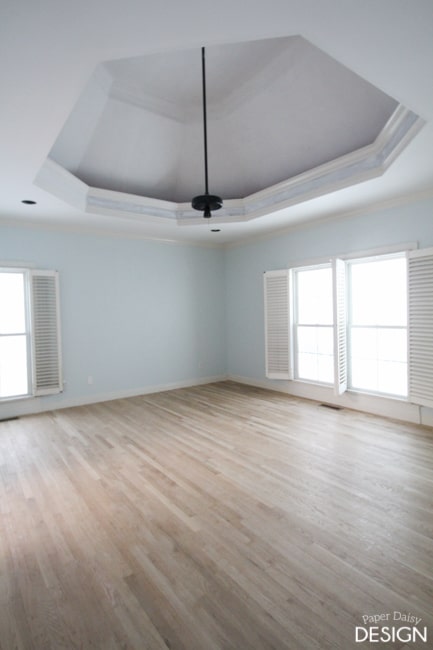 And look! I think the brown space ship appears to have vanished. I'm pretty pleased with how the white octogan is looking with the soft blue walls, Topsail by Sherwin Williams. The ceiling still needs one more coat of white paint, but it's a definite improvement. Don't you think? I'm totally feeling it was the right call to just work with the architecture we have been given.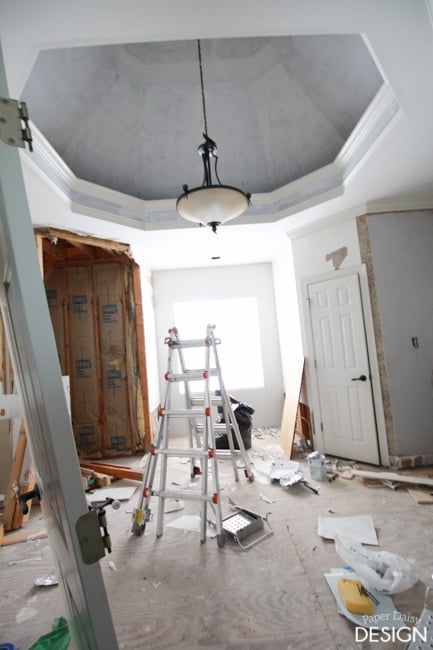 By the weekend, we moved the soaker tub in the bathroom for a dry run in preparation for plumbing. Hopefully, all of valves and faucets will arrive this week and we can make some real progress in here.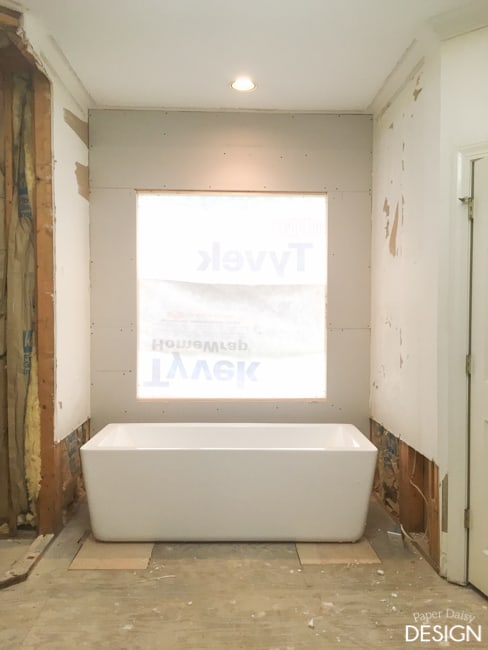 This tub is a bit more angular than the one we used at our old house. I'm going to transition to calling our old house the House on the Hill for convenience.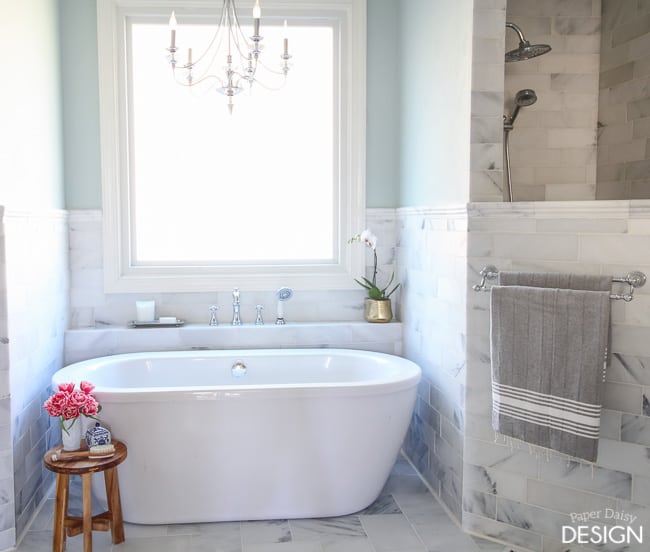 You can see more of that bathroom remodel here.
Even though we are only making a few key cosmetic changes to the kitchen right now, most of the action took place in there.
Taking advantage of the complete mess we are creating all over the house, we decided to make the critical adjustments that would truly impact the way the kitchen functions. This preparation will hopefully alleviate a major disruption to our lives when the more substantial remodel takes place. Maybe a few years from now?
From the very beginning planning stages, we felt like this kitchen could accommodate a larger island. The key component we wanted to add was a pull out garbage can. It's a small thing, but the addition of one in our last kitchen remodel turned out to be one of our favorite things. I really love the functionality and the concealed, full-sized garbage and recycling bins are much appreciated by the guy who takes out the trash. 😉
The new island arrived at the end of the week and we stored it in the dinning room temporarily.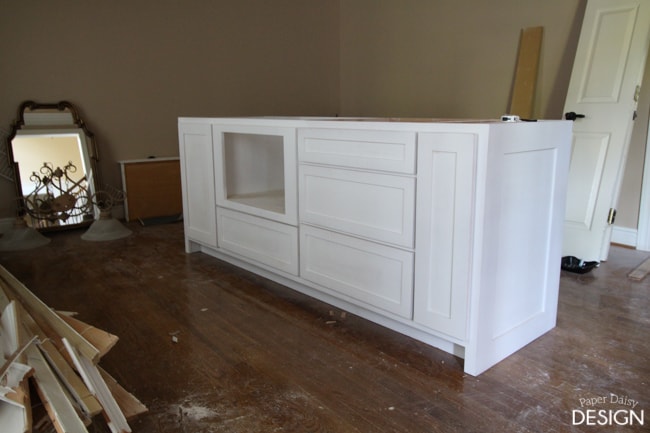 And it turns out that was a lucky move.
The other changes to the kitchen that are happening now involve moving lighting and adding a few more recessed cans, as well as, retrofitting them all with LED kits.
These LED kits worked perfectly in our last house and we loved the updated look. We discovered that some of the recessed cans in the kitchen were installed differently causing the retro fittings not to work. After struggling to find a solution, we had our electrician just cut out a few of the old cans and replace them so that all of the lighting was consistent.
And then this happened…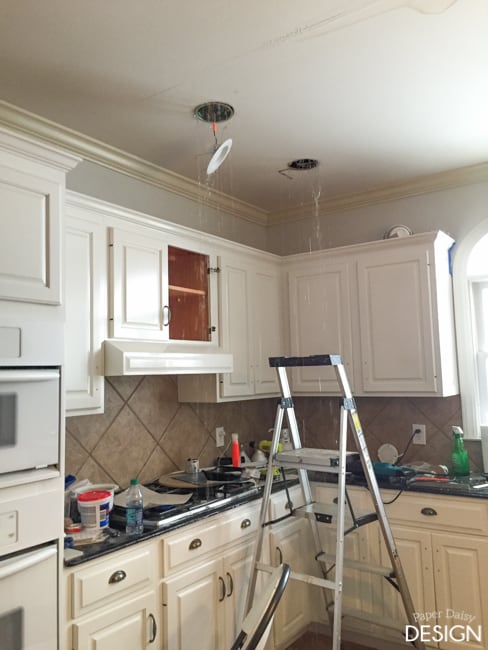 Yes, that's water pouring out of the lights. He accidentally hit a water supply line from the bathroom above! It appears everything has dried up fine with the use of a dehumidifier and no real damage occurred. (You can also see in the above photo the water stain that was already in need of drywall repair.) 
So, by the end of that day, the kitchen looked like this.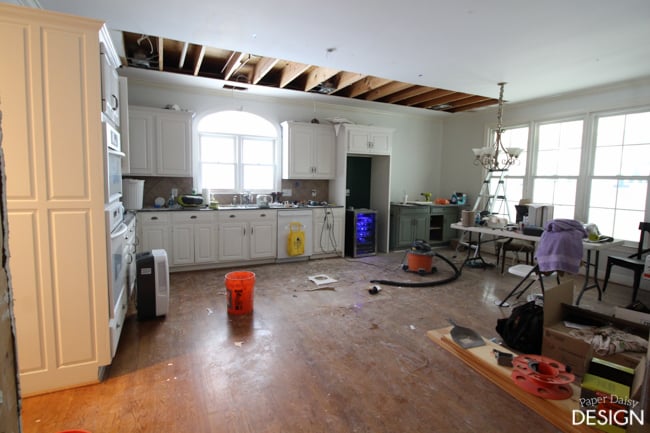 He ended up removing more than a good portion of drywall in order to install an additional can over the area to the right of the refrigerator where the old island will be fitted.
The last little nugget in the kitchen is this, I almost titled this week's post, "I found gold!"
While I have a plan and a vision for how this Phase 1 Kitchen remodel will look, and hope to share that with you soon, I have no preconceived ideas for the final version. Because of that, I wanted to really focus on creating a budget friendly makeover. Using the existing hardware saves a ton of money on a kitchen this size. Because I didn't have the energy to do much else one afternoon, I decided to clean the hardware up a bit and see what happened.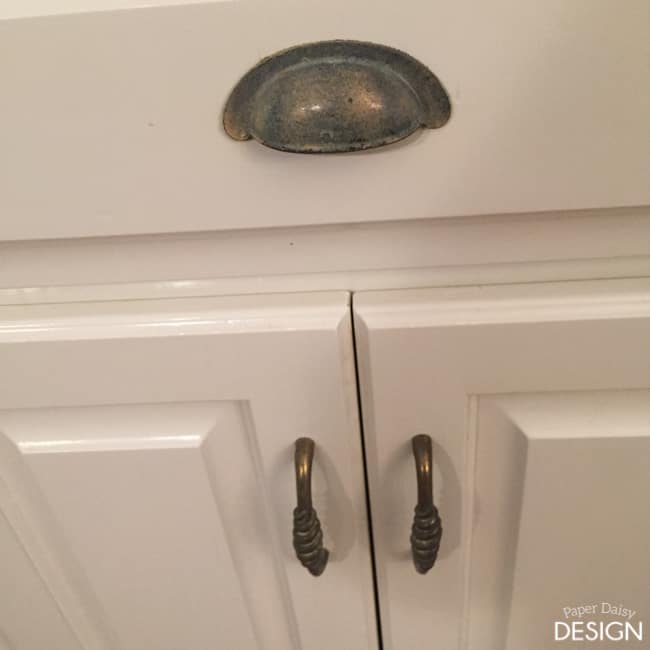 I honestly can not tell you what this finish is supposed to be. All I know was that in some places, I could see a bit of old gold. After a good bit of scrubbing and removing what I think was a glaze, or maybe just years of grime, who knows, they looked like this.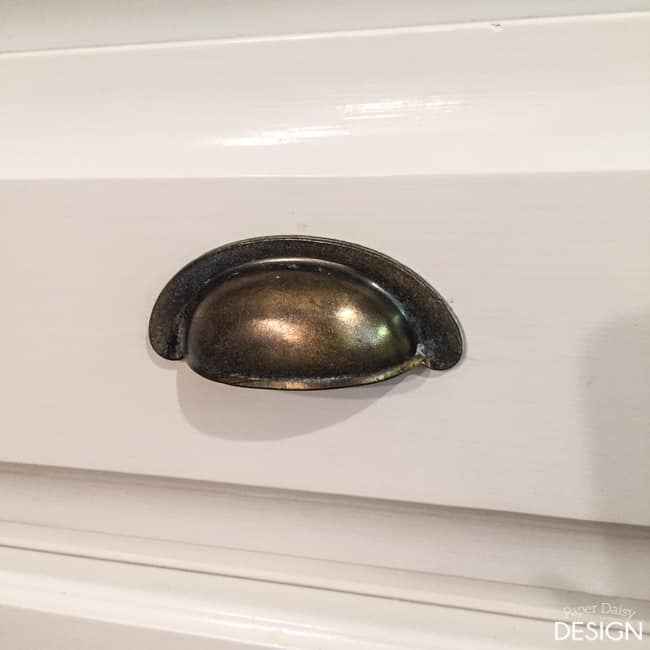 Given the fact that gold finishes are making a huge comeback I was delighted! I can definitely work with this!
Now, remember last week, I said those closets by the front door were the last things to be removed from the house? Well, they are officially gone!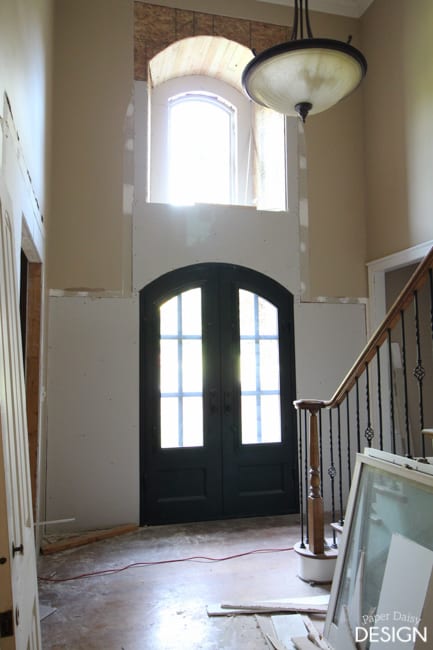 This looks so much better, right? I can assure you, living in Alabama, we won't even miss those coat closets!
And the last stop on this week's update is the back of the house.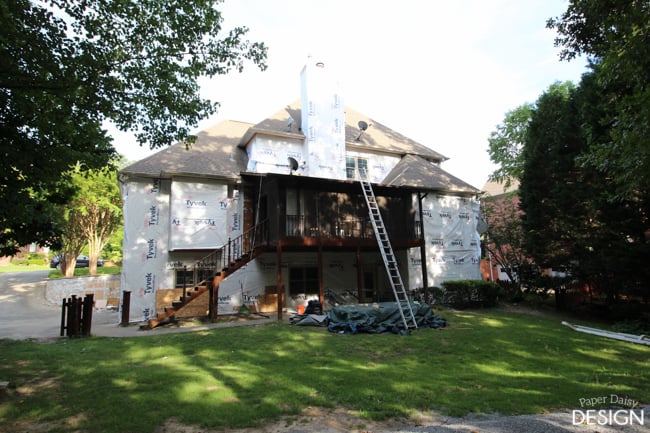 The last bit of Dryvit was removed from the chimney and now the house is totally free from that Styrofoam-laden nightmare. Actually, as I said before, the resulting damage was not as bad as we had anticipated. But it was a bit nightmarish to have to remove all of the Dryvit.
This week we hope to have all of the drywall work finished. We are also still waiting for the mason to show up. Obviously, that's getting a bit frustrating. But other than that, things are moving along. I have a few more rooms to paint and brighten up trim work and of course, paint that new island! Bet you can't guess what color it's going to be??
And the biggest news this week? We will be moving into the Trail House by the 15th of July! Yikes!