Thank y'all for putting up with these delayed updates! It's another combo post because I try to have a life separate from the renovation. I'm not always successful, but I try.
Let's start outside where we left off.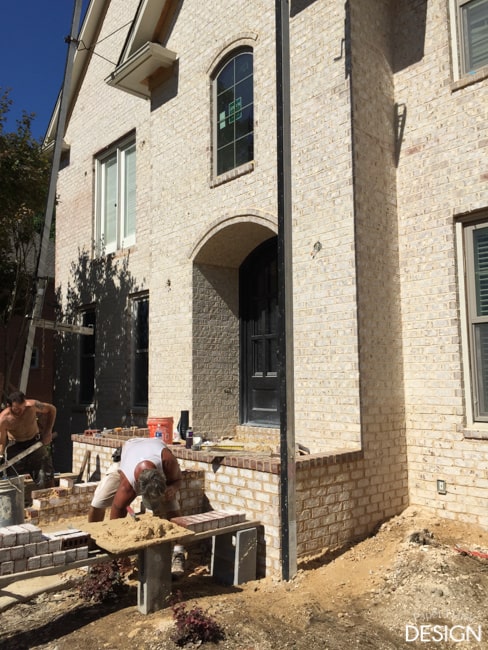 The porch and steps were completed with a contrasting, old-style brick. The brick used on the house has a powder coat on top of a deep, red brick. Though the powder coat makes it a terrible candidate for use on walkable surfaces, I just love the washed brick appearance on a house.
Throughout the reconstruction of the outside, I had always envisioned slate on the porch.  The mason advised against it because it can often be dangerously slippery when wet. Wanting to avoid that nightmare, I searched for different options and settled on a contrasting brick that has similar tones to those on the house.
Using a contrasting brick not only helped reduce material costs, but I think a brick front porch is very classic and timeless. It hardly looks like I settled in the end, you think?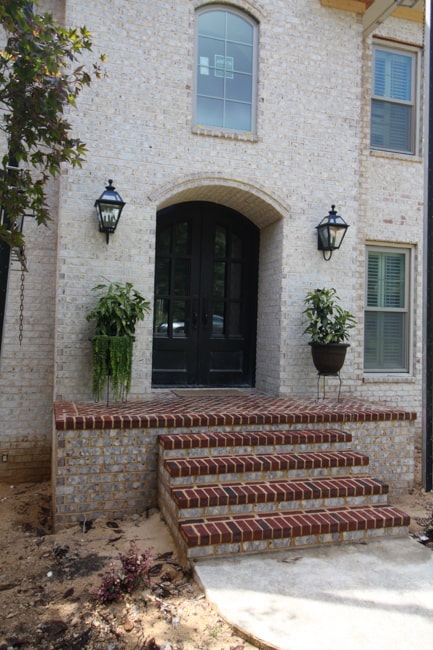 Of course, I wasn't going to miss the opportunity to elevate the design and asked the mason to set the brick on the top in a herringbone pattern.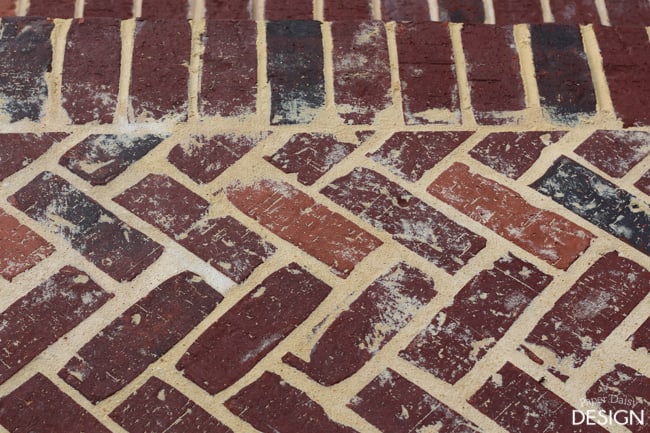 We are still missing the iron railings for the porch, the fascia boards and trim need to be painted and the windows need to be properly trimmed out. I'm pretty certain we will also add shutters, at least to some of the windows.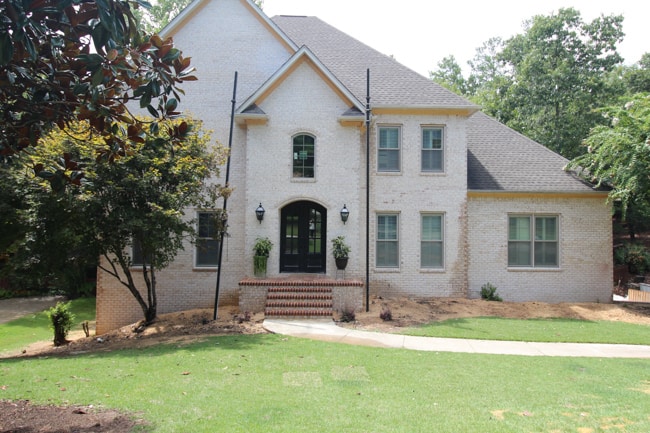 And can we talk about those pole jacks? They totally ruin the look.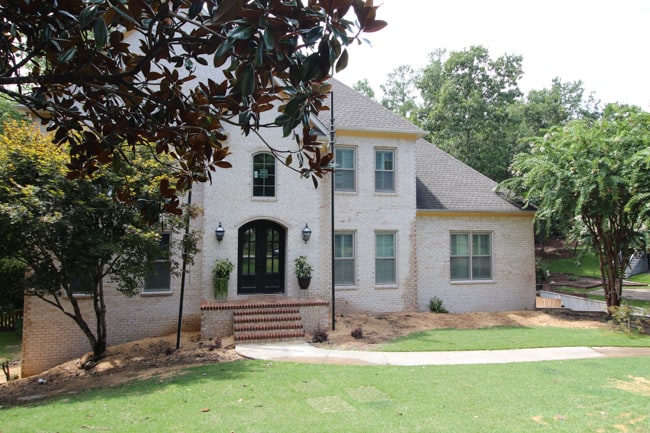 They are visual proof we are having contractor issues. The jacks were used during the demo of the Dryvit and have never been removed.  At some point someone said they left them up to raise the railing back up to the french doors you can't see on the left. Either way, both of those things need to be resolved.
Hopefully, we've turned a corner on some of those issues.  Today, finally, this pile of rubble and garbage was hauled off!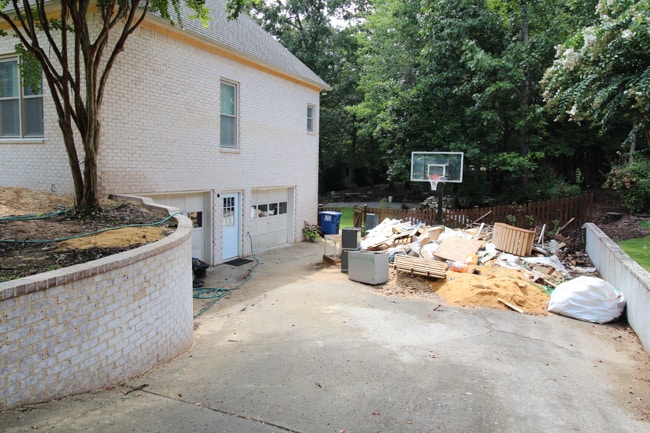 We have a driveway you can actually park in, my friends!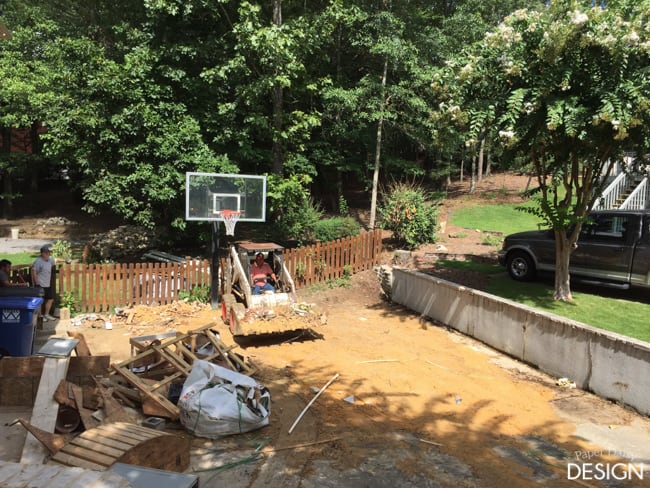 The state of things inside are constantly changing.  We take a few steps forward only to take a few more back.
Since the last post, we have experienced a merry-go-round of counters and no counters.  For about a week, the granite fabricator had all of the perimeter counters at their shop and only a partial makeshift counter on the island. I finally finished building the island top just before I left for Haven, a Home and DIY Blogging Conference. When I returned, the re-fabricated counters had been re-installed and we were ready to make a new mess. All of this will make sense when I reveal more about the kitchen, but for now check out that sneak peek of the island! 🙂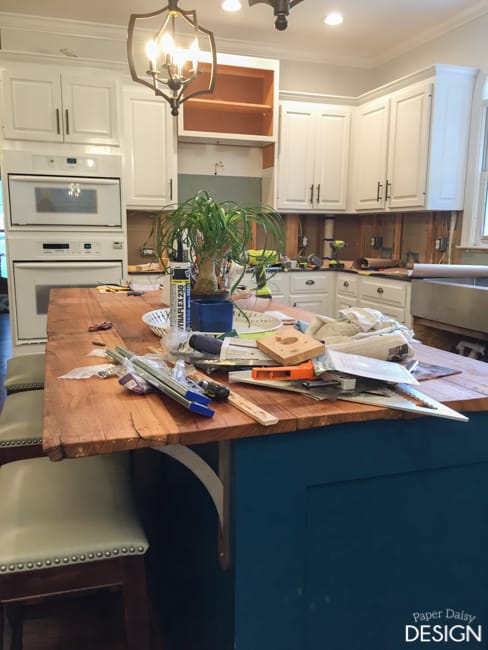 I keep telling myself it will all be worth it in the end.
This weekend's project is to finally tackle the backsplash. We had been at the mercy of our contractor/electrician this week to move some outlets for us so we could start the backsplash.  We broke down and hired another electrician we had used in the past. He came this morning to do the work! Hallelujah!
In the meantime, we have been re-configuring some of the existing cabinetry in the kitchen.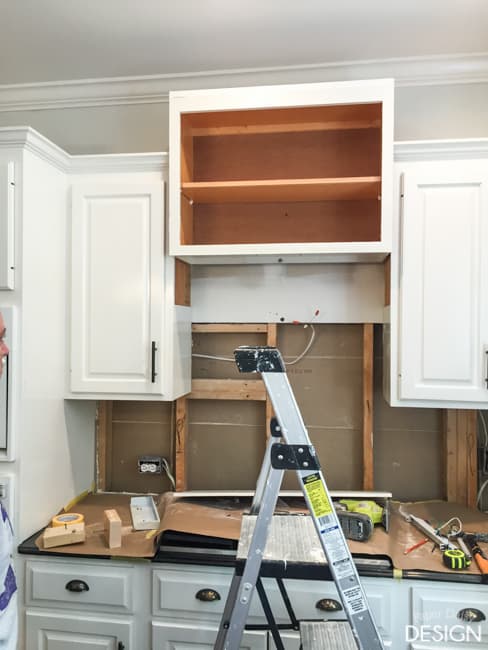 The best news –  we did indeed get a bathroom finished enough to have a toilet on the main level of the house!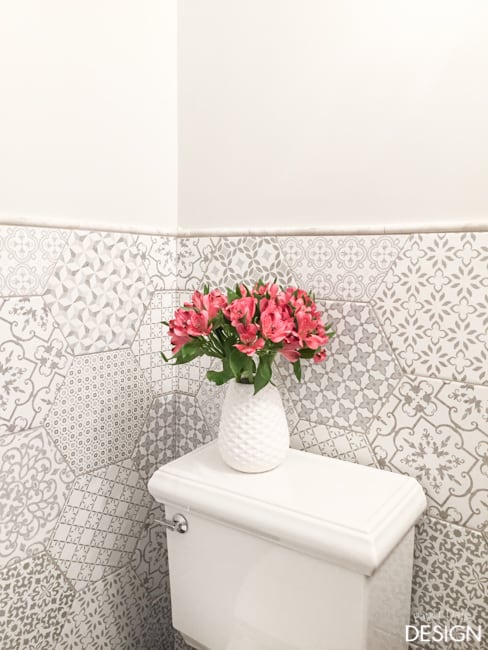 The room still isn't finished by most people's standards.  Most people require a door on a bathroom, right? Again, those pesky contractor issues. If this continues, I think Richard and I are going to have to up our carpentry skills and learn how to frame out an antique door! But at least we don't have to trek upstairs in the middle of the night.
Looking ahead, I have been doing some styling and just a bit of organizing upstairs for a post I'm sharing soon.  I shared this sneak peak on Instagram, so I'll share it here too.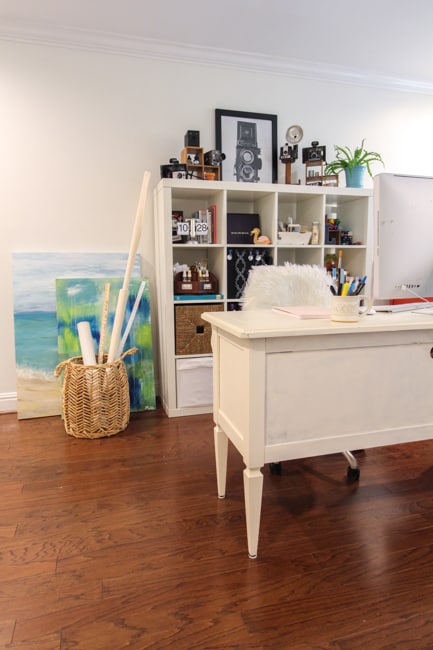 All of this happened in conjunction with a conference, moving our son into his first apartment and of course the first week of school for our daughter.  She is a senior this year, so physically I didn't have to do much, but mentally I'm just not prepared!
For the next several days it will be all about getting that kitchen finished, but look for that post and mini-reveal of the upstairs early this week!
If you want to circle back to the beginning of our renovation story, you can click on this link. Trail House Reno.