Embrace the simple beauty of fall in your entry or foyer with the addition of colorful branches in a vase and a collection of seasonal printables of fall leaves. Download your own copy of these printables at the end of the post.
This post contains affiliate links for your shopping convenience.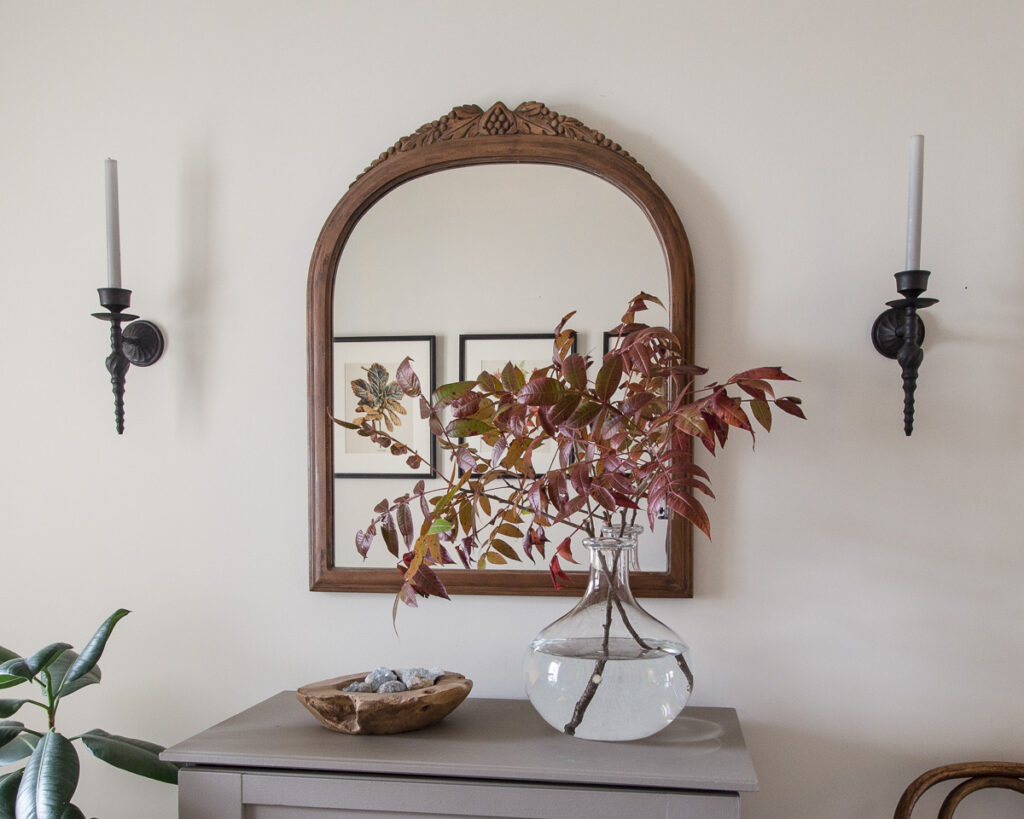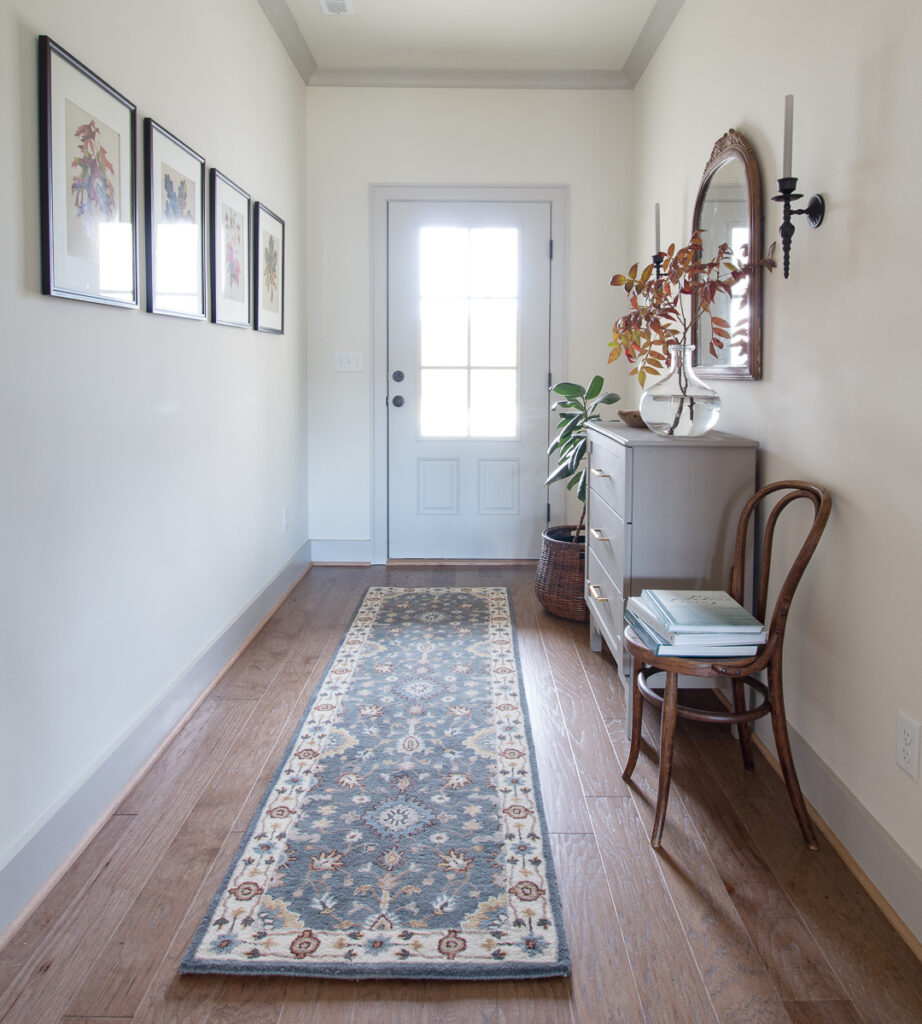 If you are a closely following friend of the blog, then you are also getting a first look at our foyer in the Lake Ridge House. Having spent most of our efforts giving the kitchen a makeover for the One Room Challenge these last 6 weeks, I felt like it was time to style the foyer properly.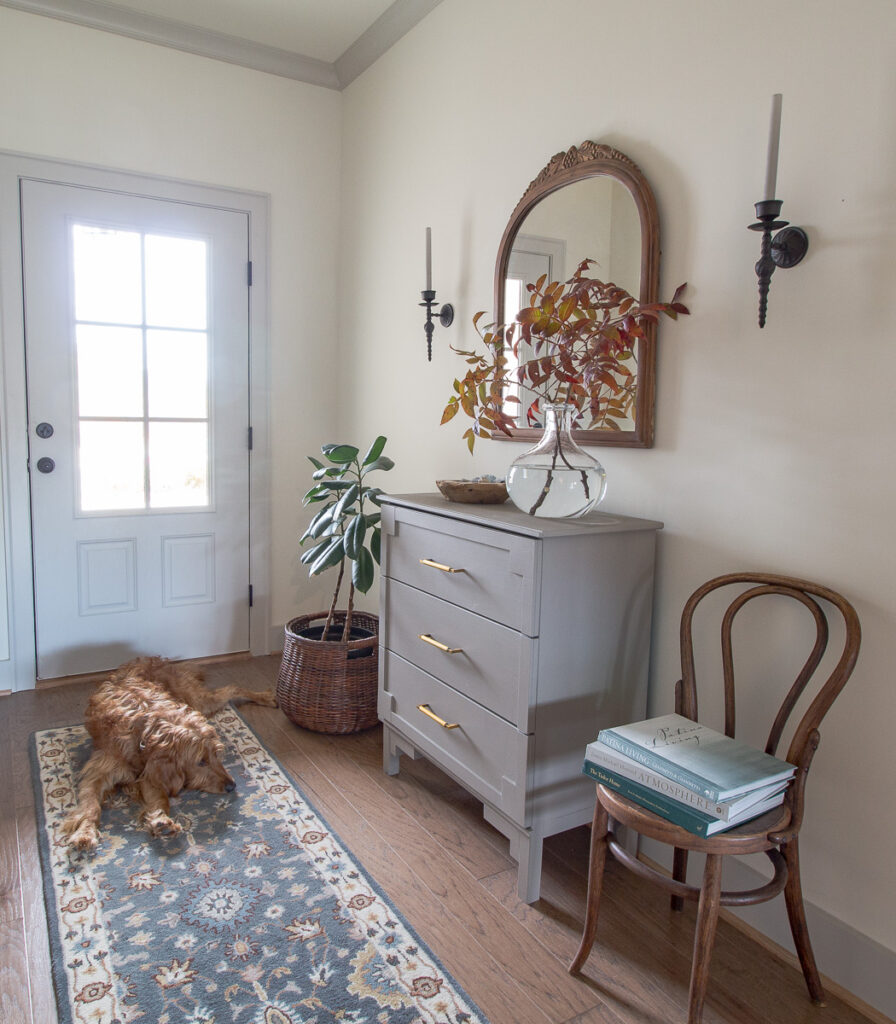 It probably goes without saying that a foyer is the first impression your home offers to visitors. The state of my foyer during the last 6 weeks was quite frightful and it wasn't ever decorated for Halloween so that was not an excuse.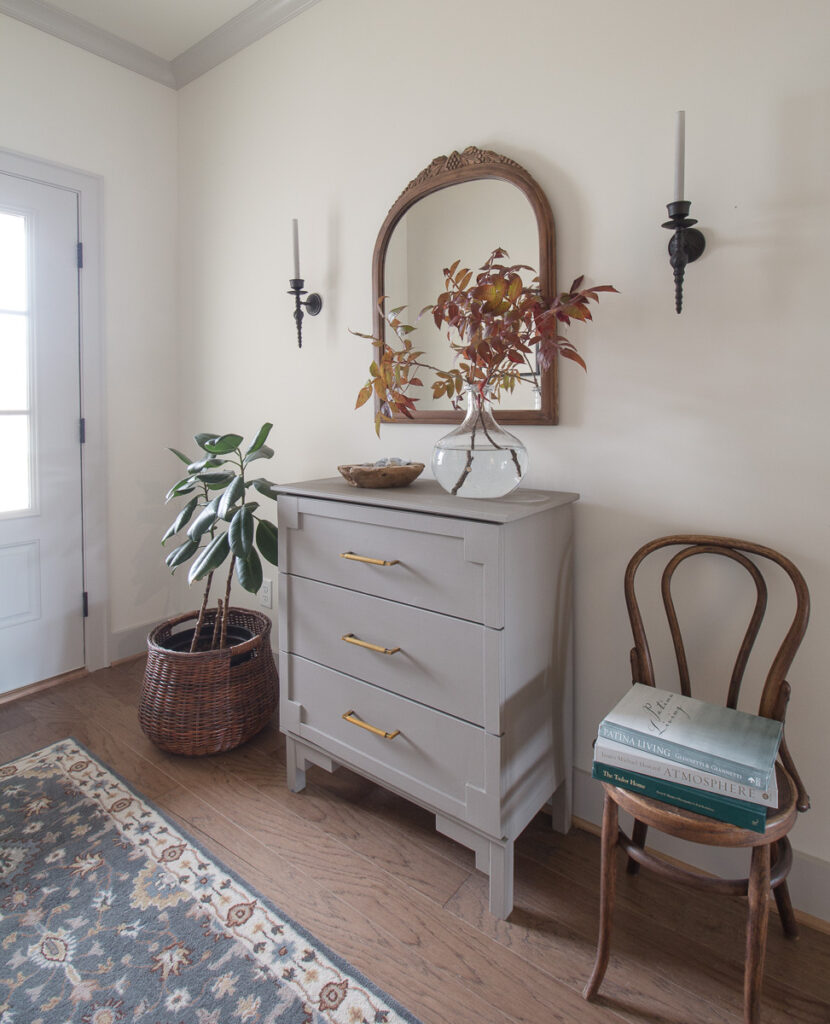 I have fairly big plans for the direction of the foyer eventually, until then I gathered items I already had. The area is not quite big enough to have furniture on both walls and I only had this small dresser to work with, so I filled the wall by brining in an old vintage chair and a rubber tree plant.
Shop the Post

A mirror in a foyer is always a good idea. Not only does it reflect light into the space from a different direction, it is helpful for that last look before you head out the door. This antique mirror was rescued from one of our previous houses and an unfortunate coat of paint. The original wood is so pretty that this mirror will likely be a staple decor item in our home.
Fall branches trimmed from neighboring woods add the perfect touch of fall. Faux branches would work just as well.
Now that I think of it, I could have also added a few small pinecones to my wooden bowl. I do love the blue grey of the quartz crystals here though.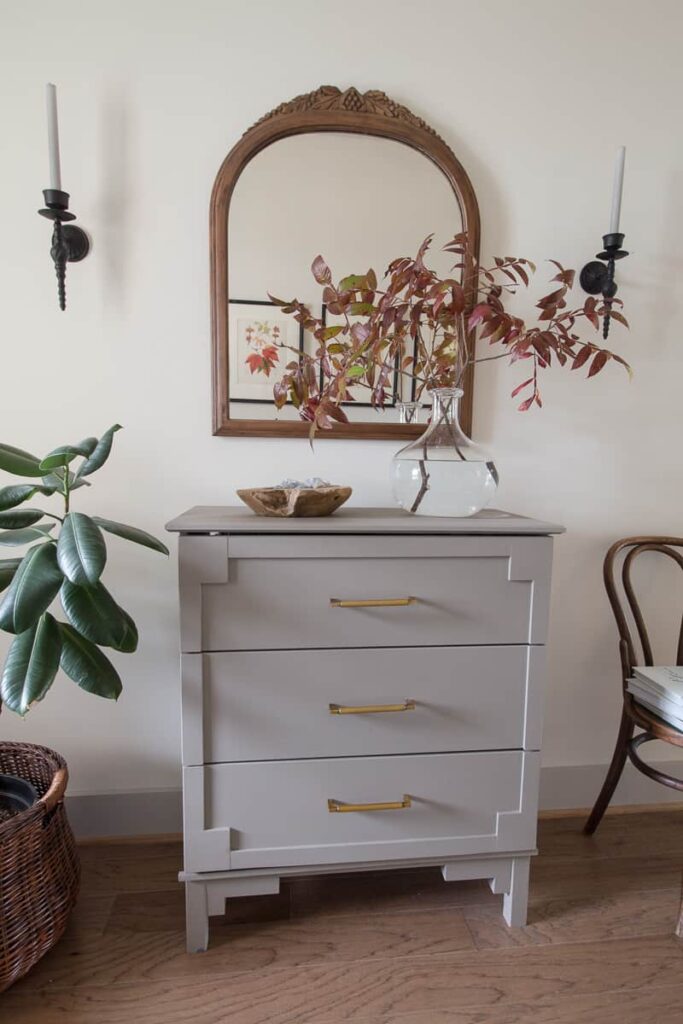 To visually expand the mirror that might otherwise be too small for this space I added sconces. They were the only new addition, purchased off of Facebook Marketplace. I am still looking for the right light fixture for this foyer. It will come in due time. The blank slate of a new home requires patience when it comes to decorating. I am trying to avoid the urge to replace or buy new just because it's not perfect for my design plan.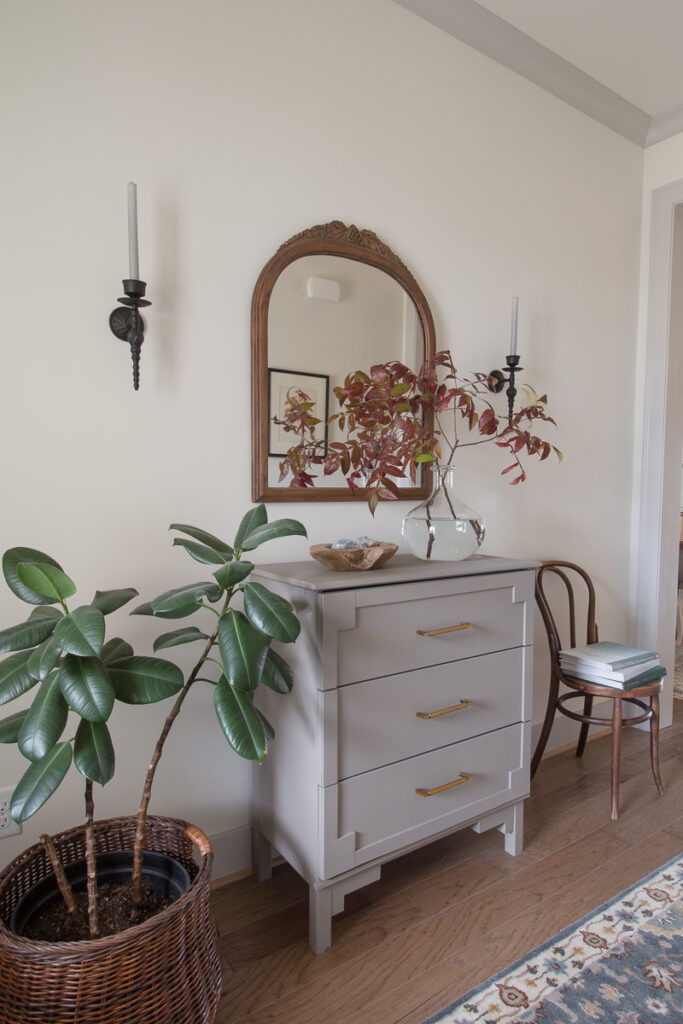 A dresser or console table with drawers in the foyer is always a good idea. In our smaller home having a double duty piece is key. The hidden storage of items in addition to having a place to drop mail or keys is welcomed. This dresser is an Ikea hack and has been seen here on the blog in no less than 3 different colors now. You can see the original version here.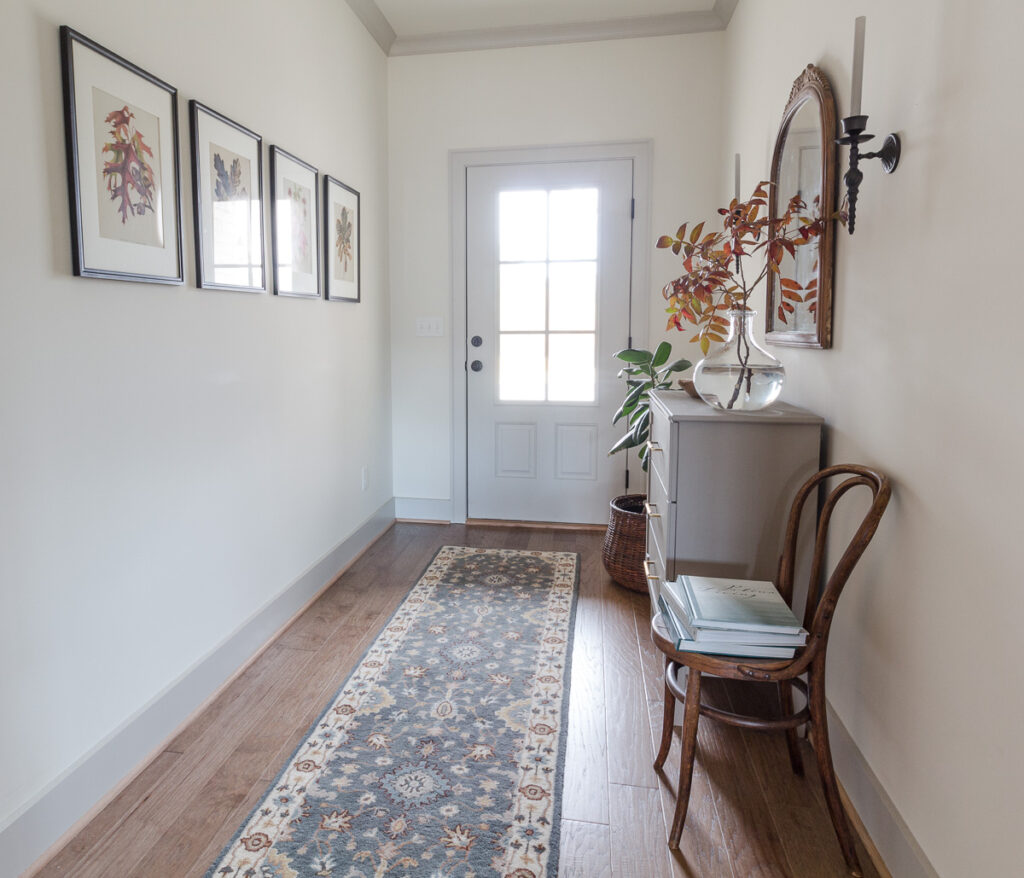 But the real seasonal star of the entry is this collection of printable vintage leaf images I've curated from around the internet. They are framed in simple 16×20 frames I found at Michaels on clearance a few years ago. I spray painted the wooden frame black, but I loved the textured detail that may be hard to really see in these photos.
FREE Fall Printable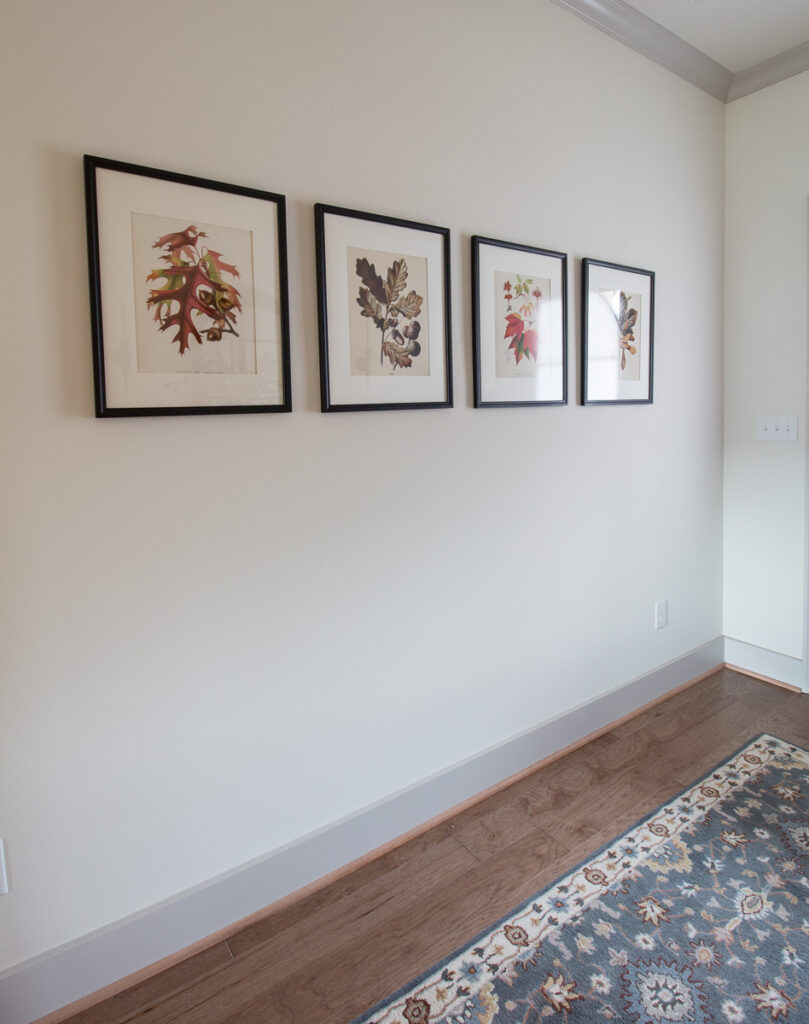 Each one of the vintage (non copyrighted) images needed considerable editing in Photoshop to get them to this stage and to this printable size of 11×14. I also created a consistent color background so that it appeared the images where from the same collection.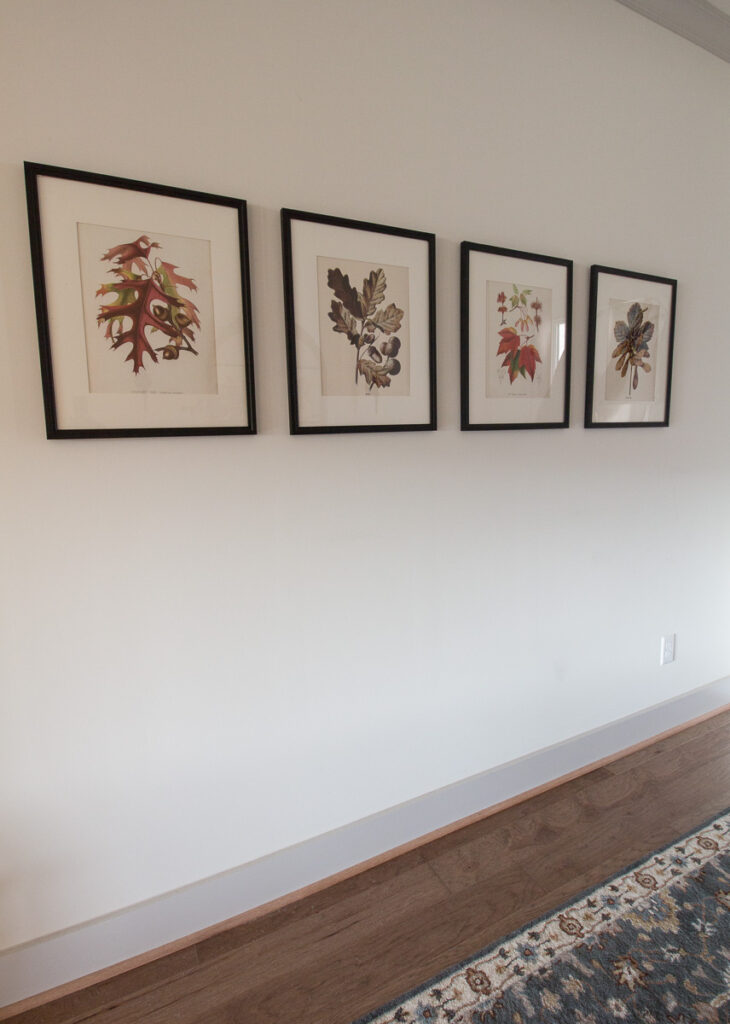 While I will provide a link to my edited images for you to download, but I also want to be fair to the original hosts. Please see the links above to where I found the "original" images. Please support them by visiting their sites and check out what else they have to offer. Each of them offers a nearly infinite array of quality printables.
After Thanksgiving I'll be back with the pine tree images I use at Christmas.
Shop the post