Oh, y'all I know I've been such a tease with our teenage daughter's room, but today you finally get to look at every nook and cranny of this youthful, modern, yet vintage bedroom. So grab your favorite beverage and get comfortable.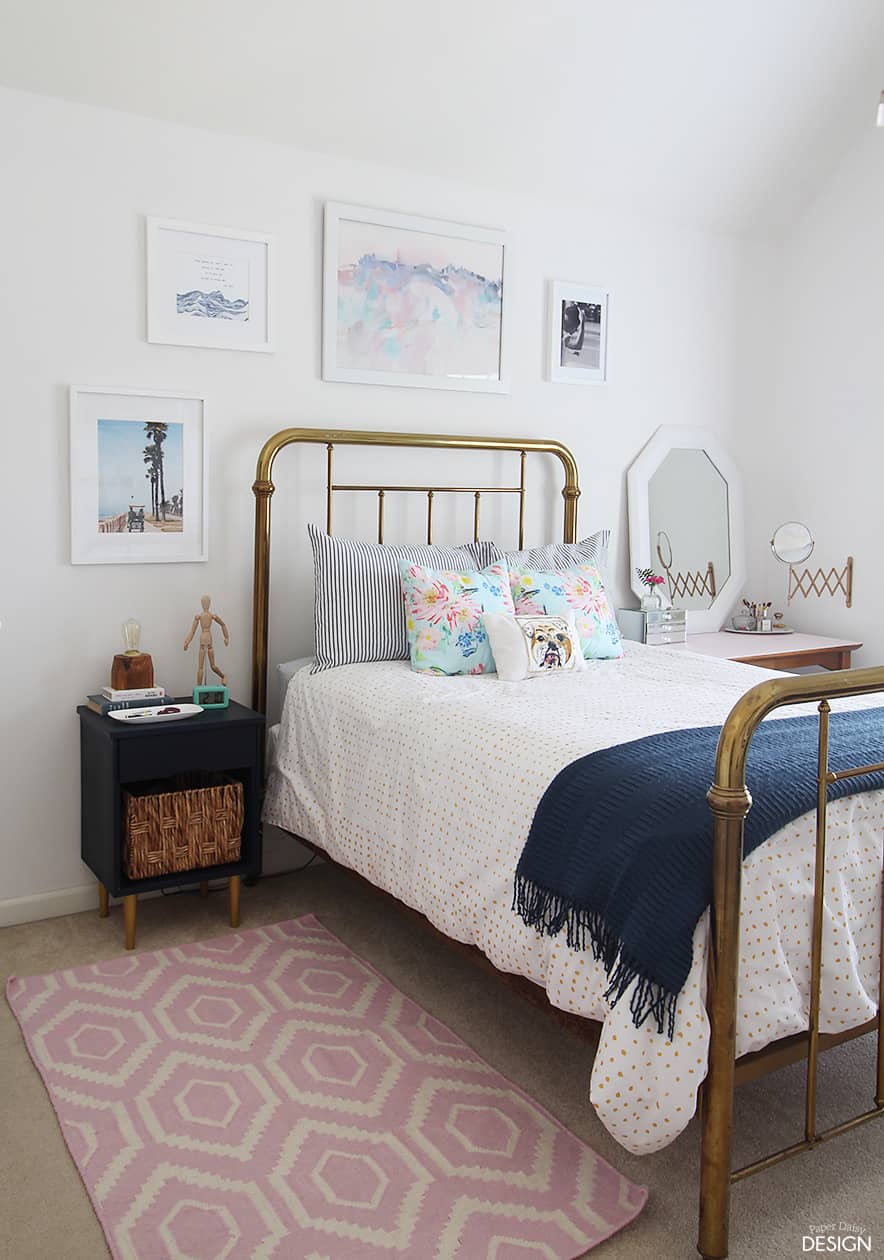 From the moment we found out we were moving to Alabama, she began planning her new bedroom. She started a navy, pink, sky blue and gold accented design palette. (And being the clever teenager she is, she would be quick to tell you, "That was even before those colors were in style").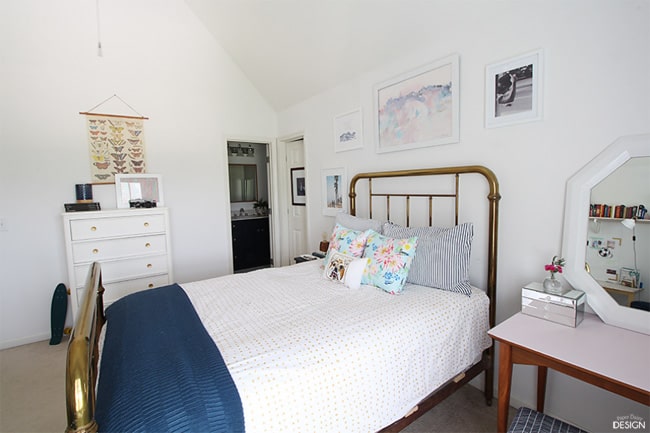 The process of collecting vintage pieces, reinventing them, shopping for just the right accessories, as well as designing a desk for her room, was a long, but enjoyable affair.  With each little treasure we moved closer and closer to the finished product.  And then she had to wait.  Wait for me to actually makeover those treasures, sometimes for months.  Bless her little heart.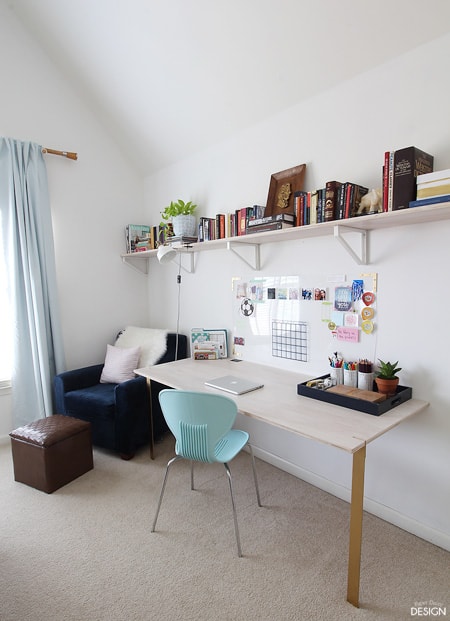 In the end, she is so proud of her space. And I think I'm just a bit jealous I didn't have a rockstar room like this to spend my teenage years in.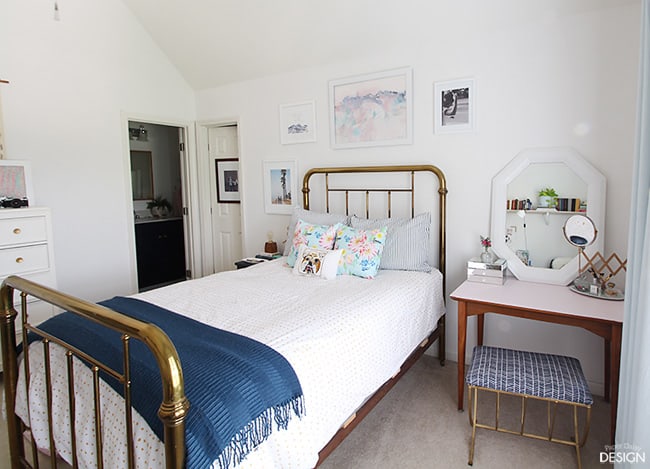 The road-side rescue desk above, used as her vanity, and her dresser are the only pieces that remain from her previous room. I found inspiration for the rescue desk from my friend actually, who lives in the UK as you know. She recently purchased a bed from Revival Beds, and when I saw it, it was beautiful! Luckily I found a supplier here who manufactures a similar style bed, along with the rescue desk seen above.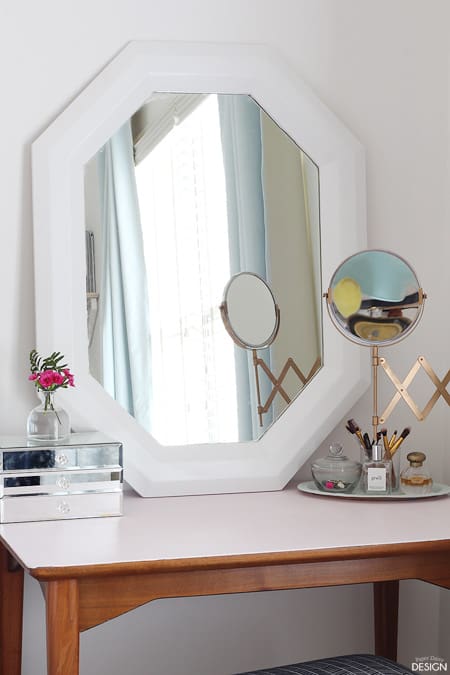 And even those pieces were made-over to fit with the overall design.  Subtleties like a soft shade of pink on top of the vanity and new modern knobs were important to her.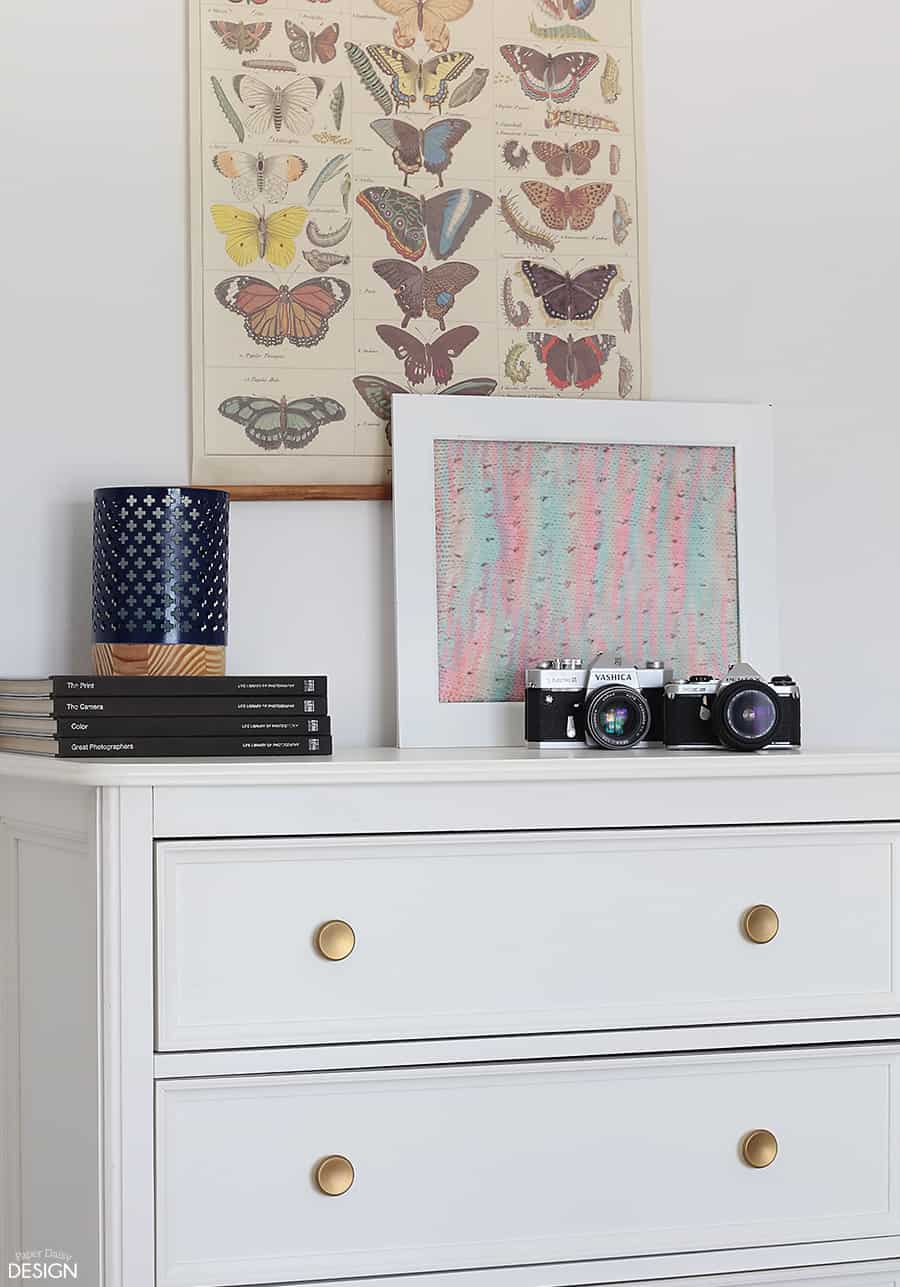 The biggest elephant in the room, the project she waited months for me to complete? That would be this now soft and velvety, navy reading chair.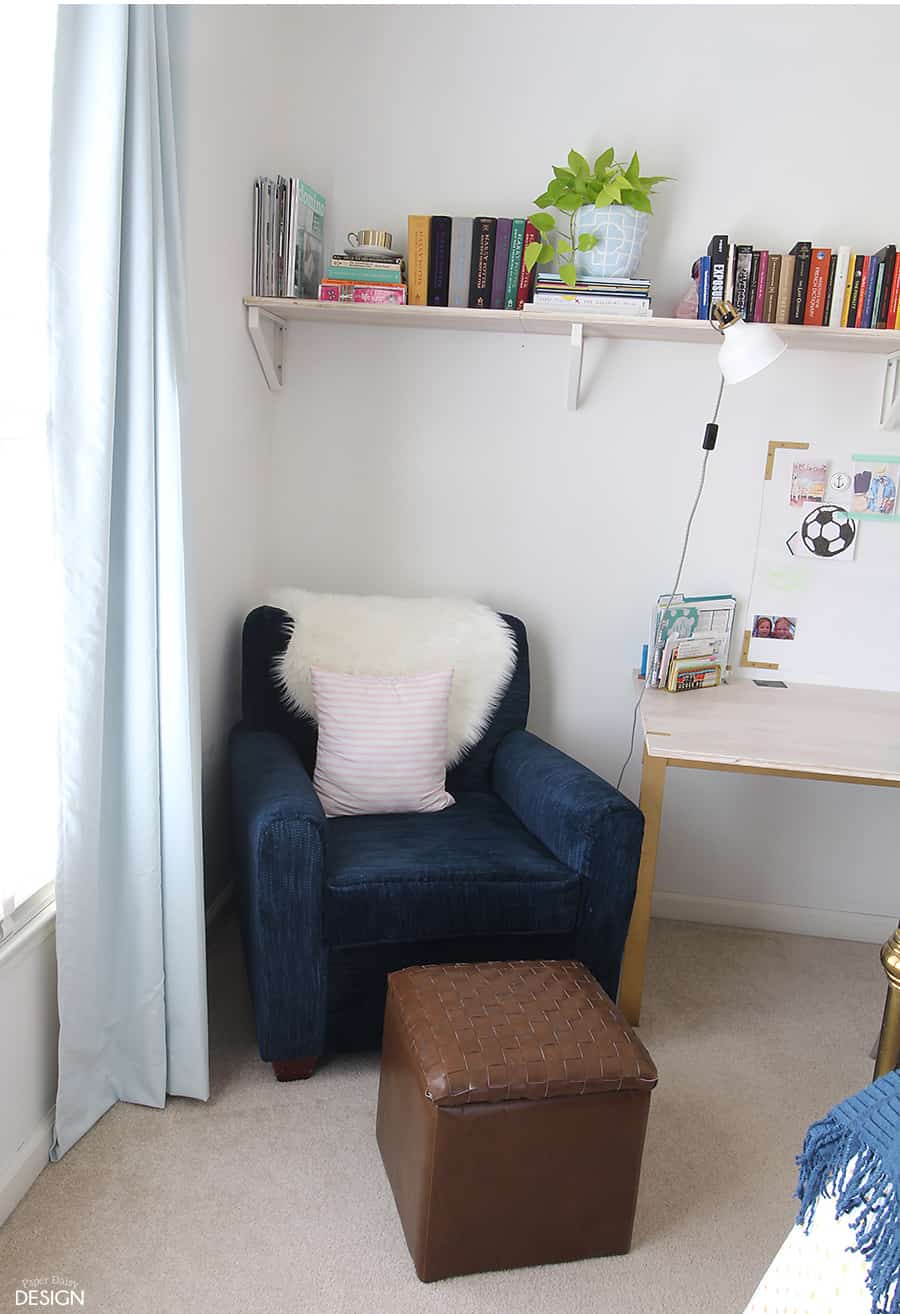 The project I'm most proud of? It's actually the very last DIY in the room, that leather ottoman with a weaved top. You can check out the easy tutorial here.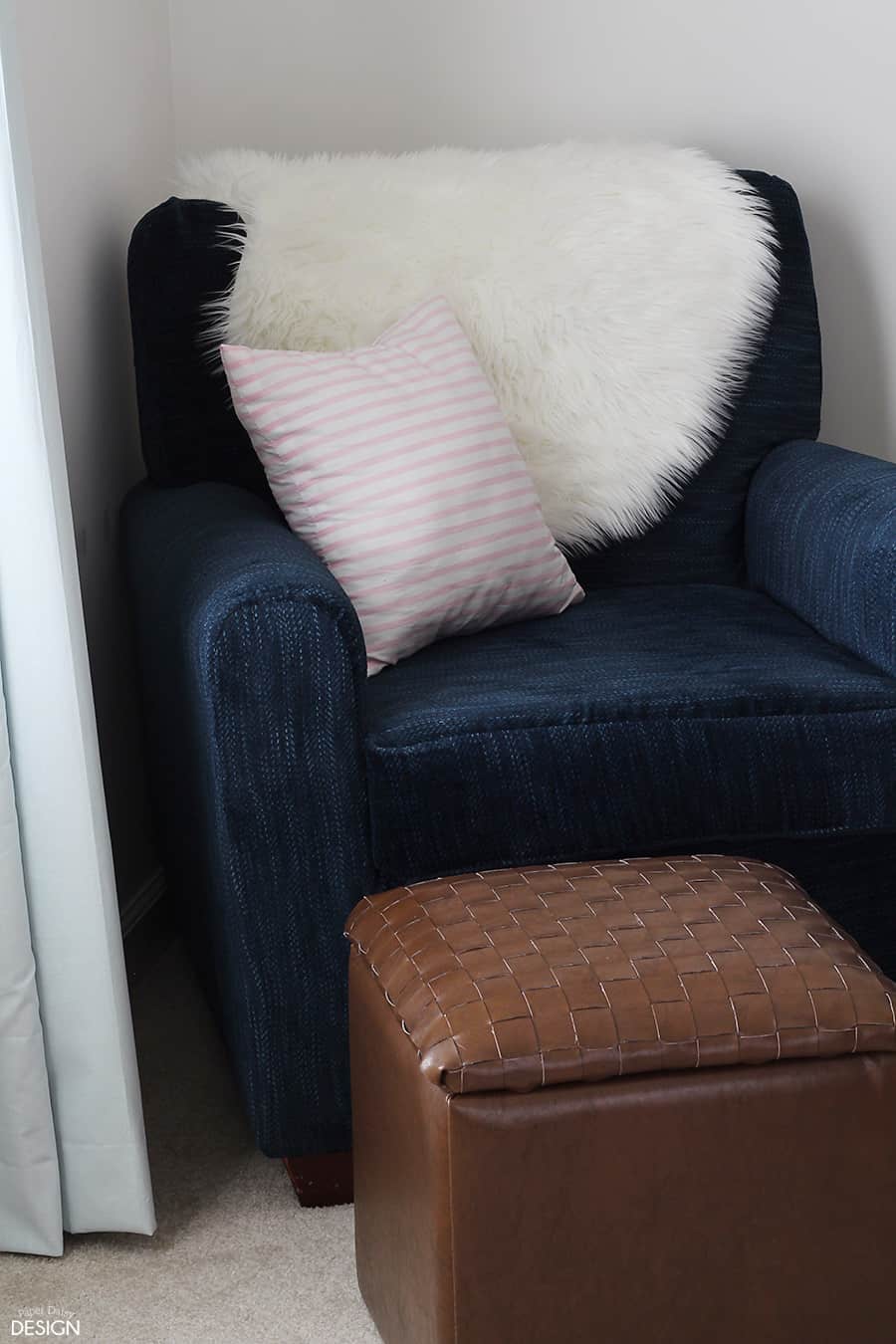 Of course the piece she's most proud of is her desk.  While we, her father and I, did all the work and design execution, she had a clear vision of what she wanted, a minimalist design with an expansive surface and clean, simple gold legs.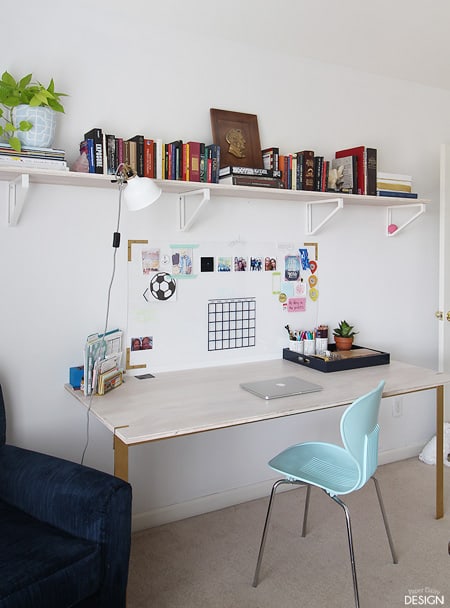 The clamp lamp swivels so that it can be used as either a desk lamp or a reading lamp.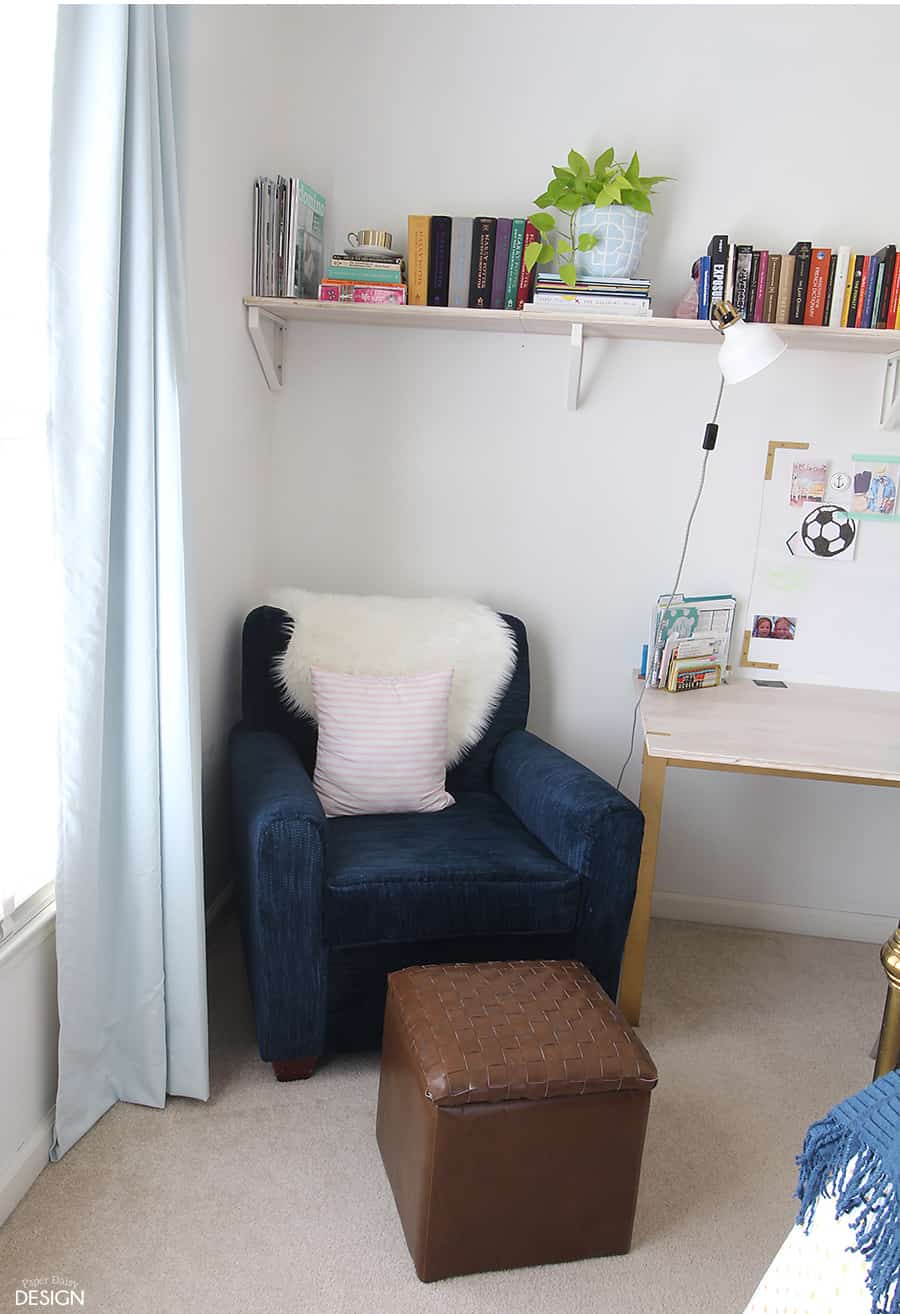 Nearly all the large pieces in the room were thrifted or found on Craig's List. From her beautiful vintage brass bed that didn't even have a proper support structure, to the vanity bench…..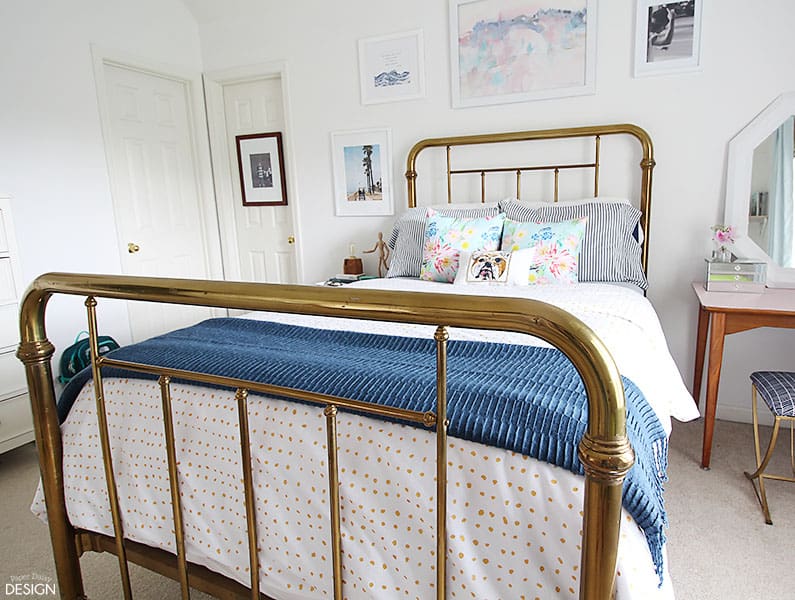 to the mid-century bedside table.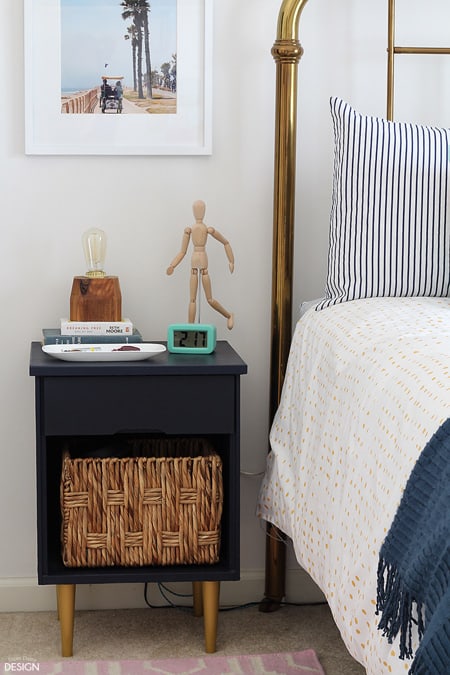 This room is definitely a testament to taking the time to find just the right piece for just the right price, and obviously patience was key.
And when we couldn't find a bold, large-scale, yet soft floral for her bed, I designed fabric just for her from Spoonflower and sewed it into pillows when the fabric arrived.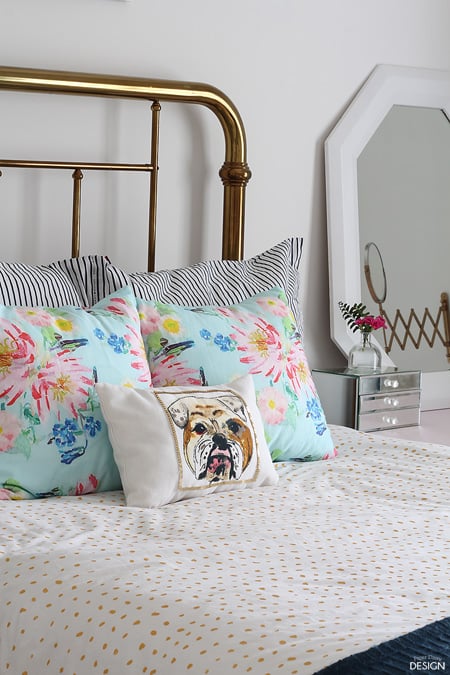 Even her love of bulldogs became a new opportunity for a DIY.  This image is from a tea towel that wasn't quite the right shape for the pillow we needed.  Cut down and trimmed in gold sequins it becomes the perfect bling on the bed.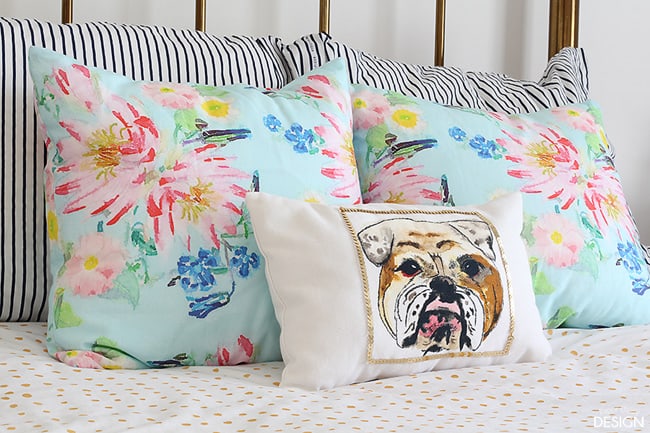 I also used a stencil to customize her gold dotted duvet cover. I shared the tutorial for that a few months ago. You can see that here.
She initially wanted to just tape her memorabilia and inspiration up over her desk, but I made her wait until we could design an acrylic memo board for her.  Many of these projects, like this one, were completed almost year ago.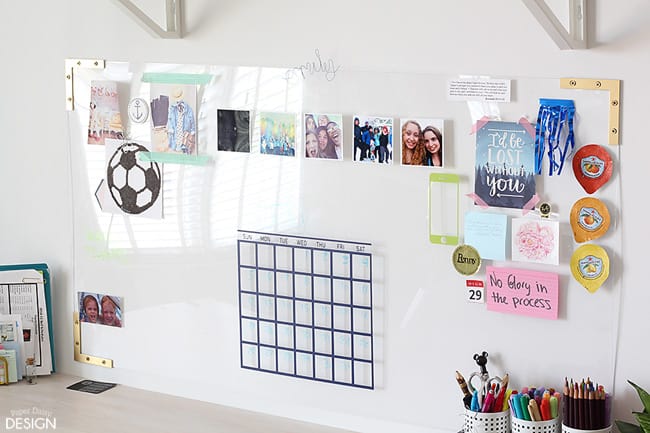 Not to worry, I've been taking step-by-step photos along the way and will be sharing in detail over the next month.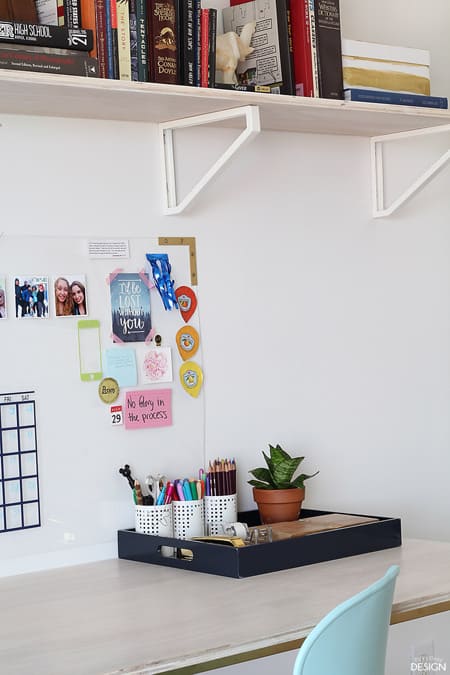 Working on this project together as a team definitely created some great opportunities for talking about design and fun shopping trips and I'll miss that. Nevertheless, I'm not which one of us is more excited this lengthy room makeover is finally finished, resulting in a completely custom, light-filled transformation.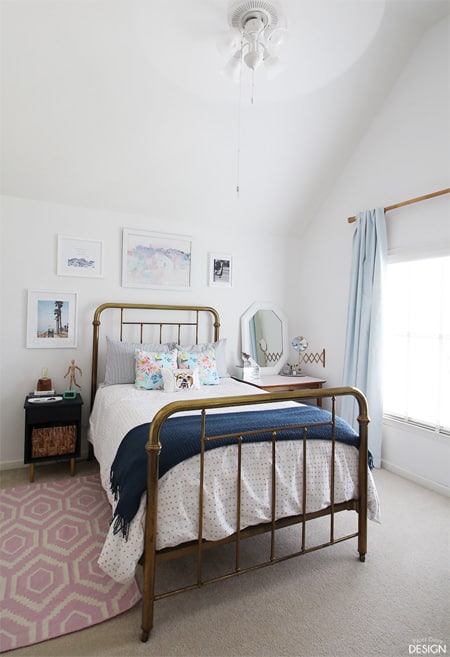 The last few years have been tough for her dealing with chronic headaches/migraines, but we pray that like her room, she's finally off to a fresh, new start.
Thanks for reading to the end! I wasn't kidding when I said I was sharing every nook and cranny.