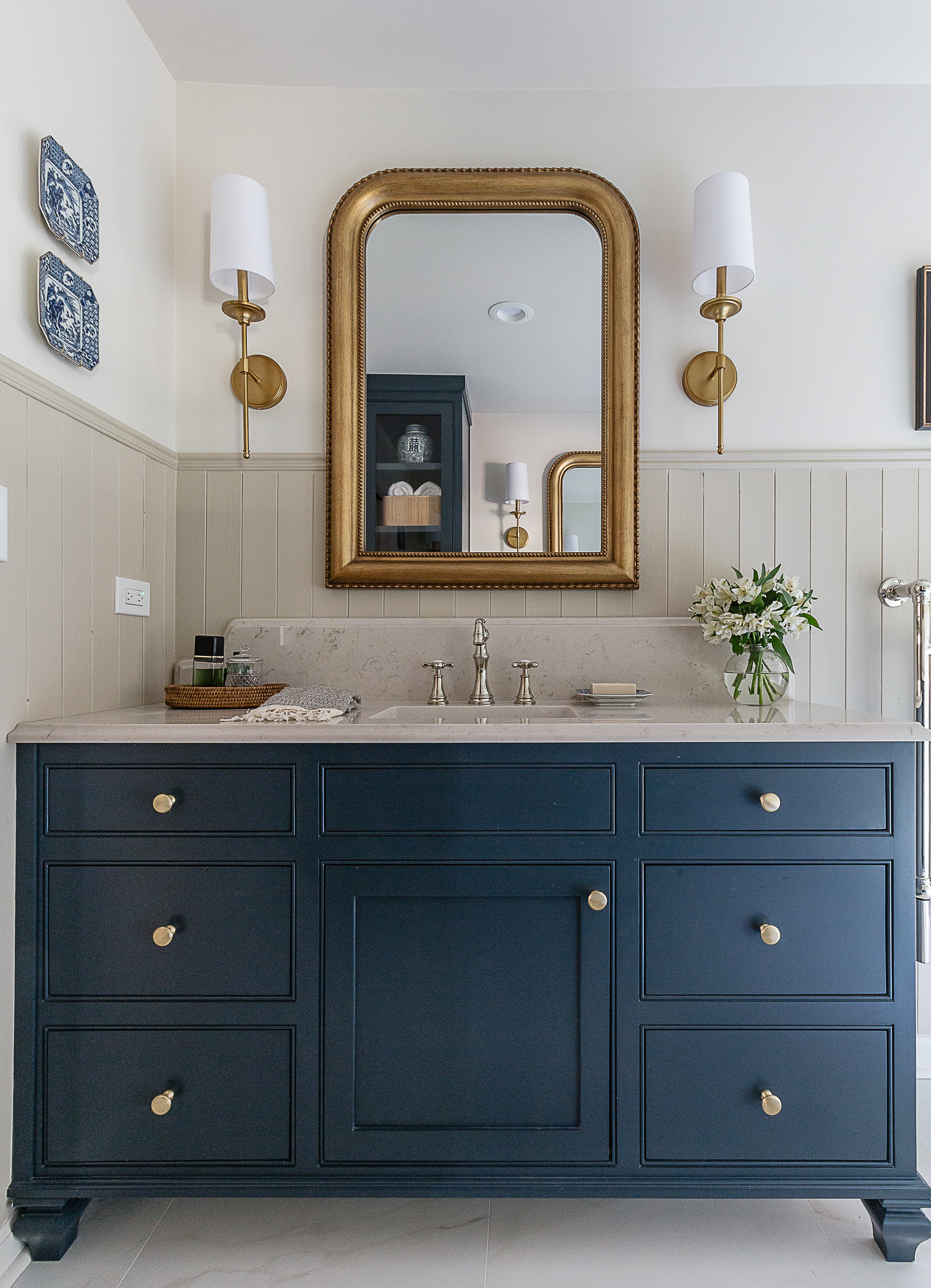 Have you ever toured a home during a house hunt and walked away because the house was more of a project than you could handle? It might be hard to imagine my husband and I do this given the number of whole home renovations we have tackled. But when we first moved to the Birmingham area, there was one house that we strongly considered and eventually tabled because it was not just a house renovation. The backyard featured a good sized pool that also needed a complete overhaul. We had renovated a pool years before when we lived in Baton Rouge and decided we couldn't stomach that expense again.
So imagine my surprise when I drove up for my initial client consultation and saw this house. I knew immediately this was the one we walked away from. I remembered the pool, but not the floor plan specifically. One quick tour around the house and I remembered very well. I was pleasantly surprised with the progress made by the previous homeowner. It is amazing what paint and proper upkeep can do for a house. My potential client had also beautifully renovated the backyard and pool area creating a lovely outdoor oasis.
The floorplan of the house was essentially the same. It was a traditional 70's to 80's style home with a series of formal rooms. It serves my clients well, but the bathrooms on the first level still had a very peculiar layout.
Bathroom Area Before
Let me start by describing the layout to you. Right off of the den, there is a very small powder room. If you walked to the right, off of a small bedroom was the Jack and Jill entry into the primary bathroom suite.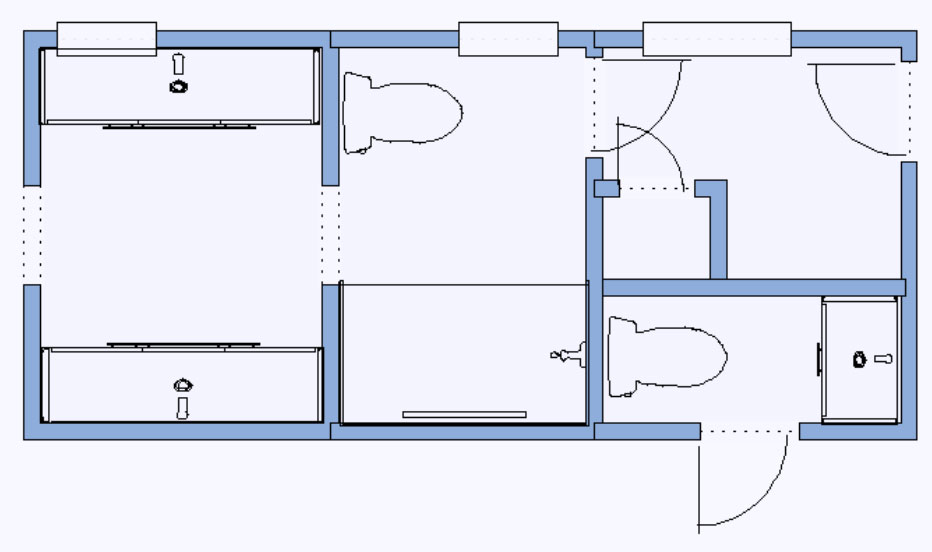 In the middle section was the main toilet and shower, shared by both rooms. Not at a desirable floorplan by today's standards.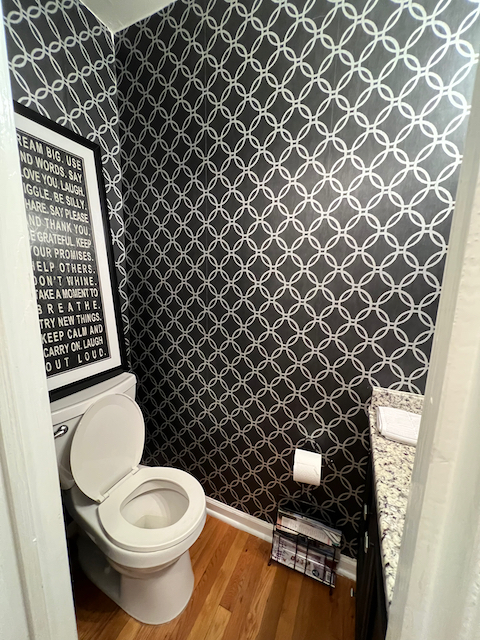 Challenging Floor Plan
Initially, the clients expressed that their ideal outcome of this remodel would be to create a small bathroom with a shower for use on the first floor and a better layout for the primary bathroom.
After much discussion and moving parts around we finally agreed that improving the the look of the overall size and a larger shower in the primary bathroom was more desirable than adding a shower to what was the powder room.
The resulting two spaces were strategically carved out of the existing footprint, not expanded. Dividing walls came down and moved, and the plumbing was relocated to accommodate this new plan. The primary suite was given a water closet in the space that was once a walkthrough, and the powder room gained a few valuable inches to accommodate a more functional layout.
We also sacrificed a small window to achieve some symmetry in the way the vanities would appear in the final layout.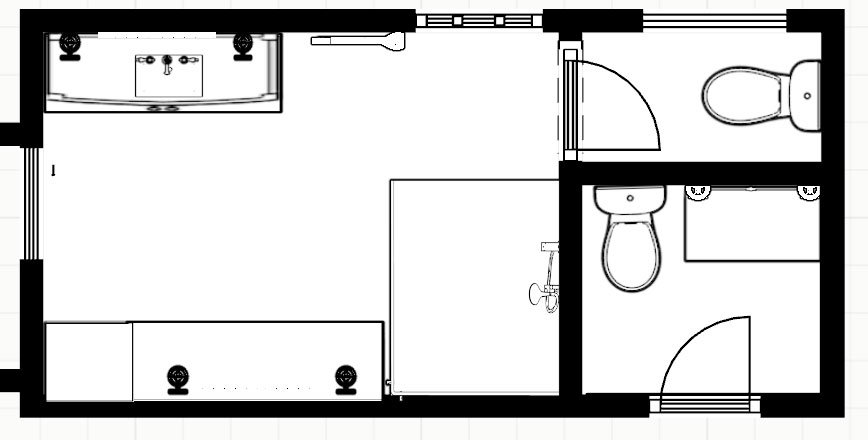 This project is proof that dated, chopped-up bathrooms can be strategically reimagined without expanding the house's footprint.
The Design Direction
During the initial consultation, the client shared images and shared her desire for a cottage-style bathroom. I noticed her coffee table had a stack of Cottage Living magazines. But as I looked around her home, the style of her furnishings was clean-lined, modern, and colorful with glamorous finishes of gold and mirrored accents.
As it often is with clients, we began by discussing design styles and the feelings they want the room or rooms to have. She loved the warmth and cozy look created by the cottage style. And she loves the sparkle of gold, elevated finishes. My job would be to make the styles feel cohesive and achieve a look both the husband and wife desired. We also needed to consider how these two are often considered disparate styles and how I could bring the two together harmoniously.
For the sake of keeping this post from becoming a novel, I will share the reveal of the powder room in a separate post.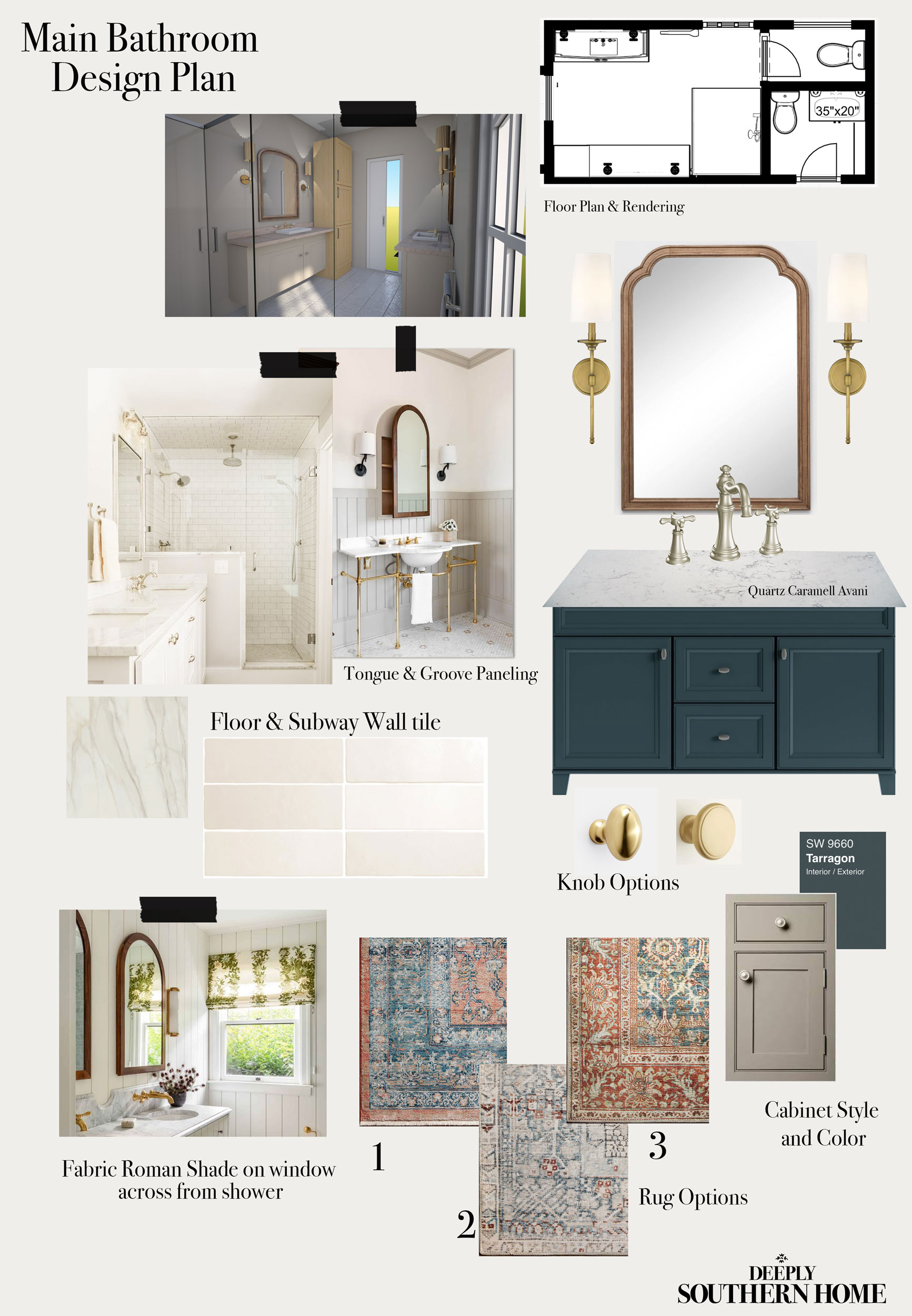 In a bathroom or a kitchen redesign or remodel, I almost always take clients on a preliminary tile shopping trip. I preselect a group of tiles that fit my vision to present to them and get a feel for what they are drawn to. After the floor plan was agreed upon, I presented them with this design plan, and they loved it
A nod to the glamorous side of design, we selected a faux marble porcelain tile with warm beige undertones. To balance that glamor for the cottage esthetic the walls were wrapped in tongue and groove paneling.
One notable deviation from the original plan was the gold mirrors. The distressed wood finish felt too rustic. I had found the perfect mirrors on an antiquing trip to Round Top Texas but decided to pass. As it turned out, we both very much regretted missing out on them.
The Vanities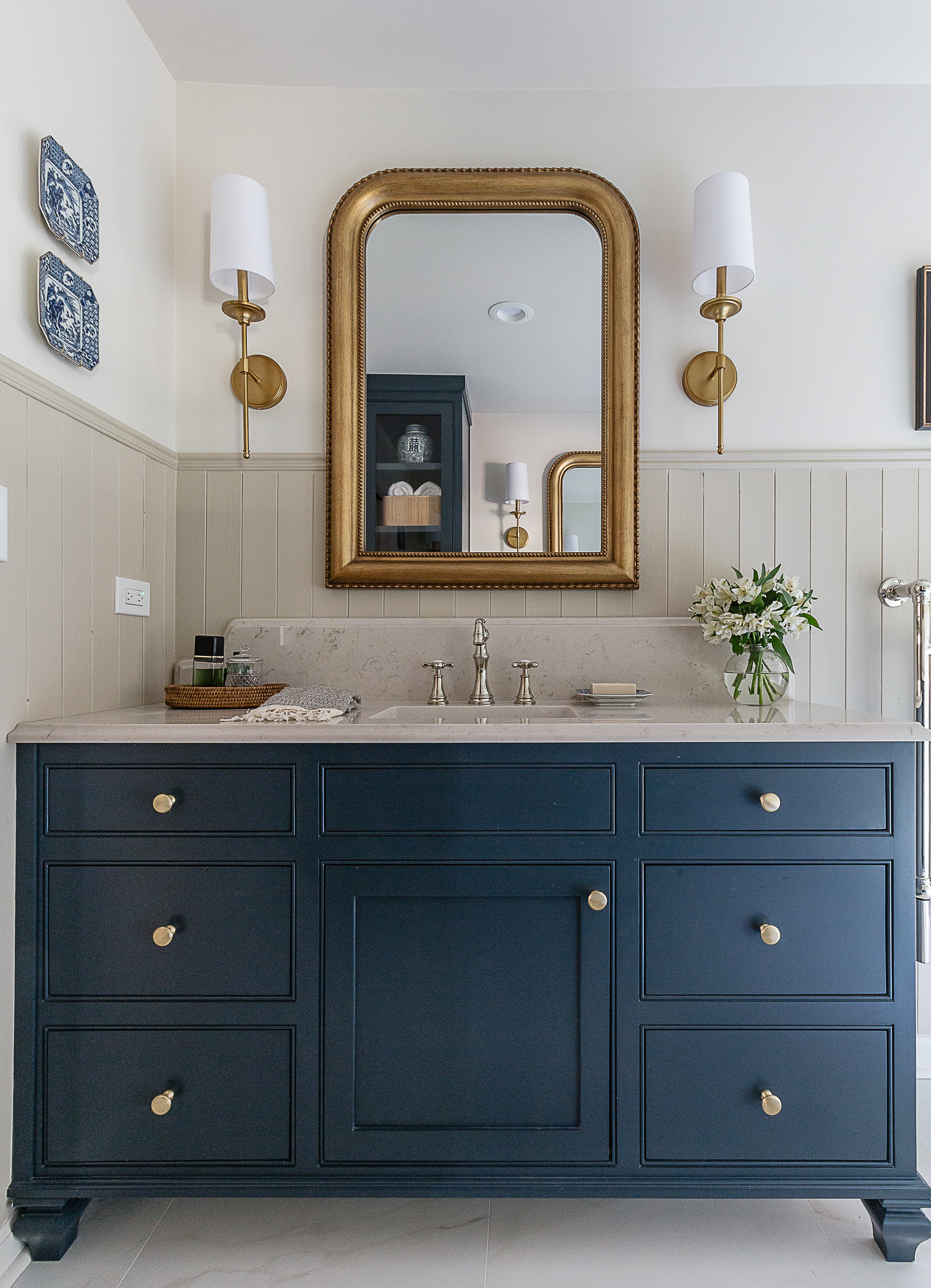 Working with a custom cabinet builder is a fantastic luxury for a designer. I was able to design every detail of the vanity cabinets. The inset doors are in perfect keeping with the English cottage vibe and yet they are elevated with the bead trim edge. The details of the turned feet and trim at the bottom of the cabinet are swoon-worthy in my opinion.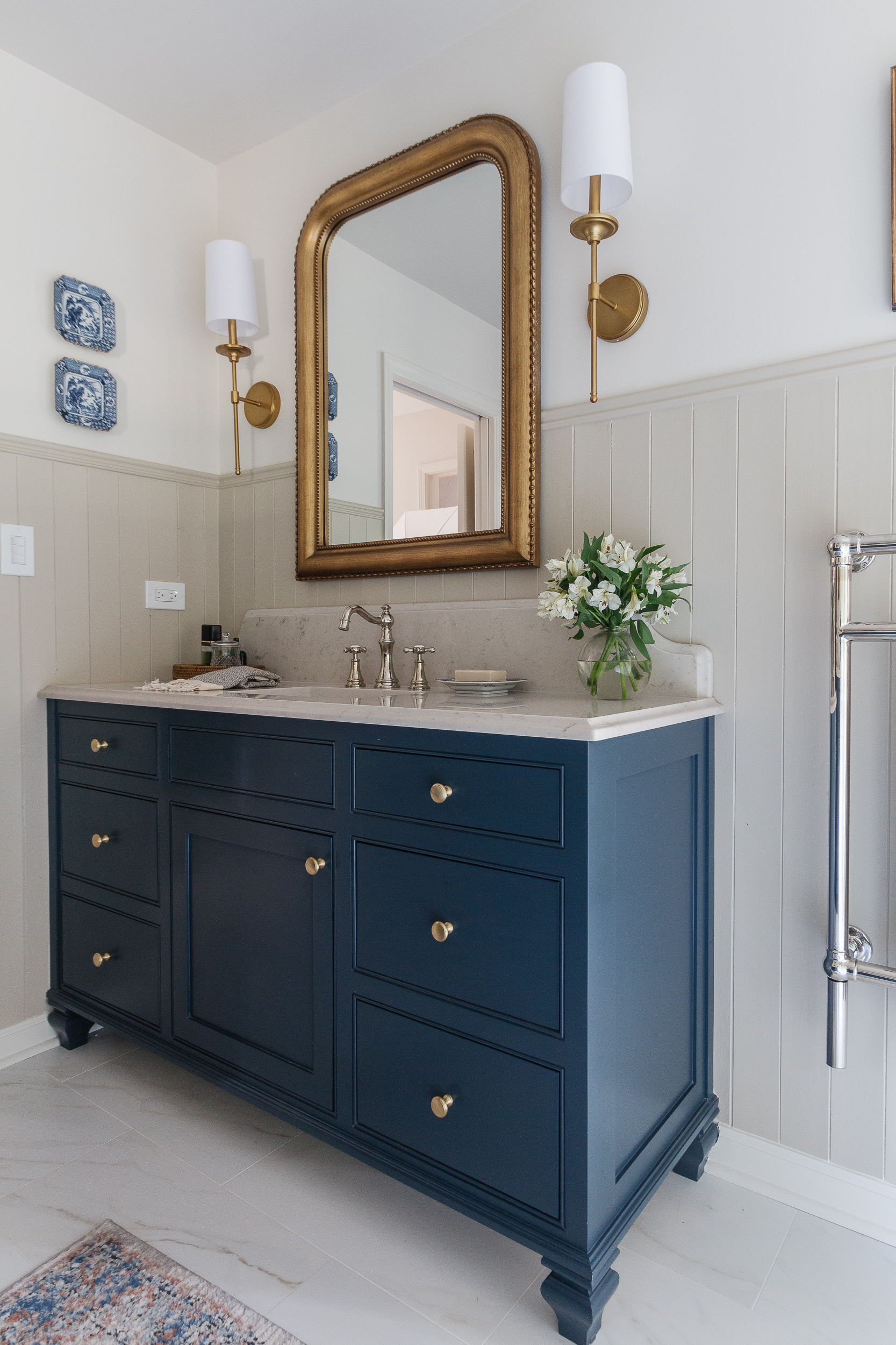 Soft gold finishes on the long-lined sconces pair beautifully with the mirrors I eventually sourced.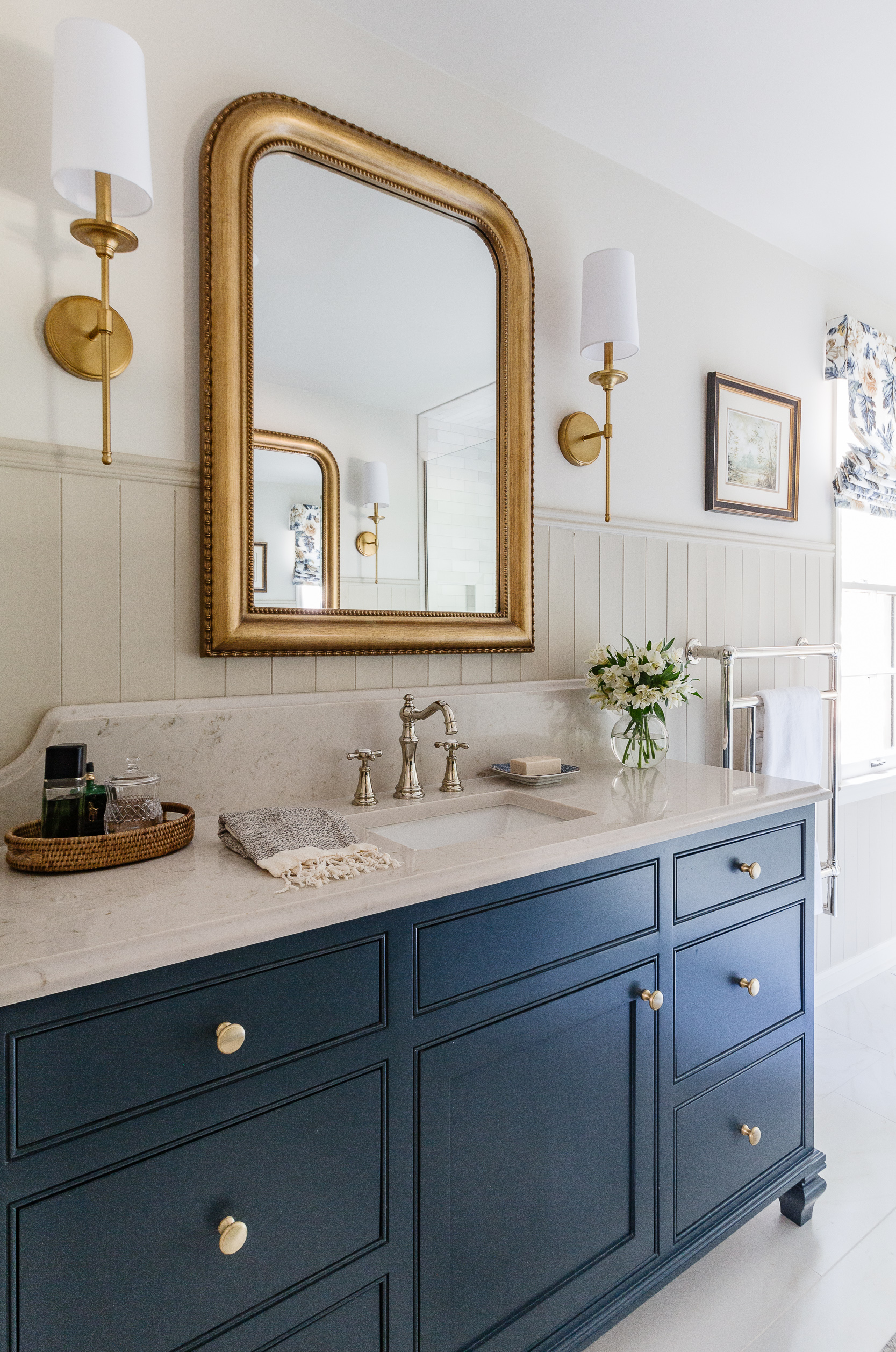 On her side, we added a tall cabinet with a long glass door for storage.
The cabinet color, a match of Tarragon by Sherwin Williams, suited her love of the color blue and blue and white pottery. Just like me.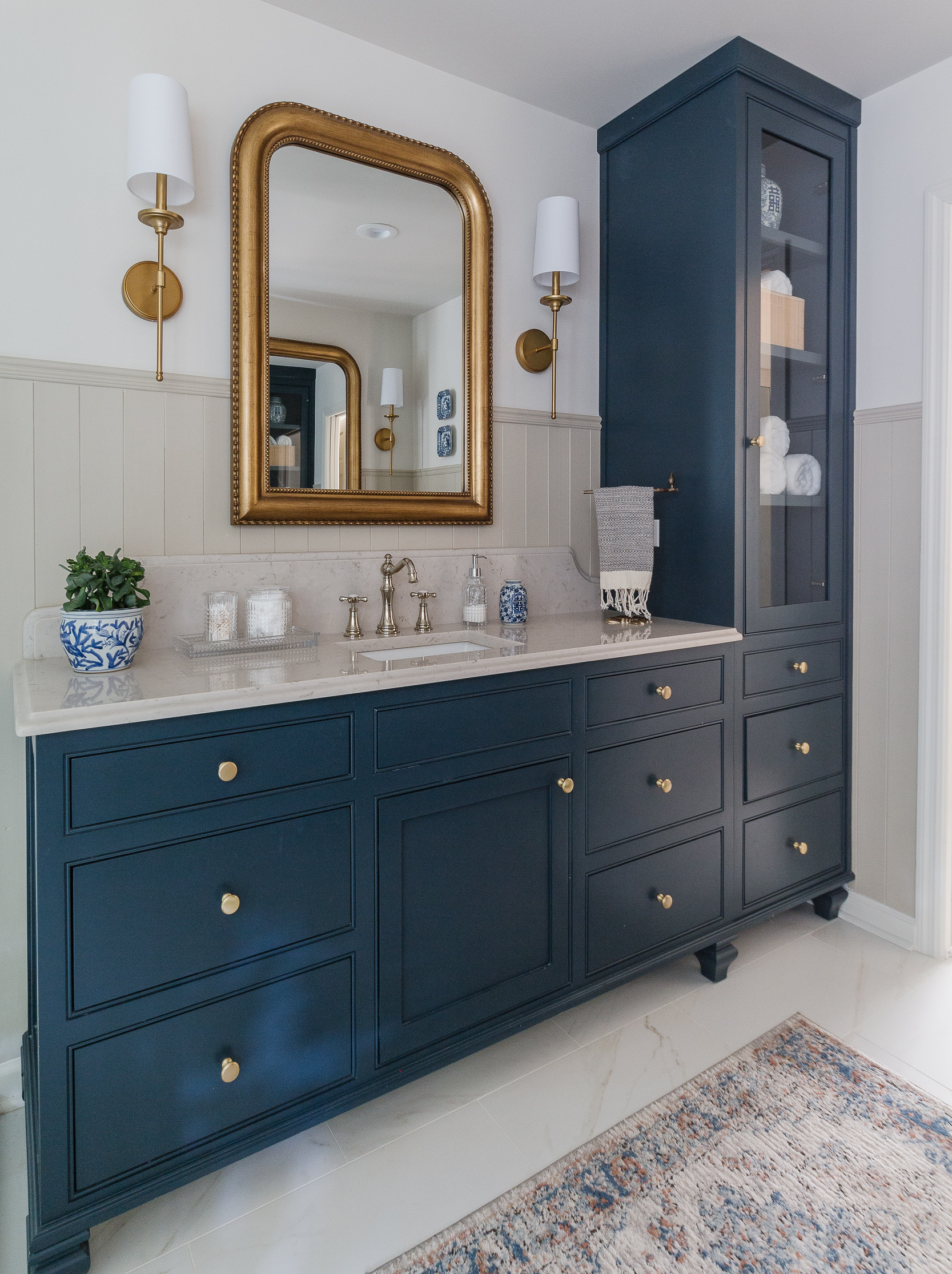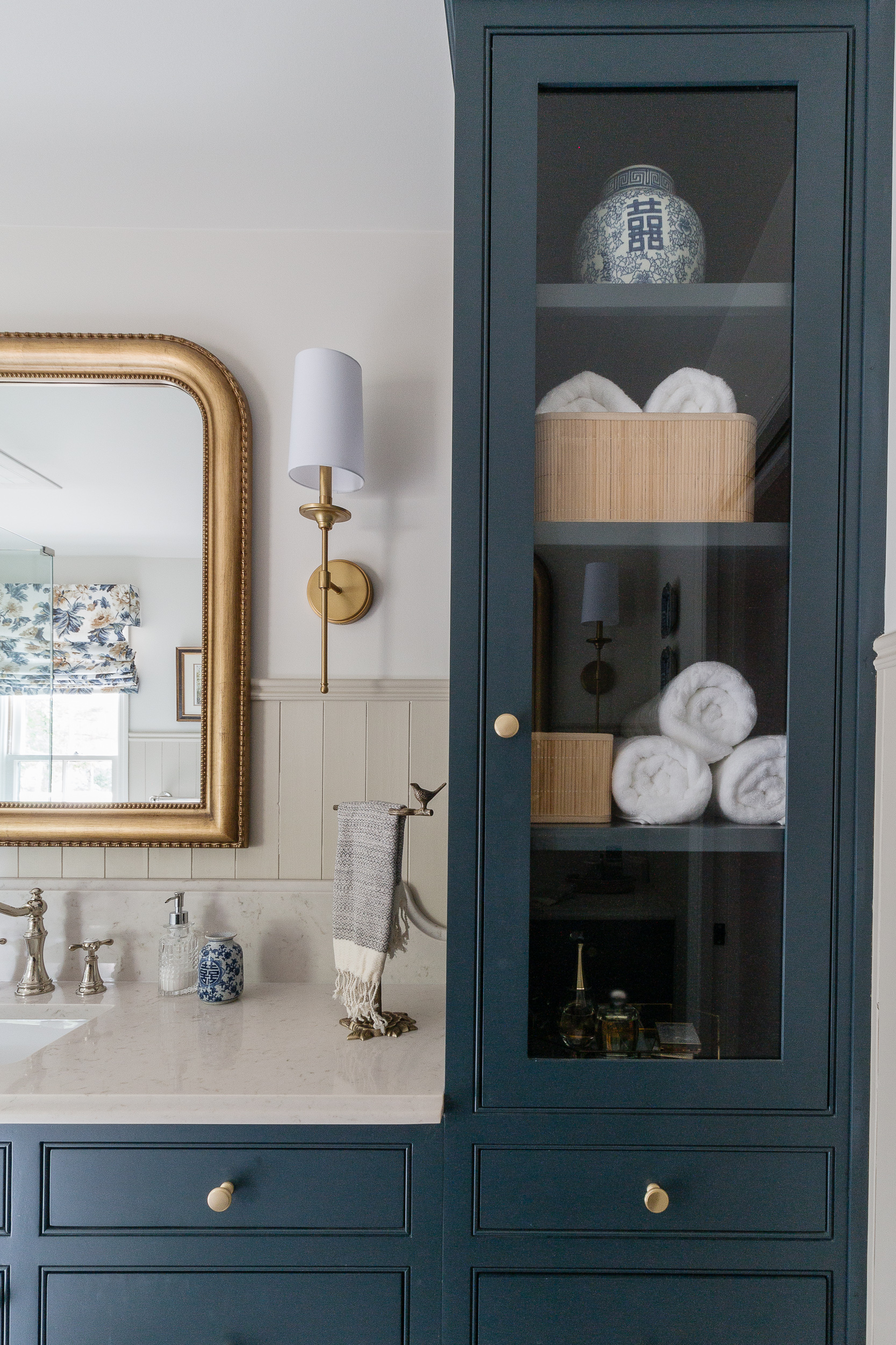 The quartz countertops were finished with an ogee edge and a shapely, high-rise backsplash.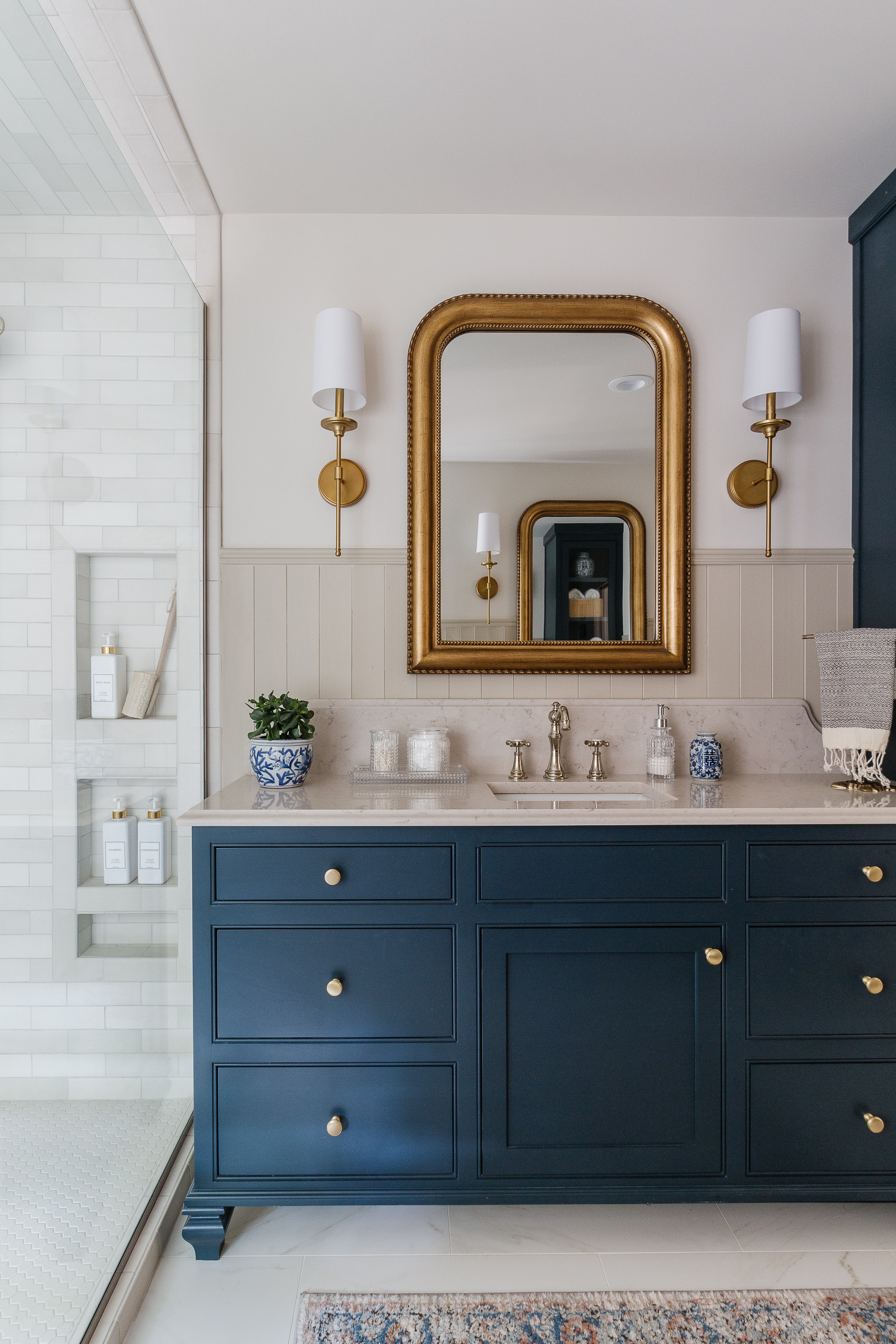 To balance the gold finishes, all of the fixtures are polished nickel. The warm brilliant finish of polished nickel creates a perfect pairing in harmony with the brushed gold.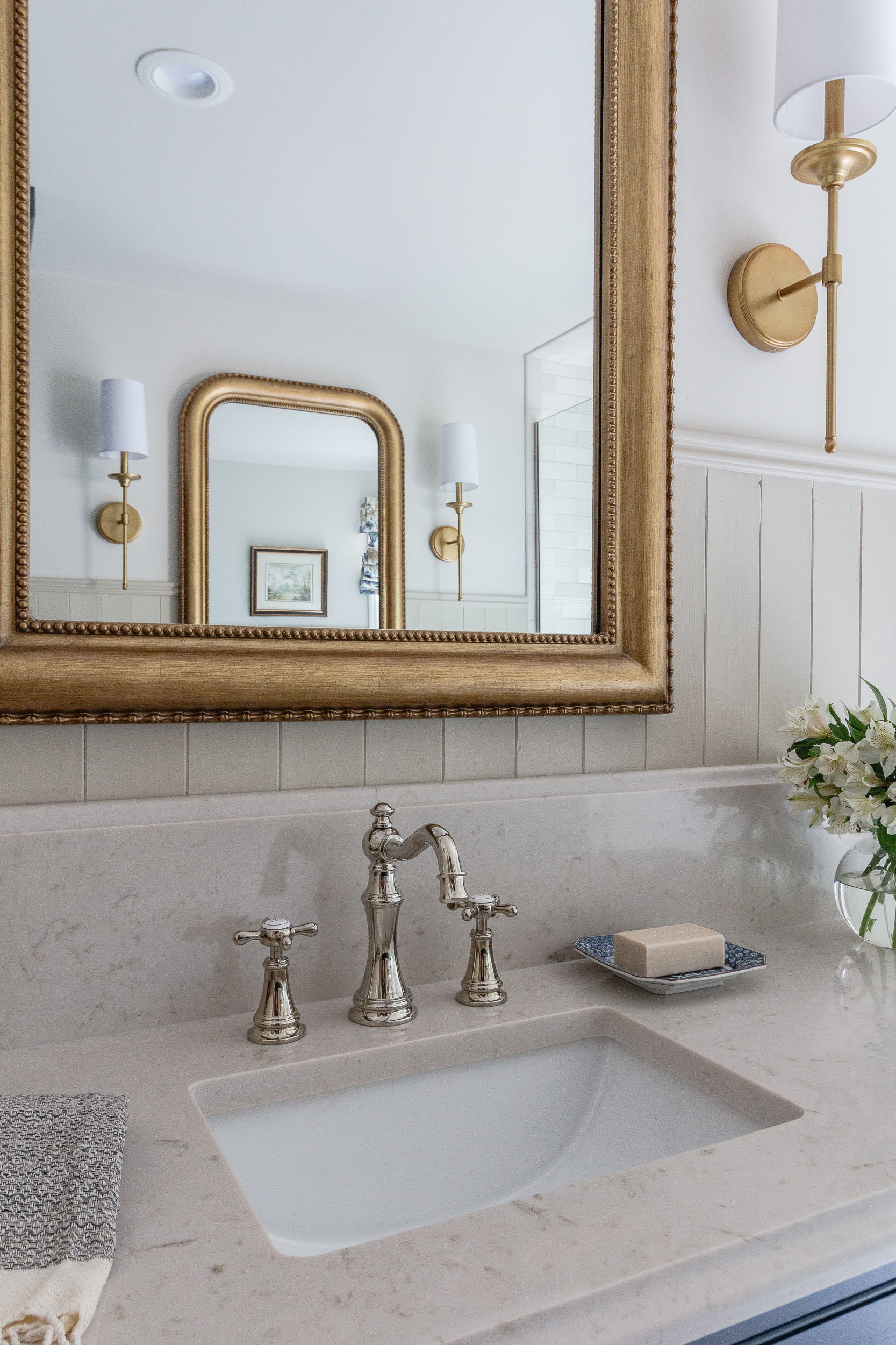 The Multi-Function Shower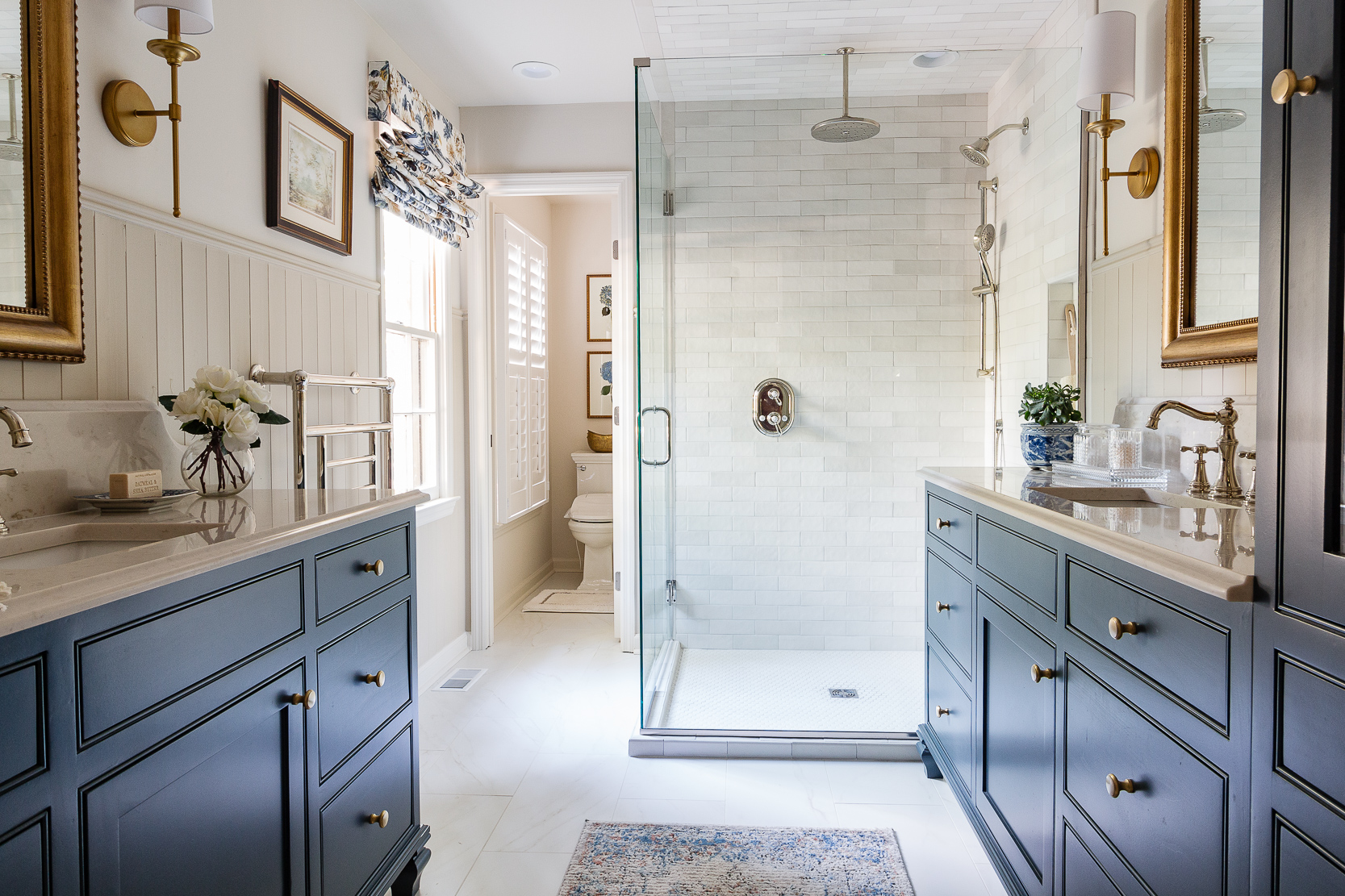 Once it was evident that a full-sized walk-in shower was possible, my clients wanted to create a shower experience complete with a rain shower head, a dedicated high-intensity shower head, and a handheld shower.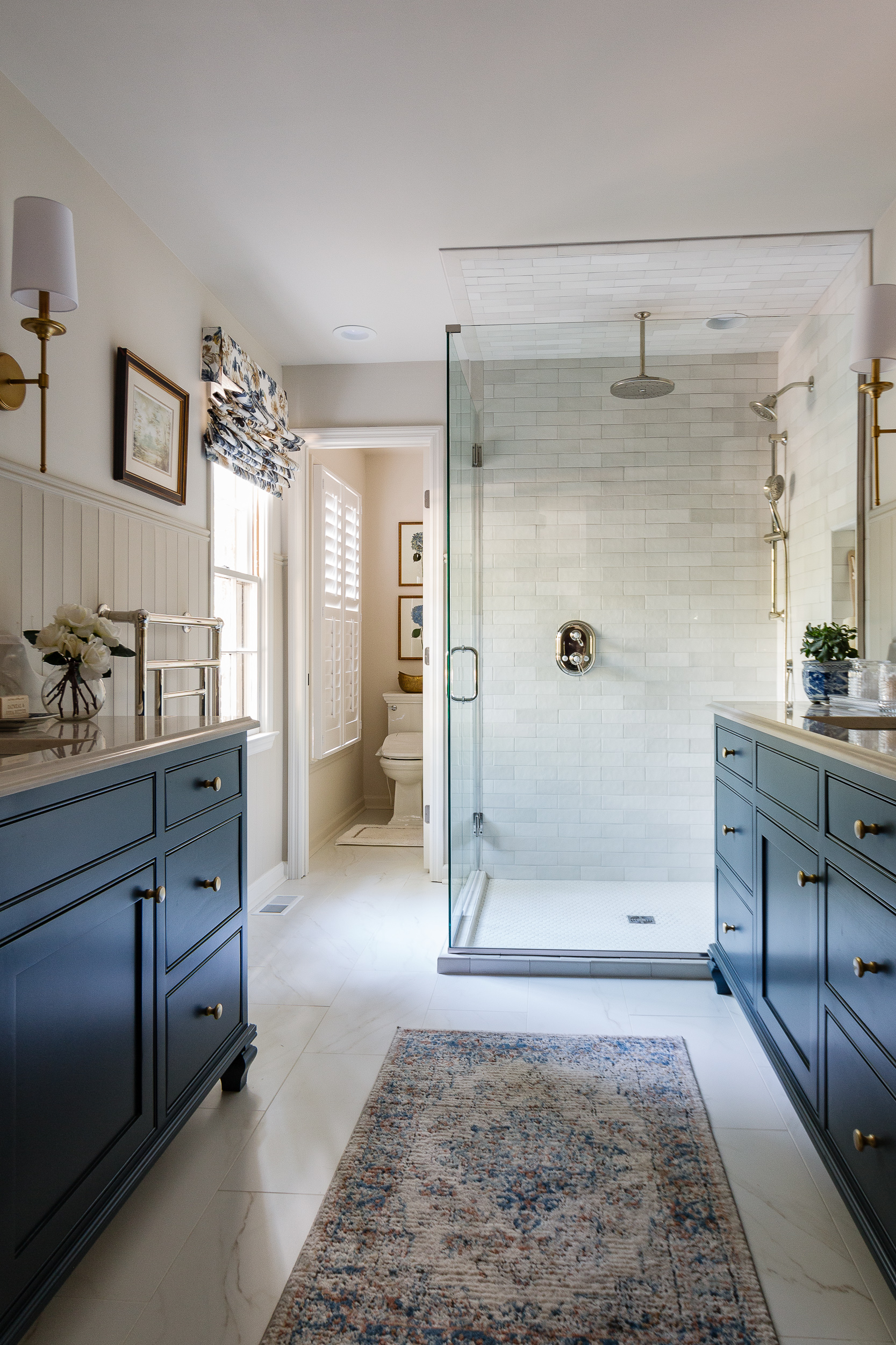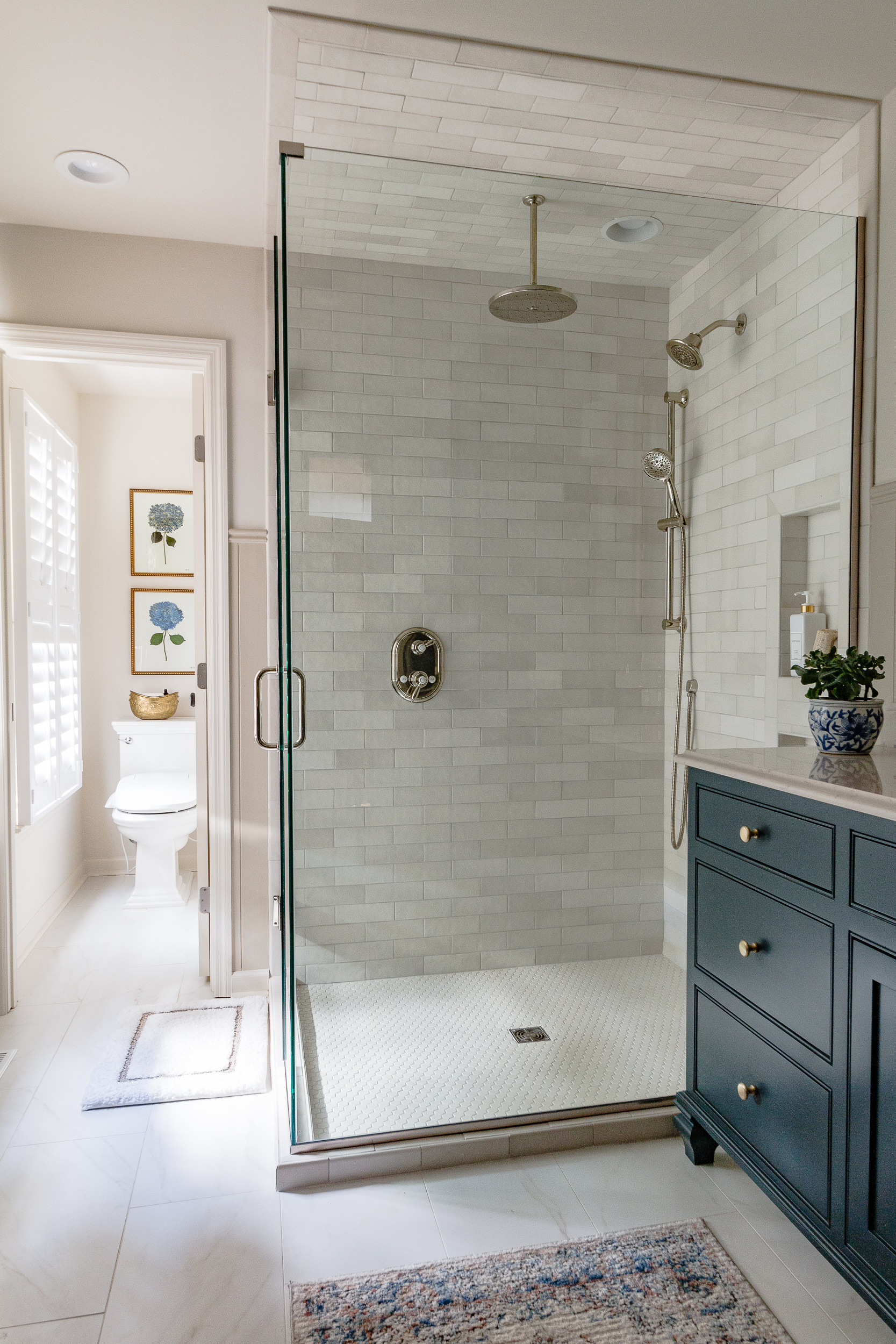 A variegated ceramic tile in a soft warm white and hints of grey create visual interest while still keeping the overall look quiet and relaxing.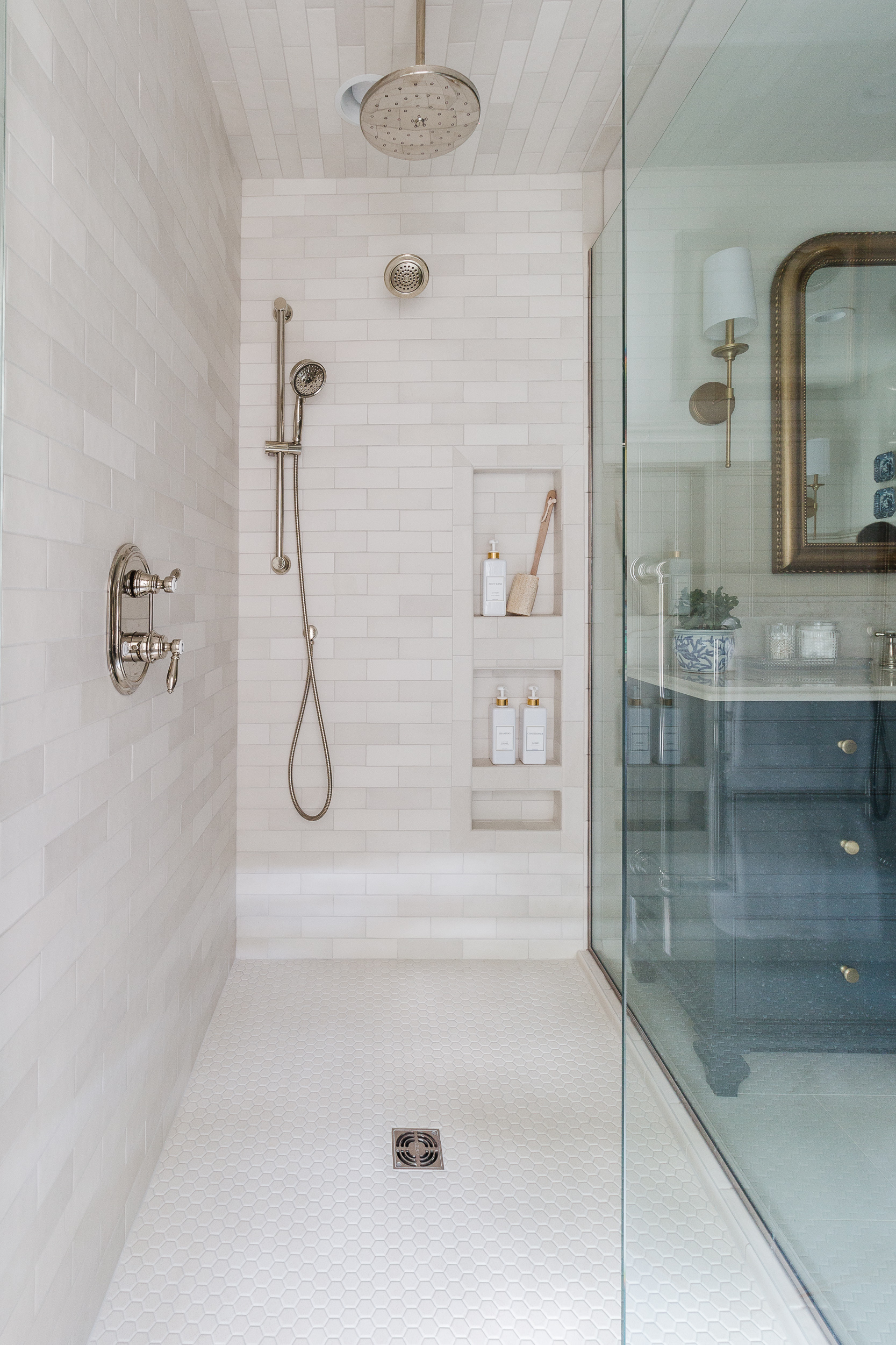 The shower floor was set with a complimentary hexagon pattern.
I designed the niches with a band of tile with soft bullnose edges. The three compartments hold their necessities but are tucked on the least visible wall as you enter. The lowest niche can be used for soap and a place to prop your foot while shaving.
What you can't see is the waterproofing system. I firmly believe in all of the Schluter product lines and always recommend them to my clients.
The Water Closet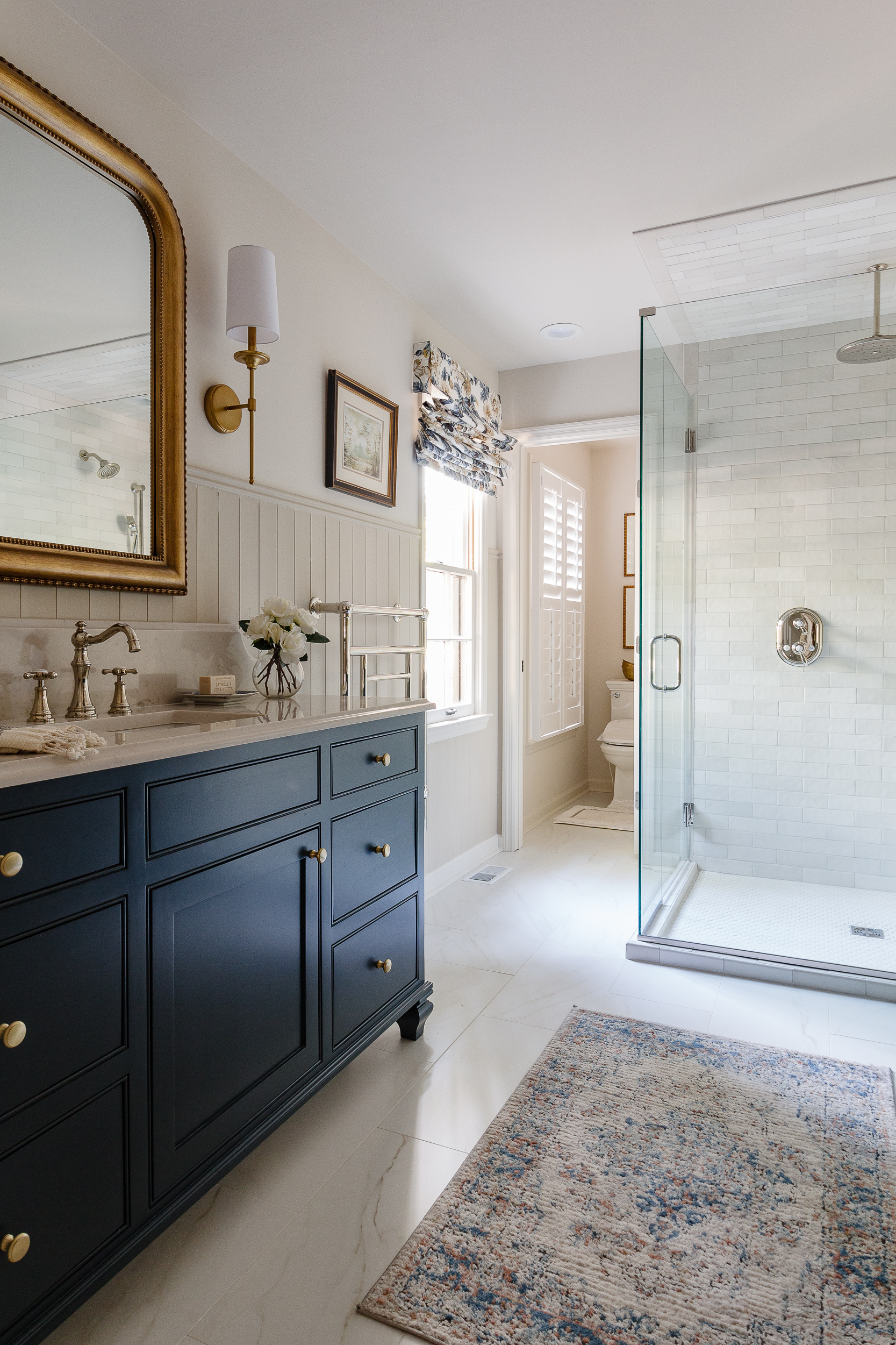 Instead of a fully exposed toilet, space was carved out of the passage from the Jack and Jill configuration.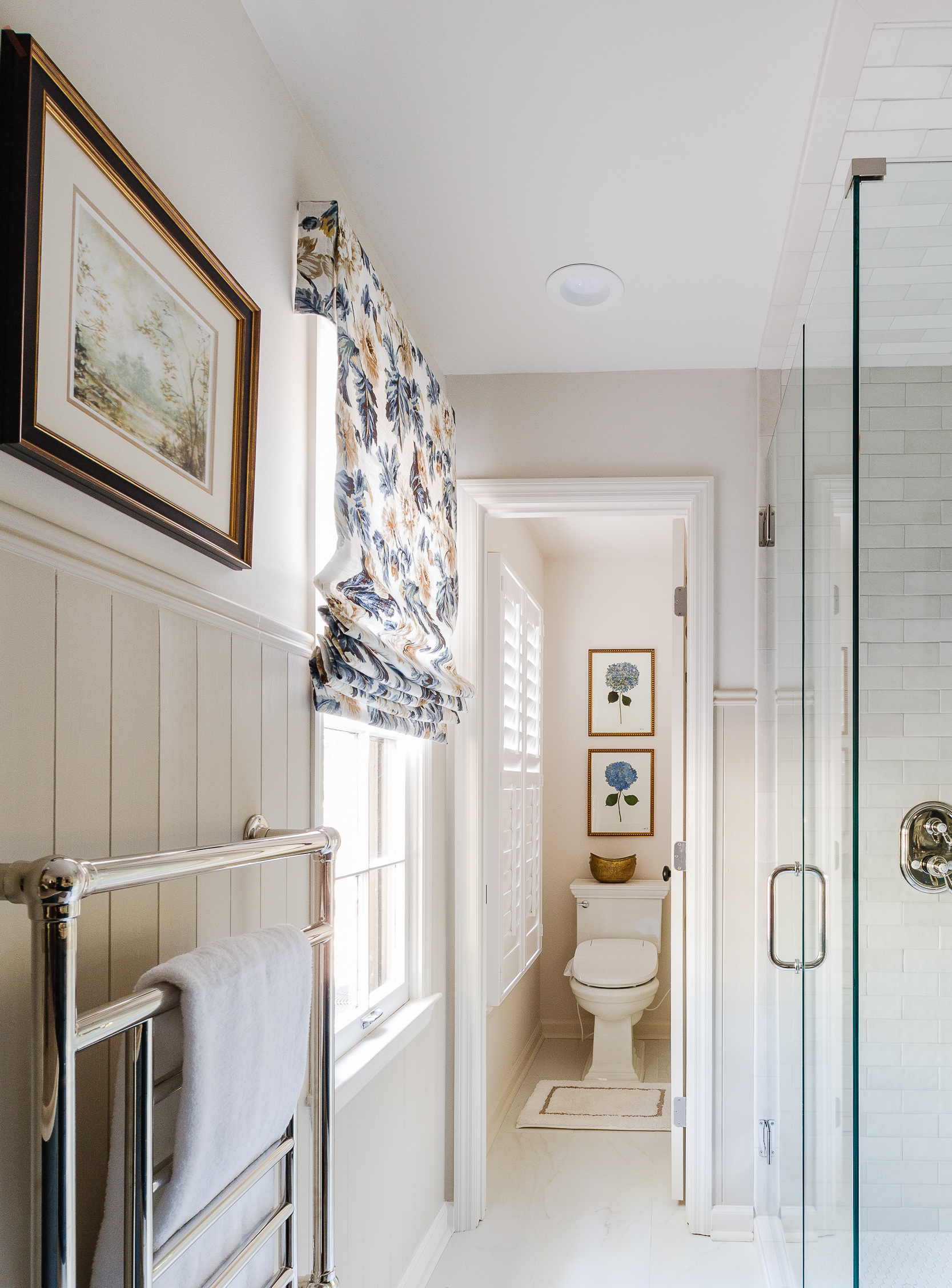 Because it was still slightly visible, it was important to select a toilet that was just as beautiful as the rest of the room.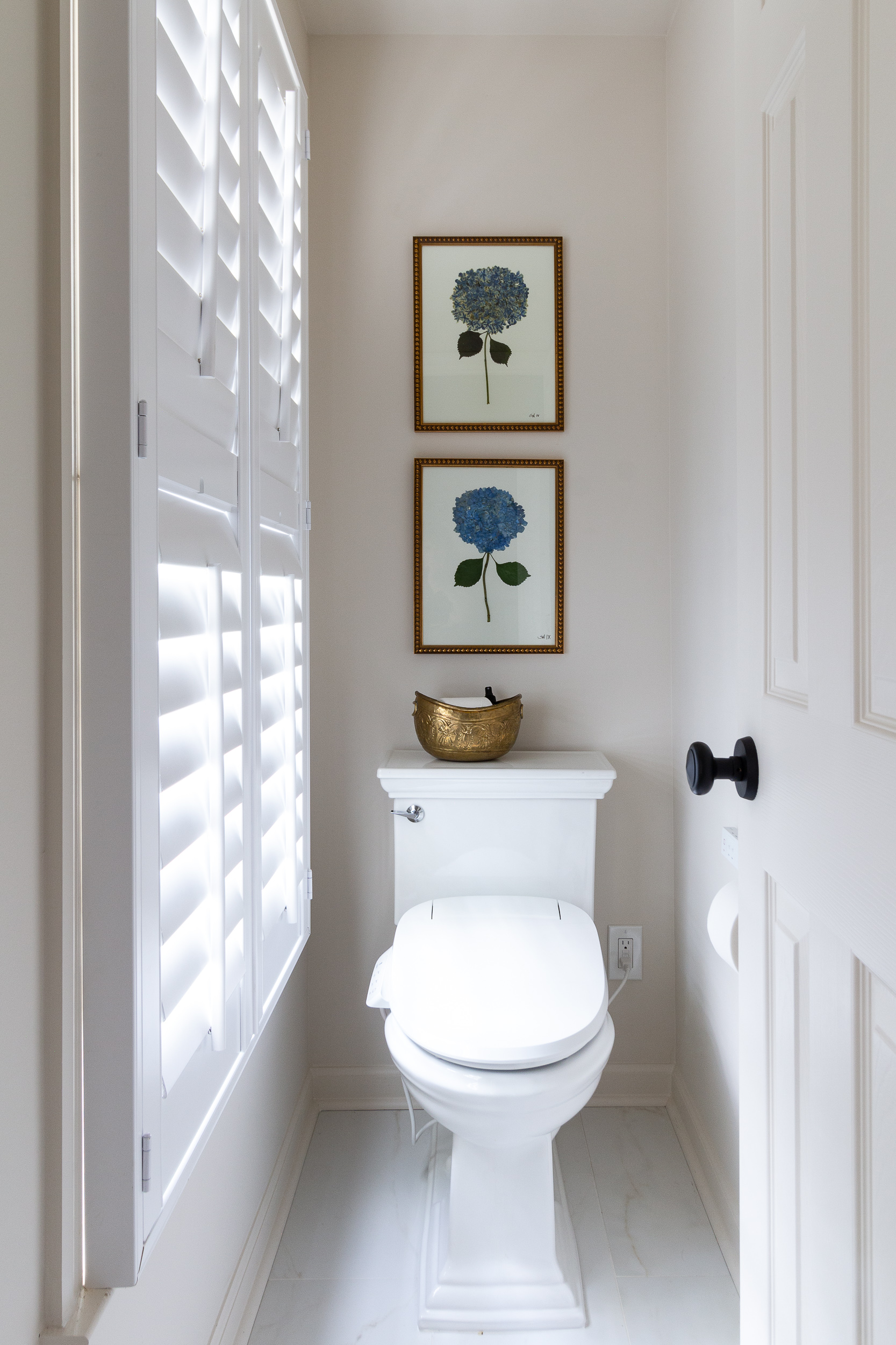 Adorning the walls with pressed hydrangea flowers lifts your eyes from the toilet in the most elegant way. An antique brass vessel holds an extra roll of paper and scented room spray.
The finishing details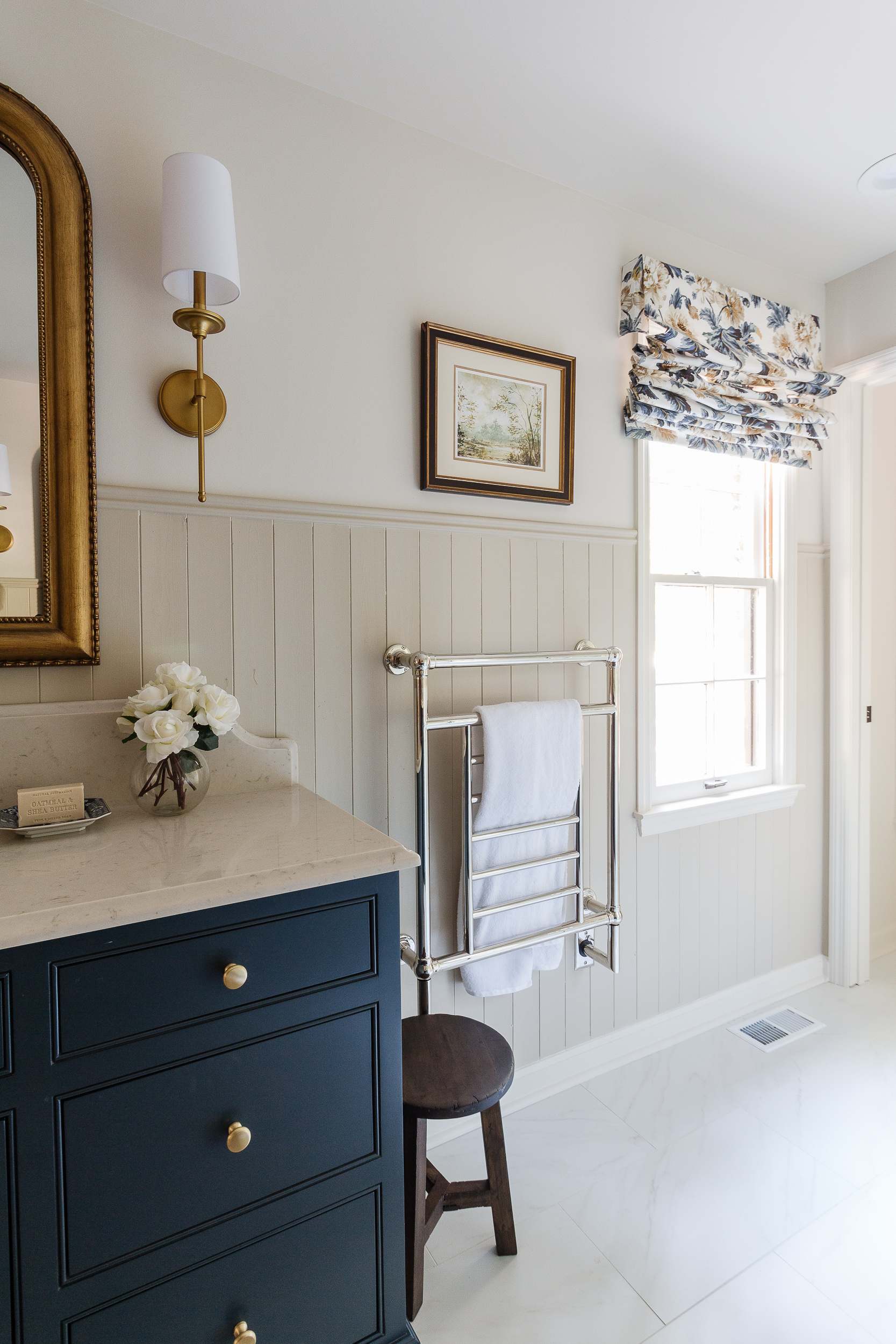 A fabric roman shade was custom-made by Calico. It offers a softness to the room and a level of privacy.
I always recommend that clients have a bathroom window frosted. That way they can let as much natural daylight in as possible while still feeling completely private.
As for art, I knew we had one other hero moment in the room for art and wanted to make it special. This art from local artist, Laurel-Dawn Latshaw highlights the tones and relaxing color palette.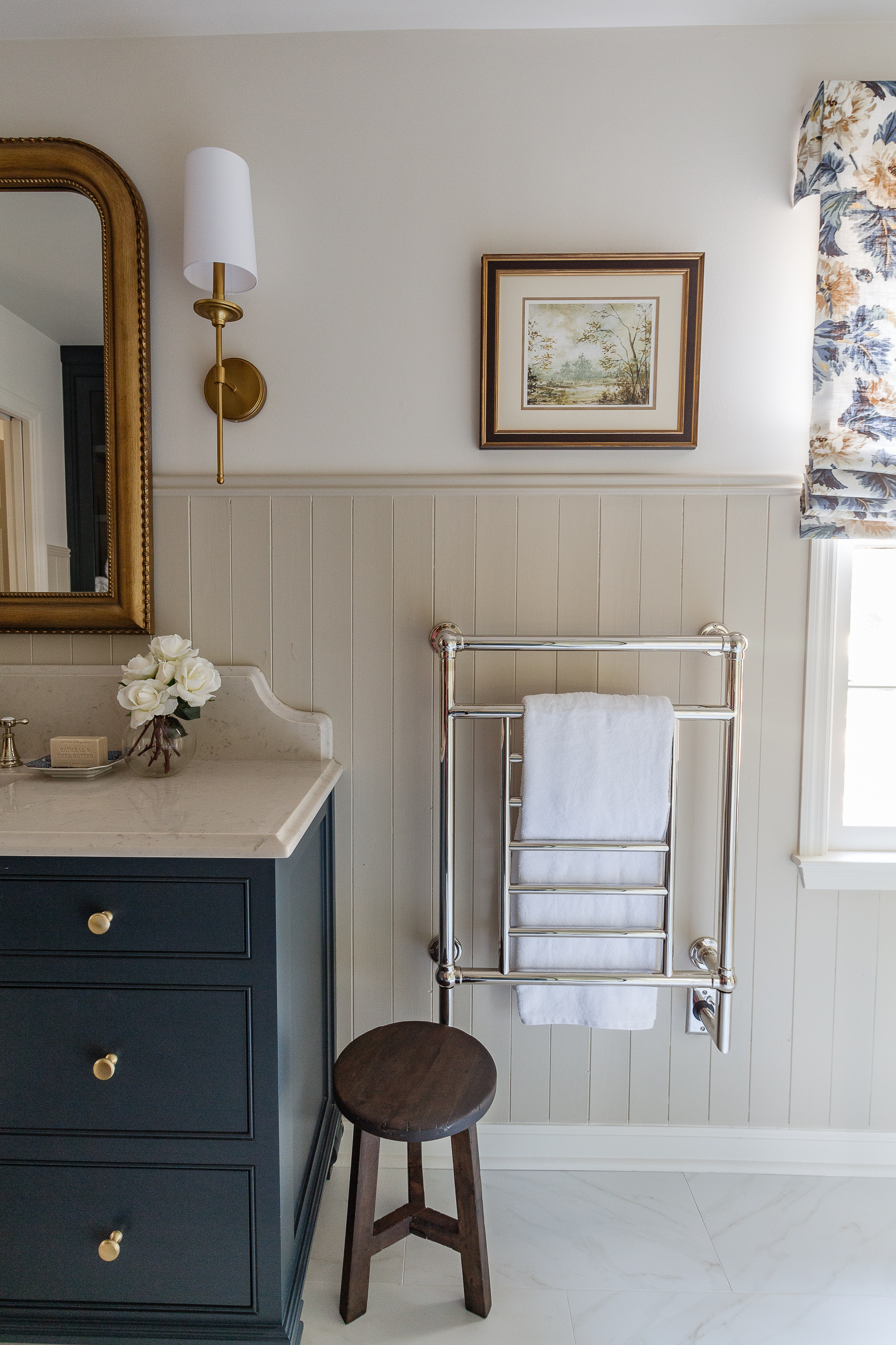 Once the clients realized we were indeed creating a luxurious bathroom, they requested a heated towel bar.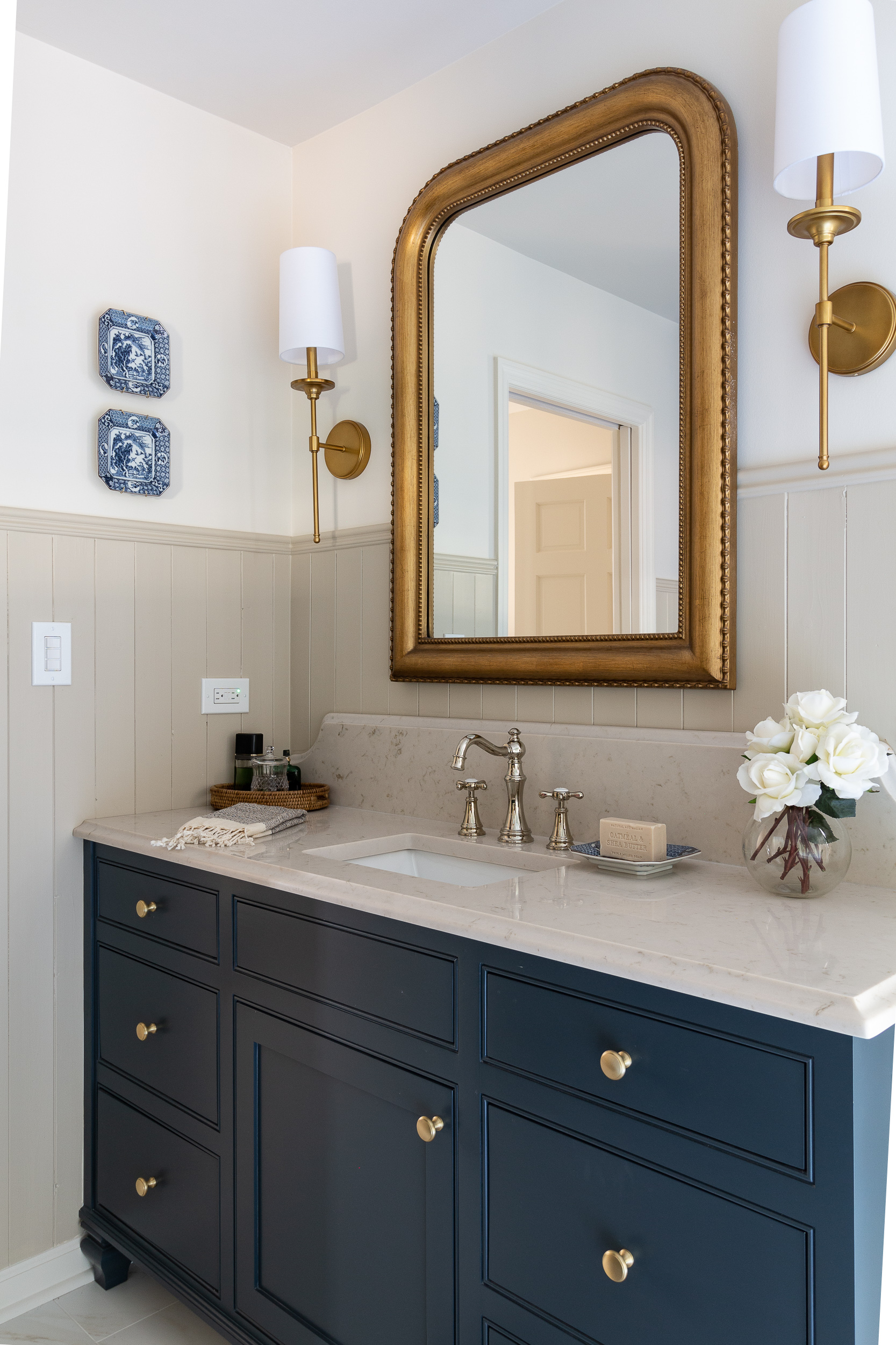 I would never have imagined I would have sacrificed a window and potential natural light for a design, but for this project it was a great call. The room is filled with plenty of natural light from two other windows and we achieved a much better layout in exchange.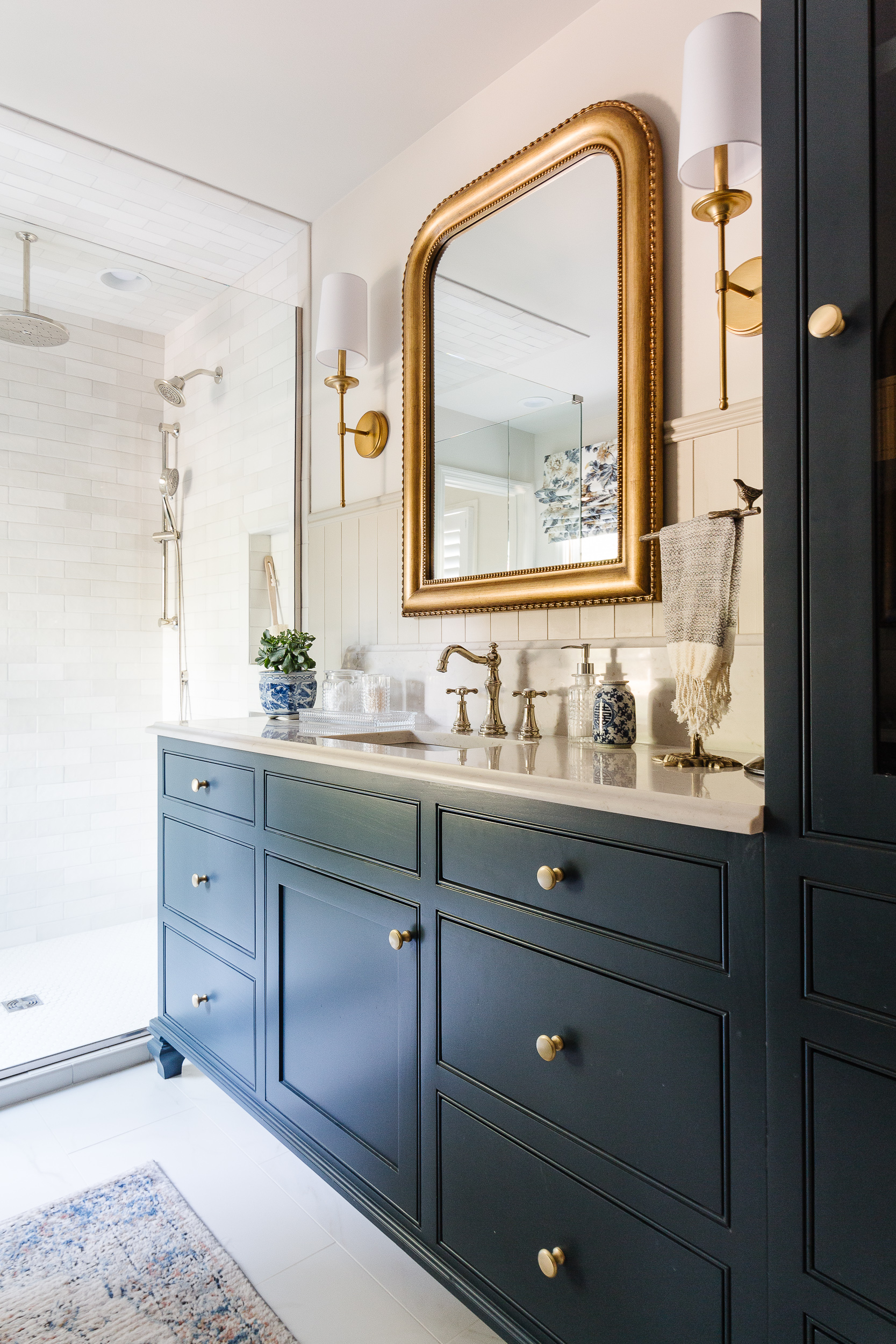 I am so thankful to have the opportunity not only to remodel this bathroom for these incredible people and clients but fix a wrong I saw when we toured this house years prior. As time passed on this project, I remembered scheming how we could have remedied this awkward floor plan. It feels like a full circle moment, destiny if you will, to have achieved this dream for them.
Available Sources
Mirrors: Hamilton Hills 30×40
Fixtures: Moen Weymouth Polished Nickel
Sconces: Rubbed Brass Single Light Dimmable
Rug: Loloi Rugs, Bianca
Toilet: Memoirs Stately
Towel Stand: Everlee
Do you live in the Birmingham, Alabama area and desire a space like this? Use the Services tab for your initial consultation. Occasionally I work with clients virtually, we can explore that option as well.