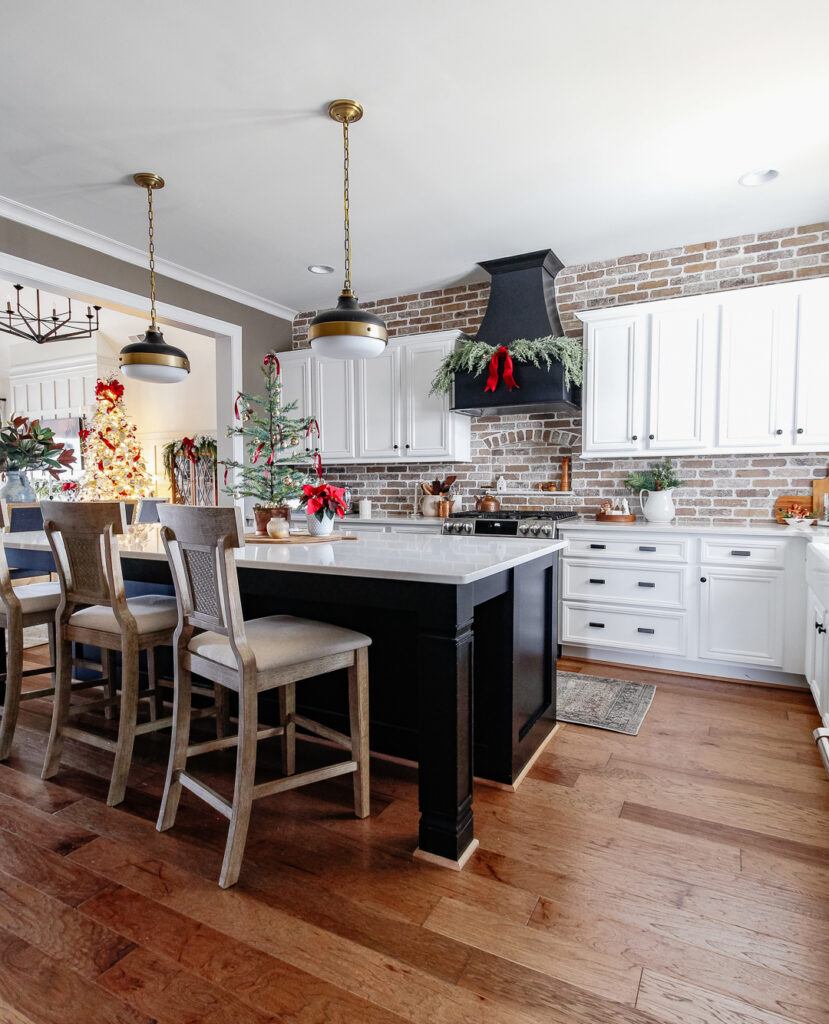 From preparing traditional treats, cookies, and cakes, to big holiday dinners or parties, our kitchens play a very important role during the Christmas season. It is no wonder we want to add a little holiday cheer to our kitchens.
I like to keep my kitchen Christmas decor slightly pared back to practical touches here and there. I want to create a feeling that it was considered and decorated but not so much that it doesn't function beautifully too.
To demonstrate some of the ideas I wanted to share in this post, I reference a few looks at years past in our kitchen. This will be our 4th Christmas here. I hope you enjoy the glimpses from years past as much as I did.
On the island
If you have an island or even a peninsula, this is the perfect place to create a scene with a larger-scale item, like a small Christmas tree.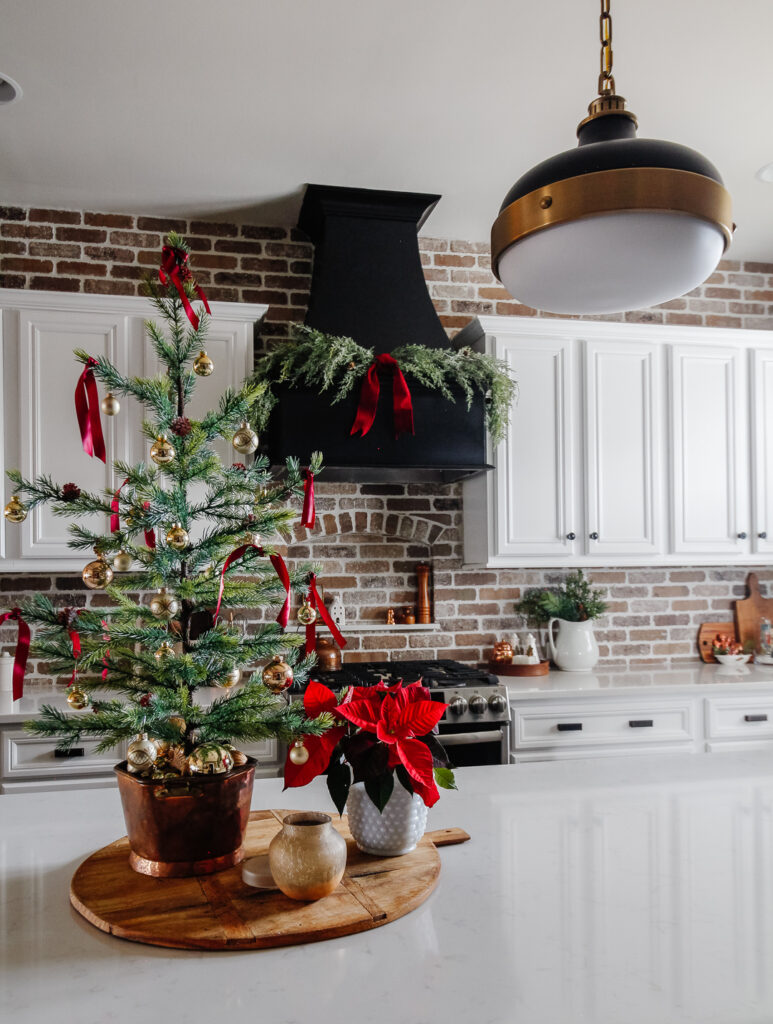 A holiday candle, small bouquet of flowers or small potted poinsettia finishes out a grouping around a tree nicely. I picked up this little poinsettia at Walmart for $5 and love the pop of deep red it adds. As the big day draws near, I will likely swap it out for a vase of fresh flowers, most likely in red and white.
Like I shared in this photo from last year.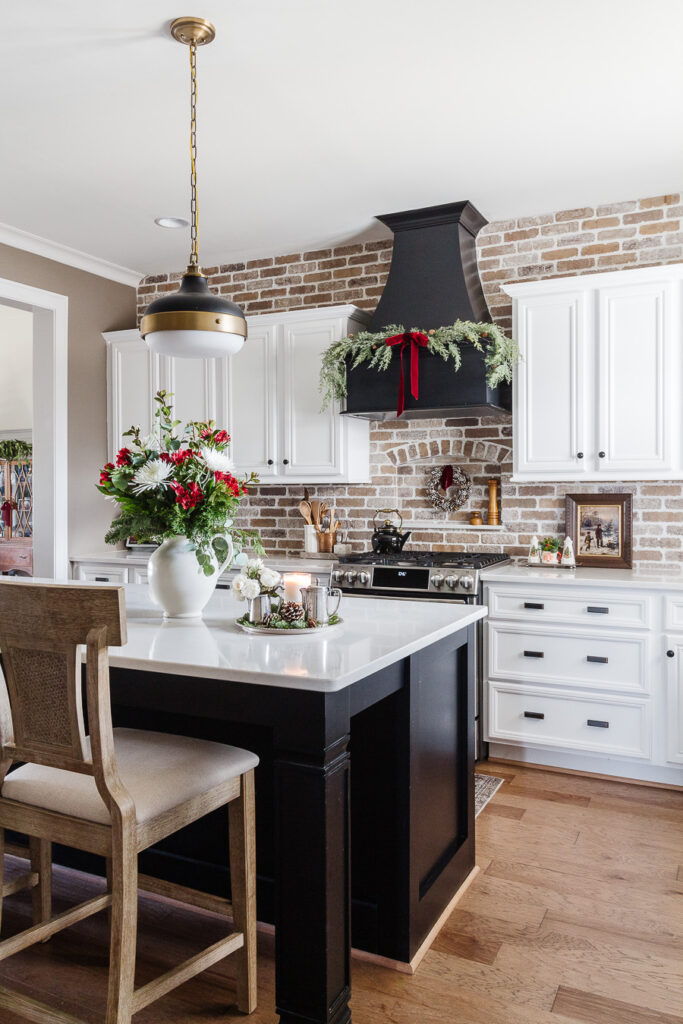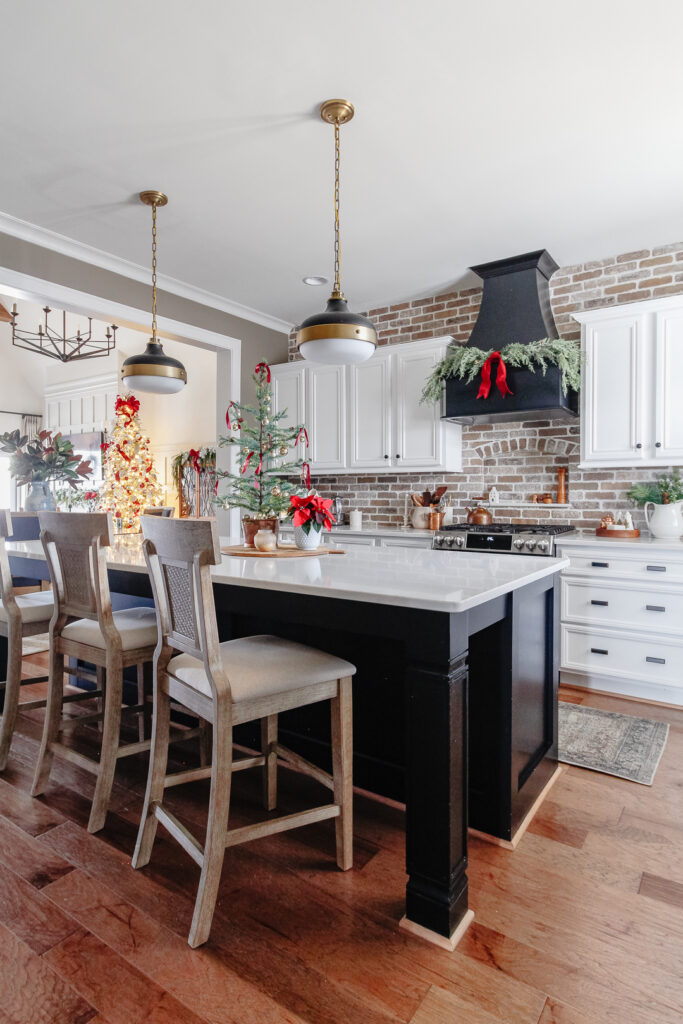 Corraling those three elements on a large chopping board or platter makes it easier to slide out of the way if needed. I don't know about you, but when we are decorating sugar cookies or making pecan Rolo turtles, we need all of the counter space we can get.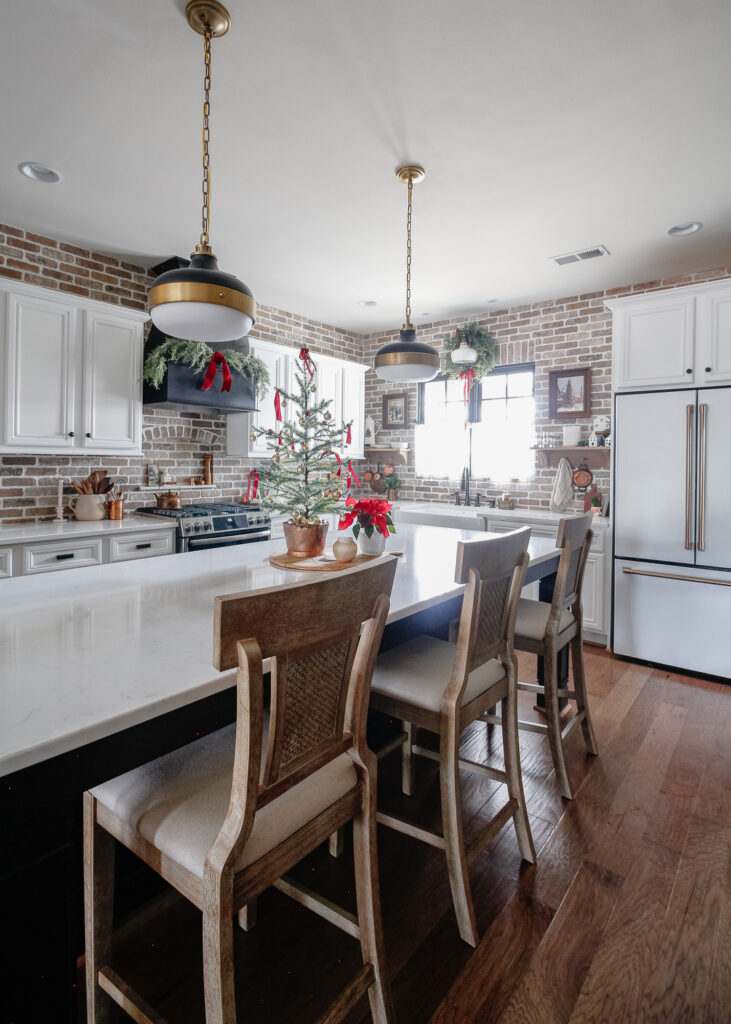 Over the cooktop or range
Even if you do not have a sizeable decorative hood, securing a small strand or two of garland is a great way to highlight the focal point of your kitchen.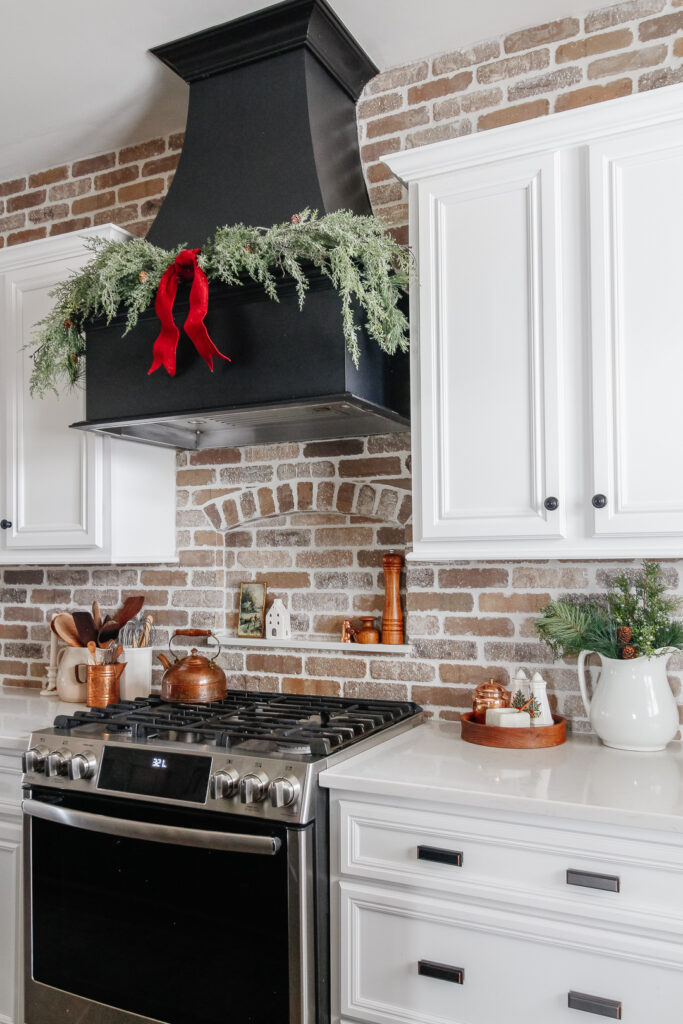 I tend to stick with only faux garland or wreath here. No one wants to find bits of cypress or pine in their dinner.
If you have a larger hood, a wreath is also a great addition. The first year we lived in this house, I added a wreath, like the photo below. I had wanted to use a smaller wreath this year, but the hood's slope makes it a bit difficult to secure a Command Hook.
Knowing I had done so before, I couldn't figure out why a wreath wouldn't stay. Looking back at this photo now I realize this wreath is much bigger and therefore hung much higher in the flatter portion of the hood.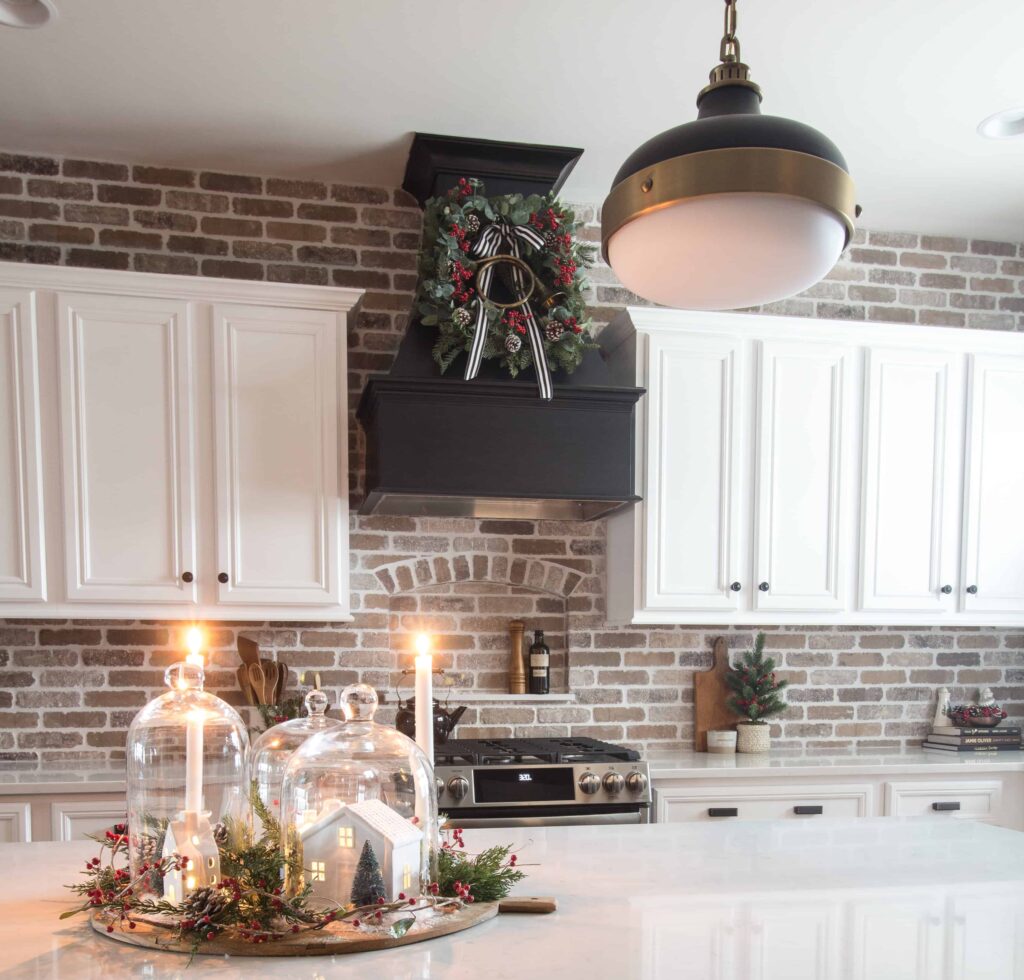 Around the sink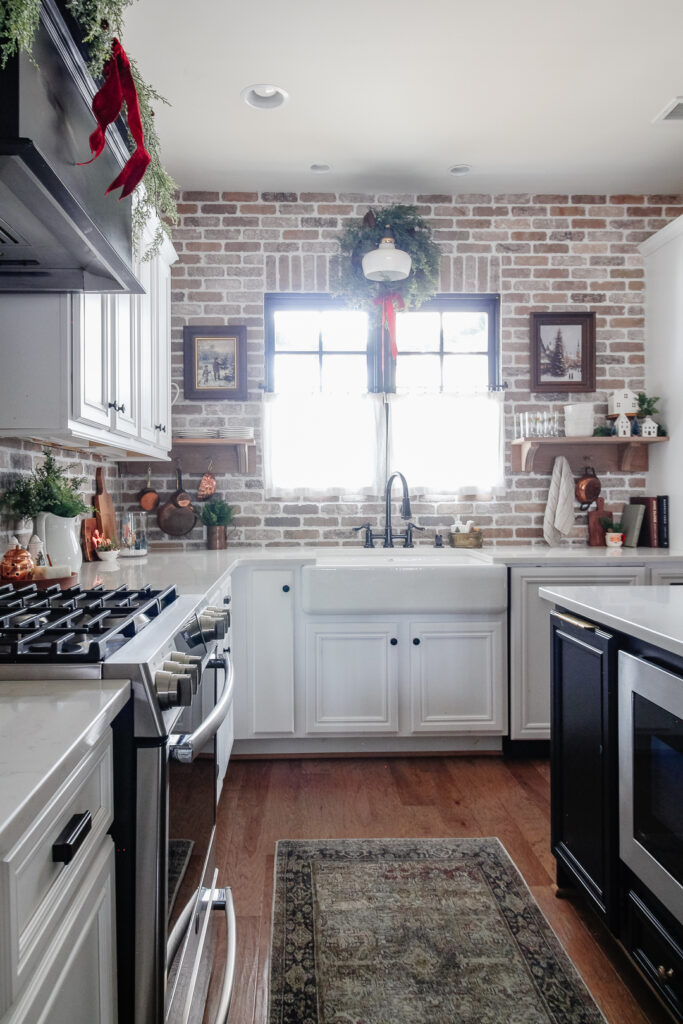 This year, because I had the extra wreath, I slipped it over the sconce above the sink. A small velvet bow finishes it off perfectly.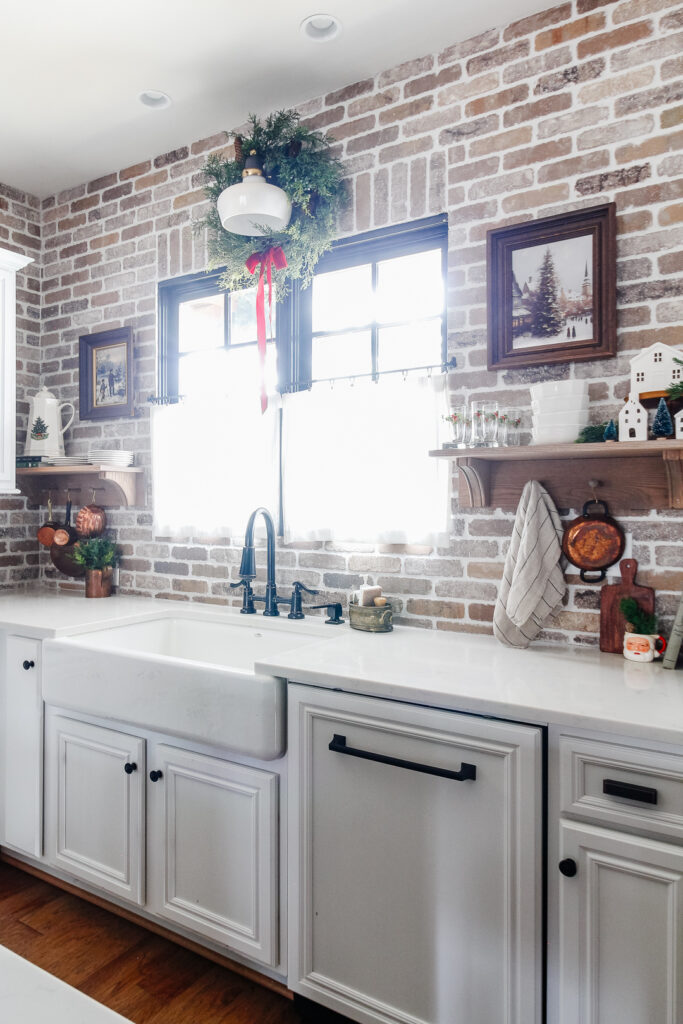 In previous years, I have secured garland around the window. Which look do you like best?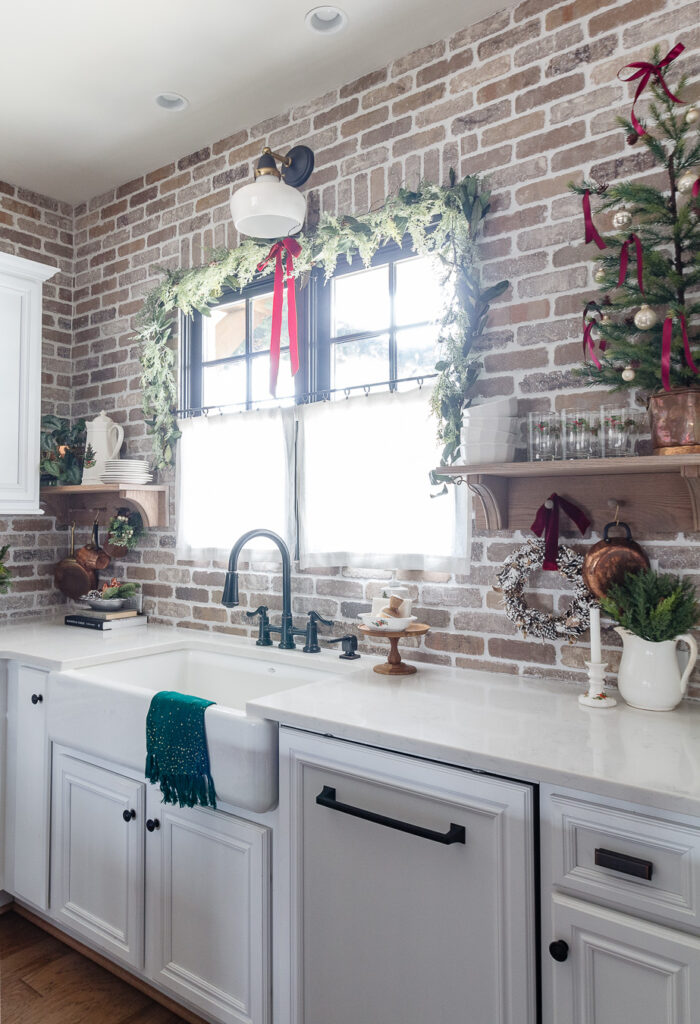 Even if you don't have a window above your sink, dressing up the every day with holiday-themed soaps add that extra holiday cheer.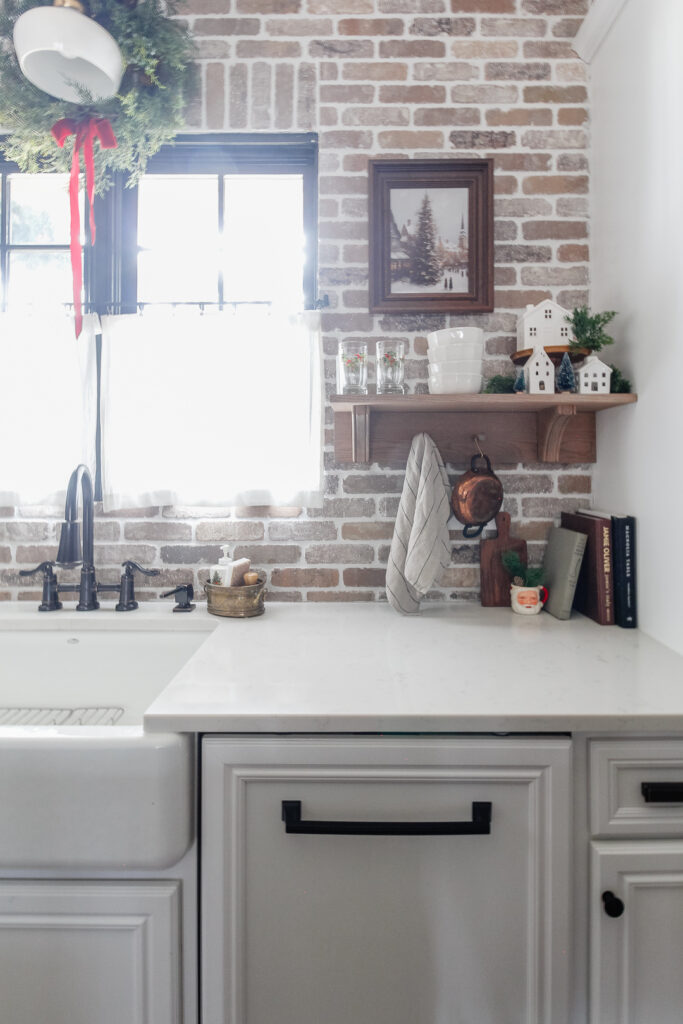 I have grown quite fond of the brass planter I use as a catch-all by the sink, but elevating the collection with a small stand is also very nice.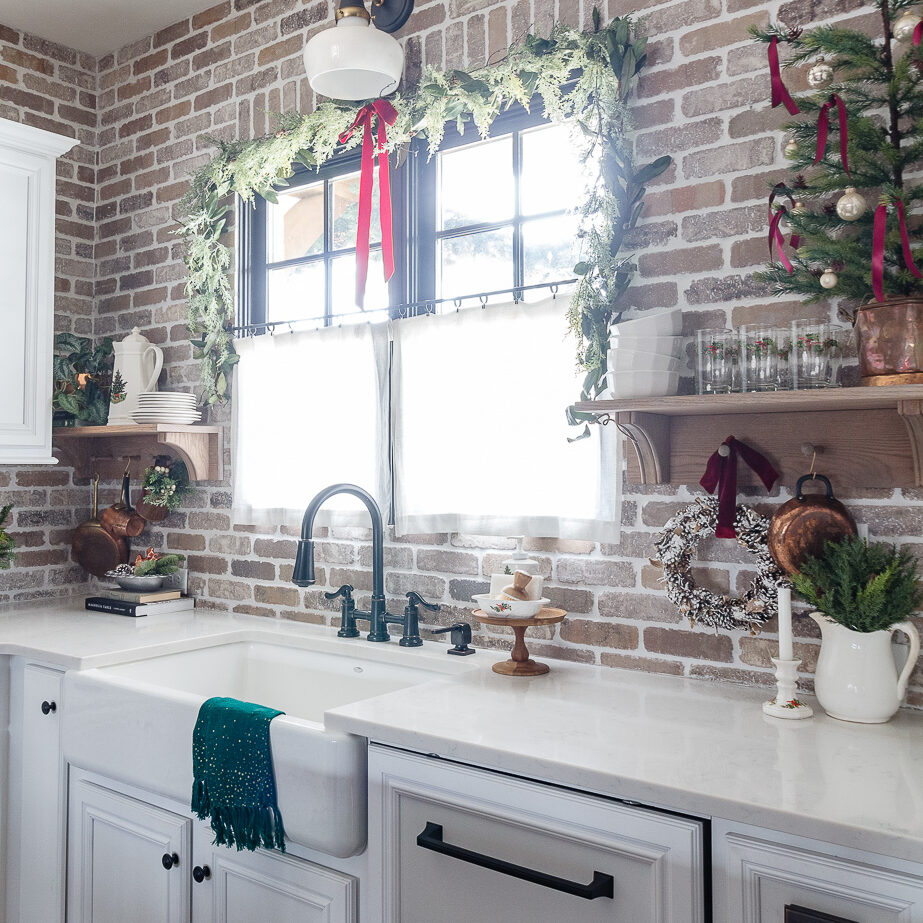 SHOP the look

Seasonal and Christmas Art
We are so lucky to live in a time when vintage art can be found at our fingertips. Christmas and seasonal art to print either on your printer or at a local print shop couldn't be easier to find. I'll add a few of my favorite Etsy shops below.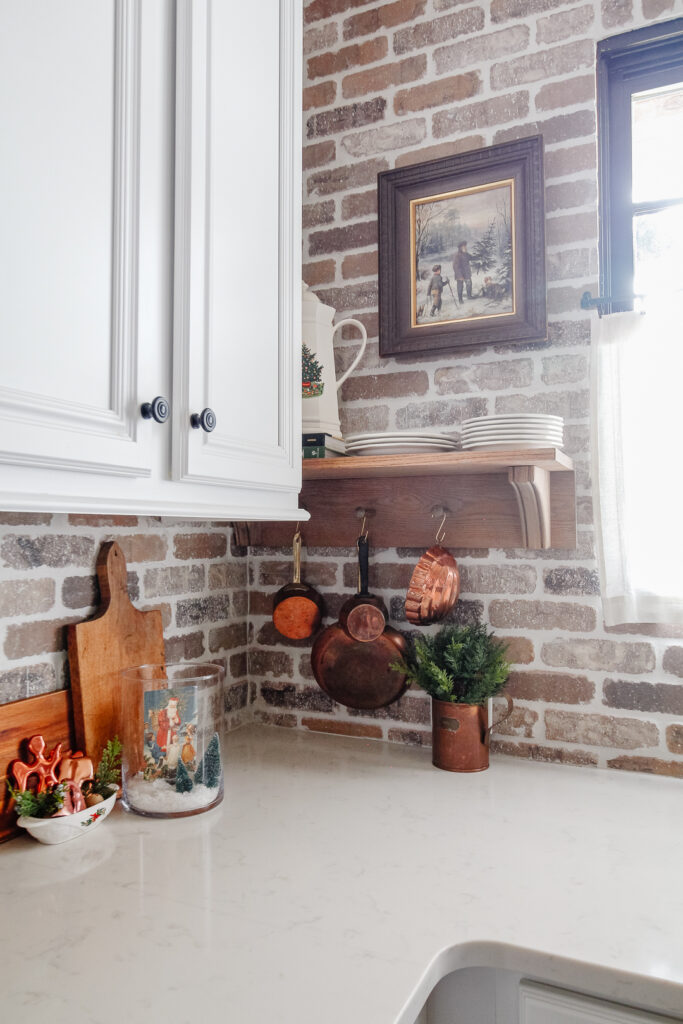 I often use the space above the open shelves to hang art. Some years, I hang two, it most often depends on the height of the items I use on the shelves.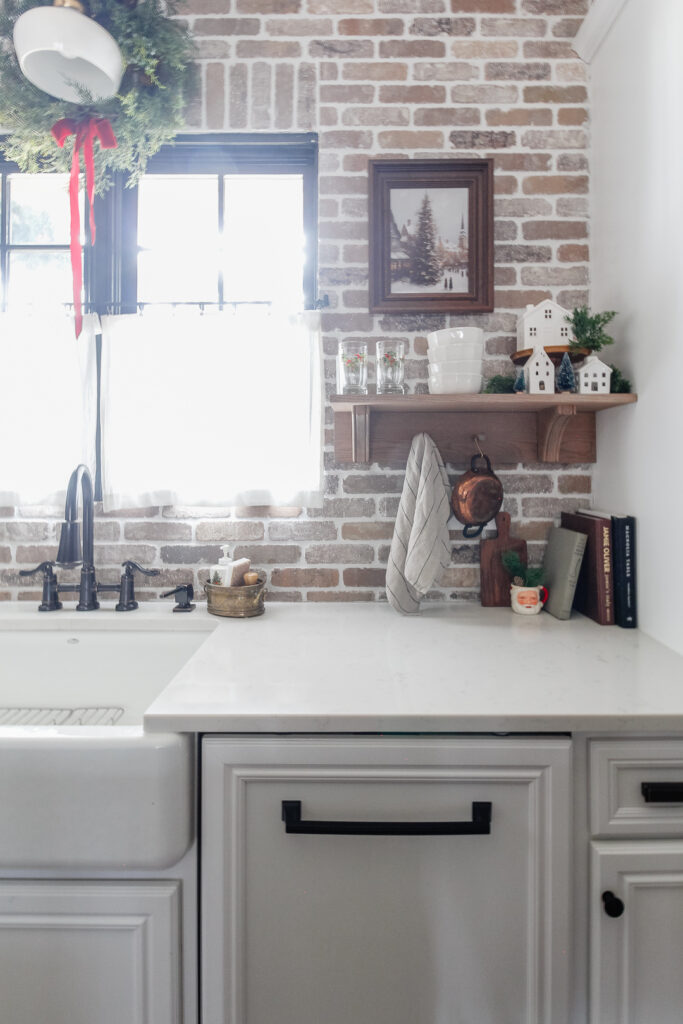 I think this kind of art is extremely charming and sets the mood of Christmas and winter without making an overarching statement. (If you've been around here, you already know this is a spot I change seasonally. Most often with the art of the season.)
Winter Village Art from LaGaleriaDeArte
Country Christmas Vintage Painting from North Prints
Vintage Santa Art from Circa Art Collection
Small collections under cabinets
A good rule for decorating around your kitchen under the cabinets is to give your items, whether functional or decorative, room to breathe.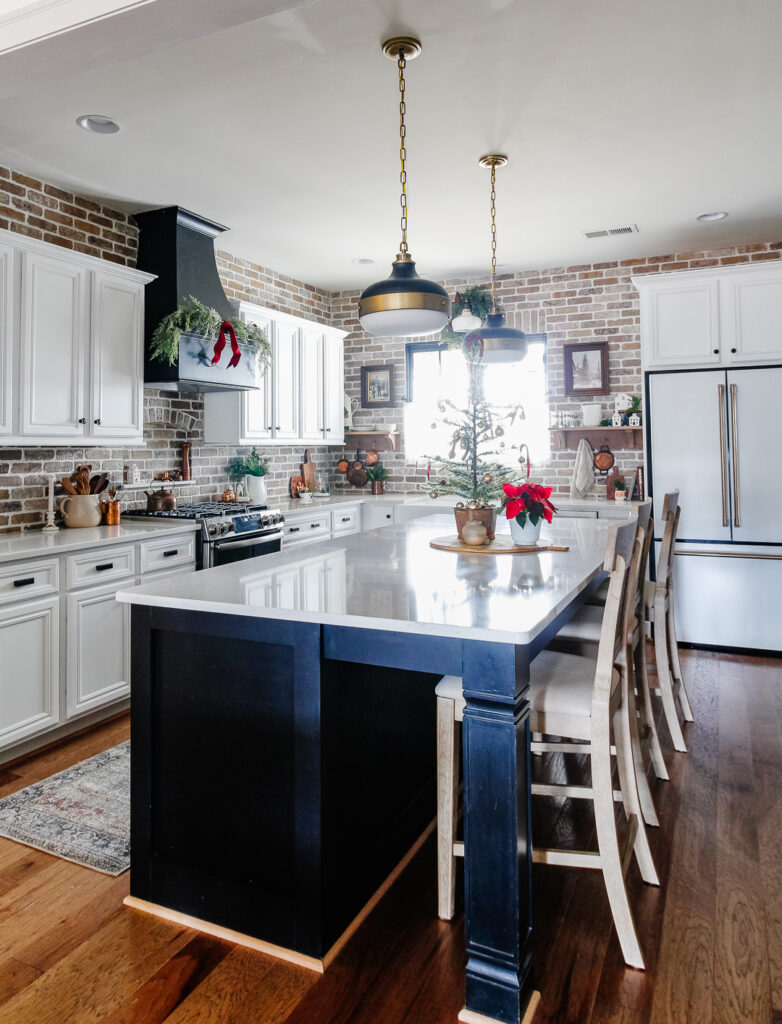 In this pulled-back view, you can see I created collections of items around the kitchen with plenty of "blank" space. If you need to have functional items on your counter for daily use, then use fewer decorative pieces. Or tuck one seasonal piece next to the functional item.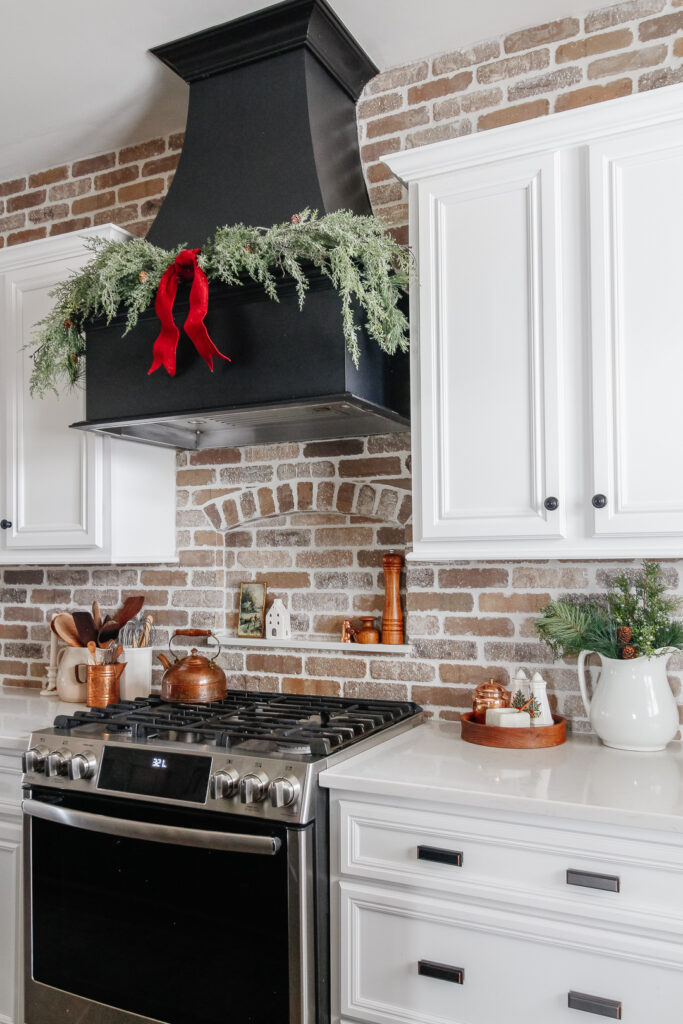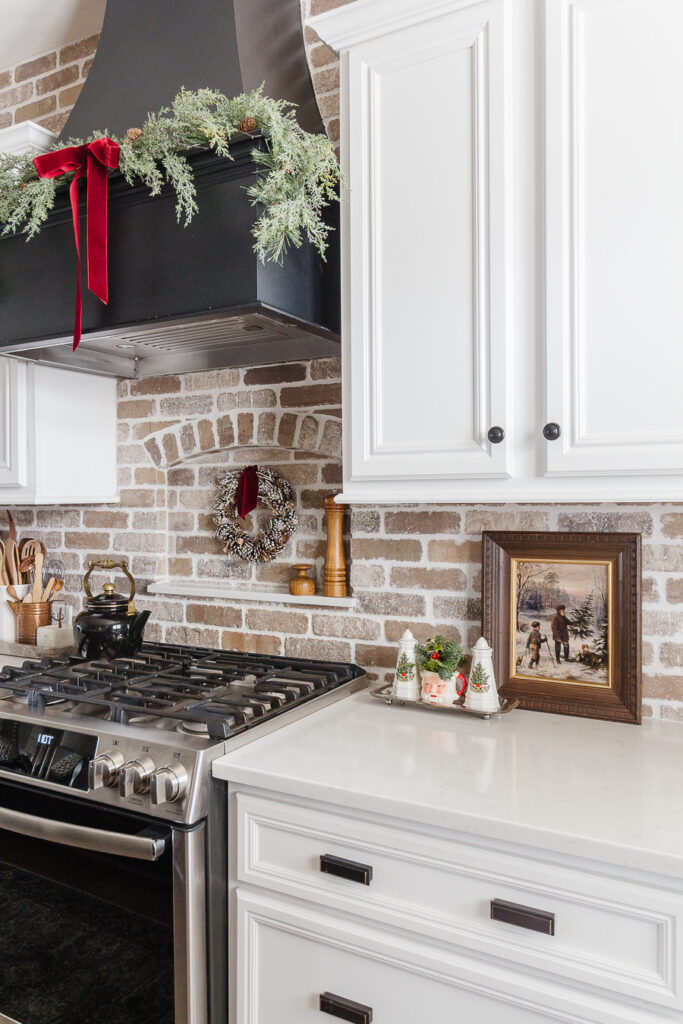 All the better if your functional items are also seasonal. For several years after our marriage, my family gifted us Pflaltzgraph Christmas dishes and accessories. The tradition of pulling out these Christmas dishes and items is one of the small joys of Christmas for me. I also revel in the challenge of using the pieces in different ways.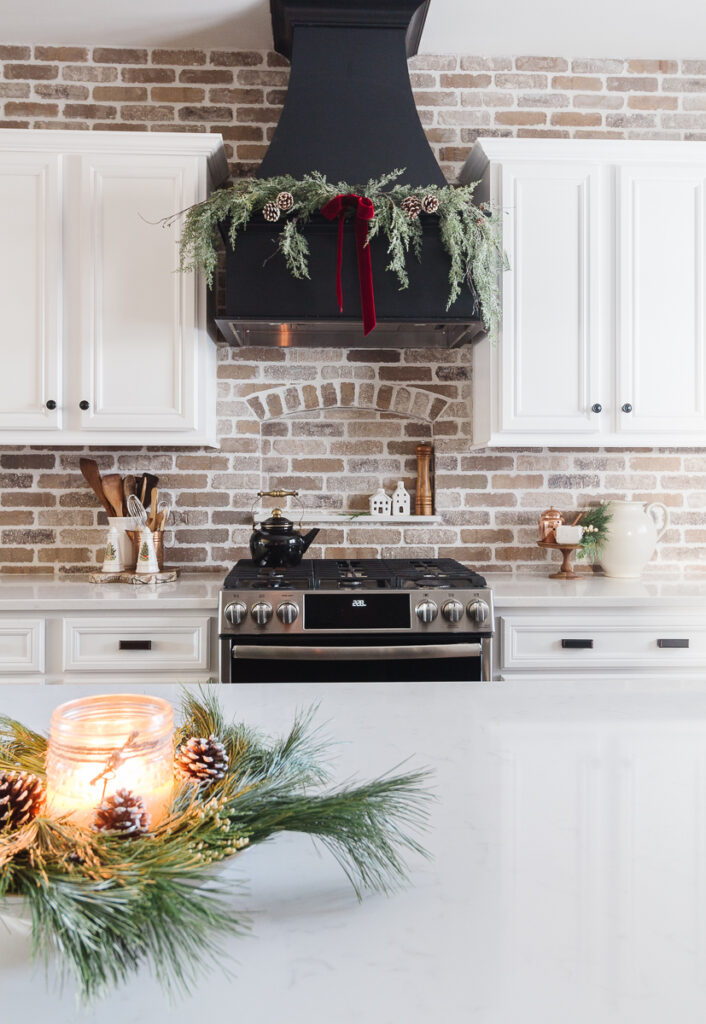 This year, I knew I wanted to display this new to me vintage Christmas postcard. I decided to create a little open snow globe scene. To make the postcard stand upright, I used a small metal floral frog.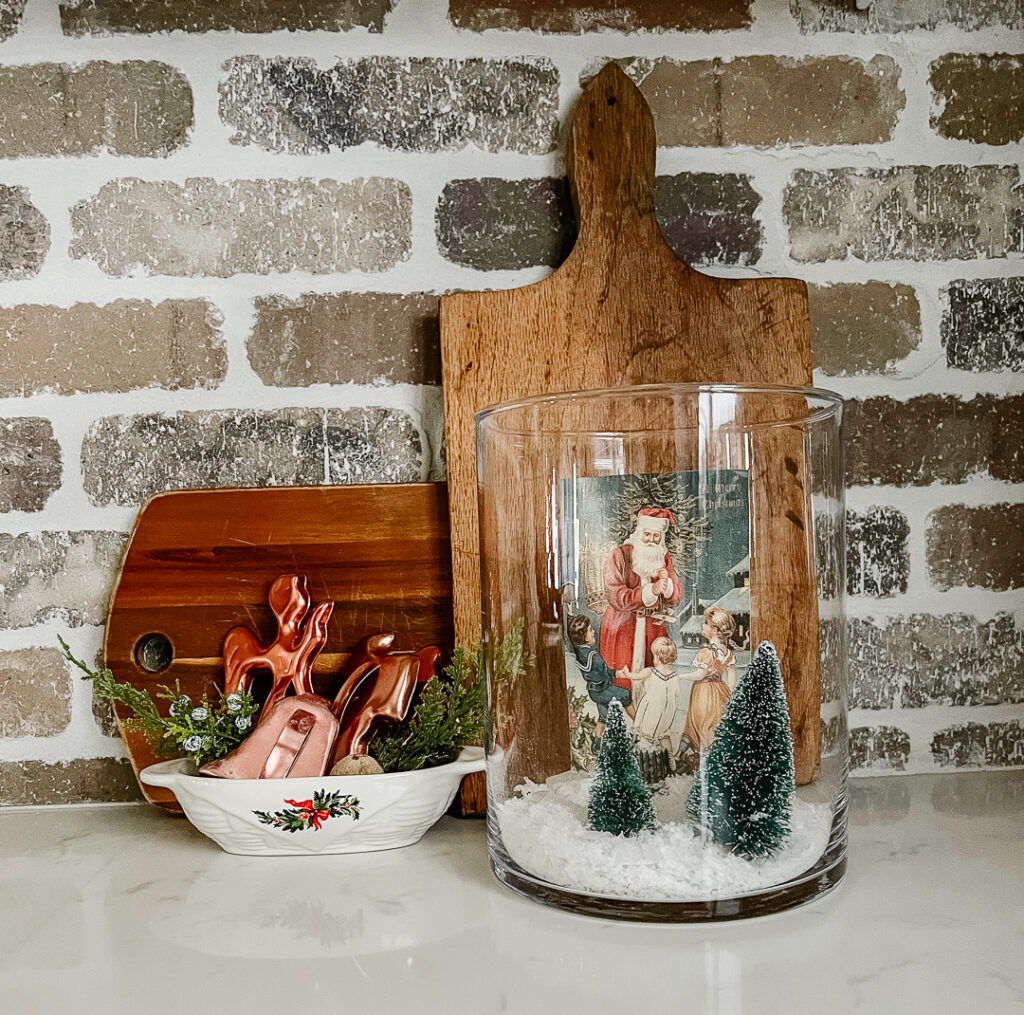 Over the years I have collected these copper cookie cutters and love tucking them somewhere in the kitchen.
The Pantry or Nearby Closet
We are blessed to have a generous pantry just around the island. The vintage door receives some type of wreath or swag each year. This year, our vintage style bells found a home. We keep this door open most of the time, but when I hung the bells I considered that we would know when each other went to the pantry for a snack!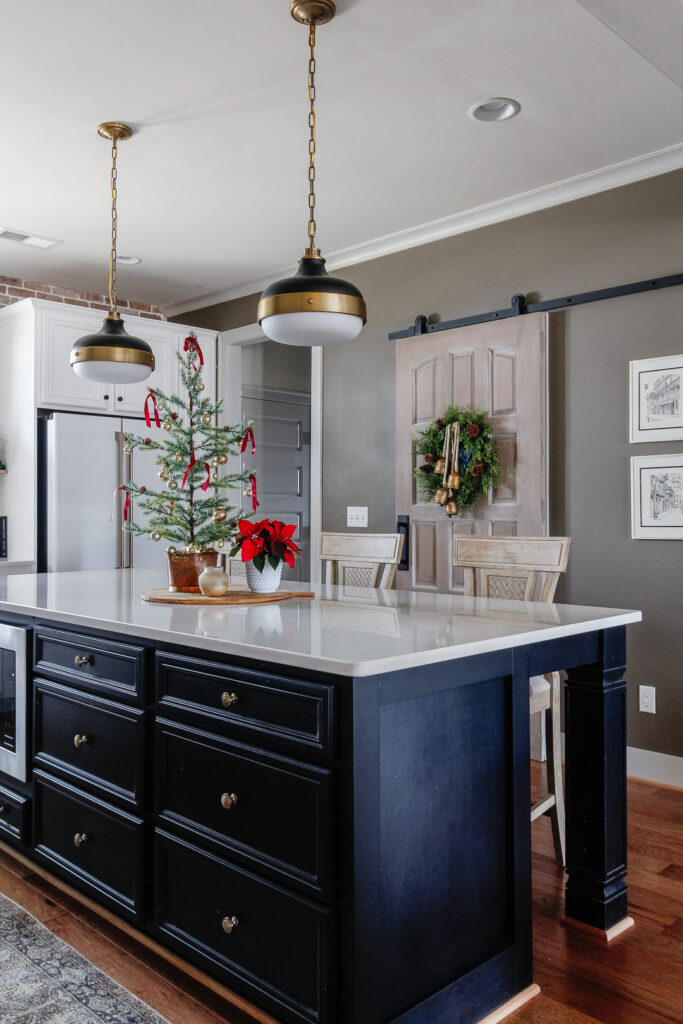 Some years the wreath is hung with a ribbon detail.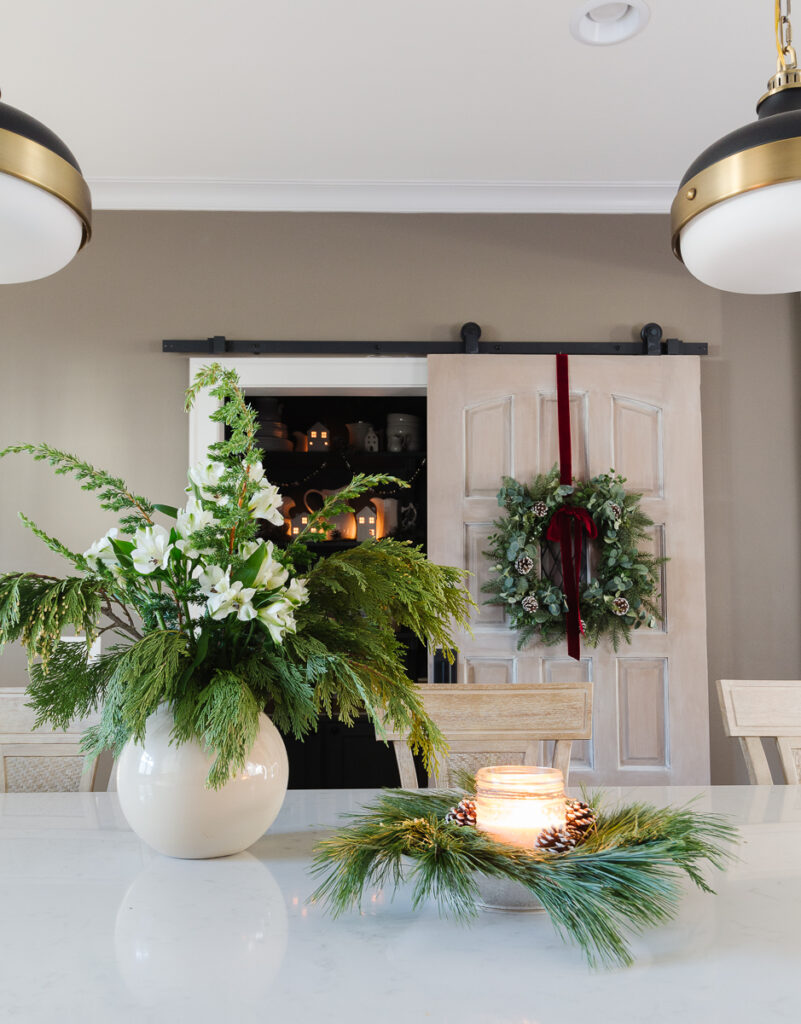 In years past, I have added a touches of Christmas to the pantry. But not this year.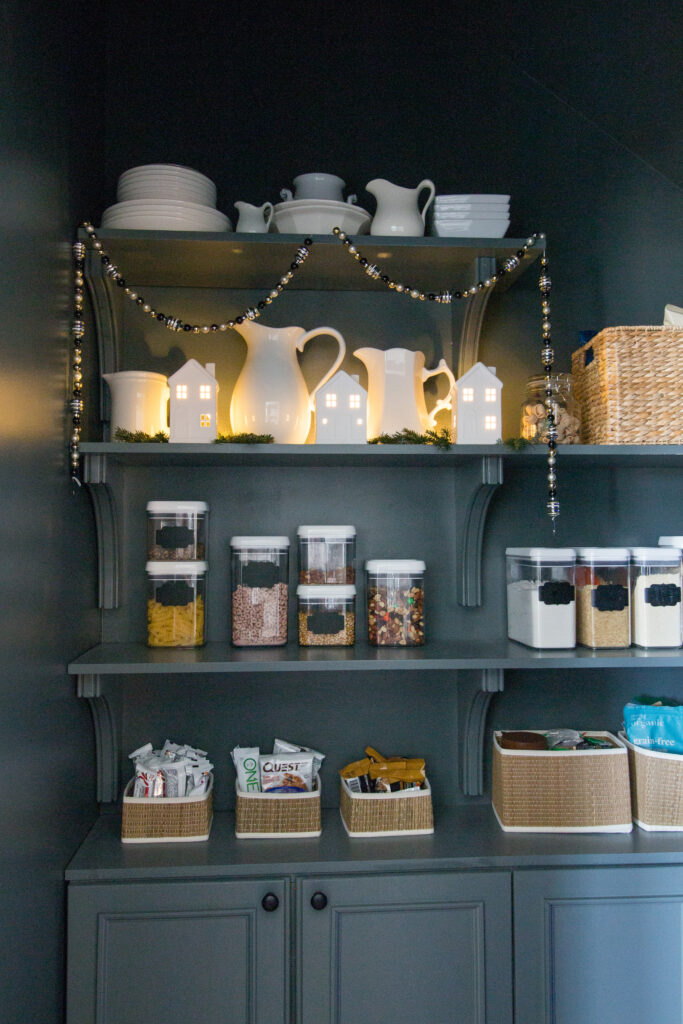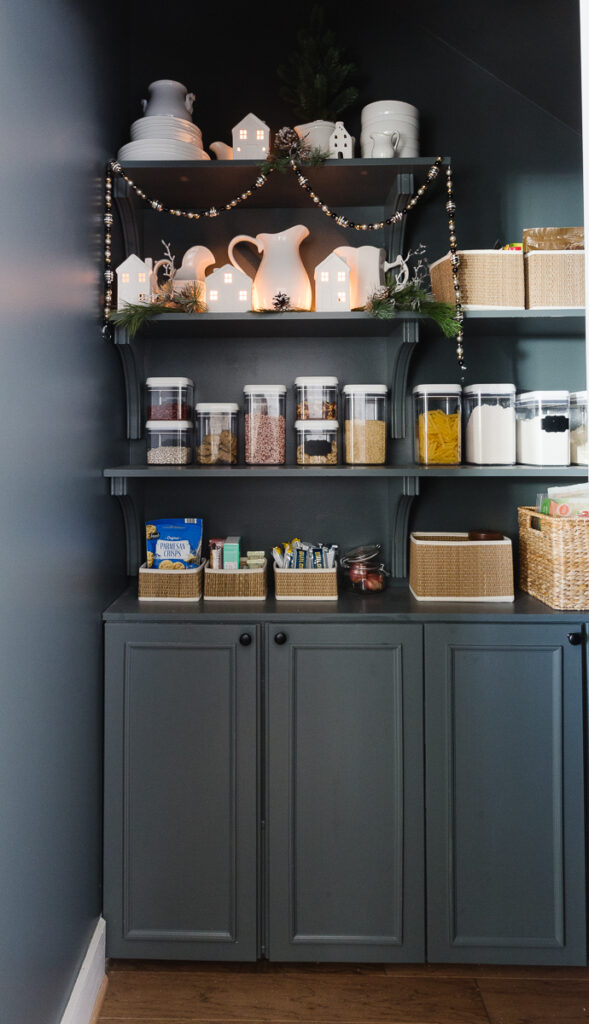 I hope you gleaned a few ideas and tips that will inspire you to add touches of Christmas to your kitchen. Creating a home that suits you and your family is the ultimate goal at any time of the year, is what I believe is most important.
If you missed Part One of this year's Christmas Home Tour, you can find it here. This year I returned to a classic burgundy color palette with flocked snow and silver touches.