If you follow me on Instagram, then you've seen a sneak peek of my Fresh Fall arrangement. But today I'm showing you just how easy it was to put together. Along with a few more photos.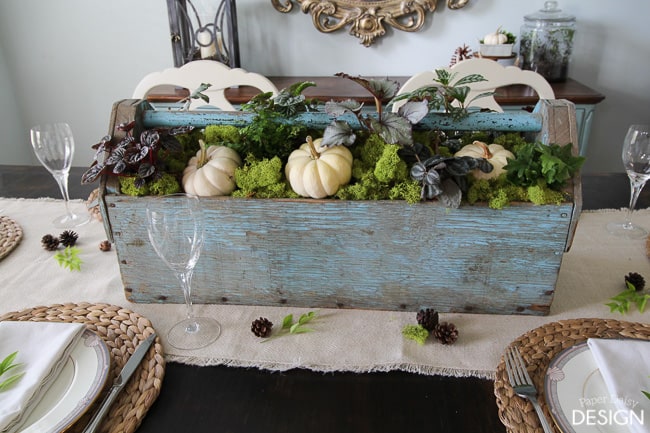 Okay, maybe a lot more photos.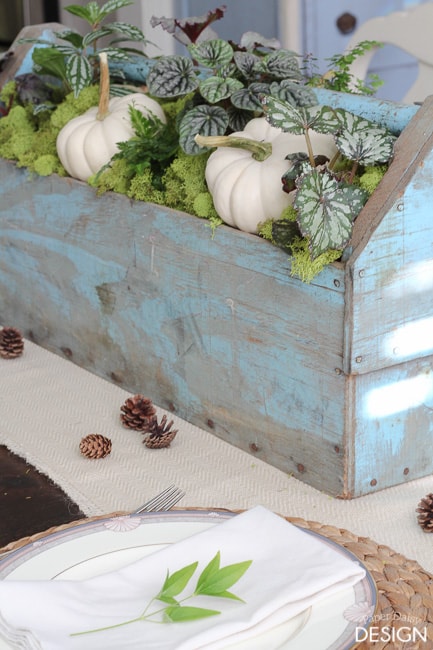 I wanted to focus on green and white this year, at least for the early fall.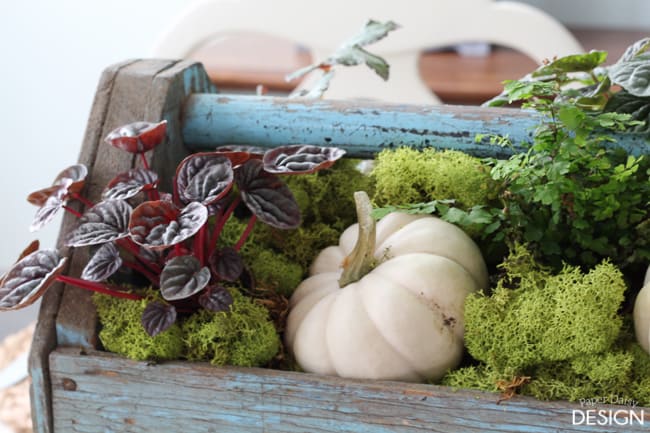 As we get closer to Thanksgiving I might be willing to throw in a few bits of orange.  Maybe.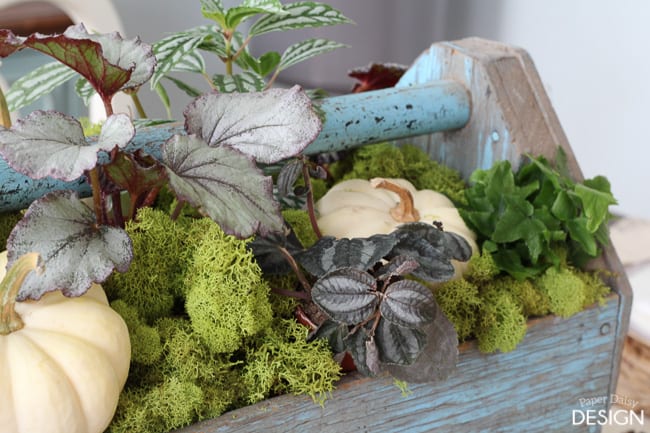 But as I began to think about my fall decor this year, it was still very green outside. The leaves started to hint at a change here in Alabama just yesterday.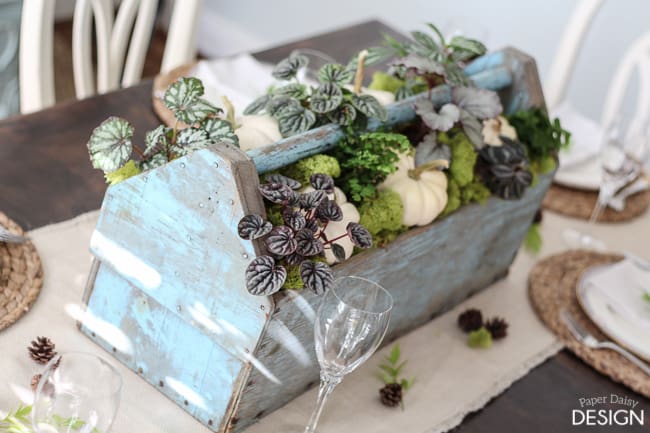 While I used an antique tool tote, any vessel of any size can be used for this type of arrangement.  You do not need to be a florist, to make a simple arrrangement. I promise.
Here's how simple it really was to create.
I went shopping at one of my favorite garden centers in town, Leaf and Petal.  But even big box home centers have smaller plants like these, although not always in these miniature sizes.
I wanted to focus on plants that were both green and purple, with hints of red if possible.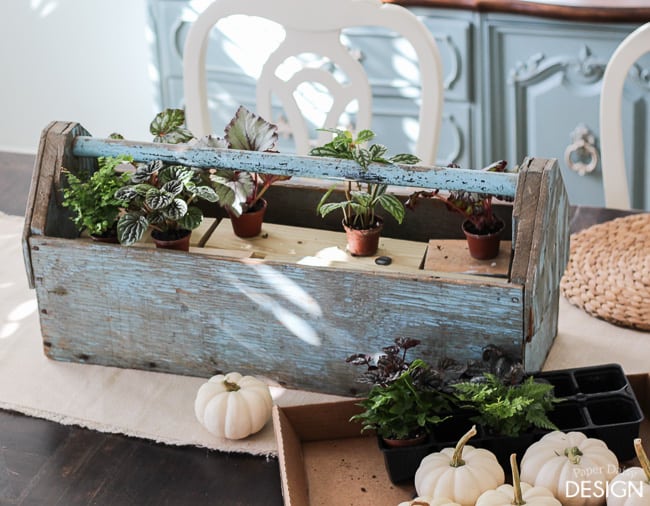 I also picked up miniature white pumpkins. And then grabbed some bright green moss from Hobby Lobby.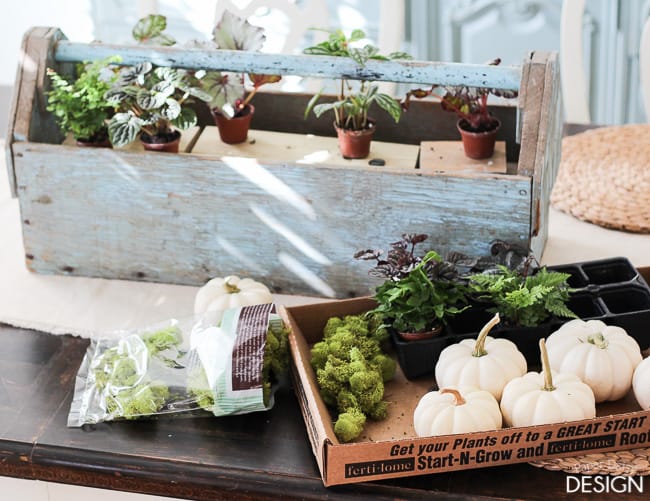 I began by filling the tote with scraps of wood so that the plants and pumpkins would have a place to sit close to the top. I'm always hoarding scraps of wood from my woodworking projects.
I added even more scraps to create lift and levels for the plants, to sit on like this. These scraps also gave the pumpkins something to nestle against.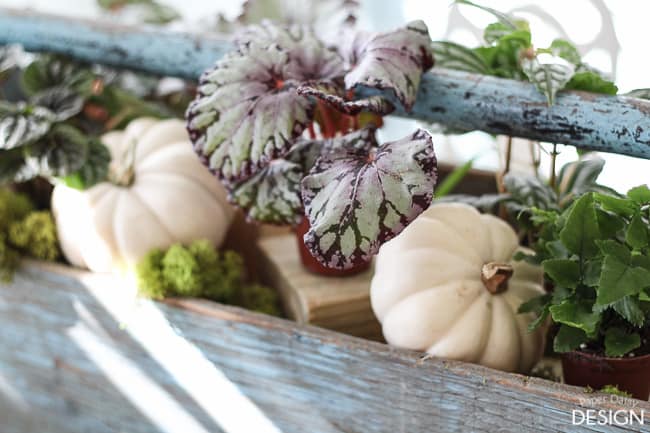 Then, as I moved along the tote, I filled in the gaps with moss.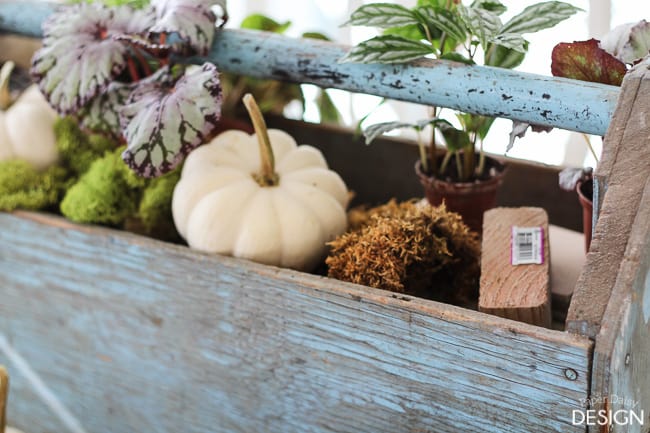 I used some old, brown moss as filler under the green moss too, but anything will work. I even have the plastic bag the moss came in stuffed down in there.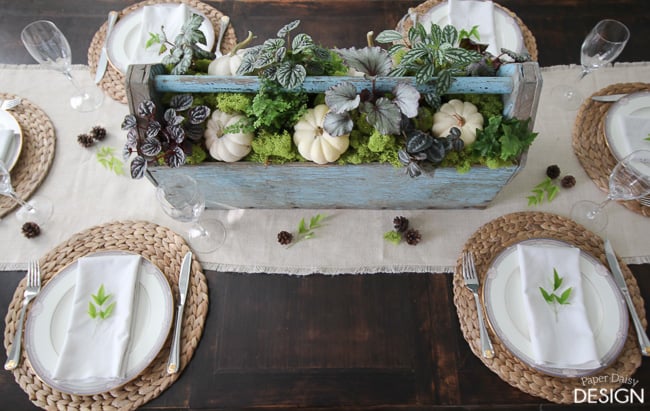 I set the table simply with sprigs of Lemon Lime Nandina from my hillside garden.  And tossed out a few miniature pinecones for the table.
This color palette compliments the softer tones of my wedding china too.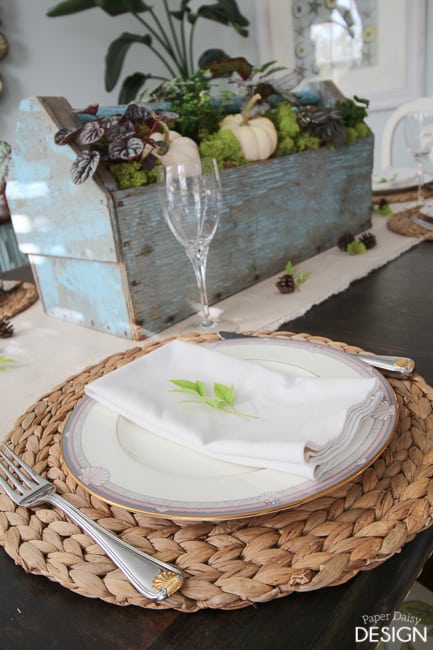 Now, here's a look at the rest of the dinning room.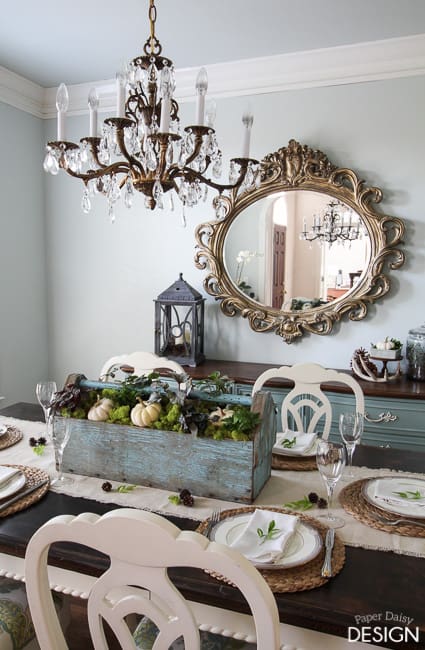 I'm actually working on a "new" furniture makeover for this room. It's one of the many projects keeping me from finishing my fall decorating.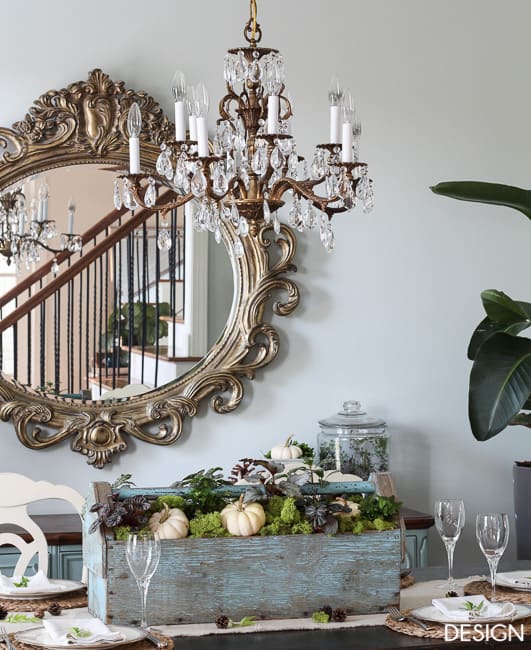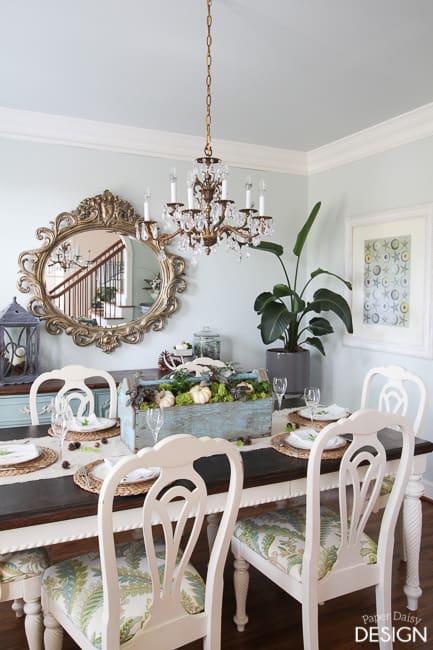 I have more fresh looks for fall in the rest of the house too, hopefully very soon!
So, what do you think? Are you missing the orange or is the Fresh Fall look a nice change?
More Fall Inspiration
Don't have a vintage tool box and want to learn to build your own simple trough that could be decorated like this and changed up for every season?  The link below will take you to a video tutorial for this simple build!