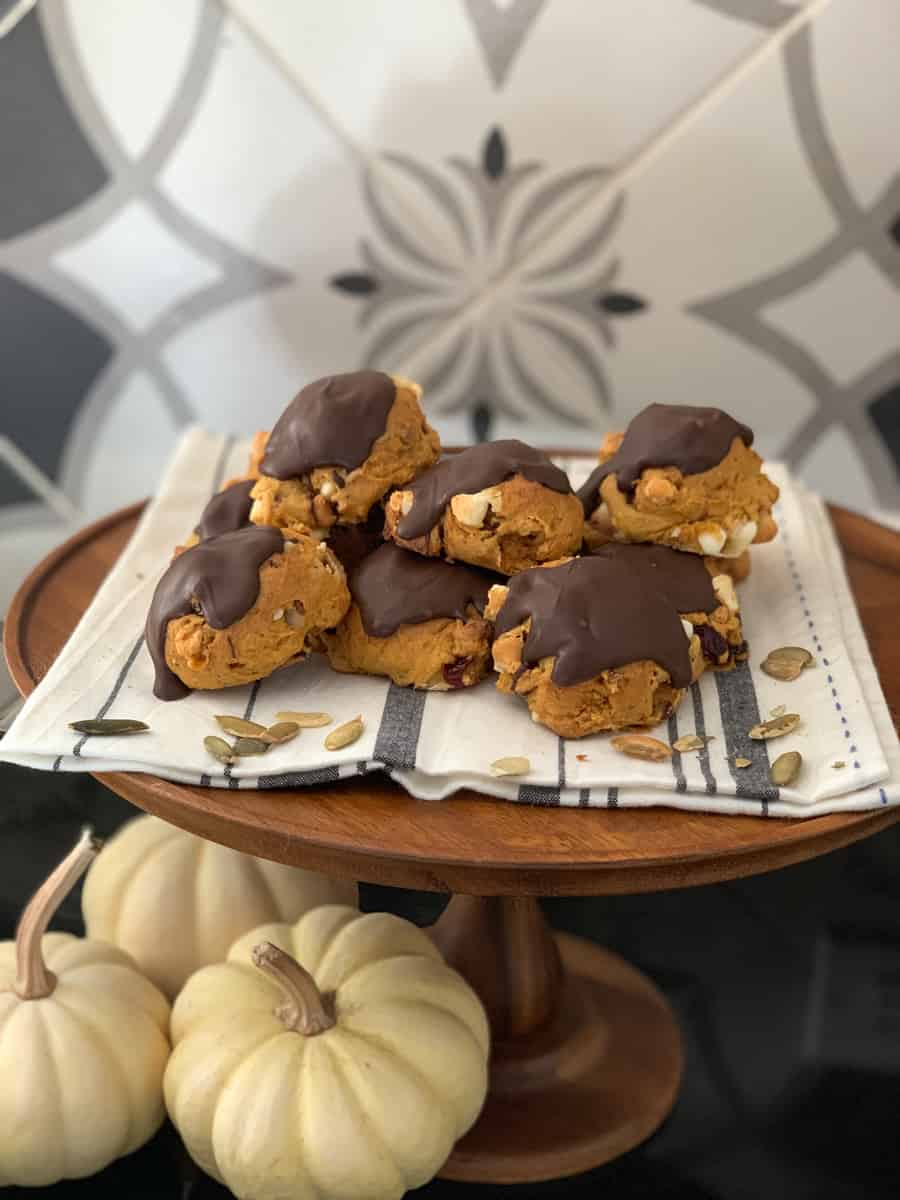 Happy Thanksgiving friends!  Just wanted to pop in and share the formal recipe for our favorite Thanksgiving tradition, Pumpkin Cloud Cookies.-

<I'll update the post with completed photos but I shared the basics on Instagram Stories yesterday and thought I'd had the entire recipe here for your enjoyment! My little gift to you from our family this Thanksgiving.</p>
They are light and fluffy, yet stuffed with sweetness of the chips and cranberry. The coating of chocolate could be omitted because they are that good, but I would advise against it. Chocolate makes everything better.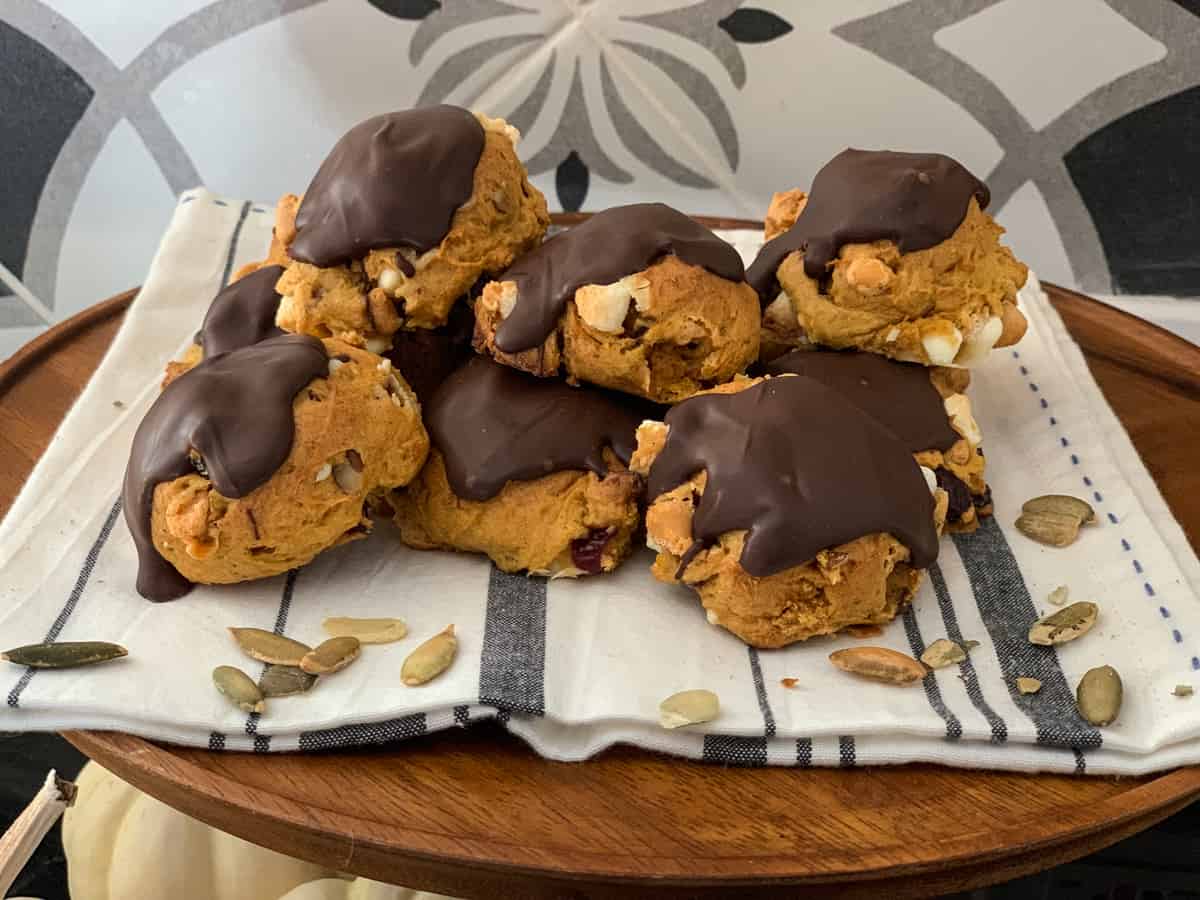 Pumpkin Cloud Cookies
INGREDIENTS
1/2 cup butter, softened
1 cup white sugar
1 teaspoon vanilla extract
1 egg
1 cup solid pack pumpkin puree
2 1/4 cups all-purpose flour or CUP4CUP Gluten Free Flour
2 teaspoons baking powder
1 teaspoon baking soda
1/2 teaspoon salt
2/3 cup dried cranberries

1 teaspoons ground cinnamon

1/2 teaspoon ground nutmeg

1 tablespoons orange zest

1/2 cup chopped walnuts or pecans

1 cup butterscotch chips

1 cup white chocolate chips

1/2 package chocolate almond bark or candy chocolate
1/4 cup bittersweet chunks
Preheat the oven to 375. Cream the butter and sugar together until light and fluffy. Fluffy is important!
Add the eggs, vanilla, and pumpkin and mix.
In a separate bowl, sift the dry ingredients together and then gradually mix the wet and dry ingredients together.
The finished dough is very gooey. I use a cookie scoop and drop them on a parchment lined cookie sheet.
Bake for 11 minutes.
Slide cookies on sheet of parchment to cooling rack or counter. Once the cookies have completely cooled, melt your chocolate. I like to microwave it for about 45 seconds, take it out, stir it, and then go for another 45 seconds.
Using a spoon, top each cookie with a coating of chocolate. Allow chocolate to harden and store in air tight container.
I hope your family loves these as much as we do! They have been a favorite for about 10 years.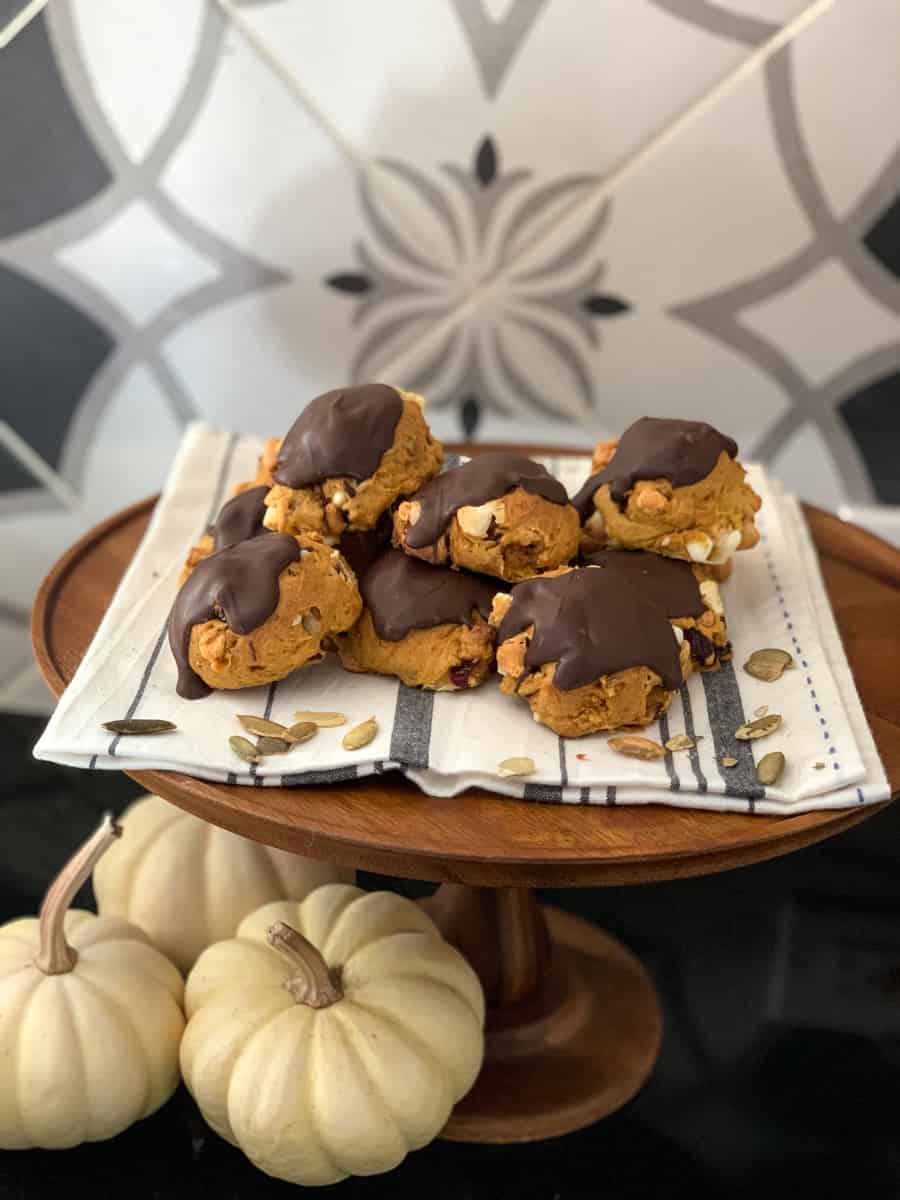 Happy Thanksgiving my sweet friends!!